She's one of the most sartorially influential people in the world right now, but while we all look to the Duchess of Cambridge to provide endless fashion inspiration have you ever stopped to wonder who she, herself, takes style tips from?

Of course, she has a smorgasbord of designers, stylists and assistants on-hand to give their opinions and help tweak, but several fashion fans have picked up on a number of similarities between some of Kate Middleton's most-loved looks and those of another undeniable royal style icon.

Despite having tragically never met, it appears that the Duchess of Cambridge - whether consciously or subconsciously - in fact takes a number of her style cues from her late mother-in-law, Princess Diana.

By no means full-blown 'replicas', many of Kate's looks bear a subtle yet undeniable resemblance to many of Diana's most popular outfits via subtle design details and colour combinations.

Undoubtedly confident in her own taste when it comes to matters of the wardrobe, it could of course be the case that any likeness between the two style icons' looks is merely a coincidence. For those who study the Duchess's every sartorial move, however, and who notice her frequent tasteful nods to her late mother-in-law, it seems increasingly likely that brief moments of similarity is a very deliberate, subtle nod to Diana.

But while the two women share a love for a similar overall aesthetic, Kate favours designers such as Alexander McQueen, Self-Portrait and Goat while Diana leaned more towards the likes of Victor Edelstein, Murray Arbeid and Emanuel Couture.

From red, calf-length overcoats worn atop black boots, turtlenecks and gloves, to ladylike lilac looks, bold green and navy checks, and even the exact same 'Cambridge Lovers Knot' tiara loved dearly by them both, we've rounded up fourteen of our favourite 'twinning' moments from the Duchess of Cambridge and Princess Diana...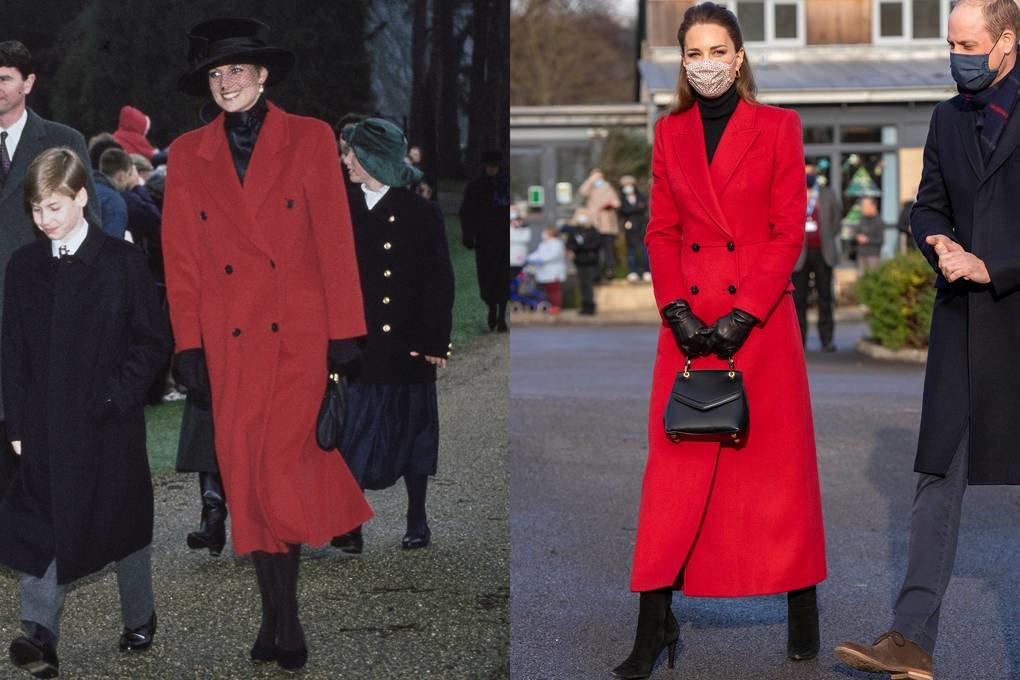 1. THE RED COAT OVER BLACK LAYERS
Princess Diana: 1993, A Christmas Day church service in Sandringham

The Duchess of Cambridge: 2020, A visit to Cleve Court Care Home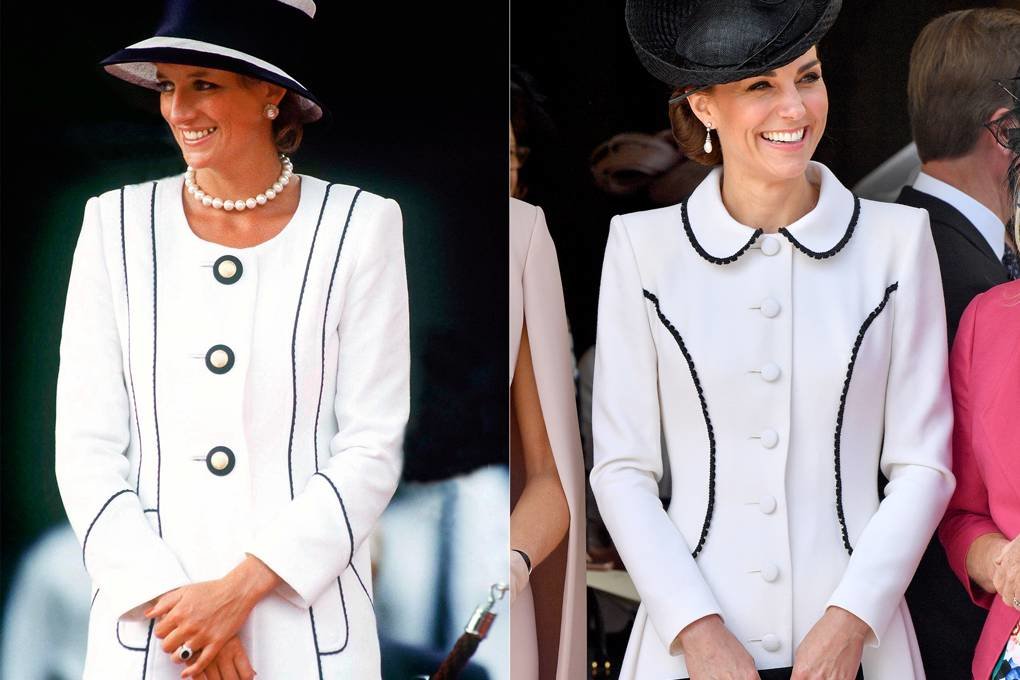 2. THE WHITE WITH BLACK PIPING
Princess Diana: 1995, At Vj Day commemorative events
The Duchess of Cambridge: 2019, Wearing Catherine Walker at the Order of the Garter service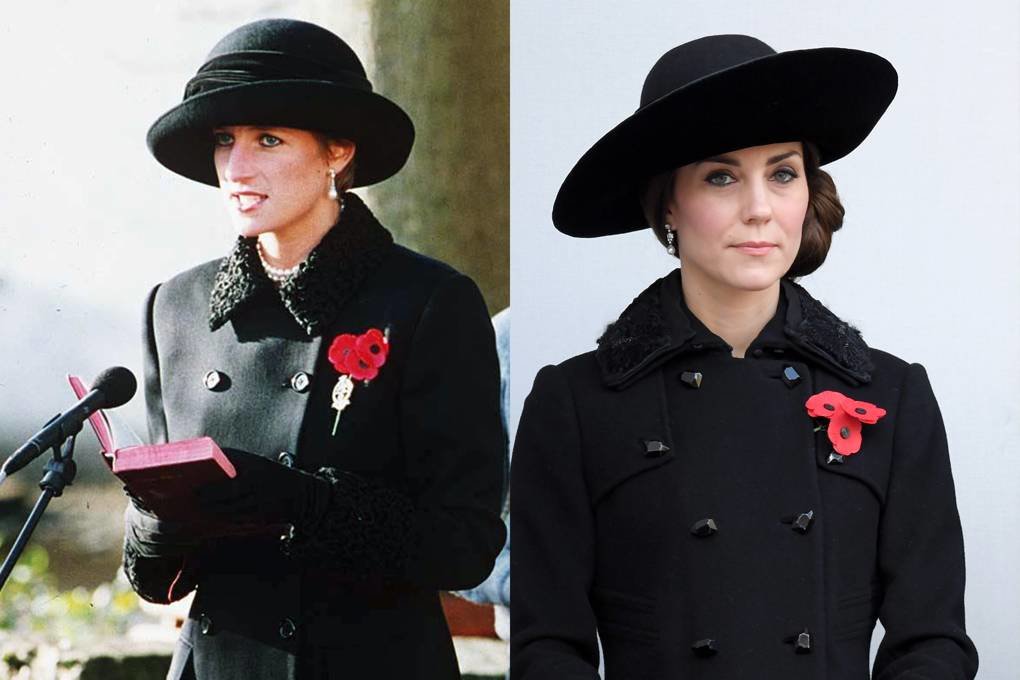 3. THE DOUBLE-BREASTED, DETAILED-COLLAR AND HAT
Princess Diana: 1993, At a Remembrance Day service in Northern Ireland
The Duchess of Cambridge: 2016, Wearing Diane von Furstenberg at the annual Remembrance Sunday Service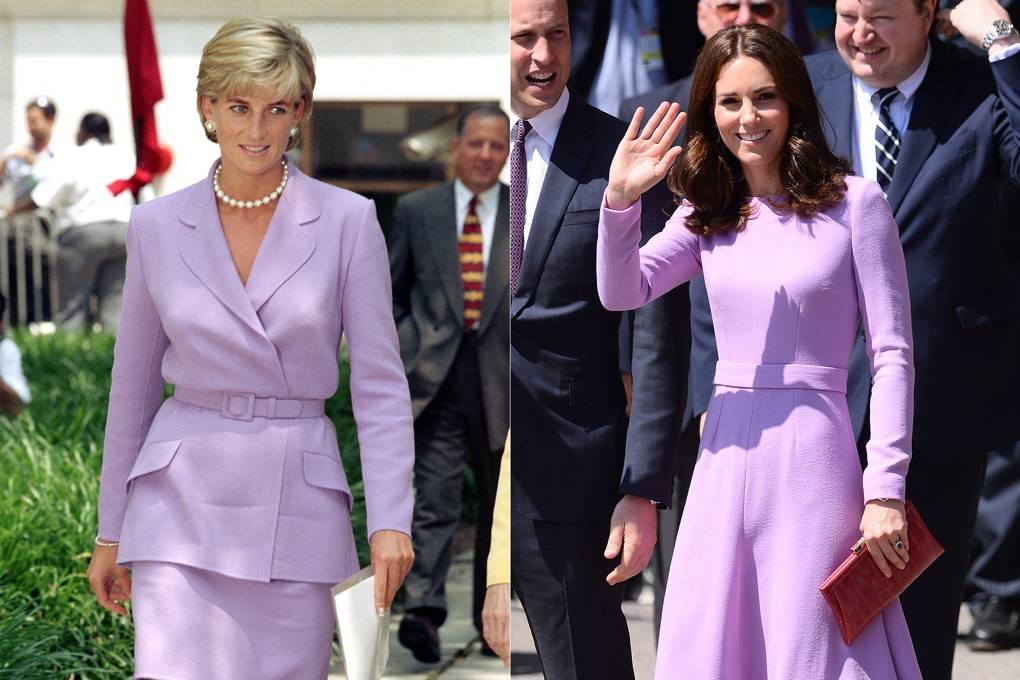 4. THE LADYLIKE LILAC
Princess Diana: 1997, At the Red Cross Headquarters in Washington
The Duchess of Cambridge: 2017, Wearing Emilia Wickstead at the Hamburg Elbphilharmonie during an official overseas visit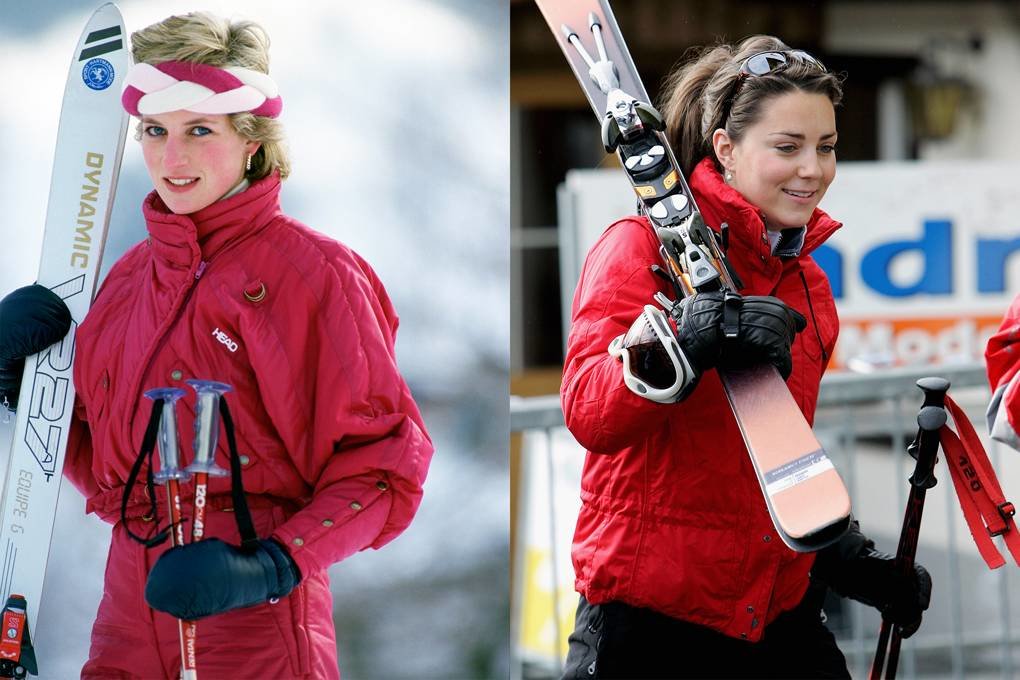 5. THE RED SKI JACKET
Princess Diana: 1986, Skiing in Klosters, Switzerland
The Duchess of Cambridge: 2005, Skiing in Klosters, Switzerland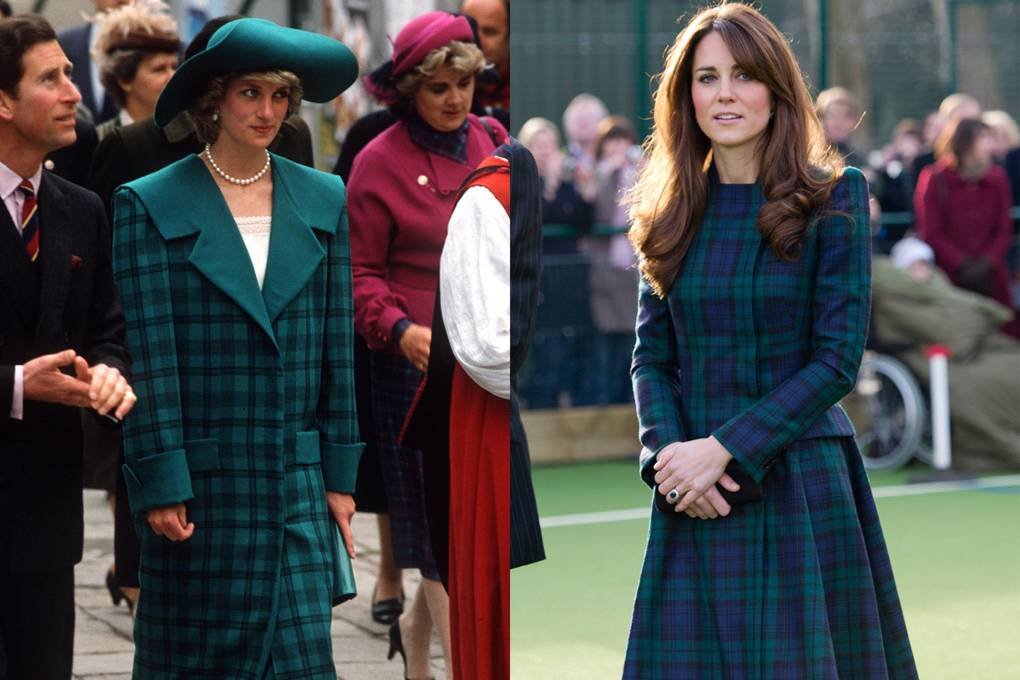 6. THE NAVY AND GREEN CHECK
Princess Diana: 1985, Wearing Emanuel Couture in Venice
The Duchess of Cambridge: 2012, During her visit to St Andrew's School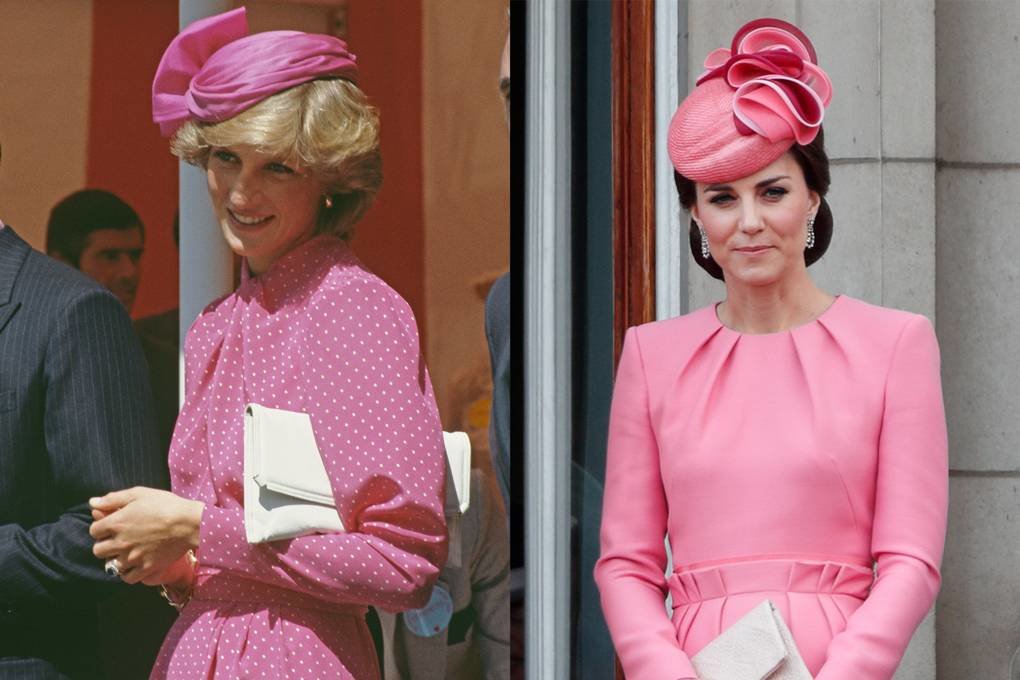 7. THE MATCHING PINK DRESS AND HAT
Princess Diana: 1983, Wearing a pink Donald Campbell suit at the Perth Hockey Stadium in Australia
The Duchess of Cambridge: 2017, Wearing Alexander McQueen for the Trooping the Colour Parade

8. THE 'CAMBRIDGE LOVERS KNOT' TIARA
Princess Diana: 1985, At a dinner in Washington hosted by the British Ambassador
The Duchess of Cambridge: 2016, At the annual Diplomatic Reception at Buckingham Palace

9. THE CHIFFON HEADSCARF
Princess Diana: 1996, During a visit to Pakistan
The Duchess of Cambridge: 2012, Wearing Beluah at Assyakirin Mosque in Kuala Lumpur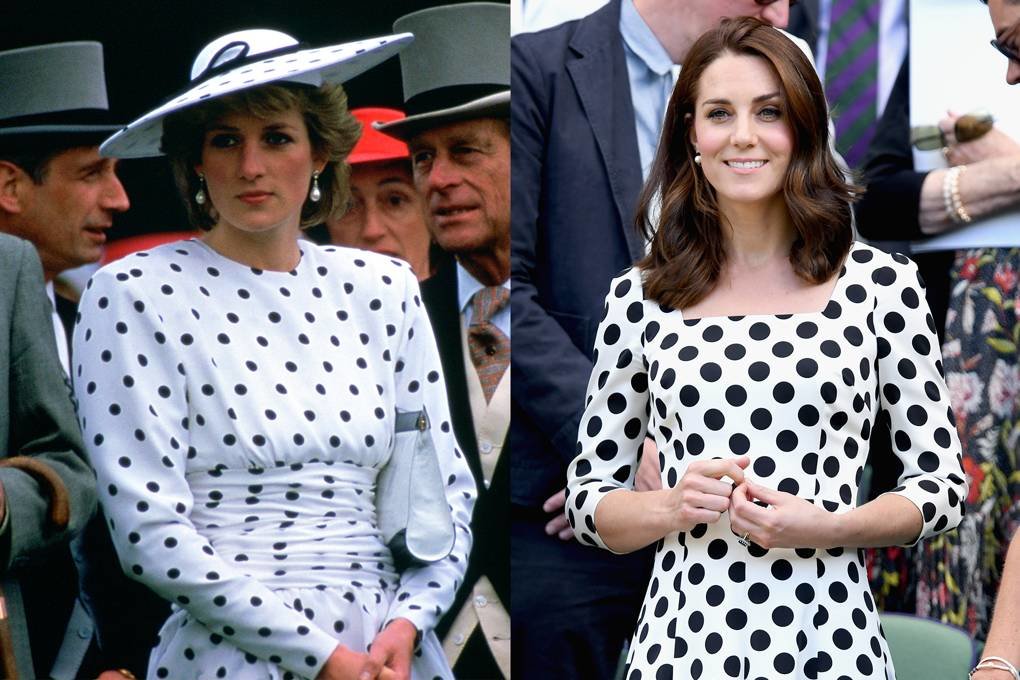 10. THE BLACK AND WHITE POLKA DOTS
Princess Diana: 1986, Wearing Victor Edelstein at the Epsom Derby
The Duchess of Cambridge: 2017, Wearing Dolce & Gabbana for the opening day of Wimbledon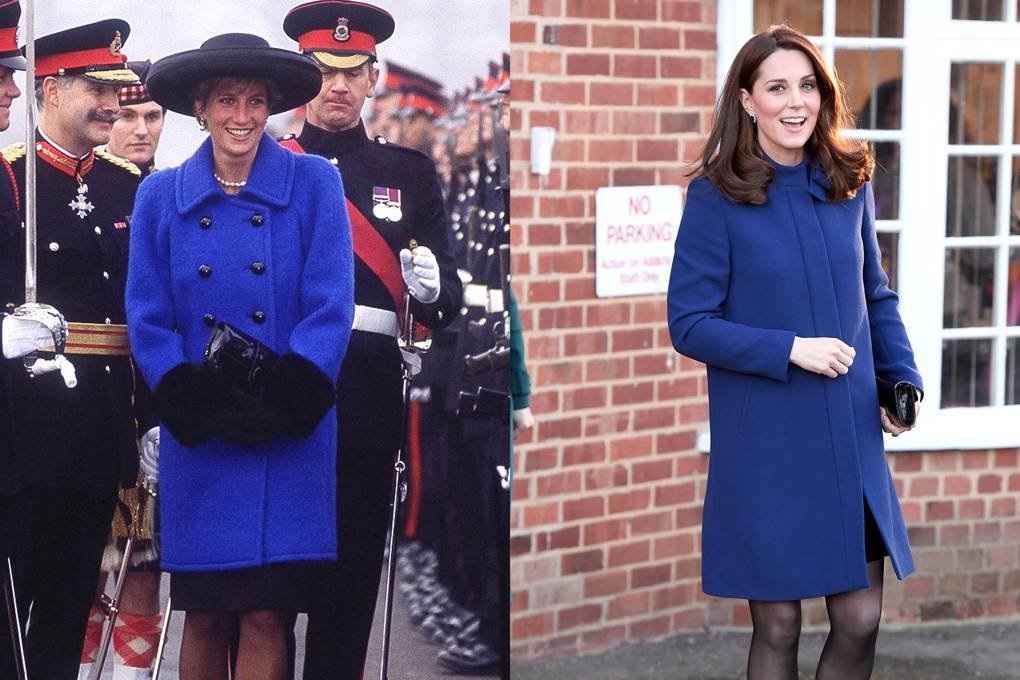 11. THE ROYAL BLUE COAT
Princess Diana: 1990, Wearing Philip Somerville at the Sovereign's Parade
The Duchess of Cambridge: 2018, Wearing Goat to open the Action on Addiction Community Treatment Centre in Essex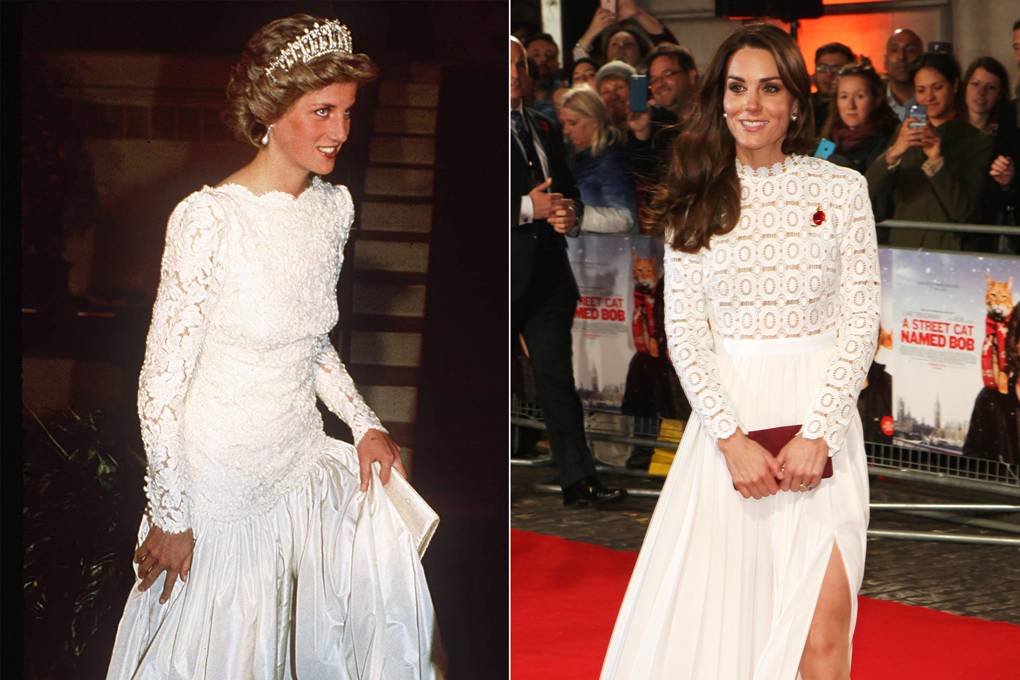 12. THE WHITE LACE EVENING GOWN
Princess Diana: 1985, Wearing Murray Arbeid at a dinner in Washington hosted by the British Ambassador
The Duchess of Cambridge: 2016, Wearing Self-Portrait to the UK Premiere of 'A Street Cat Named Bob'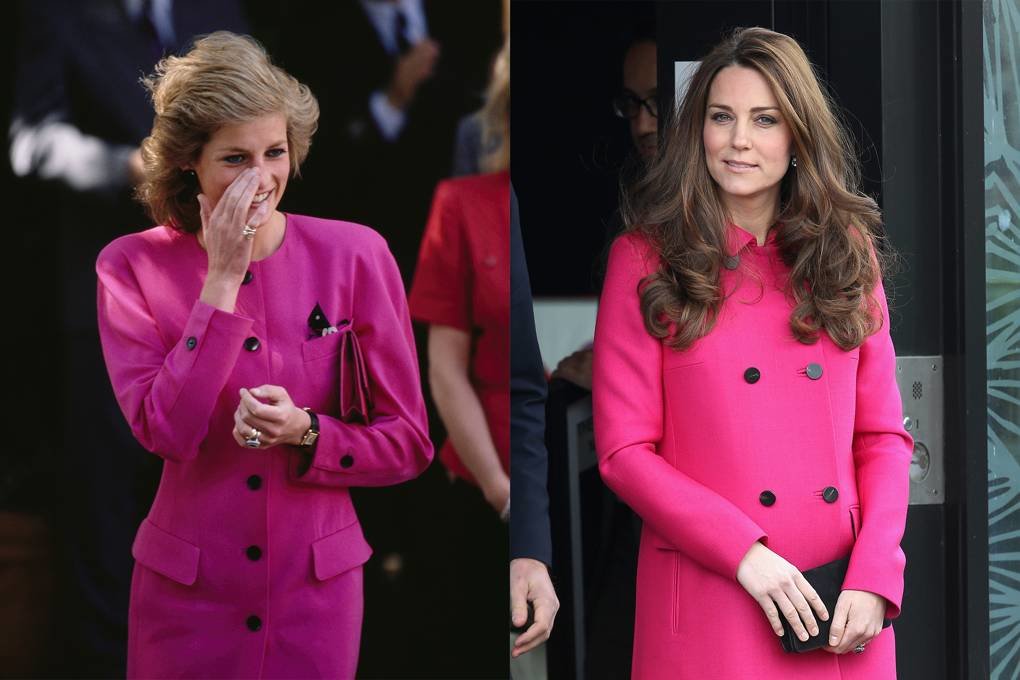 13. THE BLACK-BUTTONED PINK COAT
Princess Diana: 1989, At the Push 2 wheelchair race at the Marlborough Hotel
The Duchess of Cambridge: 2015, Wearing Mulberry during a visit to the Stephen Lawrence Centre

14. THE POWDER BLUE SUIT
Princess Diana: 1996, Visiting Cook County Hospital, Chicago
The Duchess of Cambridge: 2016, wearing Catherine Walker to visit the Mauritshuis in The Hague, Netherlands