For the second season in a row, ambassador Hailey Rhode Bieber perfectly embodies the relaxed yet sophisticated attitude of Superga. As expected, the model seems to look at home in each of the new styles, from comfy to chic, from wellies to sneakers. The it-girl is known worldwide for that. For Superga's Fall/Winter 2021 collection, the renowned style icon returns as the face of the Italian footwear label.

The campaign was shot by former painter, illustrator, and animal rights activist Zoey Grossman, who captured Bieber in all her authenticity with a dreamy elegance. In addition, New York-based stylist Gabriella Karefa-Johnson once again collaborated with the brand, leaving her mark on Bieber's styling. In honor of the campaign, Bieber tells L'OFFICIEL about the campaign shoot and how she takes her style into her own hands.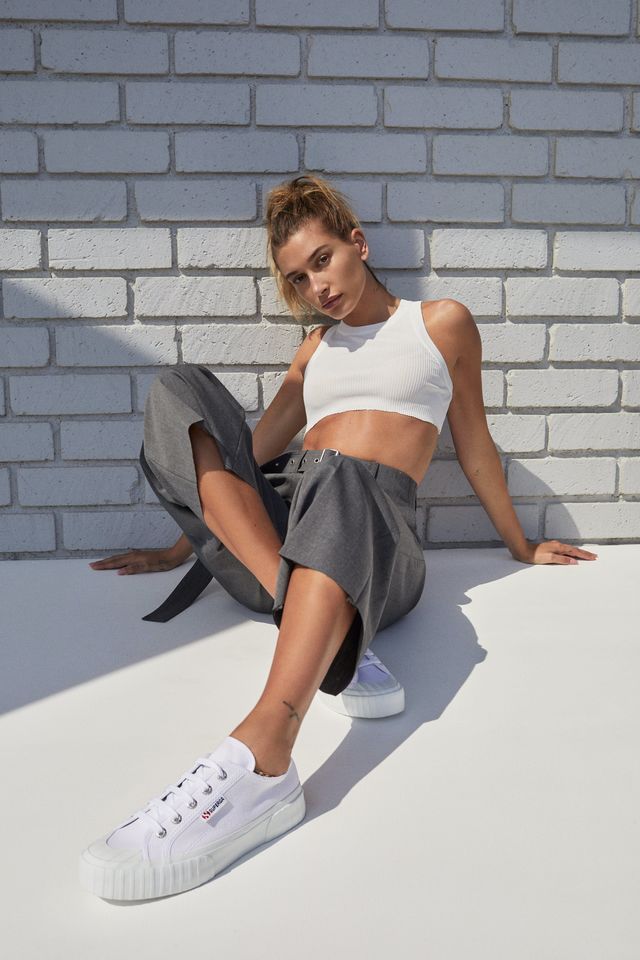 © Superga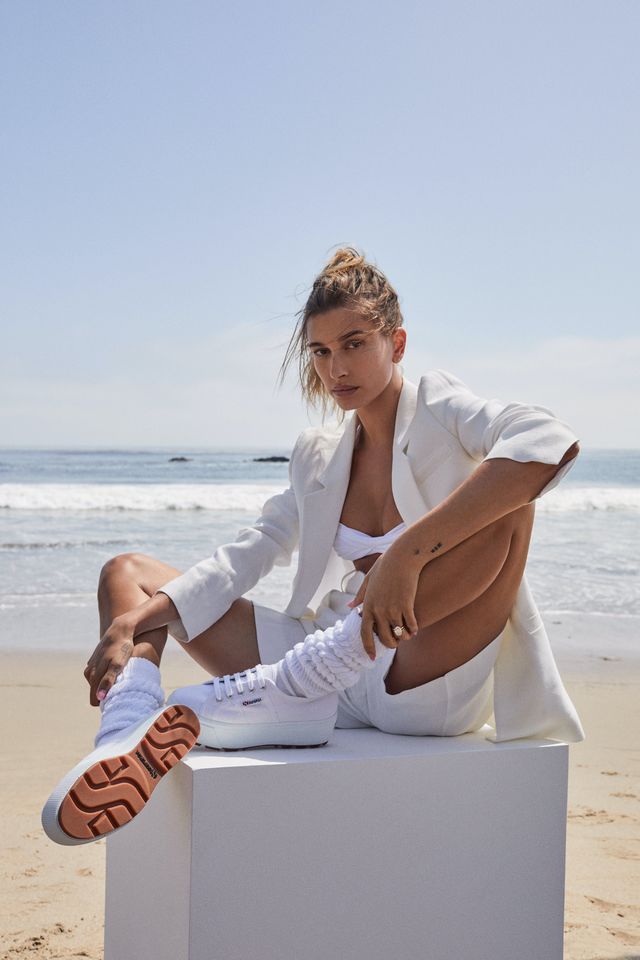 © Superga

L'OFFICIEL: The Fall/Winter 2021 Superga campaign was shot in Malibu—what are your favorite spots in the area?

Hailey Bieber: To be honest, I haven't spent much time in Malibu yet. One of my favorite places to eat in Malibu is NoBu.

LO: What does your ideal beach day look like?

HB: My ideal beach day is to spend a warm and windy day in the sun with good food and friends.

LO: What is the perfect beach look and what do you have in your beach bag/cooler?

HB: Lately, I've been drawn to a colored bikini with denim shorts. also tend to pack a button-down wrap and a pair of classic Superga sneakers, as they go with just about anything. My beach bag usually also has a hairbrush, sunscreen, and conditioner.

LO: What is your morning routine before putting on your favorite sneakers?

HB: When I wake up in the morning, I start by waking up my face, taking care of my skin, brushing my teeth, and thinking about my look for the day.

LO: How would you describe your style in 3 words, starting with an S?

HB: Simple, strong, and statement.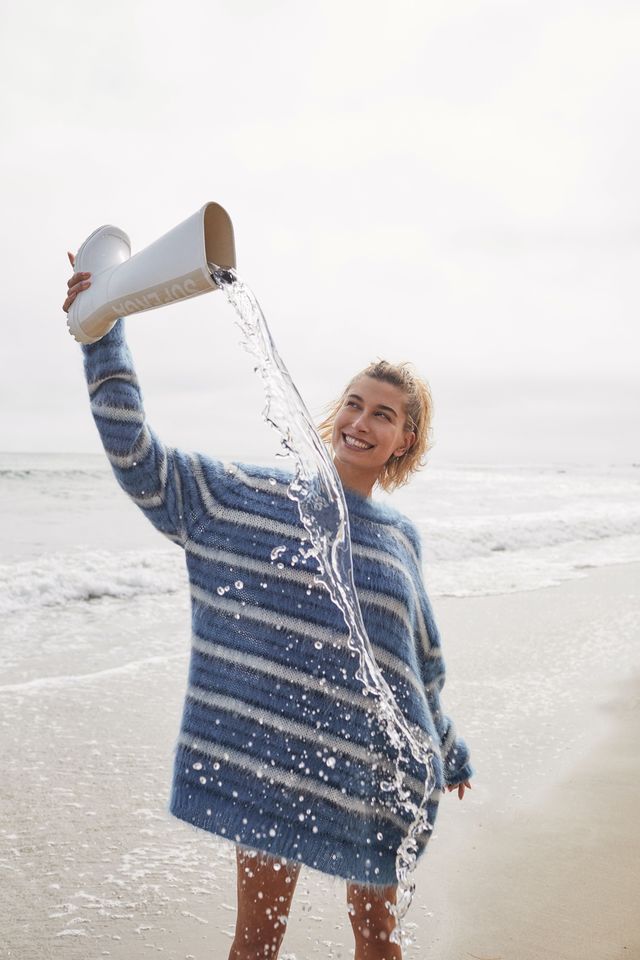 © Superga

LO: What are your favorite Superga styles from the most recent campaign/collection?

HB: I'm obsessed with the big white rubber welly boots! I think the rubber boots are a great addition to the Superga collection. I'm also in love with the new Alpina ripstop semi-lined high-top sneaker. It's a more versatile style that I think you can really play with and style both up and down.

LO: What makes Superga an iconic brand?

HB: Superga is simply a classic and always will be. Since the beginning, it has left its timeless appeal untouched. It never goes out of style and to me, that's iconic, something that stands the test of time.

LO: Superga is known for its timeless sneaker. What does timeless mean to you?

HB: Timeless means something that can be worn over and over again through generations. The styles created can be worn for years and years.

LO: What are the perfect items to wear with your Superga sneakers?

HB: The perfect things to wear with Superga sneakers are other classic pieces too. For me, that would probably be jeans or denim shorts.

LO: The Fall/Winter 2021 campaign continued the partnership with Gabriella Karefa Johnson while also inviting Zoey Grossman as a new talent to capture the full vision. What kind of image did you all want to create?

HB: Again an all-female crew worked on this campaign and I think there was a strong sense of empowerment. Ultimately, we wanted to capture the vibe of Superga with a nice balance of fun and carefree energy. I always find Zoey's images beautiful and free.

LO: For the Spring/Summer 2021 campaign you shot in a studio and for the Fall/Winter 2021 campaign on location on a beach. Do you have a preference for a studio or location?

HB: I like both—shooting in the studio and on location. Both are different experiences, and nothing compares to either.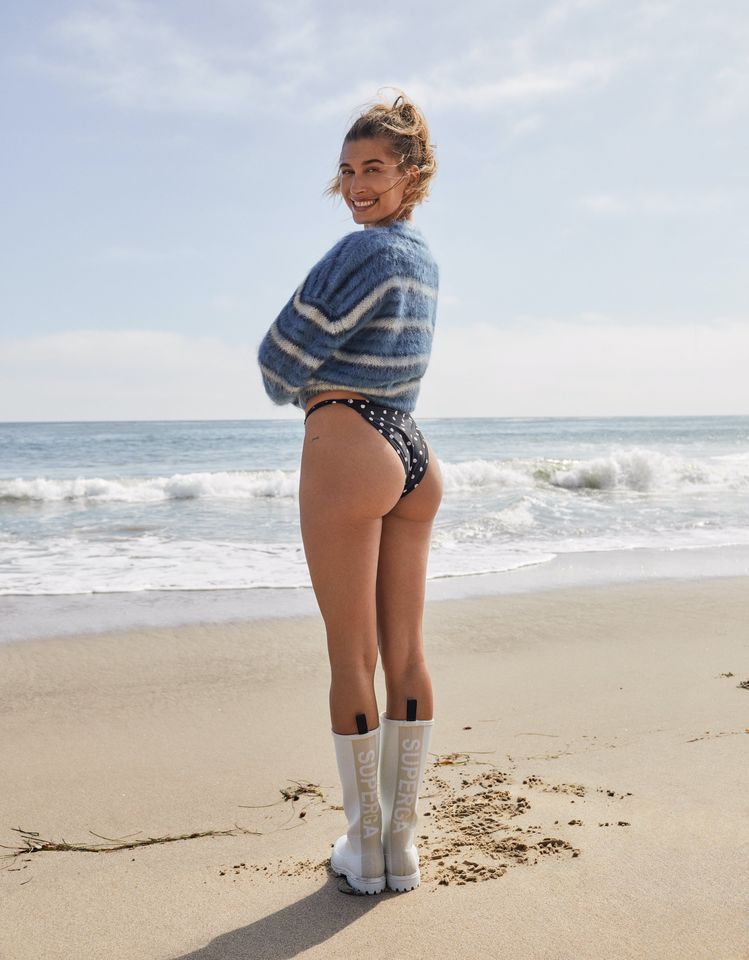 LO: Beach or city? Why?

HB: I'm originally from New York, so the city will always have a place in my heart. However, I also like the beach. I would say both!

LO: Socks or no socks with sneakers? Why?

HB: I prefer sneakers with socks. Socks are a fun way to accentuate the neatness of the white cotton canvas.

LO: What can you tell us about your anklets, because jewelry is a very personal accessory? Are they the best way to decorate a shoe?

HB: I just like to play with jewels. I think an anklet is a little unexpected and sexy. It's just a little something extra to add to any look.

LO: With restrictions on some areas easing, what are you most looking forward to doing?

HB: I am excited to travel for pleasure again! I look forward to continuing to explore the world and return to the places I love most.