Celebrity tattoos are interesting for body art inspo, but also because those creations can tell us more about our favorite A-listers' lives and personalities. Stories of current and past lovers, friendships, music idols, spirit animals, motivational quotes, and mental health are all expressed in these body art pieces. And while some are inspirational, others may raise eyebrows. Here, L'OFFICIEL rounds up the most shocking celebrity tattoos.


Joe Jonas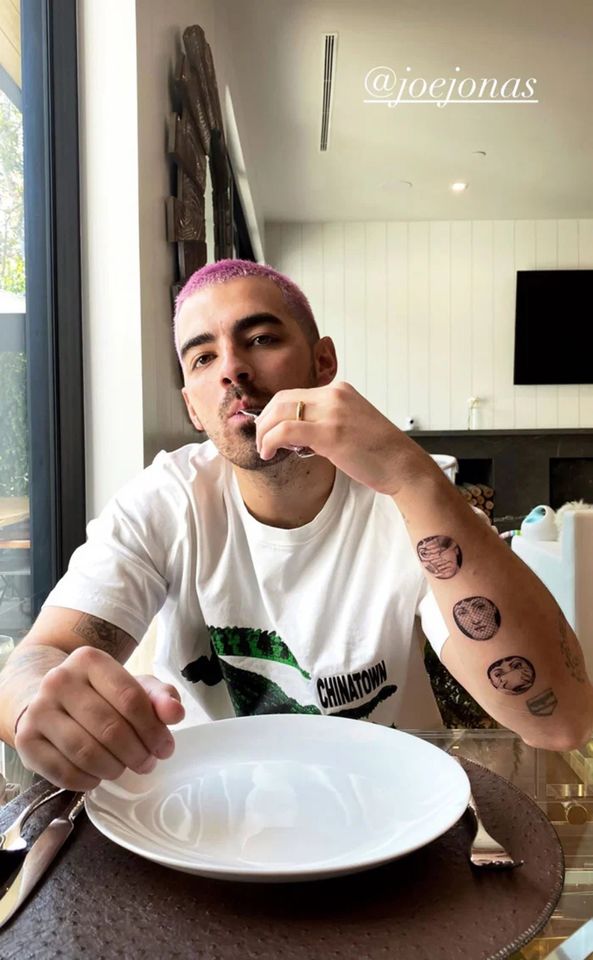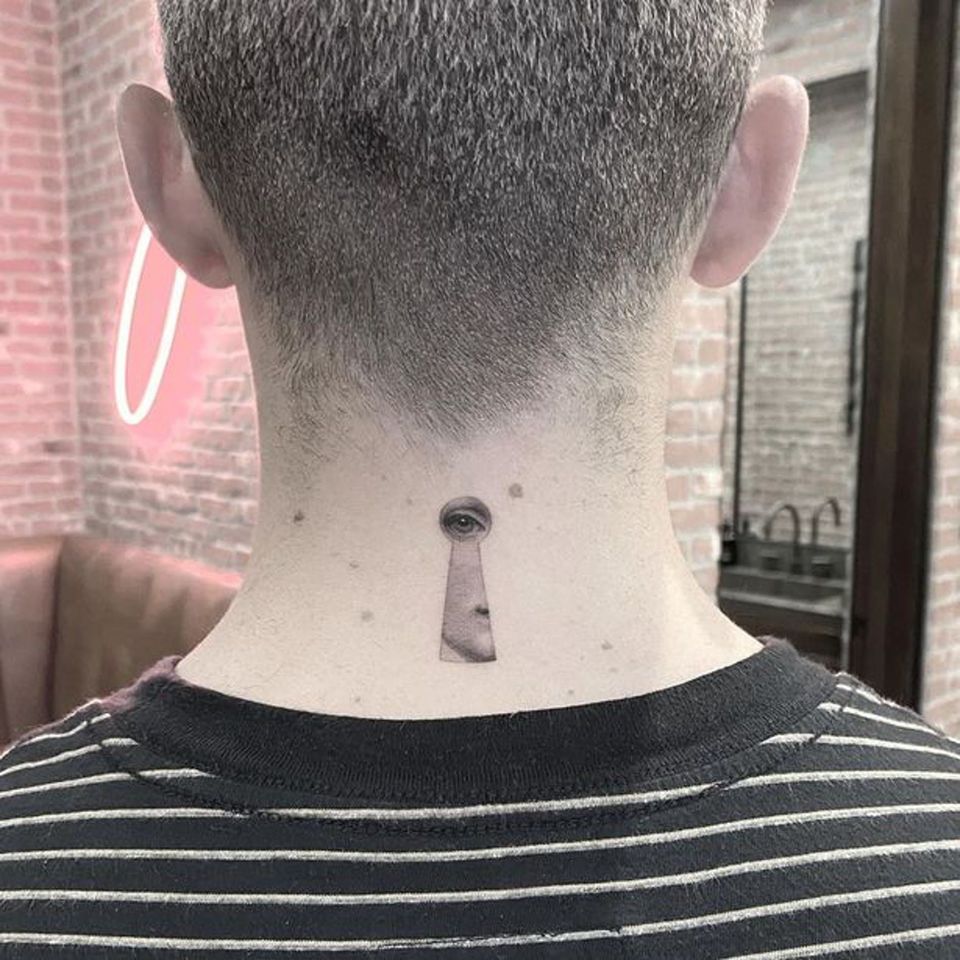 On October 5, 2020, actress Sophie Turner shared an Instagram story of her 31-year-old husband rocking three new tattoos on the outside of his forearm. The circular designs represent, "See no evil, hear no evil, speak no evil" and are directly taken from Italian artist Piero Fornasetti's famous black and white plate series Tema e Variazioni. Jonas' most surprising tattoo, however, is the keyhole with a woman's eye staring out placed on the back of his neck. Fans believe the ink depicts Turner's eye as an homage to his wife.


Post Malone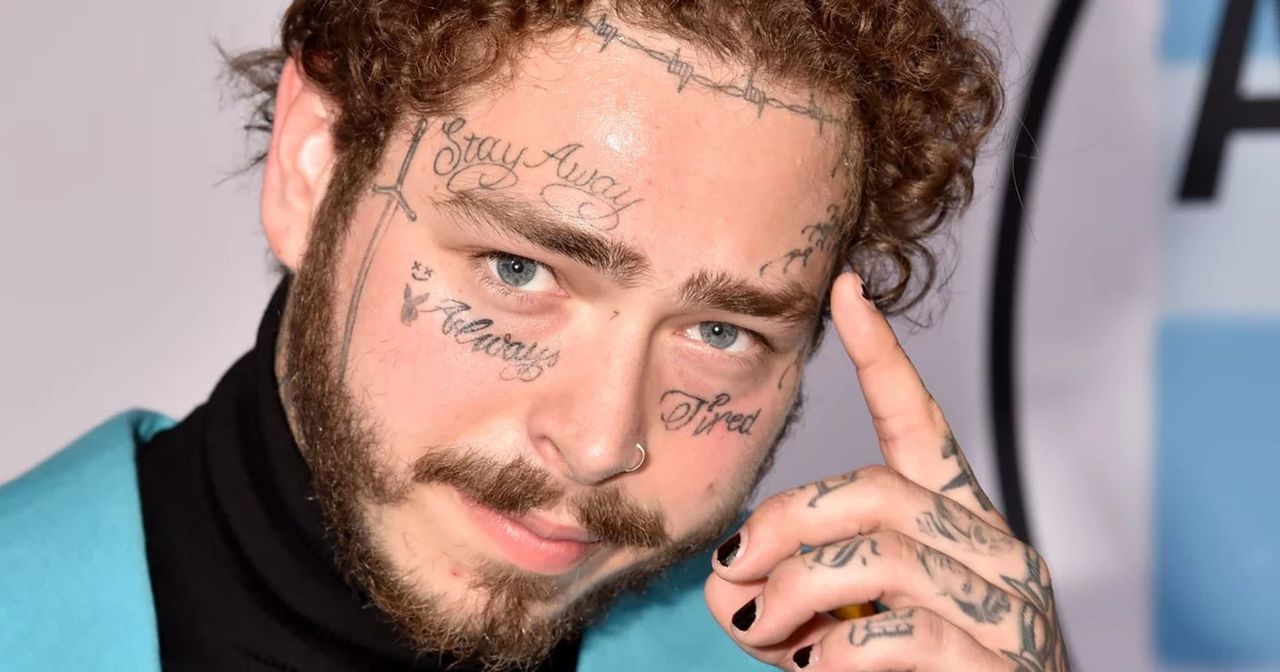 Post Malone is best known for three things: hit songs, controversies, and crazy tattoos. With an abundance of the latter on his face, neck, and arms, Malone has inked a number of them himself. Among the many shocking and ever-growing tattoos the artist has, there are portraits of some of his favorite artists like Elvis Presley, Kurt Cobain, and John Lennon inked on the knuckles of both of his hands.


Ariana Grande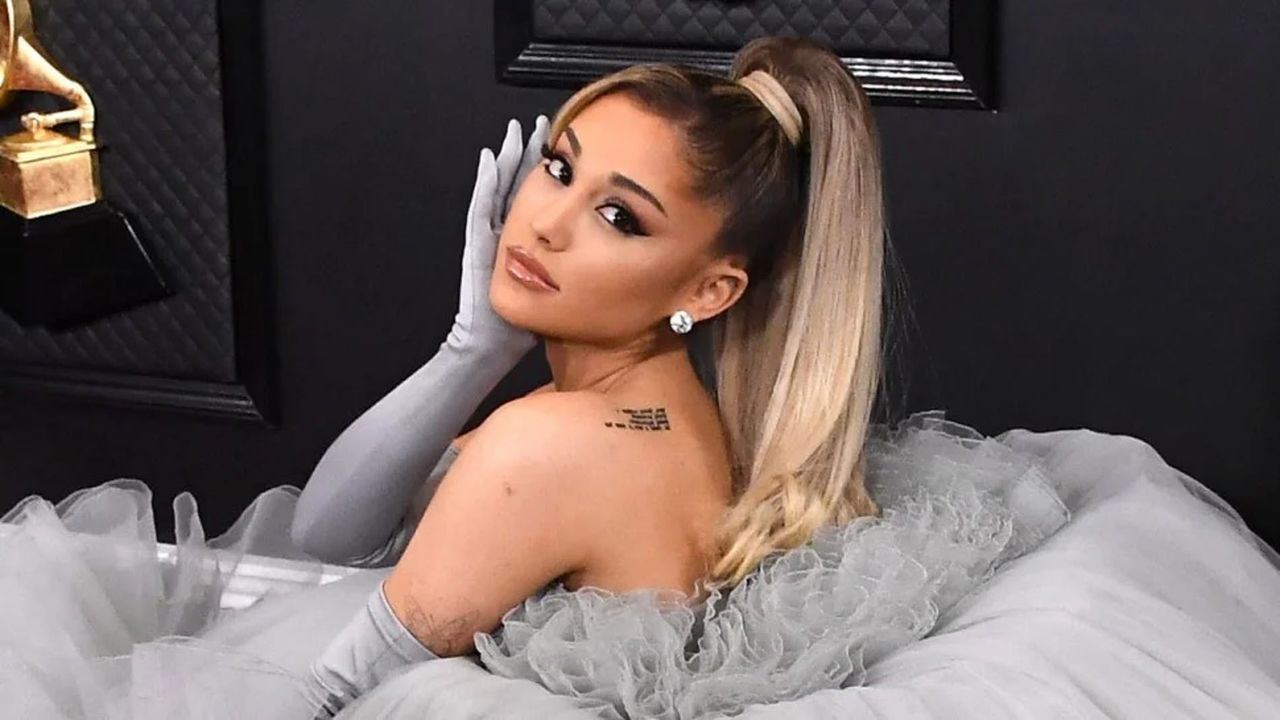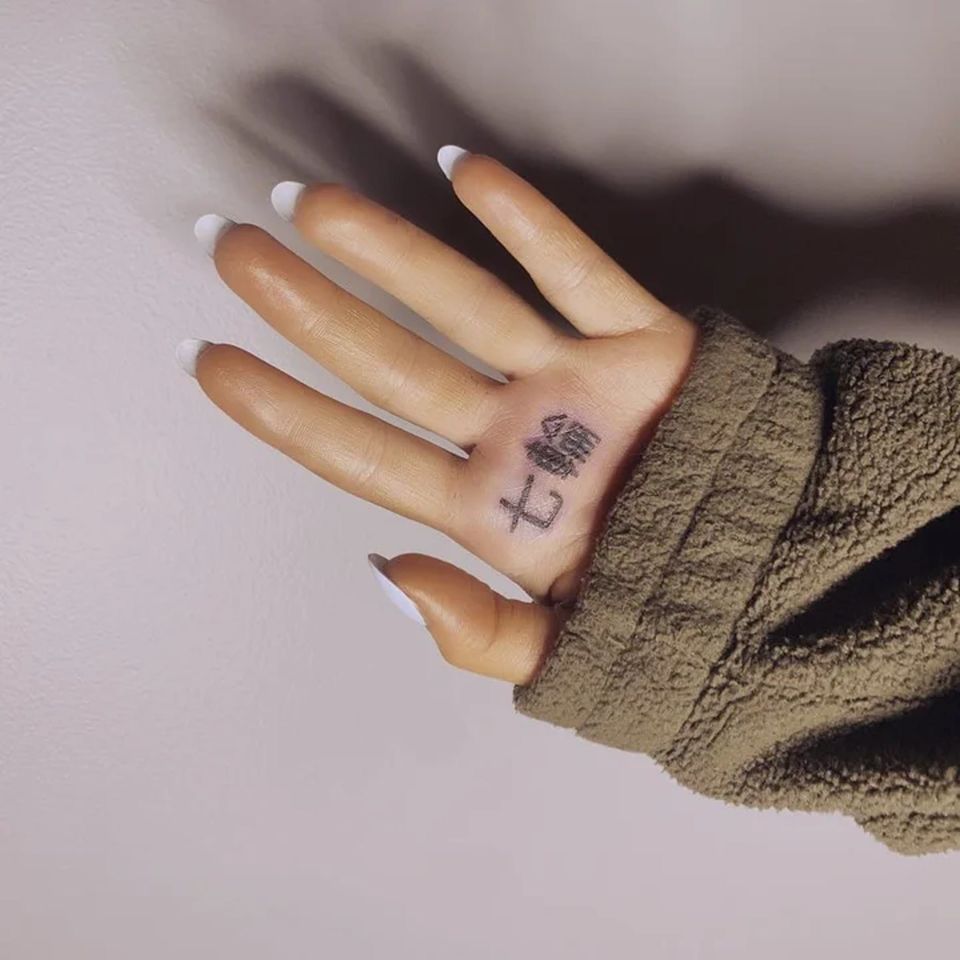 During last year's Grammy Awards, Ariana Grande subtly revealed a new tattoo fans didn't know she had: a thin line butterfly tattoo on the back of her left arm. Grande is one of the few celebrities who rarely make any open comments about tattoos, with her previous ink flop being a tattoo that was misspelled in Japanese. Instead of reading "7 Rings," for her hit song, it read "small barbecue grill."


Cardi B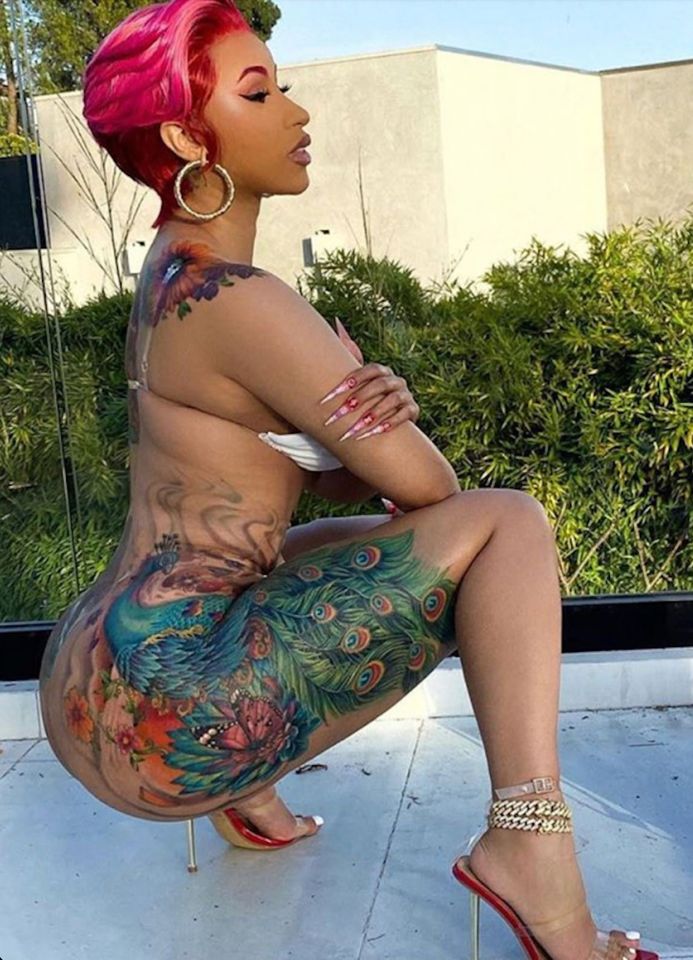 This past June, Cardi B showed off her newly touched up thigh piece of a giant and colorful peacock illustration, which extends from her right hip all the way down to her knee. Since she originally got the tattoo in 2010, the ink had faded over time and she decided to have tattoo artist Jamie Schene revamp it.


Kendall Jenner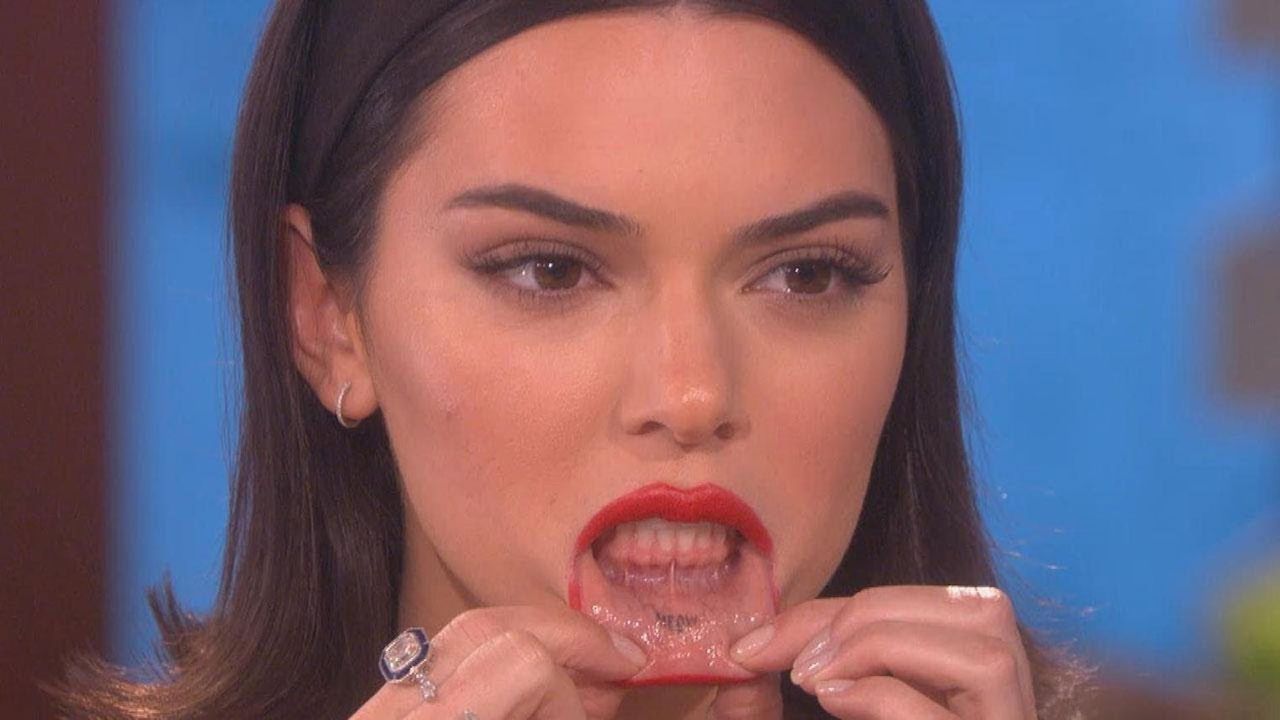 One night in September 2016, a drunk Kendall Jenner decided to get the word "meow" tattooed on the inside of her lip, because why not? She later admitted in 2018 on The Ellen DeGeneres Show that in hindsight, that wasn't her best decision.


Miley Cyrus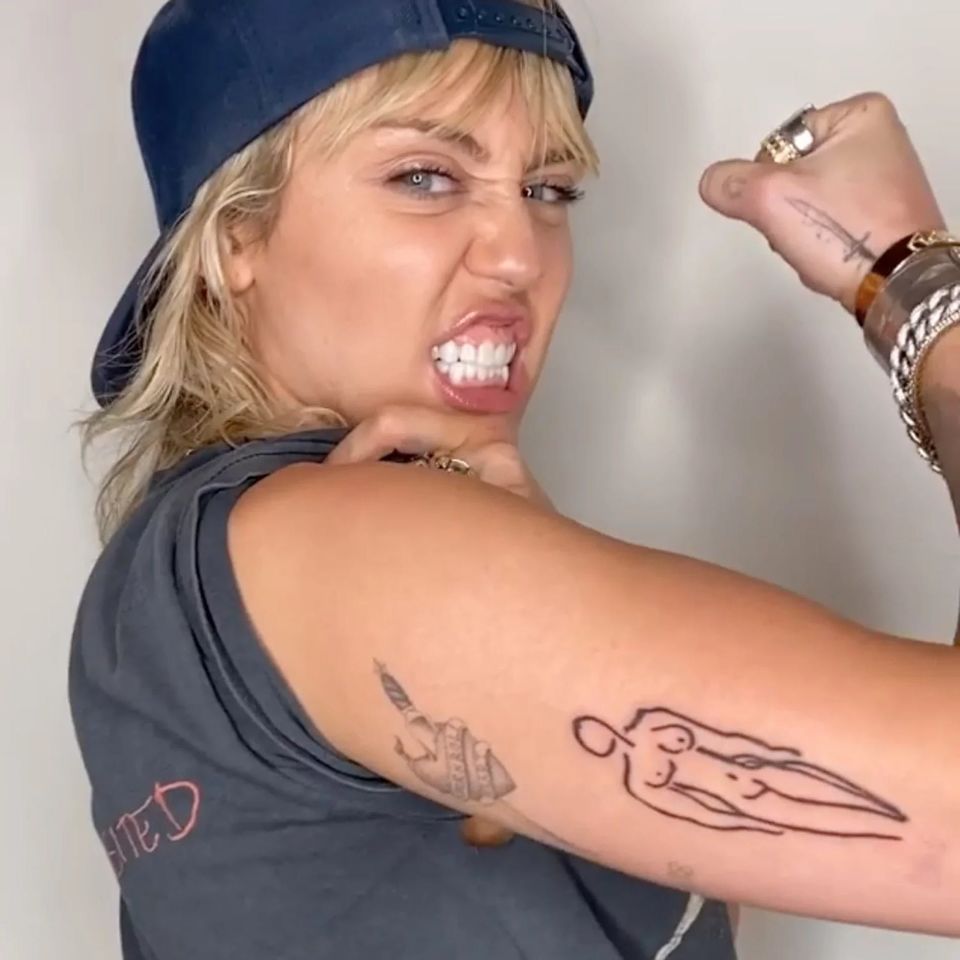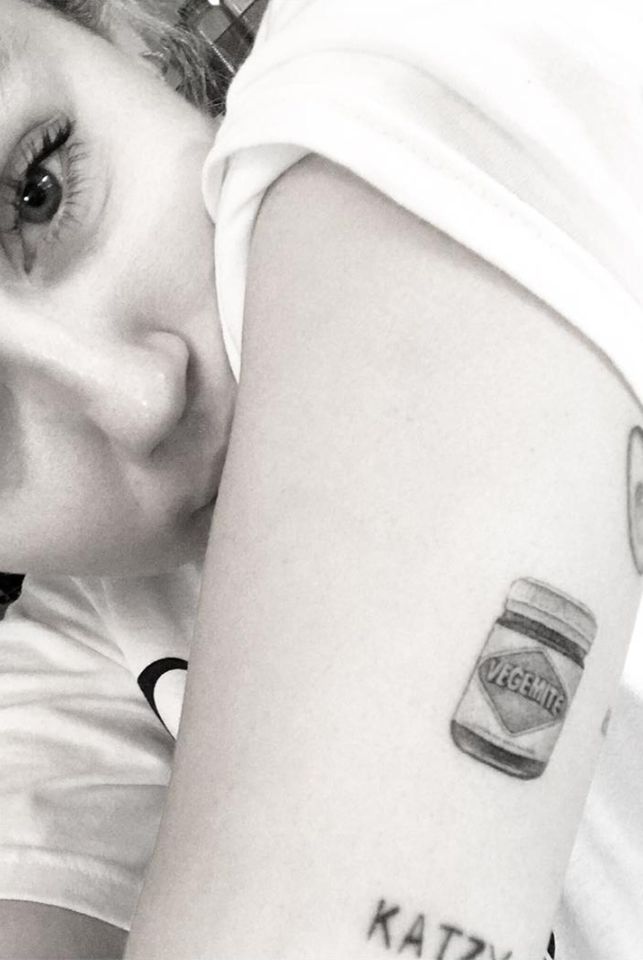 Just before the pandemic hit, Miley Cyrus added a nude figure to her collection of over 70 tattoos. The piece was done by artist Nico Bassill and inspired by 20th century French artist Henri Matisse and his illustrations in Dance Me to the End of Love, a book that visualized Leonard Cohen's song of the same name. Some of her other surprising ink includes a heart with an arrow that she got with then-boyfriend Cody Simpson after just a few weeks of dating, a jar of Vegemite in honor of her ex-husband Liam Hemsworth, and a handwritten note from Yoko Ono that reads "I'm proud of you."


Halle Berry


Last September, 54-year-old actress Halle Berry posted a sexy photo of herself on her Instagram in which she is strolling down the beach in a backless one-piece swimsuit, revealing her lower back tattoo. According to a few media outlets, the Catwoman star reportedly got the sunflower tattoo several years ago to cover up her ex-husband's name.


Demi Lovato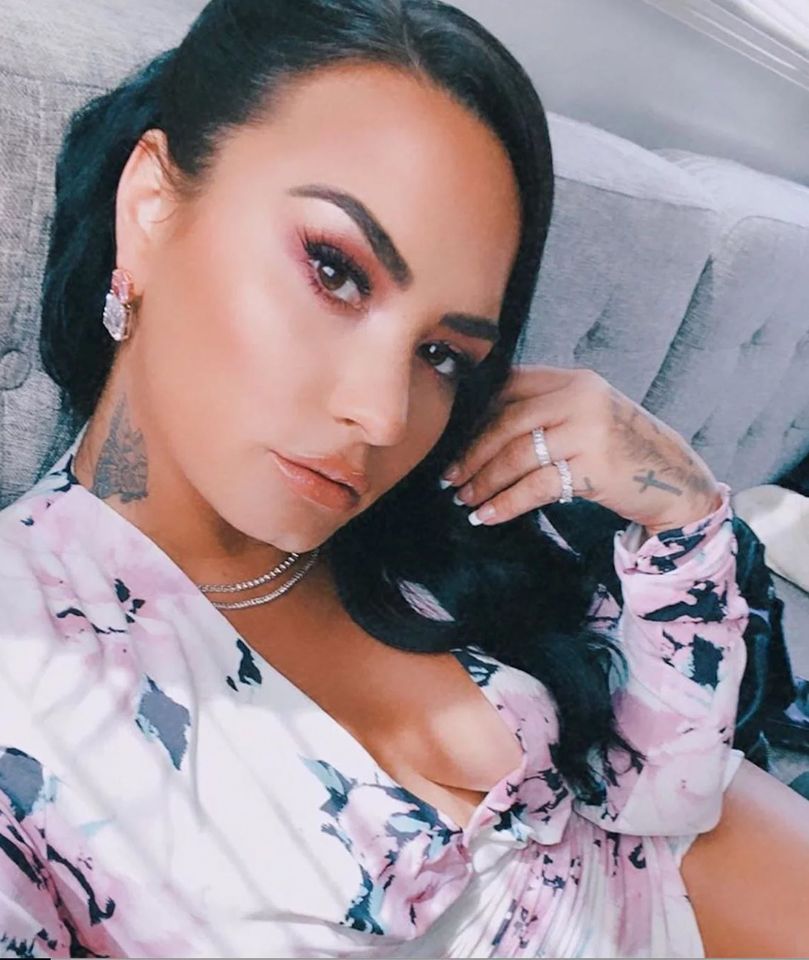 Demi Lovato showed off a new, detailed black butterfly tattoo on the right side of her neck in a selfie she posted on her Instagram last September. Fans speculated the butterfly could symbolize the singer's journey of healing and recovery after overcoming drug abuse in 2018 as she captioned her post, "Dear little me, I'm sorry that it took so long but baby you're free."


Lena Dunham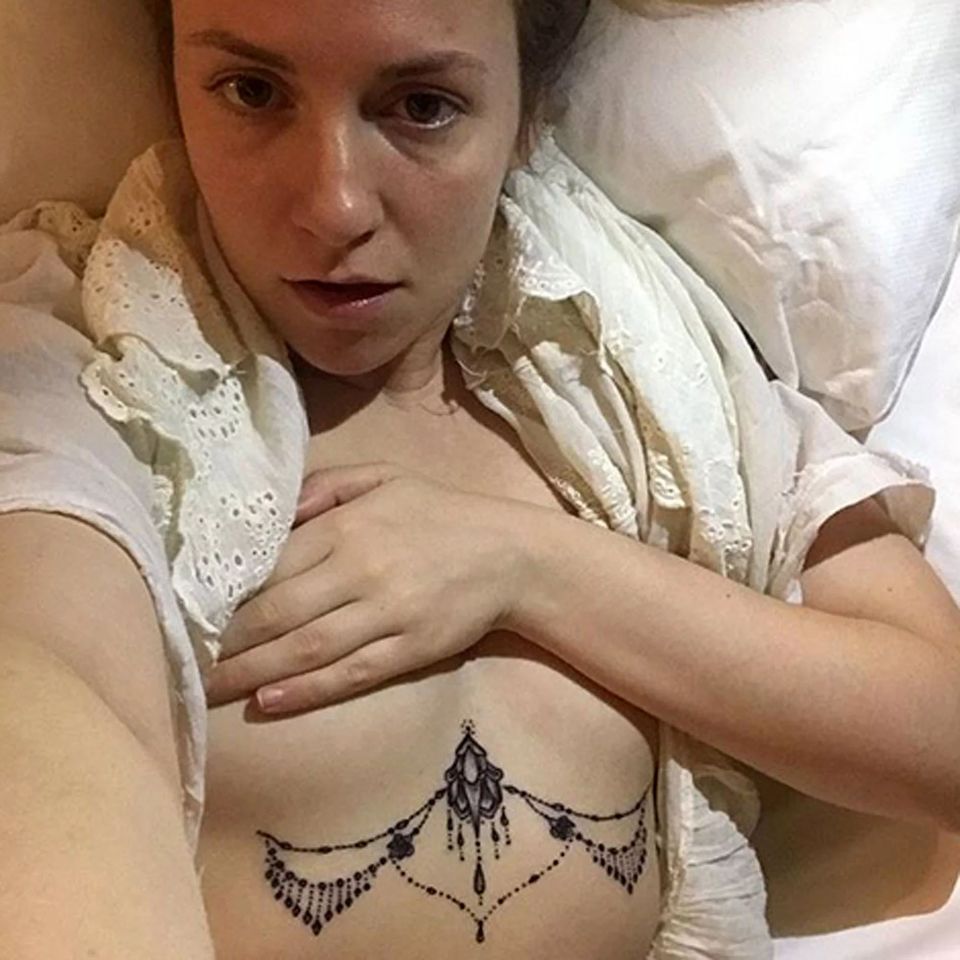 In March 2017, Lena Dunham got a Rihanna-inspired chandelier tattoo below her breasts by Oslo-based tattoo artist Trine Grimm. It was her first original piece made by a female tattoo artist that felt, as mentioned in the actress' captioned Instagram image, "sacred and cool." Plus, Grimm didn't scold Dunham for copying Rihanna's tattoo placement.


Orlando Bloom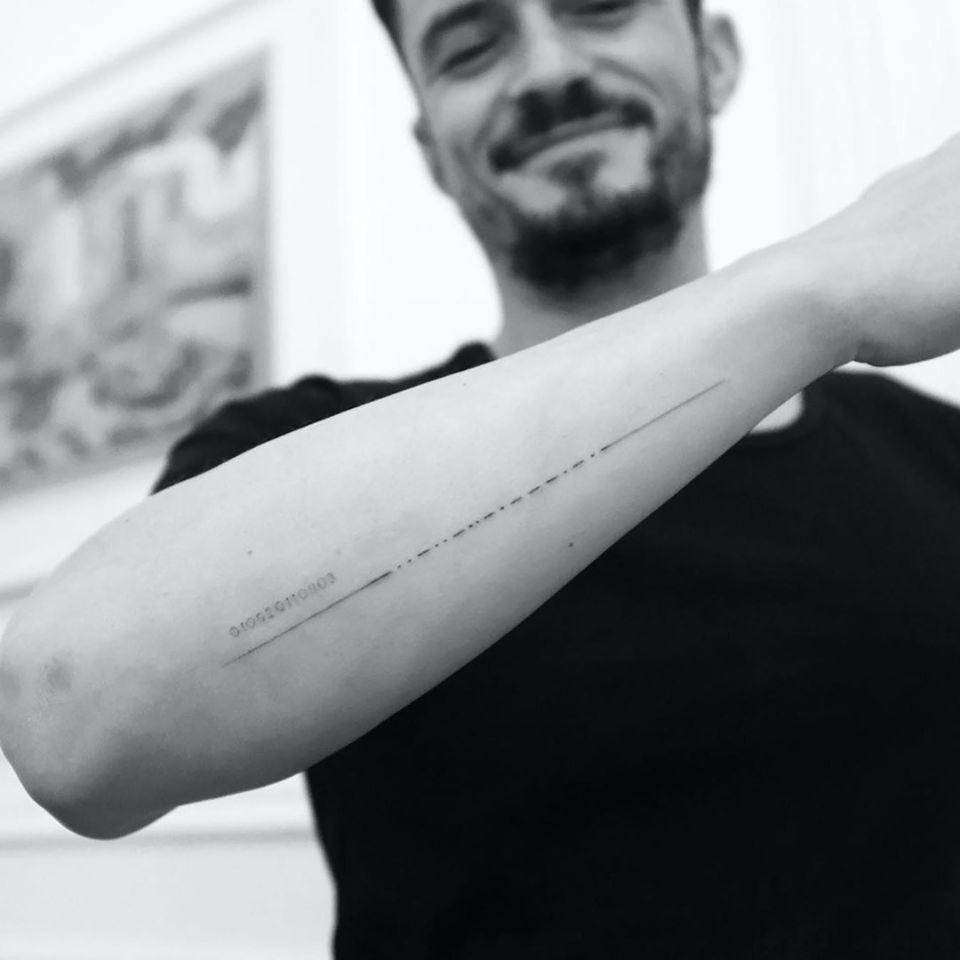 Last February, actor Orlando Bloom managed to get a misspelled tattoo in honor of his son Flynn. The dots and dashes on his arm are actually his son's name spelled out in Morse code, but the first time around, the code spelled out "Frynn" instead of "Flynn." Fortunately, the tattoo artist quickly fixed the mistake with an extra dot and in the process, also added a tiny tribute to Bloom's dog, Sidi.


Cara Delevingne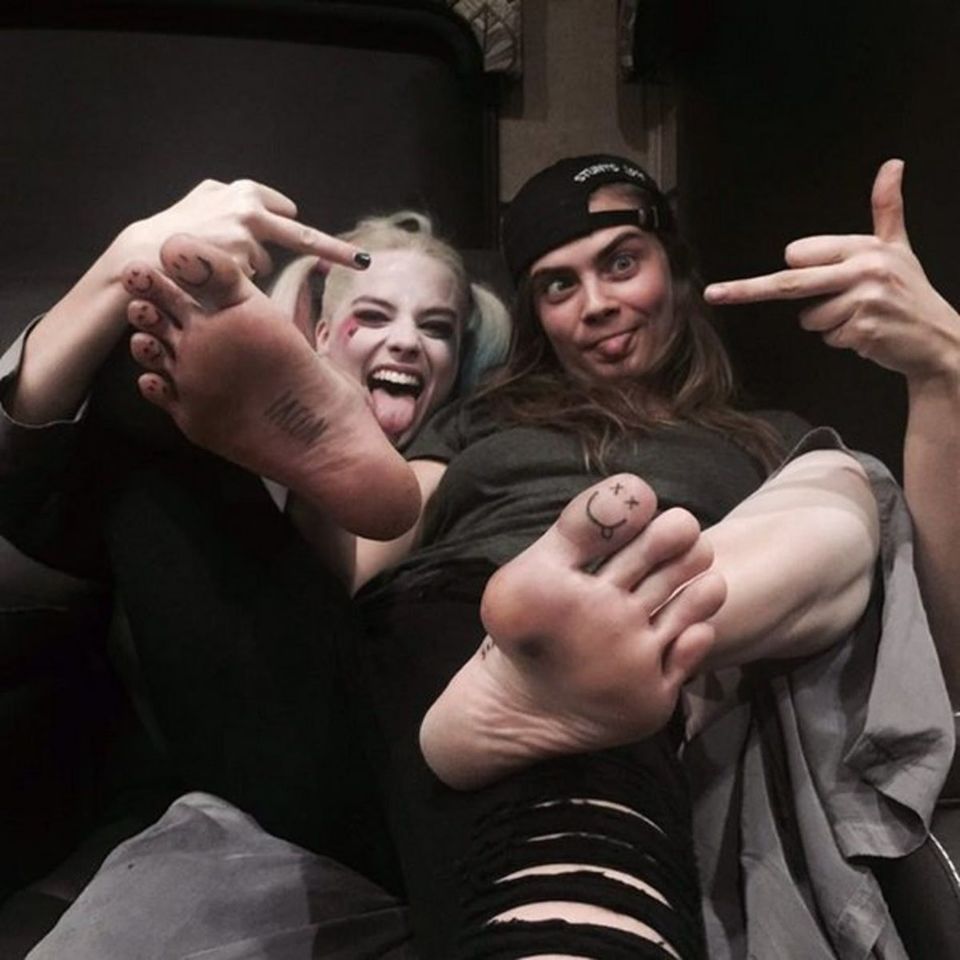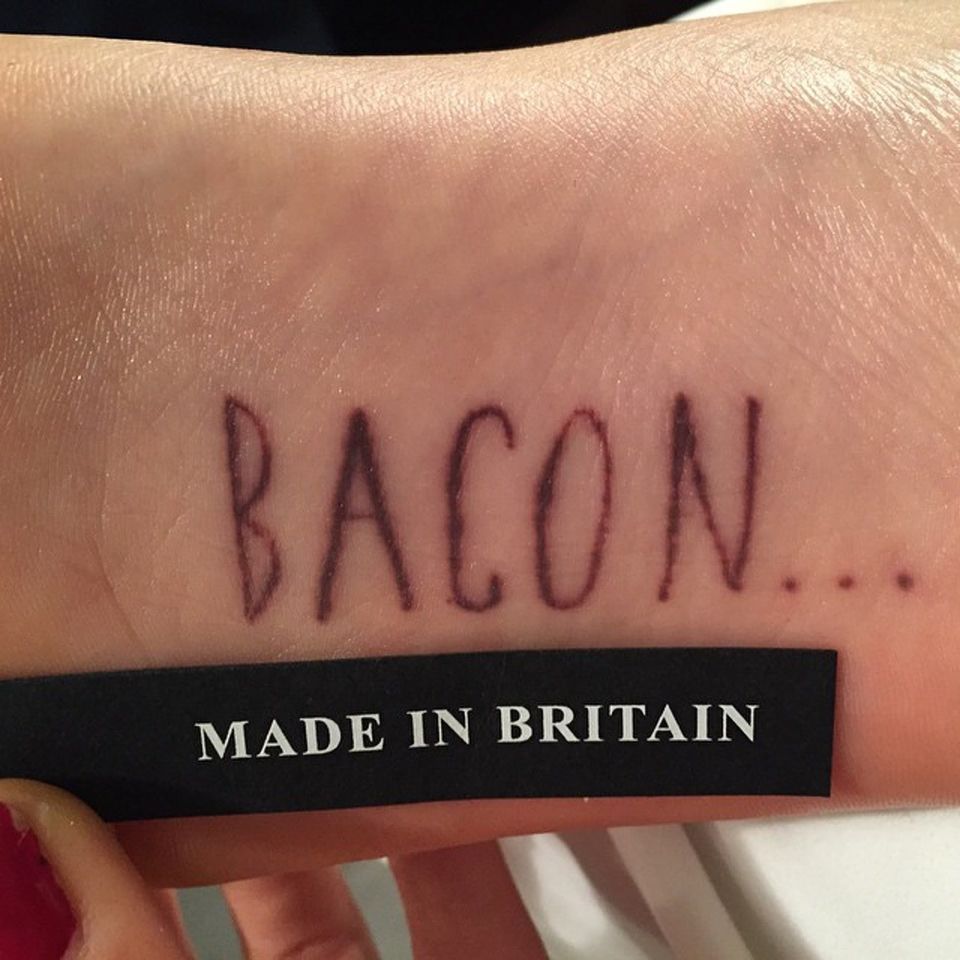 While filming the movie Suicide Squad, actress Margot Robbie gave British model Cara Delevingne a bunch of "toemoji" tattoos, a series of smiley faces inked in black on the pads of six of Delevingne's toes, including all five toes on her right foot and the big toe on her left foot. After Robbie gave Delevingne her tattoos, the whole Suicide Squad decided to get matching "squad" tattoos. She also has a tattoo that says "BACON" on the bottom of her foot, which got inked in 2014.


Halsey


Recently, Halsey posted a candid photo of her new pregnancy on her Instagram stories. In the image, the singer points to a new tattoo that reads "BABY" carefully inked on her lower abdomen to cover scars resulting from the multiple endometriosis surgeries that Halsey had to undergo in the past. The mom-to-be has previously spoken about suffering multiple miscarriages as a result of the condition, but now her bump is proof that she has finally overcome the odds.


Pete Davidson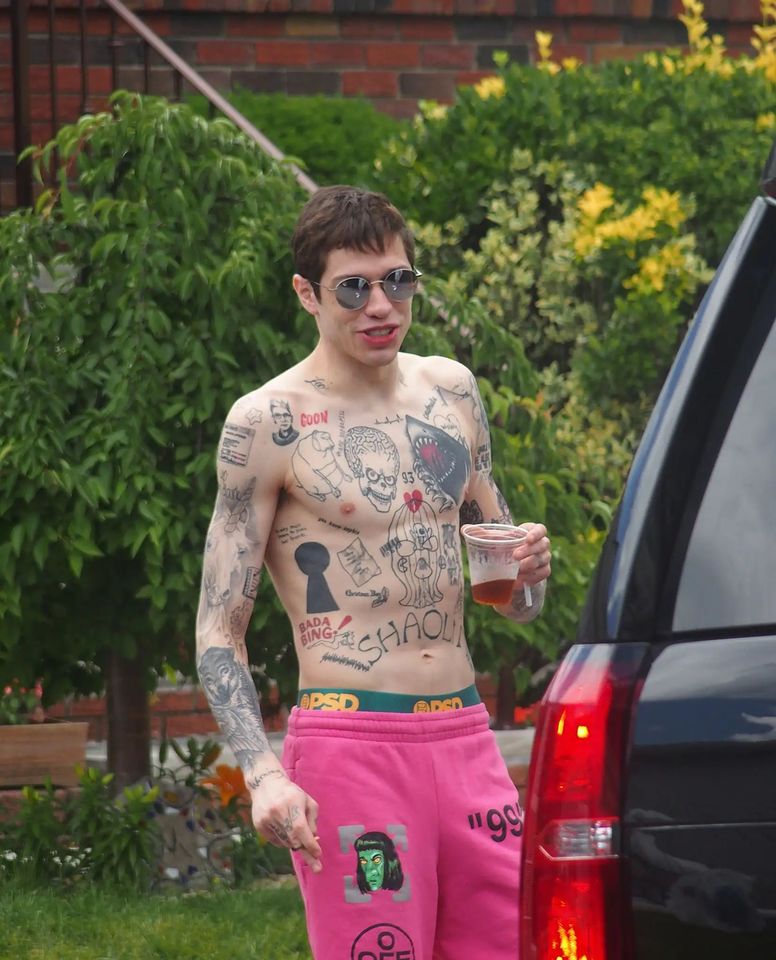 American comedian and actor Pete Davidson admitted in an interview that he used to self-harm and cut his chest in the past because of his struggles with mental health. His chest scars are now covered by many striking tattoos like a Verrazzano Bridge ink design near his left shoulder to recall his origins and an open mouth shark tattoo on the left side of his chest which was inked in 2018 to cover his old tat saying, "Jokes come and go, but Swag is forever." Davidson also had a pair of bunny ears behind his left ear in homage to his ex-fiancée Ariana Grande, but covered it with a heart following their split.


Harry Styles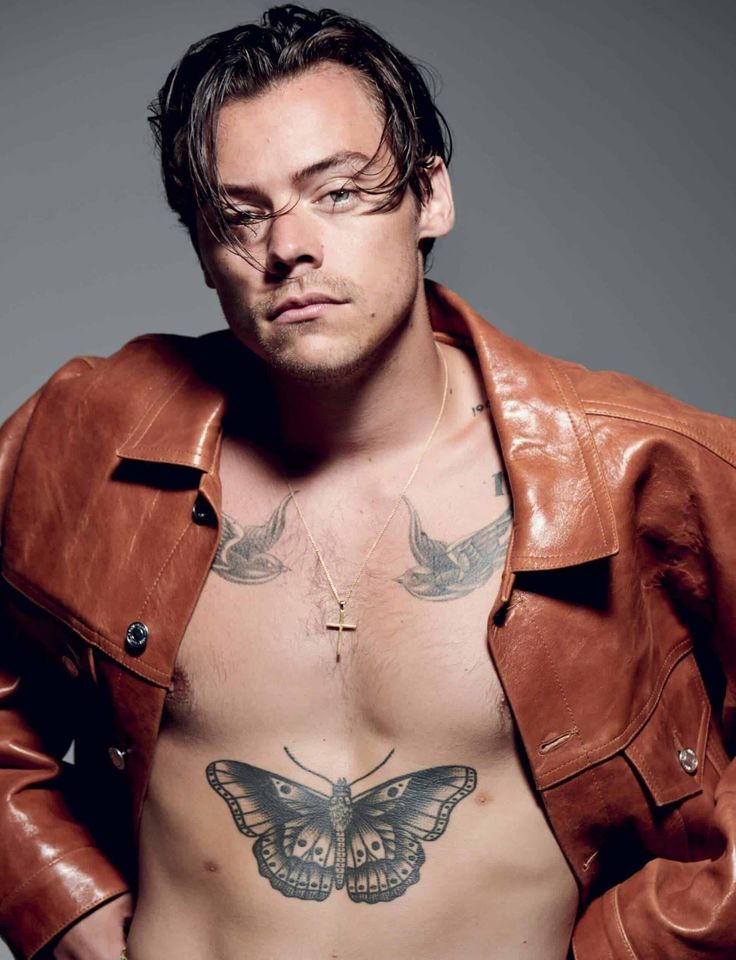 When people think of Harry Styles' tattoos, most of them think of the two swallows facing each other on his chest and the giant butterfly inked across his stomach. The British singer once said that the old sailor's style swallows symbolize traveling while the butterfly done by tattoo artist Liam Sparkes represents his transformation of life through different stages.


Justin Bieber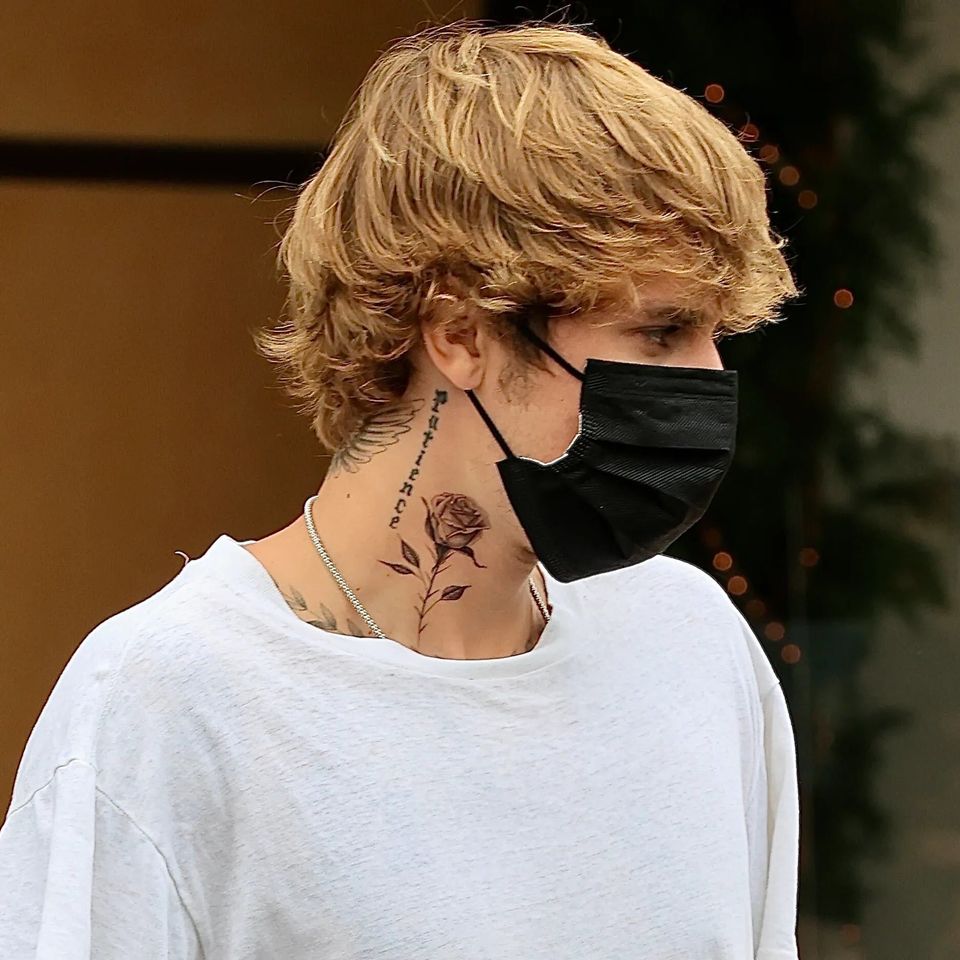 Days before celebrating his second wedding anniversary with wife Hailey Bieber, Justin Bieber showed off his long neck tattoo of a stemmed rose on his Instagram. Designed by celebrity-favorite tattoo artist Dr. Woo, the love-tat marks the artist's second rose inking and another piece added to his collection of over 60 tattoos. Most of his upper body is covered in ink, from a tiger, bear, and eagle on his torso to a small portrait of Selena Gomez on his arm.


Zac Efron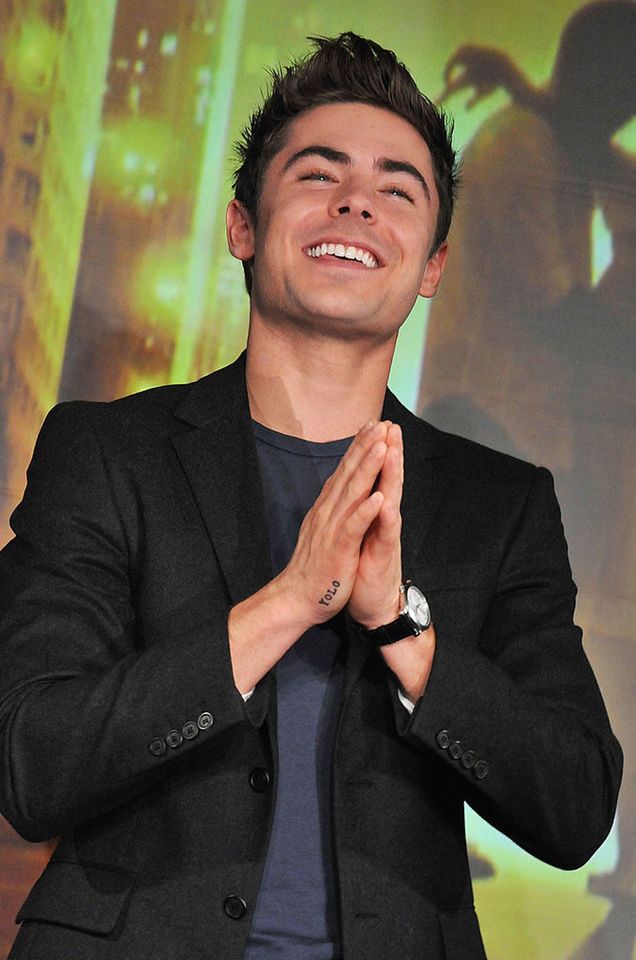 Gone but not forgotten, actor Zac Efron got the acronym for "You Only Live Once" tattooed on the edge of his had back in the mid 2010s, which he later had removed. YOLO was a phrase of the times, like a 21st century carpe diem, that quickly became overused and turned into a meme.