Knotless box braids are everything you want in a hairstyle. Not only do they look effortlessly cool, but they are also versatile, flattering, and protective, doing less damage to your hair than traditional box braids. A type of feed-in braid, knotless box braids don't put tension on your scalp with an 'anchor knot.' Instead, your stylist gradually weaves the braiding hair with your natural strands to create a seamless finish that won't cause breakage or ruin your edges. Natural, beautiful, and feminine, knotless box braids are the perfect way to show off your free spirit and creativity.


1. Bohemian Knotless Braids

Keep it breezy and beautiful with bohemian knotless braids. There are no rules when it comes to this hairstyle – it's all about being unique and unstructured. Try incorporating yarn, threads, or even earthy accessories like cowrie shells into your look. The simplest way to give your knotless braids a bohemian feel is to leave the ends loose. And rather than aiming for a uniform look, make each braid different.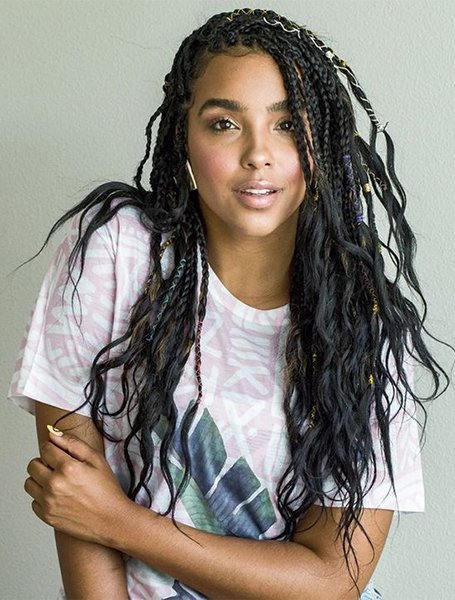 2. Knotless Braids in a Bun

Because there's less tension on your scalp, knotless braids are perfect for twisting into an updo. A braided bun is an elegant and chic hairstyle with timeless appeal and versatility. It is ideal for your next formal occasion, a dinner date, or even daytime to elevate your look. Once your braids are installed, it's simple to twist them into a bun. Pull all your braids into a high ponytail with a smooth hairband, then wrap the ponytail around itself to form a bun. Tuck the ends underneath the bun for a clean finish.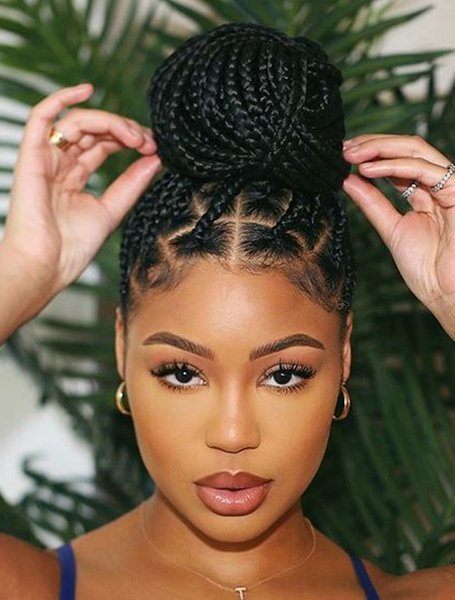 3. Half Up Half Down Knotless Braids

For a fresh and cute styling option, try half-up, half-down knotless braids. The hairstyle gives you the best of both worlds; you can still show off your beautiful long braids while adding the extra flair of an updo or high ponytail. Plus, a half-up, half-down hairstyle is one of the most universally flattering options for all face shapes, particularly those with round and square faces. For best results, position the 'up' section of your hair at the crown, so it's visible from the front.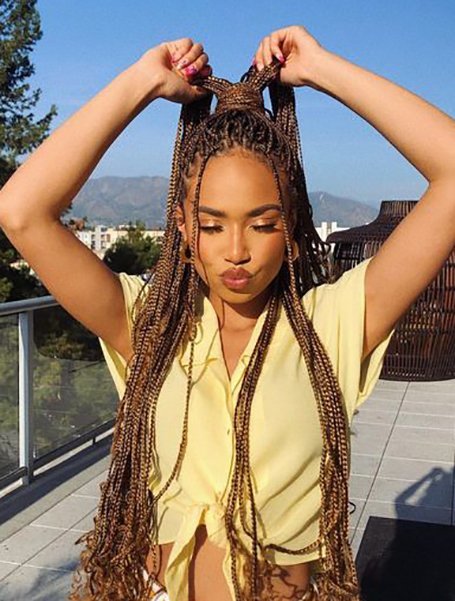 4. Long Knotless Braids

Going knotless is an ideal option if you love the ultra-long, fine braids look. Because there are no knots, and the hair is braided in small sections, there is less tension on your scalp – meaning your stylist can add in more braiding hair for those extra inches. Long knotless braids have a cool '90s vibe and have both a feminine and edgy look depending on how you style them. While these braids take longer to install, the extra effort is worth it.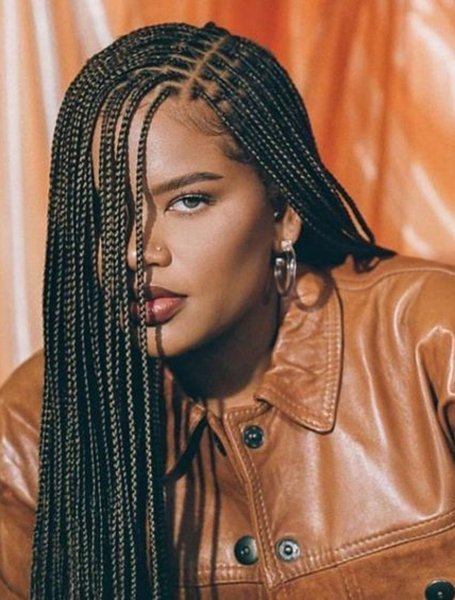 5. Waist Length Knotless Braids

For the ultimate showstopping hairstyle, try waist-length knotless braids. You'll turn heads wherever you go with this look, which has a beautiful and feminine appeal. Waist-length braids are also versatile in that you can get creative with how you style them. While they look fantastic worn loose, you can also try a half-up, half-down style, add beads, rings, cowrie shells, or even ribbons to freshen up your braids day-to-day.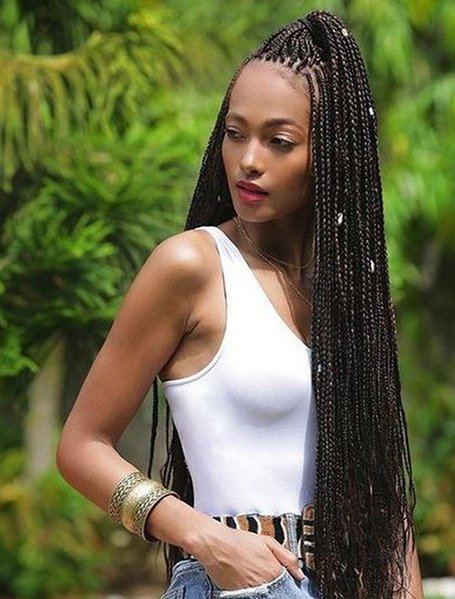 6. Short Knotless Braids

Knotless braids look great at any length. For those ladies who want a standout, low-maintenance look that is still chic and pretty, short knotless braids are an ideal choice. Having braids at a shorter length creates a beautiful 'lob' effect, flattering many different face shapes. While the knotless braiding technique means there will be less tension on your scalp, short braids also weigh less, meaning this is a very comfortable braided style. Have your stylist add another hair color to give this look your personal touch.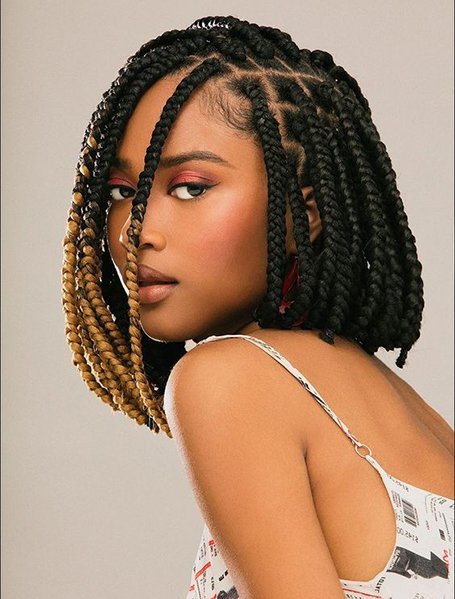 7. Jumbo Knotless Braids

While the classic knotless braid look involves fine, thin braids, you can also get the jumbo braid look with this technique. Bonus – jumbo braids take less time to finish than smaller braids as there are fewer sections required. As a result, they are a fantastic option if you don't want to spend hours in the stylist's chair. Plus, jumbo braids don't need extra styling or accessories to make a statement. Jumbo braids have a casual and playful vibe that is an excellent choice for free-spirited women.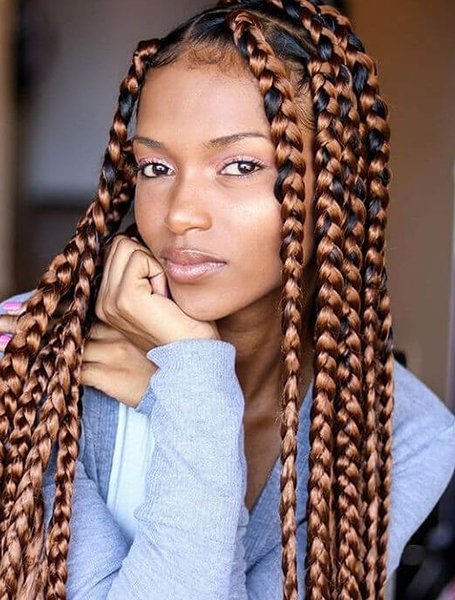 8. Knotless Goddess Box Braids

Goddess box braids have the same beautiful and feminine feel of classic goddess braids, but they don't look the same. While traditional goddess braids are thick, smooth, medium-to-large cornrows braided back into long ropes of hair, the box braid version is more bohemian. The medium-sized, long braids get their carefree, seductive vibe from leaving individual sections loose and curly. Think of them like the braid version of the 'mermaid waves' trend – effortlessly cool, sexy, and flattering.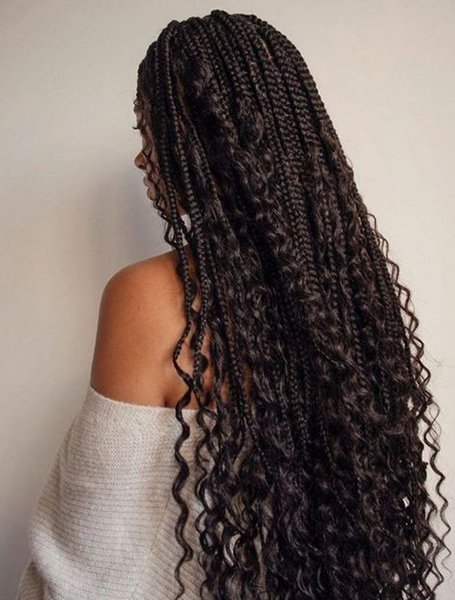 9. Red Knotless Braids

Are you looking to take your braids to the next level? Try a bold color. Red hair is an excellent choice for ladies who love to stand out. From copper to scarlet, the color instantly turns heads and ensures all eyes are on you. You can embrace a fresh shade without needing to color or damage your natural hair. Be sure to choose a shade of red that flatters your skin tone, whether you have cool or warm undertones. Additionally, if you select a very vibrant shade of red, pair it with neutral make-up to let your braids do all the talking and avoid clashing.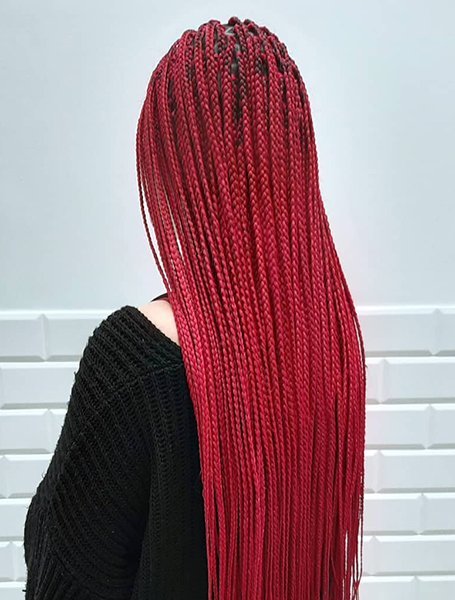 10. Burgundy Braids

Burgundy is a deep purplish shade of dark red that is very flattering on deep, cool skin tones. For that reason, it is an excellent choice when choosing colorful braids. It is also a very on-trend right now! Try long knotless box braids to show off the beautiful hue in all its vibrant glory. Alternatively, if you prefer a more subtle effect, try blending your burgundy braiding hair with a more natural tone closer to your hair color. Another cool option is to create an 'ombre' effect by including burgundy braiding hair only at the ends, or alternating sections.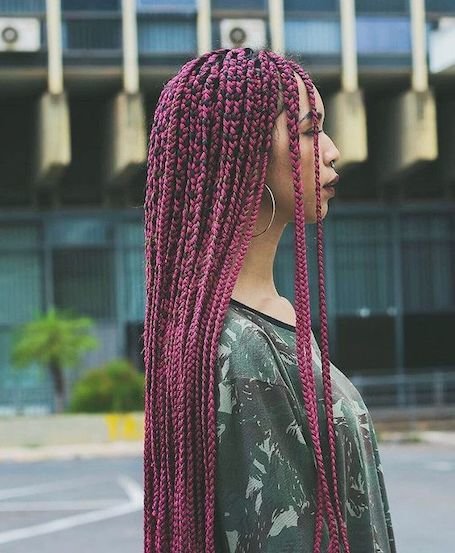 11. Knotless Braids with Curly Ends

Curly ends are often seen in the bohemian box braids and goddess box braids styles. Leaving the ends curly gives your knotless box braids a unique and eye-catching finish. When it comes to styling the curls, you have the choice to leave them smooth and defined, or fluff them for an even more exciting look. It's a great way to change up your standard box braids look, and even better, you can curl the ends yourself at home using perming rods and boiling water.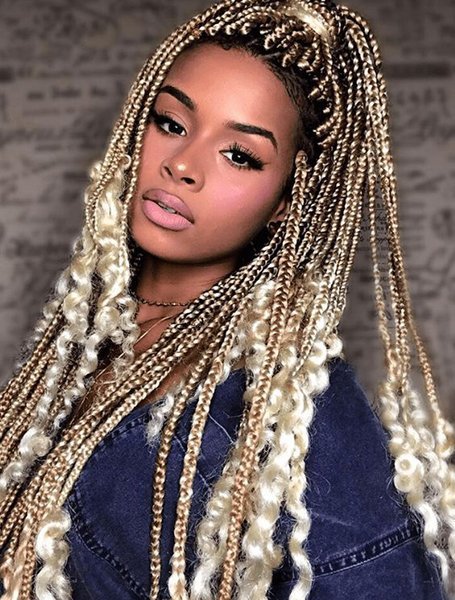 12. Ombre Knotless Braids

Usually, the term ombre refers to how a colorist dyes your hair, positioning the highlights and lowlights to create a multidimensional shaded effect. When braiding your hair, your stylist can mimic the ombre look using different colored hair in separate sections. They will interweave darker and lighter braiding hair, giving you a gorgeous and unique result personalized to you. Ombre knotless braids are a great choice if you want to adapt the style to suit your face shape, too, as the lighter pieces can be positioned to flatter your best features.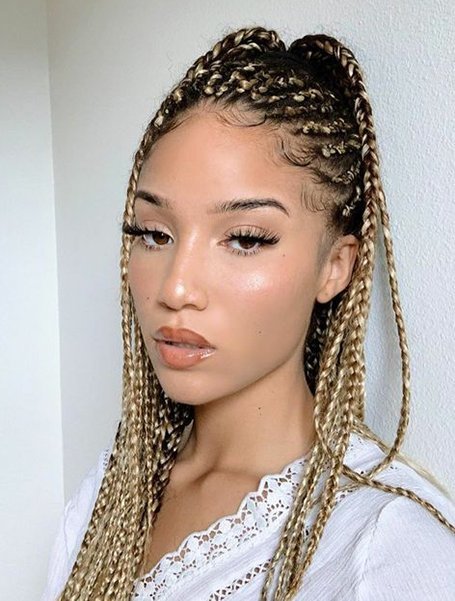 13. Knotless Braids with Beads

Beads are a beautiful and traditional way to accessorize your braids and take them to the next level. They allow you to put your personal touch on your braids and can be changed up to suit the occasion or to match your outfit. One fresh option is to stack clear beads at the end of your knotless box braids, ensuring the beads don't clash with your earrings. You could also try gold beads for a luxe look, or colorful beads for a more vibrant and fun result.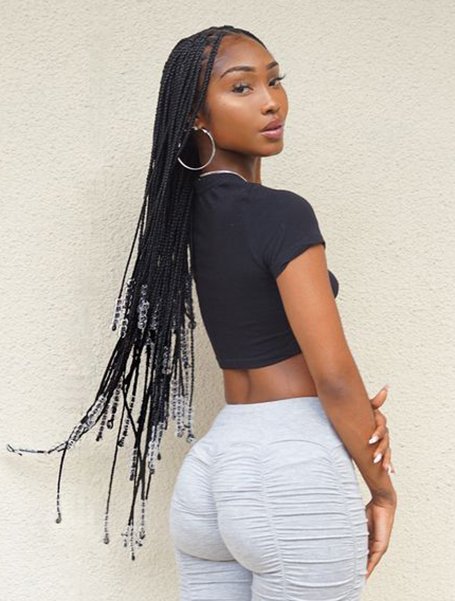 14. Blonde Knotless Braids

Blonde hair is a huge trend and always looks striking, particularly on deeper skin tones. Blonde knotless braids are a great way to try out the trend without damaging your natural hair with bleach or braiding knots. Whether you opt for icy platinum blonde braids or a softer honey blonde, you will stand out from the crowd. Try waist-length knotless box braids if you want to ensure all eyes are on you.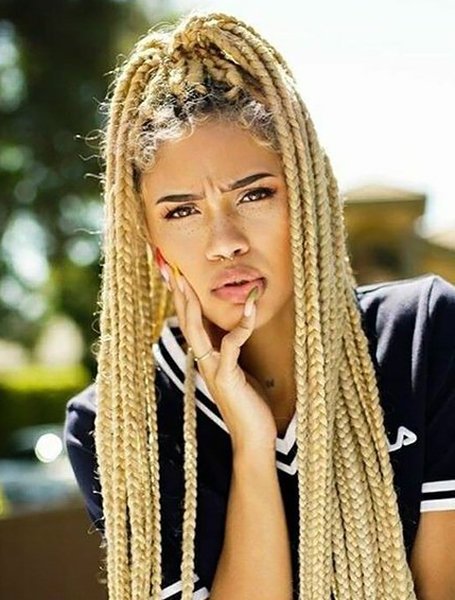 15. Medium Knotless Braids

Knotless braids look great no matter how thick your braids are, from fine to jumbo size. However, the perfect mid-point is medium knotless braids. They take less time to put in than fine knotless braids as there are fewer sections, and they don't feel as heavy on your scalp. Plus, these braids can be styled in various ways, from a half-up, half-down look to an updo.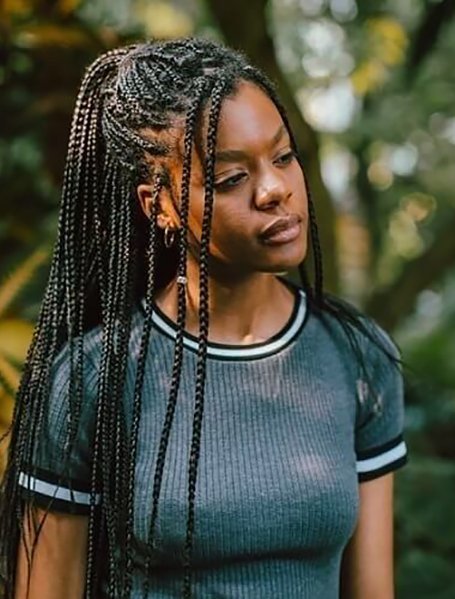 16. Triangle Knotless Braids

Give your knotless box braids a fresh look with triangle sections instead of the classic square. The angled appearance immediately draws attention to your hair, so triangle box braids are a great choice if you love to be the center of attention. To make your hairstyle even more eye-catching, have your stylist plait a ribbon or yarn element through a section to create a 'statement braid.' Triangle knotless braids work best with medium to large braids, and they can also be combined with a classic box pattern for a unique look.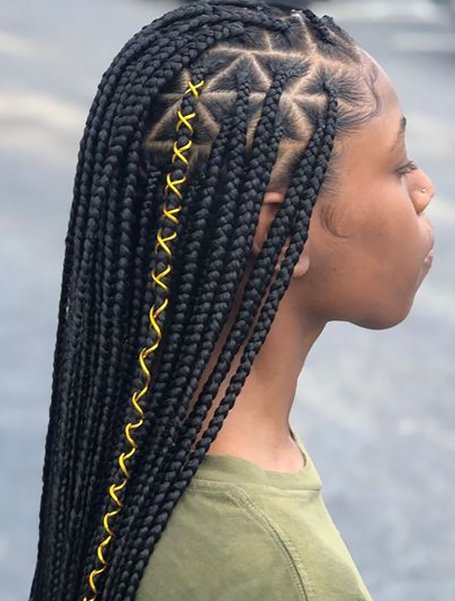 17. Brown Knotless Braids

While black, blonde, and brightly colored braids are on-trend right now, brown knotless braids never go out of style. Classic, classy, and flattering, brunette braids are understated in the best possible way. They maintain the mystique of black braids, yet have a softer finish that looks more natural and less stark against your skin. Your stylist can also create a subtle ombre effect by using different shades of brown braiding hair, creating a highlighted effect that frames your face beautifully.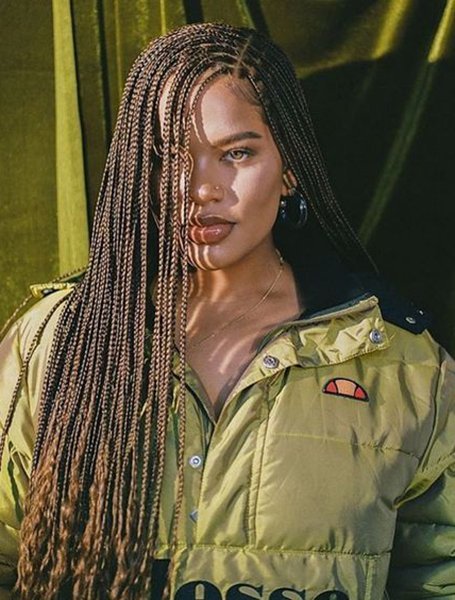 18. Knotless Braids in a Ponytail

The ponytail is one of the most popular and versatile hairstyles because it is easy to create and can be adapted for every occasion, from work to wedding. Knotless box braids look best when styled into a high ponytail, and this will also put less stress on your scalp as the weight of the braids is distributed across the crown of your head, rather than pulling down from the back. Wrap some of your braids around the base of the ponytail for a flawless finish.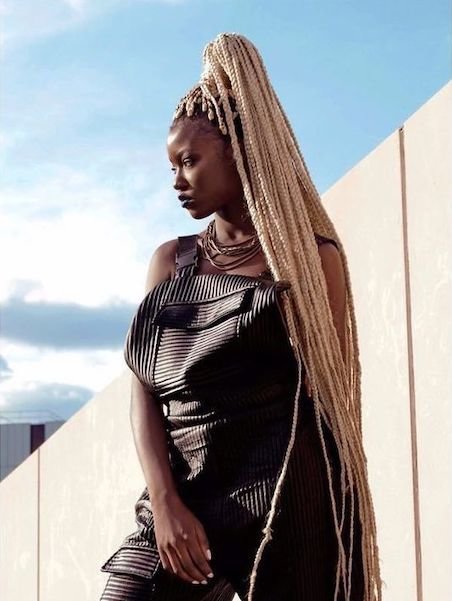 19. Large Knotless Braids

Large knotless braids are not quite as thick as jumbo braids, yet bigger than medium-sized ones. As with all larger box braids, they reduce the stress on your scalp as there are fewer sections overall. Plus, the weight of each braid is distributed over a bigger area. Large knotless box braids look great at any length, too. If yours are on the shorter side, you have fewer options in terms of styling. However, you can add accessories that make a statement, such as rings and beads. Position them to flatter your face shape and bring more attention to your best features, such as your lips and eyes.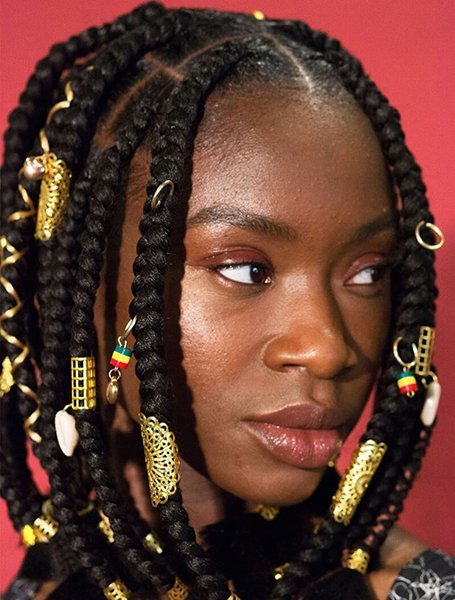 20. Knotless Braids Updo

Knotless braids are ideal for creating an updo, as they don't put tension on your scalp. As with any updo, you will need your hair to be a certain length to create the style. Therefore, if you'd like to wear an updo regularly, you will need braids that are at least medium to long. The beauty of braided updos is that they are relatively quick and easy to style – all you have to do is secure your braids into one high ponytail, then twist different sections around each other to form the shape you want. Add in groomed baby hairs, and you have a stunning, polished, and pretty hairstyle perfect for everyday wear or a formal event.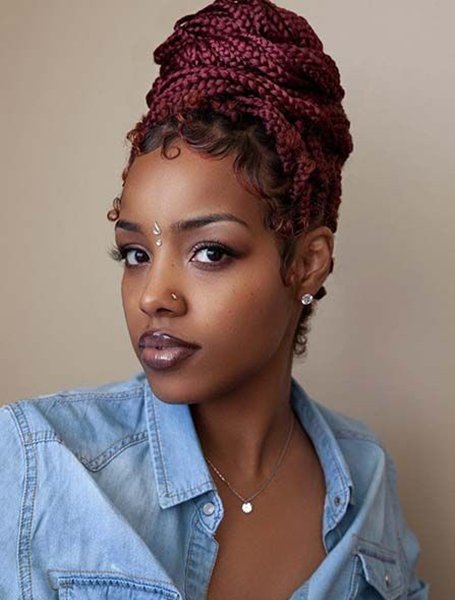 FAQs
How to do knotless box braids?

Wash and blowdry your hair before visiting your stylist or beginning your braiding process at home. Then, section your hair as usual into boxes, triangles, or diamonds, using edge control gel to get a defined look. Next, instead of securing the braiding hair with a knot and plaiting, start a three-strand braid and gradually introduce the braiding hair, seamlessly blending it with your natural hair using a feed-in technique. As an optional final step, you can dip your braids in hot water to seal them, so long as you are braiding with 100 percent real human hair.


How long do knotless box braids last?

Knotless box braids last around four to six weeks, depending on how well you care for them. These braids last roughly the same amount of time as traditional box braids. While knotless box braids are a protective style and damage your natural hair less than other braid types, they can cause breakage if left in too long. Braiding experts advise having your knotless box braids taken out at a maximum of six weeks to avoid damage.


What's the difference between knotless braids and box braids?

Knotless box braids are less painful than traditional box braids, put less tension on your scalp, and cause less product build-up. Because there is no knot at the base, knotless braids lay flat to your scalp – unlike classic box braids – and move more freely. Knotless braids are also lighter than traditional box braids. However, they do require you to use braiding hair that matches your natural hair texture. Because of the higher degree of precision needed to create knotless braids, they can take several hours longer to install than box braids. For the same reason, they are also more expensive.


Can I wash my knotless braids?

Experts advise caring for your knotless braids the same way you would classic box braids. That means there is no washing required – especially if you have 4C curls, which can shrink when washed, leading your braids to look fluffy or fuzzy rather than smooth. Instead, gently wipe your braids down with apple cider vinegar once per week. It's also essential to maintain your scalp to make your braids look their best, so use a little more apple cider vinegar on a Q-tip or cotton pad to remove any product build-up on the visible parts. Oil your scalp every four days with your favorite hair oil to keep it healthy.


How do you moisturize knotless braids?

The best way to moisturize your knotless braids is with a hydrating mist or leave-in conditioner. Look for natural moisturizing ingredients like coconut water, shea butter, and argan oil. Choose a bottle with a fine nozzle, so it is distributed lightly and evenly over your braids. Spritz your braids two to three times a week, and wrap your braids in a silk scarf or bonnet while you sleep to minimize moisture loss overnight.