Braided hairstyles are not only some of the cutest options for kids' hair but are also fun and practical. There is an endless variety of techniques and patterns to express your little one's unique personality, style, and culture.
At the same time, you can add braids to standard hairstyles, such as a ponytail or bun, to add a fresh and funky twist. And even better, braiding helps keep your child's hair from tangling and is also considered a protective style for Afro-textured hair. Whether you're a braiding beginner or a seasoned pro, these hairstyles will inspire you next time you're styling your youngster's locks.


1. Two Side Braids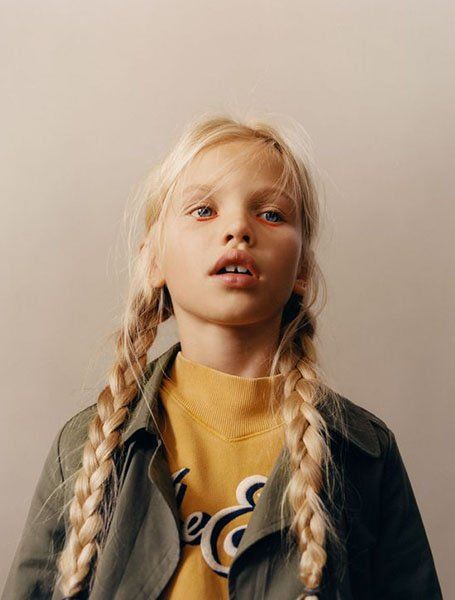 The two-side-braid hairstyle – also called double braids or pigtail braids – is a simple and classic look that is easy and quick to create. If you're short on time and need a fast fix to tame your child's long hair with more flair than a standard ponytail, then two side braids are a great option. Whether neat and smooth or more loose and bohemian, these versatile braids always look good and are a great choice for school or sports.


2. Cornrows with Beads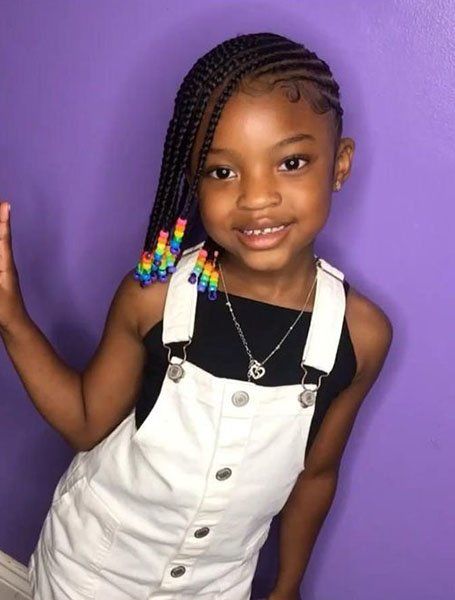 Kids love to show off their unique style, and one of the best ways is by adding fun hair accessories! Beads are a great way to make your child's cornrow braids stand out – particularly if they love bright colors or rainbows. Cute and cool, classic front-to-back cornrows have other benefits too. First, they follow a simple braiding pattern so you can easily master the technique at home. Second, they are considered a protective style for Afro-textured hair, and finally, they can be left in for two weeks, which will save you time styling your child's hair each morning.


3. Braided Updo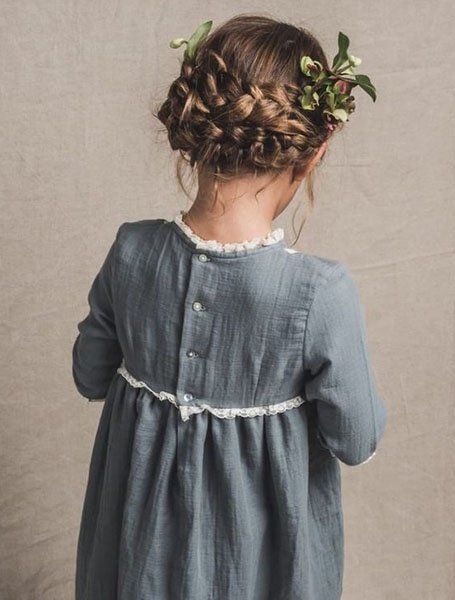 For special occasions, such as attending church or a wedding, a braided updo is an excellent choice for your child. These hairstyles look lovely in photos – particularly if you add a hairband or flowers – and have an old-school vintage look. Another advantage of a braided updo is that it will keep your little one's hair out of their face. A simple way to create this style is to plait their hair into double braids and clip them into an updo with bobby pins.


4. Braided Top Bun with Natural Hair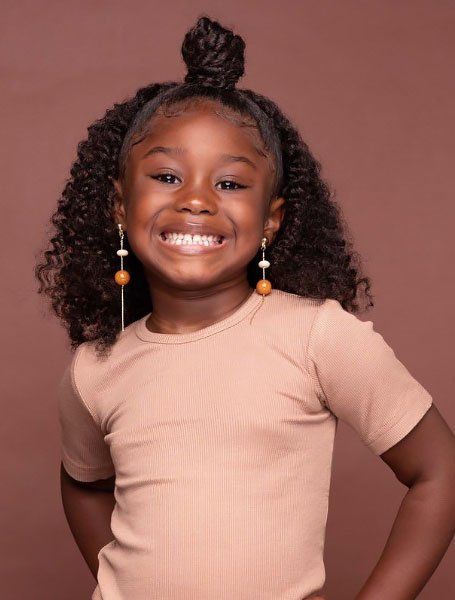 Struggling to choose between braids and showing off your child's beautiful curls? Give them the best of both worlds by combining natural hair with a braided top bun. The braided bun looks super cute and stands out from the crowd. Meanwhile, leaving the other sections loose means this is a very comfortable and casual hairstyle for kids. Ensure you keep both the braided and unbraided sections moisturized and add fun accessories such as barrettes or beads for an extra touch of personality.


5. Braided Side Bun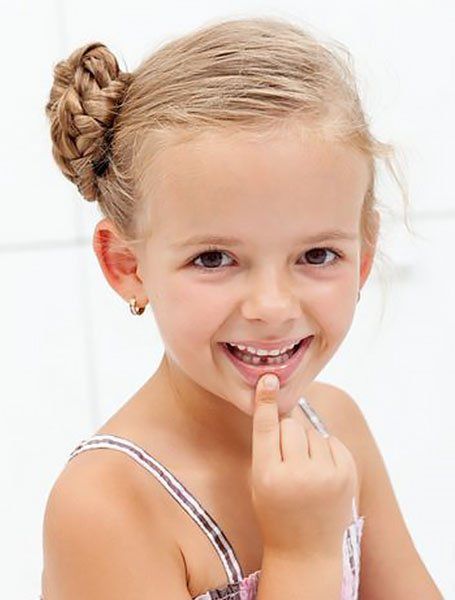 For a cute new twist on a braided updo, try a braided side bun. While it's simple to create – you only need to make one braid – the hairstyle stands out and has a pretty yet quirky vibe that your little one will love. Make a deep side part in their hair, then brush it smooth and create a three-strand plait. Finally, twist the plait into a bun and secure it with bobby pins. Quick and easy, it's an ideal style for school photos, birthday parties, or a family dinner.


6. Box Braids Ponytail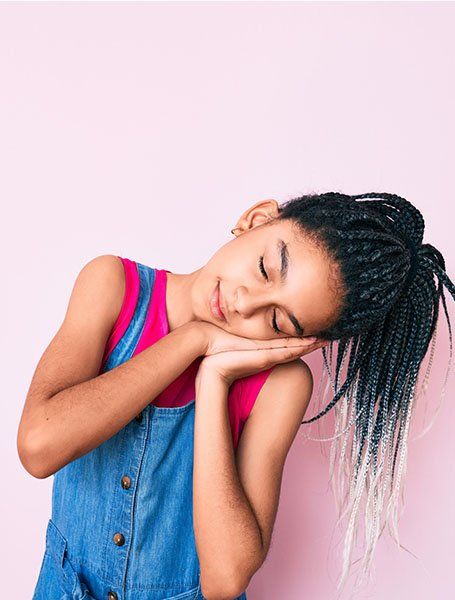 Box braids are a fantastic hairstyle for older kids and tweens. At this age, they are patient enough to have the braids put in and will love being able to choose new hair colors to express their personality and style. Plus, box braids can be left in for four to six weeks, which will save you plenty of time. A box braid ponytail is a great option if your little one wants a change from loose box braids, and it also works well for sports games.


7. Hair Down with Small Braids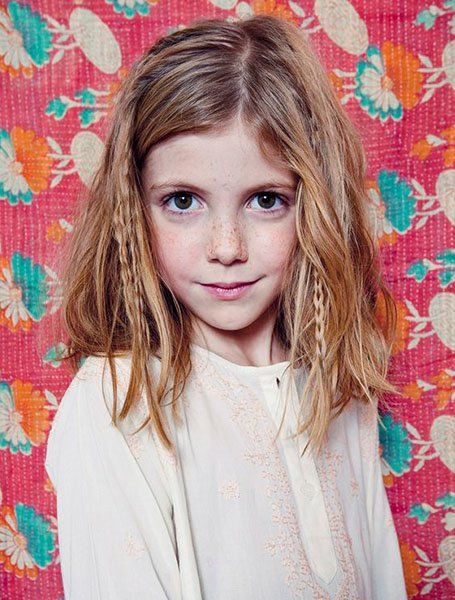 One of the quickest and easiest braided hairstyle options for kids is small braids on loose hair, particularly if their locks are thick or wavy. Cute, relaxed, and bohemian, this hairstyle suits kids with an outdoorsy, playful personality – especially those who don't stay still long enough for a more complex braided style. Bear in mind that smooth, straight hair may require a little sea salt spray, texturizing spray, or elastic bands to hold the mini plaits in place.


8. Cool Kid Hairstyle with Braids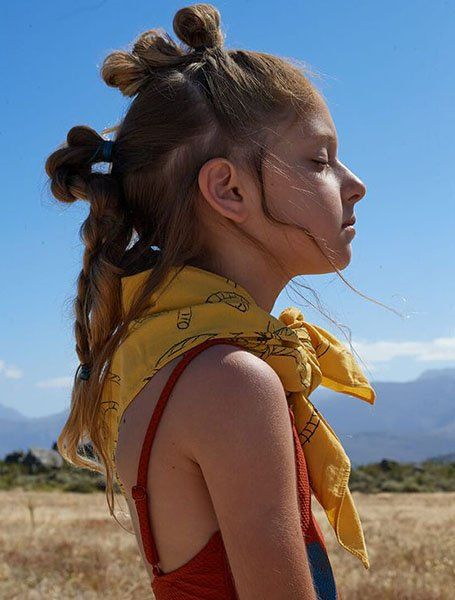 One of the coolest hairstyles is the mohawk. That is because it's edgy, full of attitude, and has a wild and rebellious appeal. To create a kid-friendly version with braids, section the hair from front to back and make a 'fauxhawk' with mini buns. Then, braid the back section into loose plaits. This cool-kid hairstyle is a great option for summer camp or a birthday party, as it stands out and looks amazing in photos too.


9. Braids with Hair Clips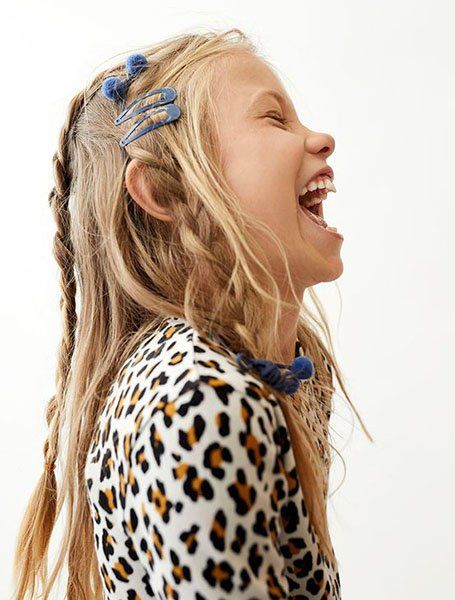 Accessories like hair clips are one of the easiest ways to personalize your child's hairstyle and make it look more unique. Simultaneously, hair clips serve a practical purpose by holding the hairstyle in place and keeping hair out of your child's face. Try braiding the side sections and clipping them back with barrettes in your child's favorite color. For school, you could choose barrettes that match their uniform or the school's official colors.


10. Braided Side Buns with Cornrows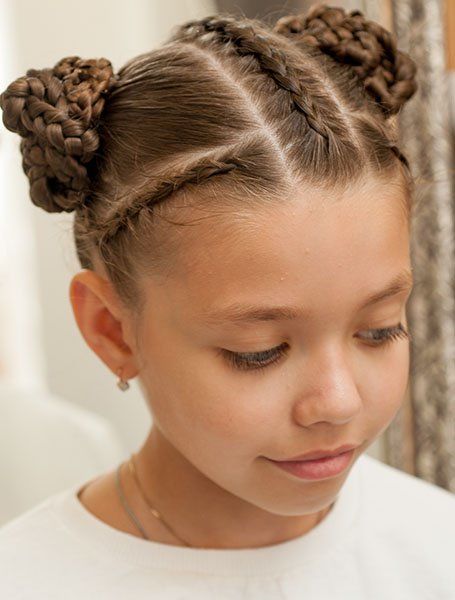 For a special occasion, your little one may demand a unique hairstyle – and braided side buns-with-cornrows fit the bill. The braided sections add a fun, unique, and playful twist, while the buns will keep their hair in place and look cute in photos. However, if your child has straight hair rather than Afro-textured hair, cornrowing could cause damage. Instead, try mini Dutch braids and make sure you don't leave them in for more than a day.


11. Braids with Elastic Bands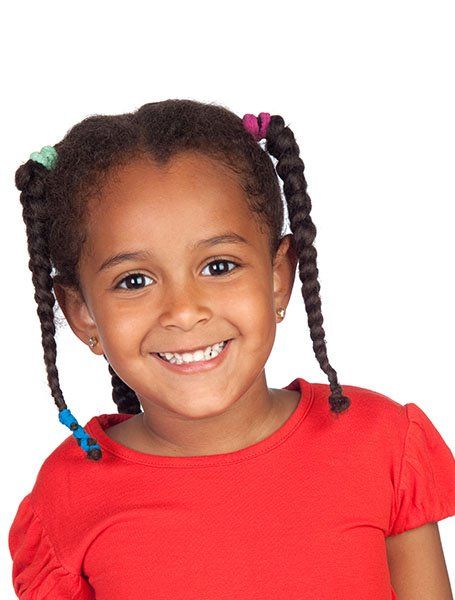 Rubber or elastic band hairstyles are the styles that are secured with bright mini hair ties. They have been popular for decades as they immediately add a dose of fun to any look. Not only do the elastic bands create a super cute and colorful effect, but they also help secure the braids and hold them in place. You can add the bands to all kinds of braided hairstyles, including box braids or pigtails.


12. Fishtail Crown Braid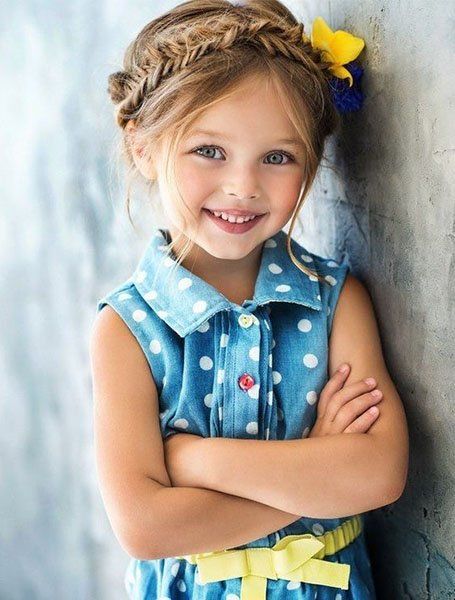 Searching for the perfect pretty kids' hairstyle for a formal occasion, such as a wedding or family photo? A fishtail crown braid is a fantastic option if your child has long straight or wavy hair, and best of all, it's surprisingly simple to create. Section the hair into two halves and fishtail braid each one, then pull them forward and cross them over, securing with bobby pins, to create the 'crown' effect. Add flowers for an extra special touch.


13. French Braids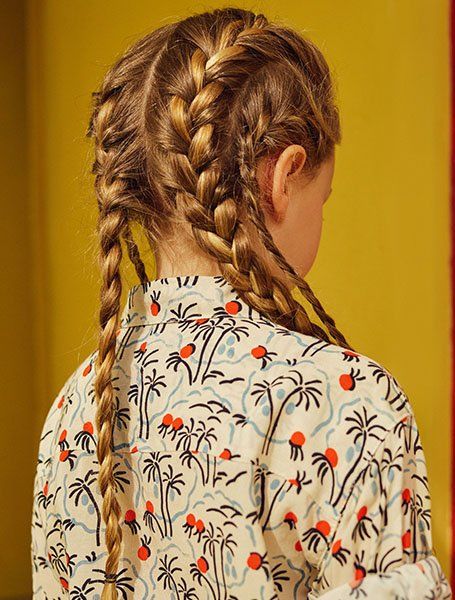 While a single French braid is the ideal quick and clean hairstyle for school, you can get creative with the technique when you have more time. Far from boring, French braids can look cool and unique. Try plaiting multiple French braids of different sizes – smaller ones at the sides and larger ones at the back – for a fresh and unusual take on a classic braiding style.


14. Loose Side Braids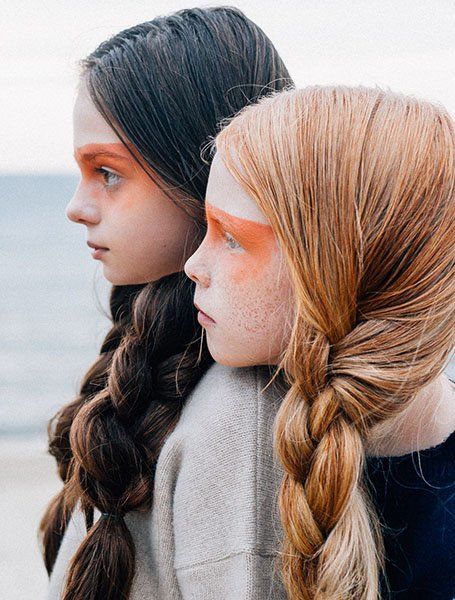 An ideal braiding option for kids with very thick hair is loose side braids. Also known as jumbo pigtails, loose side braids have an intentionally relaxed, imperfect look, so unlike other braiding styles, there is no need to be too neat or precise. Plus, loose side braids are very comfortable for kids to wear because they don't put as much tension on their scalp as tighter braids. For an added twist, try braiding a ribbon through the plaits.


15. Rainbow Box Braids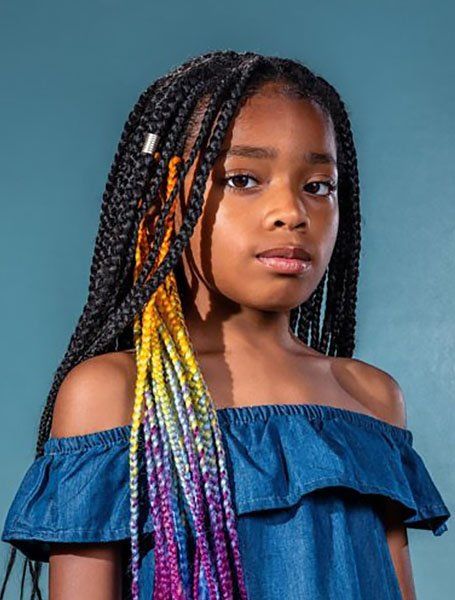 Kids love bright and colorful hairstyles, and rainbow box braids definitely fit the bill. They are a great way to add standout, eye-catching hues and show your child's creativity and style without damaging their natural hair. There are several different options for this style – your child could choose to have each braid to be a different color or have the stylist braid different shades together for an amazing gradient effect.


16. Micro Braids in a Ponytail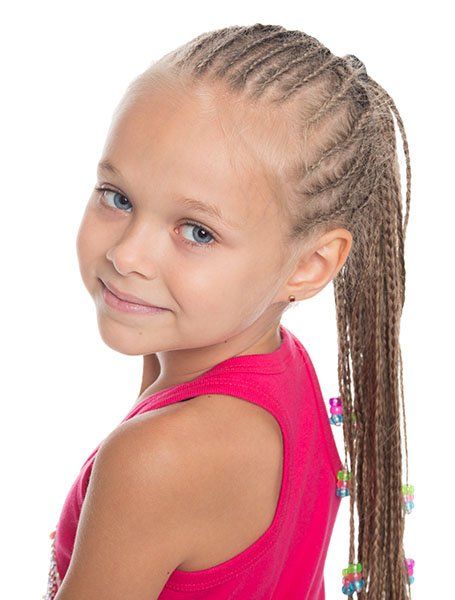 Micro braids in a ponytail is a great styling choice if your child has very fine straight hair or Afro-textured hair. Quirky and fun, micro braids stand out from other plaited styles and are versatile – your little girl can wear them loose, half-up, half-down, or in a ponytail. Try adding beads or elastics to a micro braid ponytail for an extra splash of color.


17. Fishtail Side Braid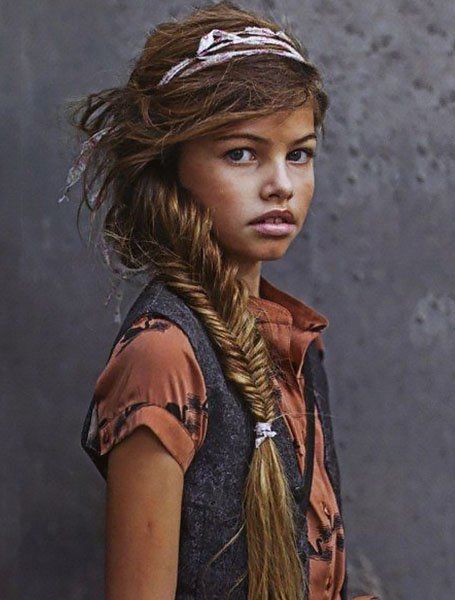 Already mastered the three-strand plait, French braid, and Dutch braid? It's time to try out a fishtail side braid! Using a simple two-strand technique, this braid looks pretty and stands out from the crowd. It's perfect if your little one loves mermaids, and making it into a side braid means they can see their braid without a mirror.


18. Crown Braid
A classic crown braid is perfect for a formal event, so it is often chosen for flower girls at weddings. A major benefit of this type of braided hairstyle is that it doesn't need to be too tight, meaning it will be very comfortable for your child to wear all day. Plus, their hair does not need to be completely smooth – in fact, the style looks better if it isn't too neat!


19. Fulani Inspired Braid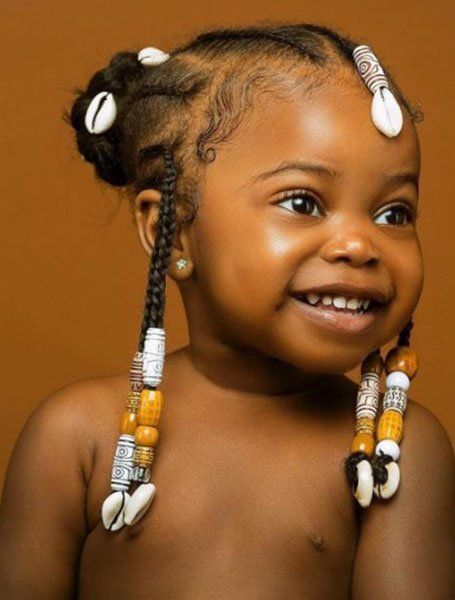 Originating with the Fula people of West Africa, Fulani braids have become some of the most popular tribal braids worldwide for their unique and eye-catching pattern – one thin cornrow braid at the crown, with fine side braids, often accessorized with rings, beads, or cowrie shells. While usually worn by adults, a kid-friendly Fulani-inspired hairstyle is a great option for a special occasion or photo shoot. Keep the braids looser and smaller than you would with an adult, and don't leave them in too long to prevent any stress or damage to their scalp.


20. Crown Braid with Bangs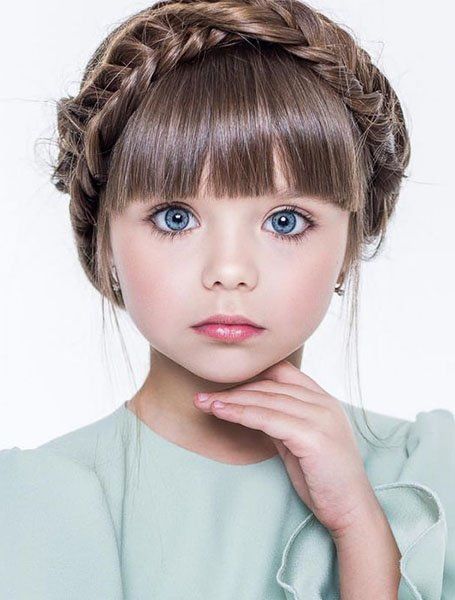 For a perfectly polished look for your child, try a crown braid with bangs. This hairstyle shows off their cute fringe while combining it with a grown-up braid. Because the braided section is at the front, this look is ideal for their school yearbook photos. It's also a neat, tidy, and traditional hairstyle for going to church.


FAQs
What are the good braided hairstyles?

There are many good braided hairstyles, but the best one for your child depends on their hair type and texture. Good braided hairstyles for straight hair include French braids and Dutch braids, while natural Afro-textured hair suits cornrows and box braids as these are considered protective styles. Once braided, hair can be styled in many ways, from buns to ponytails and half-up, half-down styles.


What are the cute easy hairstyles for school?

Single or double braids – aka three-strand plaits – are an adorable and easy hairstyle for a day at school, and they don't take too long to create. Plus, these braids work on all hair types, and you can add colorful barrettes, elastics, or bobbles to make them even cuter!


How do I braid my daughter's hair?

It's generally recommended to start braiding your daughter's hair with a simple three-strand plait. Once you have the braiding pattern mastered, you can move on to more complex styles such as French and Dutch braids. If your daughter's hair is Afro-textured, a three-strand plait is also a good place to start. You can then move on to box braids, which use the same braiding pattern but require you to section the hair into boxes with a tail comb first. For cornrows, section her hair into horizontal rows and use the underhand technique to create the raised braids.


How do you side braid a little girl's hair?

Side braid a little girl's hair the same way you would an adult's hair. Start by creating a deep side part. Next, take two pieces of hair from the front hairline at the parting, then twist them to start a two-strand braid, adding more hair as you go – similar to a French braid. Keep adding more hair into the two-strand braid as you go until you reach the bottom of her ear. At this point, about two-thirds of her hair should be incorporated. Use the remaining third of hair as one section and add it to the two-strand braid to create a three-strand plait. Finally, secure the side braid with a hair elastic.