You better watch out, Santa Claus is coming to town, and he's bringing along some jolly cheer. Whether you have a big family or a small one, you can celebrate the festive season together. From the annual Instagram posts under the decorations or watching a heartwarming film, these PJs will keep you warm and cozy during the chilly weather. Celebrate the happiest time of the year in style with these matching Christmas pajamas.


1. Christmas Tree and Bear Patterned Family Onesie

Add a bit of jolly cheer to your holiday season with a matching family onesie. Featuring a pine tree and bear pattern, this is an adorable addition to any festive morning. These pajamas will keep everybody warm during the cold conditions and makes for an excellent photo opportunity by the Christmas tree.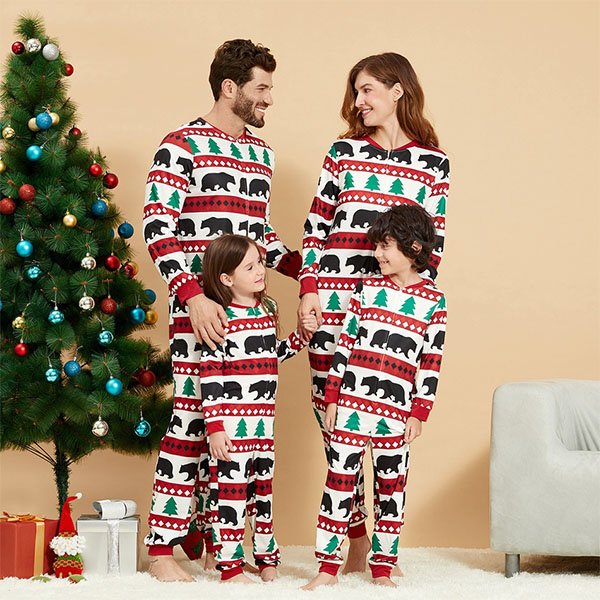 2. Mosaic Family Holly Jolly Christmas Set

Bring the family together this season with a holly jolly matching pajama set. Featuring a classic pajamas silhouette in cool grey and checked pants, this is an ideal way to celebrate the festive holiday. From group photos to the big Christmas lunch, you can do it style in these coordinating set.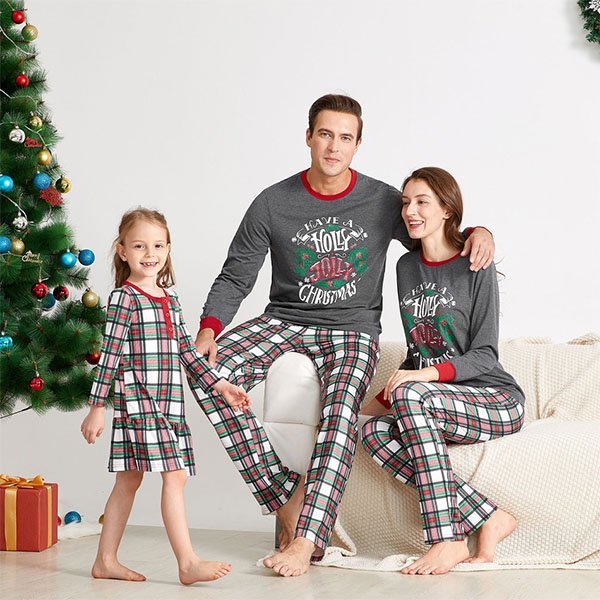 3. Matching Merry Family Pajamas

Wake up on Christmas morning with an extra bit of sparkle in some merry family matching pajamas. Featuring baseball sleeves and a snowflake pattern, these jolly clothes are perfect for the whole family. Whether you have four people in your home or just yourself and a puppy, you will bring extra cheer to the holiday season. Choose from a hooded style or something more casual, and you'll feel merrier than ever.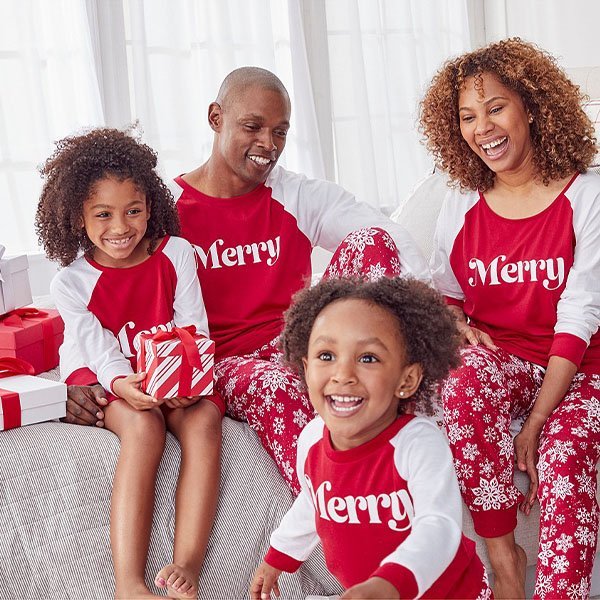 4. Christmas Hat Family Matching Pajamas

This funky matching pajama set features pine trees and reindeers on the pants and a Christmas hat on the top. Dress the whole family from head to toe in this festive gear, and you'll be the jolliest of them all.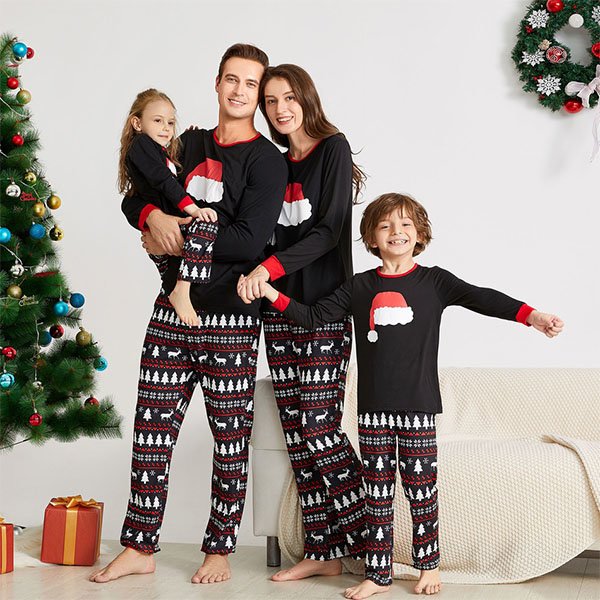 5. PajamaGram Chill Out Family Pajamas

Even when it's freezing outside, you can keep cool in these chill out family pajamas. This punny set offers pure comfort without sacrificing on style, and is perfect for the whole family. Featuring a polar bear pattern and crisp blue and red shades, these PJs will brighten everyone's day. From opening presents to Christmas lunch, you will all look extra jolly this season.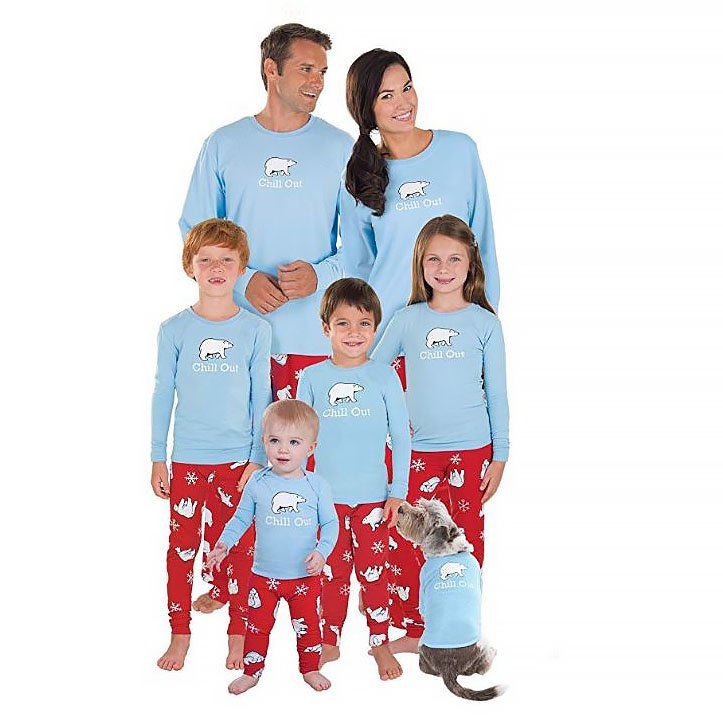 6. Happy Holiday Matching Pajamas Set

Have the most joyous holidays with this matching pajama set. With a pair of striped pants and a striking pattern on the top, you and your family will be the jolliest in town. When it's cold outside and the chill sets in, stay warm and cozy thanks to the soft fabric. The dark shade looks great in photos and is sure to make some wonderful memories.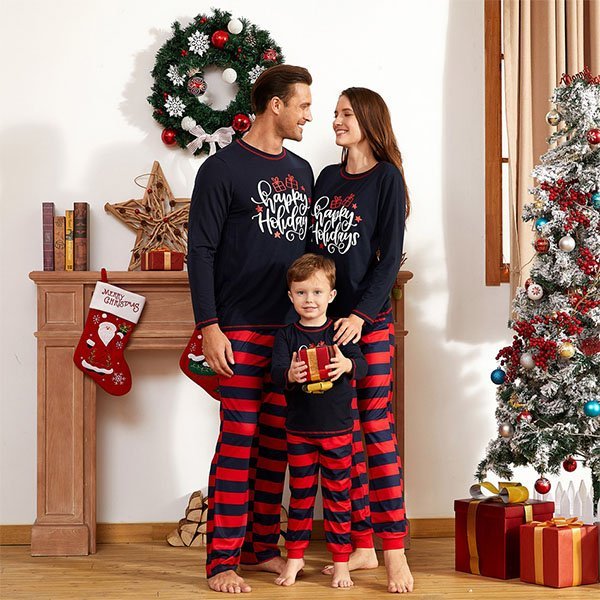 7. Holiday Llama Family Pajamas Collection

Add a fun twist to your Christmas morning with these cute llama family pajamas. Featuring a pop of red with animal prints on the pants and a matching snuggly top, your whole family will look the part. Whether you're watching a film or taking photos for the occasion, do it in style this Christmas!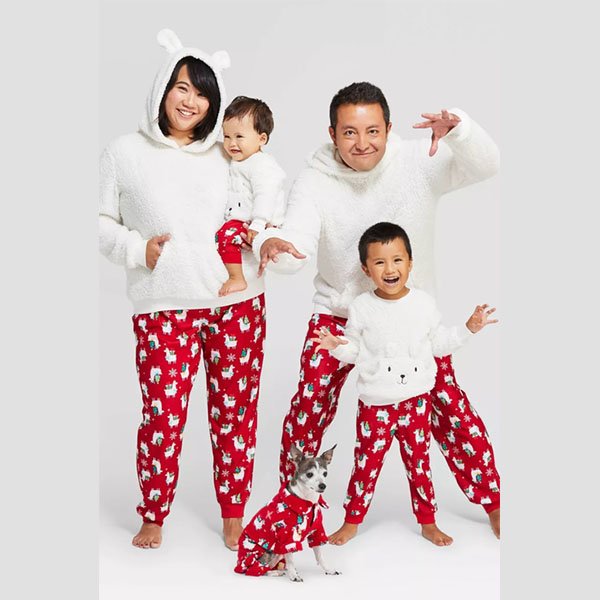 8. Matching Tree Print Pajamas

Put a minimalist spin on the festive season in this matching tree print pajama set. These cozy PJs are a stylish option for Christmas morning and look fabulous in photos. Whether you're listening to music or having a delicious lunch, why not do it in style? Featuring a small and delicate pine pattern, this is the minimalist family's dream outfit. They're super soft and perfect for chilly weather!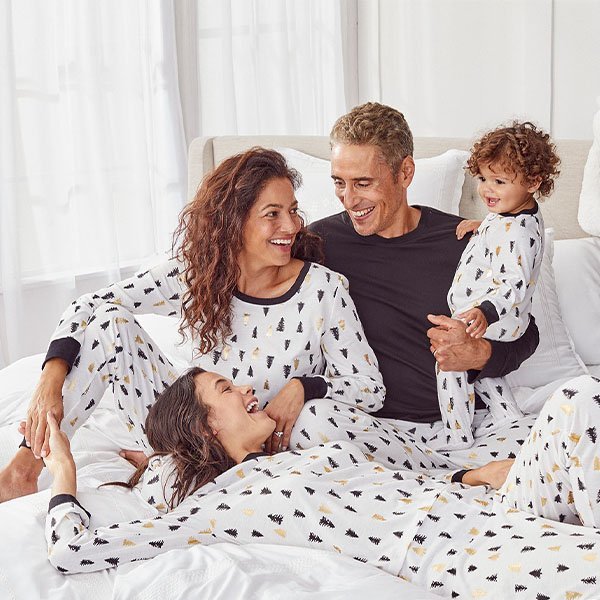 9. Santa Christmas Family Pajamas

Whether you're naughty or nice this season, let everyone have a bit of Christmas cheer in this Santa PJ set. Featuring the face of Mr Claus himself, on the front and a pair of cute striped pants, you will all feel extra bright and festive in these adorable pajamas. This is the perfect outfit for the whole household to rock.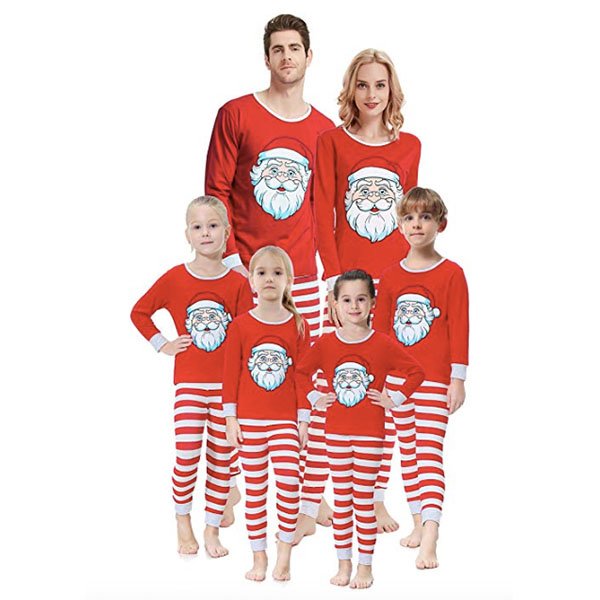 10. Matching Let it Snow Pajamas

Make the most out of the freezing weather in these snow-themed pajamas. With a simple design and red and grey stripes, they're the perfect addition to your Christmas celebrations. You can feel comfy all day in the relaxed fit and stay snuggly in the matching pattern. Whether you're posting a cute snap on social media or opening gifts together, why not do it in style?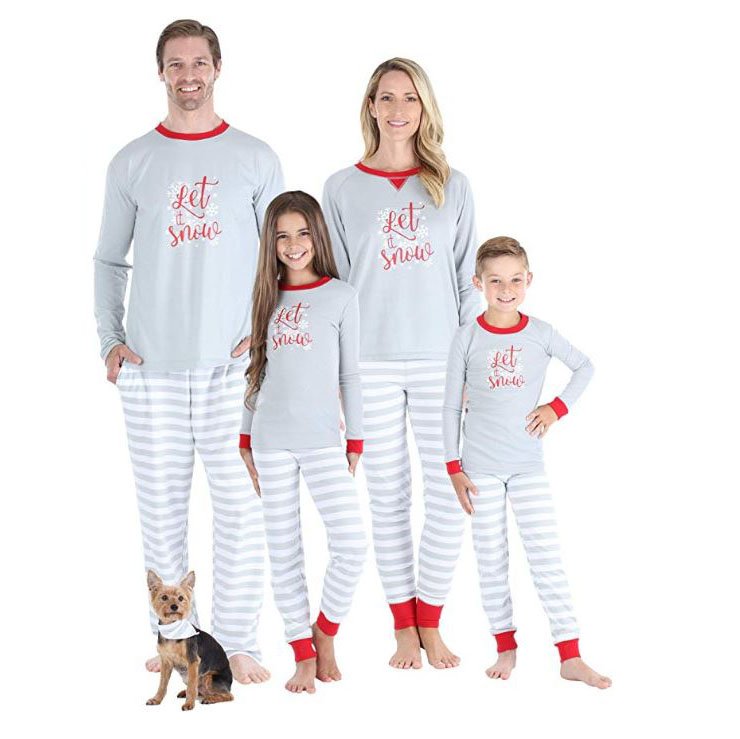 11. Family Polar Bear Matching Christmas Pajamas

Make this Christmas the wildest yet with this polar bear pajama set. With a traditional design and bold blue and white color combo, your whole family will be the brightest in the room. The adorable pattern is a beautiful addition and is sure to leave behind sweet memories.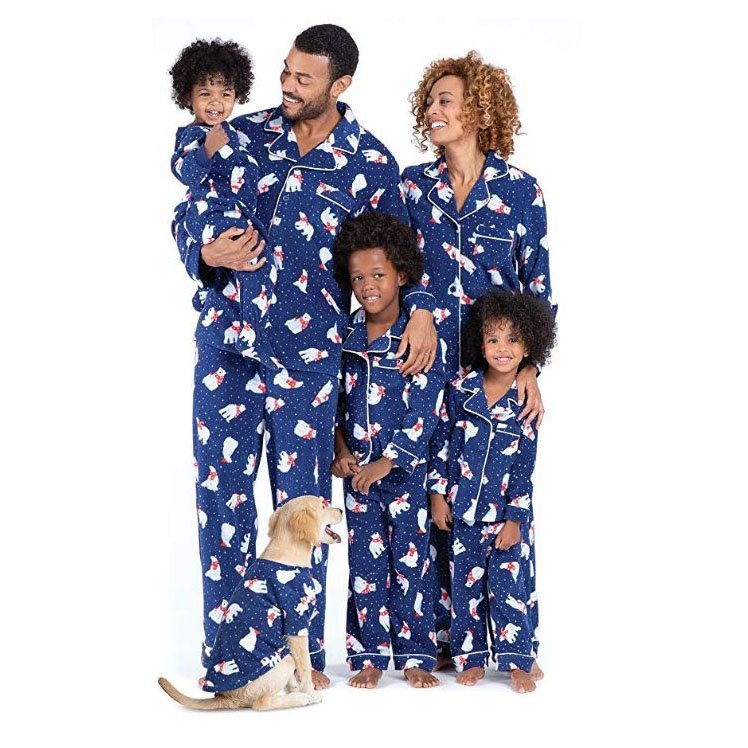 12. PajamaGram Minion Family Pajamas

Showcase your love for Despicable Me with these cute Christmas pajamas. Featuring the cheeky Minions in their jolly gear, you will be hard-pressed finding something this adorable. Whether you're dressing your little brother or a new puppy, everyone will look the part in this getup. With varying sizes for the whole family, you will have an extra jolly festive season this year.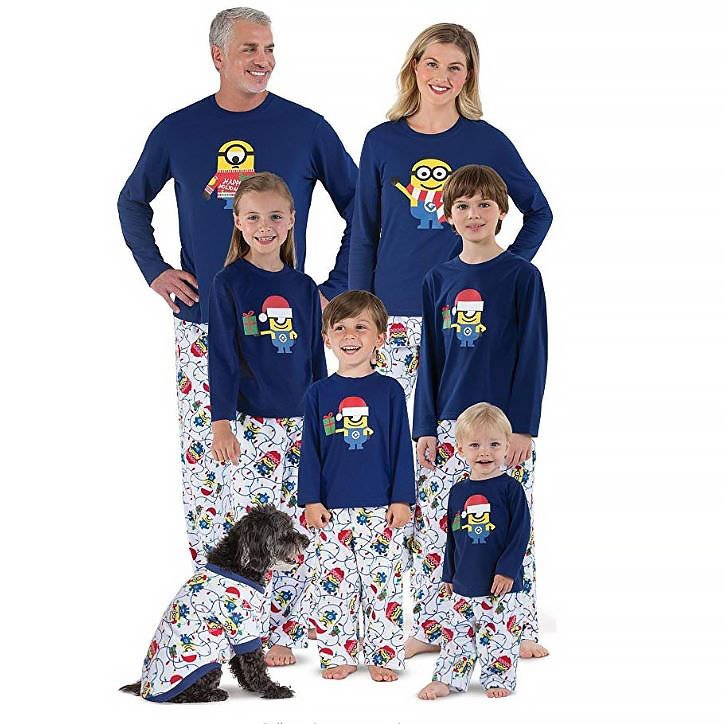 13. Little Blue House Holiday Lights Pajamas

Put a high fashion spin on the traditional matching pajamas with these holiday lights. Featuring a string of beautiful colors and ranging in different silhouettes, there's something for everyone in the family. The soft material feels like a warm hug, so you can stay comfortable even if the weather is chilly outside. With PJs this fun, you'll want to wear them every day of the year.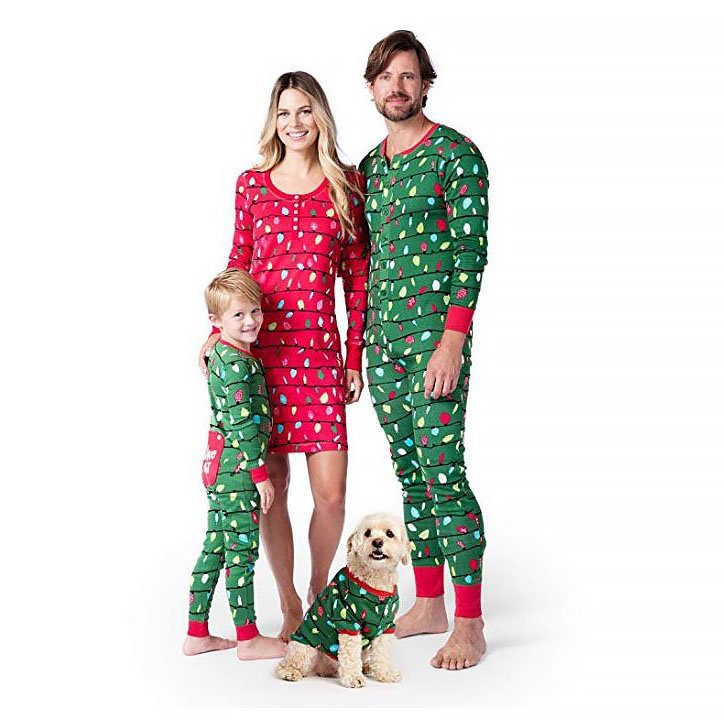 14. Christmas Plaid Design Family Pajamas

Add a bit of tradition to this festive time of year with a plaid matching set. Choose from a cute playsuit to a classic pair of pajamas, complete with a black and red checked pattern. This is the perfect addition to a merry morning and can be worn all winter. Rug up and feel extra jolly this holiday season.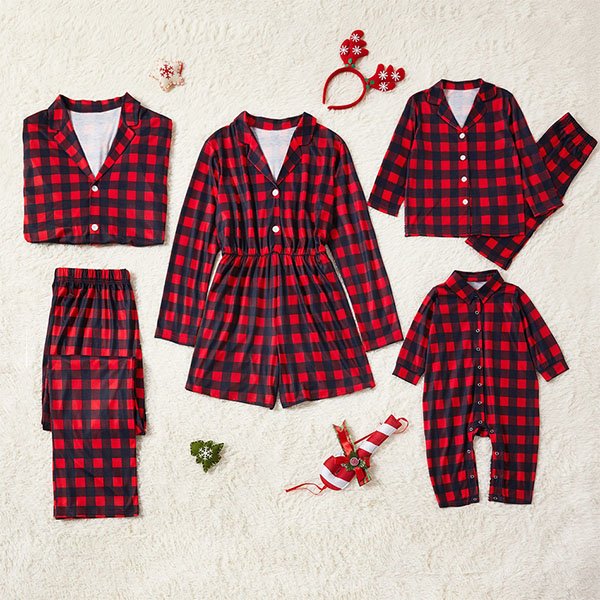 15. Christmas Theme Print Family Pajamas

Wake up feeling festive in this Christmas theme pajamas. With a matching pattern and round neck collar, you and your family will look the part this season. These PJs are soft and comfy, so even if it's snowing outside, you will feel toasty and warm. This set is so cute, you'll be rocking around the Xmas tree in no time.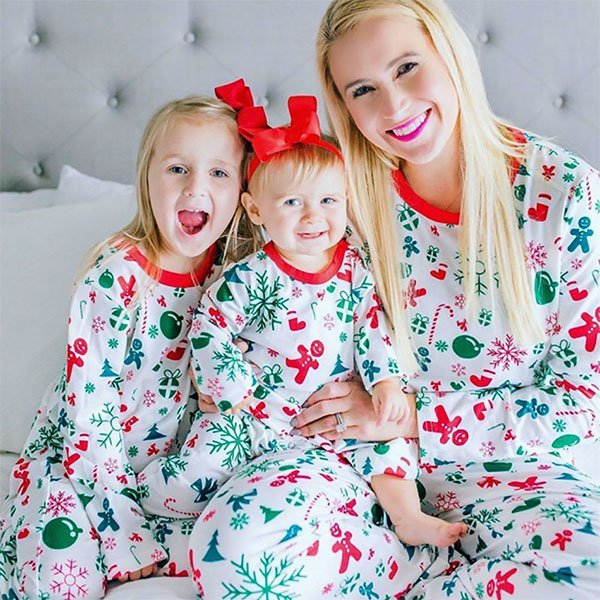 16. Merry Christmas Matching Pajamas

Make your Christmas a bit merrier with these bright and funky pajamas. Featuring a cute snowflake pattern and a jolly red shade- you'll light up every room you walk into this season. Grab a pair for your kids and yourself and this holiday will be cheery and bright.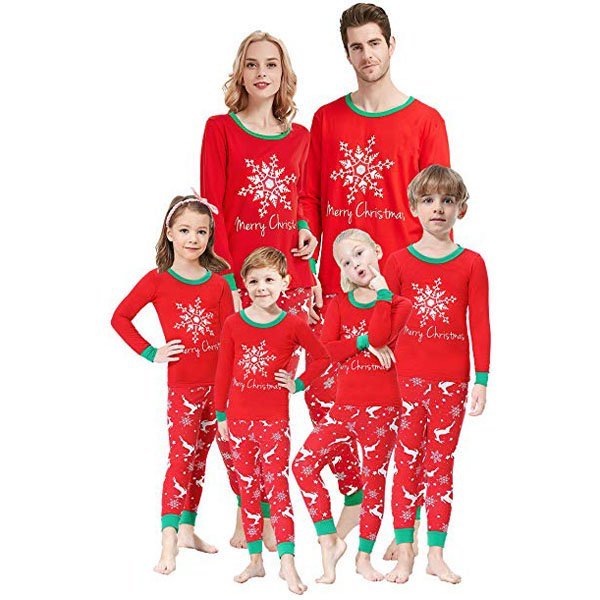 17. Polar Bear Family One-Piece Pajamas

The weather may be chilly outside, but these matching pajamas will keep you soft and snuggly. This set of grey onesies are comfortable to wear and stunning to look at, complete with a polar bear pattern. When it comes time to unwrap pressies under the Christmas tree, the whole family can do it in style.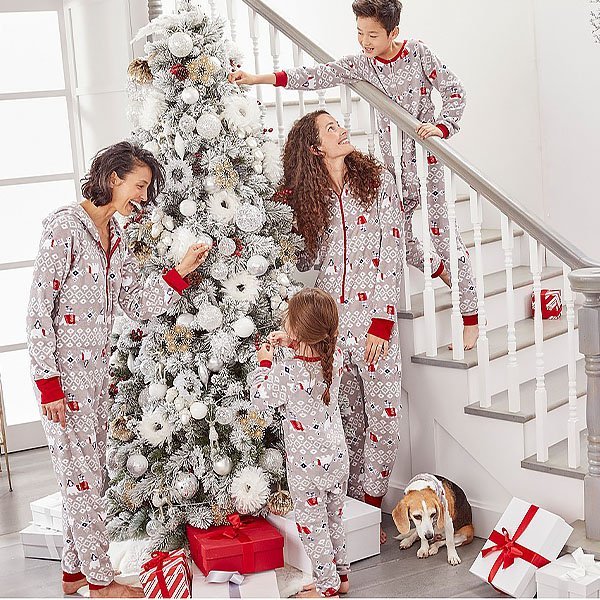 18. PajamaGram Christmas Lights Family Pajamas

Take the best family photos this festive season in a set of matching PJs. This Christmas collection features a long-sleeved design, complete with fairy lights in rainbow colors to brighten up the day. Whether you're waking up early for presents or watching a holiday movie, these pajamas will help you do it like no other.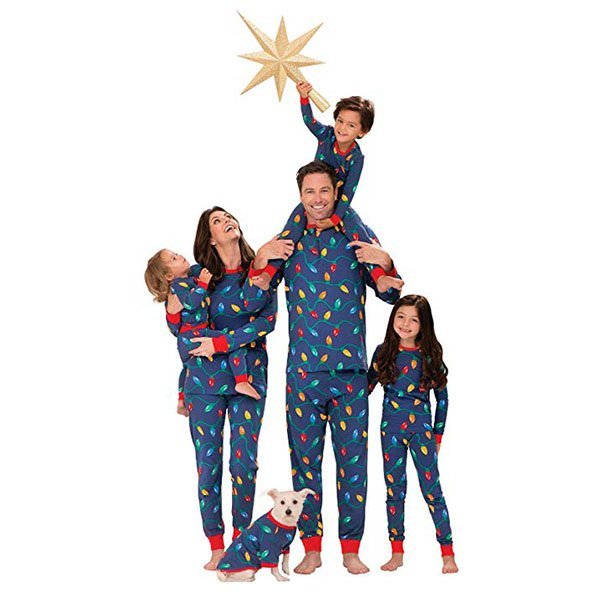 19. Christmas Snow Man Family Pajamas

Feel like Frosty himself in these snowman pajamas. With a happy face on the top and adorable characters on the bottom, this matching set will keep everyone jolly this season. From dad to daughter, the whole family will love wearing these comfy and cozy PJs!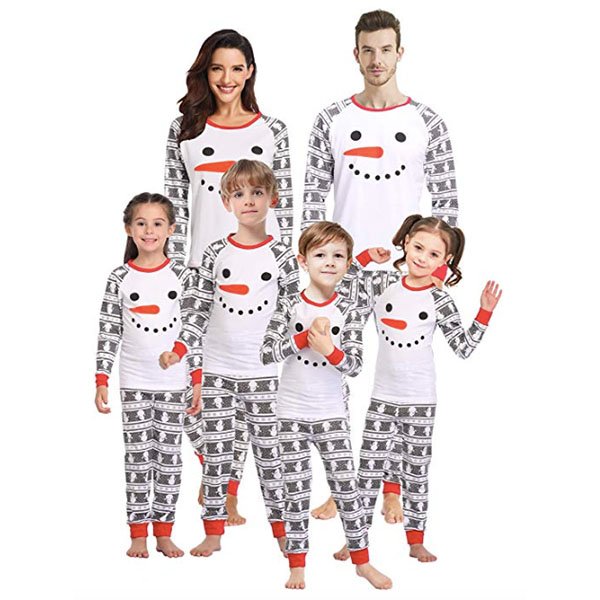 20. Long John Top In Organic Cotton

Bring Christmas cheer to your holidays in these matching long johns. Featuring organic cotton and a funky pine tree pattern, you and your whole family will love these pajamas. Whether you're snuggling by the fire or on vacation in a foreign city, make the most of the festive season in this matching set.