It is also a fantastic chance to add color to your look, have some fun and let your creativity shine. Just like having a perfect head of hair and makeup, having nails that look great makes you feel good, and these pretty nail ideas will inspire you.

From soft and dreamy pastel clouds to bright rainbows or color block nails, there are many options to choose from, depending on the occasion and your style preference.

Pick from a wide range of colors, some bold, others muted, and have fun creating different images and practicing your skill level. Plus, there is something for nails of all shapes and lengths. So keep scrolling to find the best artwork for your next manicure.


1. Pastel Checks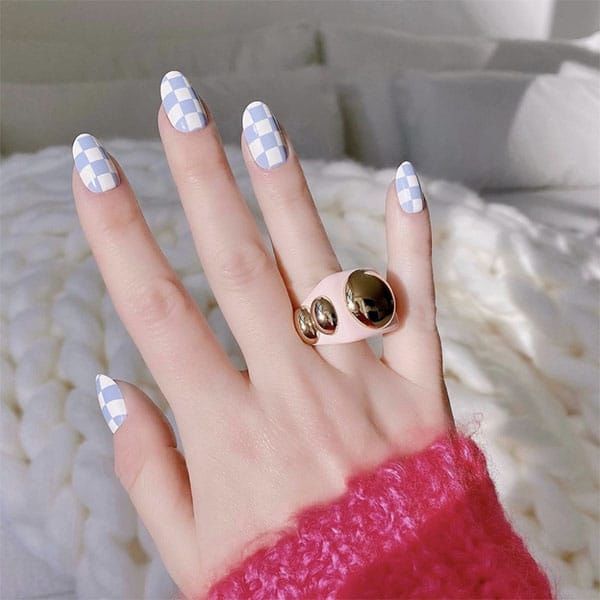 Checks have a distinctly retro vibe about them, and they are one of the most popular choices for your manicure because of their groovy appearance. The great thing about checkered nails is their versatility, and they can be created in various colors, from classic combos like black and white to bold and bright clashing tones. That said, by far the prettiest combination is with pastels. There is something so dreamy and feminine about pastel shades, and they are soft, light, and suit all occasions. For a decidedly 70s appearance, you can rock eclectic jewelry and vintage clothing.


2. Star Constellations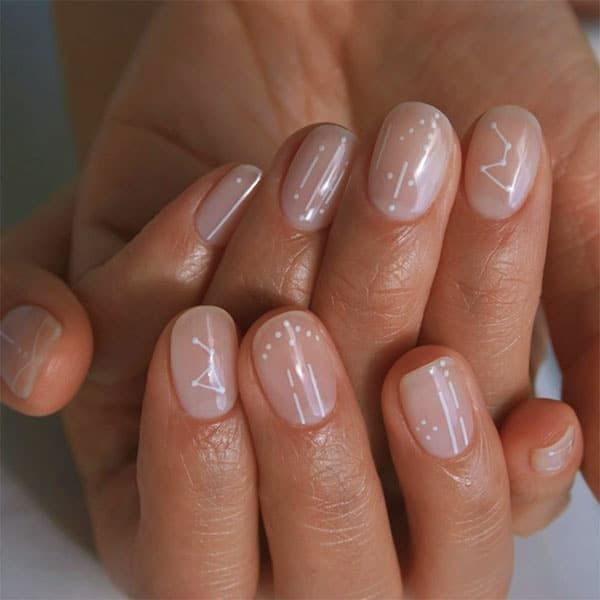 The star constellations are useful for being able to identify stars in the sky. The mesmerizing patterns and the stories behind them also make for fascinating nail art. There are 88 different constellations, so this gives you a lot of freedom with choice, allowing you to pick your favorite, although some are more well-known than others. Opting for white-colored lacquer with white nail details is an excellent choice for a versatile and easy-to-wear look. It has a more sophisticated appearance and will lend itself well to various settings, including more formal ones. If you want artwork that stands out and looks like the night sky, dark blue or black nail polish is also an option. This is the perfect look for budding astronomers or stargazers.


3. Rainbows and Clouds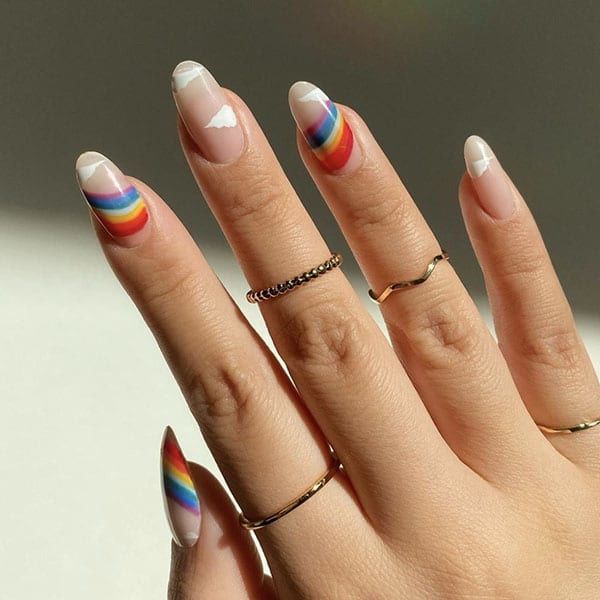 Rainbows and clouds are the cutest combinations for your next manicure. They can make you dream about everything you want in life or act as a reminder to look on the bright side. The bold colors of the rainbow nails show that you have a fun personality, while clouds often represent personal growth and the ability to overcome a difficult time in your life. To let your nail art come to life, choose a simple nude or clear base coat. If you want pretty and symbolic nails, then this is the choice for you.


4. Florals and Rainbows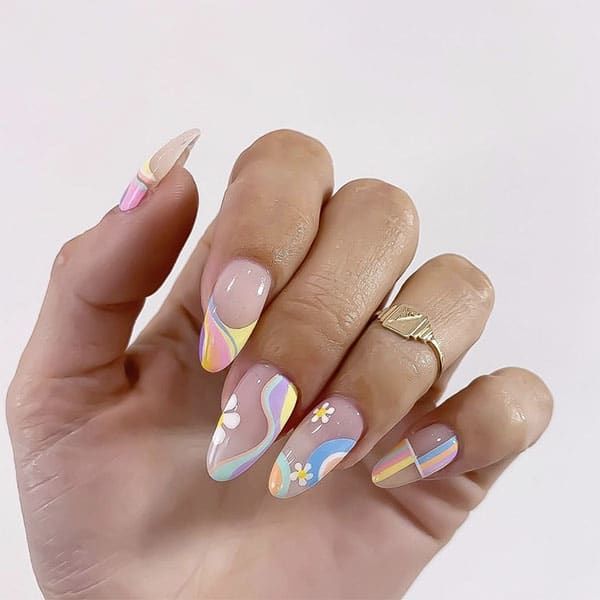 If you're looking for nail art that has a hippy vibe to it, then a florals and rainbows combination is a fantastic choice. Flowers represent beauty, life, and growth, but they also have a very feminine quality. When combined with pastel swirly rainbows, there is a very groovy appearance to them. This is a wonderful way to add some color to your appearance and will give you bright and cheery nails that will undoubtedly bring a smile to your face.


5. Color Block Nails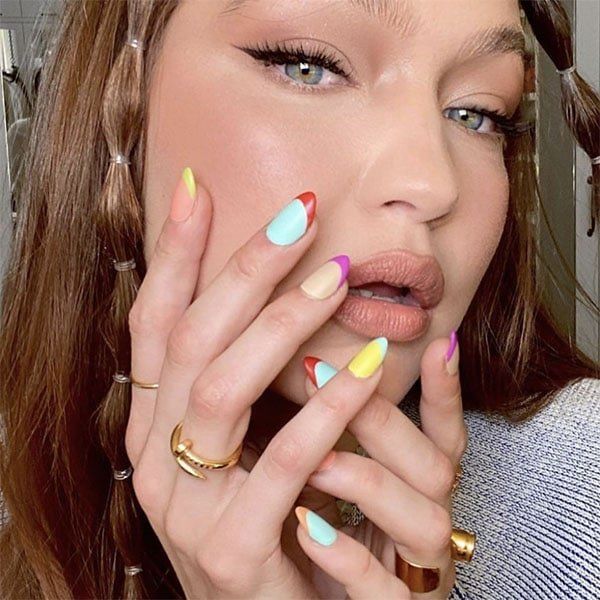 If you are the type of woman who loves experimenting with color and wants a bright and bold manicure, there is nothing better than color-block nails. The concept uses contrasting, solid panels of colors to create a simple yet dramatic effect. This is a great way to make a style statement without much effort. First, choose various base coats you love, and then pick a different one for your tips. A result is a modern approach to the classic French manicure.


6. Shades of Brown
Nothing is boring about brown nail art, especially when it is as interesting as the shades of brown manicure. The warm tones are often associated with nature, resilience, and strength, and they bring these feelings to mind when you are wearing them. Choosing multiple shades makes even the most simple manicure exciting and unique. The great thing about these colors is that they are not as harsh as black polishes and much easier to wear. They will suit various settings and pair well with whites, golds, and even blues.


7. Pastel Yin and Yang Feature Nail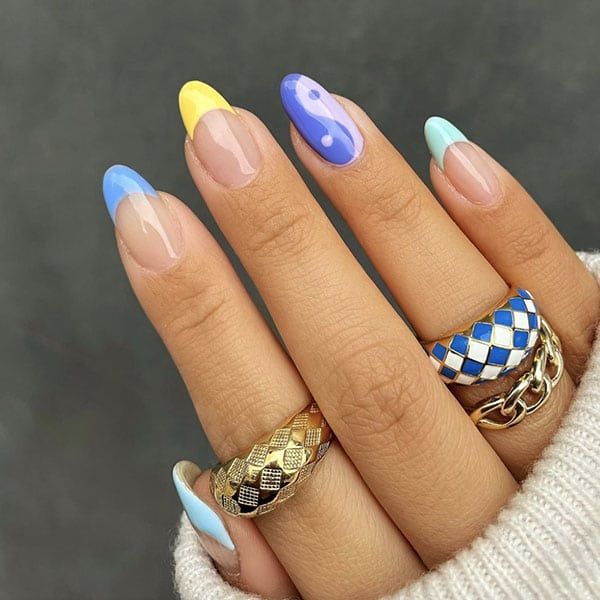 The beauty of pastel nails is that they are so versatile and lend themselves well to various styles. If you are looking for a girly but also meaningful manicure, then the pastel yin and yang feature nail look is for you. The yin yang symbol is an ancient Chinese concept involving the duality of two opposing yet complementary principles. This can inspire you, serving as a reminder that there cannot be harmony without chaos or light without darkness. The great thing about a feature nail is that it becomes the focus, and many people choose to wear it on their ring finger for this reason. This can be an excellent way to show off your jewelry. Or let people know you're taken.


8. Pink and Red Design
You may have thought that pink and red were colors that were reserved only for Valentine's Day, but these pretty shades look great all year round. They definitely make us think of love and have a very feminine quality about them. Red is a bright and bold choice for nails, often associated with passion, seduction, and even danger, and it is bound to get noticed. But if you want to tone down this polish for a more interesting but also easy to wear approach, then adding a pink stripe is a fantastic choice. It creates an overall softer, more girly appearance.


9. Pastel Clouds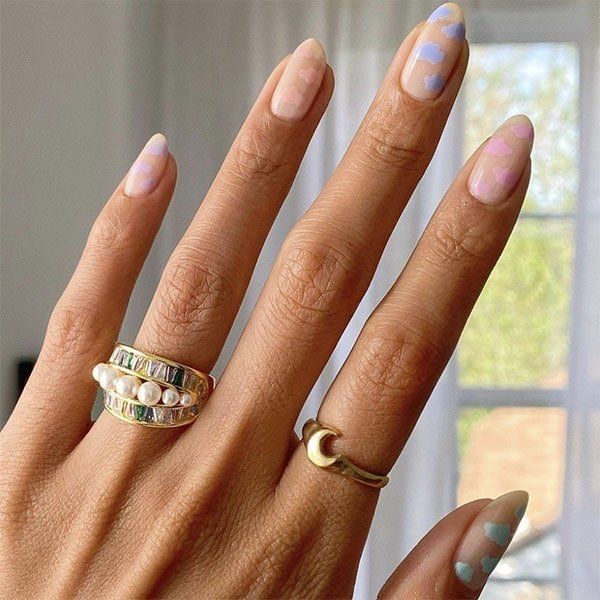 Pastel clouds are dreamy and gorgeous. They make for the cutest nail art because they can make you think of happiness or of how you overcame a dark time in your life. They look trendy and incredibly pretty when painted in pastel shades. There is a softness and tranquillity that comes with these colors; they are calming to look at. Plus, they are so easy to wear, and your manicure will lend itself well to various settings, including fun dates and cocktail parties.


10. Tiny Dots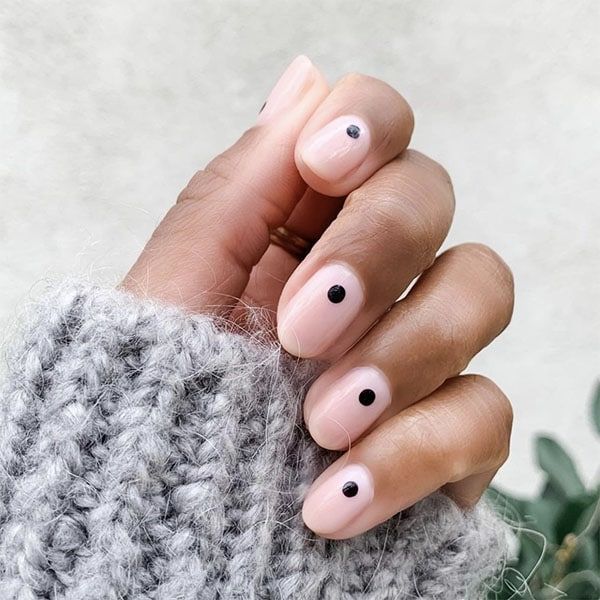 Sometimes the simplest nail art is the most effective. Tiny dots are super easy to create yourself in the comfort of your own home and make for the chicest, minimalist manicure. You don't need hours of practice to perfect this look, and it is excellent for beginners or pros. Although you can use any color combination, classic black-on-white or nude nails are a very versatile option. This type of artwork can also be worn everywhere and will mix and match with everything you own. It is a way to have a bit of fun with your nails without making a dramatic statement.


11. Autumn Florals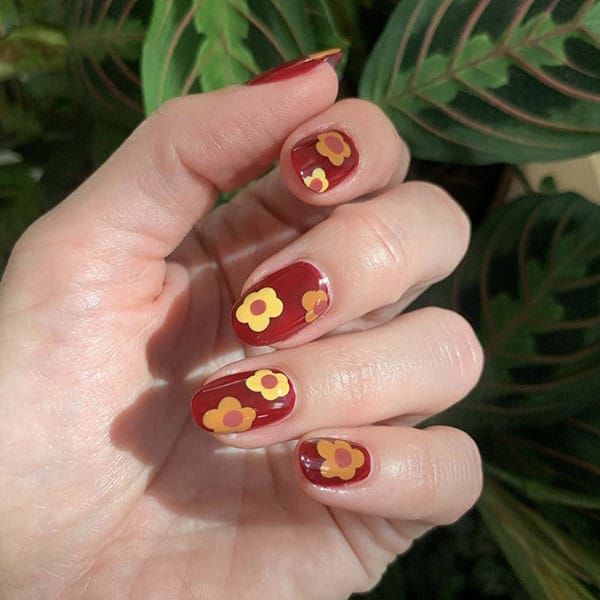 There is something so pretty about autumn floral nail art. The season is known for its brilliant red, orange, and yellow colors, giving off warmth and pleasing to look at. Deciding on a floral pattern with these shades is a brilliant choice because although flower art is nothing new, these colors breathe fresh life into it. They also have a groovy 70s vibe about them, and this was undoubtedly one of the best decades for fashion and beauty inspiration. So if you want a fun manicure, this is the look for you.


12. Cute Hearts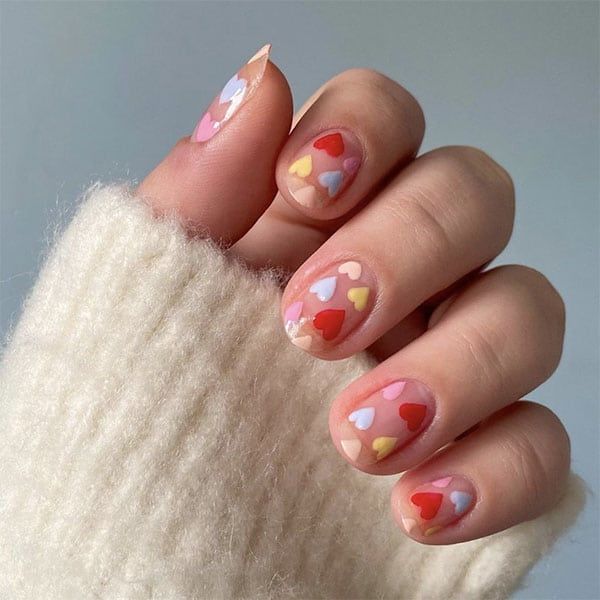 Painting your nails with cute hearts will bring a smile to your face and create a manicure that can add some color to your appearance. Hearts are a universally recognized symbol of love and have been used in fashion and beauty for decades. So, while this look may not seem new, it is timeless and pretty classic. Opting for various colors is a way to have fun with your nail art, and you can pick the shades you love, whether pastels or bold fluorescents. To make your artwork last even longer, use negative spacing, so the pattern is not affected by your nail growth.


13. Pretty Pastel Ombre
Pretty pastel ombre nails are a gorgeous choice, no matter what the occasion. The great thing about these colors is that they have a softness to them, and the lack of saturation makes them easy to wear. In addition, they create a very feminine appearance. Instead of just painting each nail with a solid coat of your favorite shades, you can mix it up by trying out the ombre technique. This is when two colors, usually one darker and the other lighter, are gradually blended. The result is a stunning gradient effect that will suit all skin tones and nail lengths.


14. Logomania Nails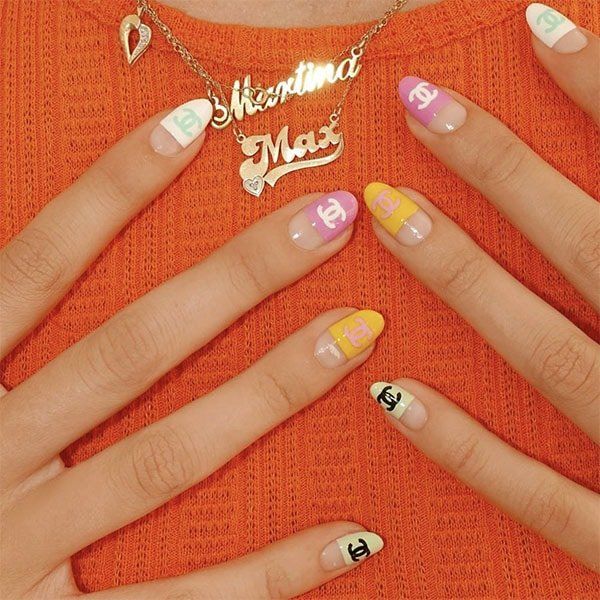 Logomania nails are a great way to show off your fashion knowledge or celebrate brands that you love. Some of the most popular and recognizable logos are Chanel, Louis Vuitton, and Gucci, but there is no limit to what you can and cannot wear. If you are a fan of a different company or even want to use your manicure as a way to market your own business, do that. This is a fantastic option and will likely also be a conversation starter. When it comes to the placement of your logo, you can choose to make it the focus of your look by opting for a clear or natural background. Or you can experiment with color. For example, if you paint each fingernail with a different bright shade. Or opt for a modern approach to the classic French manicure. The choice is yours!


15. Pop Color Designs
What better way to make a statement than with a pop color design? The great thing about mixing bright colors and interesting patterns is that you get a striking appearance. They can also make you feel happy, and it is a fantastic way to experiment with things you love. Tiny hearts, flowers, and fruit can be combined for gorgeous nail art, but you can add whichever images you prefer. Adding a burst of colors to your nails is much easier to pull off than wearing a bold and bright outfit; it is a lot more subtle. For a cute matchy-matchy appearance, pick out a hue from your manicure and wear it with the same shade of eyeshadow or lipstick.


16. Butterflies with Lime French Manicure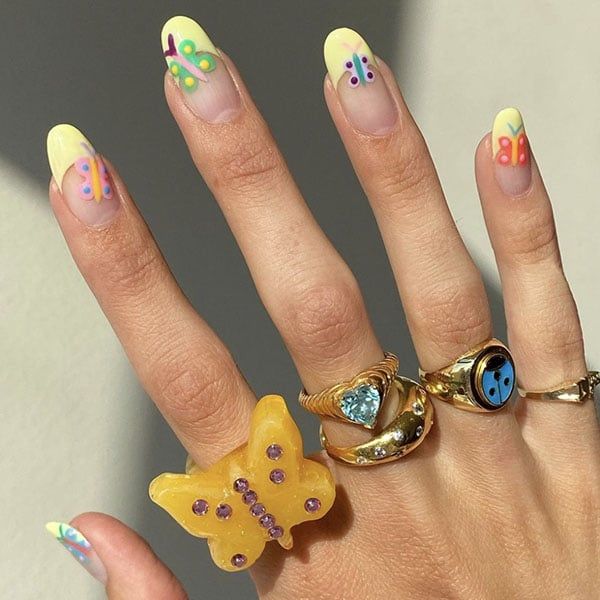 There is so much to like about the butterflies with a lime French manicure. Apart from the fact that it obviously looks great, butterflies are also symbolic insects, often representing beauty and transformation. So it could be a wonderful way to celebrate a period of change in your life. On the other hand, soft lemony colors make us think of summer, sunshine, and fun, and the combination of these two things makes for a celebration of nature and a look you can wear with confidence.


17. Black and White Design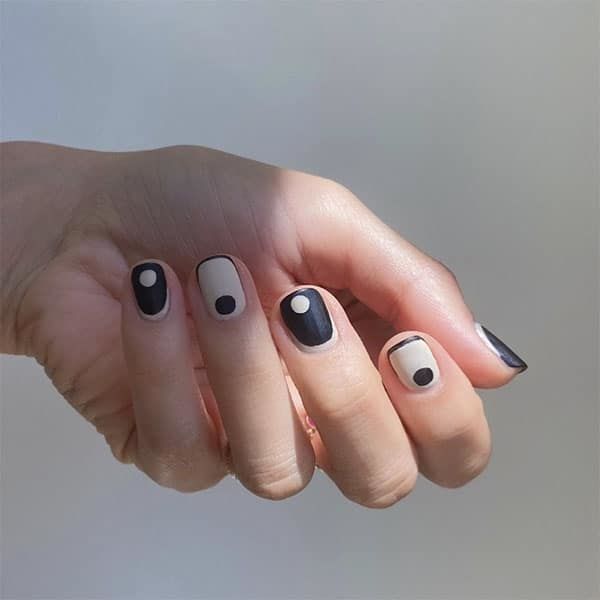 When it comes to fashion and beauty, there is a color combination that you cannot go wrong with; black and white. The beauty of these two shades is that they are timeless and classic. Plus, it is one of the easiest ways to make a statement without trying. Black is a color that is associated with power and sophistication, while white balances it with its crispness and often represents purity, innocence, and new beginnings. If you want to add a pop of color to your appearance, you can do this by wearing a red garment. Or try out a bright shade of red lipstick. This will look incredible and create a gorgeous contrast.


18. Pastel Shapes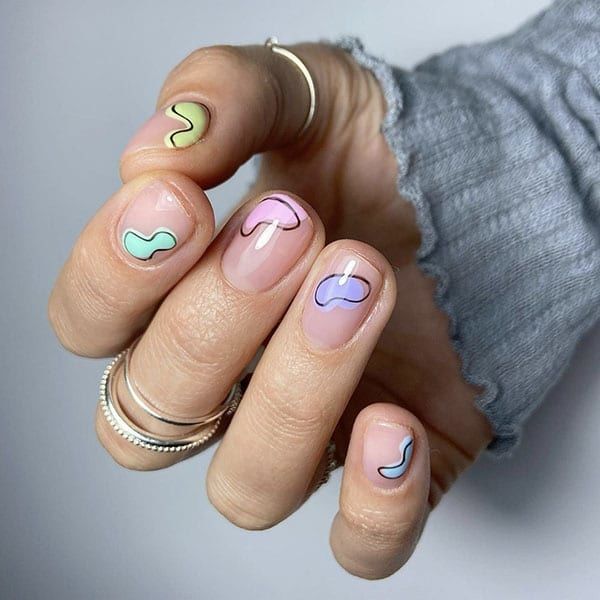 It is not just your nail shape that you get to have fun with these days, but also the interesting patterns that you can paint onto it. Welcome to the pastel shapes nail trend, which really lets you get creative. There are so many different sizes, angles, and colors to play around with, making this a great option that can work regardless of your skill level. Try placing each squiggle at a different angle and using multiple pastel shades for an interesting and abstract appearance. The negative spacing ensures that the manicure can last longer because you do not have to worry about your nails growing out. There are no rules on what you can and cannot do with this artwork; make it as minimalist or as detailed as you want.


19. Ombre Wiggles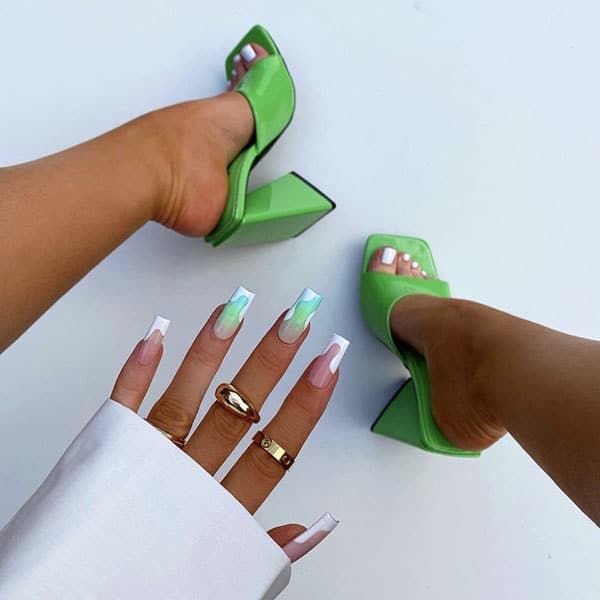 Ombre wiggles are the manicure you have been dreaming of; it is easy to wear and there is no reason for you not to try it out. The technique expertly blends two colors, usually from dark to light, to create a gorgeous gradient effect. It has been a popular option for nail art for years. If you want to breathe some new life into the look, then try adding wiggles. Using the ombre effect as the base coat and adding interesting squiggles at various angles on each fingernail is a trendy option. Although you can choose any color combination, sometimes the simplest is the best. White polish has a timeless and classic appearance, which will be a great way to let these shapes stand out.


20. Florals with Pastel French Manicure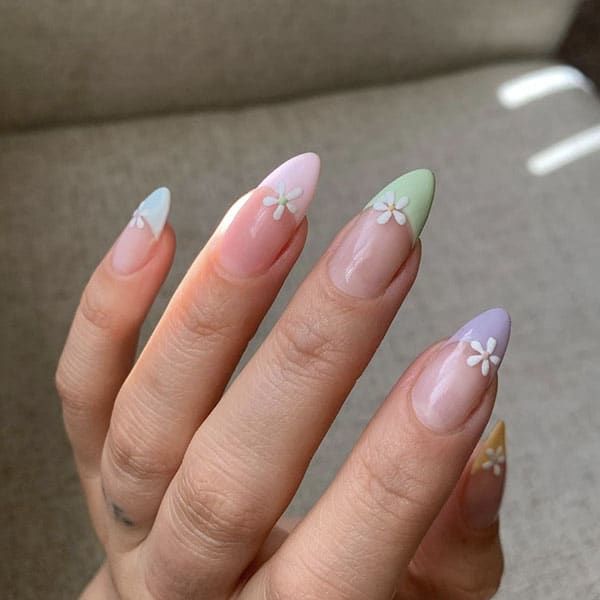 A traditional French tips manicure is defined by the white stripes along the tip of the nail, which creates a timeless and elegant appearance. However, many modern alternatives are just as chic. Pastel shades are always a favorite because they look so dreamy and are easy to wear. What better way to do this than with a pastel french manicure to add some color to your talons? To make the artwork even more girly and fun, incorporate floral details by either painting them yourself or using stickers. The result is a very feminine look that is perfect for any time of the year. Plus, it will make you proud to show off your hands!