All eyes on the bride! As you make your way down the aisle, let your eyes do the talking. Your wedding eye makeup look can be minimalist and simple or bold and glamorous, depending on your personal style. While the only two words coming out of your mouth should be "I do," your eyes have the ability to convey countless emotions with just one look. But, what look should you choose?

When you're looking at bridal beauty looks to inspire your own, the first thing you should consider is your eye color. Brides with blue eyes look best in neutral tones, like champagne and taupe, as well as coppers, corals, and bronze. Blue eyes stand out on their own, so you want to avoid overwhelming light eyes with dark eye shadow. Instead, enhance blue eyes with shimmery golds and cool-toned browns.

Ahead we'll take a look at wedding eye makeup ideas for blue eyes, ranging from the traditional smokey eye to soft and romantic natural glam looks.


1. Liner and Lashes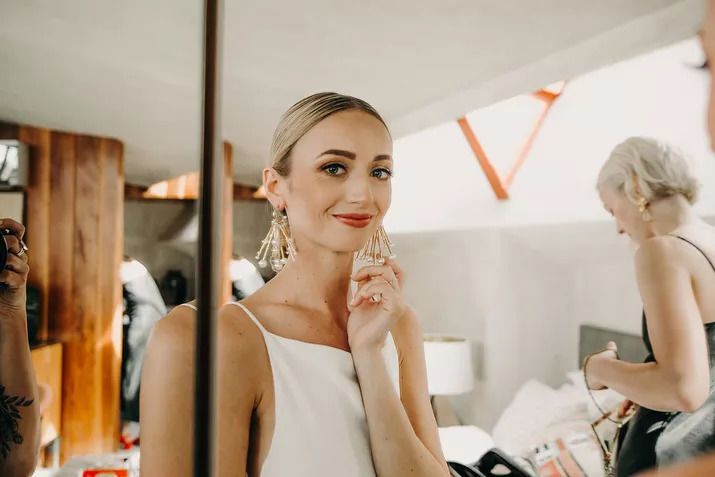 Your partner may only have eyes for you, but on your wedding day, you may be wanting to play up your eyes a little more than usual. Black liquid liner accentuates blue eyes beautifully, while false lashes emphasize your natural eye shape. Pair with a bold brow to make the biggest impact.


2. Clean and Classic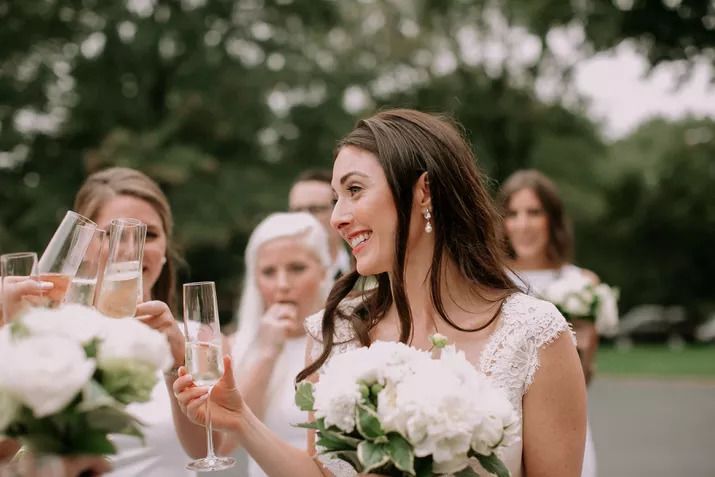 Blue eyes are striking enough on their own. Take a cue from this bride and keep it simple on the eyes: a thin line of black eyeliner makes your lashes appear thicker and darker, helping blue eyes stand out even more.


3. Eye-Catching Eyeliner
Full brows and dark eyeliner work well with blue eyes. While winged eyeliner is a classic look, not all eyeliner needs to extend up towards your brow. Stop the liner just before you get to the outer corner of the eyes for a more natural, lifted look.


4. Natural Smokey Eye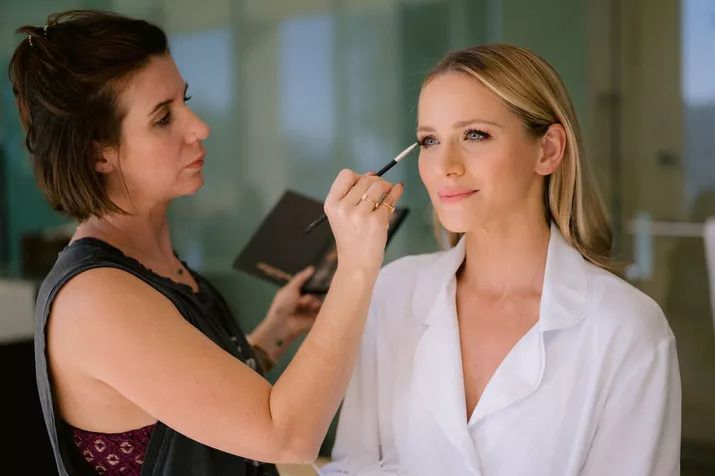 This bride's blue eyes are absolutely piercing, thanks to the dark shadow laid down closest to her upper lash line. Skip the shadow on the lower lash line and leave the brows looking natural and full to keep all the attention on those bright baby blues.


5. Go Bare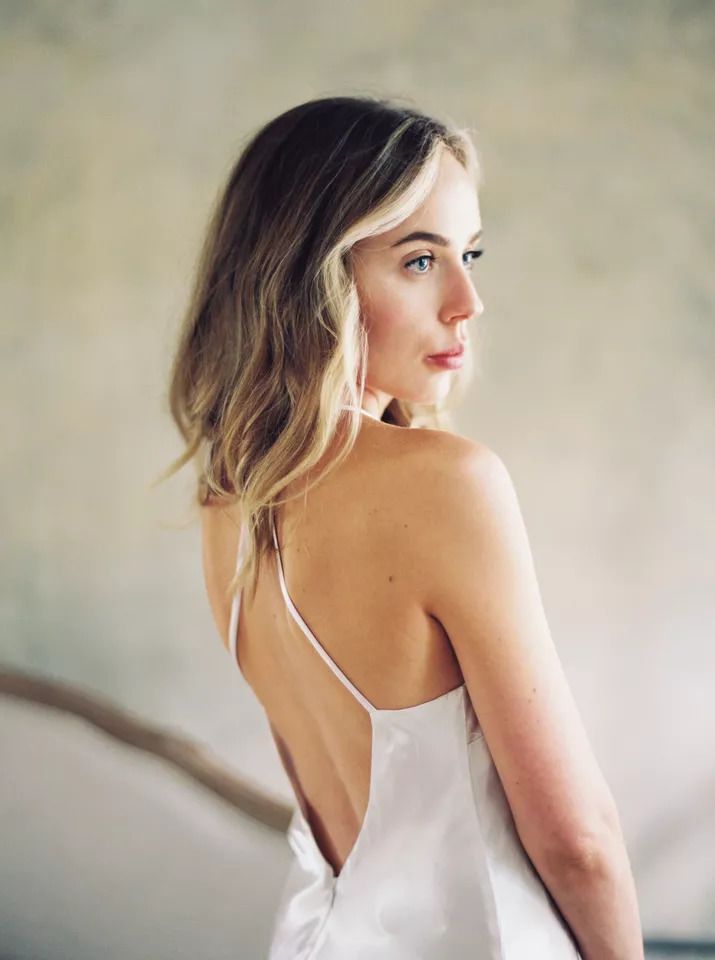 Forgo the eyeshadow altogether and let your blue eyes shine all on their own. A light coat of black mascara emphasizes the color, while bushy brows perfectly frame the face.


6. A Classic Winged Liner Look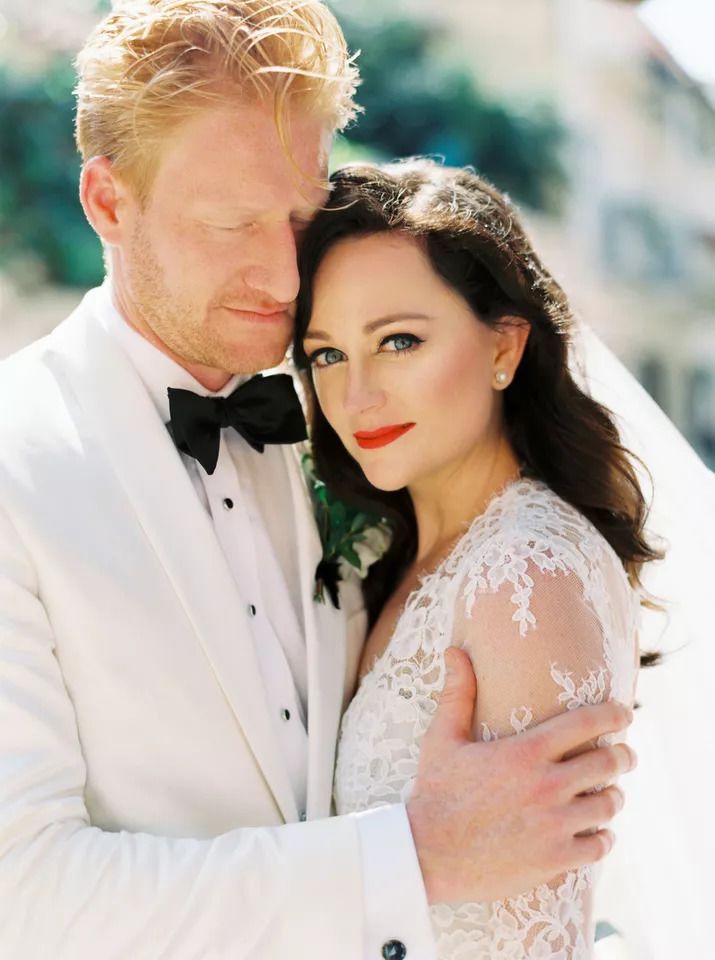 There's just something about the way that winged eyeliner and blue eyes go together. This classic look is ideal for a retro-inspired wedding, as this timeless eyeliner trend harkens back to old Hollywood glamour while remaining modern yet sophisticated.


7. Warm-Toned Earthy Natural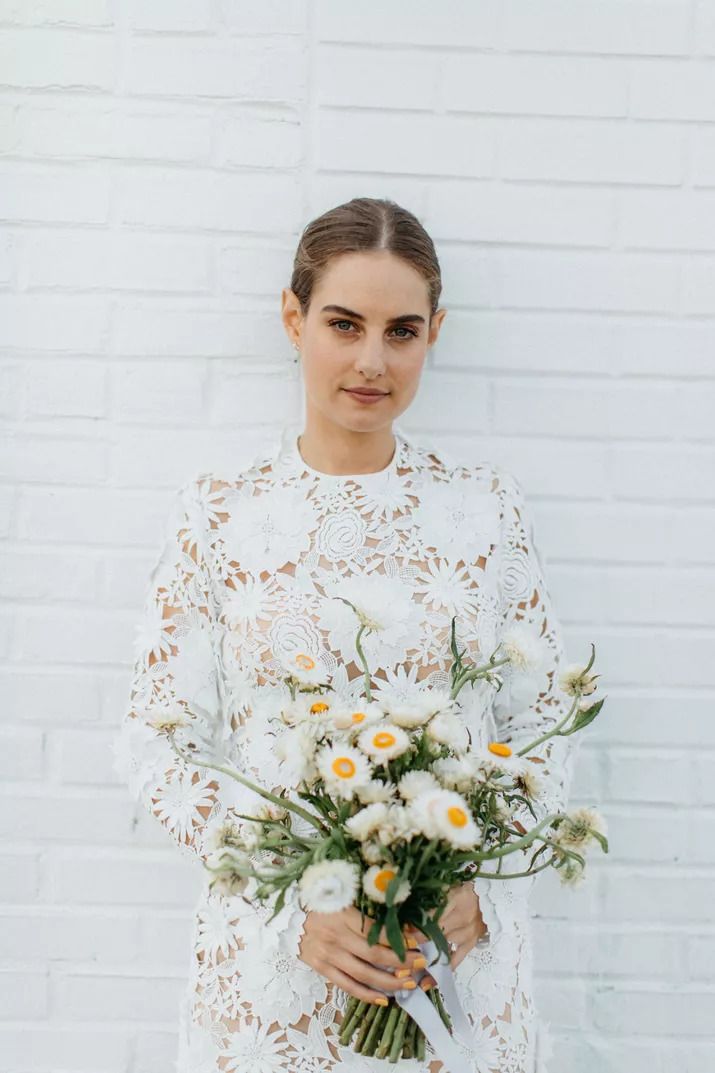 Directly opposite on the color wheel, warm orange tones are a natural fit for blue eyes. These complementary colors look especially stunning in makeup, like when you pair blue eyes with a wash of orangey-brown eyeshadow across the lids and a peachy blush.


8. Light and Fresh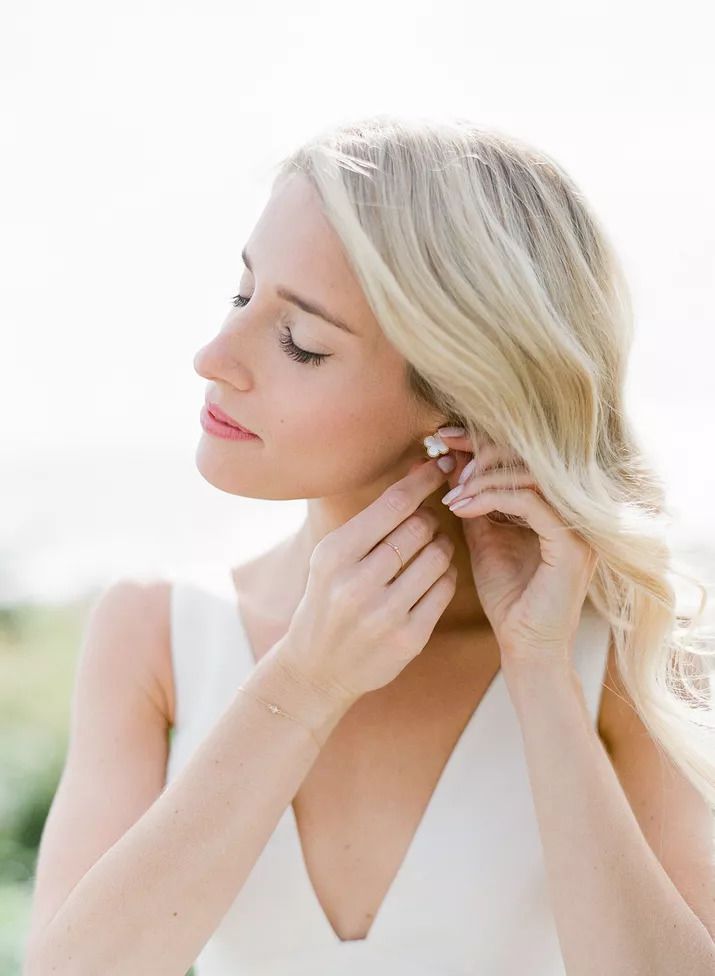 A sweeping wash of a light-colored shadow is enough to make blue eyes pop. Finish with a tiny upward flick of liner at the outer corners to open up downturned eyes. Apply a few coats of mascara and the look is complete.


9. Dazzling Bronze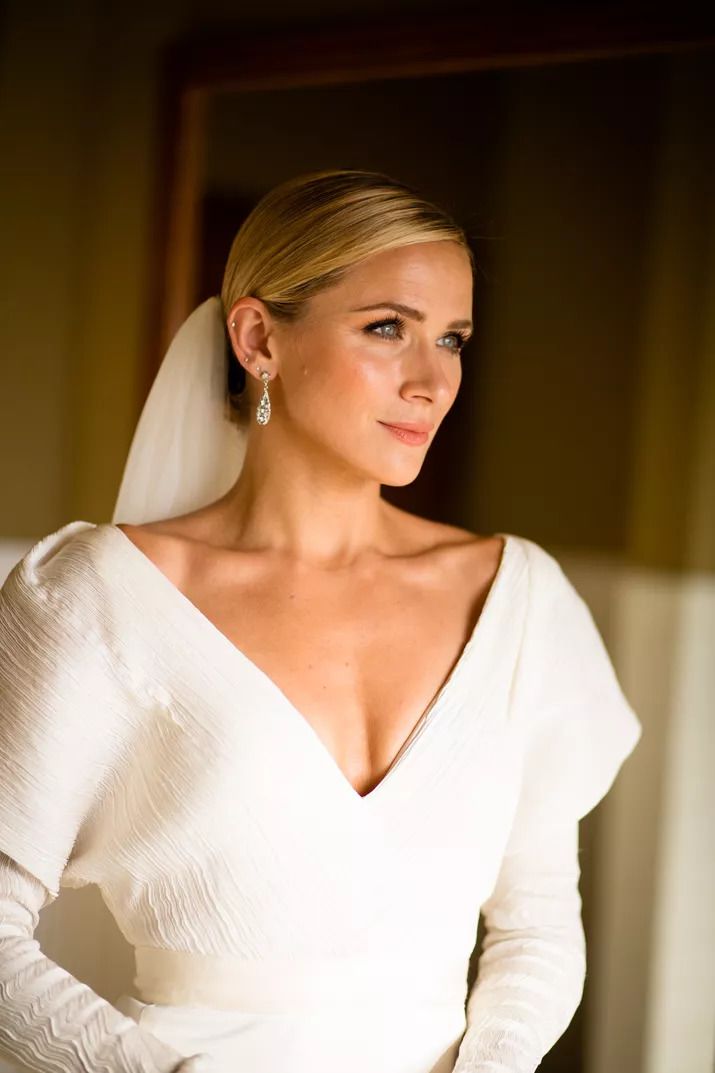 The "opposites attract" rule is especially true when it comes to eye makeup colors. Hues like bronze, tan, and brown are some of the best eye shadow colors for blue eyes. The bronze eyeliner on the lower lashline makes this bride's blue eyes look especially vibrant.


10. Soft Matte Coral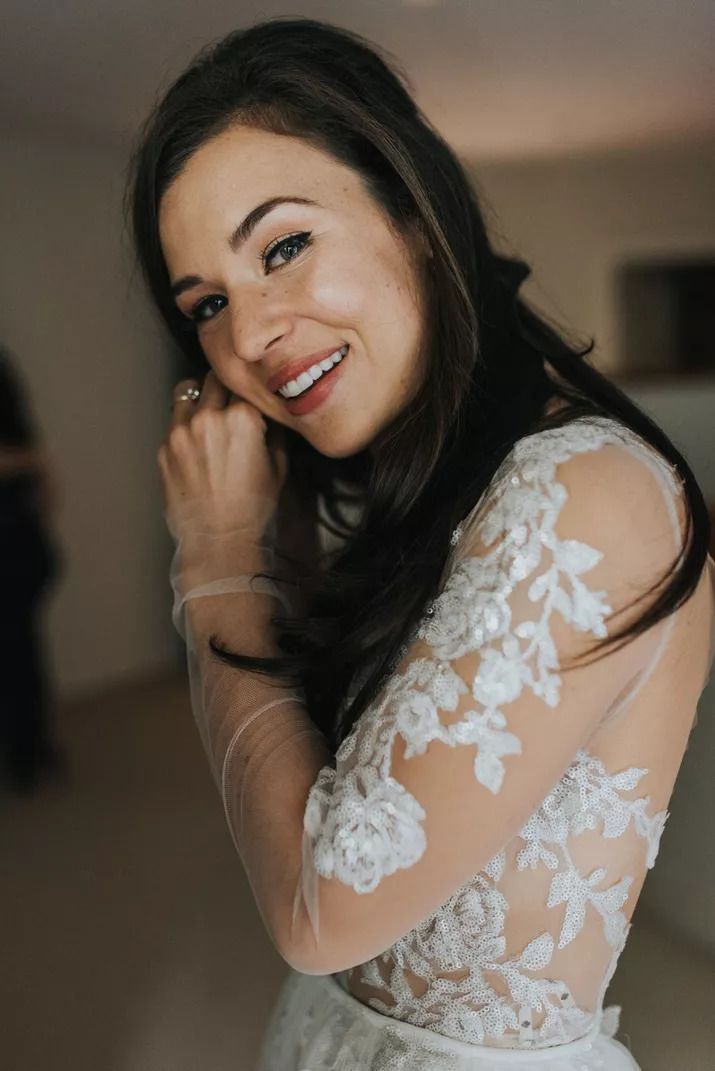 Here is another example of how orange eyeshadow pairs perfectly with blue eyes. Warm up cool blue eyes with an orangey coral shade in the crease, followed by a thick swipe of black liner. Blue eyes have never looked brighter.


11. California Cool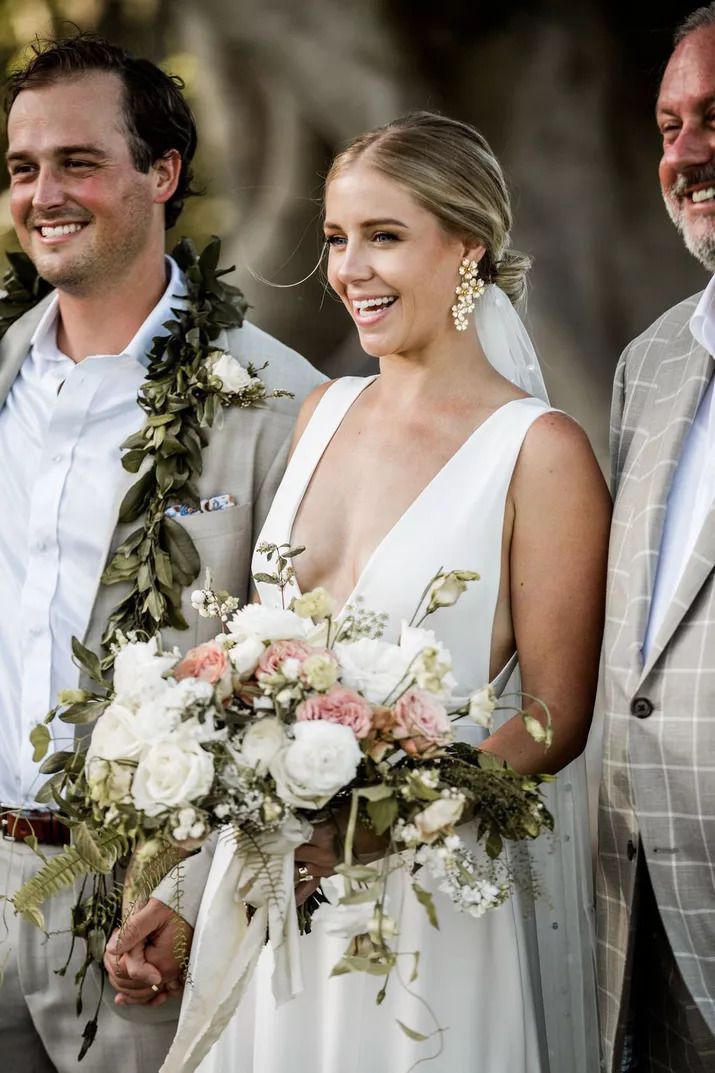 Varying shades of warm brown eyeshadow bring out the beauty of blue eyes. With the subtle smokey eye and bronzy, glowy complexion, this look has a boho California-inspired feel to it.


12. Just Peachy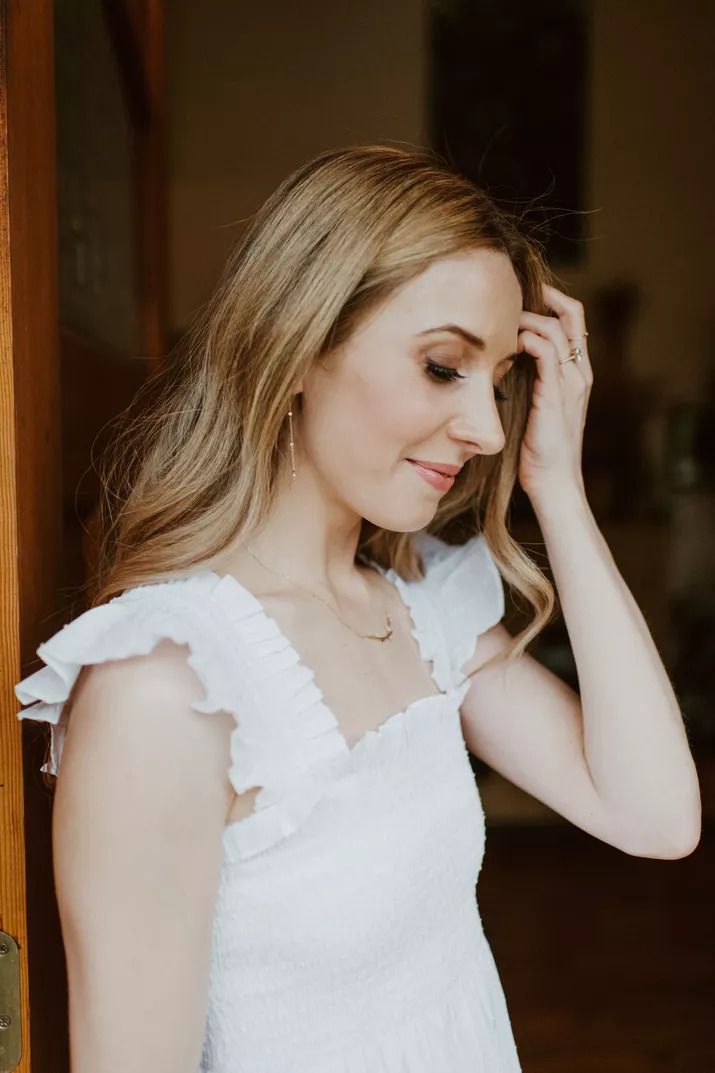 Add some warmth to your look with a light dusting of a peach eyeshadow across the lids. To define the lash line, take a slanted eyebrow brush and dip it in a deep brown eyeshadow to create a soft and romantic winged liner.


13. Modern Minimalist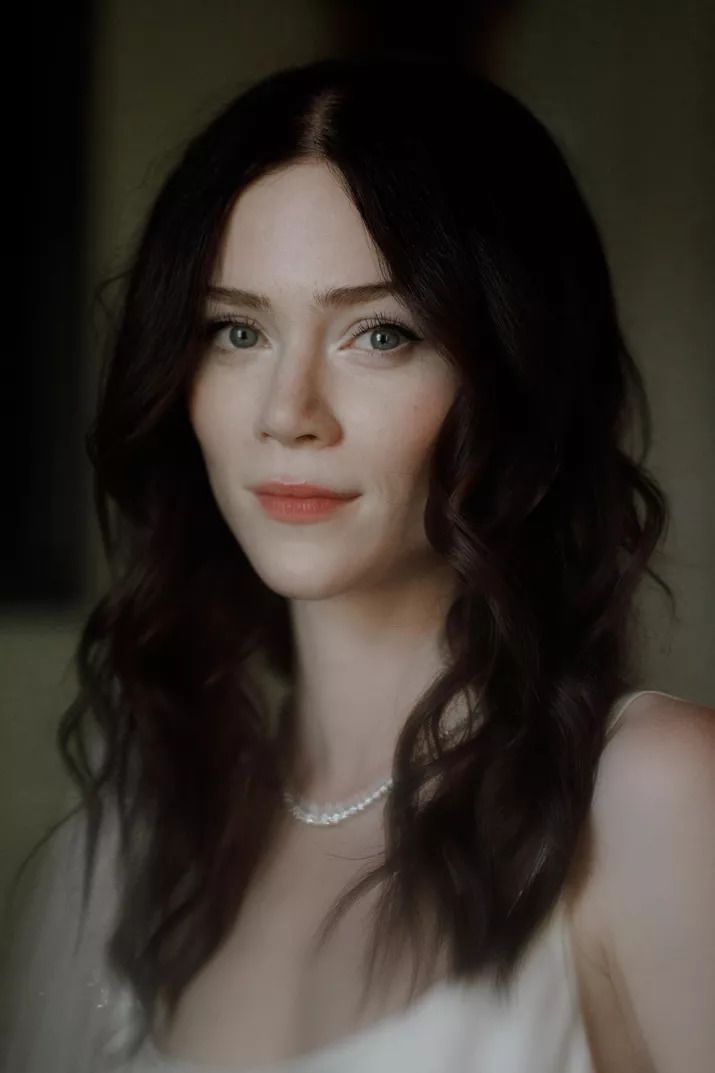 For a minimalist eye makeup look, skip the shadow altogether and add a very thin line of eyeliner starting at the middle of your pupil. Load up on the mascara and leave the under eyes completely blank. This French-girl beauty look is super trendy right now.


14. Shades of Grey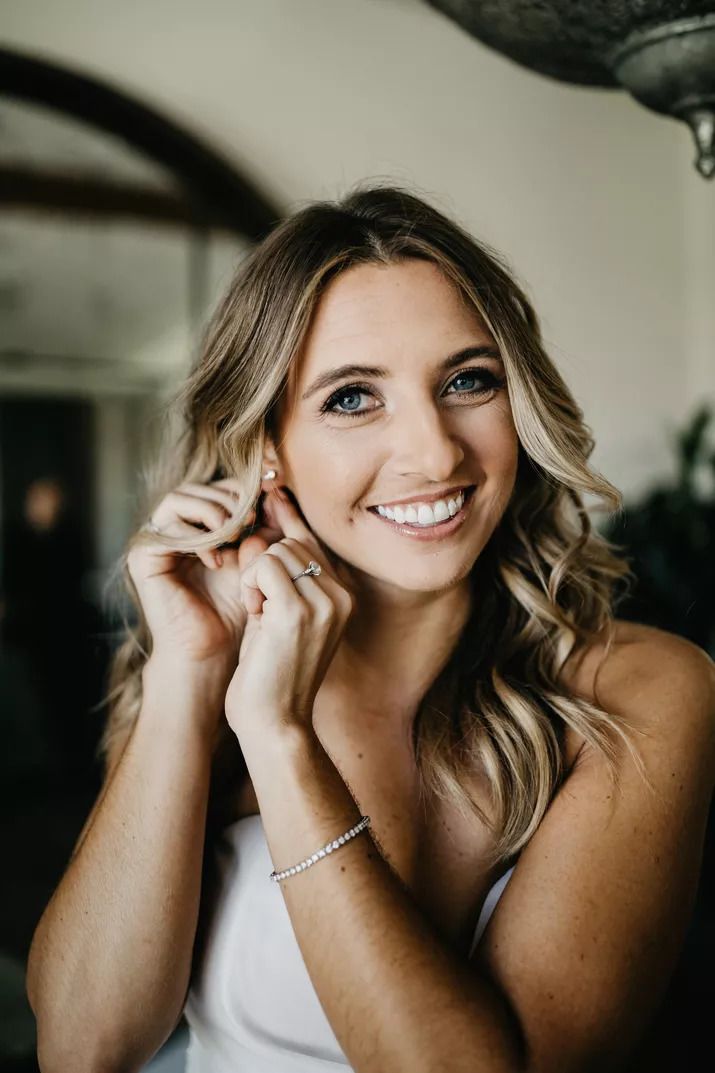 The smoky eye look literally never goes out of style, but the dark black shadow can overwhelm blue eyes. Classic cool tones such as grey and silver add depth to blue eyes. Use a silver or grey pencil in the lower waterline for all-over definition.


15. Soft and Romantic
Let your light eyes shine brightly by paring down your eye look to just the essentials: a single nude-toned eyeshadow for subtle definition and a bit of mascara. This simple yet stunning eye look is a basic upgrade from the traditional "no makeup" makeup look.


16. Sweet and Smokey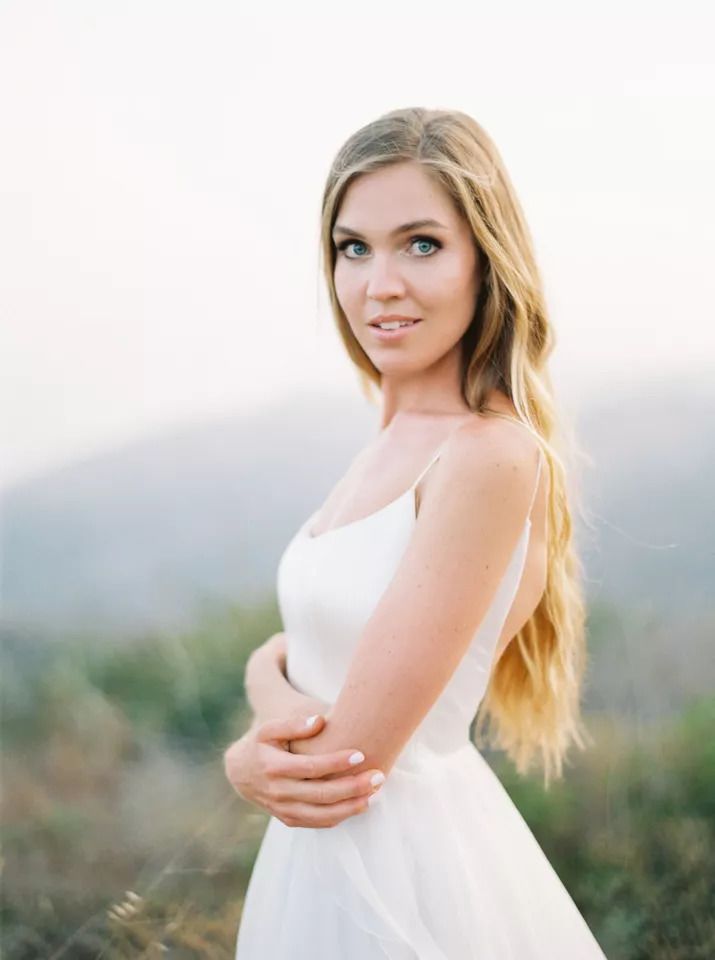 This super-wearable smokey eye look proves that smokey eyes don't have to be edgy and dramatic. It can also be soft and natural. The key to a perfect smokey eye is blending the eye shadow along the upper lashline with a pencil-shaped brush to get that smoke-like effect. Then, smudge the shadow along the lower lashline.


17. Classic Black Smokey Eye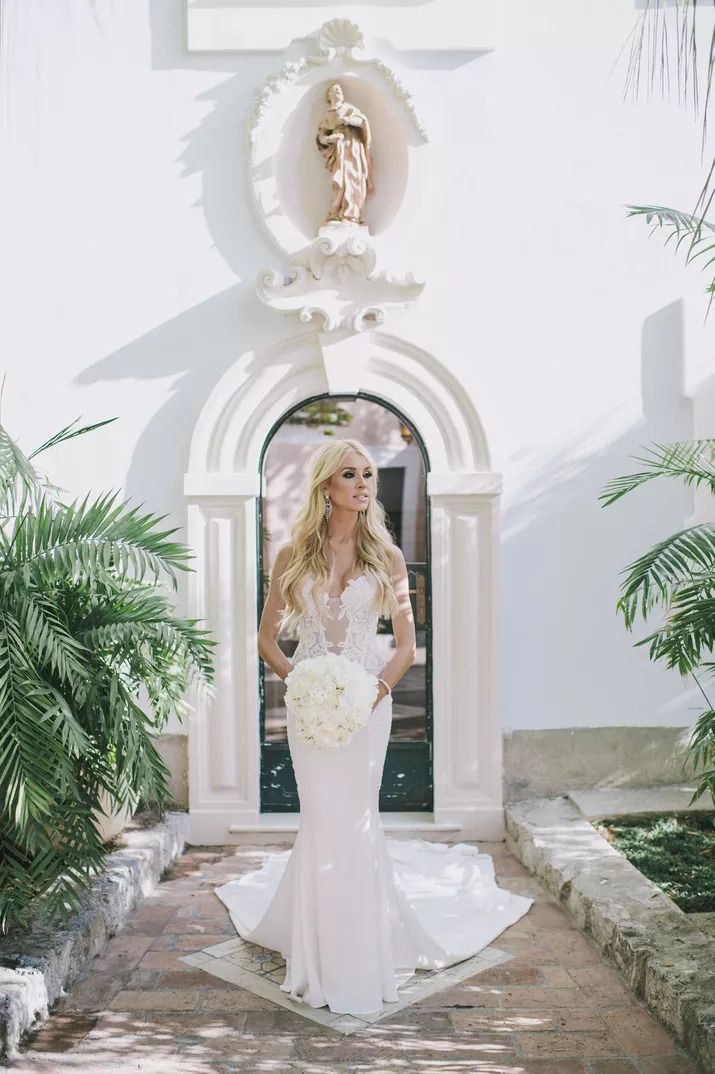 Dramatic smokey eyes are a go-to eye look for a glamorous wedding. Crucial elements include midnight black eyeshadow and kohl pencil, liquid liner, and a pair of knockout false lashes. Take it up a notch by adding shimmer or glitter to the center of the lid. Baby blues will smolder underneath that haze of smoke.


18. Champagne Satin
A little bit of shimmer on the lids is just enough to make your blue eyes sparkle at the altar and on the dancefloor. Nude or champagne tones keep the look natural and ethereal, never too intense.


19. Copper Penny Liner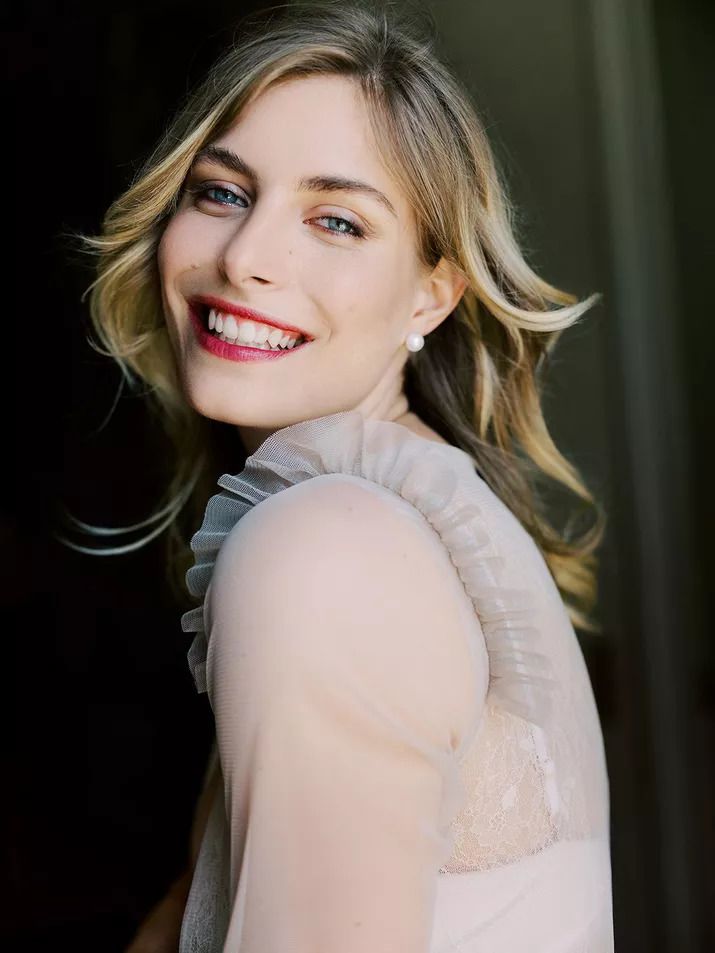 A brown liner with a metallic finish is a better natural-looking alternative to the traditional black liner. This coppery brown liner with soft metallic shimmer really brings out the bride's blue eyes.


20. Winged Smokey Eye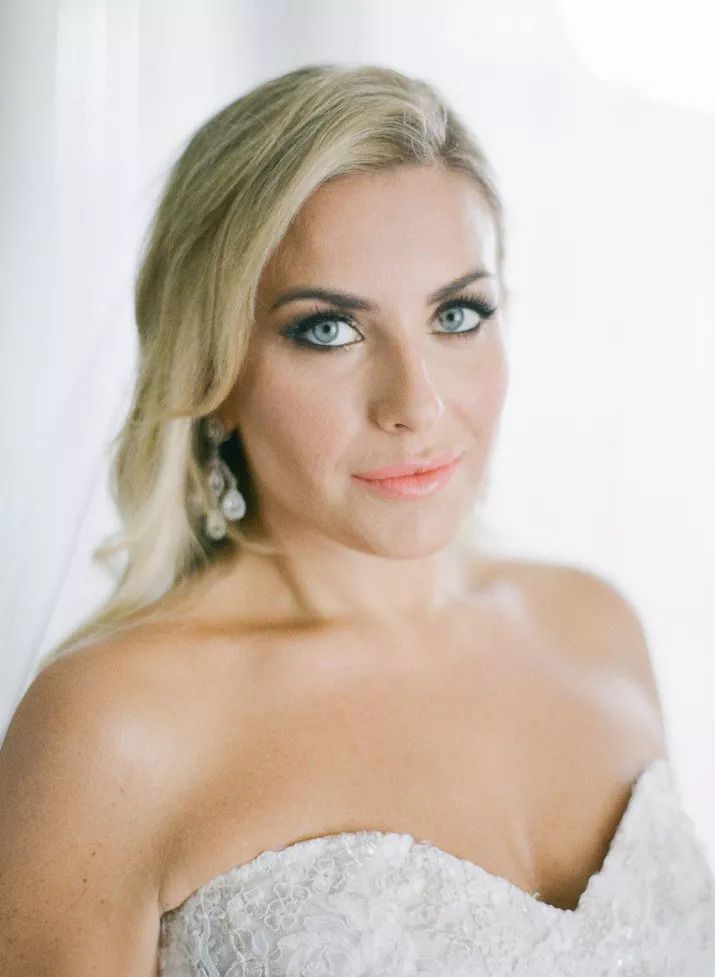 Bring the drama with an eye-catching winged smokey look. Work a black shadow into the outer crease of your eye and blend slightly up and outward in a winged shape. If your blending gets too out of control, don't panic. Sweep a clean Q-tip or makeup remover wipe along the angle of your lower lashline to polish the shape.


21. Soft Smoke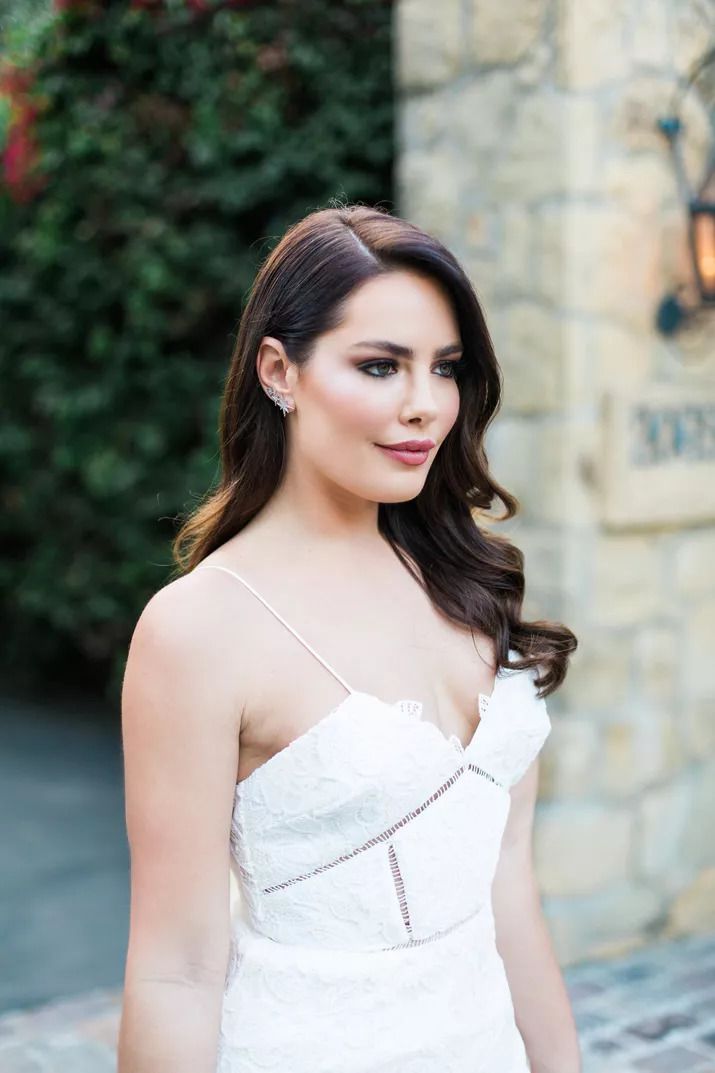 If you love the look of a black smokey eye but don't want something as opaque and dark, follow this bride's lead and do the same look with brown eyeshadow. Use your eye shadow on a fluffy brush to blend the shade up and out towards the tail of your brow. Finish with black or brown liner in the waterline and underneath your lower lash line, smudging out the edges with a pencil brush.


22. Everyday Natural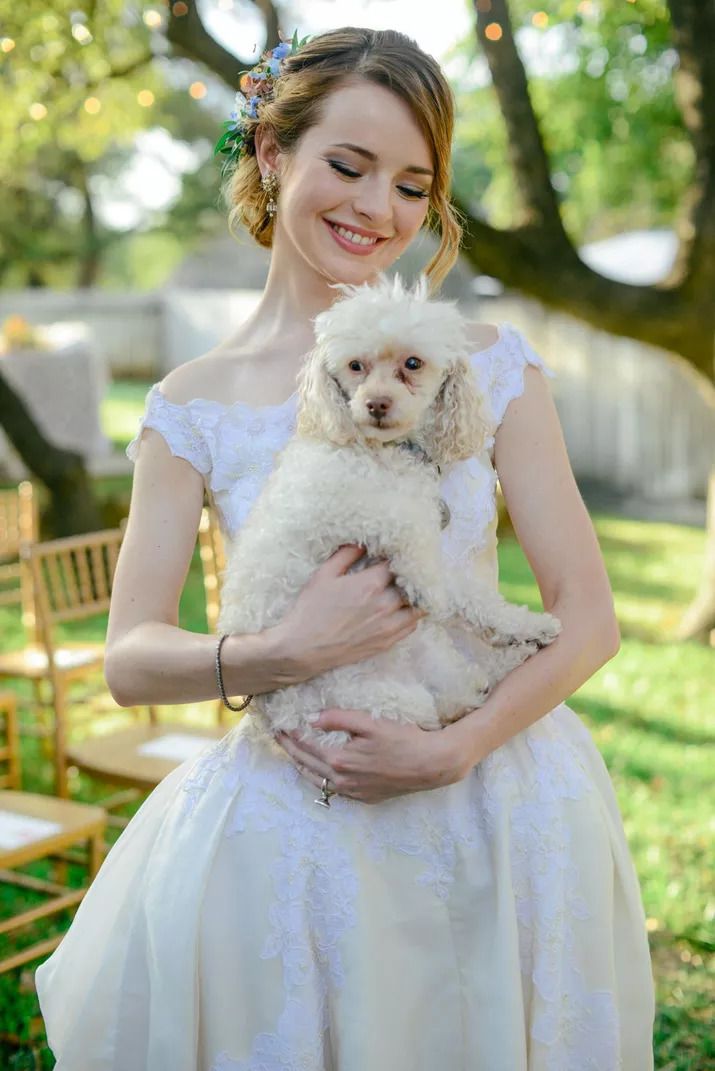 For a sweet and simple everyday natural eye look, all you need is two shades of eyeshadow: one light shimmery shade and one deeper matte shade. Drag the shimmery shade across the lid, and blend the matte shade in the crease and in the outer corner. Top with black mascara to accentuate blue eyes.


23. Sultry Smoke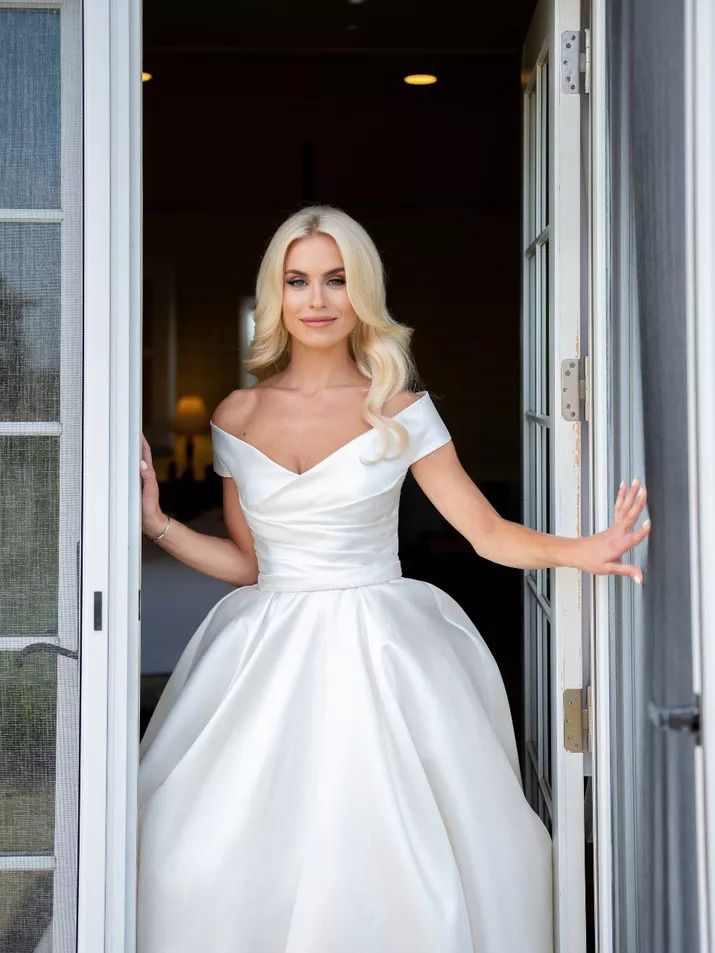 If you have blue eyes and you've never worn silvery gray eyeshadow, you need to get on it ASAP. A grey smokey eye is a classic look, and transitions seamlessly from day to night.


24. A Fleck of Gold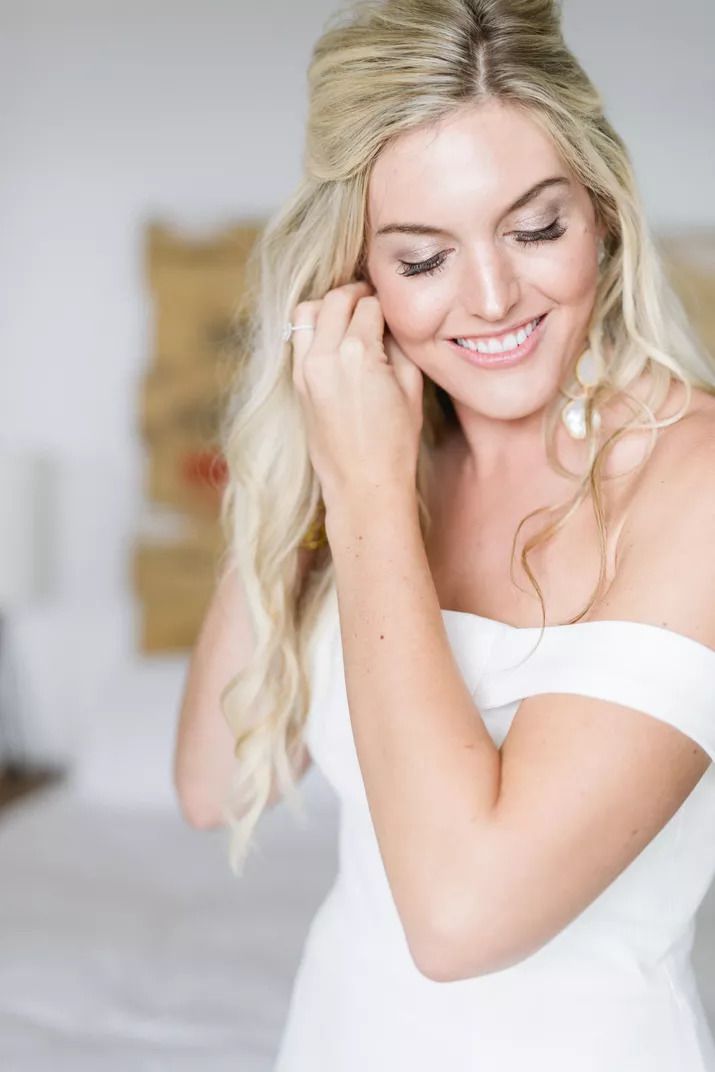 A bridal beauty look begs for some shine and sparkle. Pop on a metallic gold eyeshadow, add an ultra-thin liner, some mascara, and you'll be ready to dance the night away with your blue eyes shining brighter than the disco ball.