While long hair may have a reputation for versatility, short hair has just as much styling potential! From a classic bob and lob to choppy pixie cuts, layered looks, and brilliant braids, short hairstyles do it all – and there's one to suit everybody. If you're ready to take the plunge and chop it all off, keep reading for some serious hair inspiration.


1. Short Layered Curly Hair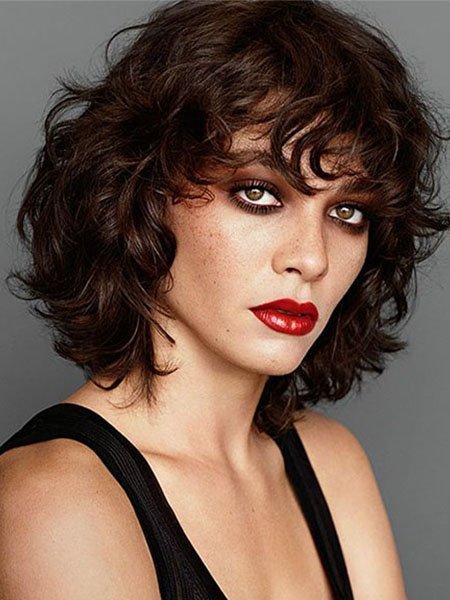 Layers are a perfect match for short curly hair, particularly if it's on the thicker side. The different hair lengths work with the natural movement, texture, and bounce of curls. At the same time, layers break up the 'mass' of curly hair and give it a subtle, flattering structure. The final result is a soft, casual, yet chic haircut with a retro '70s vibe.


2. Braided Side With Natural Short Hair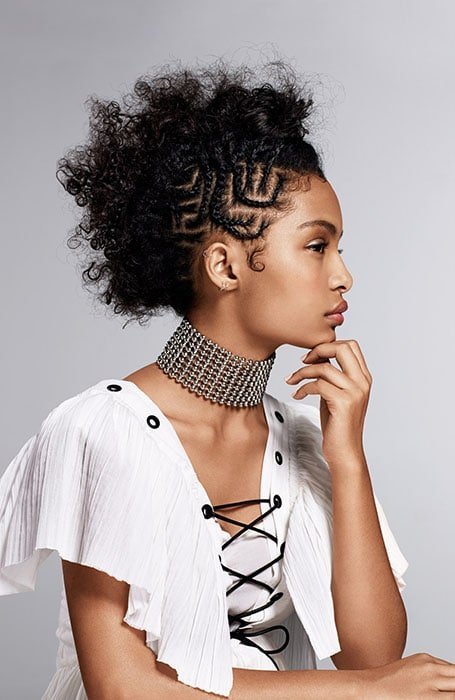 Braids add personality and unique touch to any hairstyle, particularly if your hair is short. For ladies with short natural hair, braiding the sides creates a striking visual contrast with your loose curls. It's also less time-consuming than cornrowing all your hair. At the same time – depending on the final effect you want – your stylist may not need to add any braiding hair to create the look.


3. Short Messy Spikes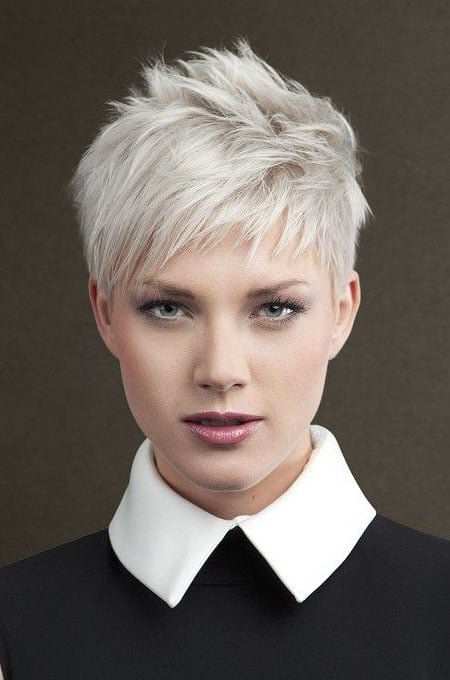 Short, messy, spiky hair isn't just for the guys – it also looks great on women. For best results, the same rules apply, too. The key is to make sure your spikes aren't too structured or stiff. Instead, go for a tousled, textured look with all the angles and volume, but without the rigid, 'crispy' look that using too much product can create. The result is a modern, chic, and androgynous look that works for every occasion.


4. Short Crimped Hair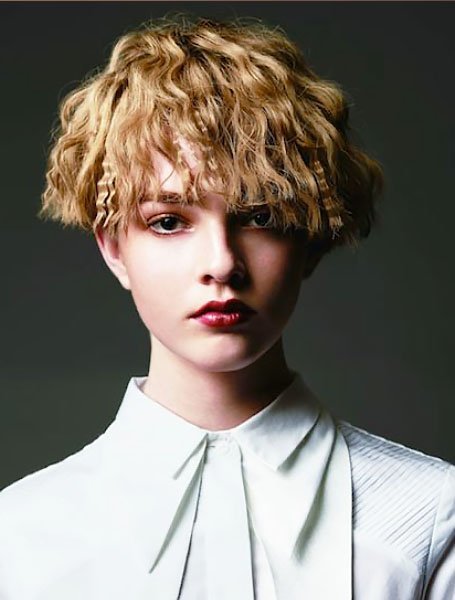 Crimping is one of the biggest hair trends of the year, and it looks amazing on short hair. Even ladies with a pixie cut can get in on the crimping action! The best type of crimped hairstyle for shorter hair is 'accent' crimps – that is, creating mini, kinky crimped sections that fall around your face rather than trying to crimp all your hair. Not only is it quick and low-maintenance, but the hairstyle also has a throwback '80s vibe.


5. Short Shag Haircut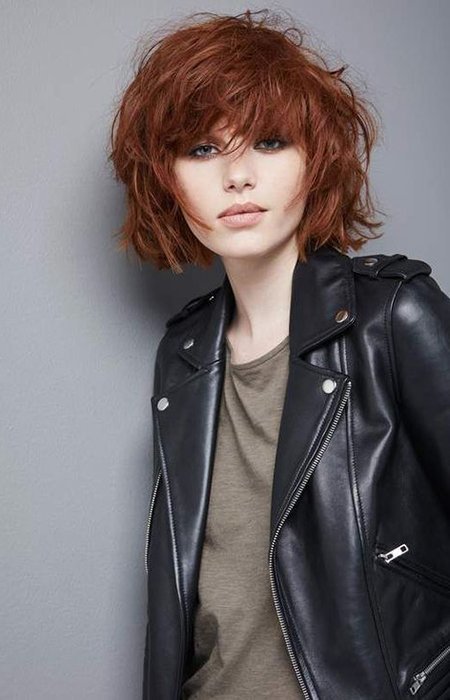 One of the coolest haircuts of all time – the shag – is back in all its glory. Perfect for those who love an edgy, '70s-inspired look, the shag haircut is all about attitude. Designed for shorter hair lengths, the shag is a great way to add more body and volume to your hair. Plus, it can be adapted to suit your face shape depending on where the layers end and if you want to add a fringe.


6. Inverted Bob Hairstyle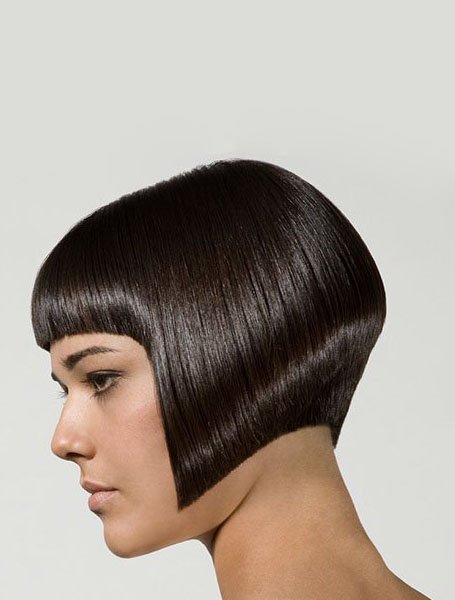 Inverted bob haircuts involve cutting hair on an angle so that the back section is shorter than the front. This creates a cool graduated effect that always turns heads. One of the most popular and visually striking inverted haircuts is a short-stacked inverted bob. Also called an A-line stacked bob, this cut has sharper angles than other inverted styles. It is a bold choice for ladies who want to stand out from the crowd while still looking chic, polished, and professional.


7. Mohawk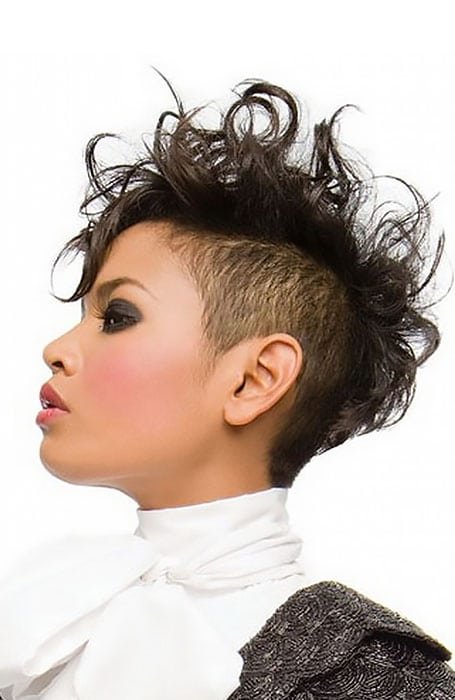 Want to show off your edgy, punk side? You can't go past a mohawk. To adapt the classic style for modern times, soften the central section by using less product. Instead of a rigid, pointy mass, style your hair into upright waves and curls for a stylish undone effect. Meanwhile, instead of skin-shaving the side sections, buzz them short. This creates an overall result that's more unique and less 'costume-y.'


8. Dutch Braid With Ponytail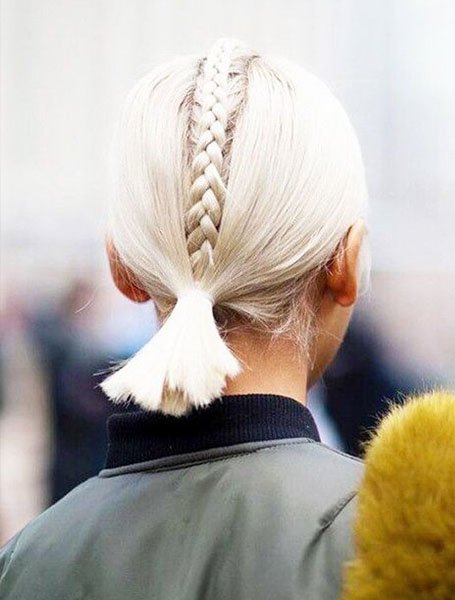 It's a common misconception that you need long hair to create amazing braided hairstyles. However, they look just as good on shorter hair lengths, such as a lob. One of the most striking options for short hair is adding a Dutch braid element. Draw attention to your hair by braiding the central section, then create contrast by smoothing the other sections into a sleek ponytail.


9. Micro Bowl Cut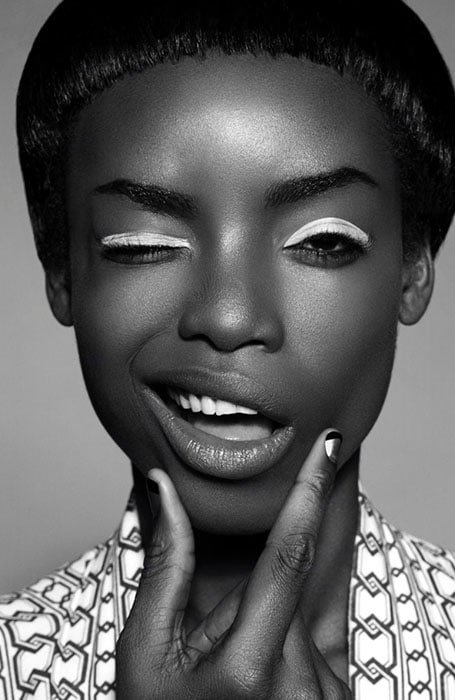 The term 'bowl cut' might make you think of the hilariously awkward kids' haircut from the '80s and '90s. However, it's come a long way since then! The modern bowl cut for women is much shorter, creating a micro-bangs effect. Bold, unique, and low-maintenance, a micro bowl cut is a great option if you want an alternative to the classic pixie cut.


10. Dutch Braid Pigtails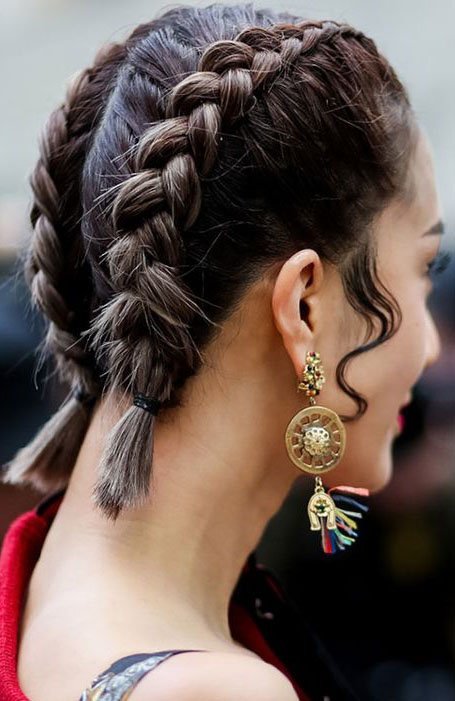 Dutch braid pigtails – also known as double Dutch braids – are a cool and stylish option for short hair, especially if you are growing out bangs. Because all your hair is woven into the plaits, you won't have any pesky strands in your face. For that same reason, Dutch braid pigtails are ideal for when you want to show off statement make-up and earrings. At home on the catwalk and in the gym, Dutch braid pigtails are a versatile hairstyle for short hair.


11. Short Ponytail Hairstyle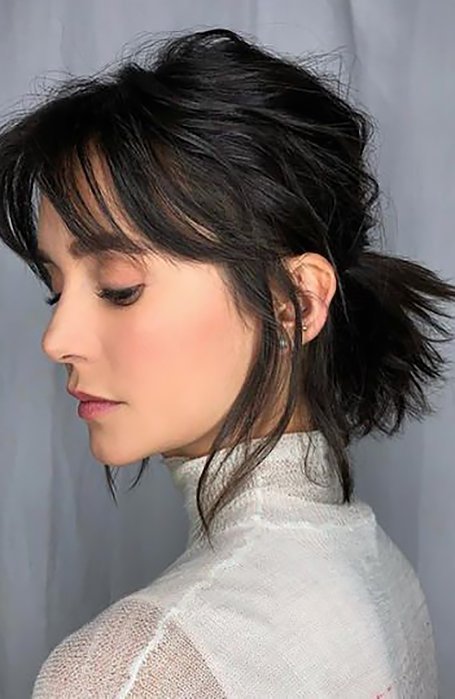 While short hair isn't long enough to create a classic mid- or high-ponytail, a low ponytail is a great option. Chic and sophisticated, the look hinges on creating lots of movement and texture. Leave some smaller sections loose at the front to frame your face, then pull the rest of your hair back into the ponytail. To avoid looking too severe, build up some volume at the crown with sea salt spray or texturizing spray.


12. Messy Bowl Cut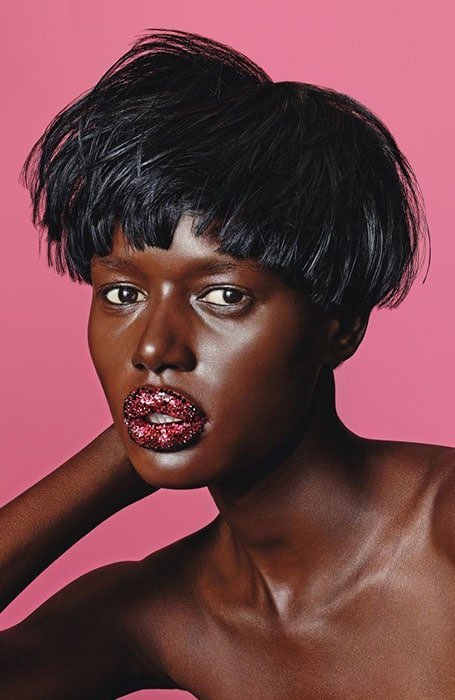 For the bold types, a messy bowl cut is a great statement look for short hair. Cool and quirky, it's a hairstyle that stands out and attracts attention. Because it is such a bold choice, you can pair it with more avant-garde and eccentric make-up elements – like a glitter lip or graphic eye look. Ladies who love to express their offbeat and artistic side should consider a messy bowl cut.


13. Short Layered Haircut for Fine Hair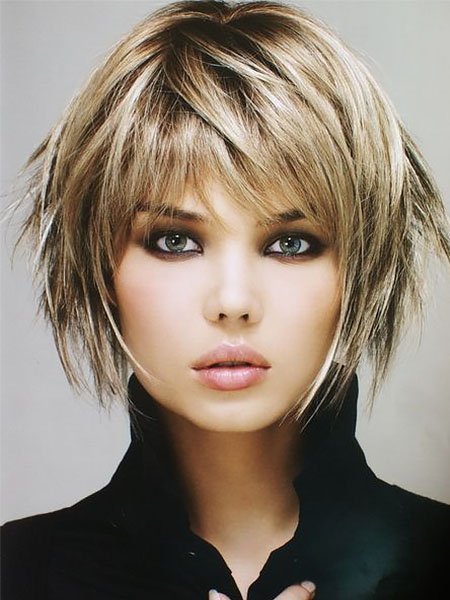 One of the challenges for short fine hair is looking thin and wispy. To create the illusion of thicker, fuller hair, have your stylist add choppy layers. The different hair lengths create more dimension and movement, drawing the eye towards your hair's ends rather than the fine roots, where thinning is most noticeable. Pair the short layered cut with a mix of highlights and lowlights to create an even more dynamic look.


14. Temple Shave Pixie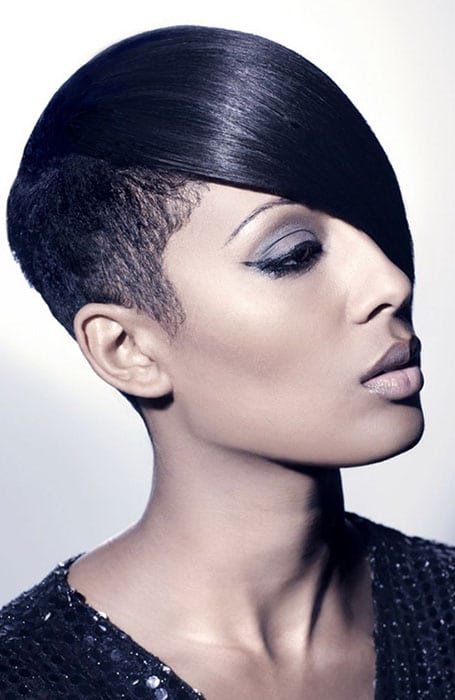 It's all about attitude with the temple shave pixie cut, which suits bold ladies with a dramatic flair and those who prefer the androgynous look. It marries an undercut effect with asymmetric side bangs to create a statement hairstyle that defies expectations. The angle of the bangs makes it a particularly flattering cut for heart-shaped faces. Alternatively, ask your stylist to cut the pixie a little shorter and style it without the bangs.


15. Loose Braids Platinum Blonde Short Hair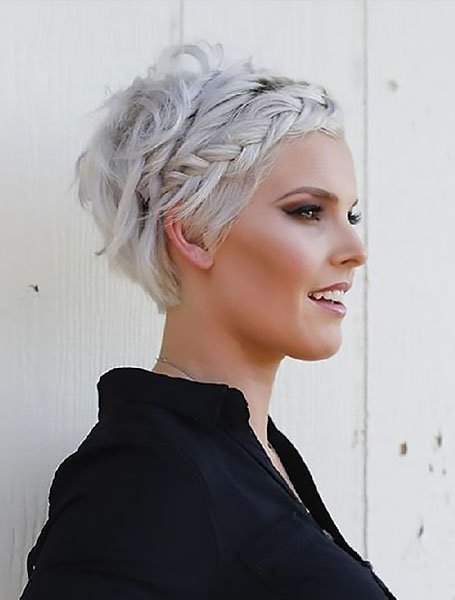 Going platinum blonde can worsen split ends and dryness, which is why hairstylists often recommend losing a few inches after you bleach your locks. A short platinum blonde haircut looks striking and is bound to grab attention – and you can make it stand out even more by adding loose braids. Try a side-to-side crown braid or plait the side sections for an undercut effect.


16. Fine Short Hair Updo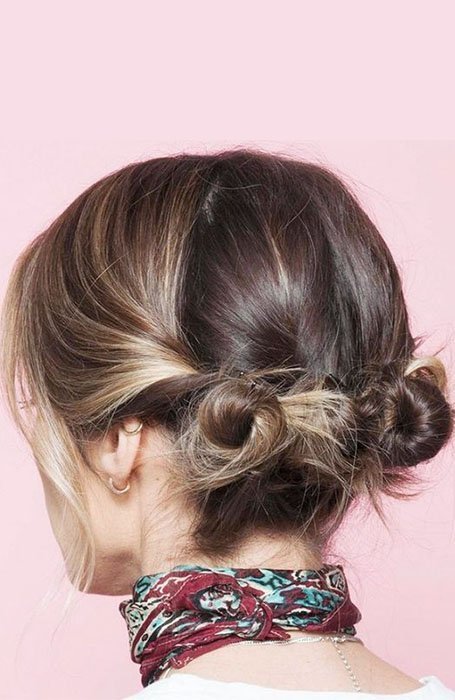 It can be tricky to style fine short hair; however, one of the best options is a twisted updo. Not only is the hairstyle pretty and playful, but it's also straightforward to do. Spritz through some texturizing spray to give your hair some extra grip, then divide into two sections and twist into low mini buns. Use clear elastics or bobby pins to secure the buns in place. Add hairspray to hold everything in place, as fine hair tends to 'fall out' of styles more quickly than thick hair.


17. Buzz Cut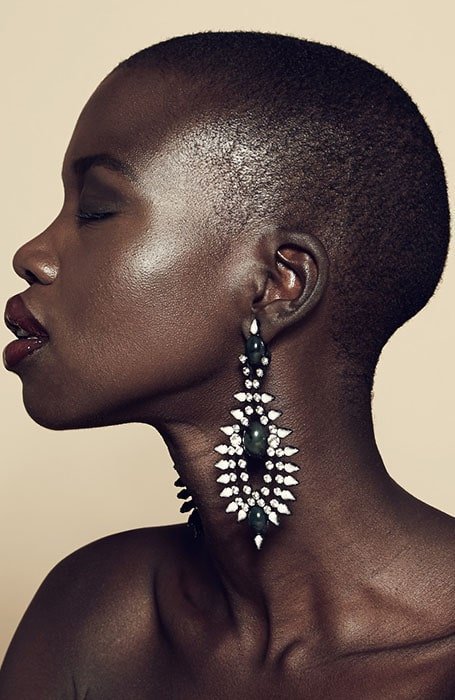 For those who want the boldest take on short hair, there's nothing like a full buzz cut. Cool, chic, and low-maintenance, the buzz cut is perfect for confident ladies who aren't afraid to take risks and stand out. Before getting a buzz cut, it's important to consider your face shape, head shape, and features. A buzz cut tends to exaggerate strong features and add definition to soft ones. To predict how a buzzcut will look on you, tie your hair in a tight ponytail and take photos of your profile.


18. E-Girl Rainbow Bob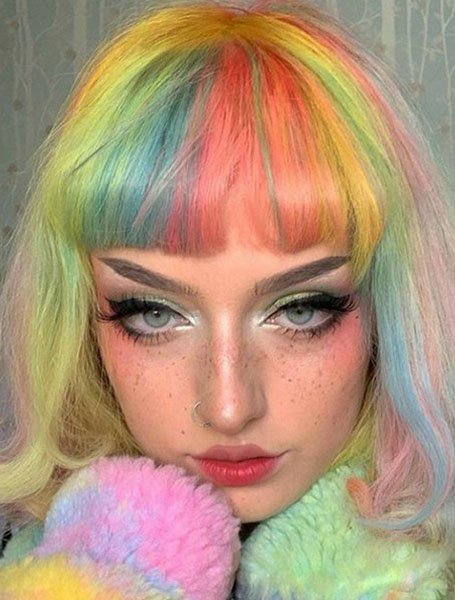 E-girl style is one of the biggest trends of 2020, and brightly-colored, eye-catching hair is an e-girl must-have. An all-over hue like pink or green will give you the standard e-girl look – but a rainbow bob takes it to the next level. A shorter haircut means your locks will take less time to dye and give you the edginess that the e-girl look demands – rather than long rainbow hair, which can veer into 'princess' or 'mermaid' territory.


19. Short Yarn Braids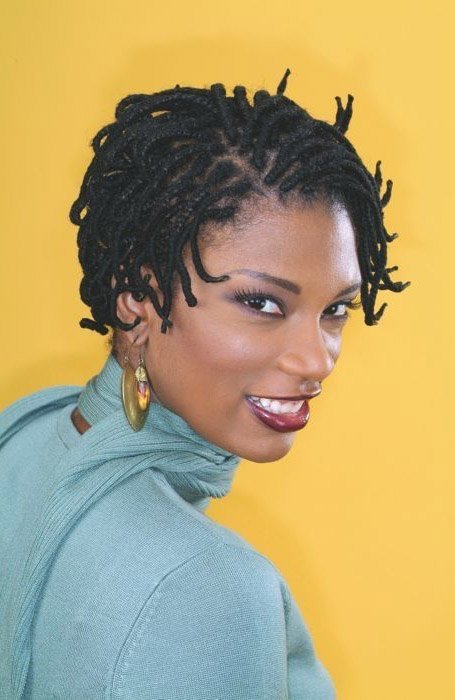 Yarn braids are a great alternative to traditional braiding hair. They are considered a protective style as the 100 percent acrylic yarn protects your natural hair from the elements. Plus, they are also stylish and versatile, coming in a rainbow of different colors. Short yarn braids can be plaited to create a wavy, freeform, almost-dreadlock look, or they can be braided flat for a bob or lob-style effect.


20. Curly Short Hair Updo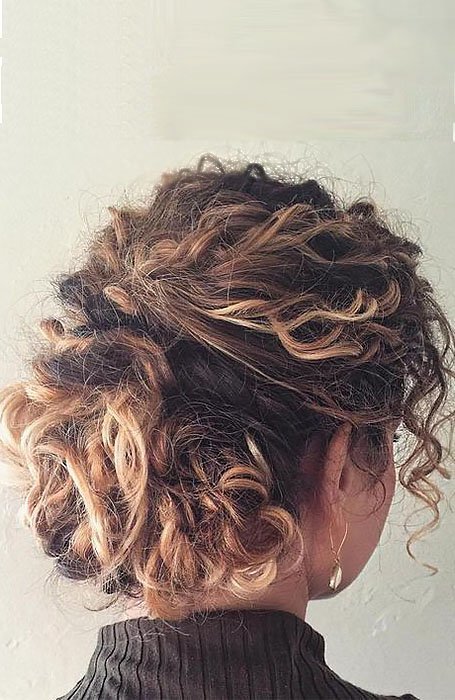 When it comes to styling short curly hair into an updo, it's best to work with your hair's natural texture and movement rather than fighting it. One beautiful and simple option is to twist your locks into a messy chignon, leaving some tendrils free to frame your face. Add romantic and feminine accessories, such as ribbons, flowers, or pearls, for extra style points.


21. Short Knotless Braids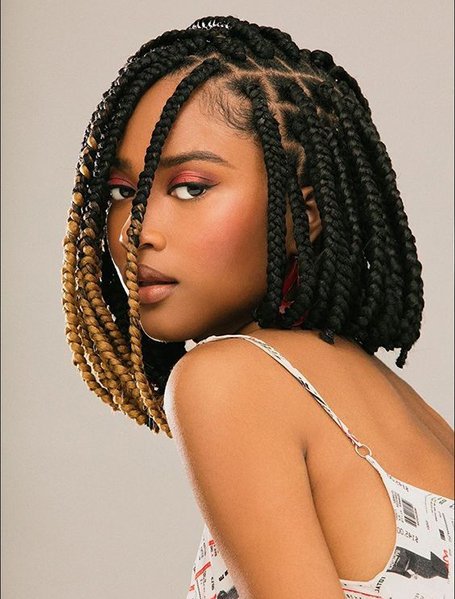 Box braids are one of the most iconic hair looks, and it's no wonder. Simultaneously cool, edgy, and pretty, these braids also have an on-trend '90s vibe. Short box braids create a gorgeous 'lob' effect that flatters many different face shapes. Meanwhile, knotless box braids are becoming more and more popular. While a little more time consuming and expensive than regular box braids, the knotless technique puts less tension on your scalp and does less damage to your natural hair.


22. Short Slick Bridal Hairstyle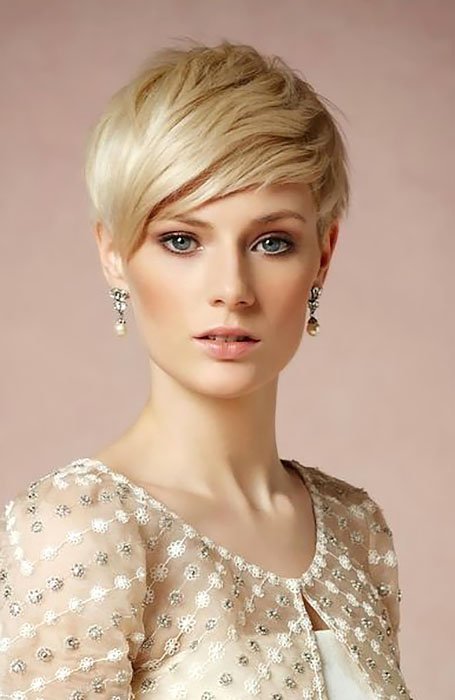 There are few better hairstyles for the modern, minimalist bride than a short, slick pixie cut. Instead of traditional bridal hairstyles, the look takes its cues from '60s fashion icons like Mia Farrow and Jean Seberg. It's an ideal choice if you want to show off your wedding jewelry, such as a pair of statement earrings. However, bear in mind that you won't be able to attach a traditional veil – instead, consider a fascinator or hat, or go without any headwear at all.


23. Side-Swept Pixie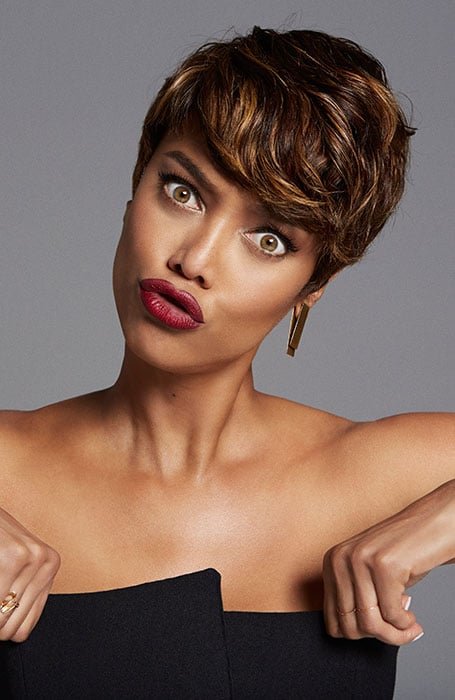 The pixie haircut is truly iconic and suits women of all ages. Pixie cuts are a versatile option for short hair. Not only do they always attract attention, but they are also low-maintenance and easy to style. They can be playful or sophisticated, romantic, or casual. A side-swept pixie cut flatters heart-shaped and square faces and is also a great way to add more dimension and direction to fine hair.


24. Elegant Short Hair Updo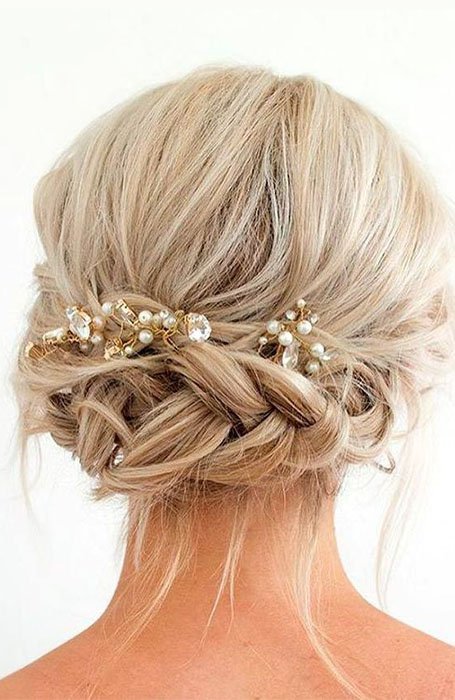 Short hair often needs minimal styling, but it can be fun to create a pretty, sophisticated hairstyle for a formal event or romantic date. Similar to a ponytail, the key to an elegant short hair updo is in the positioning. Avoid styles that require you to pull your hair up to the crown of your head. Instead, opt for a low bun or low braided style and add beautiful hair accessories, such as pearls or ribbons, for a gorgeous finishing touch.


25. Short Tribal Twists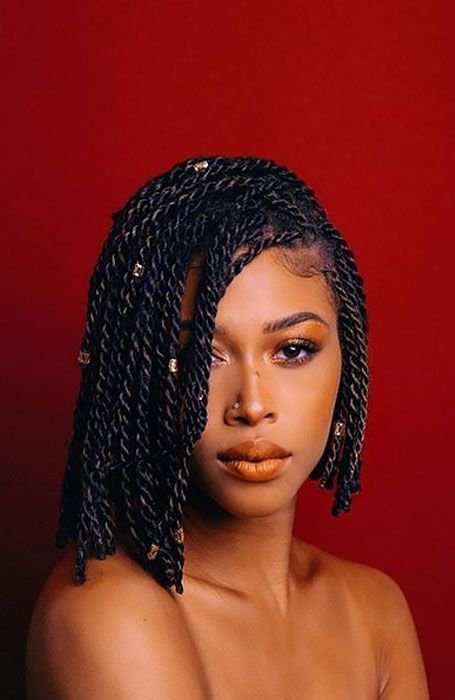 Short twists, like short box braids, create a flattering 'lob' effect on natural hair. Take your two-strand twists to the next level by adding a tribal element. Classic options like metal or wooden beads and cowrie shells pay tribute to culture and tradition while also making your twists stand out. You can customize your combination of tribal accessories to suit your unique style.


26. Short Bob With Green Highlights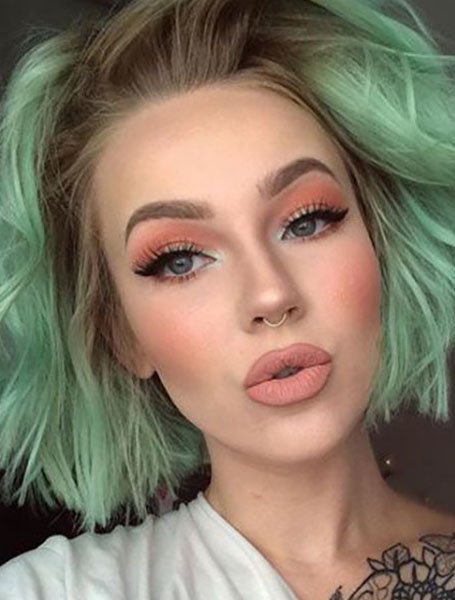 Green is a big color trend for hair because of its unique, alternative appeal. Made popular by stars like Billie Eilish and the e-girl trend, green hair can be adapted to suit various skin tones. Because it's such a strong color, a little goes a long way – meaning it's ideal for short hair. If you have a bob, you can get away with an all-over green look – whereas longer hair is better off with green roots or highlights.


27. Short-Twists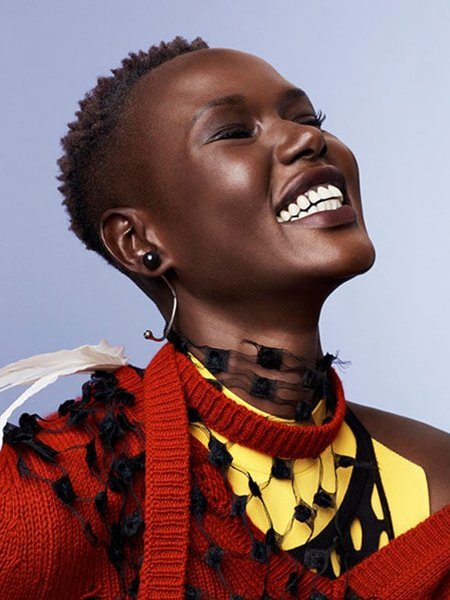 For ladies with natural hair, short twists are an amazing hairstyle. Perfect for when you are growing out a buzz cut or just had the 'big chop,' these mini versions of a two-strand twist create a cool yet cute look. As your hair grows longer, you can create a flattering lob effect with twists. Plus, as a protective style, they won't damage your hair and can be left in for days or weeks – meaning they're low-maintenance, too.


28. Wedding Updo for Short Hair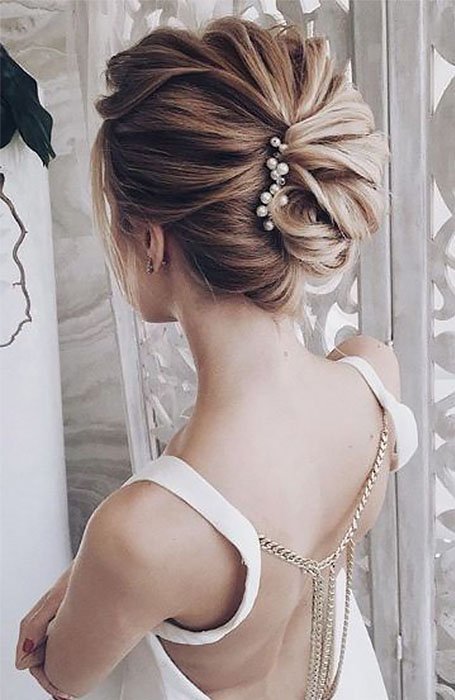 Whether you're the bride, guest, or bridesmaid, choosing the perfect hairstyle for a wedding is essential. An updo is a classic option because it draws the focus towards your dress and jewelry. An elegant and romantic loose chignon is perfect for such a special occasion, and you can easily create one with short hair. Simultaneously polished and sophisticated without looking stuffy or overly 'done,' a loose chignon is a great option. Plus, you can add hair accessories or a veil with ease.


29. Geometric Short Afro Style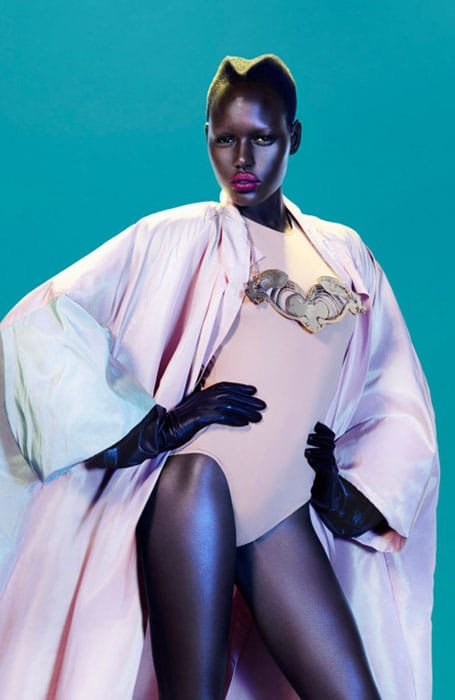 Make your short Afro stand out by having your stylist create a geometrically shaped cut. Cool and modern, shaped Afros turn heads in the best way. For that reason, this cut is perfect for confident women with a strong sense of style, who are happy to be the center of attention. While you could opt for an '80s throwback flat top or stepped cut, a triangle or wave-effect Afro is another great geometric option.


30. Short Rose Gold Hair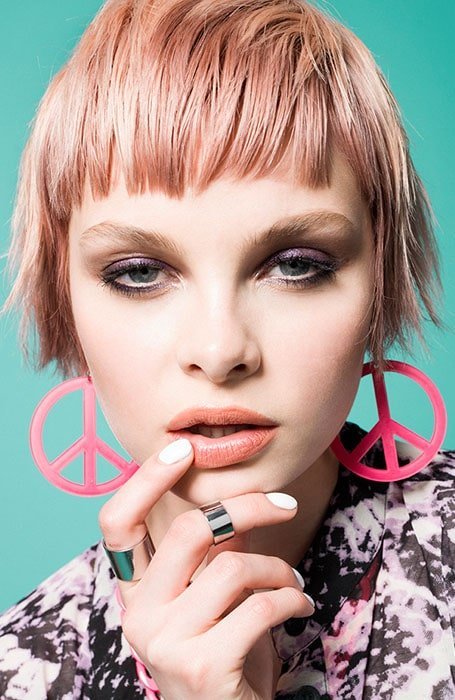 Rose gold hair is one of the hottest trends of the year. Combining golden blonde with a pinkish-copper tint rose gold hair suits a wide variety of skin tones and always stands out from the crowd. If you're thinking of shaking up your color as well as your hair length, give a short rose gold look a try. As it's a bold color choice, pair your rose gold hue with an equally cool cut – think a bowl cut or choppy baby bangs.


FAQs
What hairstyle is best for short hair?

The best hairstyles for short hair are ones that incorporate movement, texture, and drama. The beauty of short hair is that it is versatile and easy to style – in fact, very simple short hairstyles such as spiky hair or a short up 'do are some of the most popular and flattering hairstyles.


What is the hairstyle for 2020?

The e-girl trend has been one of the biggest in 2020, which makes e-girl hairstyles such as rainbow bobs and highlighted lobs some of the most popular this year.


Does short hair make you look older or younger?

Short hair can make you look both older and younger, depending on your facial features. While there is a stereotype that women tend to opt for shorter haircuts as they age, a short cut can also give you a childlike, elfin look. Short hairstyles such as crimped hair or a rainbow bob may also make you look younger.