French fashion designer Pierre Cardin was a true visionary. The designer's geometric, angular silhouettes shaped the 1960s and paved the way for a Space Age-fueled boom of futuristic fashion that has since become synonymous with the decade. Along with masters like Andre Courrèges and Paco Rabanne, Cardin revolutionized the ready-to-wear industry through a uniquely modern exploration of the female form.

In the early 1970s, Cardin visited the NASA headquarters and became increasingly inspired by the world of space exploration and travel. Cardin would later go on to design several iterations of space suits for NASA, showing both his love for futurism and undeniable knack for tailoring. During the same time, Cardin began to extensively license his name for cigarettes, homeware, and furniture. This unique business model ultimately led the brand to be valued at over $10 million in 1990.

In December 2020, it was announced that the French-Italian designer passed away at the age of 98. Not only leaving behind his eponymous label, Cardin would also forever embed his legacy into the fashion lexicon. Whether it be pagoda shoulders at Balmain or angular stripes at Moschino, Cardin's impact on modern fashion is paramount. On what would have been the designer's 99th birthday, L'OFFICIEL remembers five times fashion's greats referenced the iconic designer.


Balmain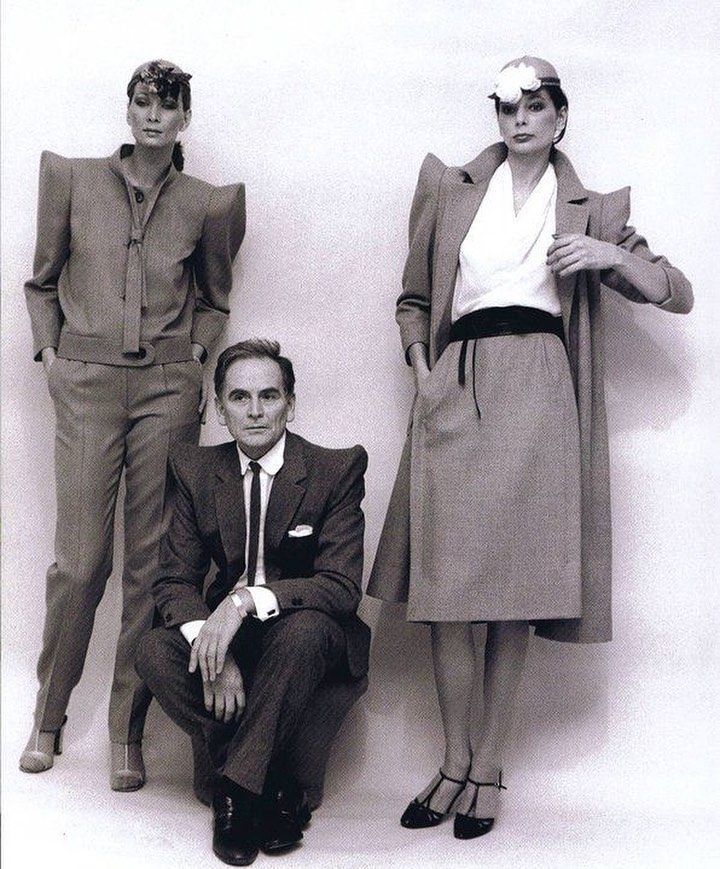 Pierre Cardin, 1979.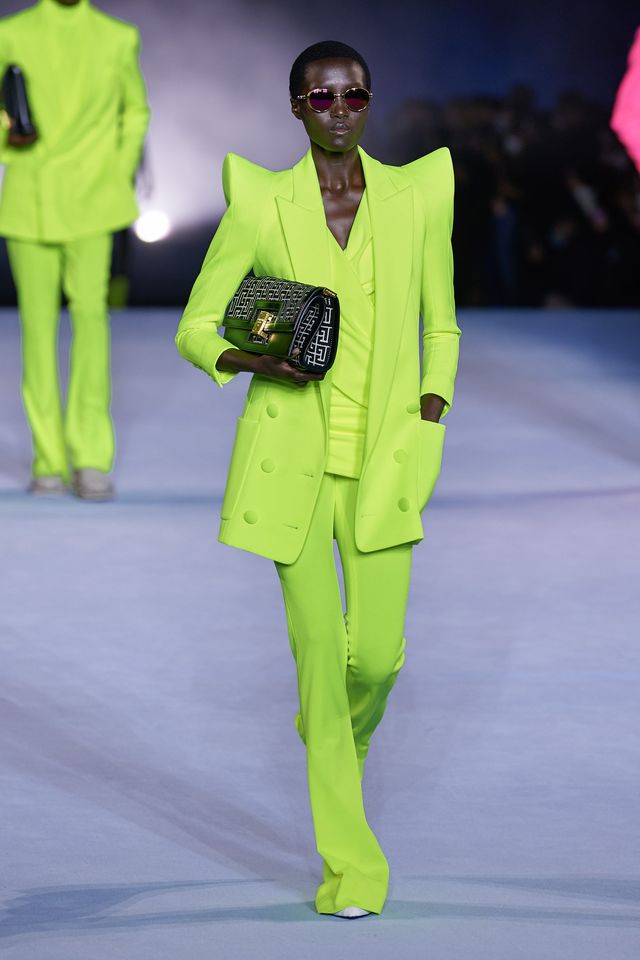 Balmain Spring/Summer 2020

For Balmain's Spring/Summer 2020 collection, Creative Director Olivier Rousteing presented a series of angular shouldered ensembles that harkened back to the tailoring mastery of Cardin. Dubbed pagoda shoulders, the silhouette was inspired by the triangular corners of Chinese architecture. The pagoda shoulder is often seen more widely in menswear than womenswear-corroborated by the fact that Cardin often modeled his over-the-top creations throughout the '70s.


Valentino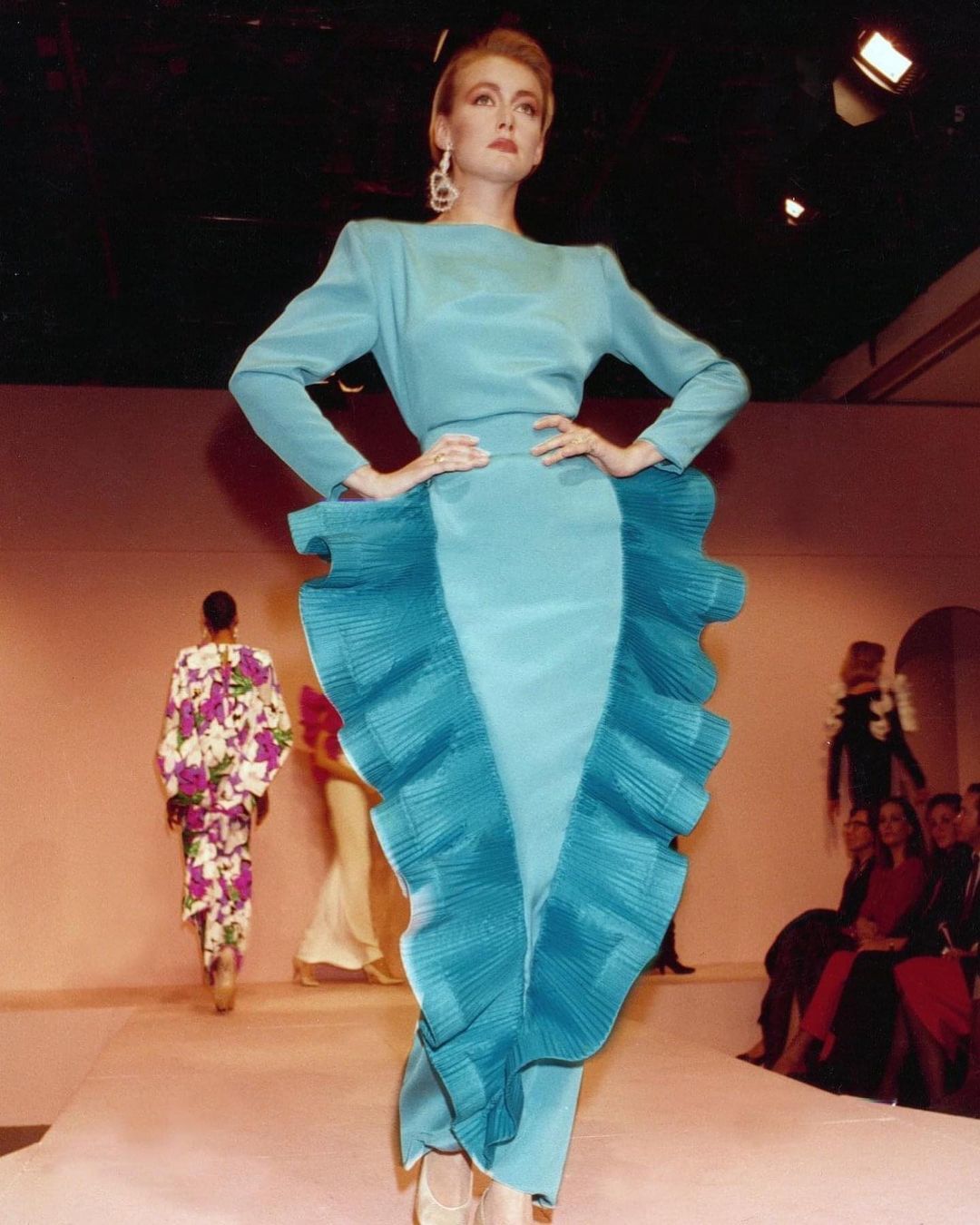 Pierre Cardin Haute Couture, circa 1980s.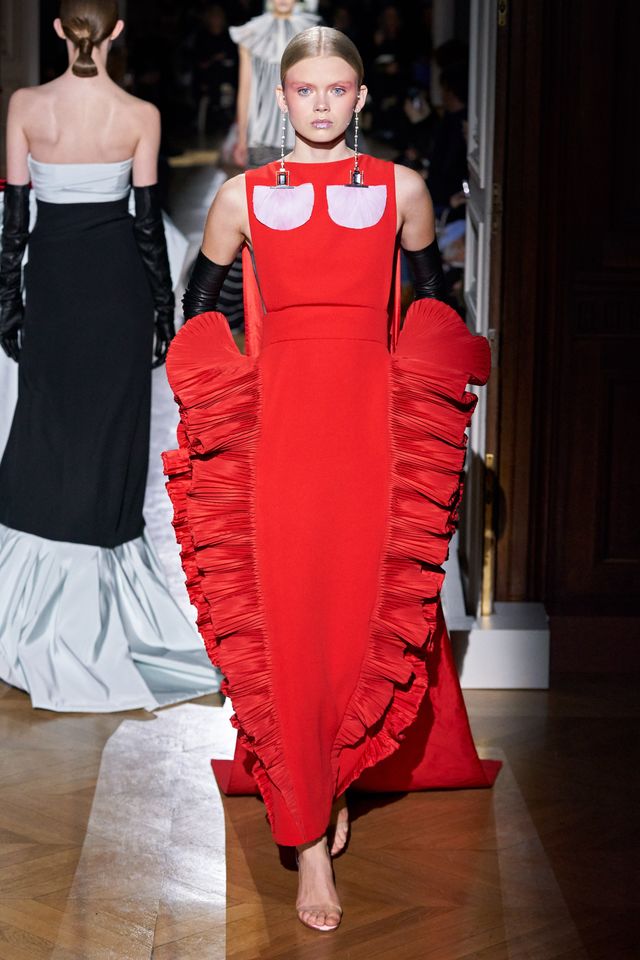 Valentino Spring/Summer 2020 Haute Couture

Cardin's experimental silhouettes took on softer forms, too. This ruffle-edged dress from a vintage Haute Couture collection accentuated the model's body with its undulating additions. Thirty years later, a similar look appeared in Pierpaolo Piccioli's Valentino Spring/Summer 2020 Haute Couture collection.


Issey Miyake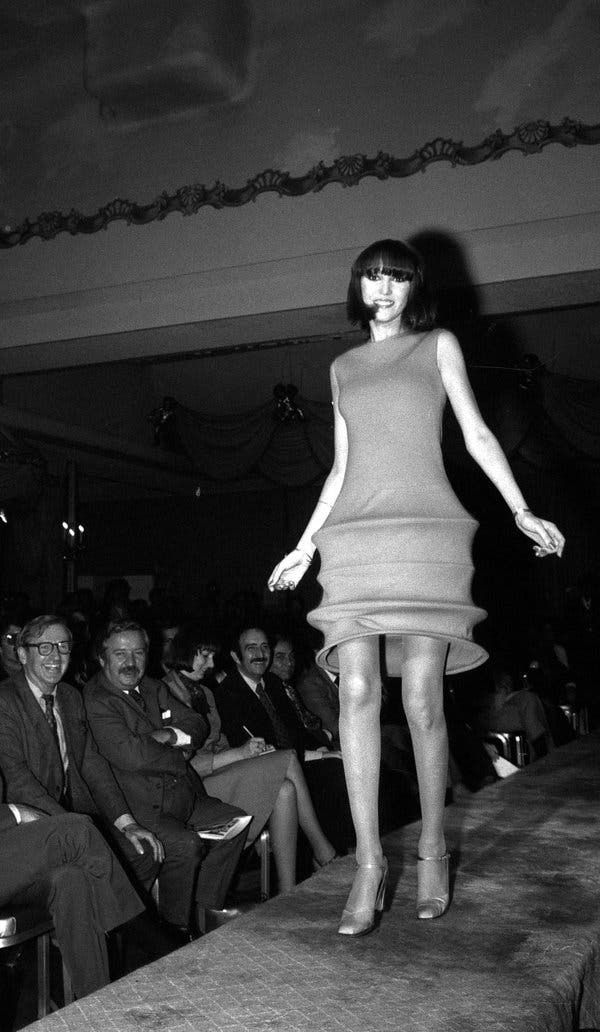 Pierre Cardin Fall/Winter 1969.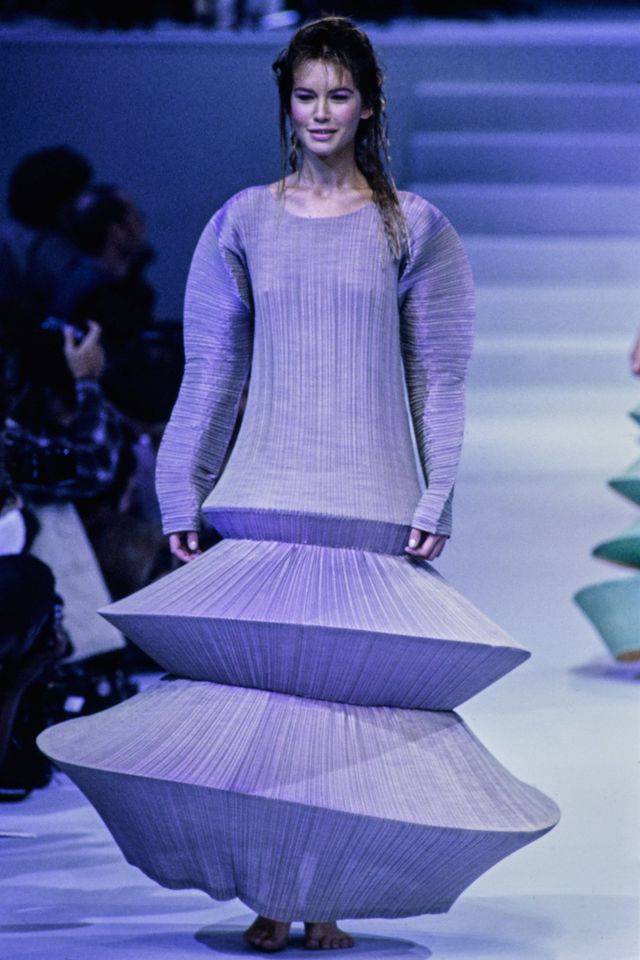 Issey Miyake Spring/Summer 1995

Along with a distinctly futuristic aesthetic, Caridn often toyed with sculptural silhouettes, like the above cylindrical ensemble from the designer's Fall/Winter 1969 collection. Playing with materials like PVC and structural techniques, the French designer drifted away from the elegant, refined styles of the 1950s.

For Issey Miyake's Spring/Summer 1995 collection, the Japanese designer made a direct reference to the French label's sculptural silhouettes. Like Cardin, the Japanese label toyed with exaggerated silhouettes while also adding a sense of texture and depth with pleats and fabrication.


Moschino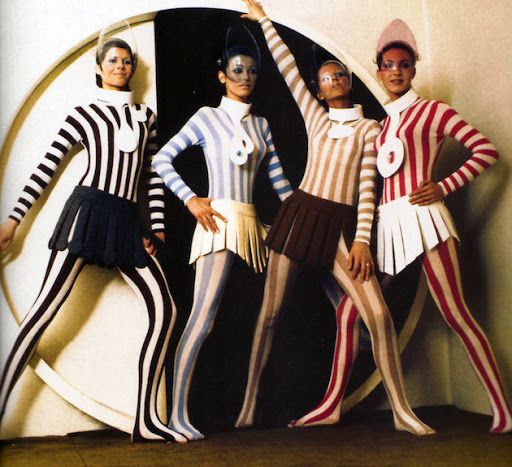 Pierre Cardin Fall/Winter 1968.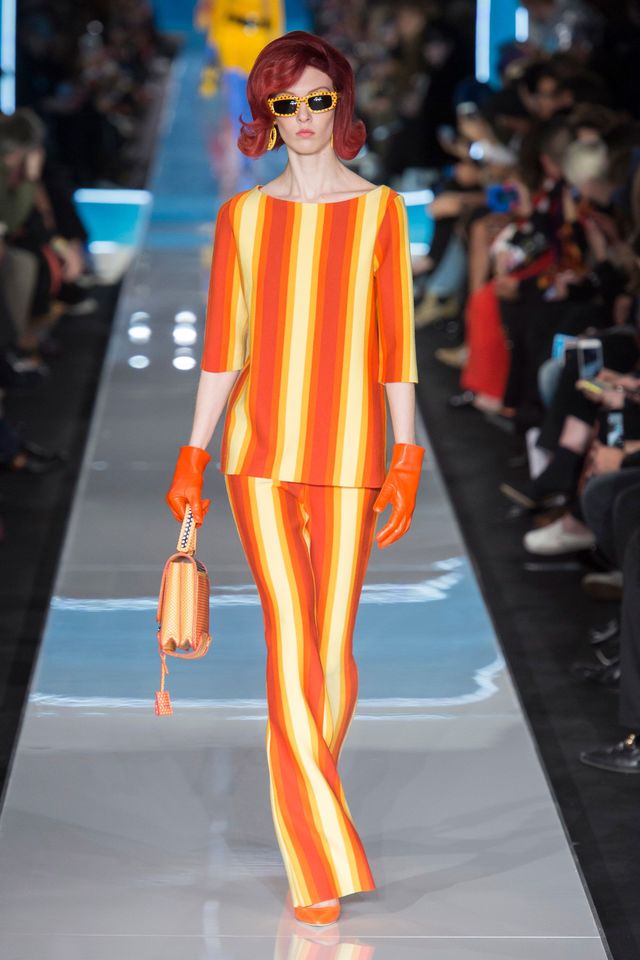 Moschino Fall/Winter 2018

Jeremey Scott has always been one to embrace various references, pop culture icons, and campy silhouettes during his tenure at Moschino. For the brand's Fall/Winter 2018 collection, Scott featured a variety of striped separates and futuristic silhouettes that harkened back to the forward-thinkingn vision of Cardin.

Through various colorways and angular silhouettes, Moschino embraced the futurism that has since become synonymous with Cardin. And with models' legs and face painted in various pastel shades, the collection was a clear ode to the '60s.


Comme des Garçons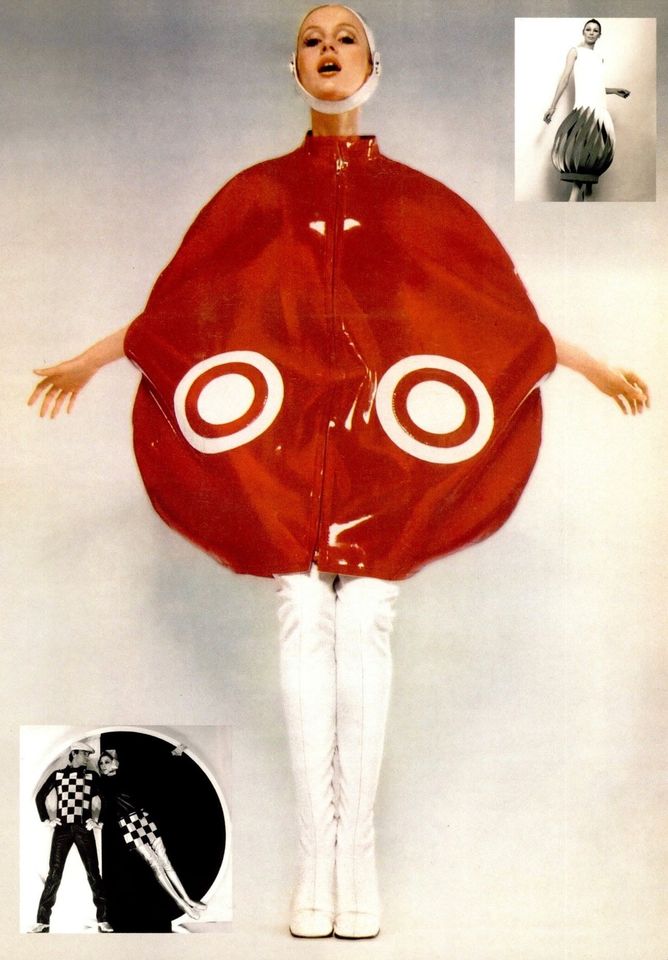 Pierre Cardin, 1969.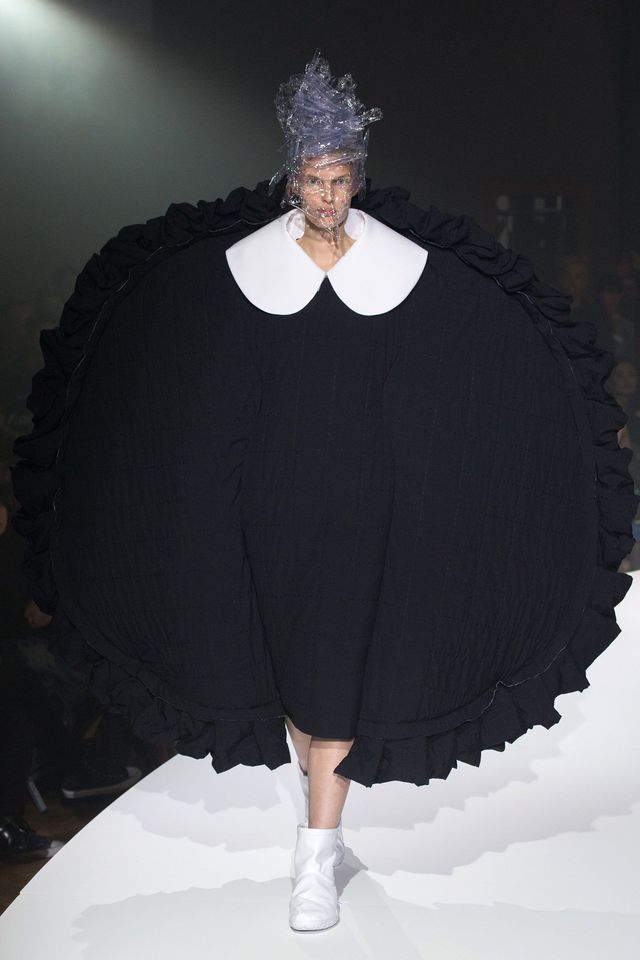 Commes des Garçons Spring/Summer 2017

Rei Kawakubo has always been one to push the boundaries of fashion. For Commes des Garçons' Spring/Summer 2017 collection, the Japanese designer displayed a series of flat silhouettes that morphed abstract the body.

Though the designer may not have overtly referenced Cardin, the visual similarities between the two are evident. Pushing the boundaries of the female body, both designers showcased various circular silhouettes throughout their careers that aim to morph and reshape the body.