Each product we feature has been independently selected and reviewed by our editorial team. If you make a purchase using the links included, we may earn commission.

Whenever I think of leather jacket outfits, I'm reminded of Sandy's transformation at the end of the movie Grease. Within a few scenes, her style goes from preppy and sweet to badass, hot, and Pink-Lady-approved. And, the one piece that helped her achieve that enviable, cool-girl factor? A black leather biker jacket, worn with skin-tight leggings and an off-the-shoulder top.

These days, a leather jacket is a known wardrobe staple, and many choose to style them with something denim (a timeless combination). However, there's no need to keep it so simple. I've discovered a ton of unique ways to style this outerwear option over the years, and with a few key accessories and tricks, you too can turn your leather jacket into a full standout look.

Ahead, check out six leather jacket outfits to try for fall 2020.


1. Add Shorts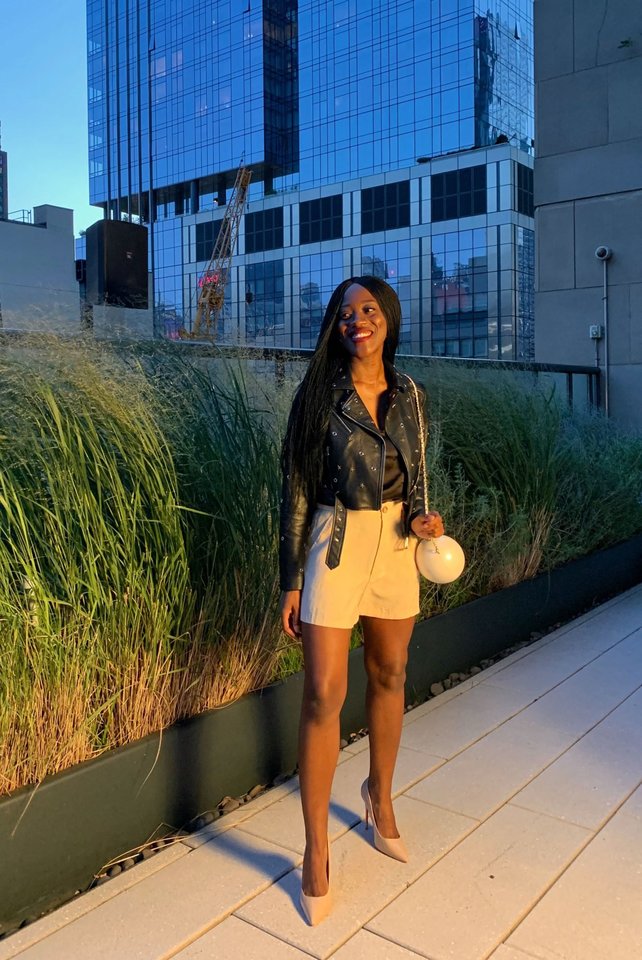 Who said you can't wear shorts in the fall? Styling shorts, a camisole, and a pair of pumps with a leather biker jacket makes the perfect date night outfit. I like to call this look elegant with an edge. The leather jacket adds a youthful, fun twist and is great for those chilly fall nights.


2. Monochrome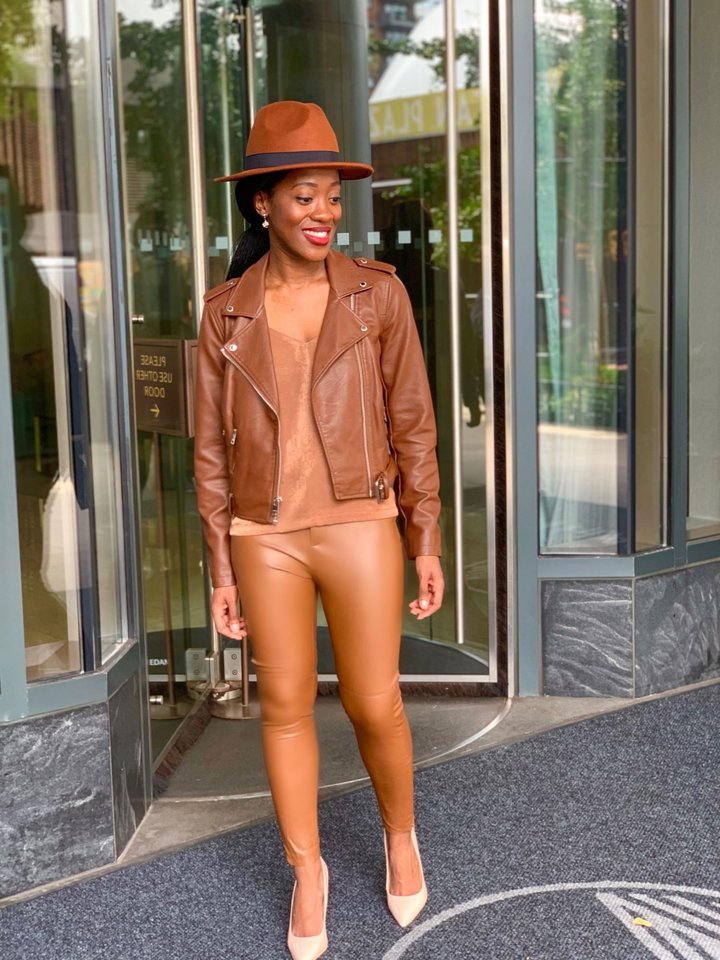 A monochromatic outfit takes a little more thought since you'll need to find separates that are all the same color or a similar shade. Start with the color of the leather jacket, then build upon the outfit by finding other pieces that match. For this look, I recommend going with something other than black, like a subtle beige or brown, or a bold red, green, or blue. Gigi Hadid showed off a similar one-color outfit at Fendi's Fall 2020 runway show, pairing a brown biker jacket with a brown leather skirt, brown boots, and a brown bag.


3. Belt It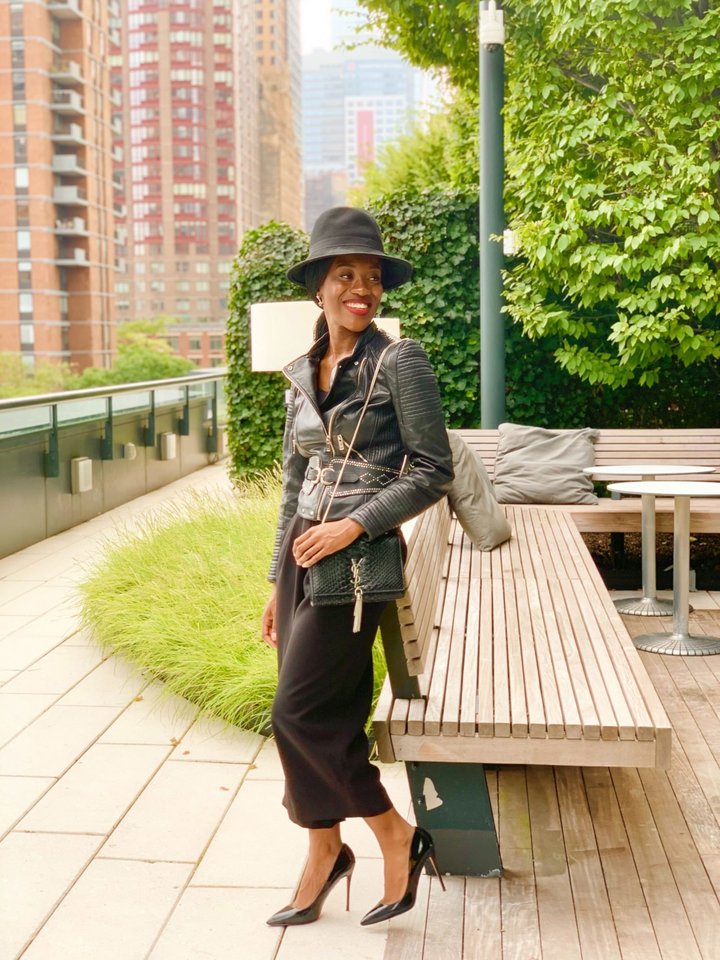 Belted leather jackets were seen all over the fall runways, from Miu Miu to Salvatore Ferragamo. This tiny accessory will accentuate your waist and also create a slight peplum. Switch things up by opting for a statement option, such as a studded design, a belt in a contrasting color, or one with a large buckle. If you don't have a belt small enough to fit your waist, knot it instead of clasping it.


4. Layer Up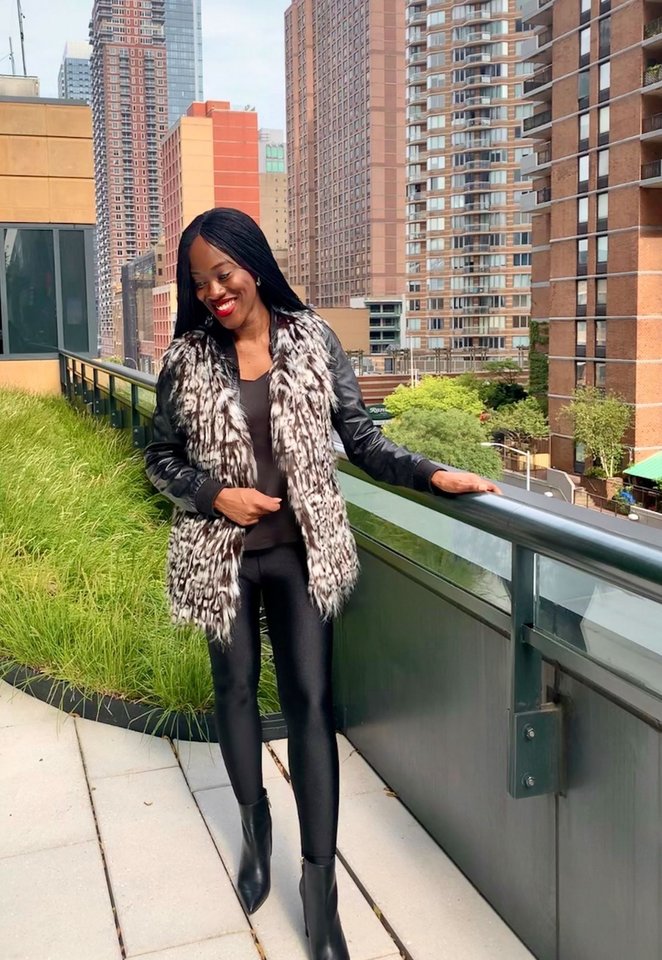 Layering your leather jacket is a great trick for days when the weather is colder and you're in need of extra warmth. This look can be achieved in two ways: layering over or layering under. At its Fall 2020 runway show, JUUN J showed us how to style a black, oversized, floor-length coat over a black leather jacket. However, if you're looking to layer over a leather jacket, try adding a faux fur vest. Size up from what you'd normally wear, this way it's not too snug. This will add some fashionable flair and keep you from freezing.


5. Add a Slip Dress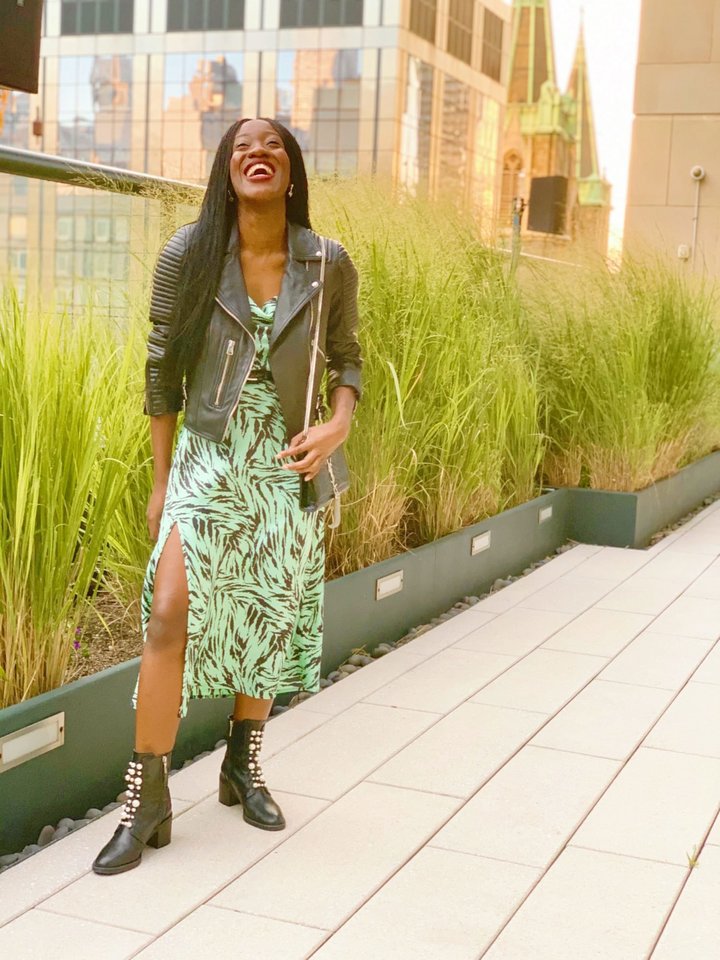 A sleek satin or silk slip dress worn underneath a black leather biker jacket makes the perfect day-to-night outfit. It's easy and appropriate for the office (especially with a turtleneck layered underneath), but also playful enough for drinks later on.


6. Make a Statement


Leather jackets can be found in a number of different colors and styles. Wearing a bold shade, a textured leather, or even a studded design will help create a striking look and elevate any outfit.