The Williamsburg vintage store Le Grand Strip has plenty of draws. There are '60s paisley suits reminiscent of The Stepford Wives, saucy silk garter skirts, and denim Chanel boots from the '90s. Its loyal crew of regulars includes the quirky-chic Saturday Night Live star Heidi Gardner and the alluring poet Rachel Rabbit White, who come to experience the boutique and the characters who work there, including the dark-haired shop manager Alexandra Blair. Blairขwho dresses exclusively in black and whiteขhas a Mensa-like brain when it comes to dissecting the history of clothes. At glance, she can tell if boots are custom-made, give a breakdown on Pierre Cardin's tailoring, and name every collar style in existence.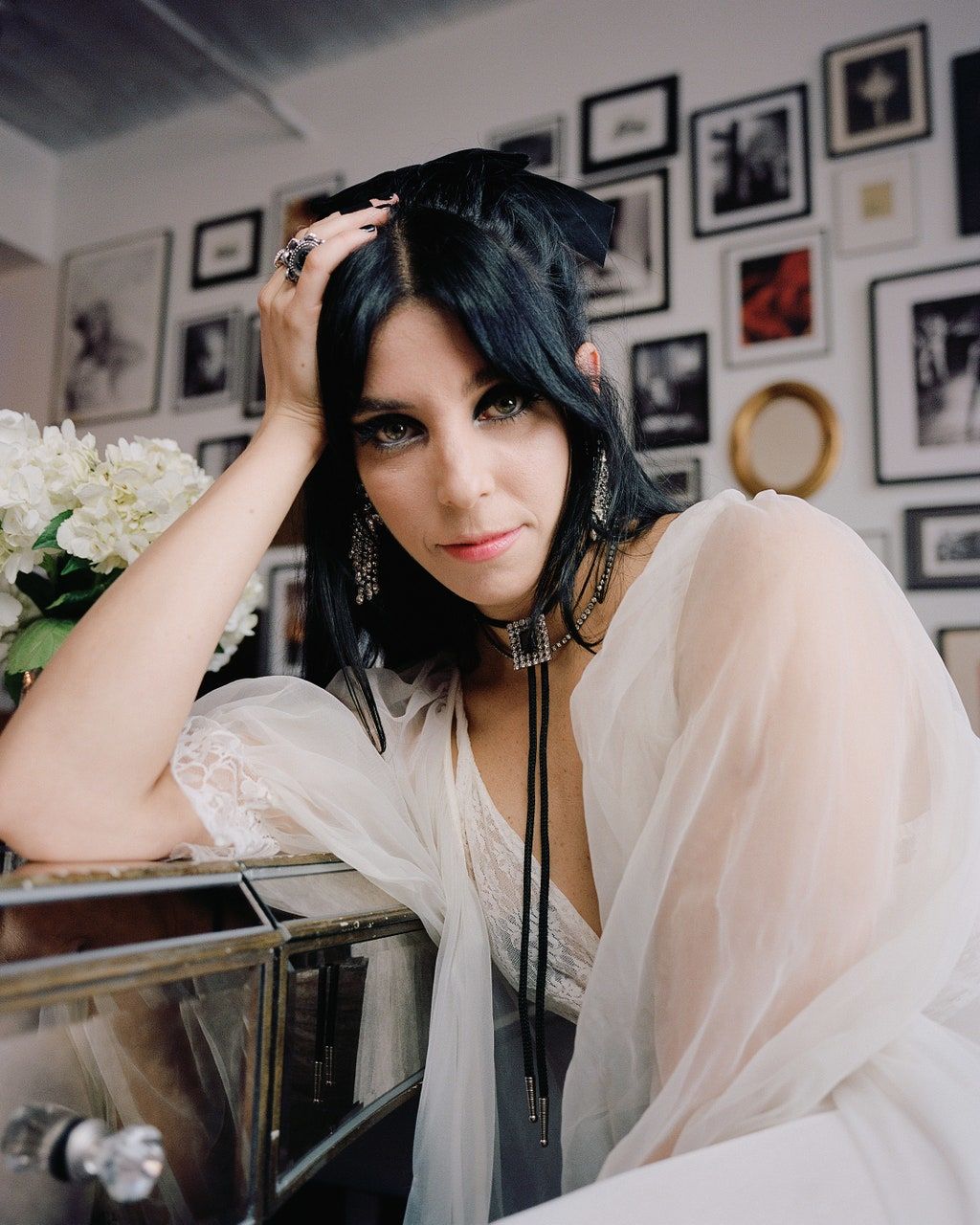 Blair stopped wearing color six years ago when she read Jean-Paul Sartre's Nausea and Simone de Beauvoir's The Second Sex. "Isolation, which is needed for creativity, the anguish of existentialist thought, and solidifying myself as an atheist made me see the world in black and white," she says. "Color disintegrated for me." That moodiness is reflected in her personal style which she describes as '60s mod mixed with goth tendencies. "It's very Barbara Steele or Marie Laforêt meets Siouxsie Sioux," she says. "At the moment, I am completely obsessed with medieval renaissance revival '60s clothing, mostly because it is very hard to find in all black." That said, she has one colorful item: a Chloé dress from spring 2007 made of vibrant patchwork that she found on eBay. While Blair doesn't touch color, that vibrant Chloé collection sparked her obsession with fashion. "It's too colorful, so I shoot it in black and white," she says.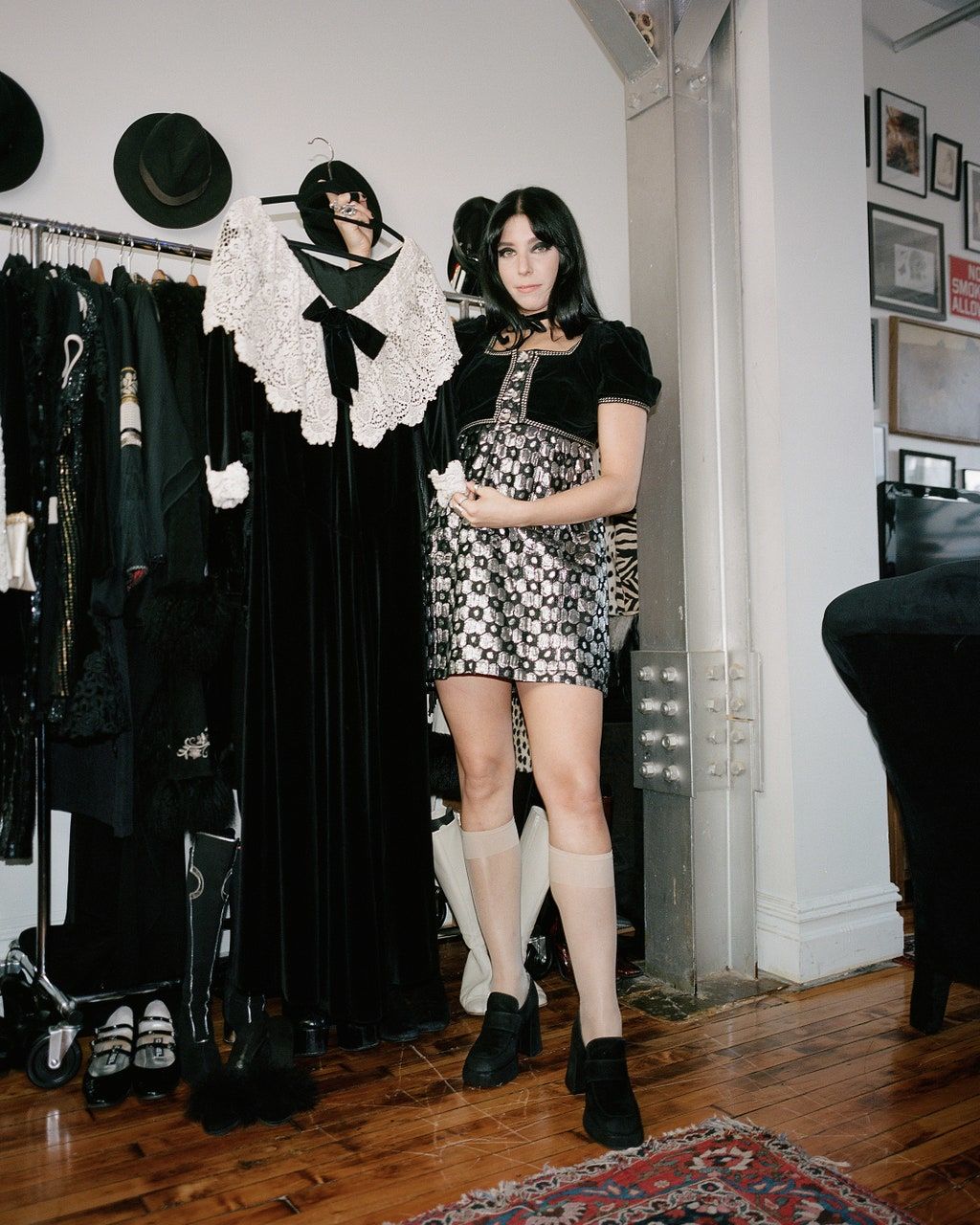 By day, she's the ultimate vintage maven, but at night Blair is the guitarist and lead singer of the rock 'n roll band The Silk War, blazingly hot with a killer wardrobe to match. "I started singing when I was about four years old...that's when my stutter really became apparent to my parents and the people around me," says Blair. "It was my first insecurity, and unfortunately, it has gotten worse as I've gotten older. Singing makes my stutter completely disappear." The singer has always preferred to tie something around her neck; a superficial way to protect her voice. "I have a constant fear of losing it," she says. "It's very similar to the rumors of why David Foster Wallace always wore a bandana on his head. The fear of losing your mind or your voice; your most prized instrument is something I deal with every day."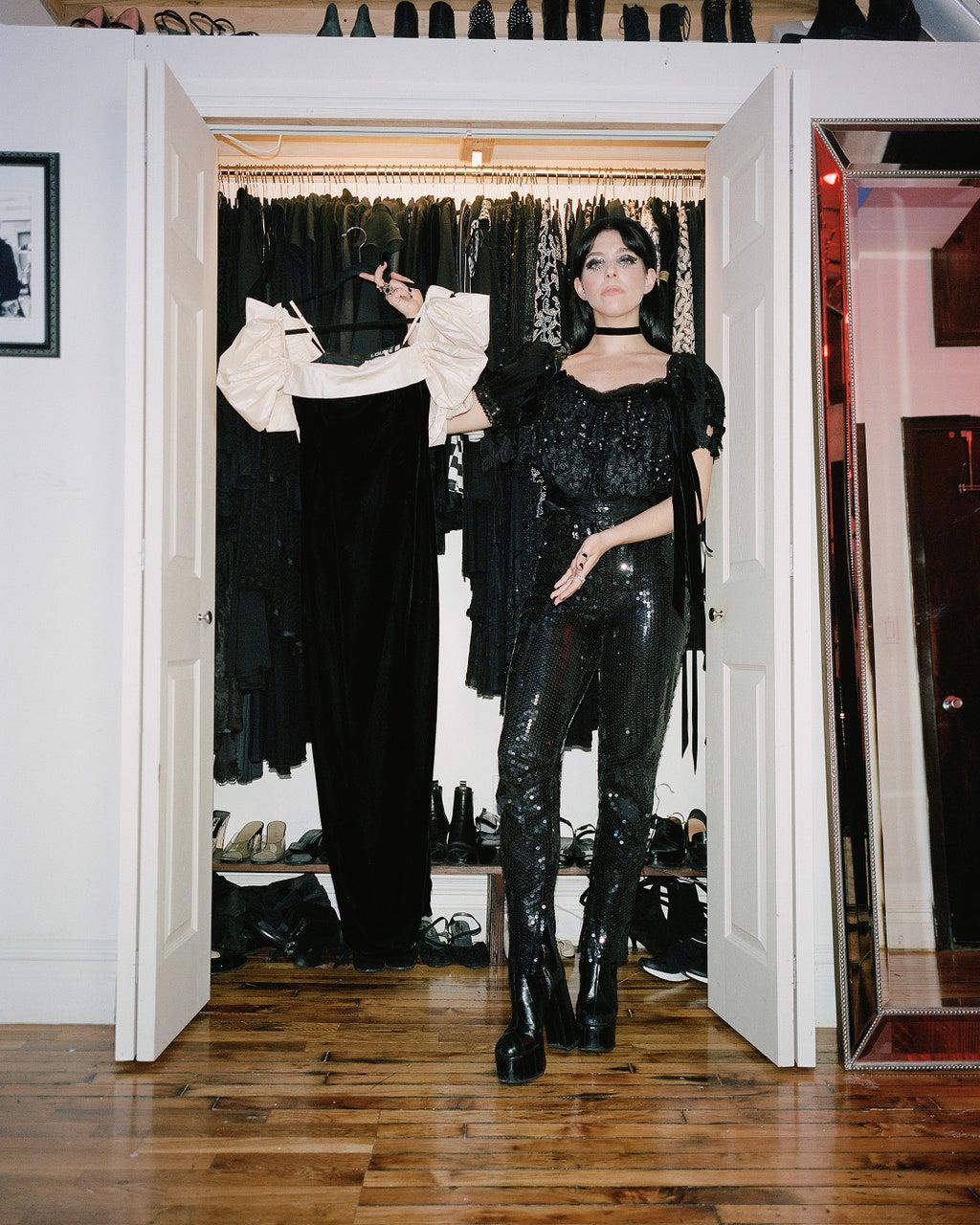 Unsurprisingly Blair's music, with lyrics inspired by Fyodor Dostoevsky, has a dark flair. "Our sound not only depends on New York but also embodies the solitude, introspection, and darkness of New York." When she takes the stage, her sartorial muse is, of course, the goddess of rock 'n roll, Stevie Nicks. "There is no bigger influence to me."

More often than not, Blair will pluck her looks straight from the racks of Le Grand Strip, like a vintage tuxedo from the '70s or a '60s-era mini dress. "Of course, all of my virgin ghost-white lingerie and nightgowns [are from the store] too, for when I write at night," she adds. In a sense, Blair is the perfect Le Grand Strip customer, which is for those who truly love the history of fashion and its forgotten eras. Blair started working at Le Grand Strip about two years ago after she was introduced to the store's owner CC McGurr through a mutual friend who booked Blair for a concert. Taken by Le Grand Strip, Blair got the job the next day. McGurr was taken with Blair. "Alex has a radiant energy and bewitching style," says McGurr. "I like to tell her, 'Alex take it to the limit!'" To this day, the two seem as if they are joined at the hip, eating together, smoking together, and selling together.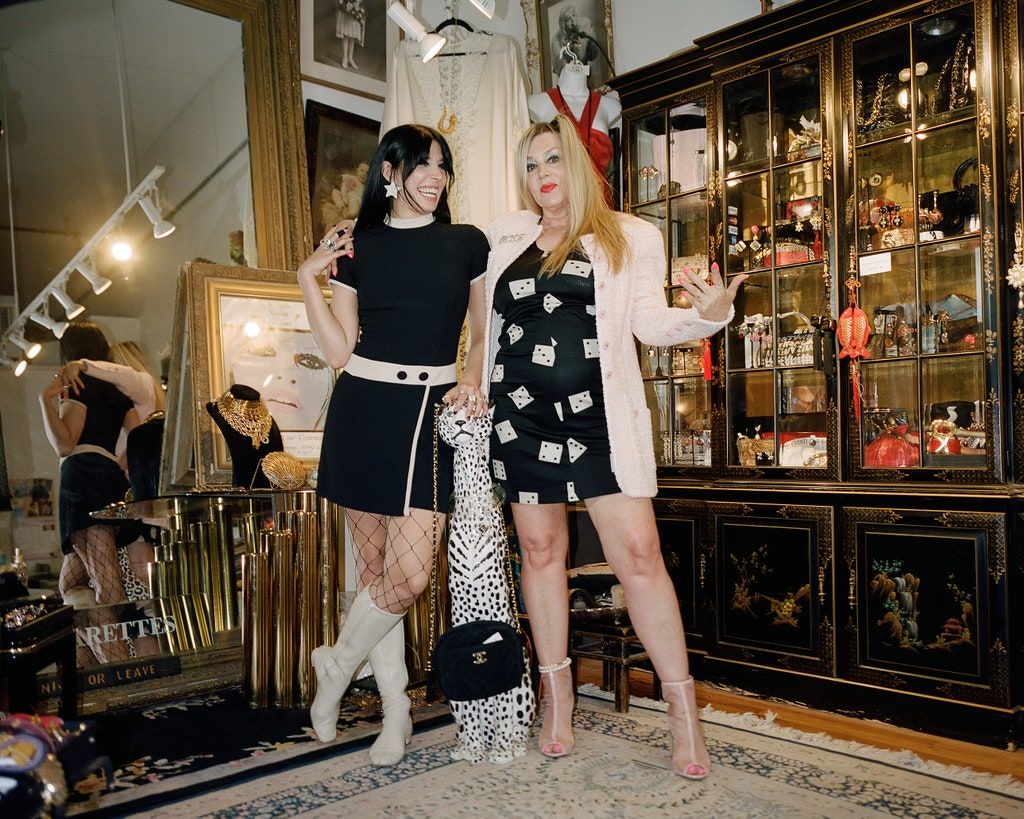 While Blair does get glances at her outré looks, she embraces them. "I was in the grocery store in Connecticut and these two kids came up to me and were like, 'Why do you look like that? Why do you dress like that?' I was like, 'This is how I feel.'" says Blair. "You are the most respected when you are the most self-aware, and then, you are the most free."