Over the course of his 18-year career, designing for both Givenchy and his eponymous label, British designer Lee Alexander McQueen became known as a master storyteller and fashion's ultimate showman. From rings of fire to dresses spray-painted by robots, McQueen used every design and catwalk as an opportunity to stage a spectacle and showcase the darker side of life. His elaborate and thought-provoking dramatic displays were more than simply fashion shows-they were a way to make a statement.

McQueen was no stranger to shock factor, and often used it to present political and social commentary to his audience in a distinctly uncomfortable way. In fact, when he was asked about the grotesque and often shocking nature of his shows, McQueen replied, "I don't want to do a cocktail party. I'd rather people leave my shows and vomited. I prefer extreme reactions. I want heart attacks. I want ambulances." For this, McQueen garnered lots of publicity (and, at times, controversy).

Eleven years after his passing, McQueen's impact continues to reverberate throughout the fashion world. On what would have been his 52nd birthday, L'OFFICIEL looks back on some of the legend's most shocking runway moments.


"Highland Rape," Fall/Winter 1995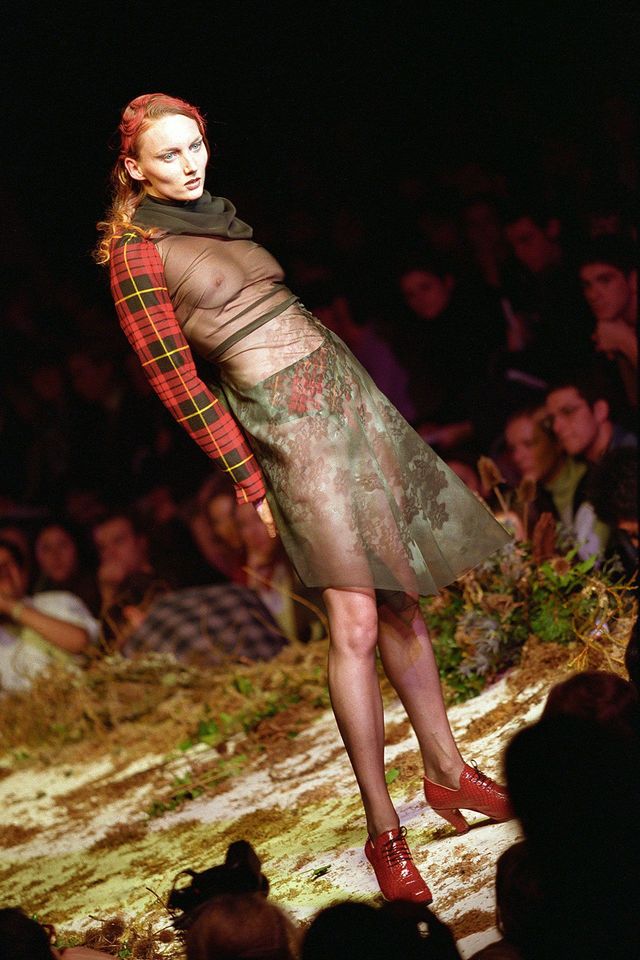 One of McQueen's most controversial shows was his Fall/Winter catwalk in 1995, both for its title and its designs. The collection, featuring semi-naked, blood spattered models in torn clothes, was meant to make a statement on England's violation and oppression of Scotland.


"It's a Jungle Out There," Fall/Winter 1997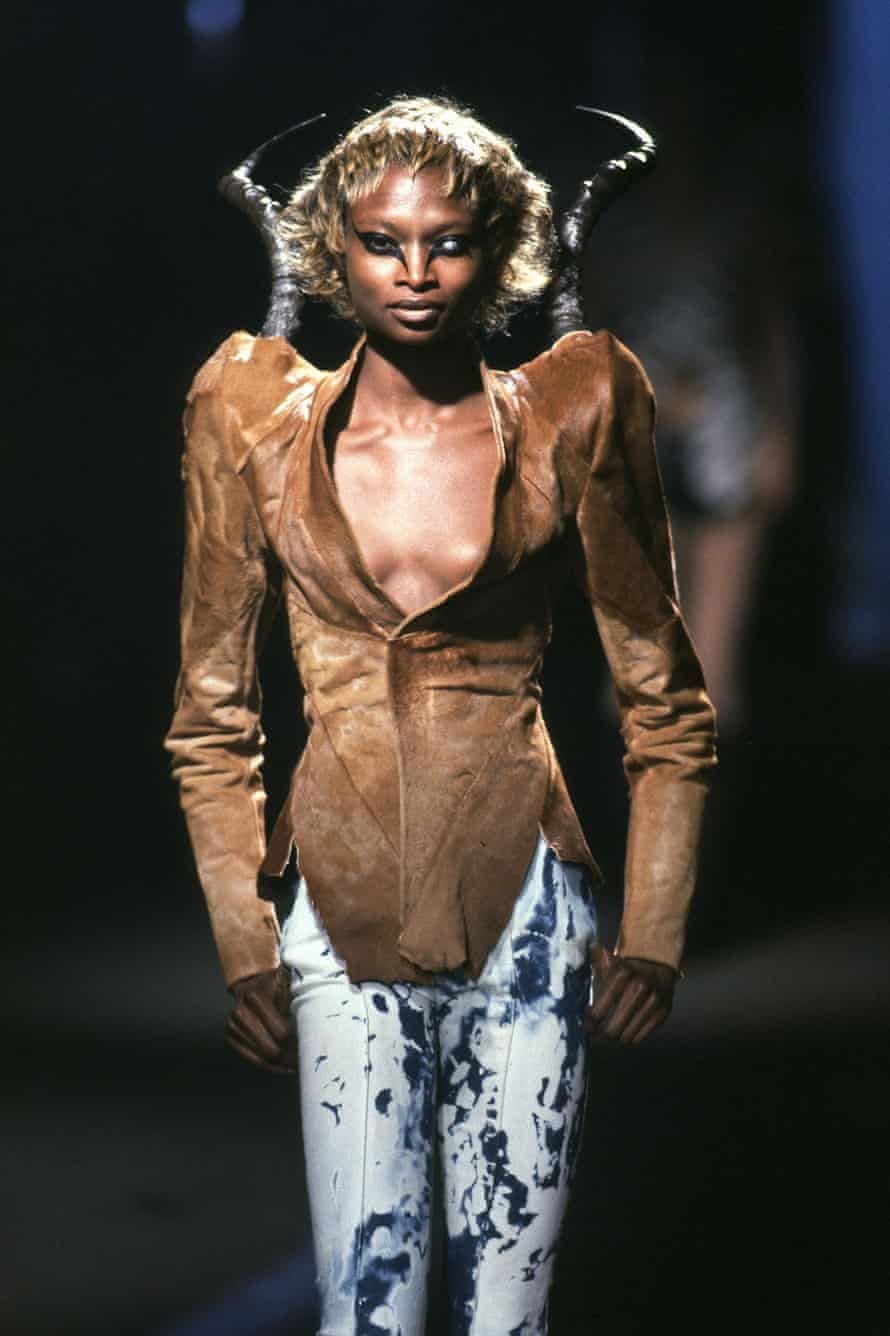 McQueen's Fall/Winter 1997 runway was a disaster before it even started. Model Naomi Campbell was fired right before the show, and the venue lost power, causing a stampede in the crowd, which resulted in someone knocking over a prop that set the stage on fire. It's safe to say McQueen was overjoyed by the outcome. After all, he called the collection "It's a Jungle Out There," a mockery of fashion's elitest attitudes. The designs were meant to be animalistic, filled with tiger stripes, cow hide material, and horned headpieces.

The New York Times wrote, "No matter what happens at Givenchy, [McQueen] will survive the jungle in his own house, where he is unmatched for talent, bravado, ideas, and cutting skill."


"Untitled," Spring/Summer 1998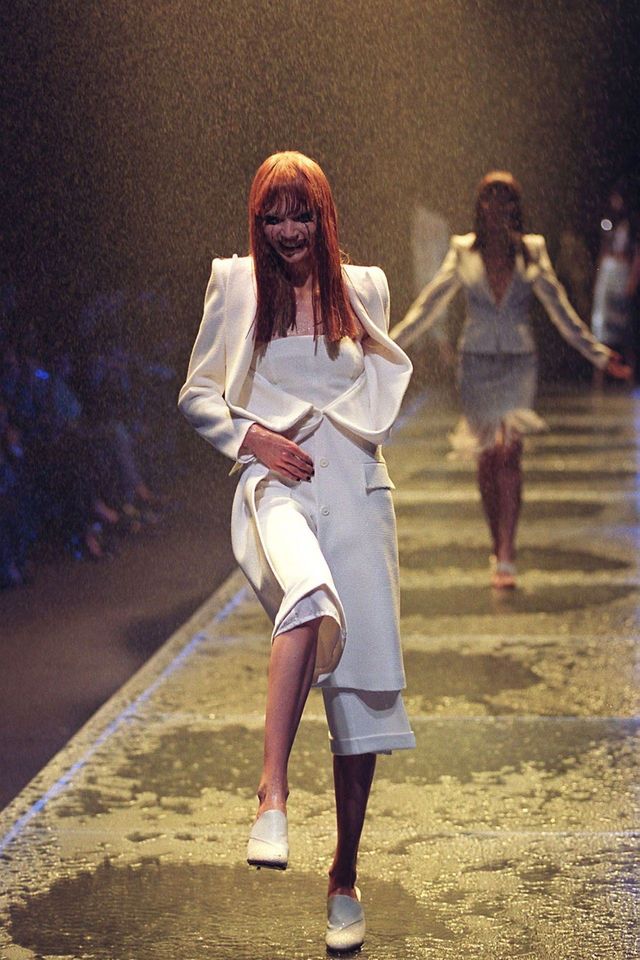 The Spring/Summer 1998 show was rumored to be called "Golden Shower," before its sponsor, American Express, realized the sexual connotation of the phrase and McQueen was forced to change the name. But that didn't stop McQueen from provoking the audience (and sponsors). The runway's finale became famous when sprinklers turned on over the the models, who were dressed in all white, showering them in golden rain.


"Joan," Fall/Winter 1998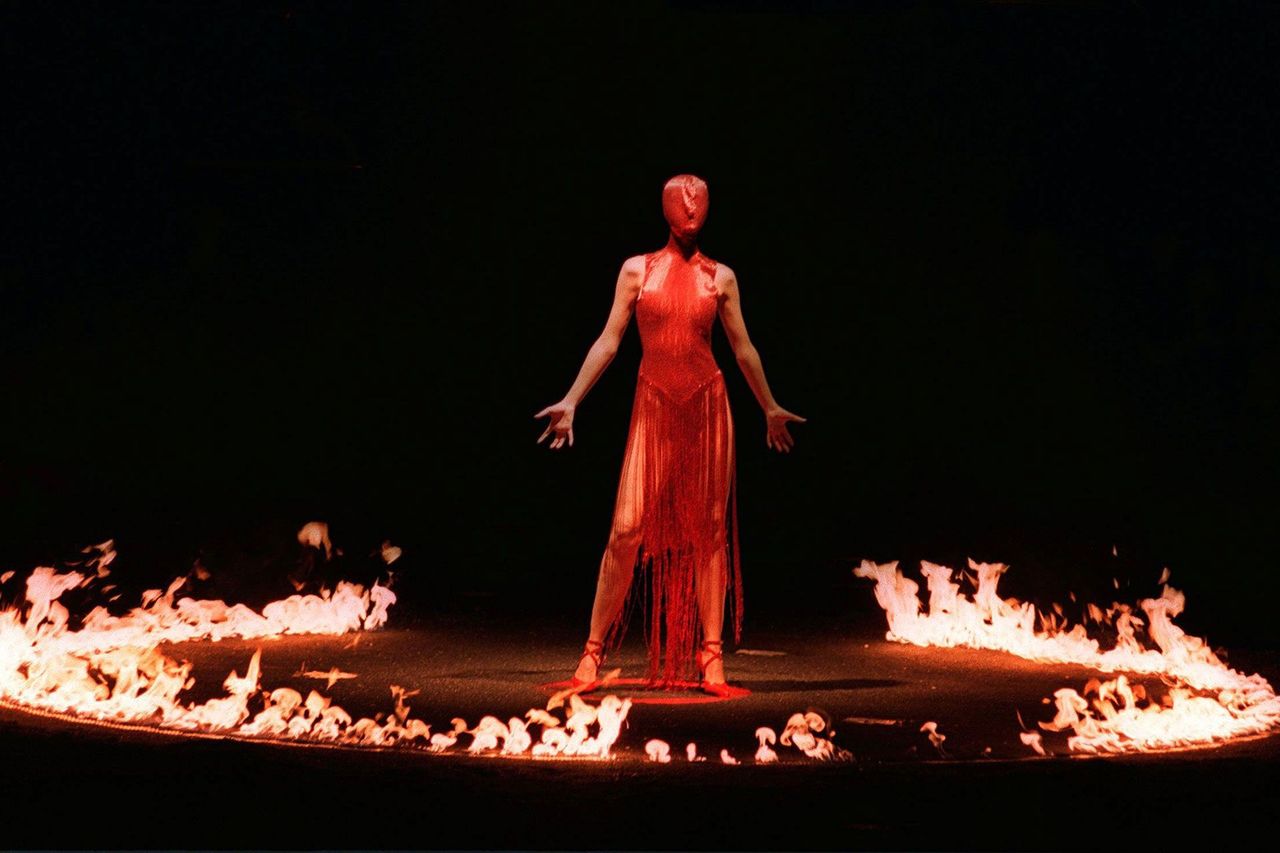 In typical McQueen theatrics, his Joan of Arc themed collection played with fire. The finale featured a model, dressed in all red with a masked face, surrounded by a ring of fire.


"No. 13," Spring/Summer 1999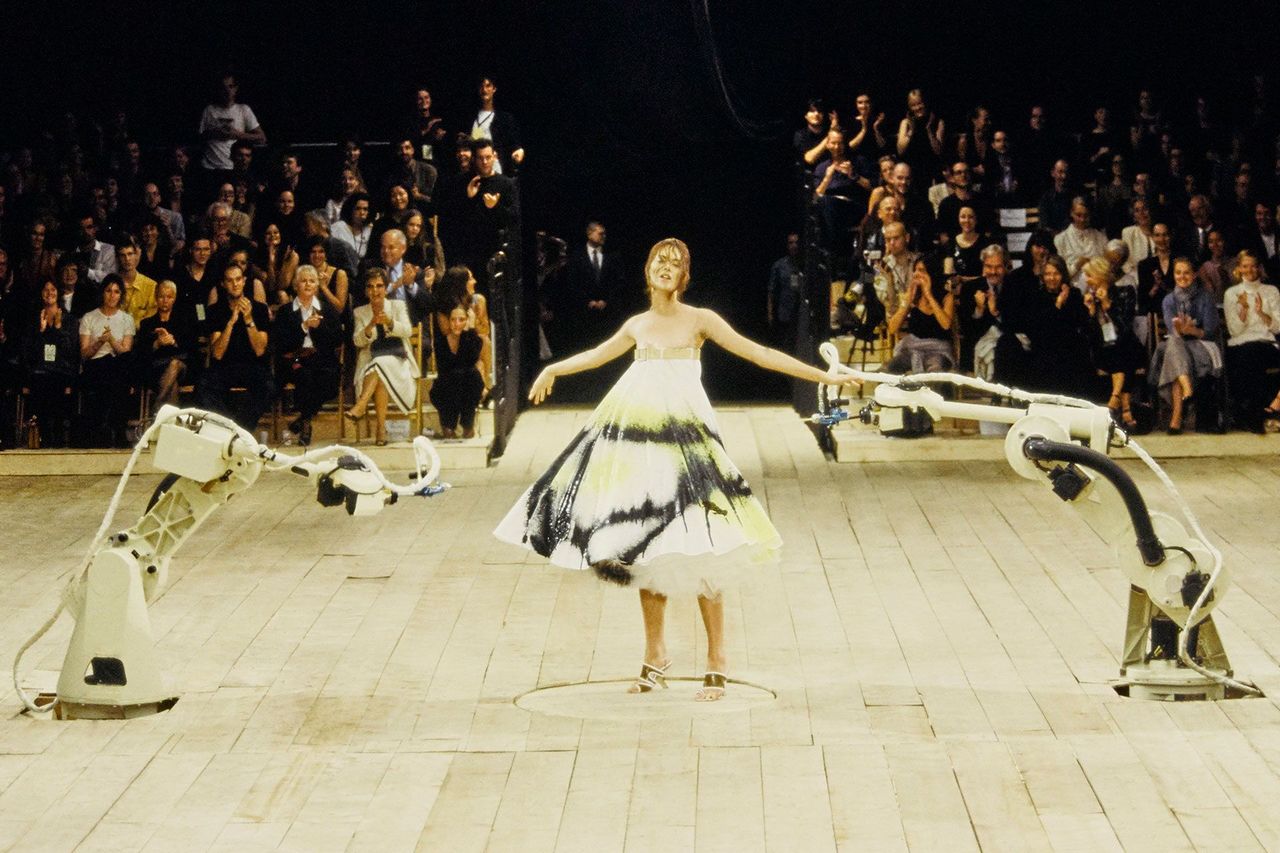 For his Spring/Summer 1999 collection, McQueen created some of the most memorable catwalk moments in fashion history. Not only did it feature Paralympian Aimee Mullins wearing prosthetic legs carved from elmwood, but for the finale, robots emerged to spray paint model Shalom Harlow's strapless white dress.


"Voss," Spring/Summer 2001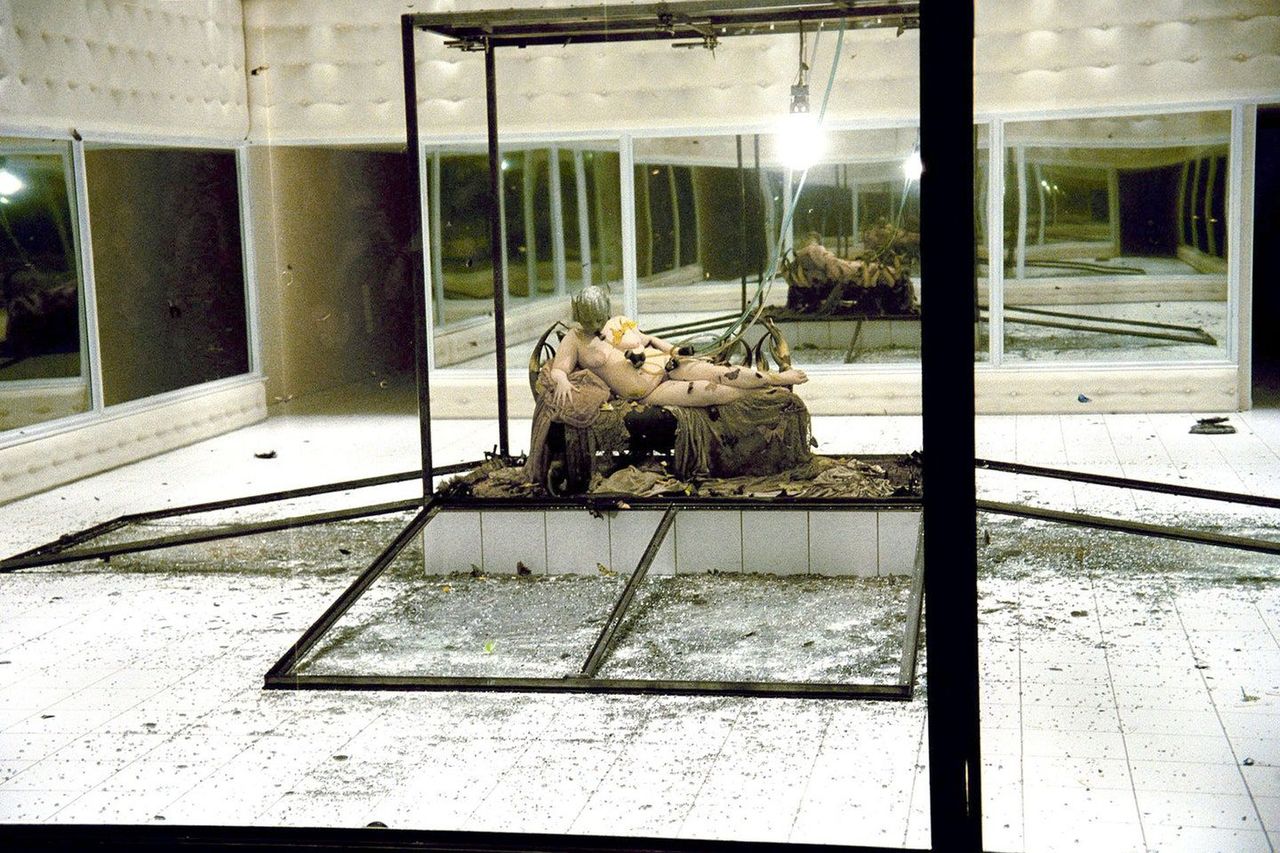 During the show, the models (including Kate Moss), clawed at the glass walls and wandered through the white, mirrored chamber, depicting various mental illnesses. The finale, however, is what made this show one of McQueen's most famous works. At the end, the walls of the glass box center stage shattered, revealing British writer and journalist Michelle Olley reclining nude on a chair, covered in moths, wearing only a mask attached to breathing tubes. The moment made headlines, and many speculated McQueen was making a statement on mental illness and its treatment by policymakers.


"Windows of Culloden," Fall/Winter 2006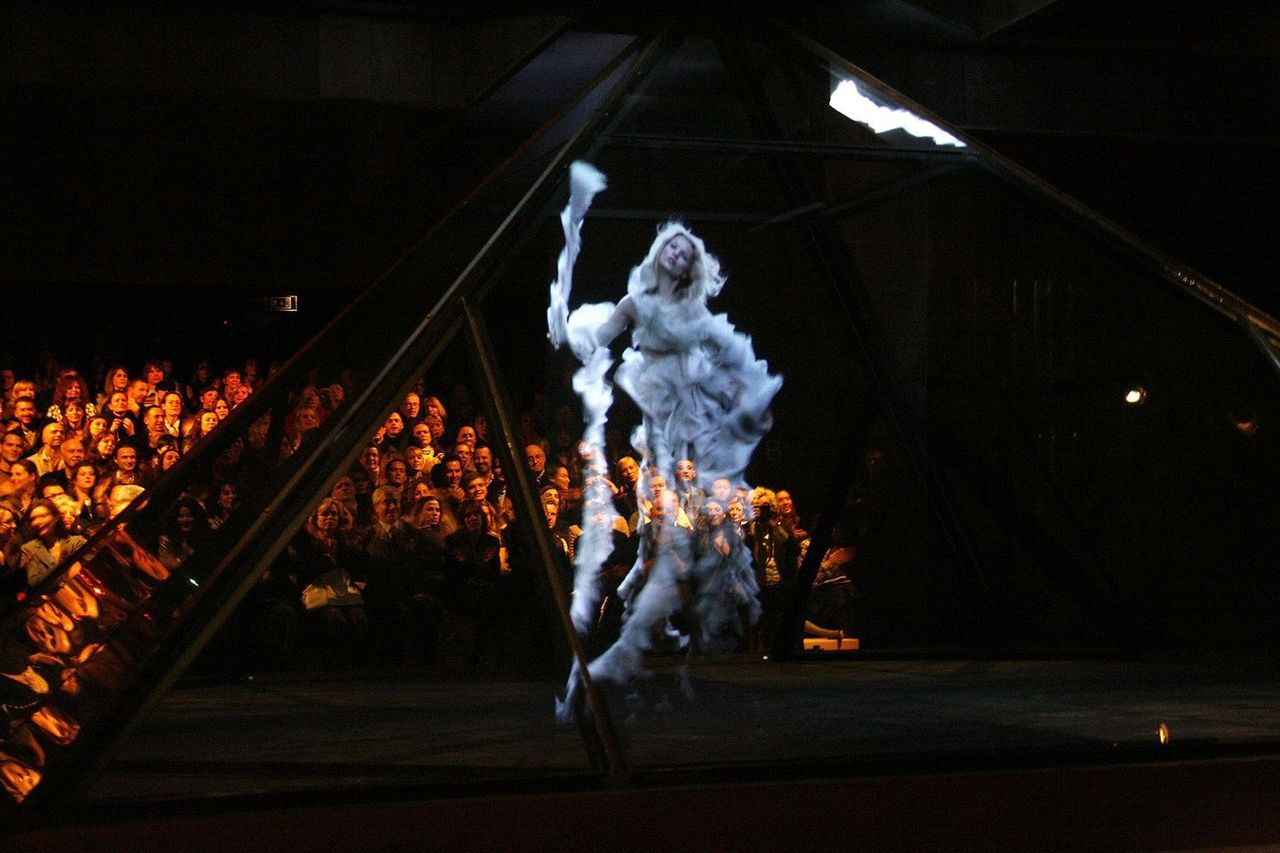 Along with his risk-taking designs, McQueen was known for his experimental use of technology in his fashion shows. He exemplified this on his 2006 catwalk, when he brought famed supermodel Kate Moss to center stage as a hologram.


"Plato's Atlantis," Spring/Summer 2010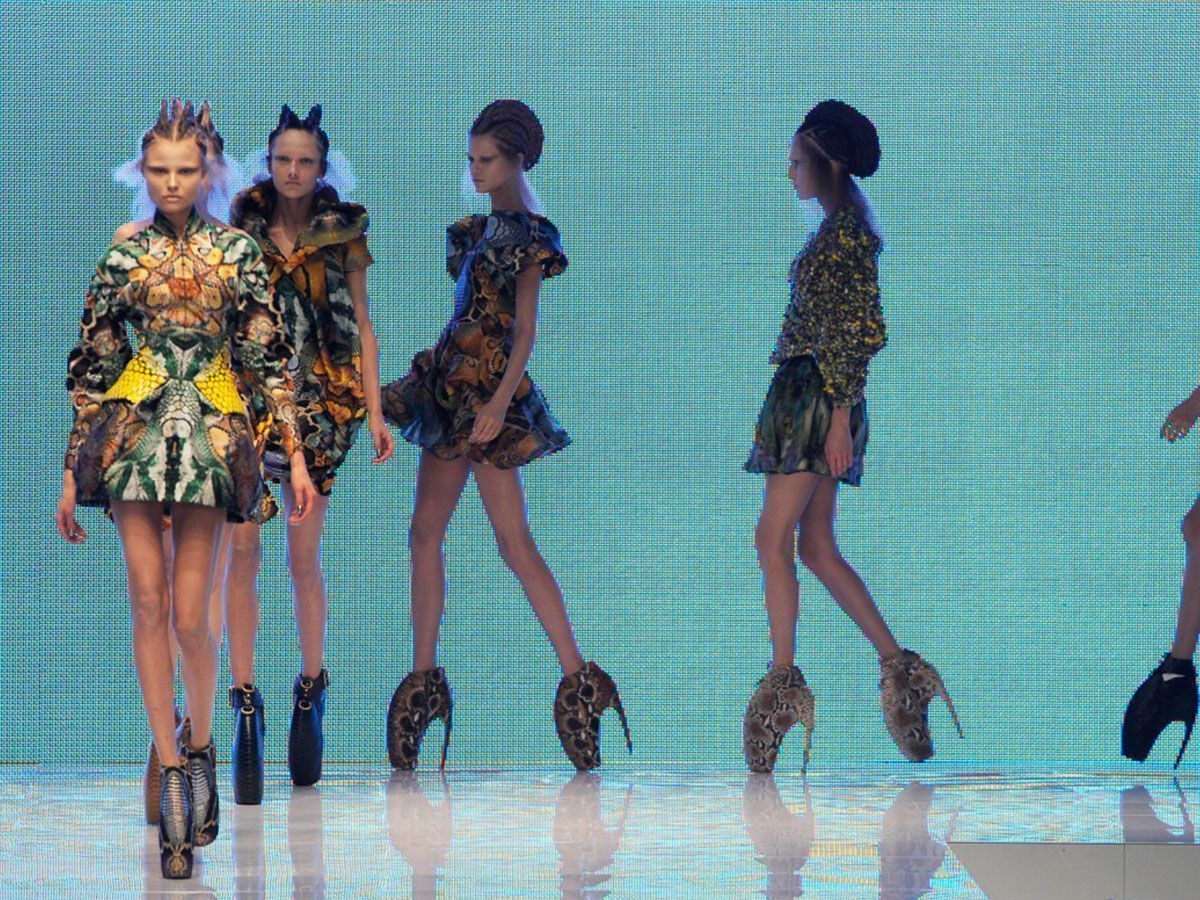 McQueen's last show for his eponymous house was inspired by the future days when global warming has run its course on the Earth, melting the ice cap and submerging the planet in water. While the designer's penchant for technology was present in the form of two cameras on parallel tracks recording and transmitting the runway in real time. While fashion month has gone all but virtual in 2021, live streaming shows was still relatively novel in October 2009, when the show took place. The Spring/Summer 2010 collection also made use of 3D printing technology for some of the outstanding and avant-garde shoes that went along with the alien and aquatic-themed fashion. In addition to the famed Armadillo boots from the collection, which were hand-carved from wood and covered in metallic sequins or other exotic finishes, a so-called Alien shoe was made from 3D printed resin and its skeletal form (and name) was inspired by H.R. Giger, one of the artists on Ridley Scott's team for the film Alien.