Creative director, Sarah Burton shares her memories of working at the late designer's side. "
Savage Beauty
" will be opening at the MET on May 4 2011.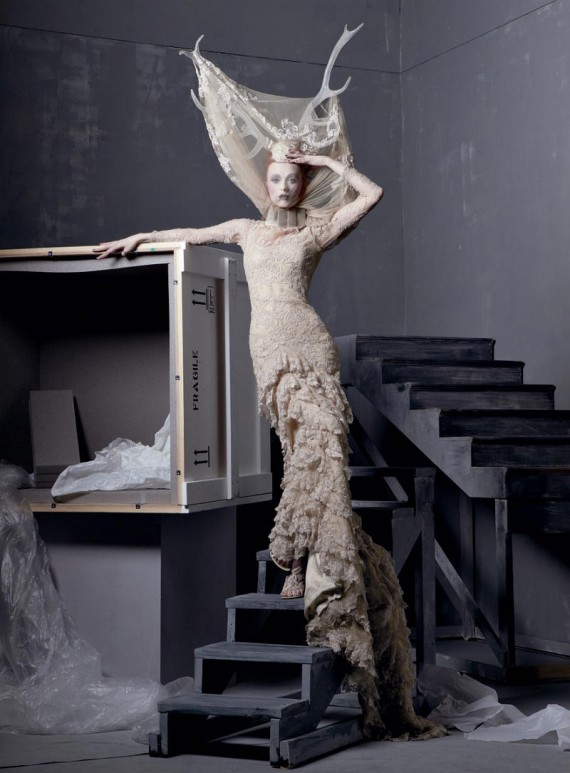 WIDOWS OF CULLODEN, FALL 2006
On model Karen Elson: silk-lace ruffled dress with lace veil and Perspex antlers. Philip Treacy headpieces
"The collection was about the 1745 massacre of the Scottish Jacobites by the English, which Lee felt so passionately about because of his Scottish family heritage, which his mother had researched. The women were the widows of the slaughtered army. This dress was actually based on my wedding dress—I got married two years earlier. We had to figure out how to make lace work in the round with those ruffles because Lee hated gathering. So we cut out all of the flowers from the lace and reappliquéd it on tulle to make our own fabric. This is the collection most people remember as the one with Kate Moss in a hologram. Oh, my God, it was so beautiful. He loved that show."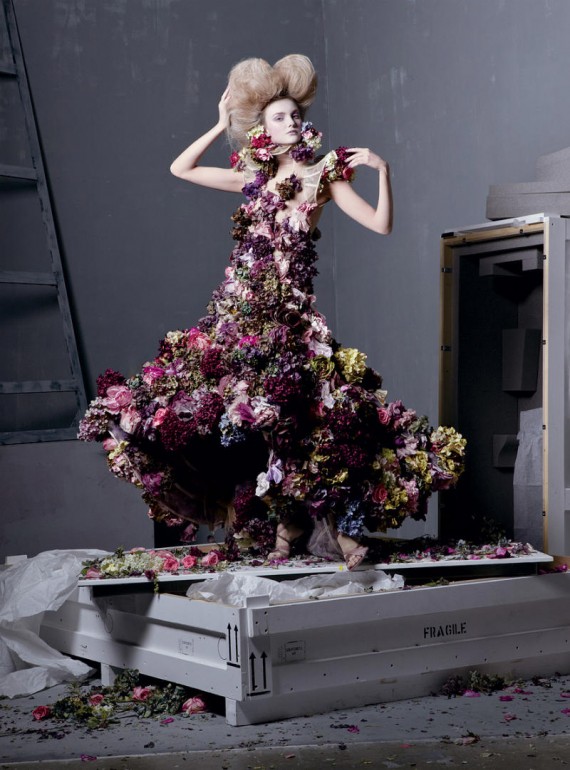 SARABANDE, SPRING 2007
On model
Caroline Trentini
: silk dress embroidered with silk and fresh roses, hydrangeas, and peonies.
"The collection was based on Handel's 'Sarabande' in the film Barry Lyndon. It was held in the round at the Cirque d'Hiver Bouglione in Paris, with classical musicians playing onstage under a giant chandelier. This dress had fresh flowers on it. We put them on just before she went out, and they started to fall off one by one as she walked. I remember people saying Lee timed it. We had a laugh about that. It was an accident!"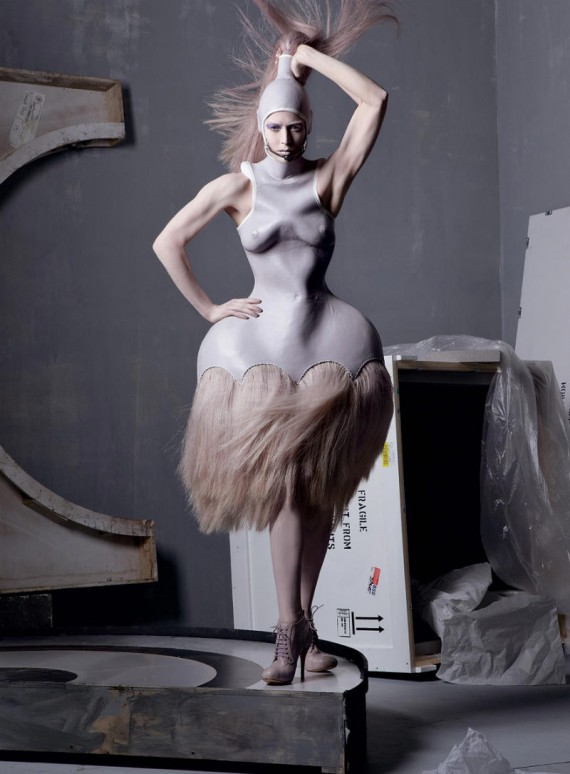 IT'S ONLY A GAME, SPRING 2005
On model
Raquel Zimmermann:
molded leather dress with horsehair skirt.
"All the girls were dressed as chess pieces, and the show was choreographed as a chess game. It was about the chessboard of fashion. Lee did have foresight and a sense of humor! This is one of the two horse pieces. He made it by commissioning Steve Powell, a hospital prosthetics expert, to make the body. And the horsetails were from the same suppliers who make the plumes for the queen's Royal Horse Guards."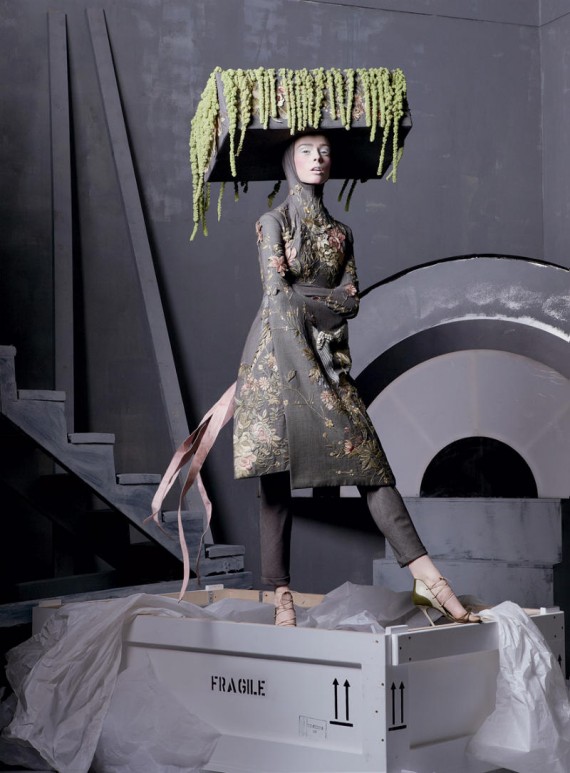 On model
Coco Rocha
: silk-embroidered wool jacket and cigarette pants.
"This is a straitjacket, a kimono with the sleeves strapped around the back, embroidered with raised birds and flowers, and the flowers on the hat were real. I saved all the showpieces from every collection because I'm an obsessive, obsessive hoarder. Sometimes Lee would look at them again, just to remember what he'd done with something. It was his dictionary he was building, really."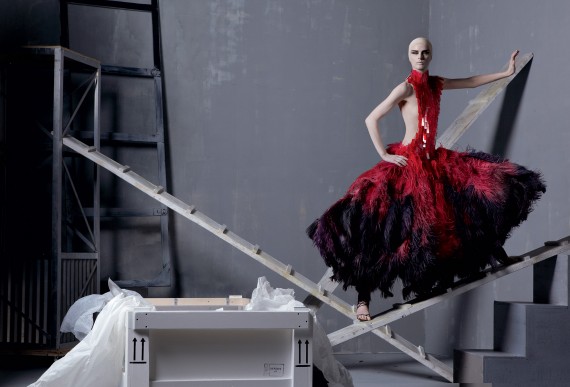 VOSS, SPRING 2001
On model
Stella Tennan
t: red-and-black ostrich-feather dress.
"So much of this show was about the collective madness of the world. It was presented in a two-way mirrored glass box in London, and the girls had bandaged heads, acting like inmates of a mental asylum. Lee wanted the top of this dress to be made from surgical slides used for hospital specimens, which we found in a medical-supply shop on Wigmore Street. Then we hand-painted them red, drilled holes in each one, and sewed them on so they looked like paillettes. We hand-painted white ostrich feathers and dip-dyed each one to layer in the skirt."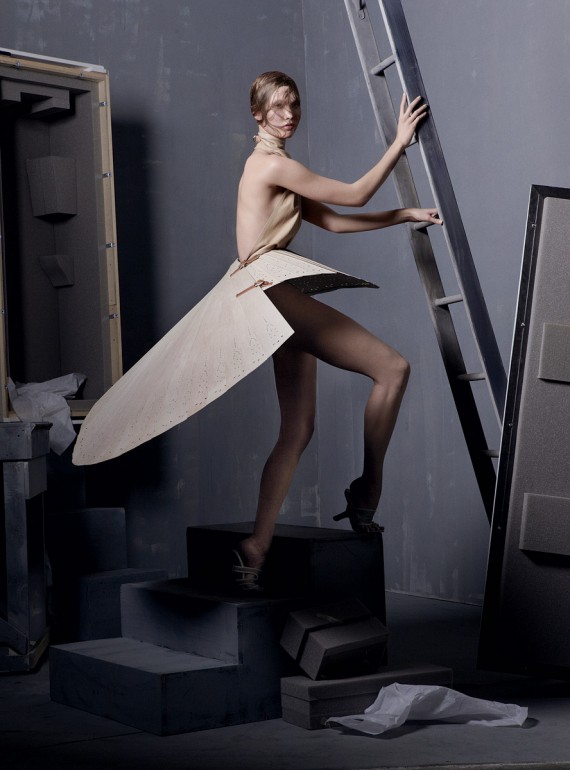 NUMBER 13, SPRING 1999
On model
Karlie Kloss
: leather halter top and wood fan skirt.
"This was from the amazing show in London where Shalom Harlow stood on a turntable and was spray-painted by robots. This particular look was made from wood to form the shape of a fan: It was all about the craftsmanship. The wooden wings were in this show, too, and the prosthetic legs he had carved for Aimee Mullins, who walked in the show. That was so moving. There were so many ideas in there. Each of his shows was like ten of anyone else's."