She's a winner, baby! On Friday night, drag superstar Symone-also known as the "Ebony Enchantress"-was crowned the winner of RuPaul's Drag Race season 13. In the finale, Symone showed down against her fierce competitors Gottmik, Rosé, and Kandy Muse by lip-synching for her life to the smash hits of Britney Spears-an iconic curtain call if there ever was one. Over the phone from L.A., Symone tells Vogue she's still riding the high from her win on the show. "I've been celebrating with my friends, having a little bit of drink," Symone says. "I'm not going to lie to y'all-I've been waking up to strange food in my bed, honey!"

Symone certainly earned her crown this season. Thanks to her charm, high fashion runway ensembles, and her ability to use her drag as a means to empower and educate about Black culture, she consistently stood out from the pack. "I love communicating through clothes," says Symone. "I've always loved fashion, especially in Black culture, so I love molding those things together and really finding my own voice through it." Her major inspirations, both on and off Drag Race, have always been the Black superstars who are unapologetic in their approaches to sexuality and femininity-Rihanna, Lil' Kim, Grace Jones, and Naomi Campbell being just a few. "You put all of these people together, and you kind of get me fashion-wise," says Symone. "I want to be the Naomi Campbell of drag, darling."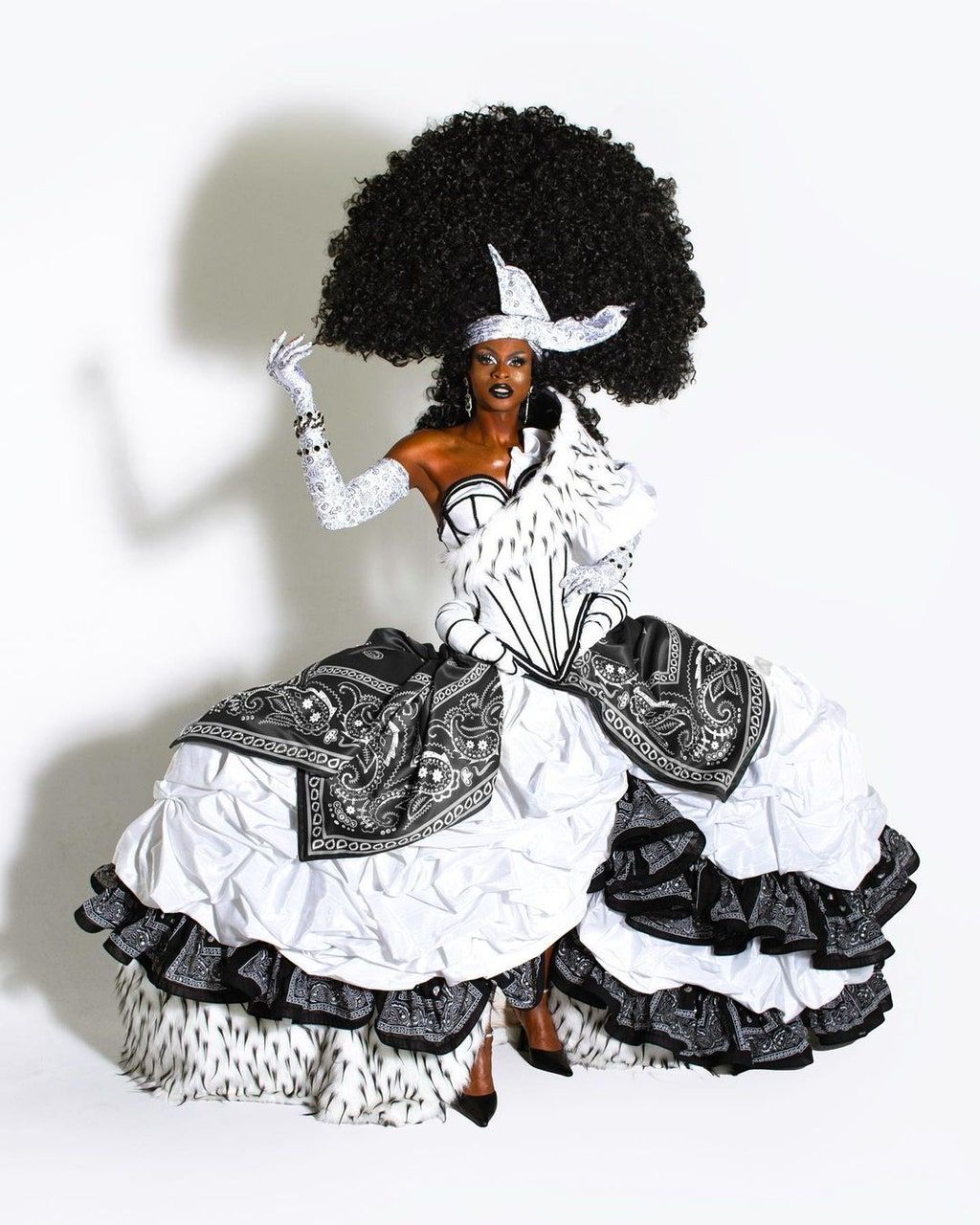 In the series grand finale, Symone certainly brought out stellar fashion looks that would make Naomi herself proud. "I wanted to be big, bold, and in your face," says Symone. One of the highlights was her ethereal white gown by Michelle Hébert, which she paired with golden armor by Michael Schmidt and sculptural, Medusa-like hair. "That was the Ebony Enchantress-a Black goddess coming down to earth," says Symone. "I played with fragility and hardness, to show the strength that Black women portray." Her black-and-white bandana dress by Marco Marco, which was inspired by Marie Antoinette, also turned heads; it was an homage to her native Arkansas (she called it "very queen of the South, coming to reclaim her time and her lands").

She cemented her status as a top-tier fashion queen early in the season. For the trains challenge in episode four, for instance, she came out with a blue do-rag designed by Marko Monroe that had a dramatic long train. One of Symone's favorite moments of the whole series, the dress was inspired by lace do-rags Rihanna once showed during her Fenty x Puma show. "[Do-rags] remind me of home and my family," Symone says. "I knew everyone was going to do the traditional train, and I didn't want to do that." She often wore looks on the show that spoke to the cultural and political climate, including an ensemble that referenced the Black Lives Matter movement, complete with a headpiece reading, "Say Their Names." Each look Symone showed, while beautiful, always had a larger purpose and a bigger story to tell.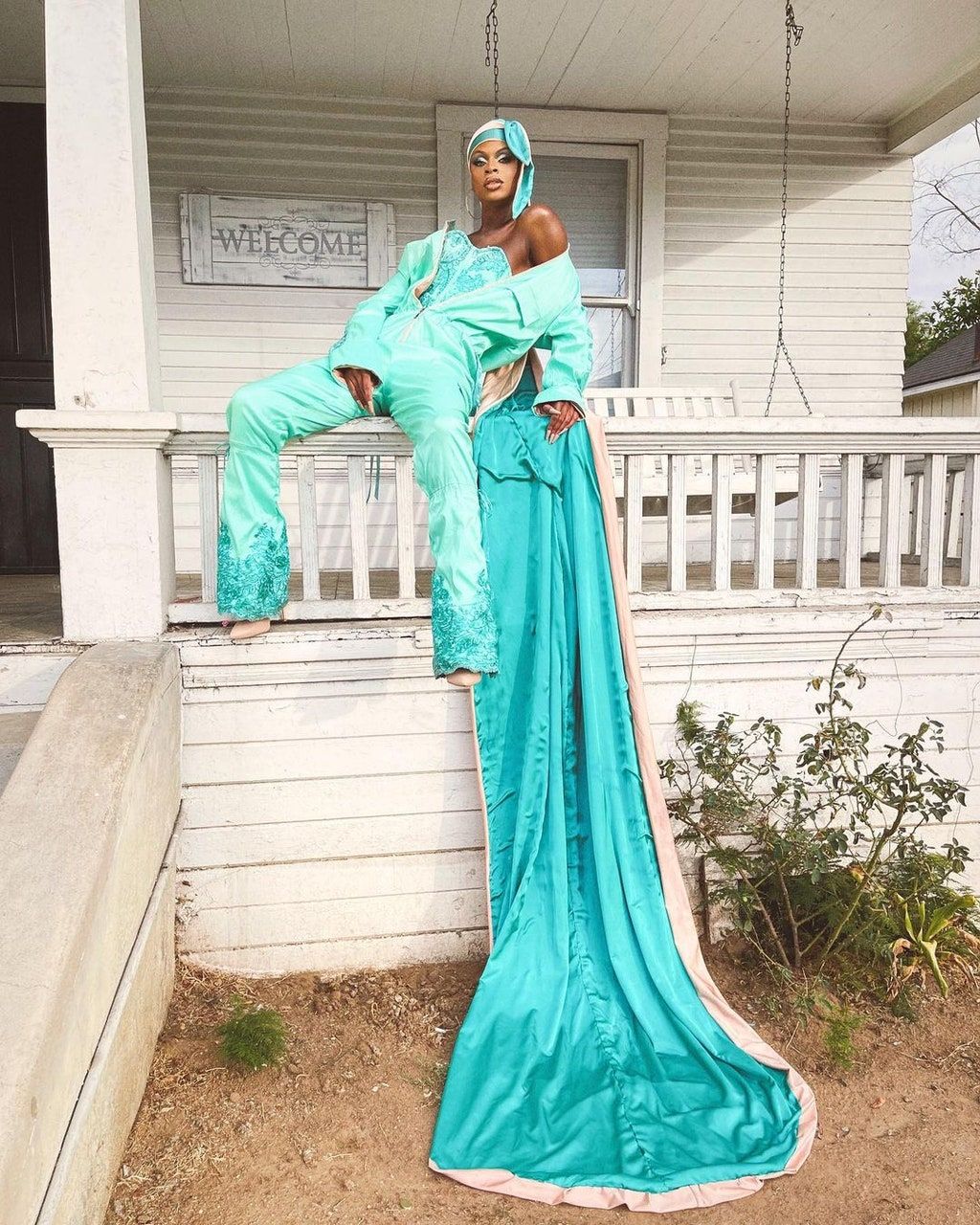 But any story of Symone's drag would be remiss if it didn't mention her sculptural hairstyles. "Your hair is your crown," she says. "It's another way of communicating the look-for me, it's head to toe, always." A perfect example of this was her look for the beaded challenge in episode seven, where stylist (and former Drag Race queen) Gigi Goode spelled out her name in beads on her braids. "It was inspired by African beading," says Symone of the look. "We did some math for that hair, fun fact. We did it on grid paper, figured out how many beads and colors we needed." She even paid homage to the show's host by wearing shapely, geometric hair-done by Malcolm Marquez-that Mother Ru wore in her Back to My Roots video. Symone says, "It's one of my favorite videos, and the hair in that video? I mean, come on!"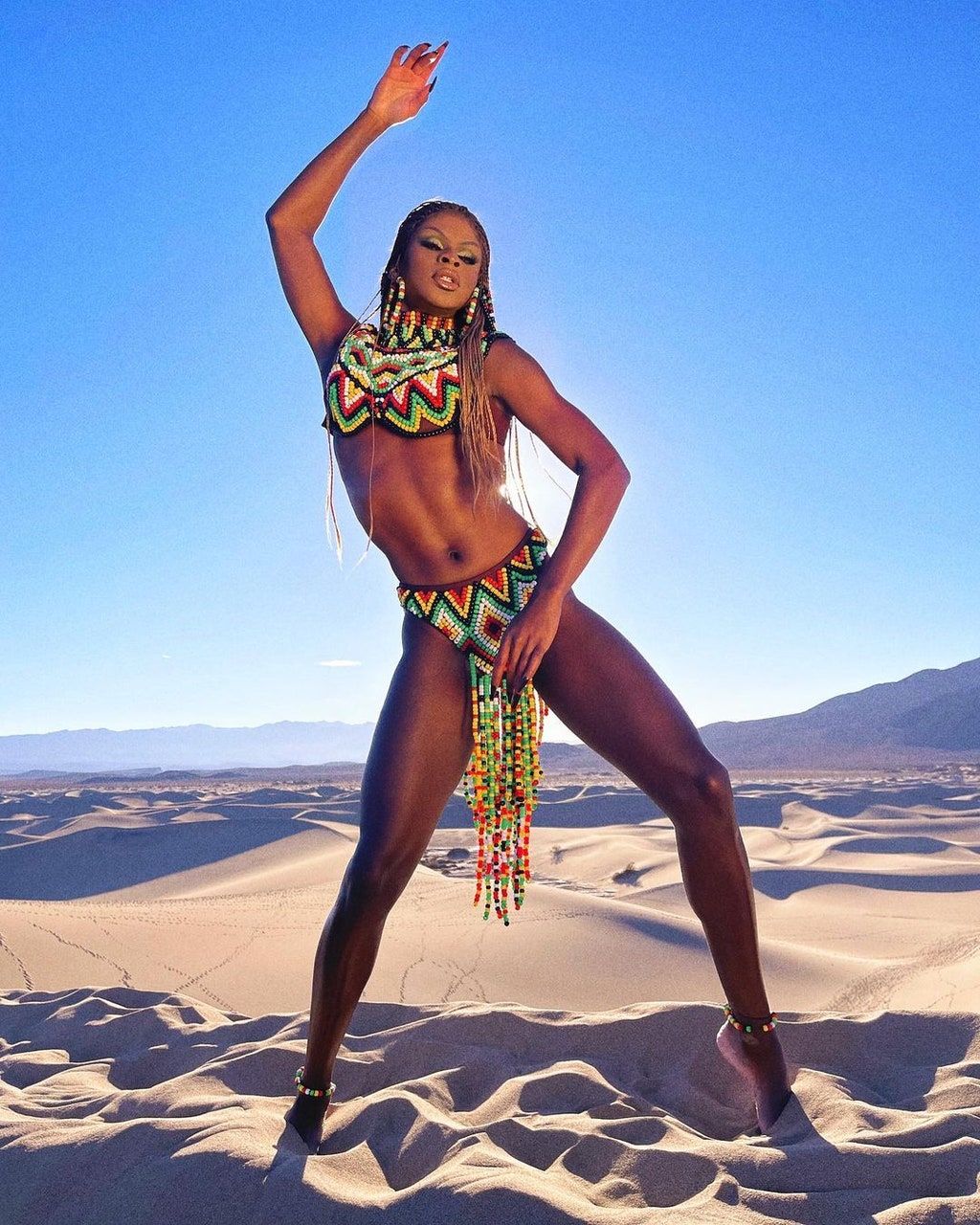 Reflecting on all of these incredible moments, Symone says the experience has made her realize her potential as a true master of drag. "I don't think I fully understood what I was capable of [before the show]," says Symone. "I keep going back to being 16 years old and watching the show, and to now be a part of that legacy is insane. I grew up watching the show and looking up to these queens. Rewatching [my] episodes, I'm like, 'I fucking did that.'" As for what she wants to tackle next? "I want to take on everything-I want to see the fans, I want to go on tour, I want to act," says Symone. "I want to rule the world!"