Thanks in no small part to pop stars such as Harry Styles and Shawn Mendes, jewellery is now a fixture of any stylish man's wardrobe. Sure, men have been rocking chains and rings for an age (literally – the Egyptians were some of the first to don ornate body trinkets), but it hasn't been until recent years that men have really started to wear their jewellery with pride.

That sentiment has been reflected in recent fashion seasons, whereby shows of some of the biggest names at Paris and Milan wouldn't have been complete without heavily ringed fingers and solid gold and silver accessorising throughout, with Gucci, Versace and Maison Margiela leading the way.

And though by no means is this an endorsement of Mr T as an unsung style hero, the styling ethos is maximalism, so don't be shy. Below we've compiled five essential pieces of jewellery for men that you might consider accessorising your neck, fingers or shirt lapel with, plus our edit of the best men's jewellery you can buy right now.


1. Rings

Harry Styles seems to have identified Liberace as his identical hand twin and accessorised accordingly. By no means are we hating it. Pairing subtle gold or silver bands with sparkling, over-sized gems and more ostentatious designs has become the accessorising choice of stylish men all over. It's most likely thanks to Gucci's creative director, Alessandro Michele, whose last few runway shows have really shown the middle finger (and the rest) to minimalism.


2. Necklaces

For inspiration on how to wear a necklace, look no further than Shawn Mendes, who can seriously rock a chain. Every man should own one necklace with a slim metal chain that treads a careful length balance – look for something that just peeps up above the top button of a spread-collar shirt. Just as stylish of late, though, is the Western-style leather necklace or bolo tie, for which you can look to Prada and Versace.


3. Bracelets

Words that should never be associated with men's bracelets include string, bangle and friendship (shudders). In fact, bracelets are the one piece of jewellery for men where we'd veer on the side of simplicity. That means either a brushed metal band with an engraving, a simple chain link or a combination of the two. If you're going to wear it on the same wrist as your watch, the subtler, the better.


4. Brooches

A brooch is a great way to elevate a a black-tie look (see Timothée Chalamet's vintage Cartier brooch from his 2020 Oscars look). With no fixed body part to attach it to, a brooch is the ultimate form of self-expression. The late Karl Lagerfeld, for instance, was known for wearing his brooch on his tie. From jewelled beetles to pimped-up sheriff badges, there are no inherent rules here. We'll be wearing ours on a denim jacket.


5. Earrings

In February, we identified 2020 as the year you ought to get your ear pierced. More and more men are getting their ears pierced and fashion brands and jewellers jumped on the chance to cater to their new earholes. Nothing quite says self-expression like a man's earring, whether you're going subtle with a stud or statement with a dangling pearl à la Mr Styles.


Shop edit of the best jewellery for men…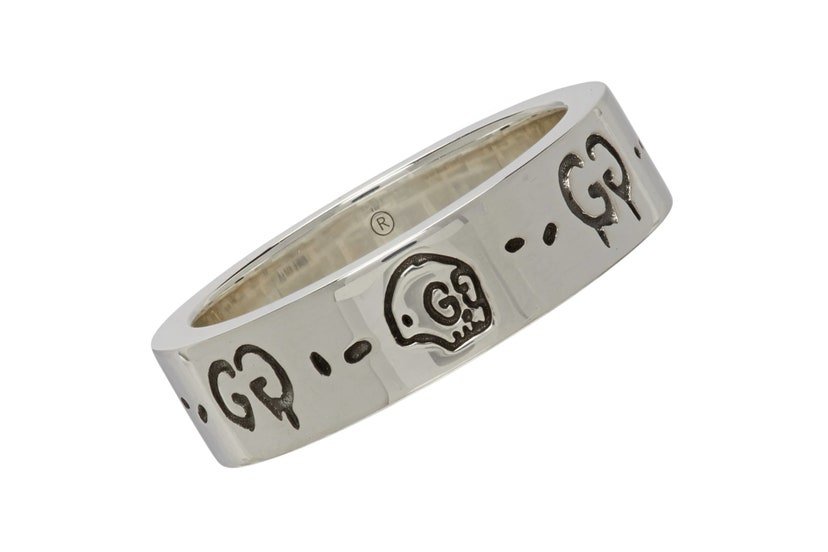 Gucci ring
Enlisting the artistic stylings of Trouble Andrew, Gucci's ghost ring is something of an icon within the house's jewellery offering. Engraved in a haunting mix of "Gucci Ghost" motifs around its 925 sterling silver band, it's a standout designer accessory that's by no means just for halloween.£185. At ssense.com
Hatton Labs necklace
A London jeweller that merges the prestige of Hatton Gardens with subcultural styles, this Matchstick pendant necklace is sure to light up your outfits. Crafted from sterling silver, it's a minimal piece that catches the eye in all the right ways, not least thanks to the gold-toned head. If you're looking for the perfect accompaniment to an open-collared shirt, this is a match made in heaven. £135. At Selfridges. selfridges.com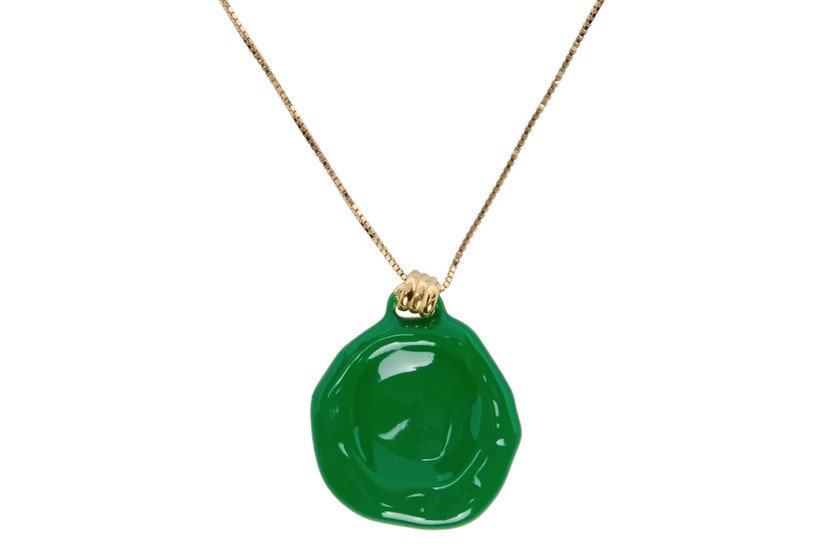 Bottega Veneta necklace
Of all the fashion houses, Bottega has come through with some of the best jewellery of the season and this enamel pendant necklace is a case in point. The chain has been crafted from 18-carat gold-plated sterling silver and, altogether, it makes for just the right amount of statement to accent an outfit in the spring and summer months ahead. £495. At ssense.com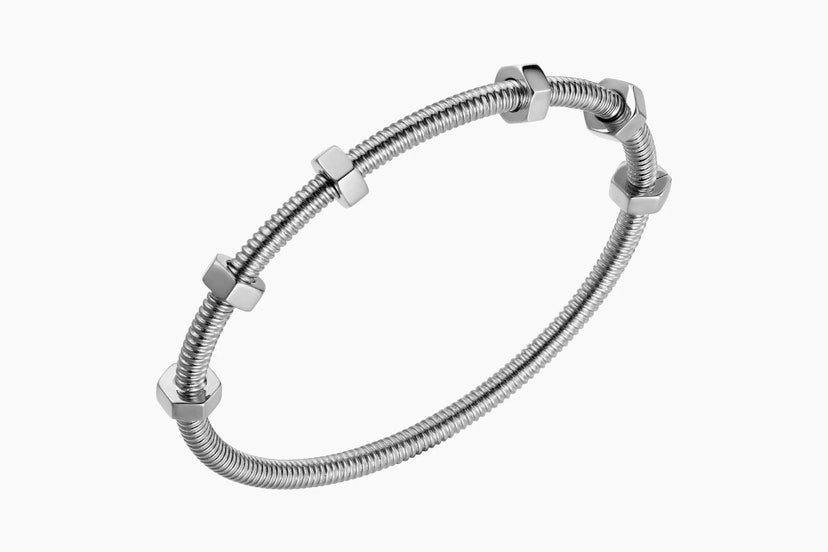 Cartier bracelet
You really cannot go wrong with Cartier jewellery. It should be your go-to for anything from timeless and iconic watches that'll last a lifetime to engagement rings anyone would be overjoyed to receive. One of its most masculine pieces is this Écrou De Cartier bracelet, which takes its inspiration from industrial design made utterly luxurious in white gold. £6,700. At Selfridges. selfridges.com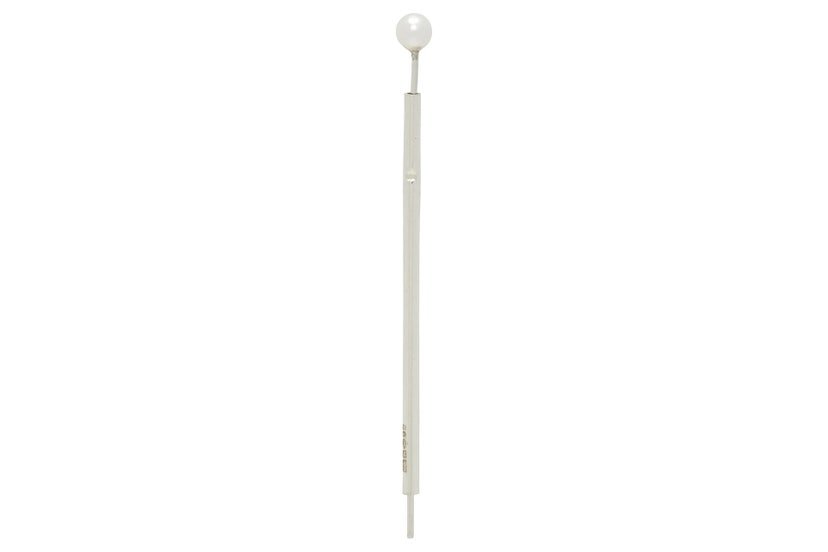 CC-Steding earring
On the fence about an ear piercing? Let this beautiful pearl earring by CC-Steding be the piece that sways you to follow in the stylish footsteps of Mr Harry Styles. This London-based jeweller is the king of classy but cool designs and this combination of freshwater pearl and sterling silver is a testament to that. £185. At ssense.com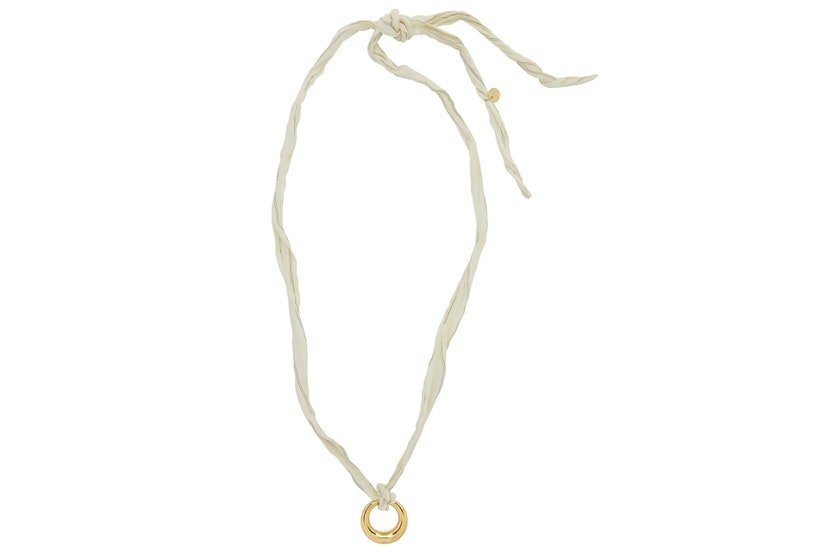 Jil Sander necklace
Purveyors of all things slick and chic, Jil Sander foregoes gold and silver chains in place of elegant, crinkled silk. Self-tied, it's an effortlessly cool addition to any outfit built around a neutral colour palette, adding an extra touch of luxe with the gold-toned hoop that's neatly tied to the bottom. £310. At ssense.com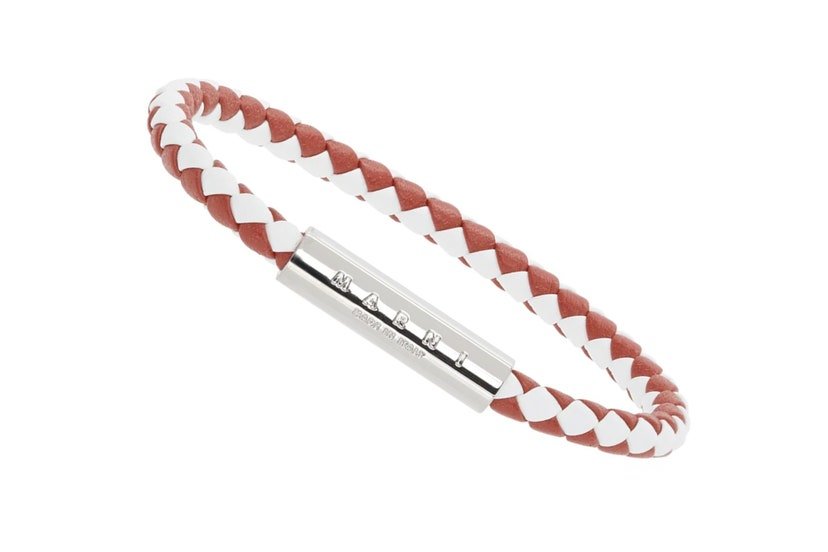 Marni bracelet
It's not always the case that precious metals maketh the jewellery. Some of our favourite outfit accents come in simpler materials, such as the braided leather of this Marni bracelet. But for the silver-tone logo-engraved hardware, the red and white leather works a treat in this piece and makes for the perfect accompaniment to a chunkier steel-linked watch. £120. At ssense.com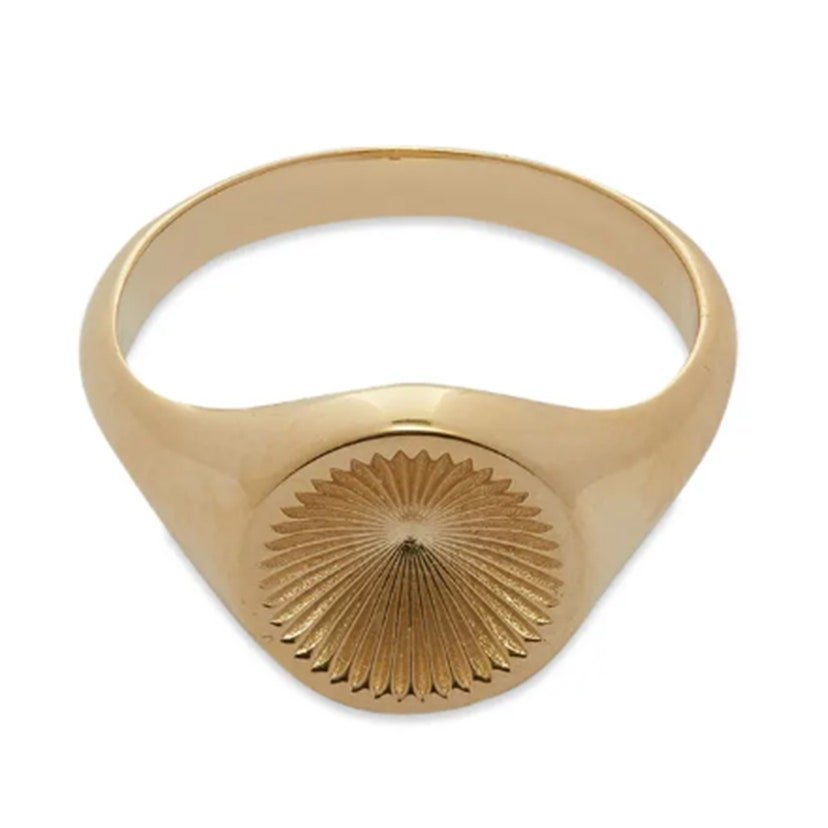 Miansai ring
Engraved detailing doesn't have to compromise a clean design, as this Miansai ring attests. The cosmic radiation engraving is inspired by the beams of the sun, polished in gold vermeil, making it the perfect summer addition to your finger bling. £155. At End. endclothing.com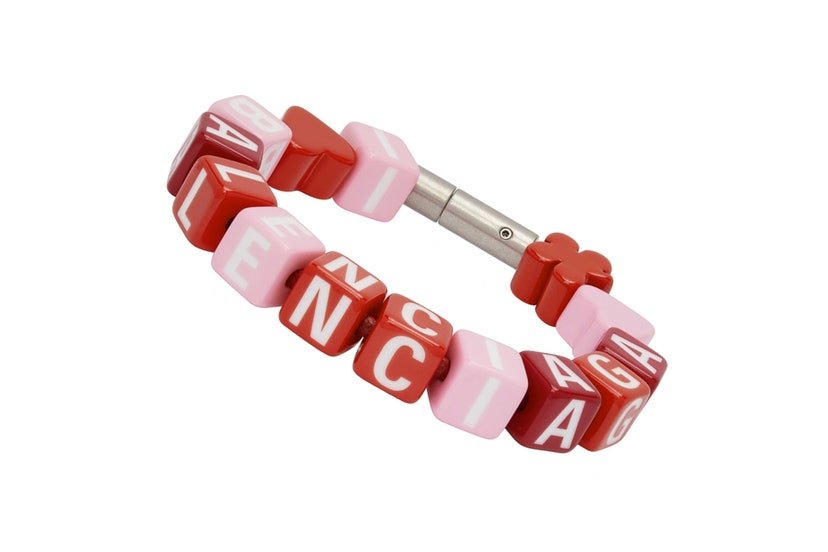 Balenciaga bracelet
A typically playful piece by Balenciaga, this toy beaded bracelet is anything but childish. Spelt out on its the pink, red and purple beads is "I <3 Balenciaga", a play on the slogans you're more likely to come across in a tourist store alongside fridge magnets and novelty tees, but given a high fashion twist. £395. At ssense.com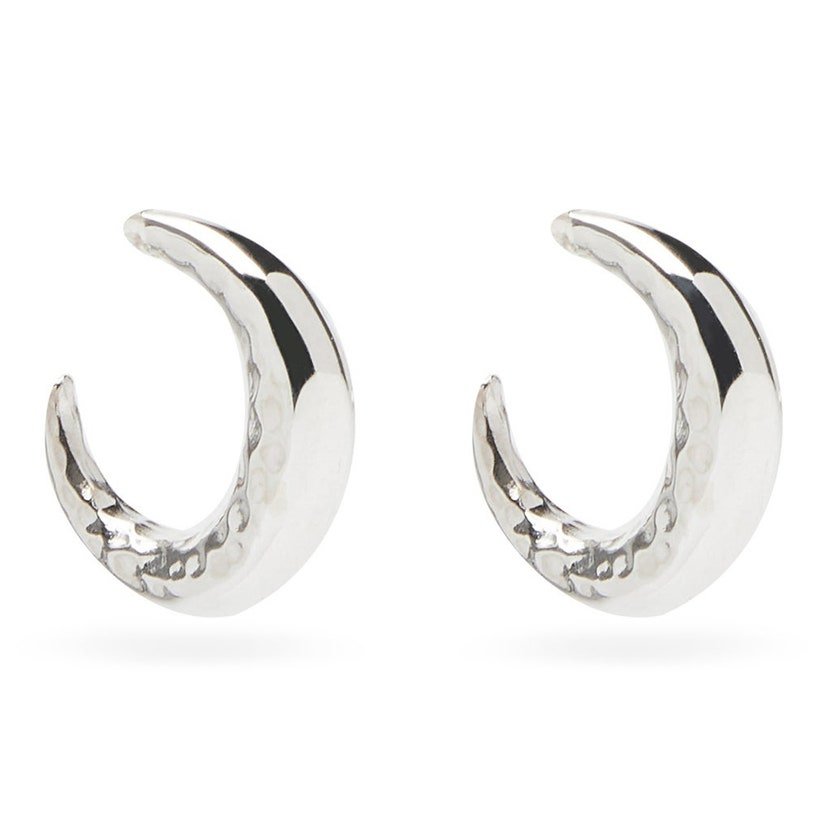 Dear Letterman earrings
Recent times have seen men pay plenty more attention to their ears – specifically how they bejewel them. Though there are many options out there, from ear cuffs to pearls, the simplest and easiest is a low-key hoop. This polished and hammered sterling-silver pair are no-brainers. £110. At matchesfashion.com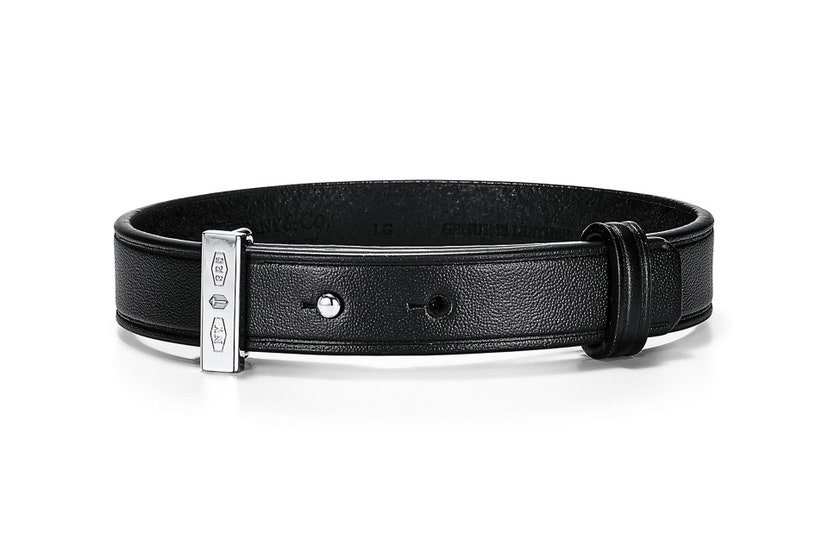 Tiffany & Co bracelet
Tiffany & Co's jewellery is always timeless and elegant, but none more so than this leather strap bracelet. Sterling silver is the name of the game for this icon and, although only a small part of it, the buckle is what really makes it sparkle. Crafted with a maker's symbol, it's an unassuming piece that'll elevate any casual outfit to new heights. £450. tiffany.co.uk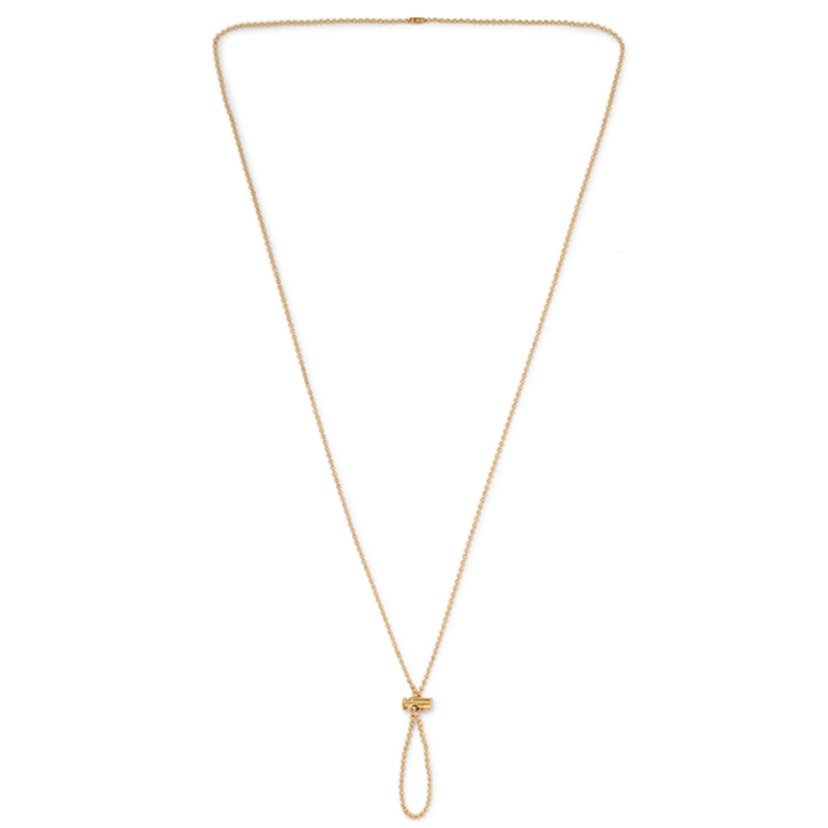 Luis Morais necklace
Just like a good chef will let the ingredients on a plate of food speak for themselves, good jewellery is not all about intricate engravings and embellishments. This ball chain necklace by Luis Morais is a testament to that, cast from polished 14-carat gold with a simple adjustable bungee-style toggle. £2,600. At mrporter.com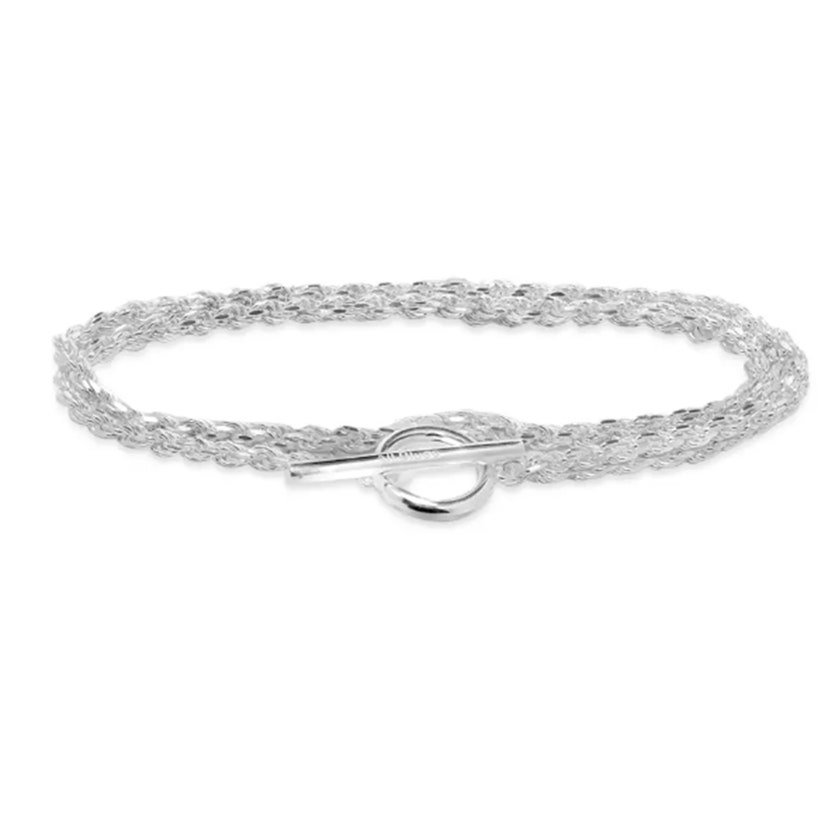 All Blues bracelet
Hand-made in Stockholm, the polished 925 sterling silver of this All Blues bracelet has been fashioned into a rope-like design that'll add some shine to any nautical styling. We're particularly sweet on the engraved, oversized bar that fastens the piece – a simple yet effective detail. £199. At End. endclothing.com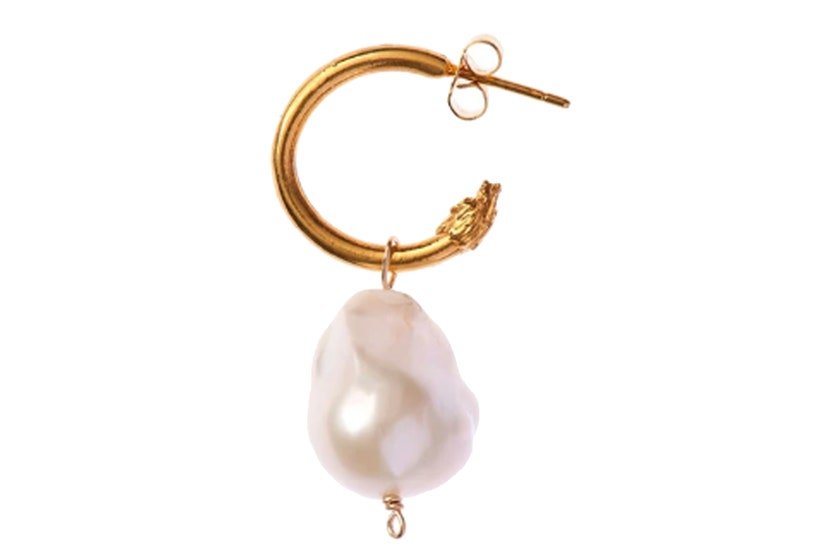 Alighieri earring
The biggest jewellery cue to take from 2020? Earrings. That's mostly thanks to London-based brand Alighieri, whose designs are inspired by Dante Alighieri's "Divine Comedy". Divine is certainly the word to describe this 24-carat, gold-plated earring; just look at that freshwater baroque pearl which dangles off its handcrafted bass. Incredible. £155. alighieri.co.uk

Foundrae bracelet
There's a new jewellery designer on the block: Foundrae. Founded in New York, the label is set on producing highly charged designs which empower their wearers. In the case of this classic fob bracelet, that's achieved through an 18-carat gold construction, enamelled pendant and little wing details. A real beauty. £1,540. At mrporter.com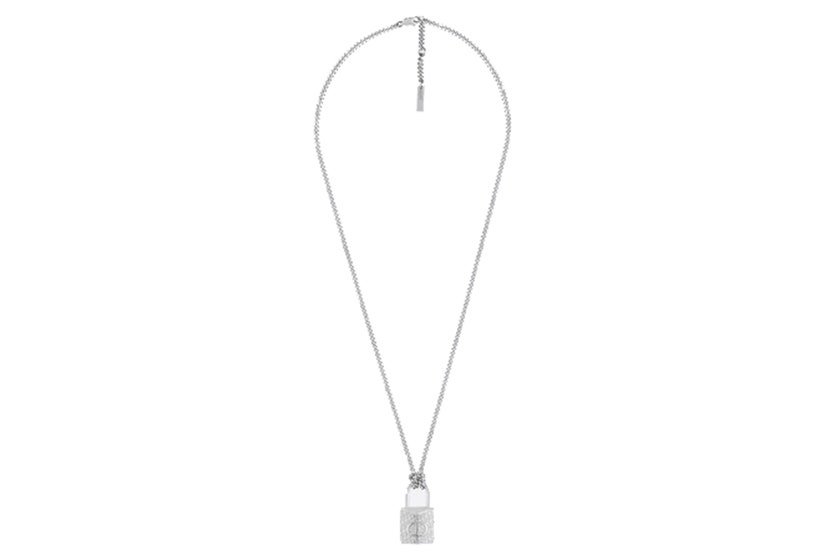 Dior necklace
If there's one monogram you should dangle from your neck, it's the symbol for Dior. Enter the French house's latest release: this oblique paddle lock necklace, embossed with the iconic "CD" logo over its silver-tone pendant (which does open, in case you were wondering). Layer this one over a black turtleneck for a subtle jewellery statement. £510. dior.com

Celine earrings
If you're wanting a full earring set, take a trip to Celine. This pair of mobile earrings look like they've come from the studio of a high-end interior designer, with each component crafted from gold-plated brass and wrapped with light green crystals. Perfect for the upcoming holiday season. £550. celine.com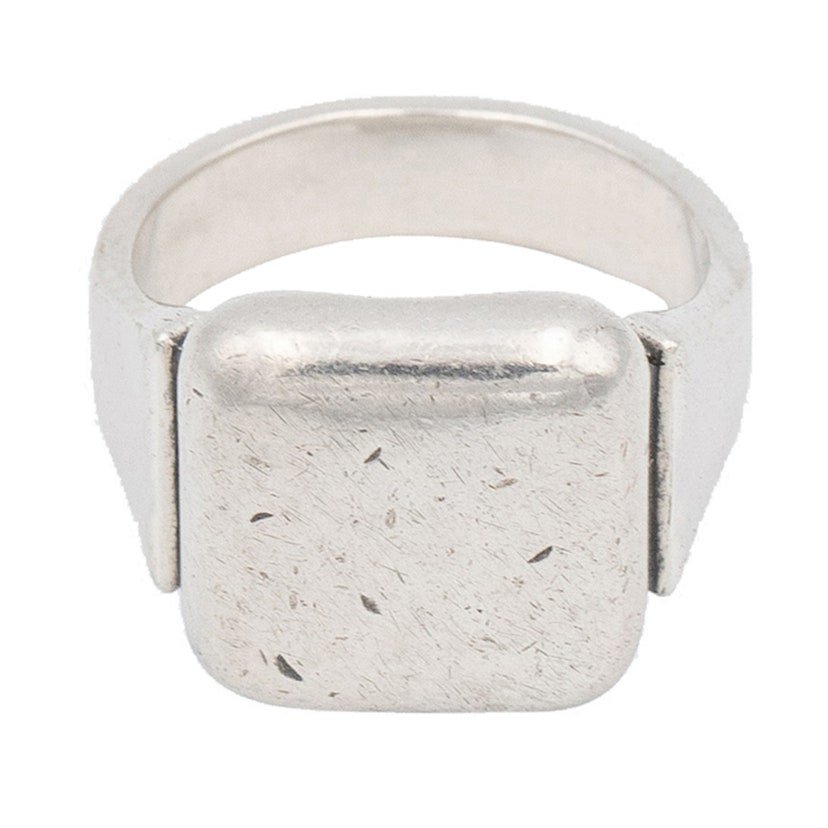 Bottega Veneta ring
It looks vintage, but it's new. For all anyone could tell, this ring by Bottega Veneta could have been passed down through the generations. The worn effect is a great look for jewellery lovers who prefer subtlety over out-and-out bling. The large, square shape is unusual and adds to the "could it be ancient?" factor. £265. At mytheresa.com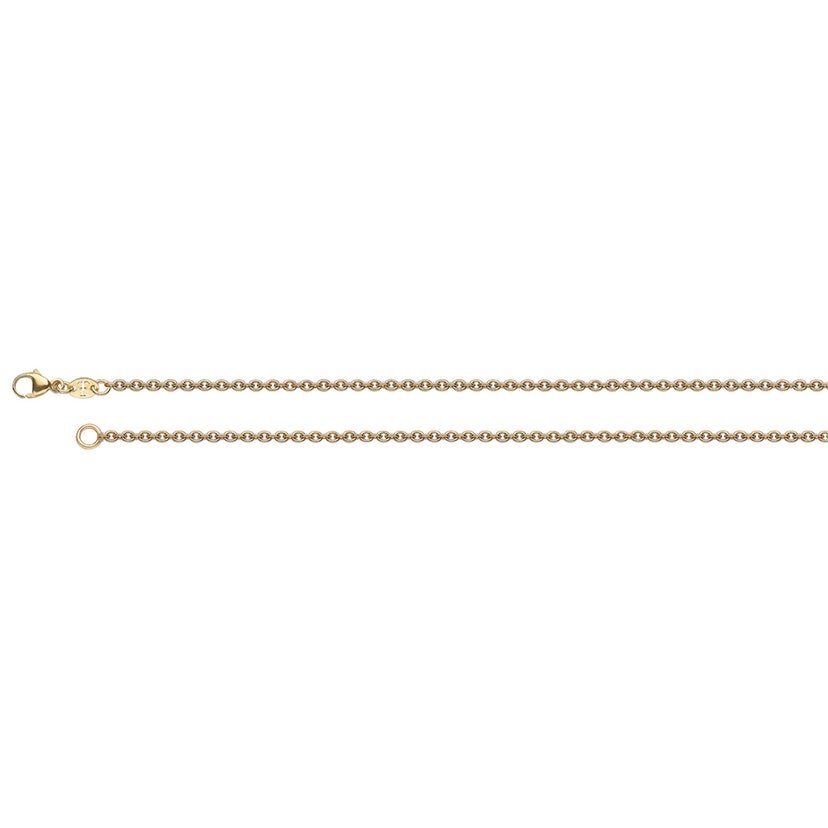 Theo Fennell necklace
You don't get more quintessentially British than a Theo Fennell necklace – a simple piece of jewellery which will last you through the years and will be ready to pass down to the next generation to come. Personalise yours with a pendant or keep it plain and simple. £950. theofennell.com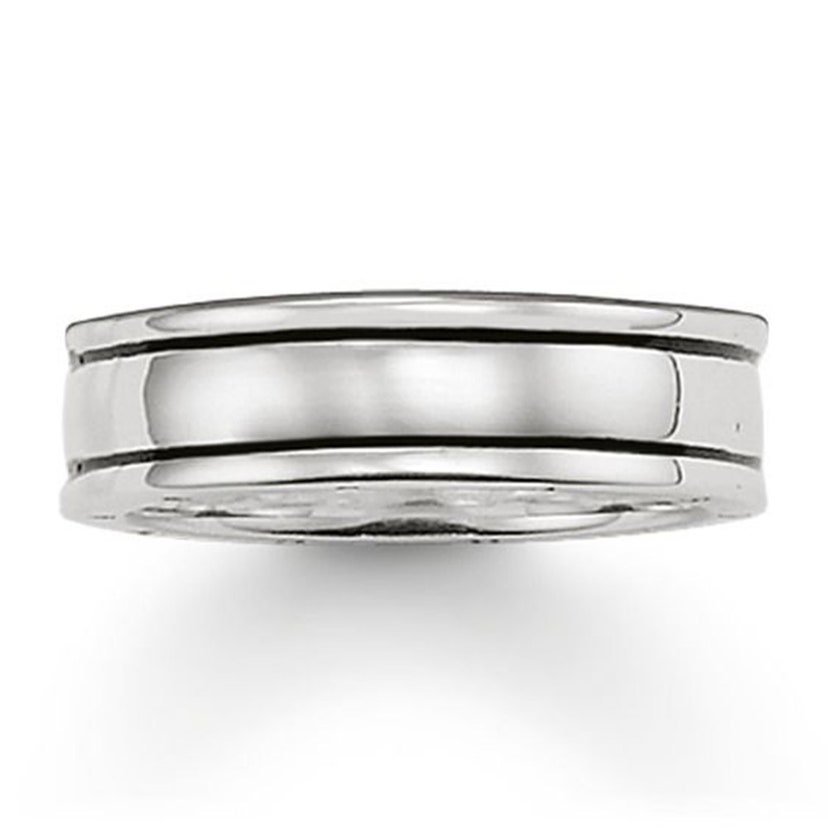 Thomas Sabo ring
Thomas Sabo uses the highest-quality alloy a jewellery brand possibly could. The 925 sterling silver is nickel-free and is suitable for wear by allergy sufferers. £119. thomassabo.com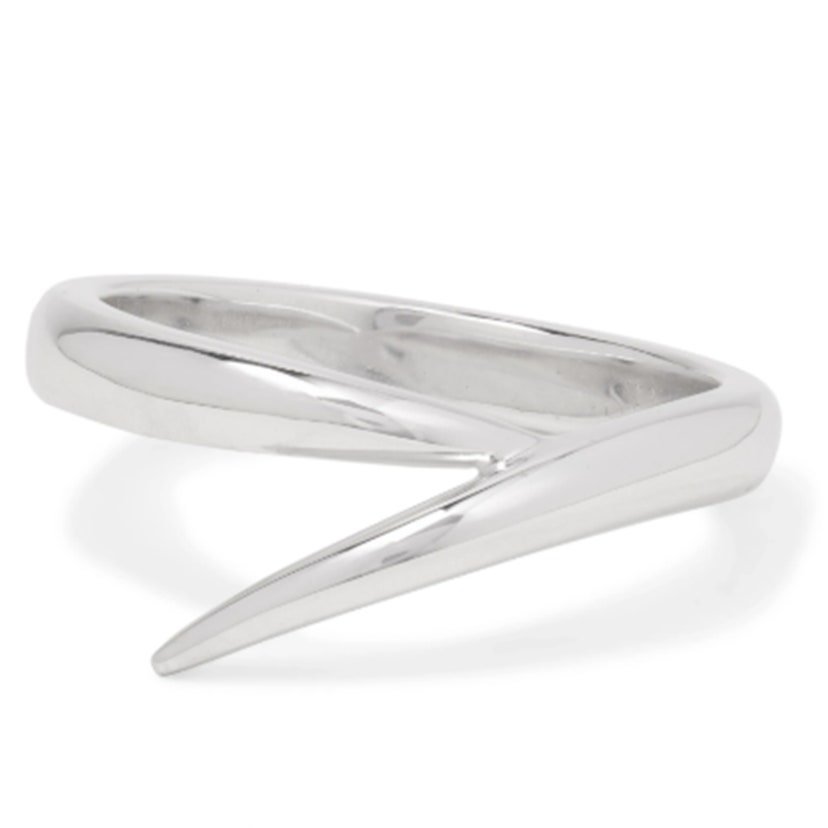 Shaun Leane ring
Made from 18-carat white gold, this elegant piece by Hatton Garden-trained goldsmith Shaun Leane is emblematic of the avant-garde designs that caught the attention of the late, great Alexander McQueen. It'd make for a pretty perfect alternative to a conventional wedding band. £950. At mrporter.com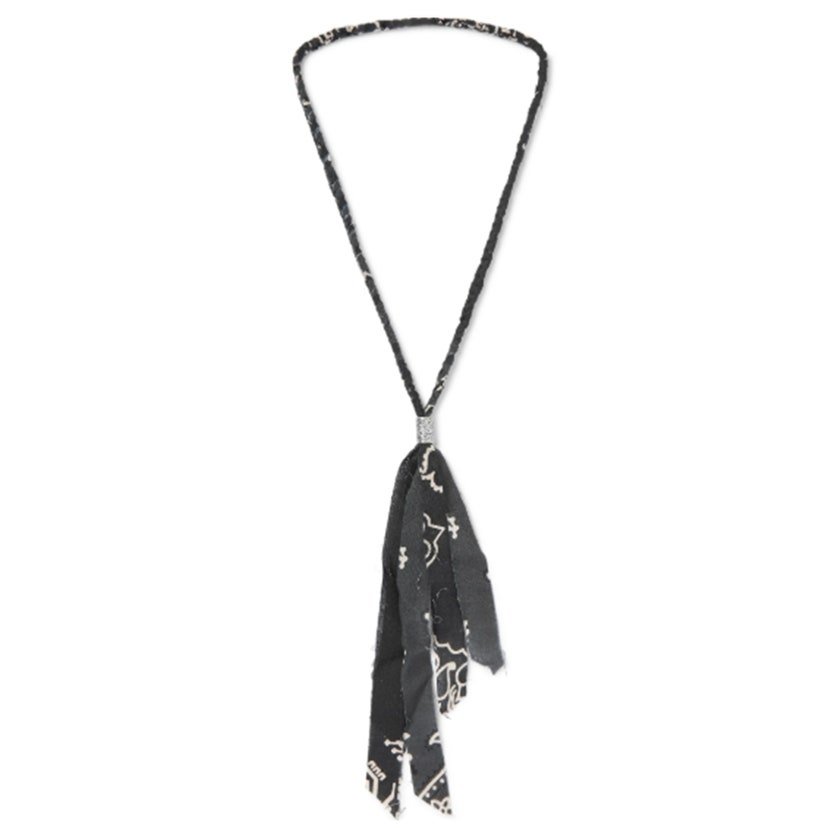 Kapital necklace
From the ever-appealing Japanese streetwear label, this Kapital necklace is made with the offcuts of bandana-printed cotton gauze, which you'll find on its stylish patchwork pieces. Like its apparel line, the aesthetic is eclectic and handicraft-inspired, with a silver-tone charm that conveniently adjusts to lend you control of the drop. £75. At mrporter.com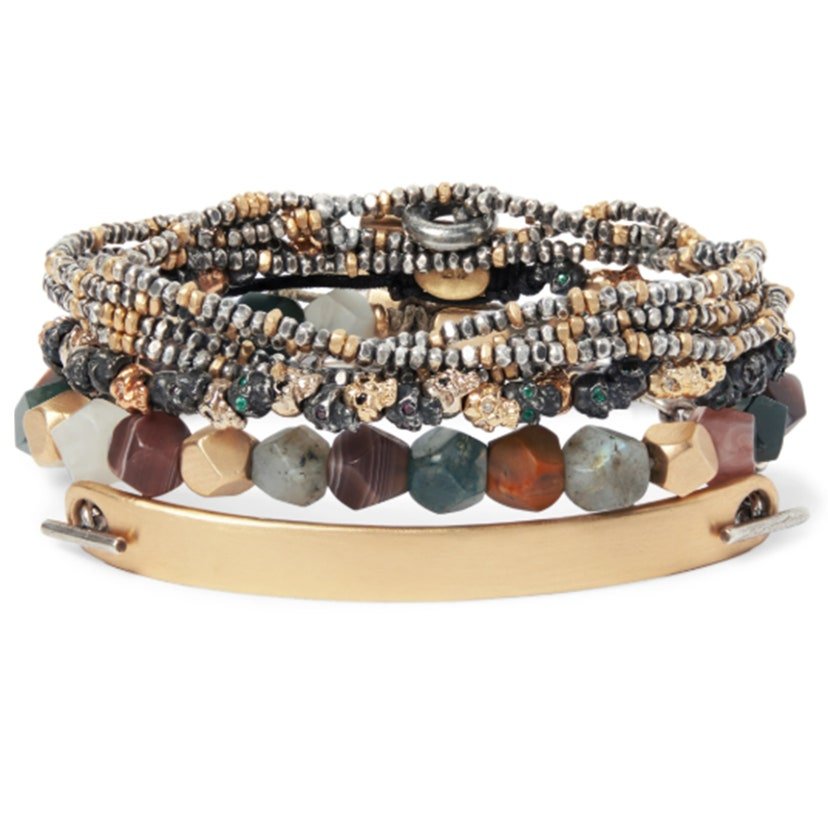 M Cohen bracelets
A jeweller driven by a sense of wanderlust, Maor Cohen draws inspiration from cultures the world over, with designs that are loved by Hollywood stars such as Gerard Butler and Johnny Depp. This set boasts a mix of sterling silver and 18-carat gold, along with the brand's signature "ID Bar", "Skull" and "Deca" styles and a skull-headed bracelet embellished with diamond eyes. Quite the investment piece. £11,175. At mrporter.com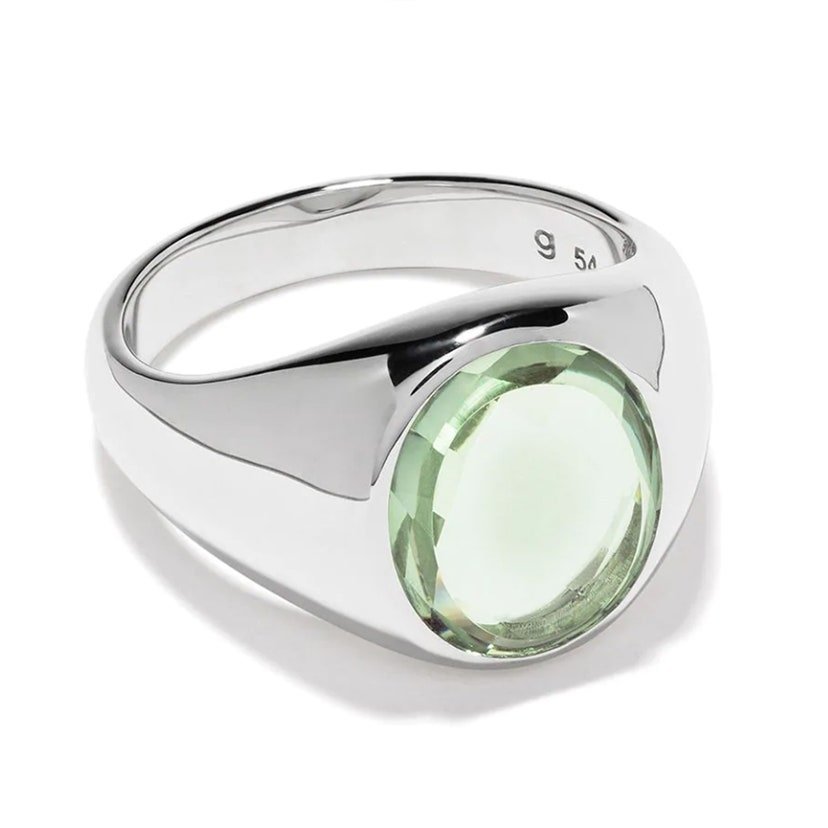 Tom Wood ring
Tom Wood is a Norway-born jeweller whose specialty is the signet ring embellished with spinels and diamonds. This "Lizzie" ring is made from polished 925 sterling silver, which is offset by the richly coloured natural green quartz stone at its centre. £355. At farfetch.com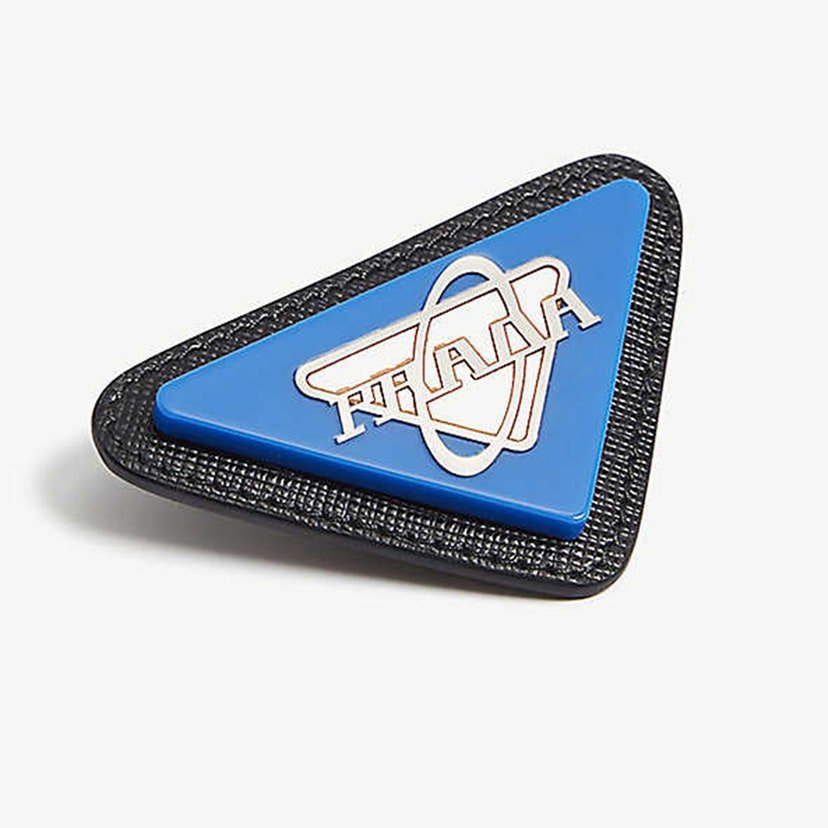 Prada brooch
Steering away from all the metals, this Prada brooch is proof that not all jewellery has to sparkle. A retro piece in an instantly recognisable Prada shape, this is the perfect way to inject a subtle element of designer glam to your look. Either pin it to you tie for an evening look or simply to a jacket for everyday elevation. £170. At Selfridges. selfridges.com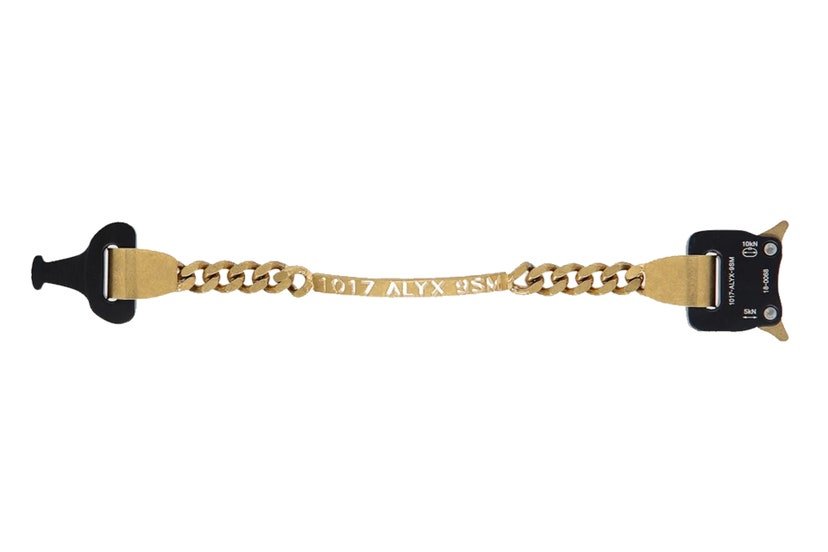 1017 Alyx 9SM bracelet
Top points to Alyx Studio for extending its pro technical designs to jewellery. This buckle bracelet has been crafted with a bunch of brilliant details: a brass chain, for starters, which is then interlinked with a striking logo charm and fastened with an anodised aluminium buckle. What's not to love? £362. alyxstudio.com

Ellie Mercer ring
Sure, simple gold rings are gorgeous, but there's a bunch of brands bringing something a bit more interesting to the classic jewellery tone. Case in point: Ellie Mercer, whose signet ring is complete with bold organic cut-outs to expose a stunning clear resin. Minimalism lovers, this one's for you. £675. At matchesfashion.com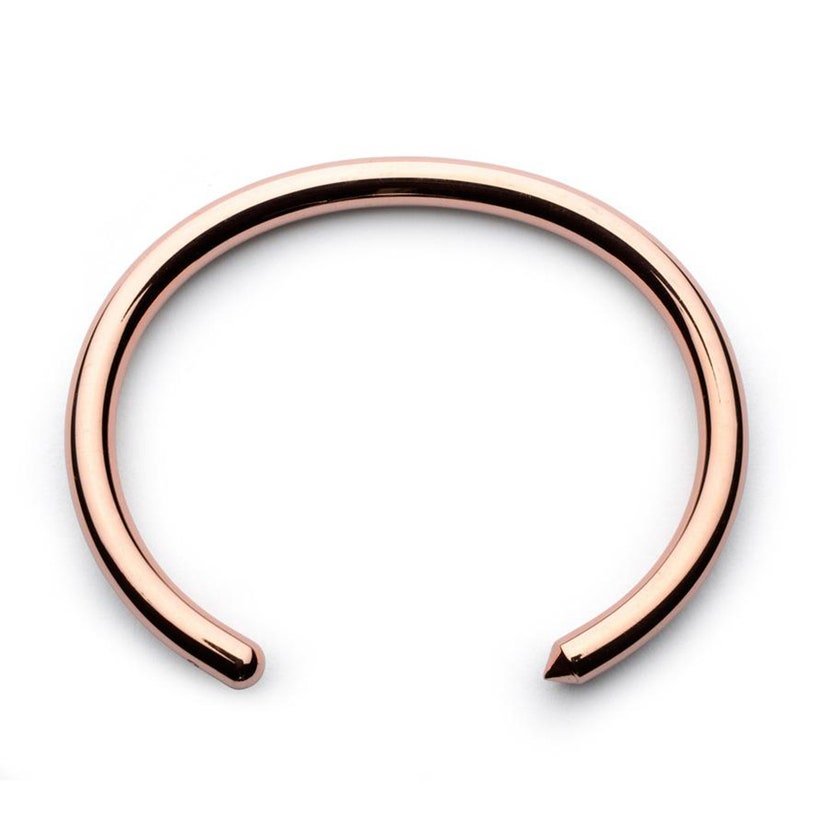 Alice Made This bracelet
Made from a solid copper bar, this bracelet is cut in an aerospace factory before being hand-formed and polished. The perfect addition to any minimalist's outfit. £140. alicemadethis.com