It's been a sad, sorry year for the state of our nails.

In between stop 'n' start lockdowns and tiers and a serious backlog of beauty treatments, our nails just haven't been able to catch a break.

And with the end kind of in sight, but also still rather hazy, our manicure game needs an intervention (chipped nails simply will not do).

The solution? If a DIY gel nail kit isn't for you, then it's time to embrace the nineties press-on nail trend. They're cute, they're easy and there's no need to sit around and watch paint dry.

Indeed, so prescient is the demand for stick-on nails that London-based nail artist Suzi Rezler debuted her press-on nail brand Naillery during lockdown 1.0. "Launching Naillery was a response to lockdown," Rezler tells the Standard. "I had a lot of friends sending me pictures of their grown out acrylics and bitten nails, and others proud of their natural nail journeys, so I knew there was a market for press-ons."

The response to Naillery's debut has been "very positive," with Rezler believing that "wearing press-ons is an act of self-care."

"I have always loved nails, because our hands are the part of our body we see the most, especially when you're on your computer or phone all day. I love to look down and see nail art and hear the sound of nails tapping on a keyboard," she says.

With our favourite neighbourhood nail salons closed for the foreseeable, it's high-time that we spiced up our at-home mani game with some pretty press-ons. Consider this your go-to guide for press-on nails and before you know it, you'll be nailing it too.


Suzi's guide to applying stick-on nails

1. Start with clean, dry hands - no moisturiser or oils.

2. Use the flat end of an orange wood stick to gently push back cuticles.

3. Use a nail file to smooth the edge of the nail and very lightly buff the surface of the nail, just to remove the shine and natural oils. This will improve adhesion to the nail.

4. Wipe off any dust or debris or natural oils with some alcohol wipes.

5. Then you can either use adhesive tabs if you would like to wear the nails for about two days, or glue, if you would like to wear the nails for up to two weeks.


Best press-on nails to buy now
Naillery Tortoiseshell Set

Not only does Rezler offer bespoke Naillery press-on nails, but she knows what the people want: and that is tortoiseshell nails. We'll be slapping these on in no time at all.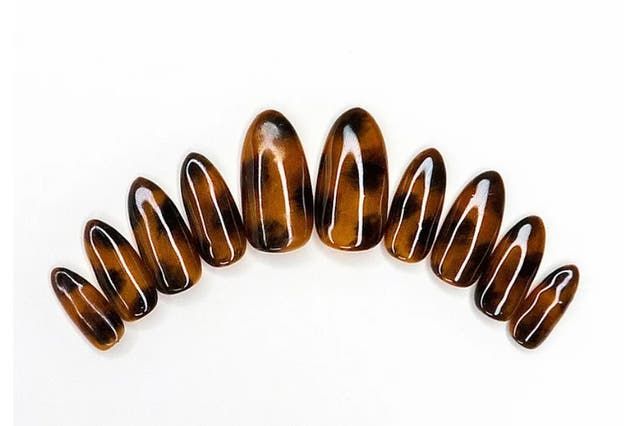 Shrine X ASOS Exclusive Glazed Cherry False Nails

Feeling fruity? Us neither, but this set of cherry and diamante-adorned stick-ons will take us from zero to one hundred in no time at all.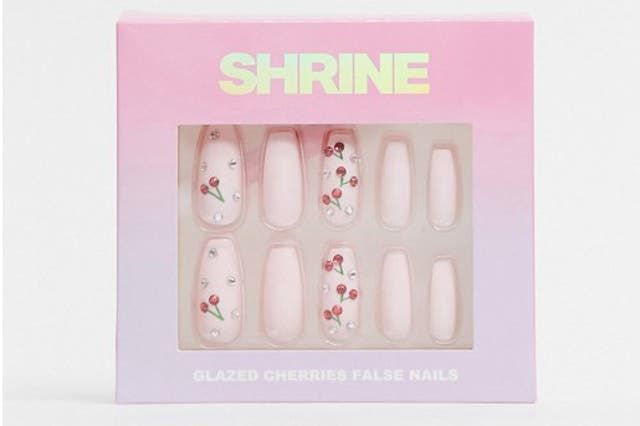 Nailed It by Chelsey Versace False Nails

Designed and decorated by hand, Nailed It by Chelsey's stick-on nails are second to none. We're loving the Versace-themed talons for extra oomph.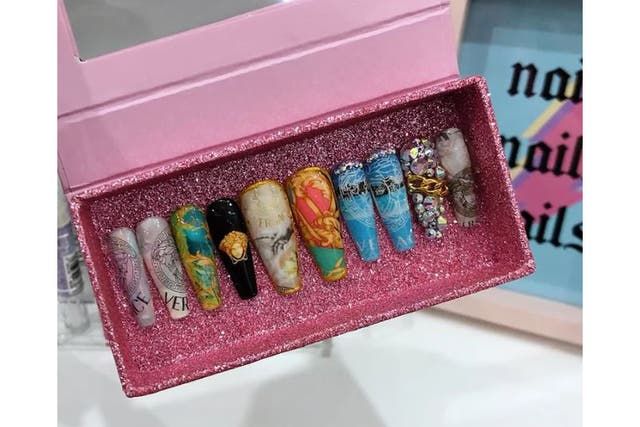 Claire's Red Glitter Hearts Stiletto Faux Nails

Valentines Day may have just passed, but these heart-adorned stick-ons will have you feeling gooey-eyed all over again.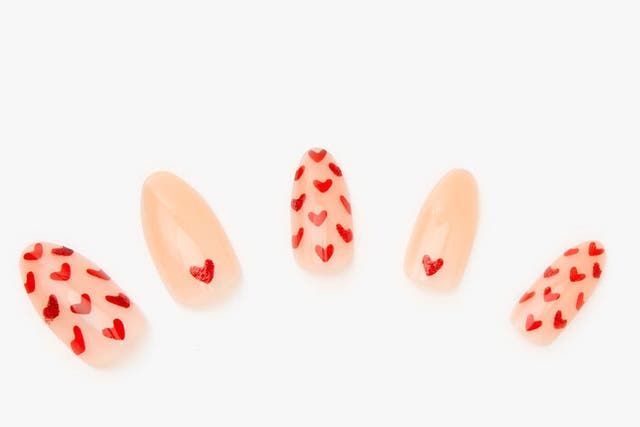 Sosu by Suzanne Jackson Fake Stiletto Nails

For a more pared-back press-on style, opt for a pack of fake French manicured nails. This pack of 24 will provide one month's worth of manicures, if looked after.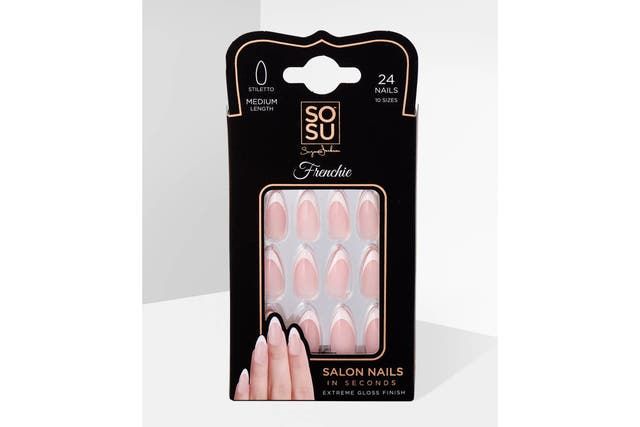 Shrine x Alice Mc Cow Print False Nail Set

Moo-ve over standard nail varnish; if this rainbow-hued cow print set doesn't convince you to give stick-ons a whirl, nothing else will.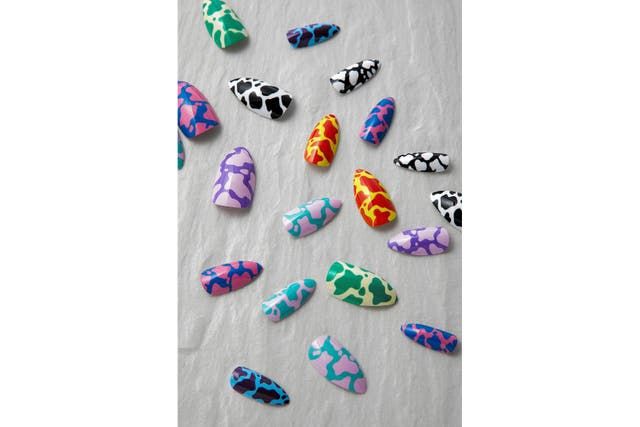 H&M Press-on nails

A purse-friendly nude pack of stick-ons which are dubbed 'easy to remove' - so it's easy to switch things up.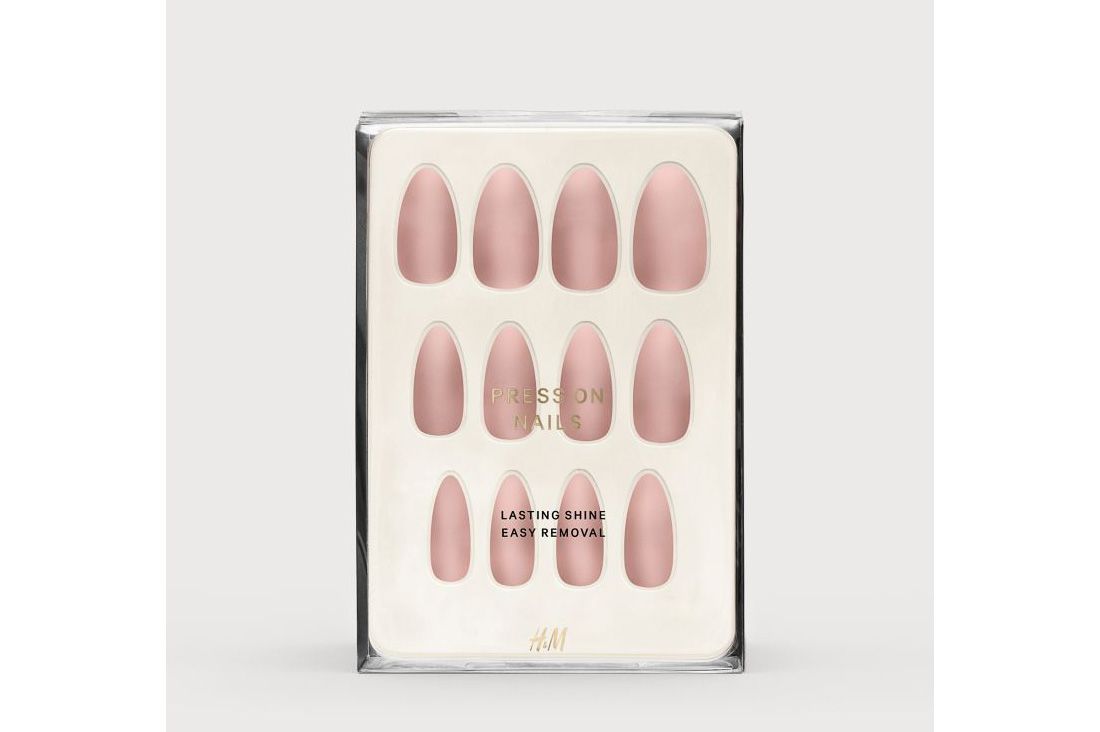 Kiss Salon Acrylic Nude Medium Length Nails

Simple, easy and cute. This pack of press-on French manicured nails screams 'I have my life together.' It's a yes from us.