Multiple ear piercings have come a long way since London's punks popularized the look in the '70s and mall goths' subsequent obsession with hardware in the early 2000s. Today's ear stacks are a bit more refined, coming in precious metals and stones that are thoughtfully designed to be mixed and matched for a statement that leans more chic than grunge.

Here, L'OFFICIEL speaks with Shelley Sanders, Co-Founder and Creative Director of fashion-favorite jewelry brand The Last Line on how to curate your earrings for a statement that is bound to turn heads.

L'OFFICIEL: What do you take into consideration when curating an ear?

Shelley Sanders: Rule #1, there are no rules! I think sometimes people see ear games and think they can never do that, which is totally false. When you're starting to build your stack, think about existing pieces and piercings, then figure out what you want to build and go for it. The nice thing about earrings is that most pieces can be worn in multiple places, so there is a lot of versatility. If you're looking for an easy way to start, here is what I always tell people:

One, determine what your common element will be. Whether you're just starting or building out asymmetrical ear games, the key to anchoring a look is keeping it focused to either a stone or style.

Two, pick a styling vibe. There are no rules, but it's best to have an idea of what you want your look to be. A few of our favorites styling vibes include graduated hoops, unpaired pairs, complimentary colors, and single stone, aka all diamonds.

Three, go for the gold (yellow, white, or rose) and start building. The best ear games mix together different textures and lengths. Textured gold next to shiny gold adds variation that feels matchy but still different.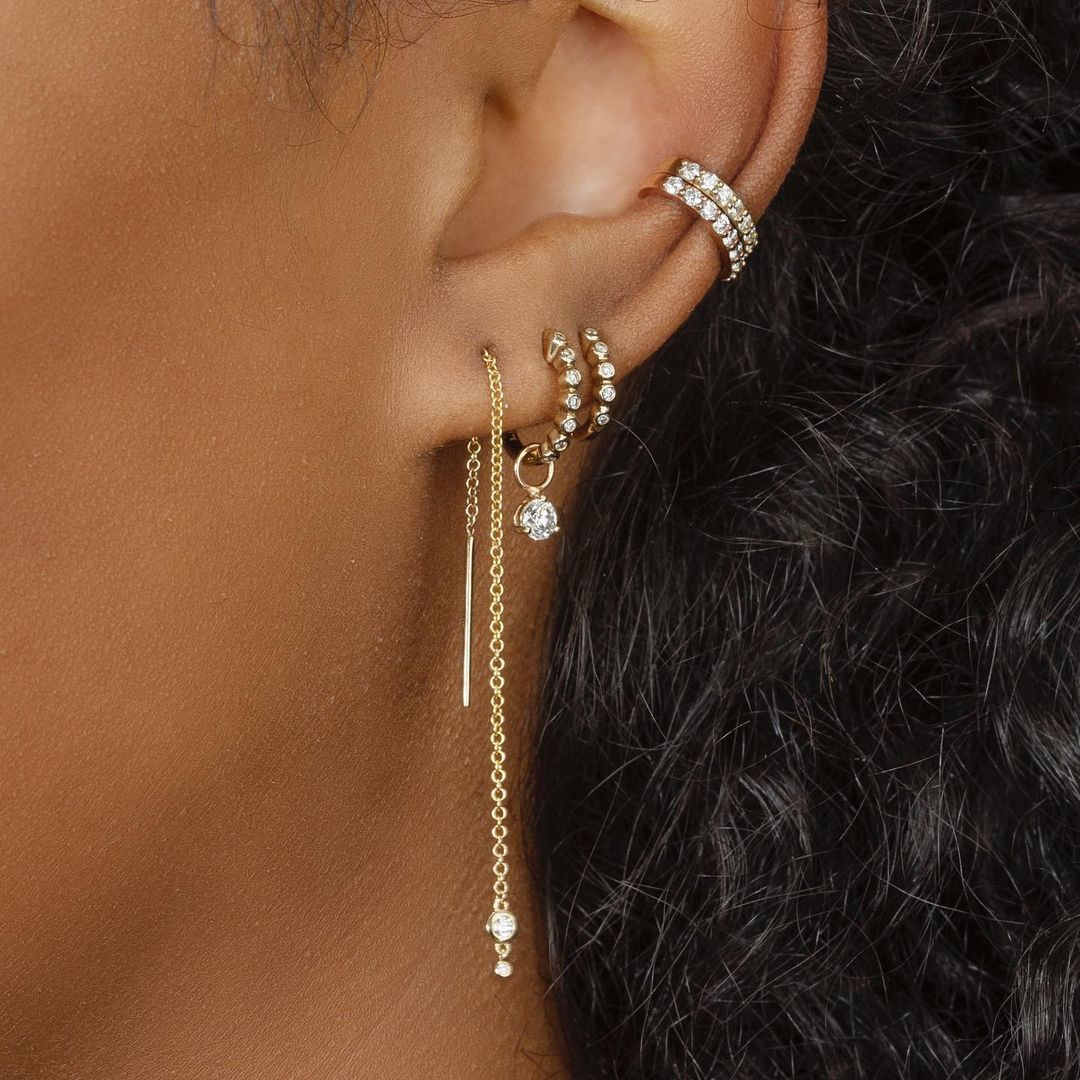 L'O: How do you balance statement earrings with more delicate studs and hoops?

SS: I like ear games that have a mix of different textures and lengths. It's very popular to graduate up the ear, i.e. start with your biggest earring whether that's a hoop or a statement piece like our Teddy Flower Earrings and then have your earrings get smaller as you work up the ear. I also think it's very cool to have a single style ear game, whether it's all hoops or all studs.

L'O: What type of jewelry do you recommend for people who don't have a ton of ear piercings but want to make an impact?

SS: Earcuffs! They're the easiest way to up your ear game with no piercing required and you can layer them in multiples, which I happen to love. Also, because of where they hit on the ear they can create their own moement because of the distance from the lobe.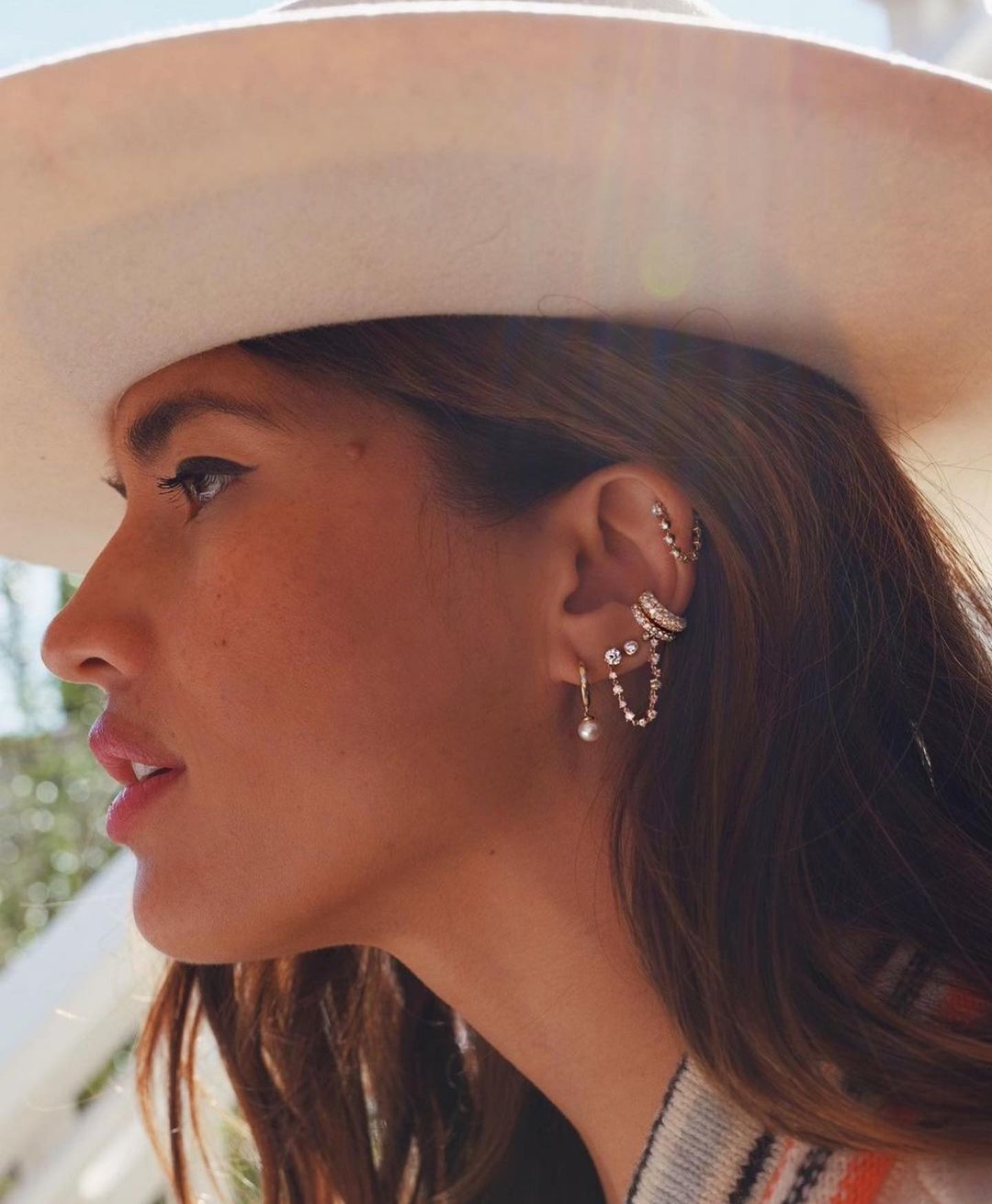 L'O: What are the biggest mistakes you have seen in styling an ear?

SS: You can't make a mistake in an ear game. Trust me, no ear game has ever ended up on a worst dressed list.

L'O: What are the earrings you think everyone should invest in?

SS: I think everyone should have a pair of huggies, they'll never go out of style and they're super versatile for styling. In general, I like to think there are 4 types of pieces each jewelry box needs, which we call the "core four" in the office, it applies to all categories of jewelry and works for new to fine jewelry and worn-forever gals.

One, the classics. Classic doesn't mean basic! Trust me, no one has ever regretted investing in a timeless style like a tennis bracelet or a great gold hoop for everyday.

Two, something personal. I always encourage everyone to have a piece that is personal. You can engrave a pendant, add on a letter charm to hoop, or rock your zodiac sign on a tennis collar which I love.

Three, color. Just try it, trust me. There are plenty of options for any level of comfort and they all shine.

Four, a wildcard. This can be anything, the only requirement is that you feel special when you wear it.



L'O: What is your opinion on mixing metals?

SS: I'm into it. We mix golds a lot. I think certain stones look very pretty in multiple golds, for example ruby looks great in rose gold in addition to yellow gold.

L'O: What jewelry trends are you excited about for 2021?

SS: At the moment, I love connected styles, whether an ear cuff or two pieces together. I also think we're seeing a lot of mixing in ear games, with stones and textures (i.e. solid gold hoop and a huggie, and maybe a cool piece like the triple diamond stud or a flower). I'm always excited to see how people mix their pieces with existing styles or new additions, we see a lot of people buying pendants because their mom maybe just gave them a chain or adding hoop charms in with their partner's zodiac sign, which is very sweet and fun to watch come together.