No matter the season, cardigans are the perfect transitional piece, taking you from chilly spring mornings to breezier summer nights and then back again for fall/winter. Don't believe me? As the sun goes down in the summertime and the breeze elicits goosebumps on your skin, you can cover up with a cozy light knit cardigan. For us 9-to-5 folks, office air conditioner is the number one enemy, so you can keep a cardigan on hand to wrap yourself with. And in the cold winter months, you can layer a cardigan over a knit for a double layer of warmth that's both fashionable and functional. Ahead, cardigan outfit ideas that are perfect for whatever you have planned.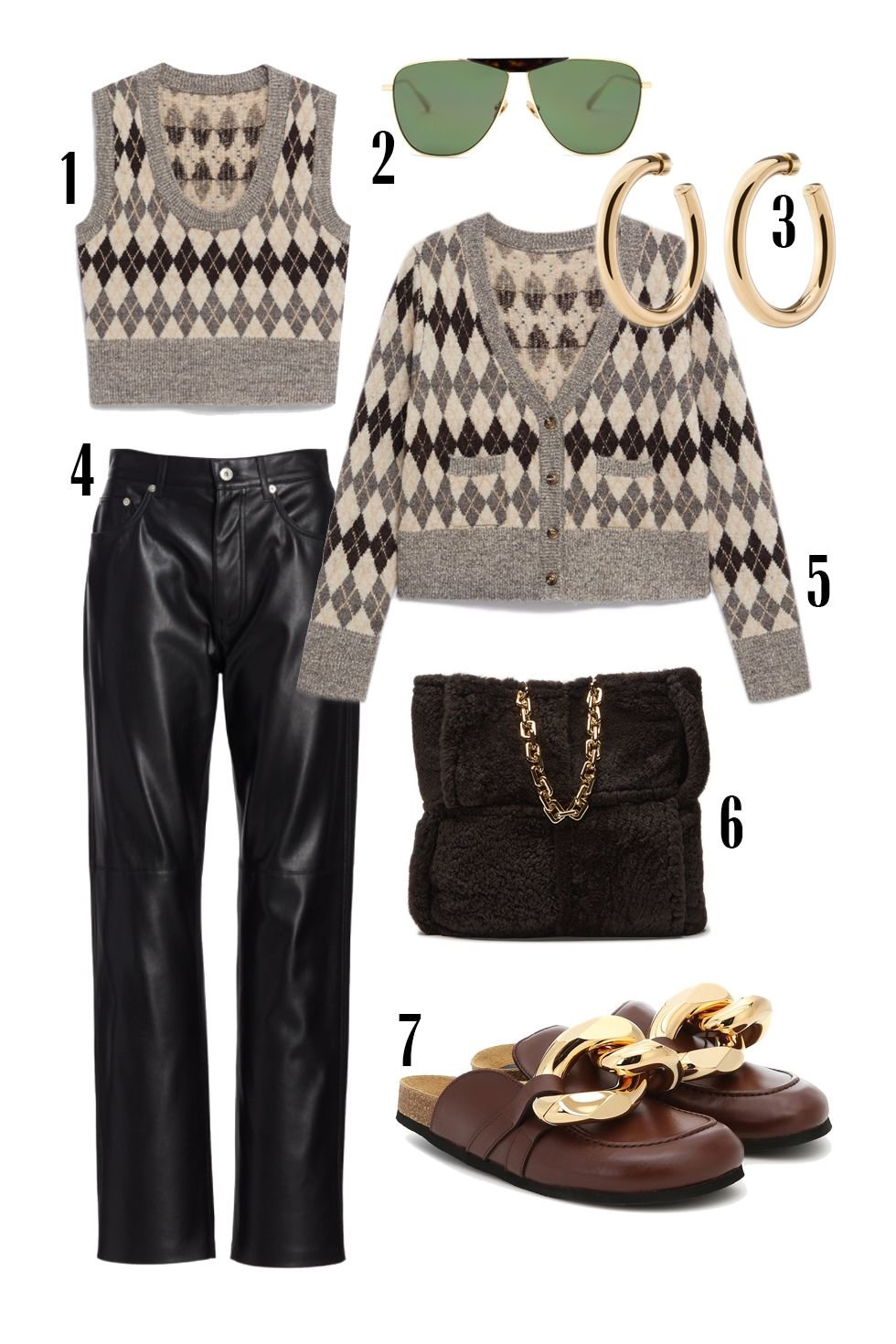 Street Style Star

Forget everything you know about the twinset. No, seriously-they aren't just for the country club. The conservative style got an update this season, so you can leave the pearls at home. This argyle duo features a cardigan and a matching knit-tank top; take a note from your fave street style stars and rock this set with a pair of sleek leather pants. And no It-girl look is complete without the hottest accessories, of course. Finish off with embellished mules, a chic shearling bag, and of course sunnies. This outfit is most definitely Instagram-approved.


A Touch of Boho

Give your ladylike like look a boho spin by adding some fun accessories. This Miu Miu ribbed cardigan and Dion Lee midi skirt are classic items that can be worn in many different ways. A paisley print belt and a pair of statement earrings totally transform these pieces into a boho chic look.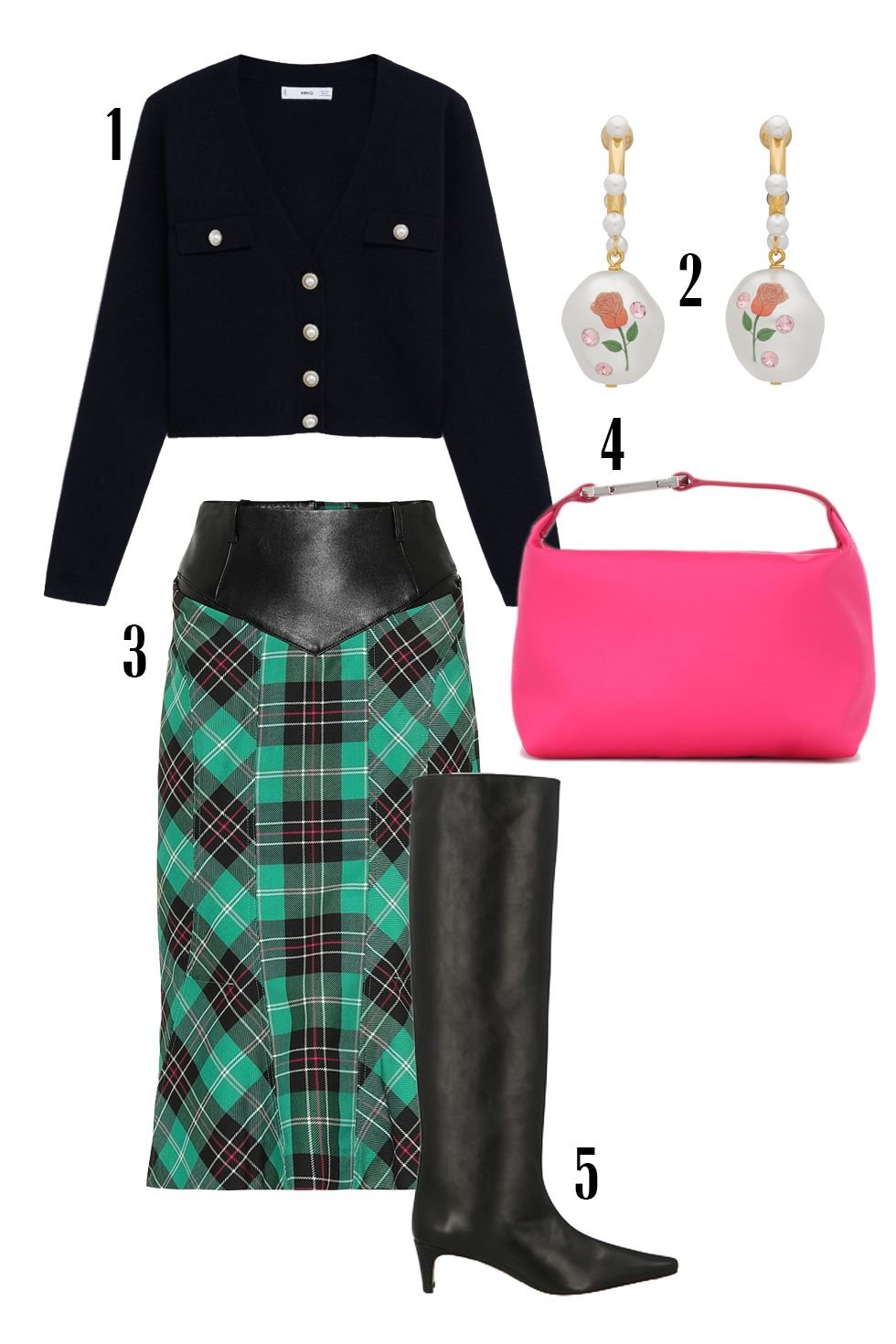 Merry and Bright

With the holidays around the corner, it's time to start thinking about festive outfits. The pearl buttons dress up this black cardigan and make it holiday-party appropriate. Pair it with a green plaid skirt. In the spirit of the season, your accessories should be merry and bright.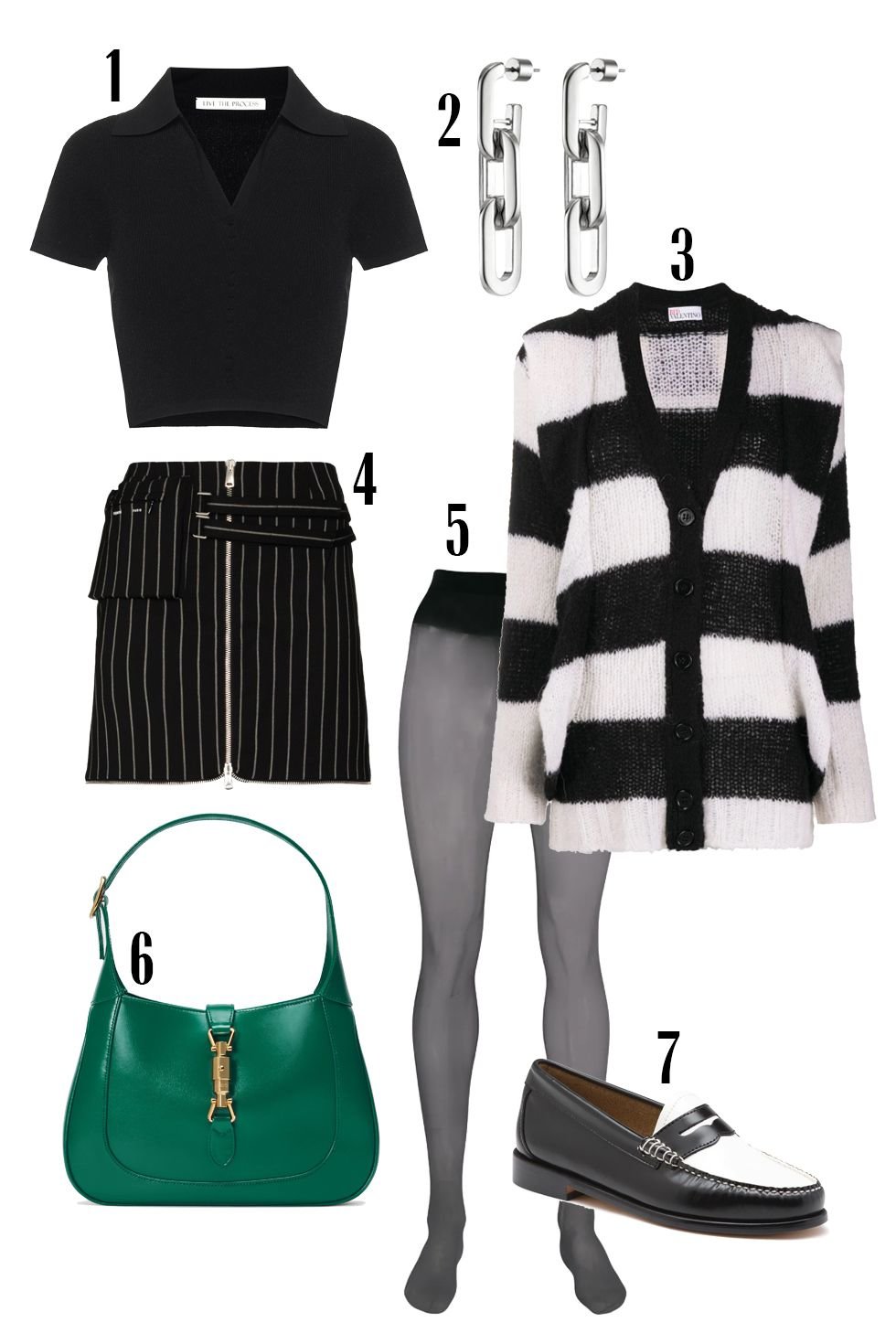 Punk Meets Prep

Offset your favorite preppy pieces like a polo and loafers with a punk-inspired striped wool cardigan and a pinstripe mini skirt. Finish off with some sleek accessories for the perfect balance.


Model Off-Duty

Channel your inner Bella Hadid with this funky look. The key to achieving her enviable off-duty style is to mix luxe high-end items like an Alanui cardigan with edgy streetwear pieces like this muscle t-shirt by MISBHV. Hadid has a knack for balancing out her big-ticket items with some affordable find-in this case, layering on the jewels that don't carry a hefty price tag.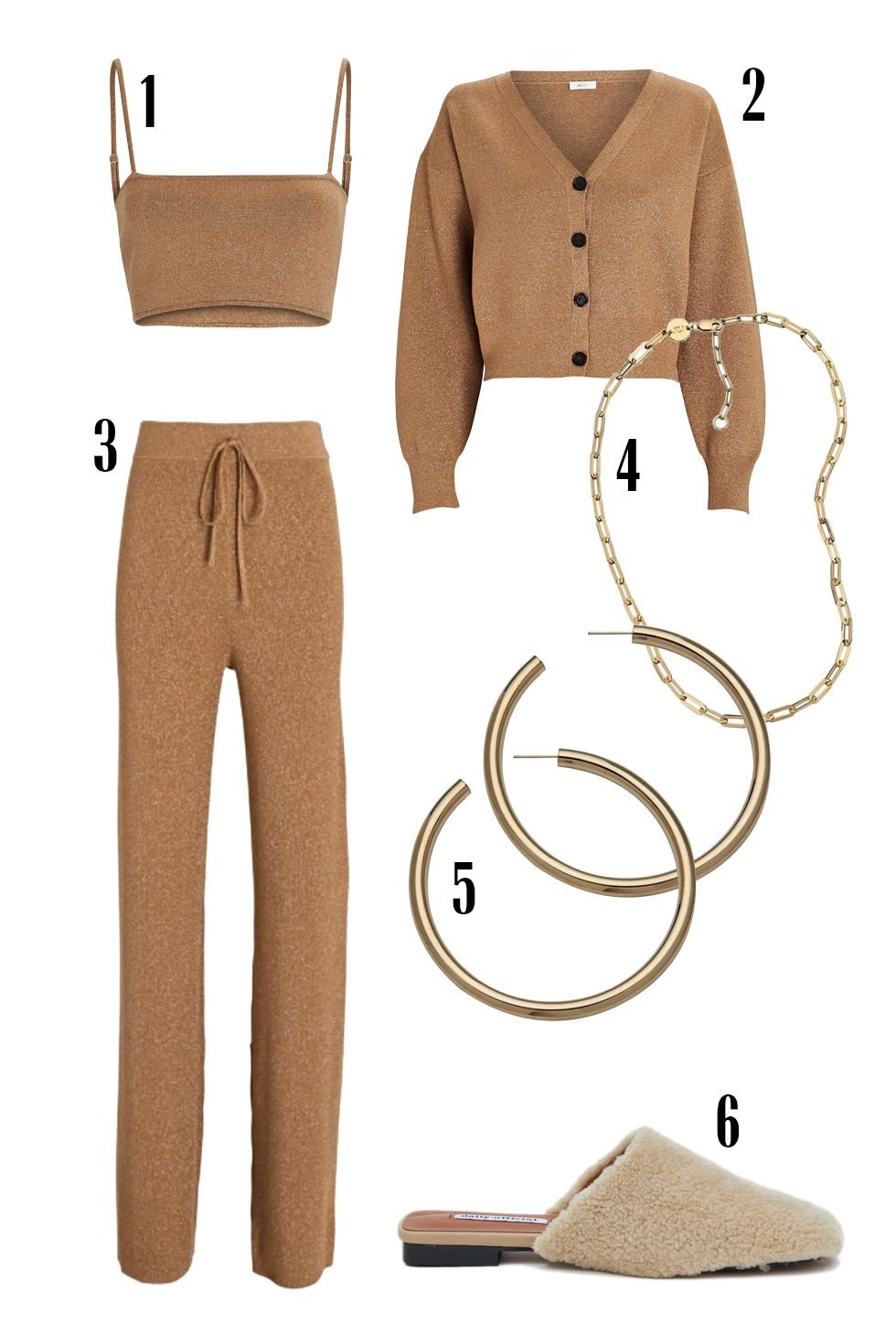 Luxe Loungewear

One thing that's come out of our "new normal" is the influx of "luxe loungewear." If you're tired of wearing sweats all day, this metallic lurex A.L.C. knit set is a must try. Elevate your cozy look with some gold jewelry to keep things comfy, but trade in your beat-up house shoes for a chic pair of furry mules.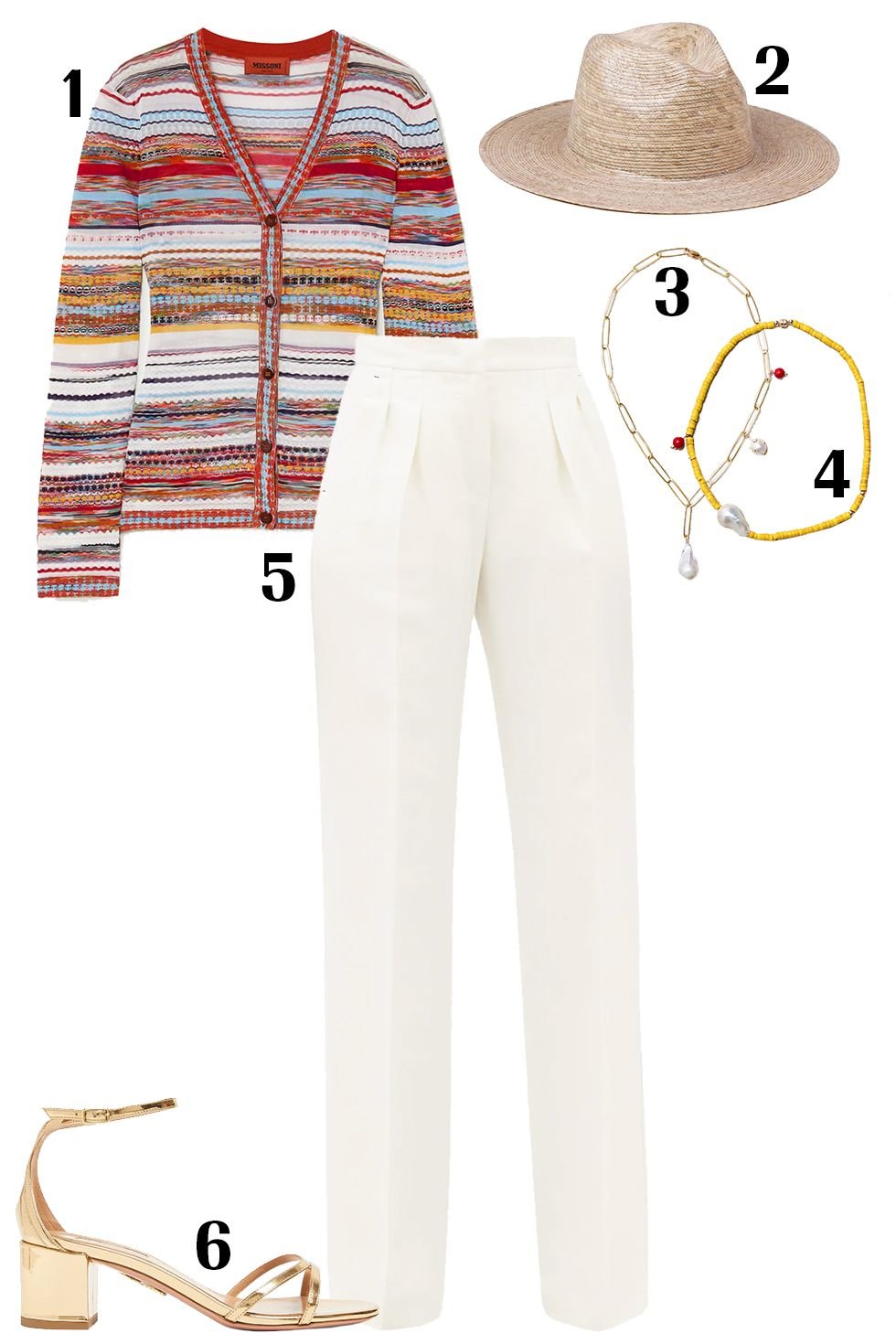 Getaway Chic

Being stuck at home has me dreaming of faraway places and what I'd wear if I was, say, exploring a new city in Italy. These Max Mara linen pants and Missoni knit scream Italian chic getaway. The cardigan can be worn with a few open buttons to showcase that sun-kissed skin-or, if you're feeling a bit more modest, worn with a light tank top. I won't stop there: Incorporate natural elements when accessorizing, like colorful beaded pearl necklaces and a palm leaf woven hat. Offset your earthy accessories with metallic gold sandals for a touch of glam and voilà, you have your picture-perfect getaway look.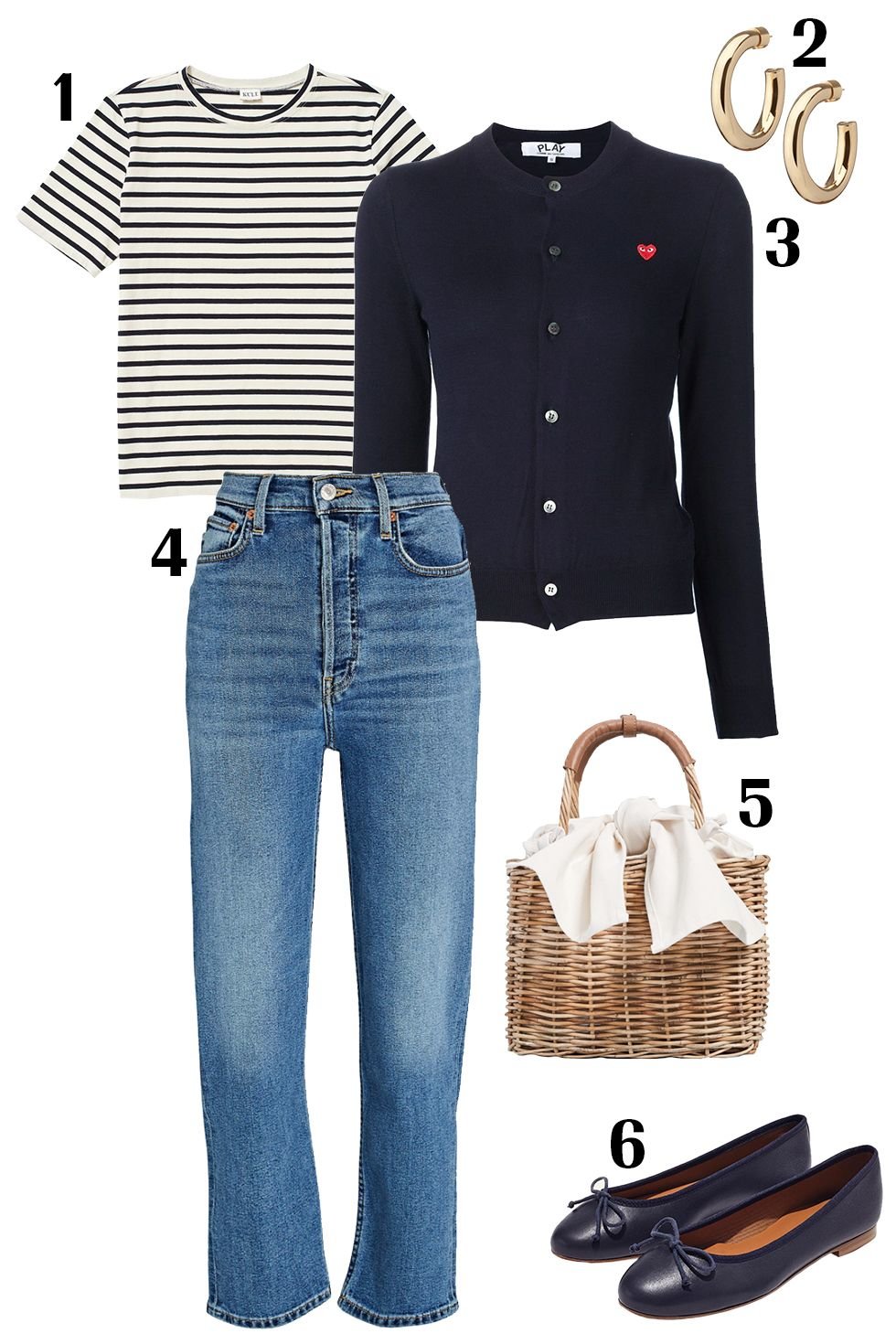 French Girl

An ode to the enviable French-girl look. Timeless and chic, this outfit has a no-brainer formula: Breton stripes, a relaxed basic navy cardigan, and jeans that fit to perfection, ensuring your outfit looks expensive. Add a classic ballet flat and gold hoop earrings. Top off your look with a basket bag à la Jane Birkin. Très chic.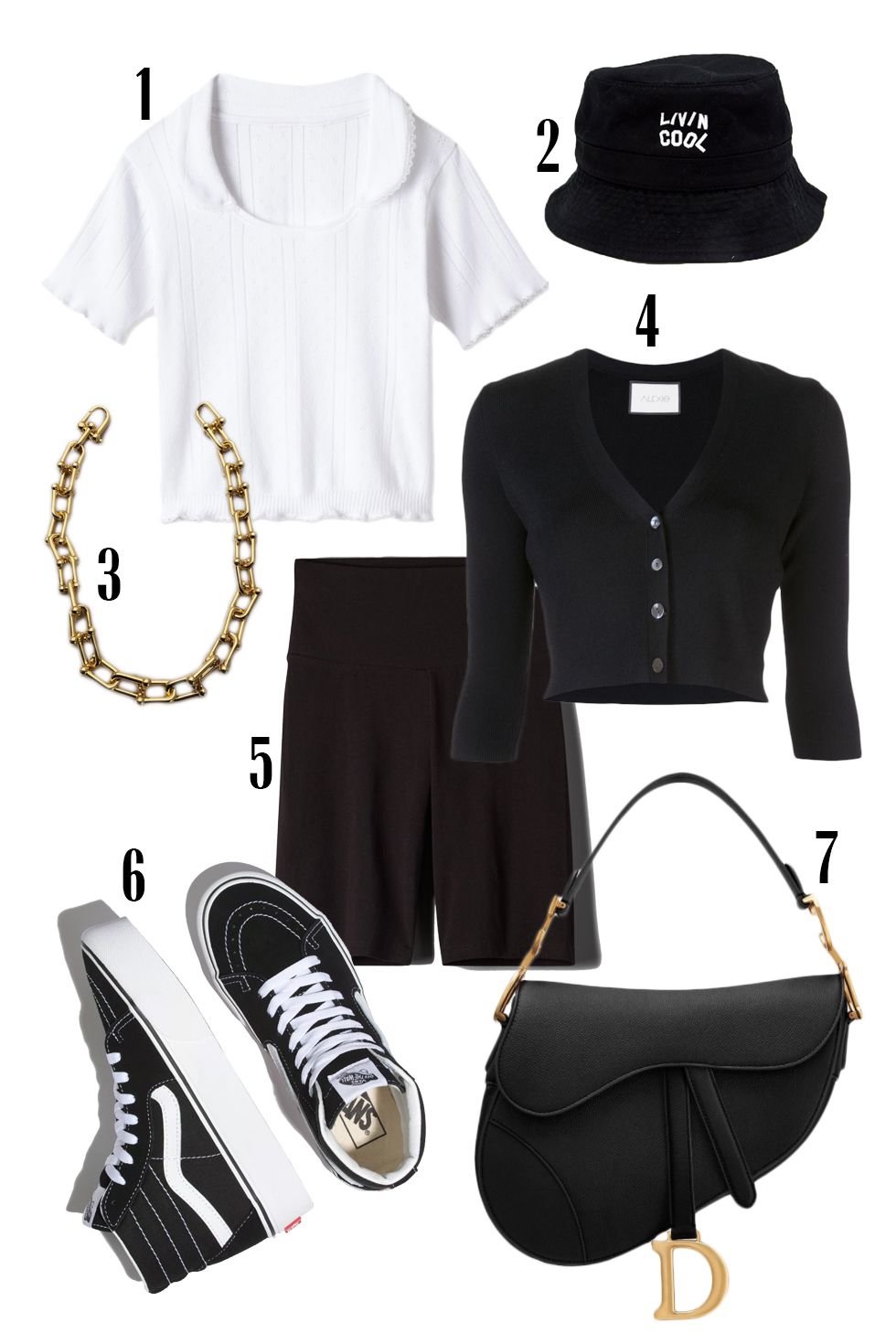 Downtown Girl

Like the enviable French girl outfit, the "downtown girl" has an effortless formula too. Let's start at the bottom with form-fitting biker shorts. Next, focus on the top half of your outfit. Keep it cropped with this tee layered under a crop cardigan. Now that you have your base, accessorize with cool-girl elements. A designer bag, a bucket hat, a thick chain choker, and easy sneakers will complete your downtown girl outfit.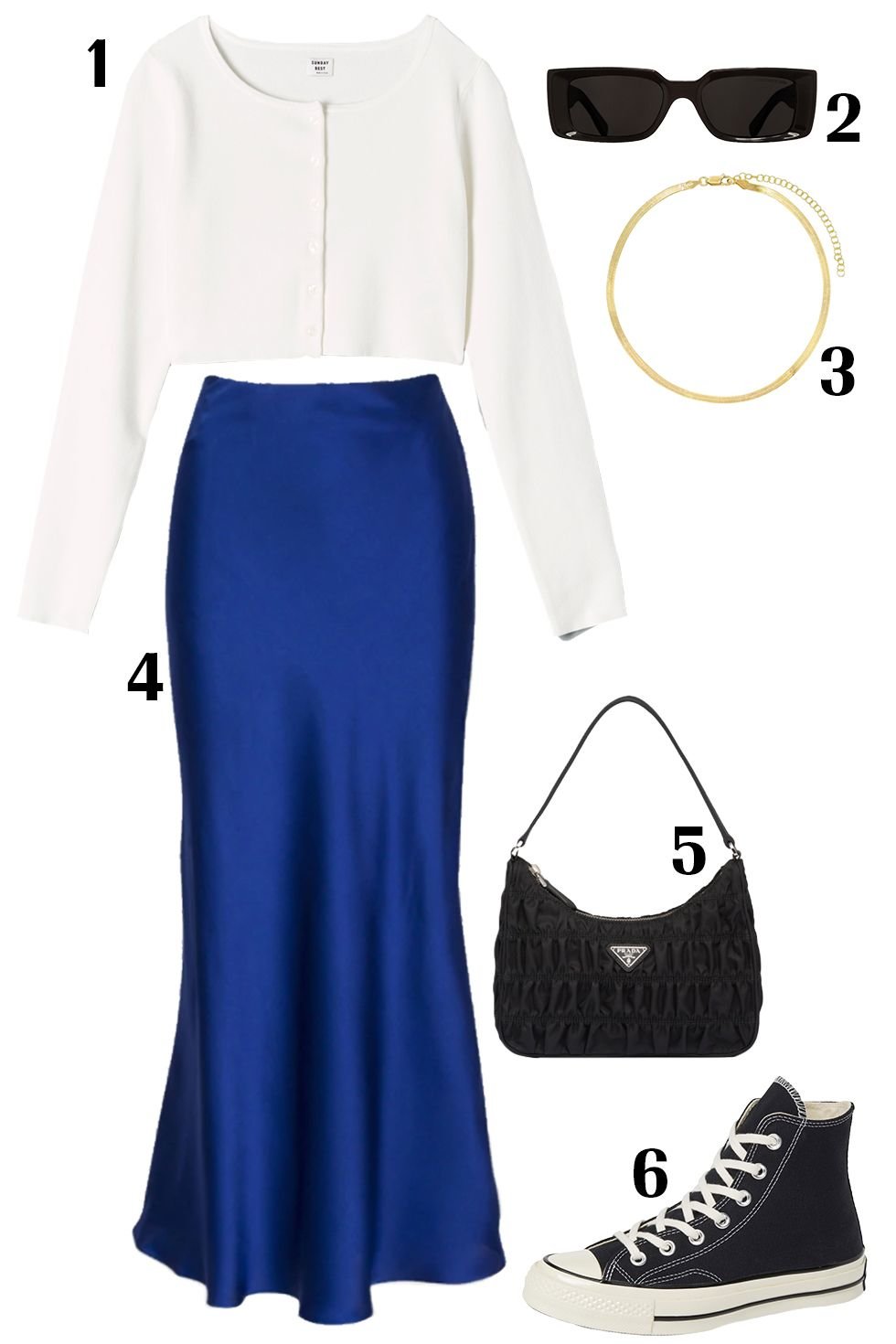 Full Circle Fashion

Everything comes full circle in fashion-and the '90s and early 2000's are back in a big way. Let's combine some classics from the two eras. Pay homage to the '90s with a cropped cardigan and a silk slip skirt, add an iconic nylon Prada bag for that quintessential 2000's touch. Finally, tie it all together with some cool-girl sunnies, black Converse, and a sleek gold chain.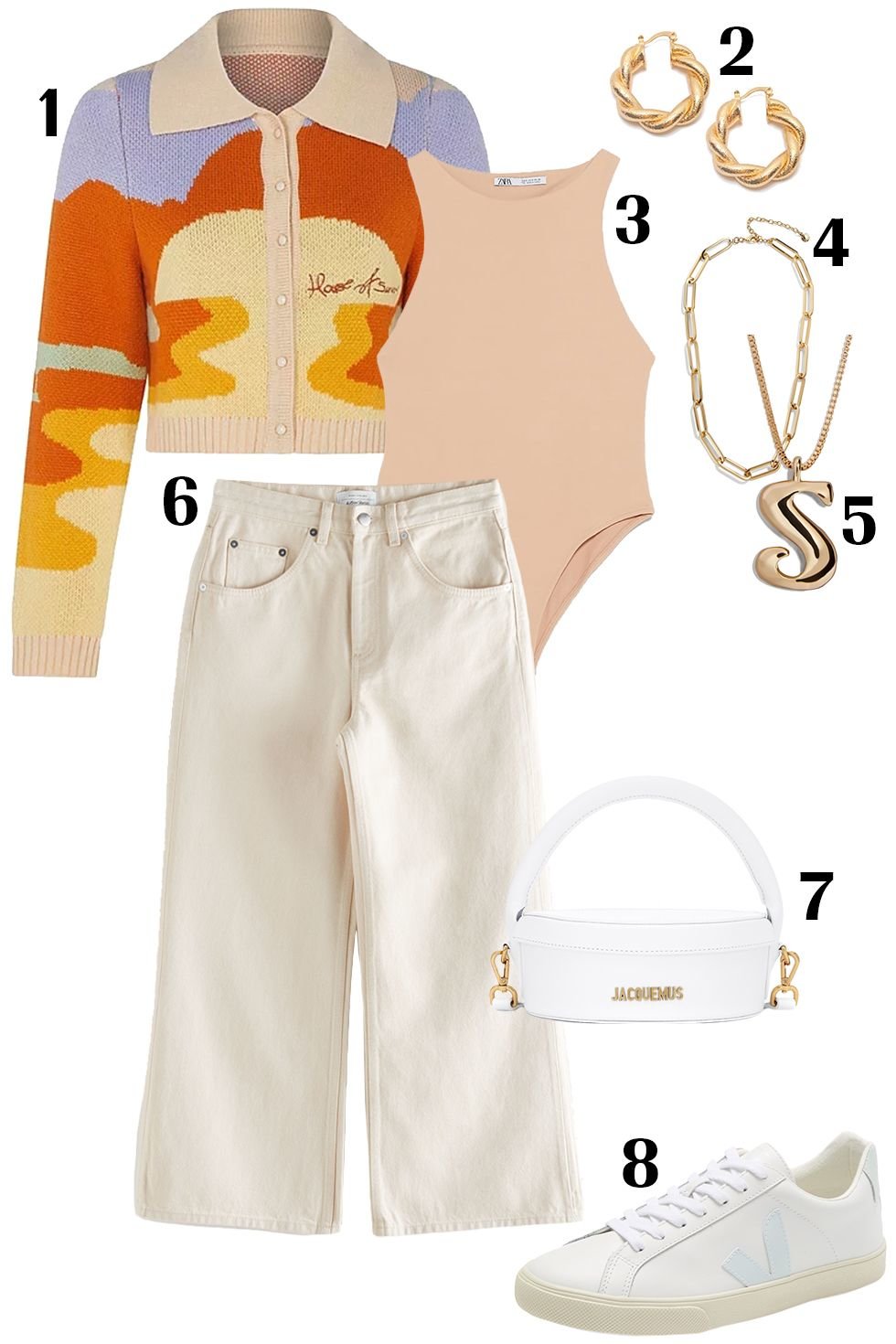 Laid-Back Lady

Inspired by the Ibiza sunset, this printed cardigan will take center stage in your outfit. The bold print allows you to keep the rest of your summer look simple and comfortable. Layer a body-hugging bodysuit underneath to give yourself the option to wear your cardigan unbuttoned. Gold accessories and a funky shaped bag are the perfect complements to this laid-back look.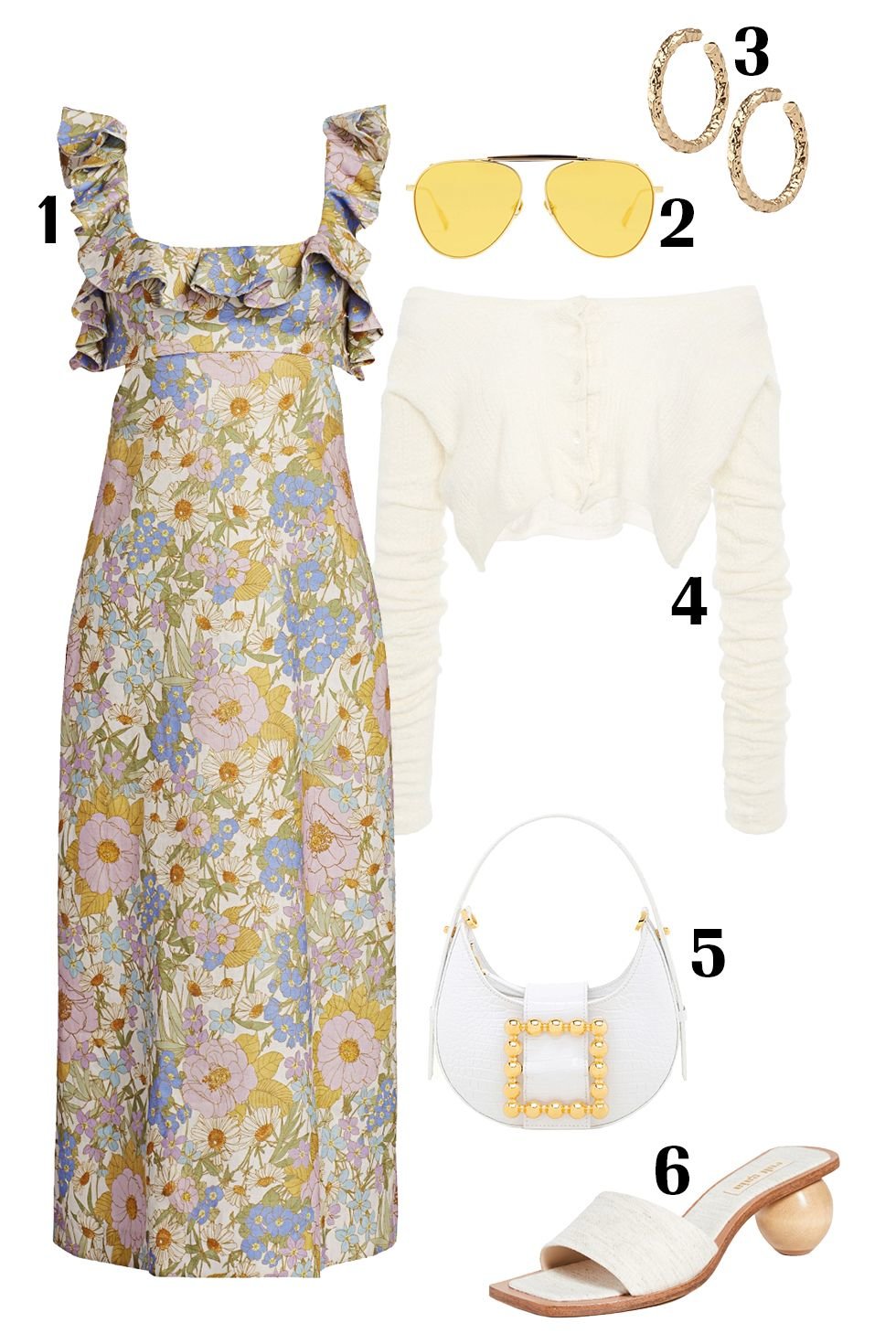 Garden Party

Take the high-fashion approach when styling your summertime cardigan. Miu Miu sent this shrunken sweater down the runway styled underneath a dress. Recreate the ensemble with a sleeveless floral dress in a breezy fabric. Elevate this sweet look by adding large hammered gold hoops and a pair of oversized aviator sunglasses. This outfit is perfect for any spring/summer (garden) party.