"In our business things go from zero to 100 quite quickly," says Emily Beecham. And surely she would know. The British actress had been in production nearly non-stop up until the compulsory pause caused by the global pandemic. Spending quarantine at her home in Hackney, London, the initial shock eventually gave way to a moment to "breathe and enjoy things that don't usually get to be enjoyed." For Beecham, that meant making time for music, but also pining for her other passion of watching live theatre. "It makes you look at something with a whole new lens or perspective that you've never used before," she reflects. "It wakes you up. I love that."

An admirer of film and theatre from an early age, Beecham enrolled at the London Academy of Music and Dramatic Arts as a young actor, and soon found herself on the way to critically acclaimed cinematic roles. In 2009, she won the Edinburgh International Film Festival's Trailblazer Award for The Calling, and she returned to the festival in 2017 to take home the prize for Best Performance in a British Feature Film for Daphne, in which she plays a flawed, hedonistic young woman. She's also recognized for her martial-arts-heavy performance as The Widow in the popular AMC post-apocalyptic drama series Into the Badlands.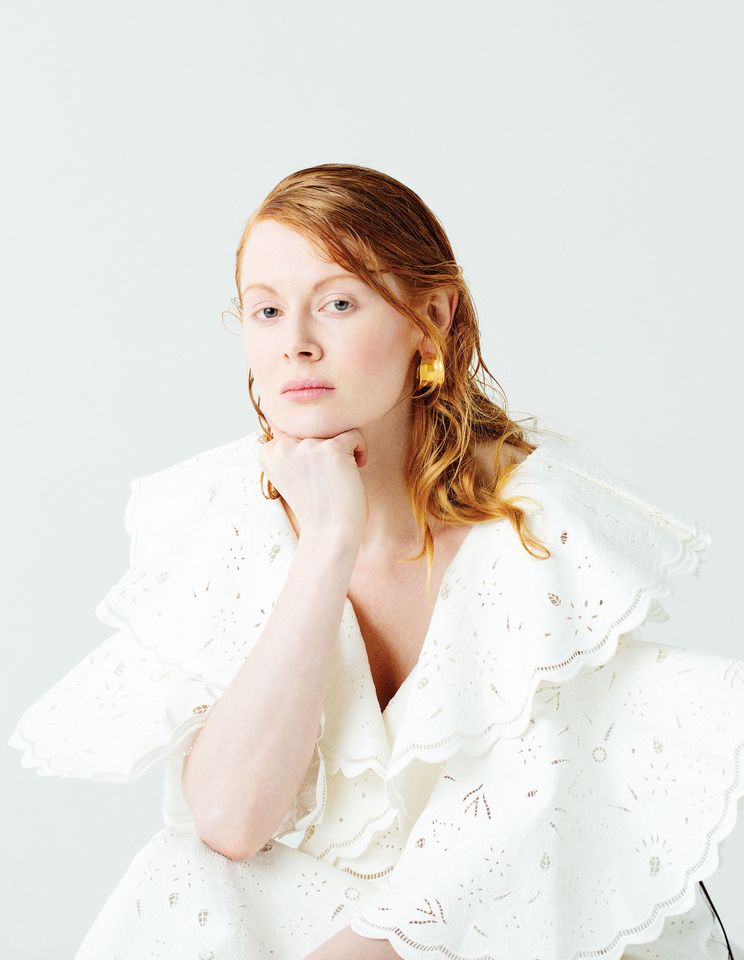 In 2019 there was the thriller Little Joe, directed by Jessica Hausner and co-starring Ben Whishaw, where Beecham plays a botanist who engineers a plant that has antidepressant properties capable of making people happy. After breaking company policy to take a sample home to her son, the scientist begins to suspect that the plants aren't as harmless as she believed. The role earned her the title of Best Actress at the 2019 Cannes Film Festival, an unexpected win for Beecham, who had already returned to London after her film's screening. She rushed back to the Croisette just in time to accept the award for her paranoia-riddled performance. "Instinctually, I am drawn to more challenging subjects," says Beecham. "Or something that feels a bit daring or excites me."

Since coronavirus restrictions began lifting, productions resumed and the actress' life accelerated as quickly as it hit the brakes. Now in Berlin, she's currently filming Netflix's upcoming series 1899. Created by Jantje Friese and Baran bo Odar, the team behind the popular German sci-fi mystery series Dark, the period drama centers on a European migrant steamship on course from London to New York that encounters another vessel adrift at sea. Viewers can expect the unexpected when the passengers discover the horrors of what's aboard. "It's inspired by what unites us and divides us, and about how fear can trigger the latter," the actress shares. Brexit was an influence on the show, interpreted through the lens of its 1899 setting and the relationships between different cultures at the time. Although the series' primary language is English, it's a multilingual show featuring an international cast. "Just hearing all of these languages together, it's extremely unusual," Beecham says. "I've never done anything like this before."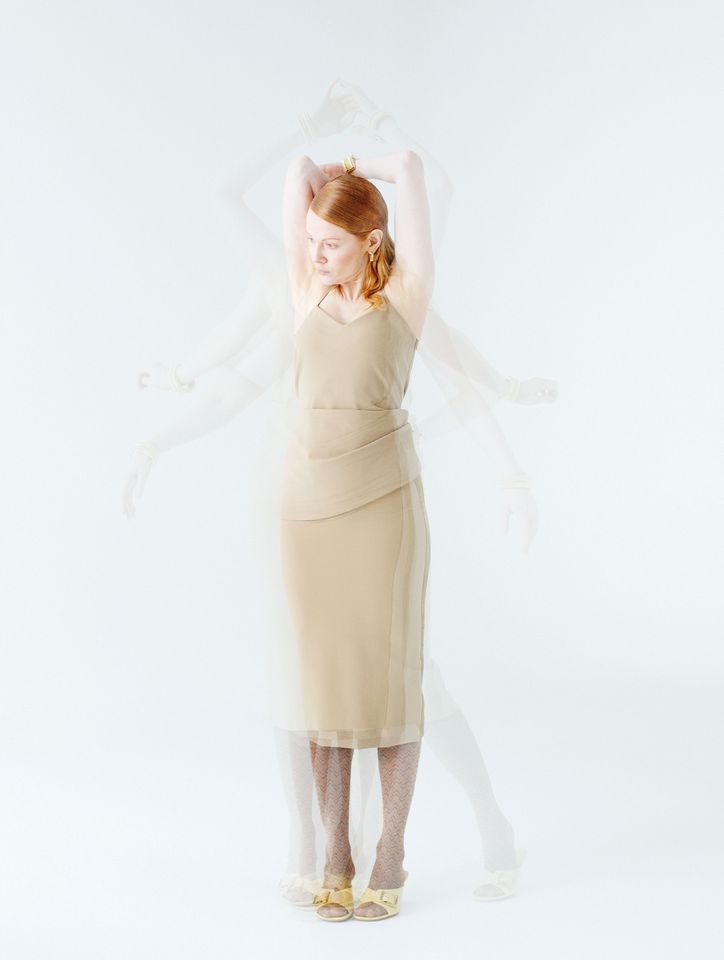 Top and skirt MAX MARA Shoes TOD'S Earrings CARTIER Bracelets LANVIN

Her other projects look at connectivity and relationships in a whole different way. The Pursuit of Love, which recently premiered on BBC, examines the friendship between cousins Linda Radlett, played by Lily James, and Fanny Logan, Beecham's character. Tackling author Nancy Mitford's comedic voice, the Emily Mortimer-directed miniseries juxtaposes the antics of the romance-obsessed Linda with Fanny's more conventional path. Spanning 17 years between the two world wars, Fanny narrates the genial yet genuine story about her family and womanhood. "Emily and I talked an awful lot about family and all sorts of themes," Beecham says. "She made these characters so well-the dynamic between the two girls and their friendship. It's about the pursuit of identity, pursuit of meaning, and searching for the kind of love you want." Digging into the friendship between the two characters, the actress reflects, "They're like magnets, there's a real push and pull in the relationship. One minute they are strangers to each other, and the next minute they are the same childhood best friends."

Part of the conflict for the women lies in their conformity, or lack thereof, to the societal expectations for young women at the time. Linda prioritizes finding love, letting her quest lead her to a first husband with whom she has a baby girl (whom she leaves to be raised by the child's paternal grandparents), then a second husband, then a relationship with a wealthy French duke. Meanwhile, Fanny follows the traditional route of getting married, having a child, and making motherhood her main role, even if it means sacrificing her own career as a writer. "Linda makes wild abandon look so seductive, but she has really tumultuous lows," Beecham says. "And Fanny is grounded, has determination, ambition, dreams for her writing, and is pretty level-headed, but yearns for a slice of Linda's exhilarating lifestyle." Both of their journeys are framed by the notoriety of Fanny's mother, who is referred to as The Bolter because of her habit of jumping from marriage to marriage. "The Bolter is vilified by society and the girls grow up with fear and judgment of that label," the actress says.

To understand The Bolter and her impact on the young women, Mortimer and her cast looked at a real-life parallel, watching the documentary Ingrid Bergman: In Her Own Words. The Old Hollywood star made the choice to live apart from her children, and the documentary gives an intimate look at her private life with commentary from her kids and the actress herself, highlighting what Beecham describes as the children's feelings of loss and Bergman's desire for freedom. The consequences of Bergman's maternal choices, and similarly The Bolter's, can be seen in Fanny and Linda's attitudes towards women's agency. "Fanny's feelings of abandonment and loss of her mother as a child and [leads to] the responsibility she now has as a mother. And Linda, feeling trapped, leaves her young child for adventures and romances elsewhere."




Coat and shoes JIL SANDER

Today, Beecham says, "the idea of femininity is much more malleable" and women aren't as boxed in as Linda and Fanny were, but it's easy to sympathize with the expectations that they face. "Obviously, sexual identity is much less rigid than it was in the 1940s and we have much more freedom nowadays, but I think this story is very relatable because the girls are always at this shifting point and trying to work out ways in which they can find their authentic selves. I really love this quote that Linda says, about being a woman: 'It's so difficult being a woman, they cut off your wings and then they're so surprised when you don't know how to fly.'"

Written in the 20th century by a female author and being retold in 2021 by a female director, the audience gets to see a story about womanhood-what being a daughter and wife and mother and sister and friend means-created by those most familiar. Beecham, who says she's spoken with more female directors in the past few years than the entirety of her career, finds that working with other women really does make a difference to how stories take shape. "They discuss the conflict of the identity of who the character wants to be or thinks they are, and also the challenges and adversities they have," the actress explains. "The obstacles, not only externally but also internally, that create this conflict of identity of who you're supposed to be. They encourage a lot more self-awareness."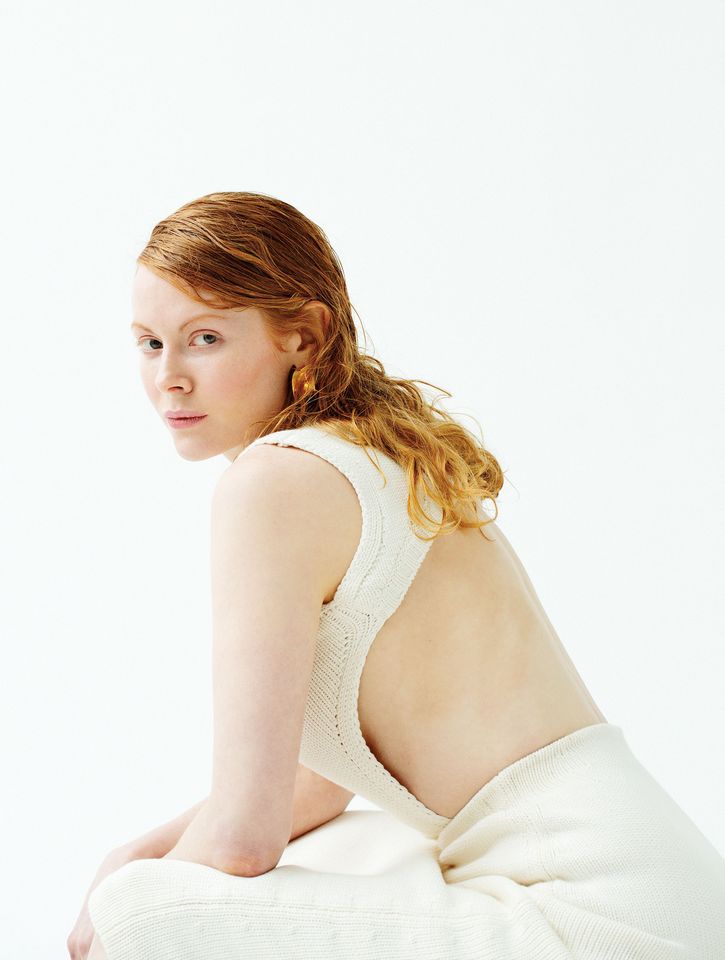 Dress FENDI Earrings ALIGHIERI

Identity is a main theme of Beecham's other big release this summer-Disney's highly-anticipated Cruella, in which we see how the stylish villain Cruella de Vil came to be. As Emma Stone's antiheroine finds herself amid the rising punk scene in 1970s London, she develops a rivalry with her boss, designer Baroness von Hellman, played by Emma Thompson. A fashionable feud ensues, complete with stunning costumes by Jenny Beavan. Beecham's character, Catherine, whom she describes as "warm," is a foil to the fierceness of Stone and Thompson, which is reflected in Catherine's clothes. According to the actress, the stylized costumes were vital to embodying her character-even if that came at the cost of comfort. "I have a huge headpiece, and sometimes I have to lie down between takes," Beecham shares. She also mentions a puff skirt that she says reflects Catherine's "soft" disposition.

Costumes, in fact, have always been a powerful tool for the actress to relate to her characters, especially for stories set in a time distant from our own. "Period costumes are helpful because they are quite inhibiting and dictate how women keep conforming," Beecham explains. In The Pursuit of Love, she wears smart-looking plaid separates in the feminine silhouettes of the 1920s and '30s. Her neutral color palette is often a touch more sophisticated than that of Linda's, underscoring the difference between the two characters' dispositions. For 1899, Victorian Era garb is expected, with long skirts and mutton sleeves.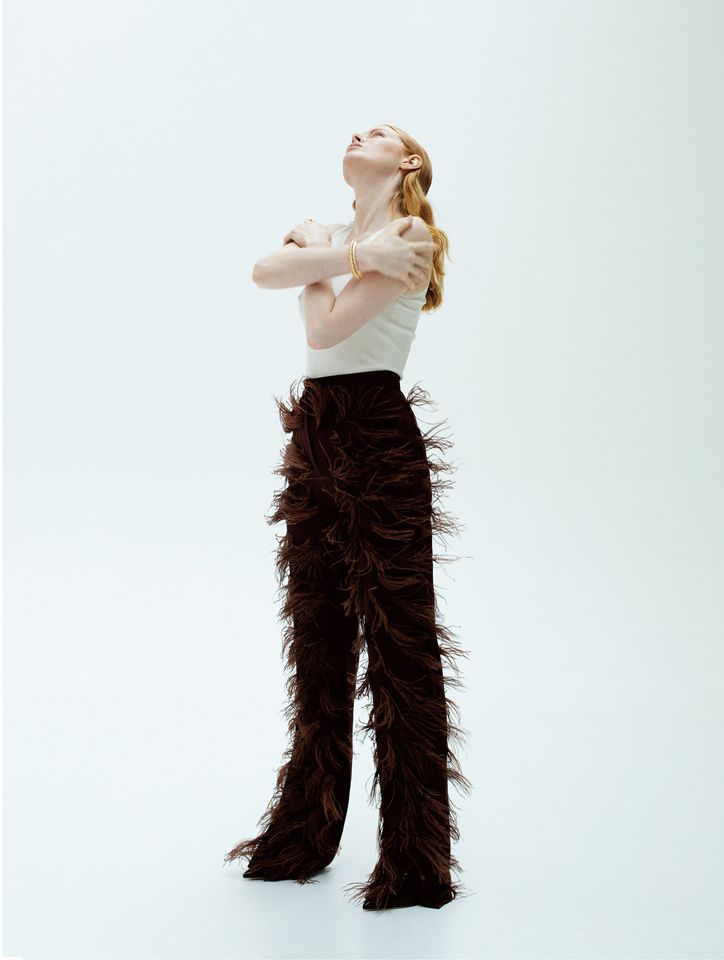 Top and pants SALVATORE FERRAGAMO Shoes MALONE SOULIERS Earrings CARTIER Bracelets LANVIN

Being on set and getting into costume have taken on greater meaning in the past year, after the prescribed breather from work. "It's a very social activity, filming on set, because you have to be alright being constantly surrounded by people and talking to people all day, every day. Touched, dressed, everything," Beecham says." After production for The Pursuit of Love was pushed back, along with that of 1899, returning to acting came with a sense of gratitude. Beecham muses, "I feel really appreciative to be around people all the time."