When planning for Dior Haute Couture Spring 2020, Maria Grazia Chiuri turned to one powerful Judy Chicago quote: "What If Women Ruled the World?" We've likely all thought about that question on its surface level before, and it fits pretty seamlessly into the creative director's passion for exploring feminist themes. But if one really thinks deeper, amidst all the women-centered news that has aligned with Chiuri's time at Dior, the question may be more relevant than ever.




It goes without saying that our society is in a complex place when it comes to grappling with women in power. On the one hand, feminism has experienced a rejuvenation over the past few years as a new wave of women run for office, create thought-provoking work, and band together to make statements against the systems that have long held them back. On the other, no one seems to know how much progress will come out of this-the Golden Globes and Oscars nominated all male directors after a monumental year for women in filmmaking, American politics is oscillating between celebrating both remaining female presidential candidates and questioning whether the country would elect a woman at all, and countless women, especially those in marginalized groups, are still trying to be heard on a range of issues. In fashion, Chiuri and countless others are contemplating a woman's place as well, and though it's a constant goal to push into modern femininity, finding a sartorial path forward (or, rather, multiple) feels more urgent than ever.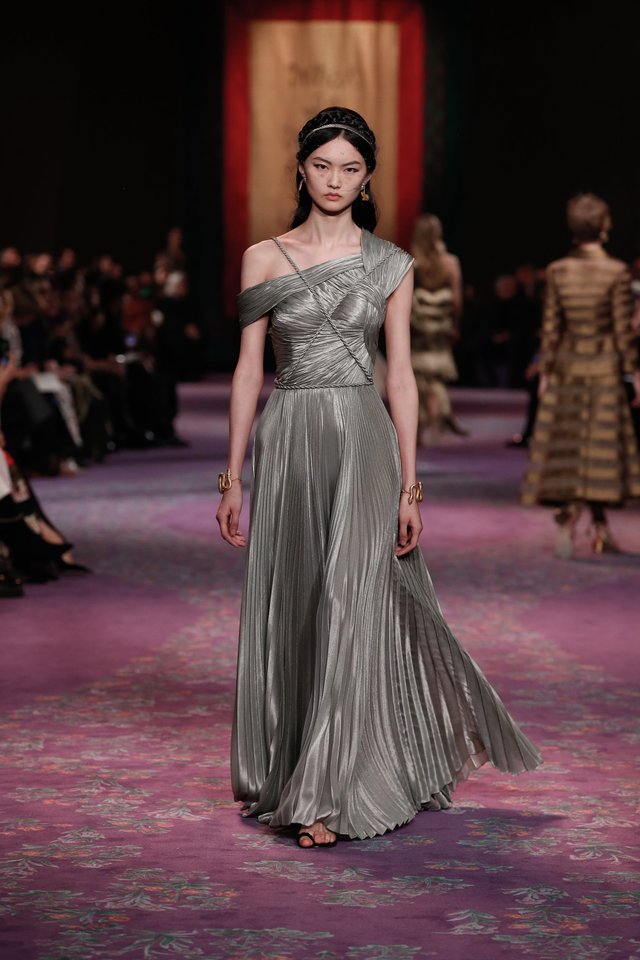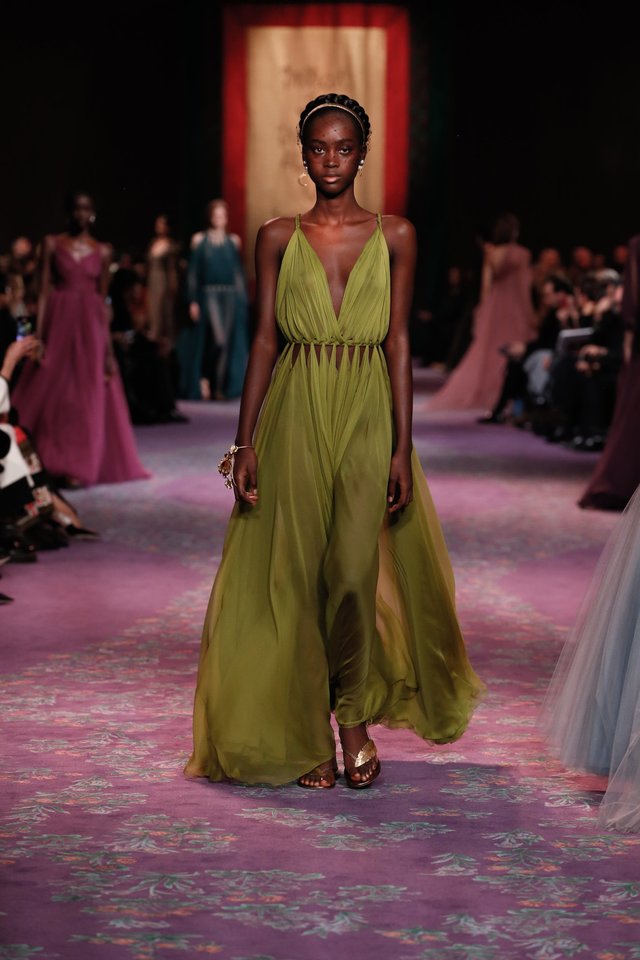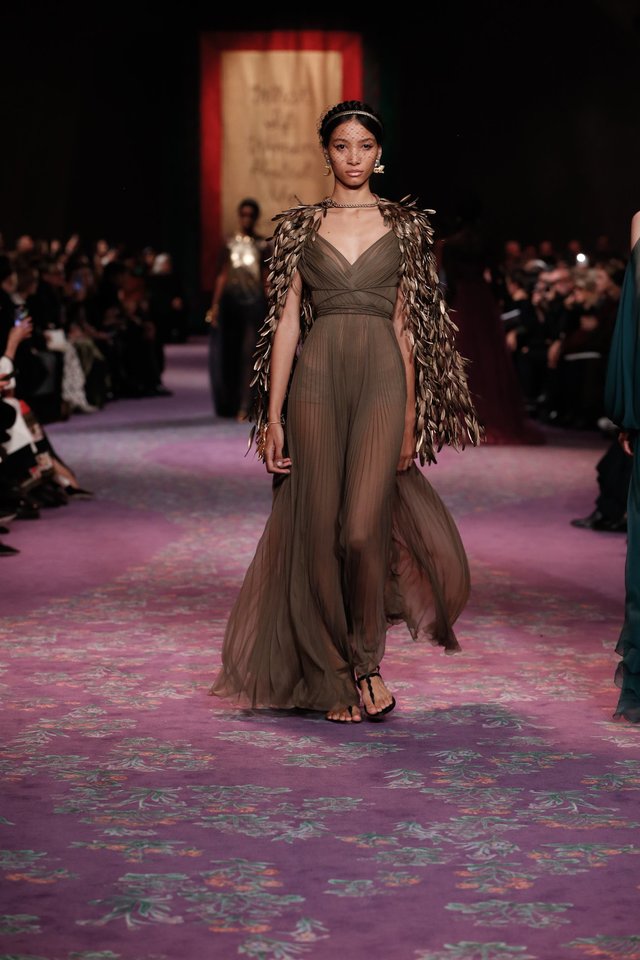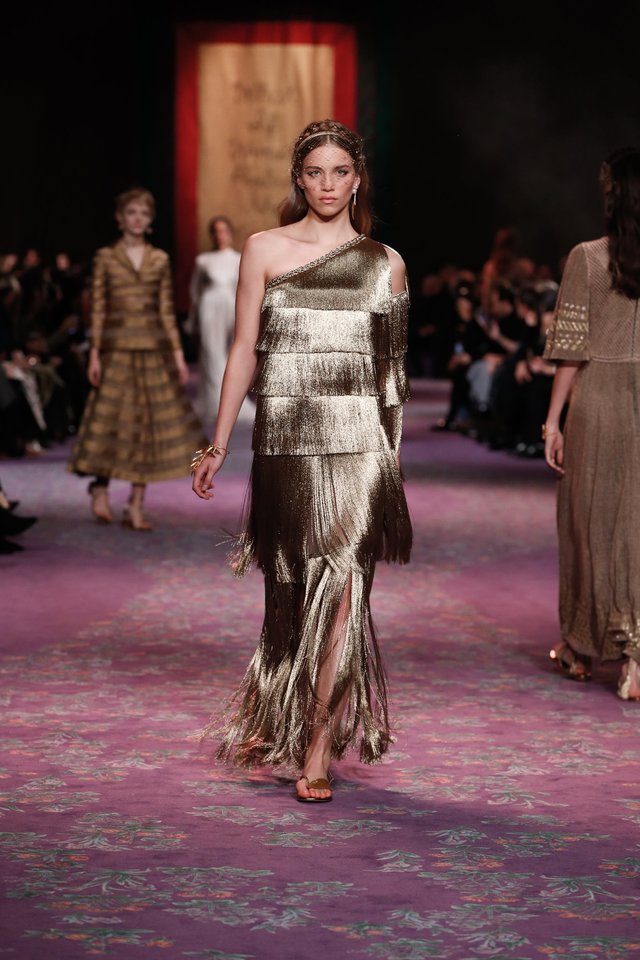 Paying respect to Chicago's work, Chiuri presented a collection that focused on femininity as a creative force. Revisiting the matriarchal themes she has explored through works like 1979's The Dinner Party, the artist created a womb-inspired runway space called The Female Divine, and the collection mingled with the new work using a more conceptual interpretation. Inspired by classical goddesses, Chiuri showed a range of golden ensembles, decadent netted headpieces, and flowing silhouettes. It all meshed clearly with the concept, as well as marking a strategic next chapter in the creative director's oeuvre. Perhaps, we will even see a custom look deriving from Dior Haute Couture Spring 2020 at the Oscars in a few weeks, on a Best Actress nominee or another powerful woman in film. But still, one of the biggest takeaways from this collection is Chiuri's choice to center it around Chicago's question.

"What If Women Ruled the World?"

The scope of this question depends on who you ask, as do the answers, but maybe the mere act of asking has a greater impact than any definitive statement on the matter ever could. All sorts of related questions, from "Would God be female?" to "Would there be violence?", lined the space, while Dior posted videos to its Instagram showing how various collaborators responded to the starting question, as well as prompting followers to share their own answers. Chiuri certainly has her own journey with feminism, and there will always be a host of other designers whose visions vary. But all this being said, it's important to embrace fashion's inherent subjectivity and use one's platform, be it a couture show or a red carpet moment, to invite a conversation.

See all the looks from Dior Haute Couture Spring 2020 below.