Instead, the French fashion house strove to re-evoke its rich history, sending old-style knickers, black-cashmere capes and dressing gowns down the runway. It dedicated the show to the "petites mains," seamstresses and craftsmen, behind the brand. A group of them took the traditional runway bow, before a standing ovation.
Before the show, Dior Chief Executive Sidney Toledano gave a somber speech recalling the house's history and rejecting the anti-Semitism that cost Mr. Galliano his job. "A new era starts tomorrow," Dior Chief Operating Officer Serge Brunschwig said after the show.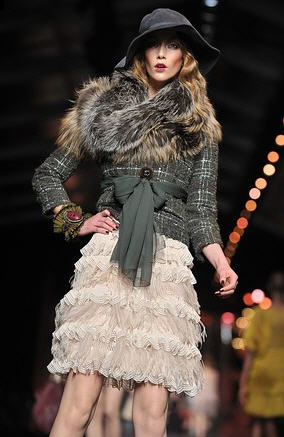 Dior's challenge now will be to chart its future course—starting with choosing a new designer. Fashion houses such as Yves Saint Laurent, Valentino and Givenchy have stumbled after the departure of their founding designers. Though Mr. Galliano was the fifth designer at Dior's creative helm since its founding 64 years ago, over the past 15 years his flamboyant persona had become indelibly tied to the label.