Shoulder length haircuts range from a long bob to just above your collarbones and include a massive variety of different styles. The cut suits every face shape and can be tailored to any situation – from when you need a chic and sophisticated style for work, to a sexy and playful date night look. Check out our list of shoulder length hairstyles and get some inspiration for your next trip to the salon.


1. Shoulder Length Layered Straight Hair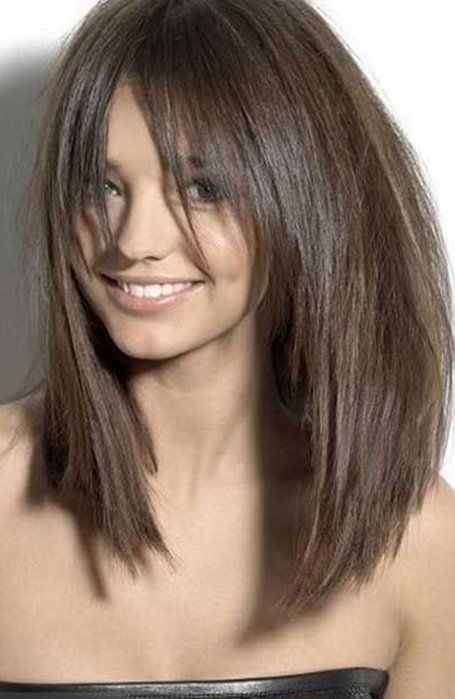 Layers are a great way to add body, thickness, movement, and dimension to your hair. Straight hair can seem limp and flat, making layers the perfect solution to the problem. Layers suit most face shapes, depending on the length. When it comes to shoulder-length hair, they can give the simple cut more personality.


2. Blunt Shoulder Length Hair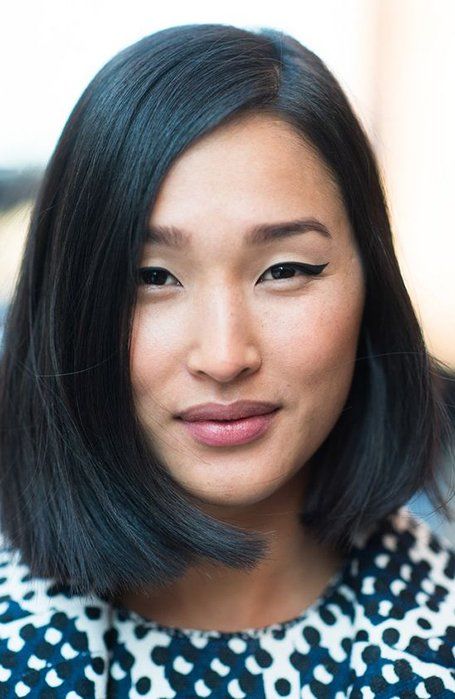 Blunt shoulder-length hair is one of the most popular haircuts for women as it's versatile and easy to maintain. A blunt cut not only looks chic and sophisticated, but is also the perfect partner for accessories like on-trend hair slides, headbands, and clips. The style also flatters most face shapes and suits those who want a change after years of layered haircuts.


3. Curly Shoulder Length Hair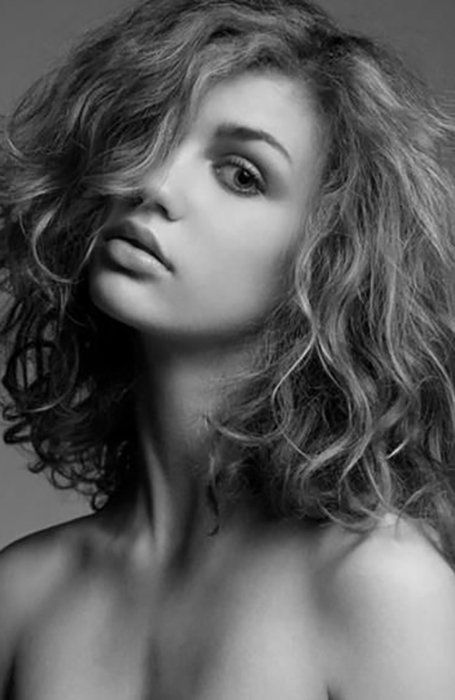 A shoulder-length cut is perfect for curly hair as it shows off all the natural movement, volume, and bounce without weighing the hair down. Because it's shorter than long curly hair, it's also easier to wash, dry, and style. At the same time, it gives you enough length to add fun elements like braids, which you can use to dress it up.


4. Shoulder Length Layered Curly Hair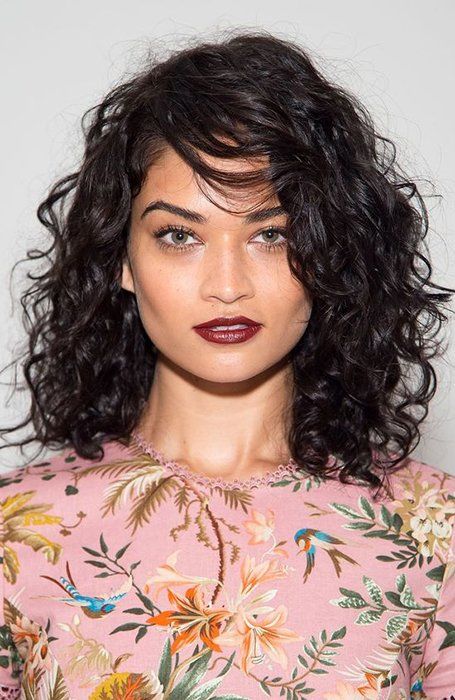 Straight hair isn't the only texture that can benefit from layers. Cutting them into curly hair helps create shape, ensuring your curls don't overwhelm your face or become too top-heavy. If you have shoulder-length curly hair, ask your stylist to cut layers in starting at your chin and angled downwards. That way, your tresses will look long, full, and flattering.


5. Straight Shoulder Length Hair
Bold, super straight shoulder-length hair suits oval and diamond face shapes. That's because the style makes your face look longer and balances out larger features. It's a polished and sophisticated look ideal for work or a stylish night out. Try a center parting for a '90s-inspired finish.


6. Shoulder Length Hair + Perms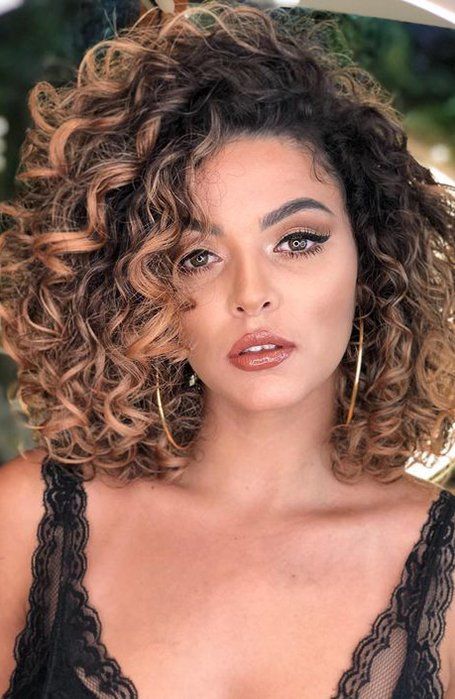 If you've always wanted bouncy, beautiful curls, a perm is for you. Because they last around six months, you'll do less damage to your hair than curling it with heat tools each day. Curls look fantastic when they're shoulder length as the volume and body won't be too overwhelming. However, you'll need to grow your naturally straight hair longer to achieve shoulder-length curls.


7. Shoulder Length Wavy Hair + Bangs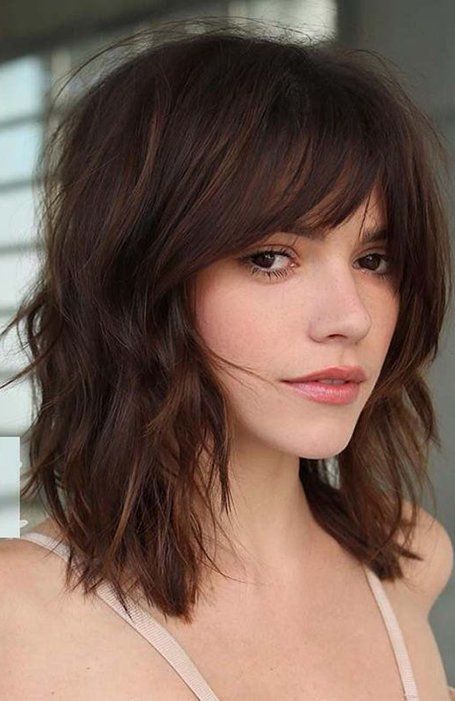 Bangs are the perfect partner for wavy shoulder-length hair. There are lots of different types of bangs, so the style can be adapted to suit your face shape. One on-trend style is a messy, undone look. Keep your waves looking textured and tousled, and pair with a long, choppy fringe. The result is a sexy 1970s-inspired cut that's effortless and low-maintenance.


8. Ombre Shoulder Length Hair
Ombre hair has been a trend for years now, and it's easy to see why. The word 'ombre' comes from French, where it means 'shading.' The technique involves blending darker roots into light ends. It gives you the best of both worlds if you're a natural brunette – the light and fun feel of blonde hair, without the damage of full bleaching. While many women love to show off their ombre locks in a longer style, it also works with shoulder-length hair as the blonde mid-lengths and ends will frame and flatter your face.


9. Thick Shoulder Length Hair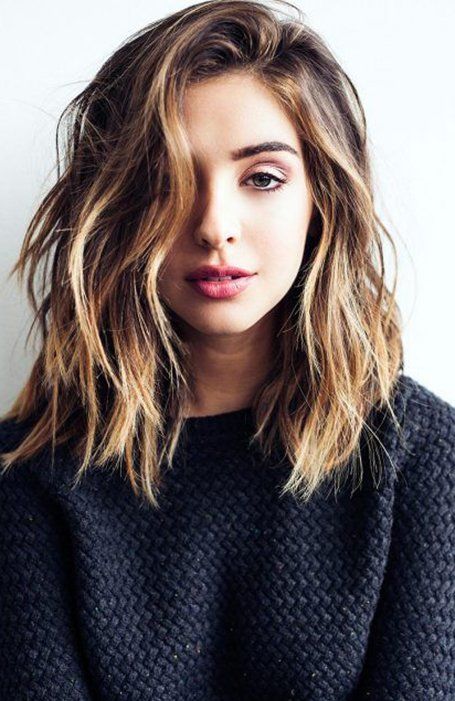 Shoulder length hair isn't just for fine hair – it's also ideal for those with thicker locks. That's because long, thick hair can get weighed down and lose its shape and texture. Thick hair also takes longer to wash, dry, and style, meaning cutting it shorter will reduce maintenance time. Have your stylist add in some choppy layers to thin out your hair and create some movement. Blonde highlights are also a great idea if you're a thick-haired brunette as it will give your hair some shape rather than looking like one big mass.


10. Asian Shoulder Length Hair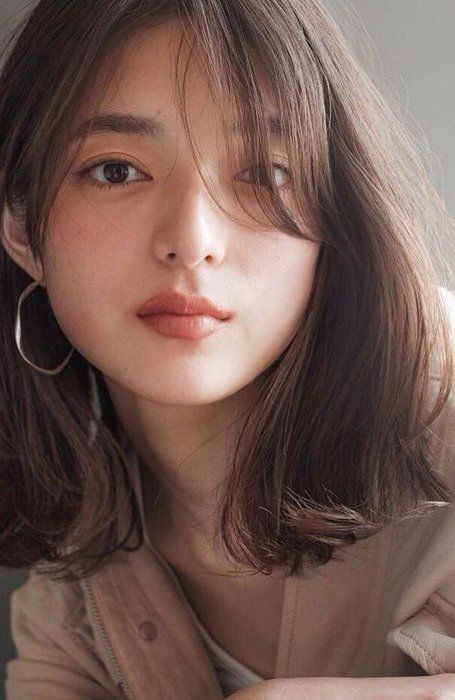 Asian hair tends to have a slightly coarser texture than Caucasian hair and is generally thicker, stronger, and straighter. That makes it ideal for almost any haircut, including shoulder-length hair. For a soft and pretty shoulder-length look, try piece-y bangs – also known as thin or wispy bangs – paired with subtle waves. Make sure your bangs fall around your cheekbones for a feminine and flattering finish.


11. Shoulder Length Hair + Afro
There are plenty of styling choices when it comes to shoulder length African American hair. From braids to Bantu knots and a mohawk or faux hawk, the choice is yours. For an easy and low-maintenance option, lean into your full, natural curls and try an Afro-inspired medium length look. The style shows off your mane of kinks and coils and doesn't require any heat or chemicals to create, so it keeps your hair healthy.


12. Shoulder Length Hair + Bangs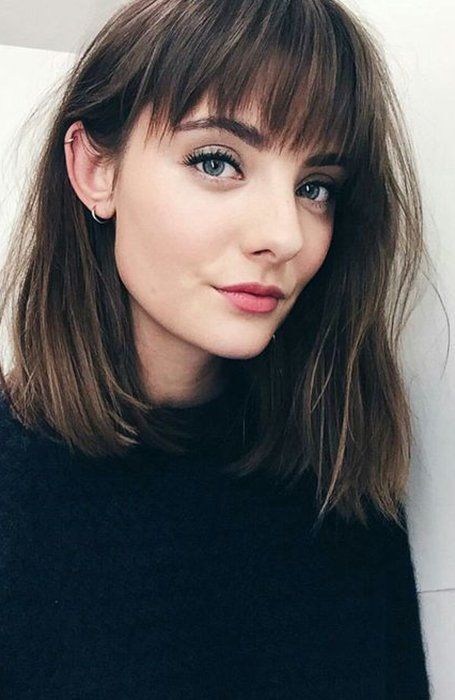 Bangs and shoulder-length hair are a match made in heaven. A cute, casual, and youthful option, the style works for both thin and thick hair types. Shoulder length hair pairs particularly well with a choppy, piece-y medium-length fringe. It also looks great with long, layered, face-framing bangs. Ask your stylist for advice when it comes to choosing your bangs – your hair type and face shape will determine which look will be the most flattering.


13. Black Shoulder Length Hair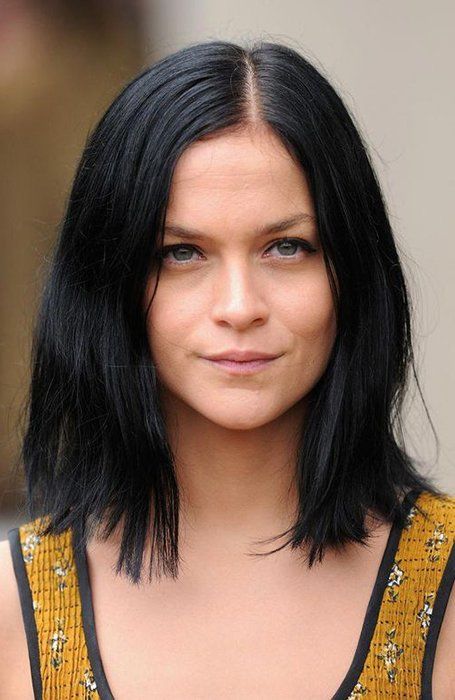 There's no denying the drama of black hair. At any length, the color stands out in a crowd. However, long black hair can give too much of a Goth vibe. For a chicer and more grown-up take, try shoulder-length black hair. A blunt, stick-straight, and smooth style looks powerful and modern, while a choppy, center-parted look is timelessly fashionable with a subtle rock'n'roll edge.


14. Shoulder Length Hair + Highlights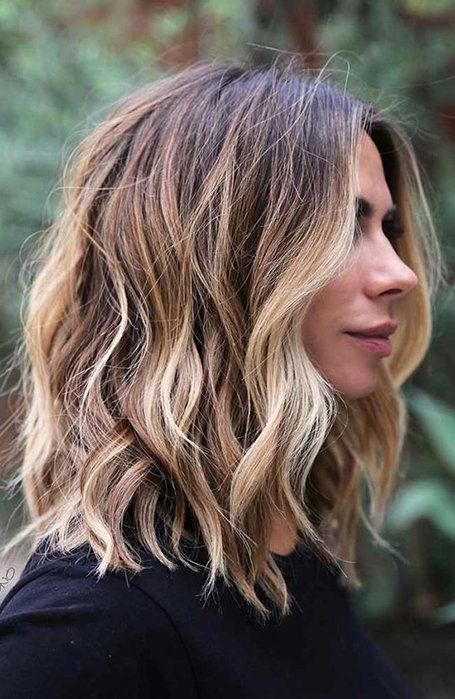 Highlights are ideal for shoulder-length hair as they give the style a lift, as well as movement and dimension. Adding highlights is one of the easiest ways to change up your look without being too drastic or causing too much damage. Work with the undertones in your hair and complexion to get the right shades for your highlights. Warm tones can go for caramel and copper highlights, while cool tones could try ashy light brown and honey blonde hues.


15. Blonde Shoulder Length Hair
An excellent option for your shoulder-length blonde hair is textured mermaid waves. The style has a gorgeous, fresh-off-the-beach vibe that's perfect for the warmer months. Sea salt spray, wet-braiding, and a hair iron can all give you this sexy yet casual look. To add to the relaxed, lived-in feel of the hairstyle, add some darker lowlights. Plus, the technique provides blonde hair with more dimensions.


16. Shoulder Length Hair Updo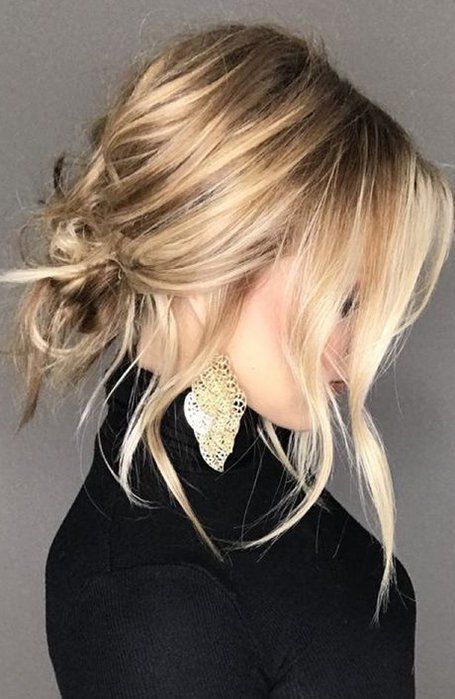 While shoulder-length hair isn't long enough for an elaborate updo, it is perfect for a chic, low bun look. The key is to backcomb your hair, so there's still volume at the crown, then sweep it back into a messy bun at the nape of your neck. Leave out some pieces at the front to frame your face and add a subtle curl to keep the look soft and 'undone.' The final result is quick and straightforward, while still being sexy and sophisticated – perfect for a date night.


17. Shoulder Length Hair + Braids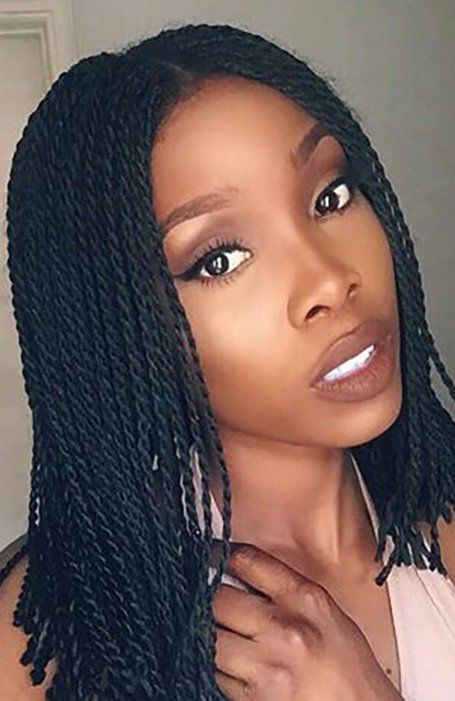 Braids look great at every length, including medium or shoulder-length. These braids are flattering on most face shapes, as they make your face look slimmer and longer while emphasizing the jawline. The options for braid styles are endless, but micro braids, twists, and box braids are all popular choices.


18. Brunette Shoulder Length Hair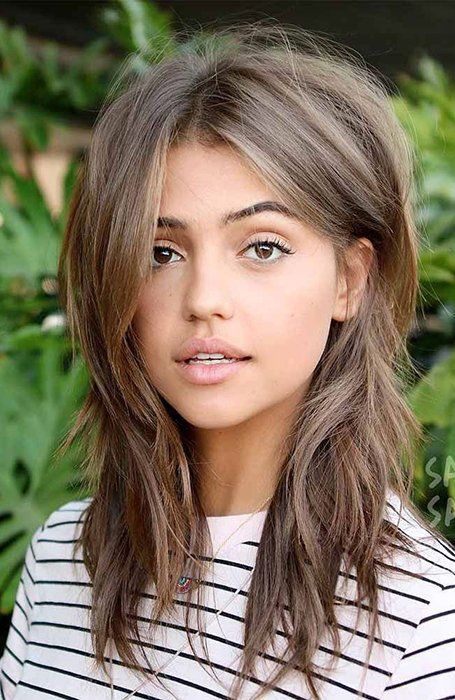 A current trend for shoulder-length brunette hair is the mushroom cut. As the name implies, the 1970s-inspired look involves building volume and thickness at the crown of the head, tapering down to shaggy, finer ends. It's perfect if you have thicker hair and a retro style. It can also be teamed with a mushroom color – an ashy base with cool, neutral highlights.


19. Shoulder Length Hair + Long Layers
If you want to give your shoulder-length hair a fresher feel, why not add some layers? The term 'long layers' means there's a bigger difference in length between your layers, which is ideal for those with naturally wavy hair. Long layers give your mane an undone, boho vibe. They are also suitable for both fine and thick hair types.


20. Shoulder Length Hair + Bangs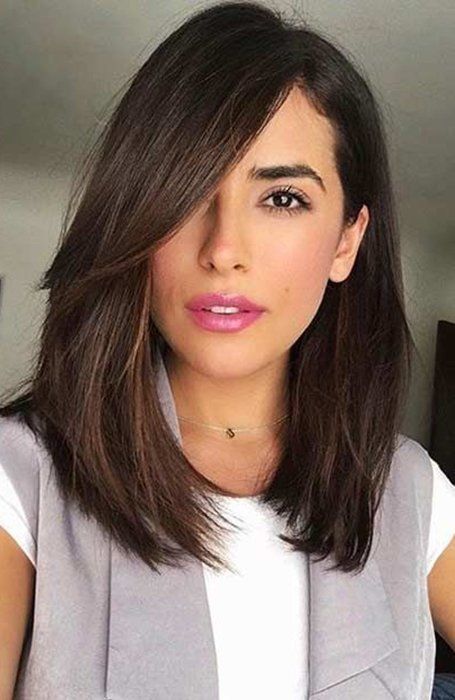 Square, diamond, and oval face shapes look great with side bangs and shoulder-length hair. That's because the style subtly makes your face look longer and slimmer while flattering the jawline. The cut is sophisticated yet feminine and works particularly well on naturally straight and thick hair.


21. Shoulder Length Hair + Messy Bun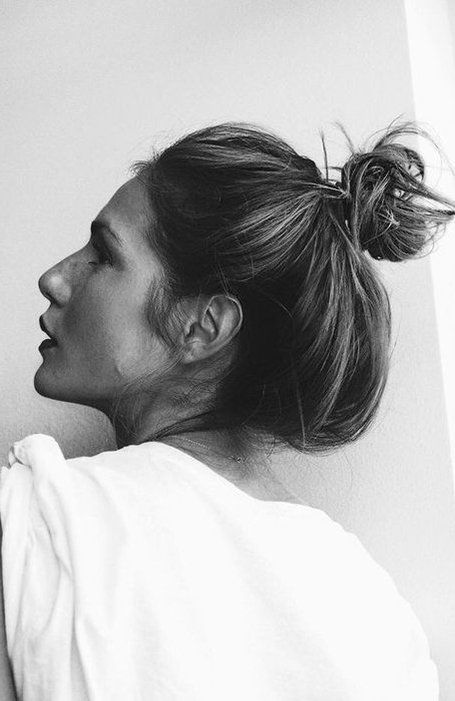 Shoulder length hair isn't quite long enough for a topknot bun, and if you have layers, a smooth twisted up 'do might also be out of the question. However, it's perfect for a bun at the back of your head or the nape of your neck. Messy buns look best when they're smaller – that avoids the 'birds nest' look – and will give your look a loose, casual feel. It's an ideal weekend or beach look for your shoulder-length hair.


22. Shoulder Length Fine Hair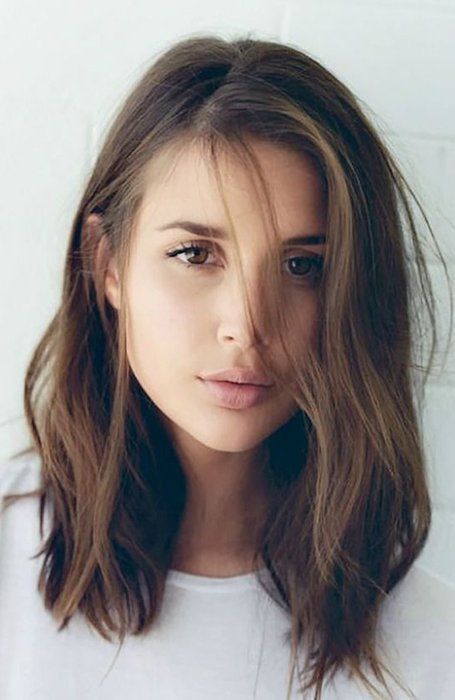 If you have fine hair, any cut that makes it look thicker is ideal. A shoulder-length cut does the trick, as shorter hair appears denser and healthier. To make your hair look even thicker, add subtle waves and highlights with heat tools, then spritz through a little texturizing spray for volume and movement. The final result is a tousled and feminine look that's perfect for every day.


23. Sexy Shoulder Length Hairstyle
Give your shoulder-length hair a sexy makeover by adding lots of texture, volume, and tousled waves. The result is a 'just out of bed' look with a sultry, untamed vibe that you can create in minutes – not hours. Sexy shoulder-length hair looks great with a smokey eye make-up look, winged eyeliner, or red lipstick. Plus, it's versatile enough to pair with a party dress, suit, or even jeans and a T-shirt. It adds a sexy touch to every outfit!


FAQs


Is shoulder length hair flattering?
Shoulder length hair looks beautiful on women of all ages. It works with any hair type, a variety of face shapes, and is easily maintained.



What is the best hairstyle for shoulder length hair?
Some of the most flattering shoulder length hairstyles include bobs, lobs, bangs, topknots, shaggy styles, and wavy hair.



How can I set my hair to shoulder length?
Shoulder-length hair ranges from just below your neck to your collarbones. If you can't make it to the salon for a trim, you can set your hair to this length by using some styling tricks. Try curling or waving your hair to take off an extra inch, or 'bump' the ends of a straight style for a trendy 2000s-inspired look.