A look is not complete without a great piece of jewelry. From chandelier earrings that imbue Baroque drama to sizable chain necklaces that express a city slicker attitude, baubles enrich a designer's vision and further the story they are trying to tell with their collection. And for the Spring 2021 season, these sartorial storytellers took us to the depths of the ocean, complete with shell jewelry, a bazaar in the Bronze Age with hammered cuffs, and a trip down memory lane with pendants modeled after their iconic bags.

Though there were a plethora of styles presented on the virtual runways, they all popped on-screen. And in this period of virtual communication, the five trends below will certainly complete, or just add much-needed flourish, to your Zoom looks.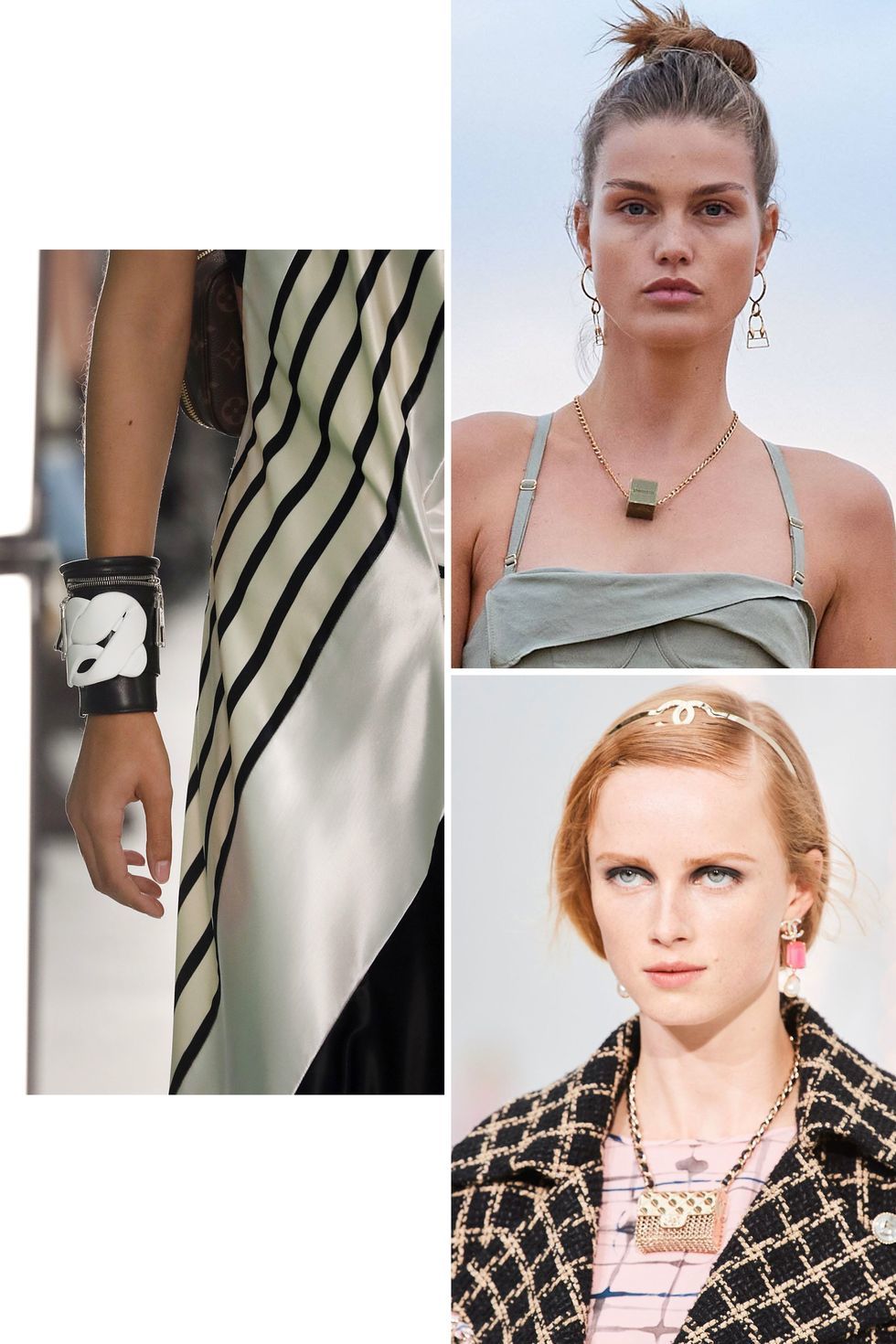 In the Bag

In spring 2018, Simon Porte Jacquemus introduced his signature Le Chiquito, a bag so small that it could at most fit a tube of lipstick, an ID, and a credit card (what more do women need, really?). Over the next seasons, the French designer kept reducing the size, making it less functional and more of an adornment, a piece of jewelry.

This downsizing culminated in the reimagining of Le Chiquito as gold openwork earrings and necklaces in Jacquemus's dreamy 2021 runway presentation. He wasn't the only one to convert carryalls into jewelry. Chanel, too, presented pendants and charms in the shape of the maison's iconic quilted bag, while Louis Vuitton transformed its monogram trunks and leather bags into eye-catching cuffs and necklaces.

These brands have created a mystique around their assortment of leather goods, making them instantly recognizable to fashion devotees. And should you happen to be a member of this fandom, make sure to bag these baubles tout de suite.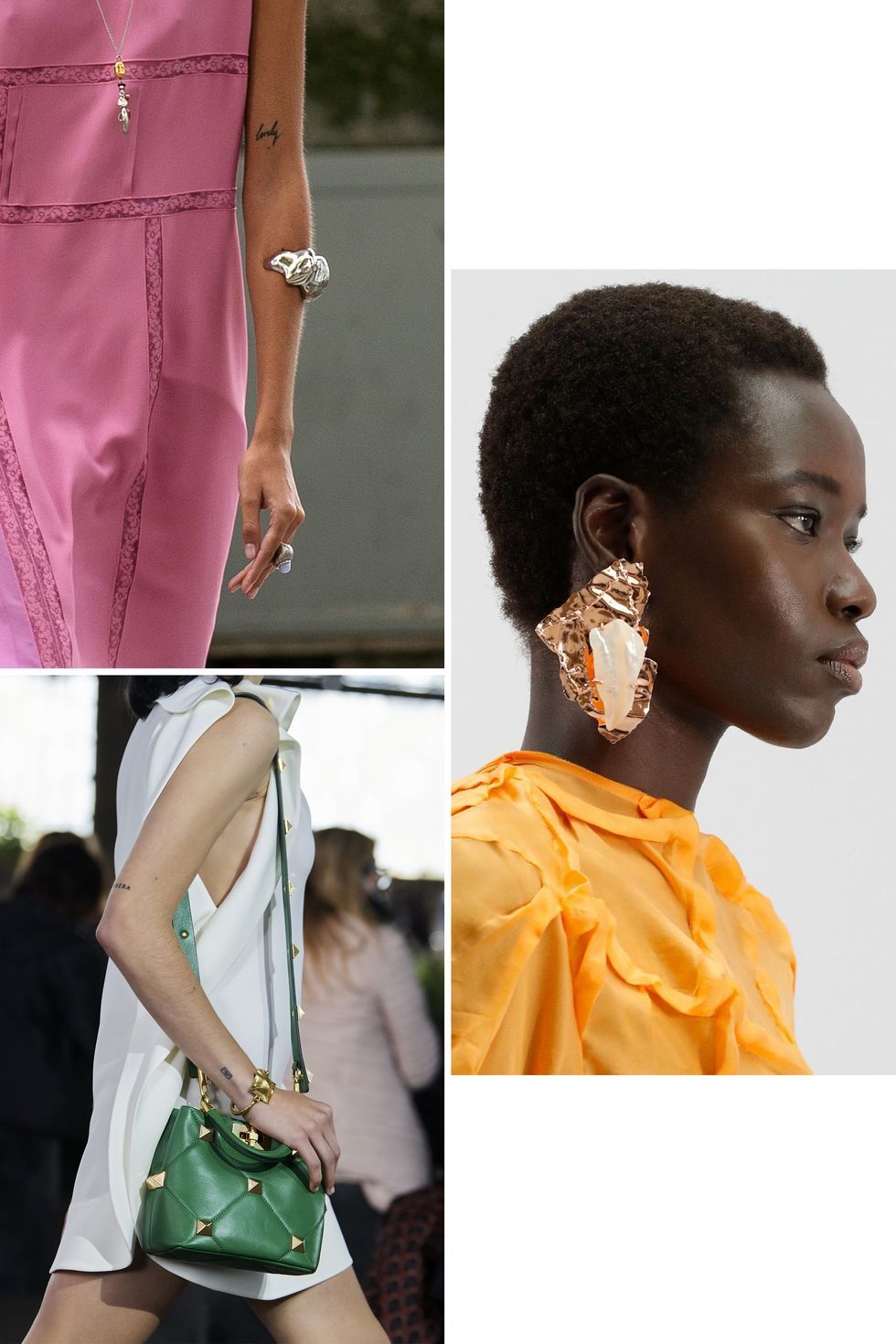 It's Hammer Time

Metals don't always need to have a smooth finish to draw attention. Indeed, hammering gold, silver, and brass can add some oomph to simple silhouettes and cohesion to more abstract ones. It's a technique that has been used over the centuries and took the spotlight in a number of collections during the spring 2021 season.

Acne Studios showcased oversized copper earrings and chokers in organic shapes, appearing as if they were unearthed from an excavation site. Chloé also followed the same idea, but presented a much more refined assortment of cuffs that resembled pieces from the Bronze Age. Meanwhile Valentino brought the technique into the modern era, adding small grooves to its signature stud jewelry.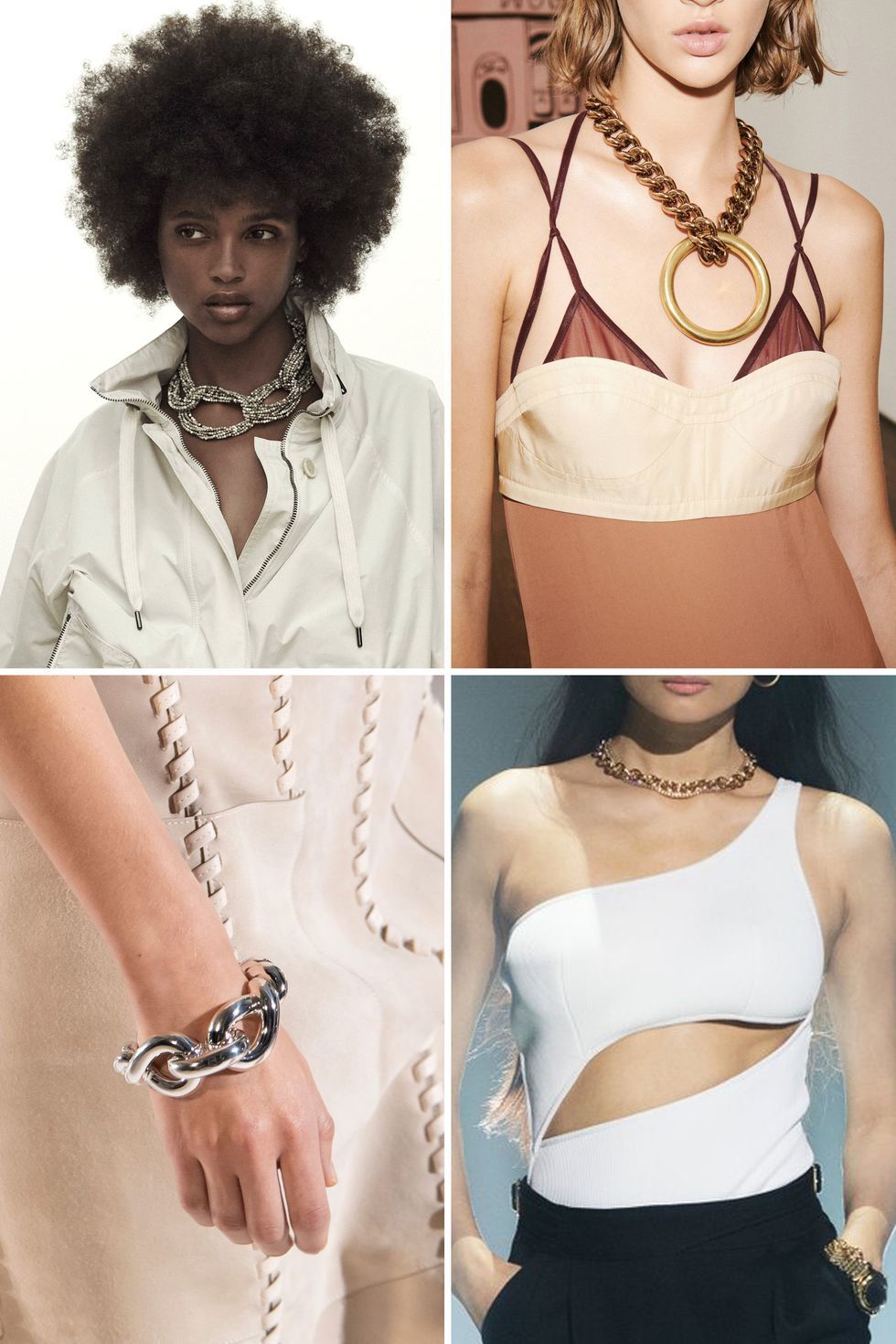 Chain Reaction

It's safe to say that chains are not a trend. They have appeared in enough collections over several seasons that, at this point, we can call them a staple accessory. The one difference for spring 2021, however, is the width of the links.

From Victoria Beckham and Brunello Cucinelli to Brandon Maxwell and Hermès, chains were all about being large and in charge. They were bold and commanded attention. Whether it was on a flirty silk slip, complementing a sleek top with cutouts, or paired with a windbreaker, designers proved that chains work for a variety of styles. And even if next season brings more of a dainty selection, rest assured that sizable links will come back time and again. Like the LBD, they are here to stay.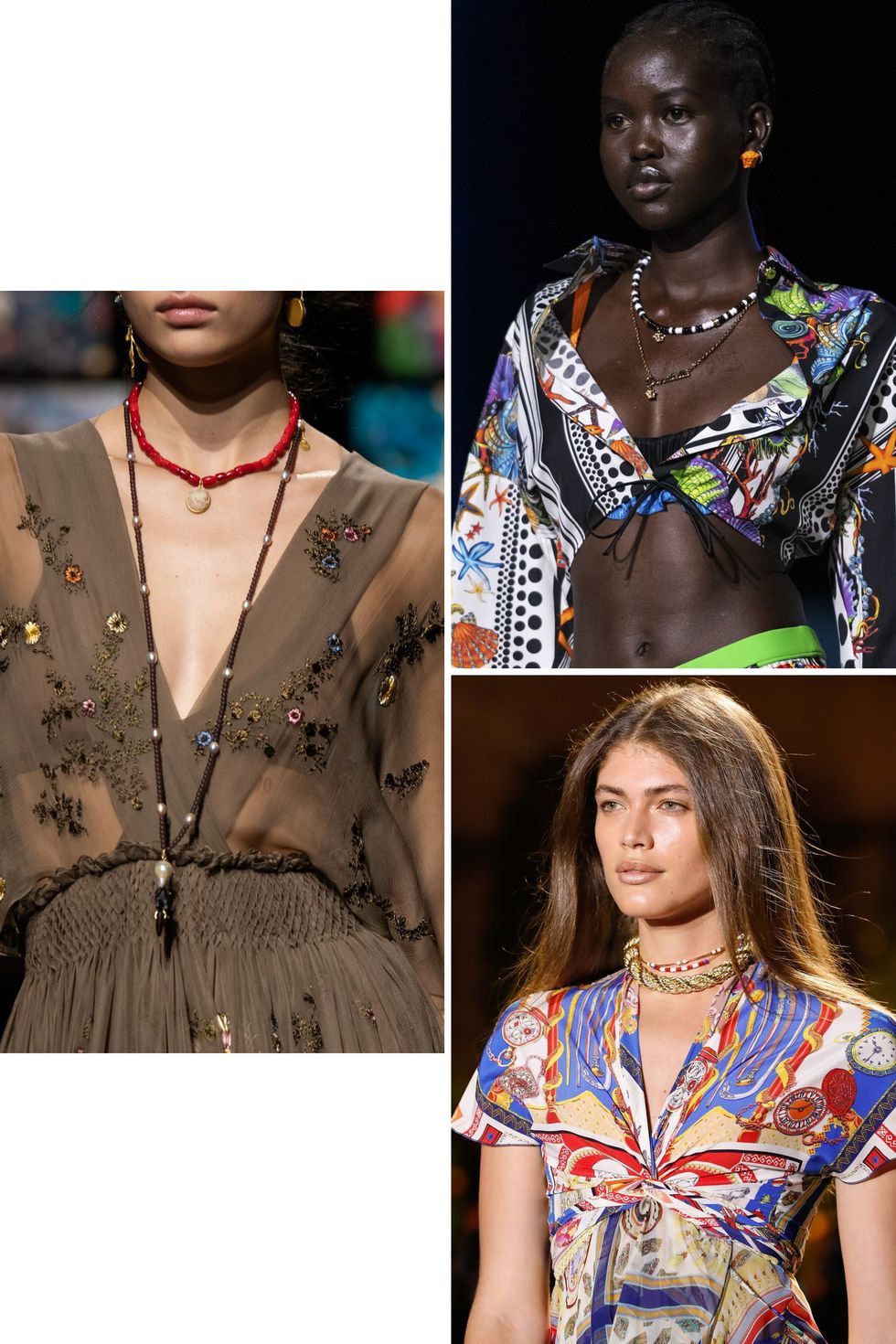 Life's a Beach

Many of us are suffering from a serious case of wanderlust, particularly (at least for us New Yorkers) for beachside locations. It's par for the course in a year of quarantine and travel restrictions. Designers themselves, who have also remained indoors for prolonged periods, have seemingly gone through the same motions.

For the spring 2021 season, a slew of labels showcased jewelry ideal for a holiday on a yacht or shorefront. Christian Dior presented braided multicolored necklaces and bracelets with pearls and coffee bean shells. Verace displayed a virtual Atlantis, complete with neon chokers, starfish earrings, and vibrant drawstring bracelets. And Etro piled beach beads onto gold necklaces and hoop earrings.

It could be a few months still until we are able to book flights without worry and have fun in the sun, but in the meantime, we have an assortment of baubles to quench our thirst for travel.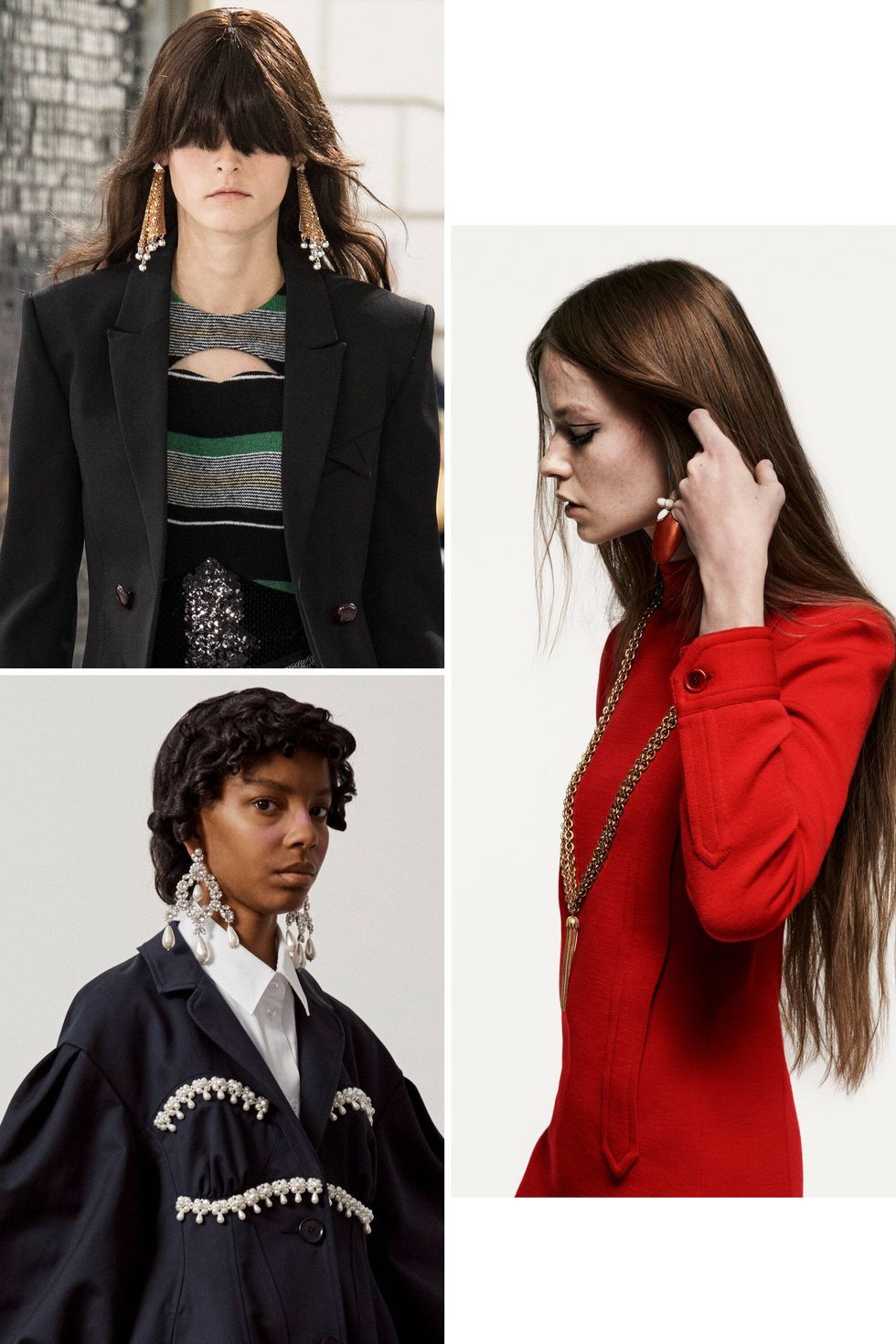 Drop It Like It's Hot

Do your ears hang low? Do they wobble to and fro? Well, according to many of the spring 2021 collections, they should. From London to Paris, designer labels presented a variety of earrings that all dropped it like it was hot.

Saint Laurent, for example, displayed mod-inspired earrings made of resin and metal with flower-shaped posts. Simone Rocha offered ornate chandeliers made of white beads that resembled pearls. And Paco Rabanne reimagined its signature chain-mail dresses into shoulder-grazing earrings.

These earrings are not for shrinking violets, but for fire starters. They pop, frame the face, and (sticking with the heat analogy) truly sizzle.