Weddings may be rooted in tradition-but your outfit doesn't have to be. Anything goes up on the altar, whether it's a gown in a shocking color, or a fabulous Thom Brown tuxedo. Many queer brides, grooms, and brooms (those who identify as both a bride and groom) embrace chic suiting for their nuptials and forgo the white gown all together. For many duos, it's more than an aesthetic choice. "Choosing to wear a suit, rather than a dress, was a way to define my queerness throughout the traditional process of a marriage ceremony," says Nikita Majajas, a Sydney-based accessories designer who wed DJ Charlie Villas in November 2019.

Majajas is not alone. Particularly for creative types, and for those who are nonbinary or don't identify with being highly-femme, wearing suits better reflects their personal style and what they feel the most comfortable in. "We both knew we'd wear suits as soon as we were engaged," says Jillian Firns, who wed partner Shiloh Firns in September 2020. "Shiloh is butch and I fall in the gender non-conforming camp, so we were excited for the chance to design custom suits that represent our styles."

While more people are interested in wearing suits instead of dresses for their wedding, the options for people who don't identify as male or aren't comfortable wearing strictly menswear are still somewhat limited, according to couples who wore them to tie the knot. "We had trouble finding a lot of representation regarding two-suited weddings," says Firns. "To the point that using the hashtag #oneweddingtwosuits was easy, as no one else had yet claimed it!" Inspired by Firns's look, however, Vogue reached out to 8 queer folks to see where they got their splendid wedding suits. Whether it was a custom creation or off-the-rack, these style stars rebuked tradition and made saying "I do" look both chic and fresh.

Below, how 8 brides, grooms, and brooms chose their wedding day suits.


Nikita Majajas, accessories designer, and Charlie Villas, DJ

Married in: November 2019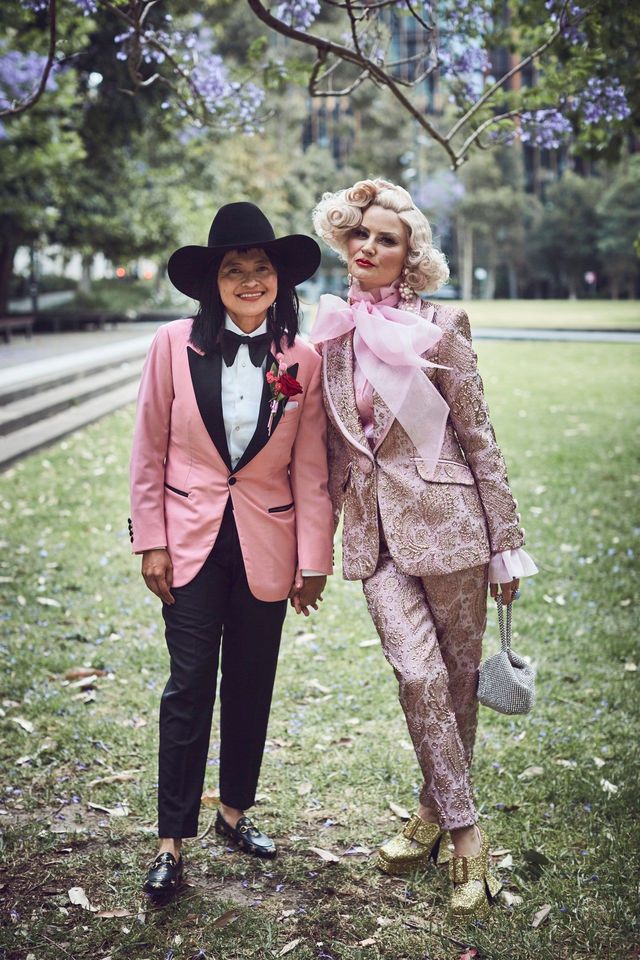 Nikita: "I wanted to exude a strength and elegance that I think only a suit can really express. I am 100% uber-femme, so it's not like I don't like to wear dresses, but I had never planned on getting married, so I didn't have any attachment to a white dress fantasy. I had my suit and shirt made by my good friend, @amanda__testa. I had a few fittings with Amanda, and she totally got my vibe: opulent and feminine, and just a touch draggy. She ordered samples of amazing brocades from all over the world, but I squealed with excitement when we chose an incredible fabric from Mood in New York (from Project Runway!). I made my earrings, and my shoes were from Fluevog."

Charlie: "My pink tuxedo jacket and pants were custom made by one of my fave tailors in Sydney, @pjohnsontailors. I was definitely after a Gucci-inspired suit. Initially, I wanted a velvet suit, but my tailors talked me out of it as it was going to be too hot for our summer wedding. My experience with @pjohnsontailors was so great, as I'd previously had trouble looking for a tailor in Sydney who was willing to make a men's style suit for an androgynous person, but who also had amazing style aesthetic. My tuxedo shirt was custom made by @whoismrmister. My bowtie and shoes are from Gucci, and my hat was by Akubra, from my favorite hat store in Sydney, Strand Hatters. I was so happy with the final product (after many fittings!): It fit me like a glove, and it was something I felt comfortable in that was very me!


Jessica Betts, singer-songwriter, married to Niecey Nash, actor

Married in: August 2020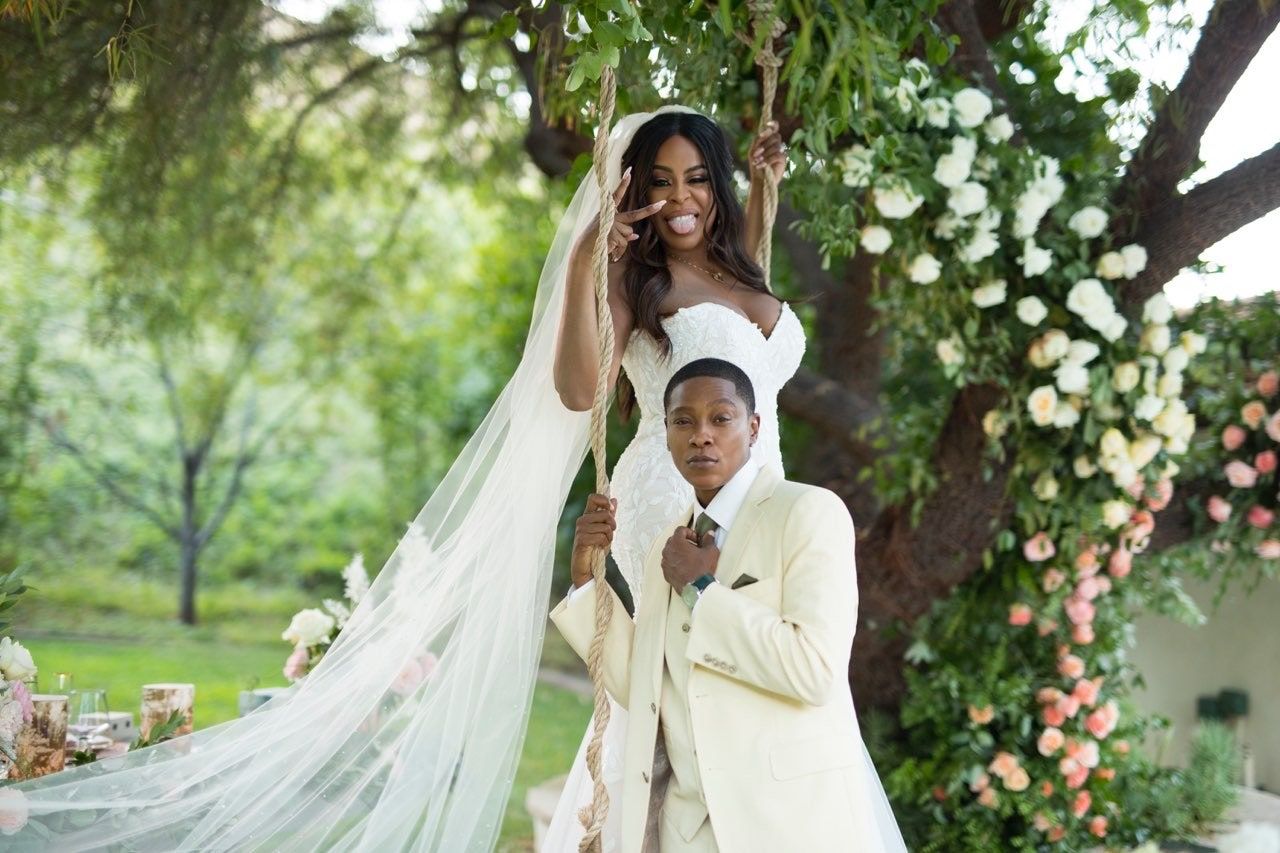 Jessica: "I got my wedding day suit from Rocky's Custom Clothes in Los Angeles. I also wore a Gucci watch, socks, and sneakers, followed by Converse Pride low-top sneakers. I chose this look to complement my wife's "rustic chic" vision for the wedding. I embraced all of the earth-toned colors, and I paid a lot of attention to the details. The suit is very much so confident, and that represents and reflects who I am."


Ashlyn Harris, married to Ali Krieger, both soccer players

Married in: December 2019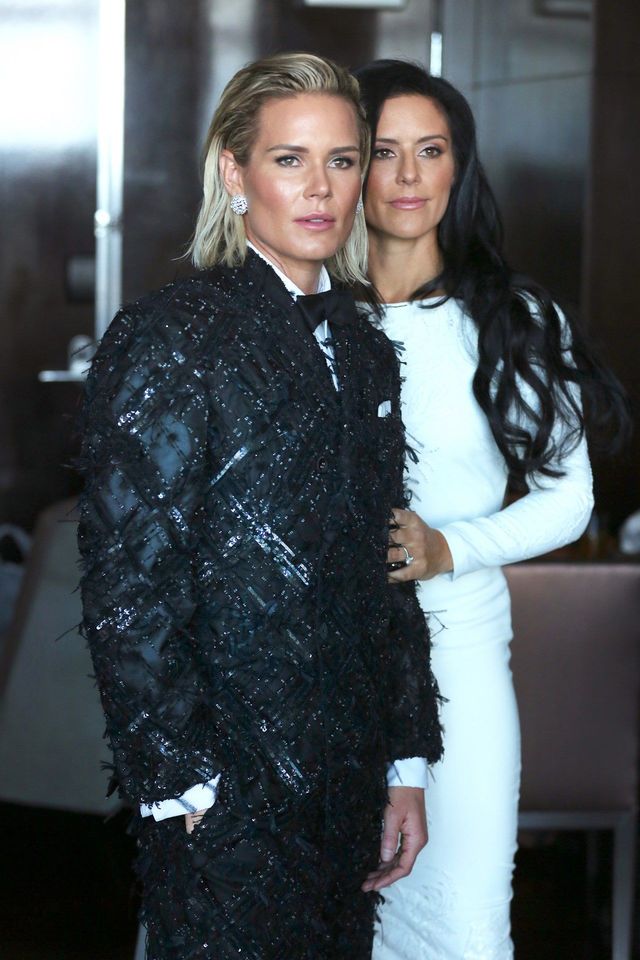 Ashlyn: "I had a custom suit made by Thom Browne. We created the look over several months with Thom and his team. It was sheer, hand-beaded, with touches of feathers for movement. The look gave the illusion that I was floating. It had so many layers of beauty and detail. Every moment gave you something different. Thom and his team made my night unforgettable. To this day, people still have never seen anything like it."


Kristen Kish, chef, married to Bianca Dusic, VP of food & beverage at Standard Hotels

Married in: April 2021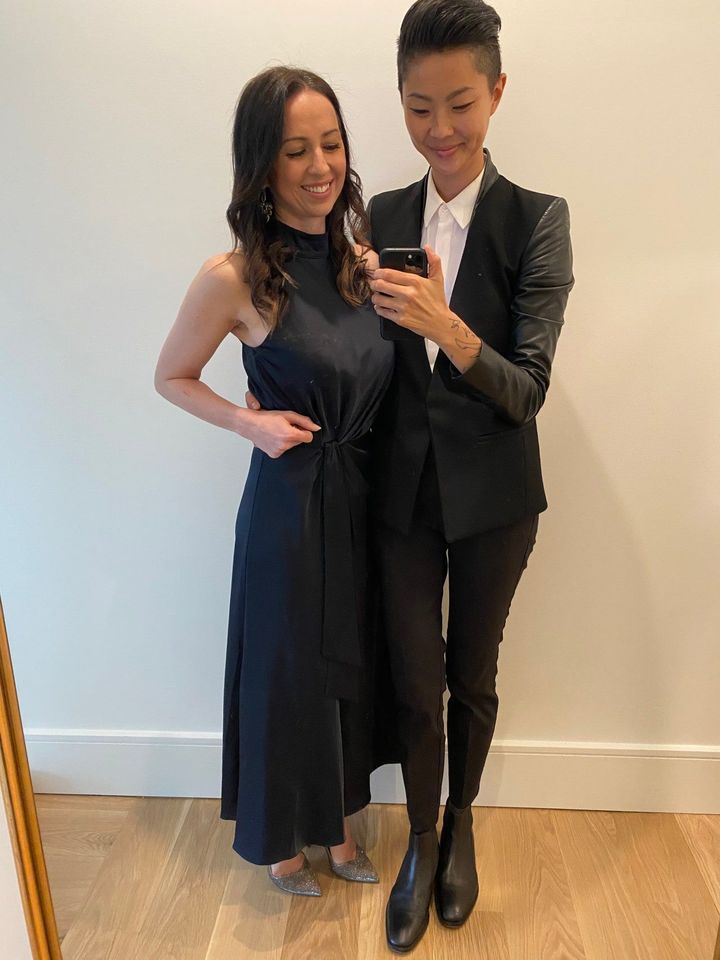 Kristen: "My suit is made up of two separates. Around five years ago, my great friend Stacy London (fashion expert!) invited me to attend a gala as her date, which meant I had to find something nice to wear. She found this amazing Helmut Lang leather-sleeved blazer, and I had to have it. I wore it that night, and every moment I've been able to since. As far as the pants-like many women, I have a hard time finding the right fit for me. I came across these slacks at Zara, of all places. I have tried buying designer pants and having them altered for my body, but none of those pants fit like the Zara ones. I also wore a Christian Louboutin boot, which I bought a couple of years ago, and a silk shirt from Theory. All of those pieces make me feel like me, but more formal. They make me feel pulled together, confident, and most importantly, Bianca thinks I look great in it. I'll continue wearing this suit for years to come."


Jillian Firns, digital marketer, and Shiloh Firns, IT mobility engineer

Married in: September 2020.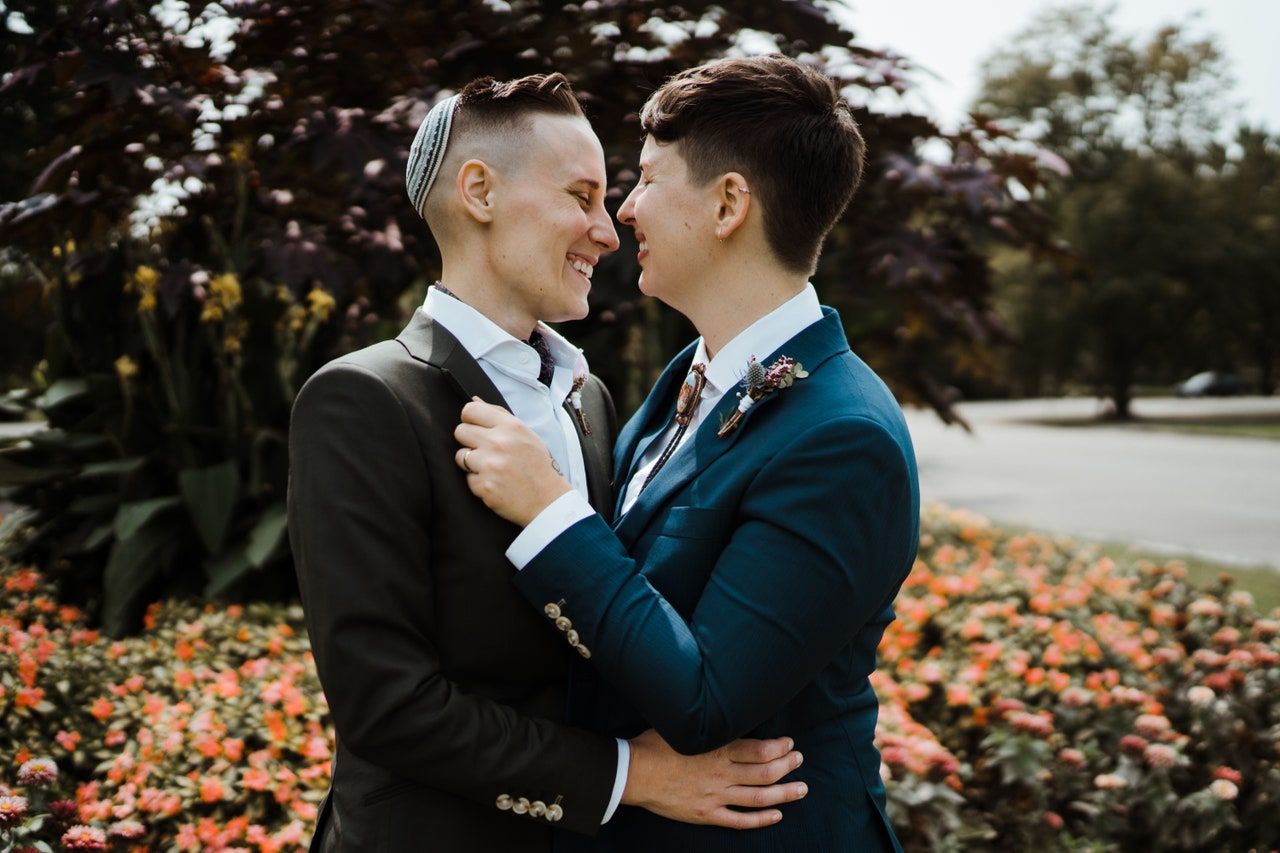 Shiloh: We ordered custom suits from Indochino. We liked that you could choose either in-person or virtual fittings for your suits, and that you can customize them all the way down to the button colors. I've always dreamed of having a slick olive green suit. We wanted a classic look with modern twists, and so it made sense for us to wear color. I had the phrase "Ani L'Dodi V'Dodi Li" embroidered on the interior of my jacket, which translates to "I am my beloved and my beloved is mine"—a phrase commonly used in Jewish wedding ceremonies and acknowledgements of love. It was also important to include queer-owned and designed elements in our wedding day looks. Our wedding bands were hand-crafted by Automic Gold, a queer- and trans-owned jewelry business.

Jill: Shiloh also gifted me with a gorgeous, handmade bolo tie to wear with my suit. Bolo ties are probably my all-time favorite accessory, and it is a nod to our love of and respect for the American Southwest (we dream of moving there one day). My shoes are from Tomboy Toes, whose company mission is to make sure women, trans men, nonbinary people, and anybody else with smaller feet never again have to settle for shoes that are only kind of what they want.


Ashley Christensen, chef and owner of AC Restaurants, married to Kaitlyn Goalen, executive director of AC Restaurants

Married in: June 2019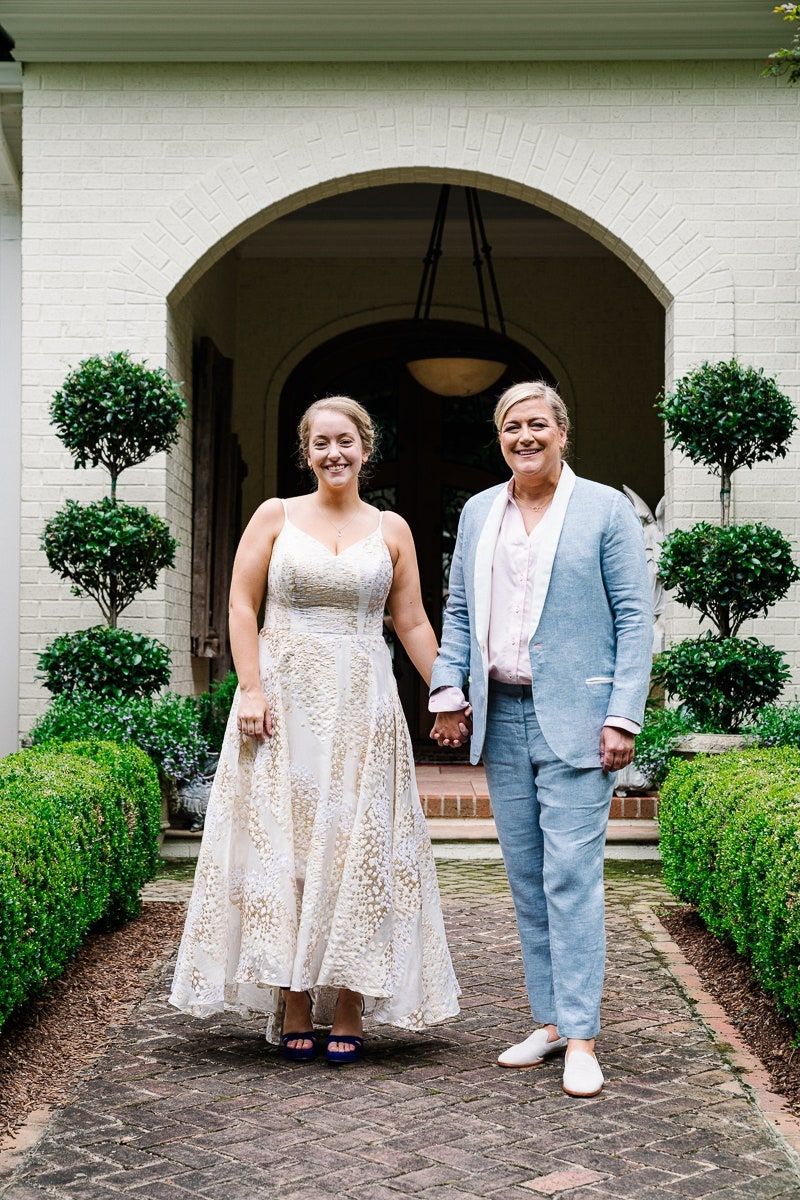 Ashley: "I wore a custom suit from Mila Pielaet. She has made several custom pieces for me, including the suits I wore to the last two James Beard Awards ceremonies. She is based in New Orleans, and in addition to being a stunning talent, she is a pleasure to work with. She does a wonderful job of conveying the personality of the client into the look. I went with a light blue and white linen suit with a pique shawl lapel-a hint of formality for the occasion, mixed with linen to keep it light and fun. The jacket went over a pink, custom button-front shirt, worn with a French tuck. Under the collar of the jacket, at the back of the neck, Mila embroidered our wedding weekend logo, along with the date. It was a little something special about the day just for us. Additionally, Mila included a small button loop inside of the jacket that held my great grandmother's engagement ring, which Kait's engagement ring was modeled after. We both felt like a million bucks that day, like we were dressed for the occasion while relaxed and right at home."