Bright eyeshadow looks are a great way of transforming your makeup routine. It's so easy to get in a rut—we all have those fail-safe looks that we stick to, but you'll be amazed at the difference a few bright ideas make to your whole look—and mood!

Easy makeup looks are still achievable when you're going all-in with eyeshadows. If anything, the easiest thing to do is focus on one area, like your eyes rather than going with an entire dramatic new look. You can still achieve natural makeup looks while trying something lighter and brighter, it's all about finding the tones that work for you.

I have to admit, I have a bit of an addiction to the best red lipstick, which often means that my lips take center stage rather than anything else. When pairing eye makeup with red lipstick I'm guilty of reaching for the same old one-tone eyeshadow. But I'm determined to get out of my rut and go for full-blown bright eyeshadow looks this season.

Going for a whole new look can be intimidating, and it's hard to know where to start. So I spoke to iconic makeup artist Ruby Hammer (opens in new tab) to get her fail-safe tips on embracing bright eyeshadow looks.


How to make bright eyeshadow looks work for you, according to MUA Ruby Hammer

* Ease in gently: "Only you know how bold you can go. How you try bright eyeshadow looks all depends on how you usually wear your eye makeup. Start with a block color, but don't try and add a rainbow if you're not ready."

* Throw out the rule book: "I'm not a great believer that eyeshadows have to match specific eye colors as I think anybody can wear any tone, depending on the texture and your level of confidence. Experiment with tones that spark joy."

* Anchor the look: "Colors that are similar to your natural eye look most wearable, or use a contrasting shade to make your eyes pop. Anchor brights with a black mascara or pencil near the lash line."

* Use the right tools: "Which eyeshadow tool you use depends on their textures, but generally you need three brushes. A wider one to buff and blend, a smudger to work closely to the eye for definition and drama, and a tapered one to do crease work."


33 bright eyeshadow looks to try this summer
1. Kermit green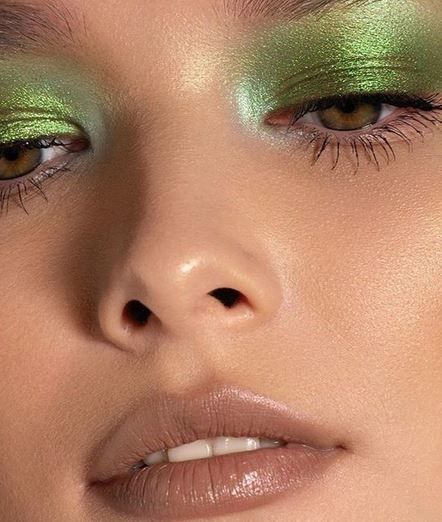 When I say bright, I really mean it, and it doesn't get much bolder than this neon green. If you're a beginner, it's better to stick to one block color, to let the bright tone speak for itself. It's a great eyeshadow shade for brown eyes. It is easy to be green when you take the leap.


2. The neon clash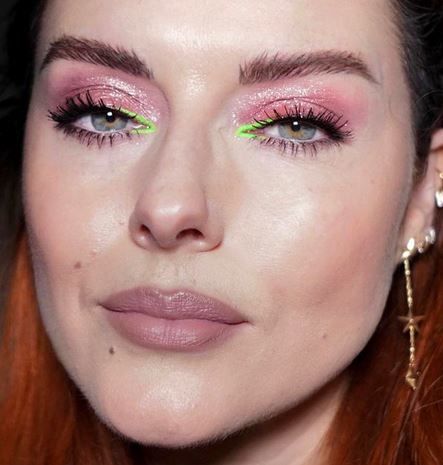 I can't feature a bright eyeshadow looks roundup without featuring MUA Katie Jane Hughes, who creates the most gorgeously artistic makeup effects. She doesn't shy away from the bold and the bright but is a pro at making scary-seeming shades feel wearable. Case in point is this combination of neon pink and green, toned down by glowing skin and nude lipstick.


3. Periwinkle pop
Of course with periwinkle being named pantone color of the year 2022, it would be remiss of me to leave this off the list. I've seen this color recently, from interiors to beauty. It's a great way of balancing cool tones with warm skin tones. Blend a few different shades of purple to give it extra depth.


4. The Priscilla Presley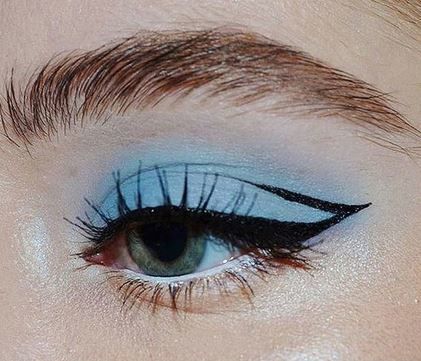 If you, like me, have had pictures of Priscilla Presley's wedding on your Pinterest board since your early teens (what can I say, I'm a forward planner), you'll recognize this retro 1960s-inspired look. Cornflower blue would look gorgeous on its own, but the extra level of artistry with the graphic liner makes it extra swoon-worthy. If knowing how to apply eyeliner isn't a strength of yours, start with a simple flick to begin with, then work yourself up to the more intricate styles.


5. Tequila sunrise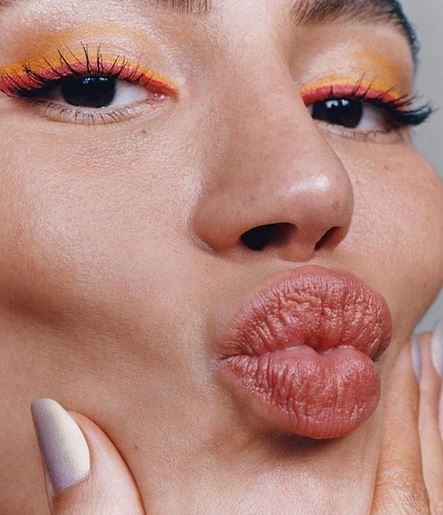 The combination of orange and red is something that shouldn't work, but it just does, and it can look really effective. The thing about this sort of style is that you really have to commit - don't shyly tone it down, go for the boldest, most pigmented colors, and just lean all the way in. The best makeup palettes will have lots of combinations of colors for you to experiment with.


6. Rose gold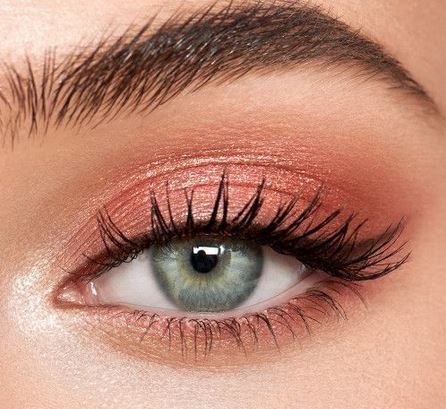 For the shy, this is a wearable way of doing bright eyeshadow looks. Copper is the ideal eyeshadow for blue eyes, making your peepers really pop. Up the ante by adding gold eyeliner flicks, for another layer of shimmer. Pair with pink blush and matching lipstick.


7. Neon coral crush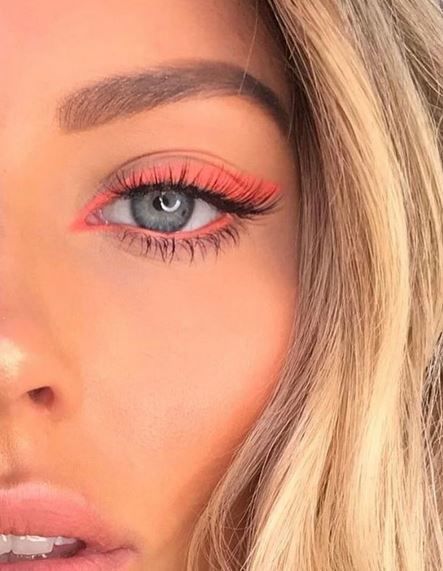 The easiest way to dip your toe into the world of bright eyeshadow looks is to swap your best eyeliner for a bolder, brighter tone. You don't have to use eyeliner either - use a pointed eyeshadow brush to cheat the effect. Who could resist this pop of coral? Putting it on the upper and lower lash line creates a vibrant, eye-catching style.


8. Silver surfer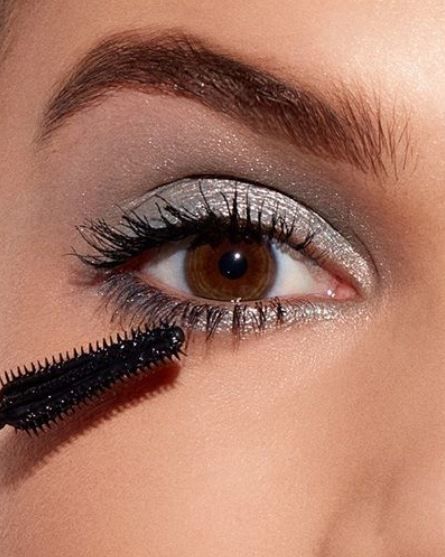 Vivid metallic is a bright, fun way of doing neutrals. Silver will go as well with your matte red lipstick as it will with your high shine orange gloss. Pat a little into the corners of your eyes to cheat looking wide-awake. Finish off with lashings of the best mascara.


9. Multicolor magic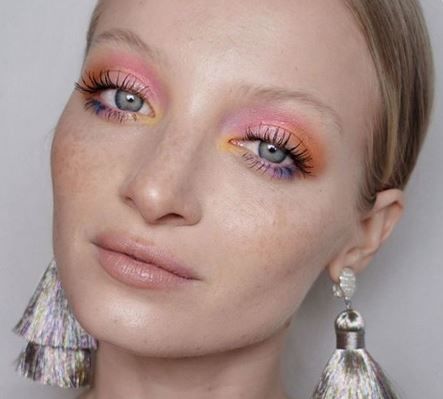 For fully blown fun bright eyeshadow looks, combine a few different tones. Keep them in the same family of colors to keep it cohesive (blues with purples, pinks with reds), or clash all pastel shades for a glorious, all-out-bright look. This is for the brave - wallflowers need not apply.


10. Heavy metals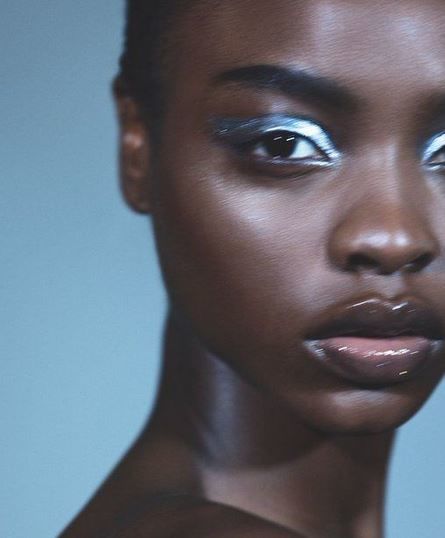 Metallics are usually reserved for smoky eye looks, but opting for shiny, almost iridescent tones here creates a seriously bright eyeshadow look. This finish is best achieved with the best cream eyeshadow - just sweep it straight on with your fingers. Pair with pink lips for an 80s-inspired look.


11. Ombre purples and pinks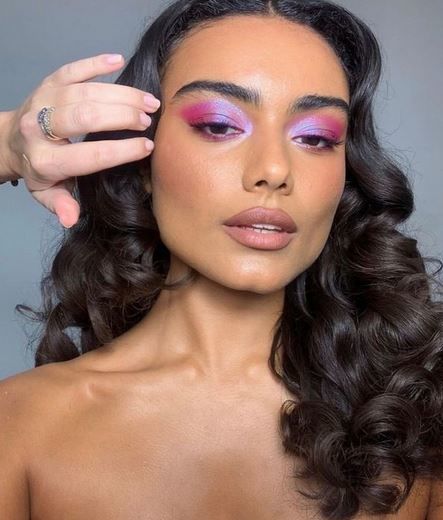 Blending two tones in the same family of colors can create a really gorgeous, wow-worthy look with very little effort. It's a great place to start when you're wondering how to apply eyeshadow. Dab a purple in the inner corners of the eyes, then go in with a fuschia or any pink along the rest of the lid. Use a fluffy eyeshadow brush to blend together. Finish with a wash of glitter on top to complete the look.


12. Golden touch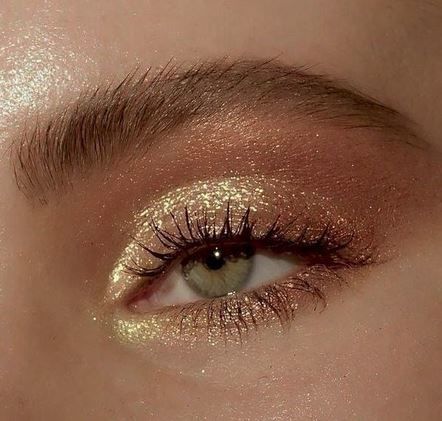 Gold is known as being pretty neutral, but it's the tone that makes this colorway into one of the easiest bright eyeshadow looks. Chunky glittery gold takes this neutral-seeming hue to the next level. A hint of pink also adds extra interest - apply to the brow bone, and under the lash line.


13. Toned down tangerine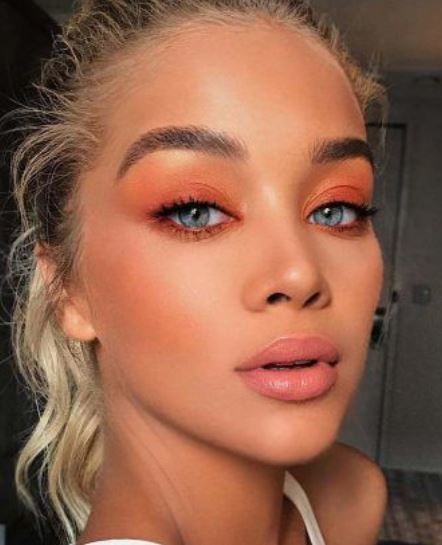 If you're intimidated by orange or tangerine tones, just think of them as brighter versions of bronze and gold. This looks creates that multi tonal smoky eye look (darker on the line, cut crease, lighter accents) but with vivid orange shades for a stunning effect.


14. Sharp ultramarine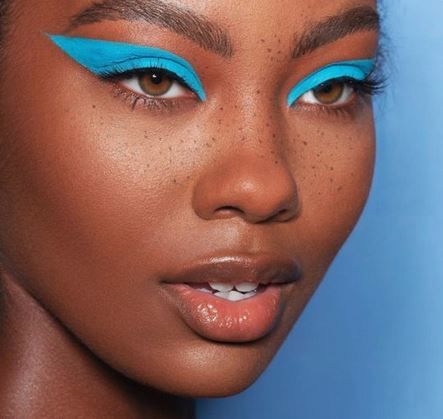 This is one of the most irresistible spring makeup looks I've seen. You can make colors look more pigmented by applying them with a wet eyeshadow brush. This look can be achieved at a more entry level with blue eyeliner, swapping your black cat eye flicks for a bolder color. For this dramatic effect, use the wet eyeshadow trick to cover the lid, and use a small detailing brush to create those sharp lines.


15. All-out Barbie pink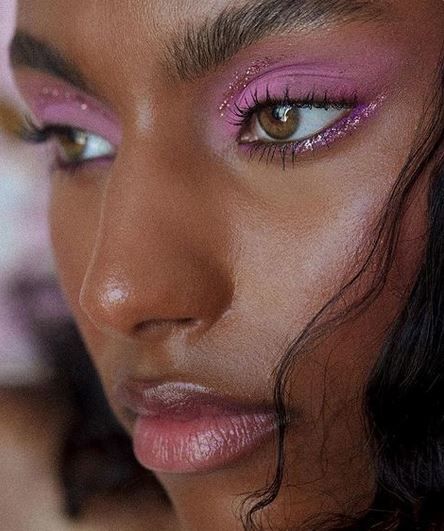 From being a daily brown eyeshadow wearer, all of a sudden I find myself becoming quite addicted to pink eyeshadow. It makes sense, with it being essentially a bolder version of copper, which is one of the best eyeshadows for blue eyes. A little dab of pink brightens my complexion, makes my eyes look bluer, and lifts my mood. Add some gems or glitter, like this look, to up the joy factor.


16. Sticker effect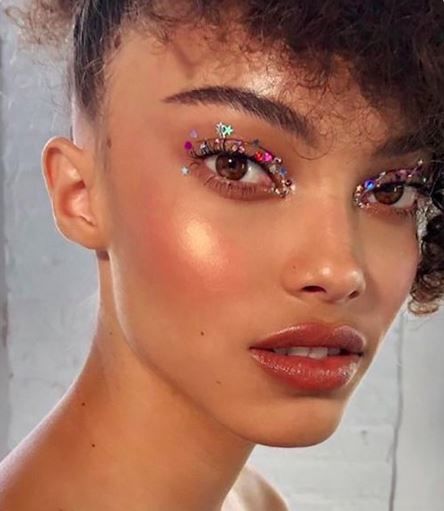 Now, this is a real joy sparker. What looks a bit wild at first glance is actually surprisingly wearable. You don't have to cover the whole eye area, try a few gems or stickers along the lash line, for that Euphoria-inspired style. Ok, so it's unlikely to be your everyday look, it's definitely more of a fleeting makeup trend. But, I'm all about inspiration on all levels, and this one really had my imagination running wild.


17. Walk the line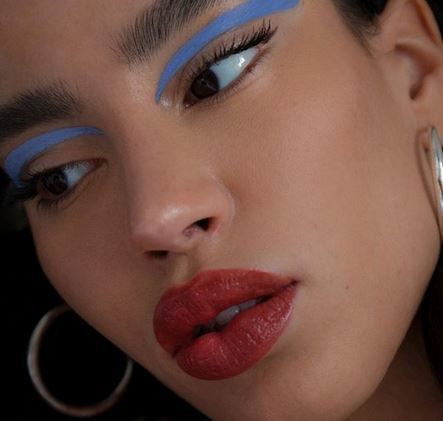 Who says eyeliner detailing has to always be on the lash line? This striking graphic look feels so modern and fresh, and a whole new take on bright eyeshadow looks. I love the combination of sky blue with a deep red lip, I'll definitely be giving this a go.


18. Sunset shades
This color combination is certainly one of the best eyeshadows for brown eyes. The yellow brightens the area, while the orange warms things up. False eyelashes add another dimension and up the ante, making this ideal for formal events like weddings and big parties.


19. Studio 54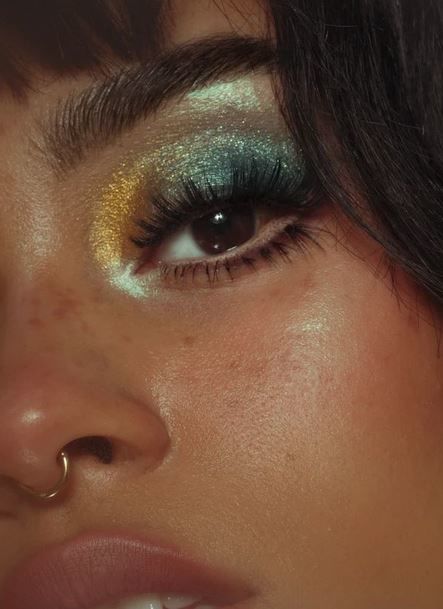 A small gasp left my mouth when I saw this. I love this unapologetic, fun glitter-coated effect, and I don't even think this needs to be relegated to parties or big nights out. Imagine this paired with a rose pink lip, your best white t shirt, and jeans. Irresistible.


20. Pink flicks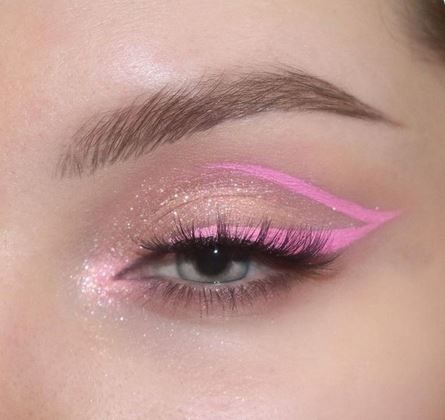 Add another element to block color by layering bright eyeliner on top. It adds an extra dimension to the look and allows you to show off your makeup skills. After all, learning how to apply eyeliner flicks is a skill that takes time to master - so once you have, you should really show it off as often as you can.


21. Soft lilacs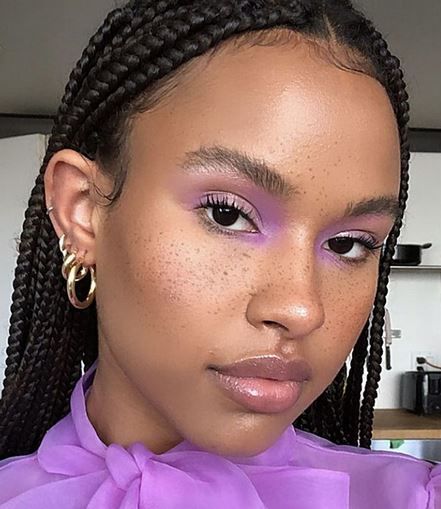 Bright eyeshadow looks don't have to always be bold and brash. This wash of lilac is still really effective - I think it's down to it coating the whole eye, as well as the lower lash line. Pair with your favorite pink lipstick and lashings of mascara for an easy daytime look.


22. The shiny show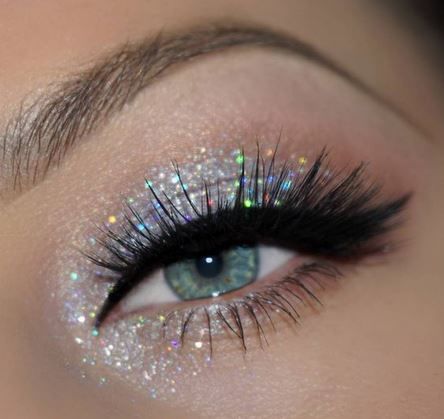 There's sparkle, and then there's sparkle. The iridescent glitter adds real fun factor to these classic cat eye flicks. Finish off with the best false eyelashes and you've got the ultimate makeup look sorted for any fancy soirees you have coming up.


23. Pink and purple accents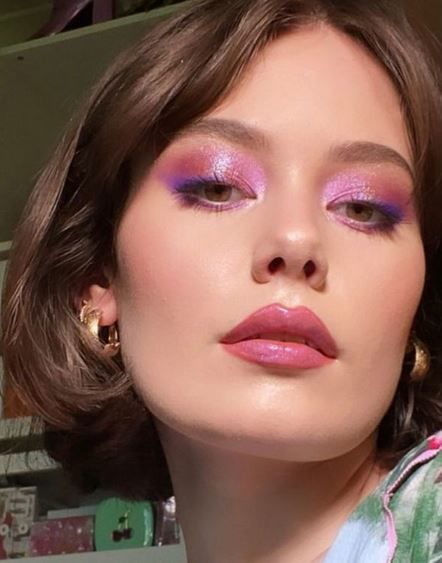 Combining two similar tones, like pink and purple means that the shades will blend together nicely. Apply the darker shade along the lash line - in this case, a purple - then blend the lighter shade with an eyeshadow brush. The best makeup brushes will make blending easy - pick a longer, fluffier brush for a flawless finish.


24. Ultra Violet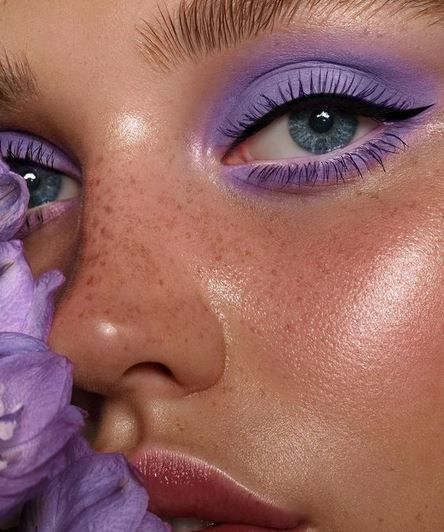 Easy block colors can look bolder by taking the shade on the lower lash line. It's a '60s-inspired trend that's really come back around, and I can see why. It's a really simple look to create - minimum effort, maximum impact. The liquid eyeliner flicks add some extra dimension, but it'd look just as lovely with mascara alone.


25. Graphic liner combo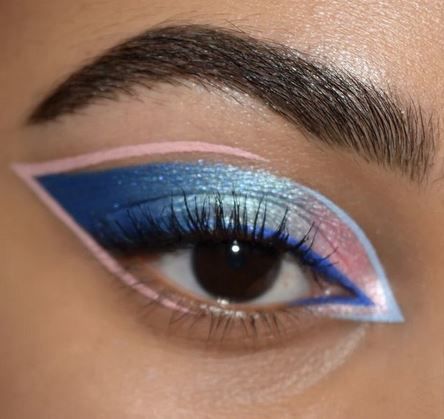 Getting artistic with eyeliner is a great way of adding extra interest to bright eyeshadow looks. You don't have to stick to one tone - this dynamic design combines two tones of blue as well as pink eyeliner for a seriously futuristic effect.


26. Sunflower yellow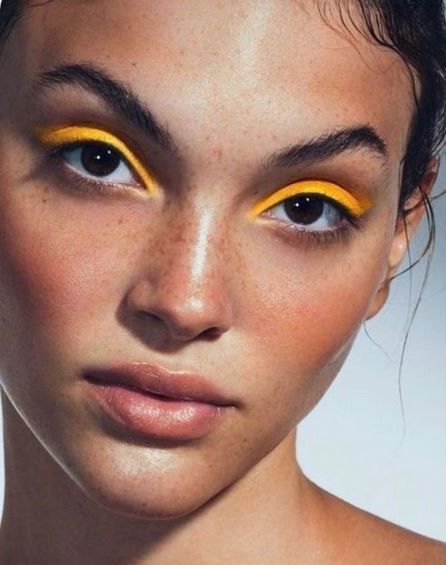 Yellow eyeshadow may sound scary, but if you're feeling brave, you may be surprised by how much you like it. It'll look especially gorgeous against dark skin, and warm skin tones should go for vivid, bright shades. If you're paler, go for gentler pastel shades.


27. Neon coral
If you have dark eyes, a vivid color like this zingy coral will help your eyes pop. Keeping things monotone, by opting for a matching blusher and lipstick will pare down the look and make it feel more wearable. Swirl onto a fluffy brush and sweep onto the apples of your cheeks, then dab the eyeshadow onto lips and top with a balm.


28. Paintbrush patterns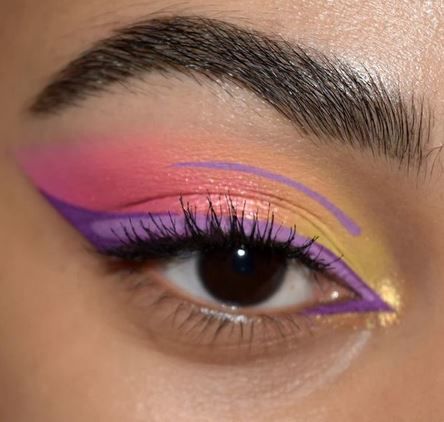 This is one of those looks that you'll probably want to play around with at home before committing. This means it's not the type of style you should attempt before a big night out with the taxi on route - you'll need time, patience and a steady hand. If you don't want to buy lots of multicolor eyeliners, use a pointed eyeshadow brush dipped in water to cheat the sharp lines.


29. A twist of lime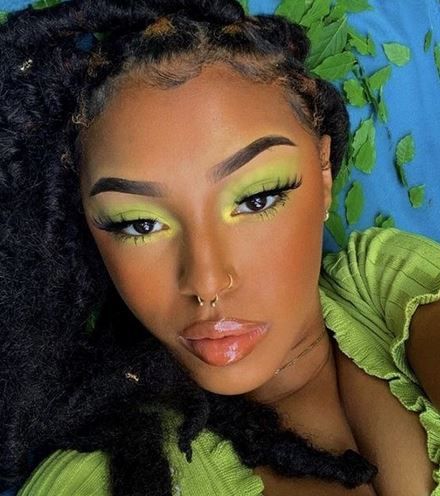 Greens pair perfectly with brown eyes, and these different tones of lemon and lime create a really stylish, almost superhero-inspired look. Keep the rest of your makeup look neutral, to let your eyes do all the talking. If you're a pro at how to apply lashes, add a set on to make the look feel formal.


30. Ruby red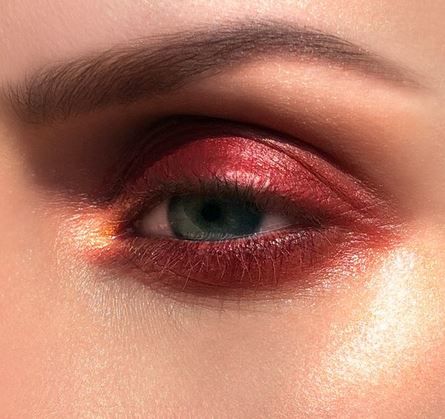 Sparkly red eyeshadow isn't just for Christmas makeup looks - this metallic tone will work all year round, especially when paired with your best cream blusher and the best tinted moisturiser, to make it feel wearable for every day.


31. The Chameleon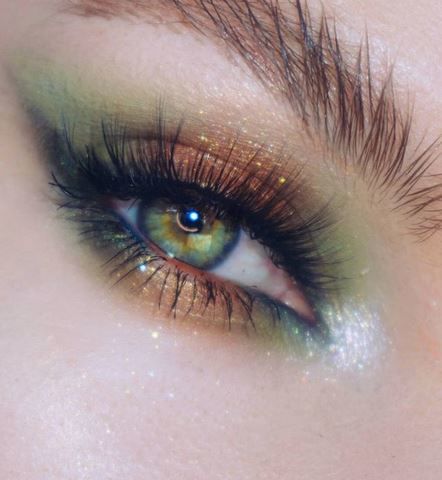 Combine golds and greens for a rich combination of earthy tones. It'll suit all eye shades, but work especially well as eyeshadow for green eyes. This will match beautifully with a barely-there lip tint, to tie the look together without looking OTT.


32. Full-blown fuschia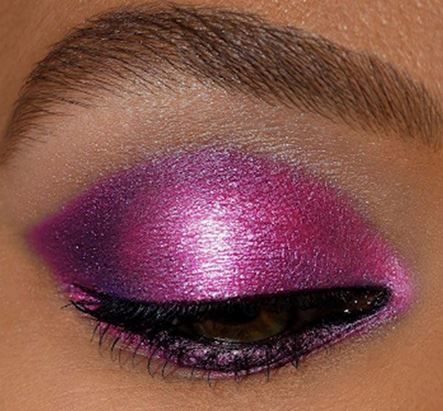 Deeper tones of pinks will look so gorgeous against dark skin tones, especially with this shiny, shimmery finish. Apply a block color to the whole lid, then top with glitter to add extra depth and gloss. It's one of those low-fuss, but deeply gorgeous bright eyeshadow looks.


33. A peek of sapphire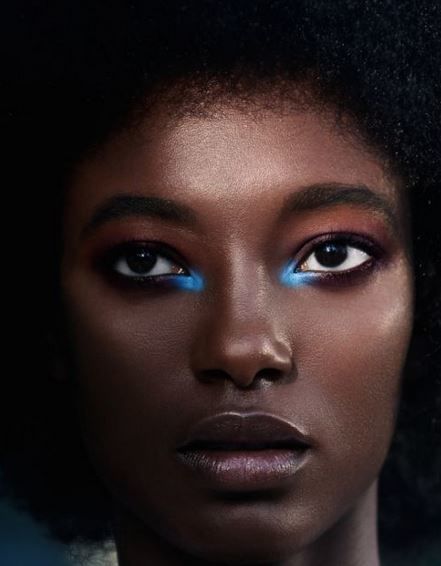 Little touches can have the biggest impact, like the navy blue detailing on the inner corner of this model's eyes. It's a great way of testing out bright eyeshadow looks without having to go the whole hog. This would work for most eyeshadow colors but works particularly well as a way of testing out bold shades you're intimidated by.