What sold in 2021 reveals exactly where we've been these last 12 months: Styling for WFH or socially distanced activities (all that walking might explain the continuing preponderance of designer sneakers) before celebrating the end of lockdown with teeny clothes and very high heels. Sex is back, it seems, with our fashion choices at least, if not our dating lives. (But I don't speak for everyone here, clearly.) In between those extremes of dressing way up and dressing way down: jeans (they're everywhere), jewelry (the major story of the year, tbh) and, not unsurprisingly, an ever greater emphasis on where a brand sits in the world, and what it says to us when we choose to wear it.

Weighing in: Six department store luminaries who are dotted around the world, to give a big global-sweep picture of what made the cut this past year. There's a lot of consensus— honorary shout-outs to Saint Laurent, Chanel, Gucci, Balenciaga, Louis Vuitton—and a who'd-have-thought-it moment with the resurgence of Vivienne Westwood's iconic pearl and orb jewelry. Also, a good year for up and coming indies—from Studio 189 to Wales Bonner, Supriya Lele to Greta Constantine, Bassike to LaQuan Smith, and a rocking 2021 for Simon Porte Jacquemus. If the last 12 months didn't bring us much cheer, this particular trend certainly does.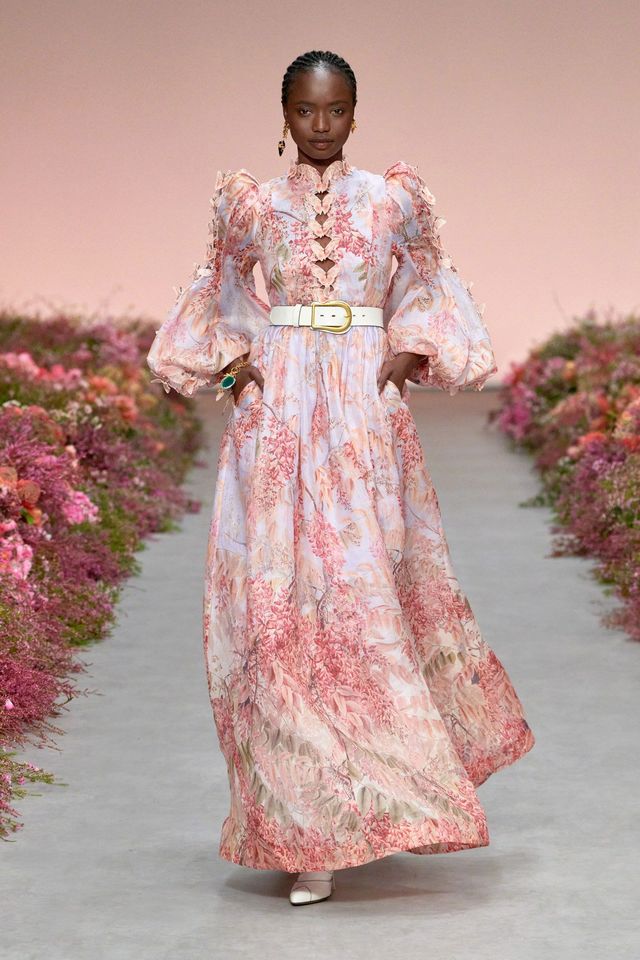 Bridget Veals, General Manager Womenswear, Accessories and Footwear, David Jones, Australia


What for you were the big stories of 2021?

Here in Sydney we had two very different lockdowns, and Australia's borders were closed, so we had no inbound tourists. What was surprising were our local customers: how loyal they were to David Jones and how invested they were in buying luxury. Our luxury sales were phenomenal—jewelry and leather goods, if not so much shoes, though the McQueen Oversized sneaker is still a bestseller for us.

People were giving a lot of consideration to dressing for hikes and walks during lockdown; you could see that along the Bondi to Bronte coastal walk in Sydney, or around the botanical gardens in Melbourne; what puffer jacket she was wearing (PE Nation) or which Balenciaga sweatshirt, something which flew off of our shelves. Our customer was wearing pale creamy shades, she was like a walking cafe latte—really elegant! And there was a lot of emphasis on investing in beautiful sleepwear, which might not have been bought so much in the past.

Now we're seeing a lot of party dresses, and the return to heels—straight back to sparkle and heel heights of 7cm [just over 2.7 inches], but mostly 10cm [just shy of 4 inches]. There's definitely that sense of revenge dressing; an absolute desire to dress up, and to show a bit of skin.


Which labels and brands did well for you?

Australian brands really came into their own. The standout has been Zimmermann, who we've partnered with for a long time; every collection resonated, across the board, but particularly the floral pieces and the more avant garde looks. We also saw a lot of demand for beautifully crafted pieces from Camilla, which is more of a flamboyant resort brand, and for Camilla and Marc, with its pared back soft tailoring.

Another standout was Aje who are really starting to emerge overseas. Alemais is a beautiful brand—Gwyneth Paltrow just wore it—which is by a young Sydney designer; we can't keep it in stock. And more casual labels, like LMND, and Bassike, which won at our fashion awards for its sustainability; it's our first carbon neutral brand. People want luxurious basics, but with sustainability in mind.

In terms of international brands, Dior has been a standout; it has a really strong following here. Louis Vuitton for investments, like AUD $8,000 suitcases. There has been a definite move to investing in classic luxury pieces, from the likes of Gucci, Dior, Vuitton and Chanel. Maybe those more classic investment pieces hadn't been so sought out before; she was now choosing to spend the ski holiday money on those instead! And we sold a lot of high end jewelry—again Dior and Louis Vuitton, as well as Piaget. More high end jewelry hasn't been our strength historically, but we are going to grow it going forward.


Were there any surprises?

There were no real big surprises, except maybe the speed at which we have recovered. But the 10cm heel was a real change. There was no way she was wearing those during COVID. And not just plain shoes, but those with bows and glitter heels. Mach & Mach was a standout. Jimmy Choo had a huge year. So too did Manolo Blahnik and Roger Vivier.


What didn't connect so much?

Anything that was too street-street. She wanted something casual, but elevated. If she wore a logo it was from Balenciaga or McQueen or Gucci.


How did the pandemic affect or change the retail experience?

Our Elizabeth Street store in Sydney did a tremendous job welcoming back customers when we reopened. We had a flower show, which is a bit of a David Jones tradition, with 25,000 locally sourced flowers; it set not just the tone for getting back to shopping but the spirit of the store. Our teams—we didn't step any of them back when we were closed—were truly ready to open up and they weren't jaded; they felt the energy of having people back in our stores. Customers were ready to shop—our average transaction has gone up. People know COVID exists, but our vaccination record is at 90%, so I think people feel safe going back to physical shopping.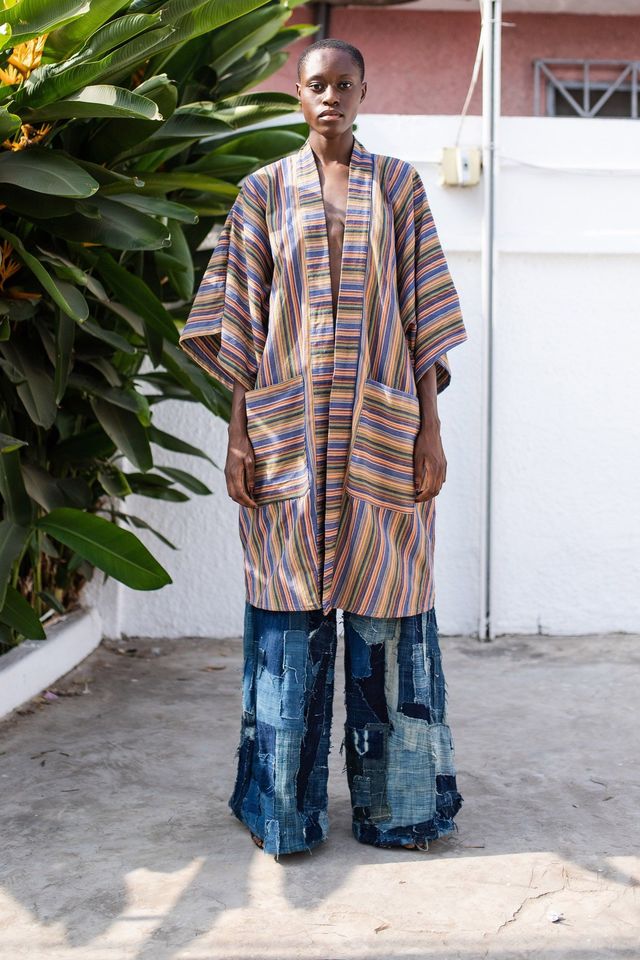 As for the look that dominated this year….expressive would be one word. Joy is another. That's what comes to mind. And it comes with...I would call it an awareness of what's happening in the world. It's the appeal of Chloé or Stella McCartney; the importance of sustainability. It's also the importance of inclusivity: Fashion which lets you be who you are and express who you are; self-expression, self-realization. Some of the younger designers—Studio 189, LaQuan Smith—really have that global sense of how people want to represent who they are and what they believe in.


Which labels and brands did well for you?

McQueen, Dior, Balenciaga, Moncler were all super hot. Accessories were really strong in the luxury space, clothes maybe a little softer, at first, but [accessories from] Saint Laurent, Gucci and Christian Louboutin have been really strong for us; Louboutin did a good job of moving into sneakers.

Our Birkenstock business has been through the roof. So too Mach & Mach, which is done by two sisters from Georgia, really came up, from day one; it instantly took off. We have the shoes and are launching their clothes in the spring. Someone like LaQuan[Smith] took off. Having the digital space to tell a designer's story can be really influential really quickly.

Sacai and Marine Serre have been really great for us. So too have labels with a dressed up but still casual feel, like Khaite. Sequins did well; the idea of things to have fun in. From contemporary, Naked Wardrobe—a bit of a skin reveal! Ulla Johnson. It's really all about extremes, a broad range, but whatever it was that connected it expressed that sense of feeling great again.

What I've also seen is a shift to greater inclusivity in sizing, for both clothing and shoes. So many brands have embraced that, from ASOS to Louboutin. There's an incredible desire to be inclusive, from denim to shoes in bigger sizes and widths, to boots which can fit a variety of calf sizes.


Were there any surprises?

I've not been so much surprised as taken by the breadth of expression we've seen: Wearing what makes you feel good, which has been affirmed by the amount of color. I've seen such a lot of fuchsia, turquoise, and emerald green, those bright jewel tones. It was fun to see them coming through in the puffers. And I guess a little surprised by how quickly people have gone back to suiting, not just the jacket, but everything you'd wear with it.


What didn't connect so much?

Some of the brands which catered to a more polished, suited, matchy-matchy look. That has been slower to come back. Also, brands who tried to serve a younger audience but without staying true to their DNA.


How did the pandemic affect or change the retail experience?

I think customers have really enjoyed coming back, and they're very purposeful in asking for help in finding a new look or a new outfit. We've been offering what we call 360 degree experiences: A deli concept, a Swedish village with Falljraven, special personal shopping around Simone Rocha. A ton of activations and experiences. Those have been really successful. And live-streaming events with brands and our stylists, where they can also be in store. The blending of online and offline has been very important.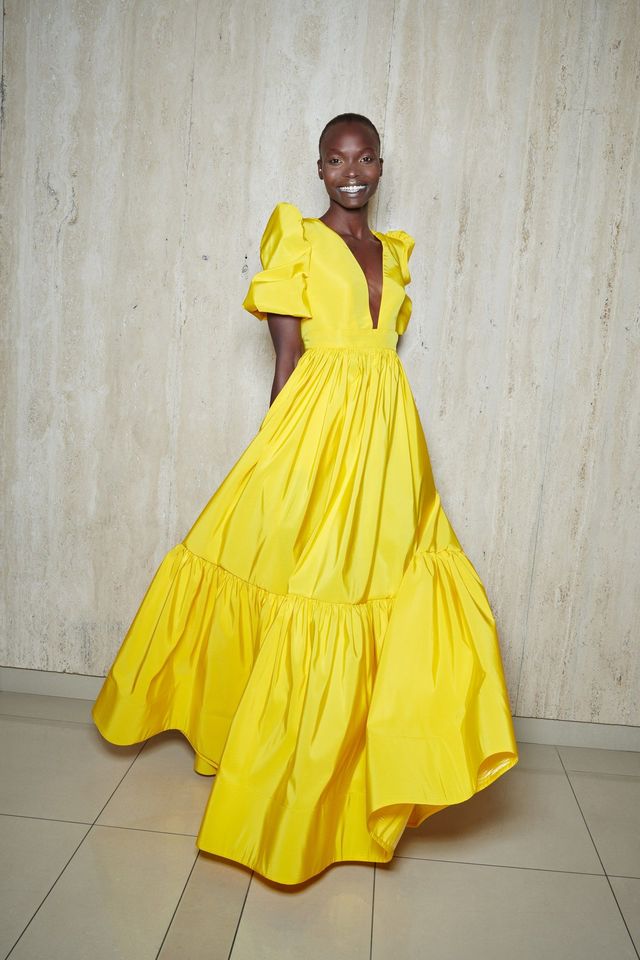 As the weather turned and vaccinations rolled out, denim really took off; people wanted the comfort but also the more tailored look denim can give. It was styled with sneakers, from more mass names like New Balance and Vejas, to designer versions from Saint Laurent, Gucci and Roger Vivier.

Halfway through the year, there was a shift, from casual to dressing up: Greta Constantine, The Attico and The Vampire's Wife. That also saw the return of the pump: from Amina Muaddi, who we have wait lists for, and from Saint Laurent, Dior. The move to dressing up happened really fast. It's not often you see things move at that pace. The look embraces different things: There's the rise of Y2K, referencing things from the past, like the classic pearl necklaces from Vivienne Westwood, or denim paired with really embellished footwear.

Traditional evening codes are being thrown away. Our women are really mixing it up. We still have heritage customers going for Oscar de la Renta or Akris, but no matter who is dressing up, the approach is underscored with ease and functionality; it's all about feeling as empowered and comfortable in the real world as you were at home.


Which labels and brands did well for you?

In terms of new names for us, I mentioned The Attico and The Vampire's Wife, but one of our key initiatives was to underscore our heritage, with Canadian brands, like Greta Constantine. We also launched HotPot Variety, which started as a COVID hobby for the designer, Jess Papp; it's all hand crocheted in Toronto. That sold out. We've been looking for new talent, and using our platform to support them. We did well with some collaborations we had in store: Fendi X Skims, the Gucci Hacker project. And as we close the year, we are doing so much business in the jewelry world—such as Anita Ko or Boucheron—which customers are really gravitating towards


Were there any surprises?

Honestly, I was surprised to see how much our customer was already looking for dress-up pieces at the beginning of 2021. In the midst of the lockdown people were buying Saint Laurent boots and Bottega Veneta bags. It was about getting your post lockdown look ready!


What didn't connect so much?

We saw a big slowdown in feminine printed dresses. At the beginning of the pandemic, customers were shopping for a more minimal attitude. The only brand that was the exception to that was Zimmermann; that was one of our shining stars.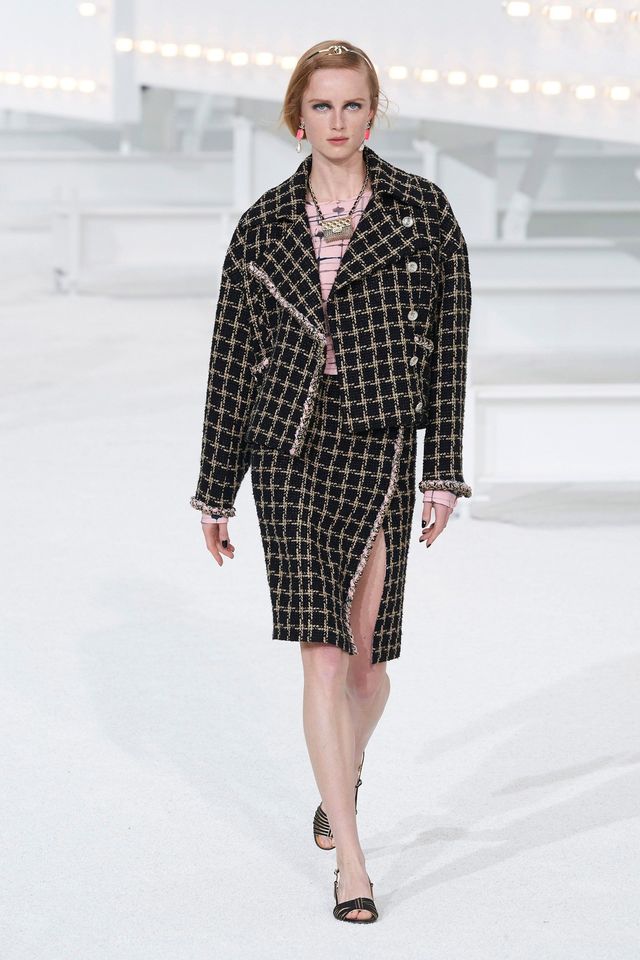 Sebastian Manes, Buying and Merchandising Director, Selfridges, United Kingdom
What for you were the big stories of 2021?

I think it is important to break it down into two buckets of brands. There are the megabrands — Louis Vuitton, Dior, Hermès, Chanel, Cartier — who are getting more and more market share. When you buy those brands, you are buying into heritage and classicism; products which will never be marked down, and which are a must. They offer the forever classics, there is an element of comfort to them, which is reassuring when so much is unknown these days. That bucket is full of big winners.

In the other bucket, we've the independent and lesser known brands which we've been exploring and supporting; it's all about their creativity and their rarity. We had an amazing year with Rick Owens, as well as The Row. Someone like Grace Wales Bonner has made great progress. We did well with Supriya Lele. Casablanca is very exciting, for both genders. And we're working with more DTC brands like House of Sunny, which has done really well for us. Essentially: basics aren't a thing. It's about more of a statement. Or the forever classic.

And there has been a whole new wave of sexy architectural dressing, like Nensi Dojaka. With all of this...there's almost like a uniform now, where people will start the day in a more casual way, thinking about how they want to keep in shape, and as the day goes on it evolves completely to something that's much sexier. Dion Lee, which I define as architectural dressing, has done well. So too has Simon Porte Jacquemus, who is going from strength to strength. Casey Cadwallader at Mugler is doing a fabulous job as well.

What's also super important is outerwear: the big puffers, dominated by Canada Goose and Moncler. Also, Prada and Herno. It's a category that works whatever the age and gender.

Accessories are also important. Simon [Porte Jacquemus] has carved out an amazing space for himself. I remember five years ago seeing those tiny bags and they looked almost silly, but he started that trend. I have a huge amount of respect for him. And Vivienne Westwood jewelry, which has been around two or three decades, is super strong, and appeals across several generations. We are bringing Vivienne back in a big way next year.


Were there any surprises?

Those have been the result of the reaction to the social environment. For a long time, no one could go to weddings or out at night. So there has been a huge demand for occasion wear, things which are very dressy and opulent. More flamboyant, more beautiful, more couture in look and spirit: Saint Laurent—the smokings sold really well—Balmain and the more evening elements of Fendi.


What didn't connect so much?

I don't think oversized streetwear has gone; I can still feel some of that energy in the collections and at some fashion houses. But I personally feel the direction is more towards beautiful things, more creative things. We can't surf the streetwear wave forever. We will have elements of it, but it's not a big driver for us. I mean, how many hoodies can you have? Though people have connected with denim in a big way: the boyfriend jean with a sexy top was a thing.


How did the pandemic affect or change the retail experience?

One thing we never stopped doing were installations in the store; things which brought elements of surprise. Even in the worst days of the lockdown we did virtual appointments from those installations. We went into resale with Resellfridges and renting clothes with Selfridges Rental—all of those things we're going to be doing more of. One of the big things is the metaverse and NFTs; those are what I'm interested in, and we are working on a project around those with an artist for next year. It's about understanding how a new generation will consume fashion. We changed our restaurants more this year than in the last 20, opening up one with Matthew Kenney, the chef for plant based cuisine. I strongly believe that, for us, sustainability has to also be about food; we have a honey restaurant called Hive, where the honey comes from hives on our roof. Food and fashion are so much part of the social moment. I find it super exciting, and it is something I want to continue with.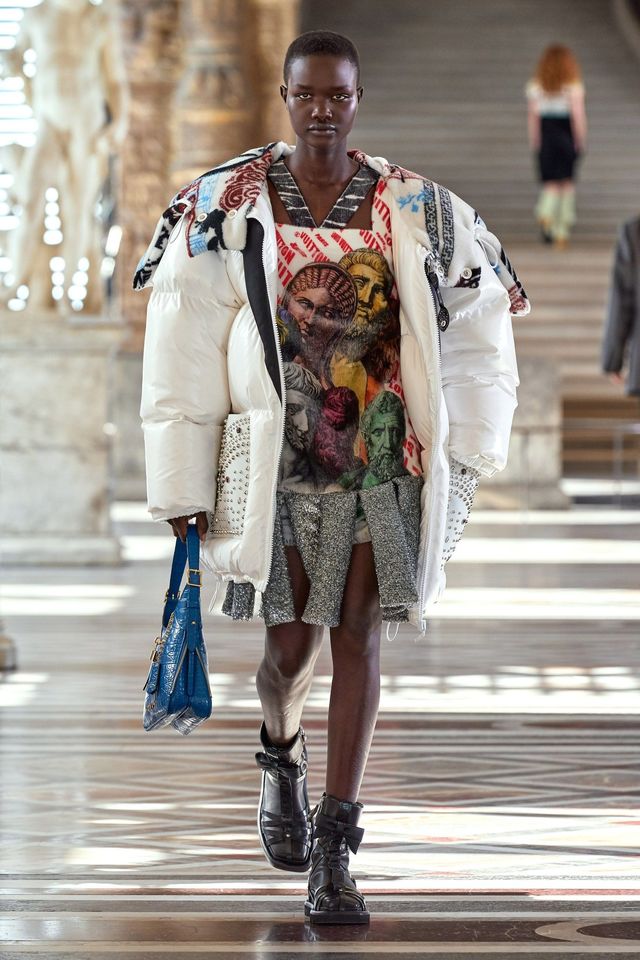 I think one thing that's important to keep in mind is that the store was closed for a long time, so with opening we didn't exactly know what customers were expecting. Working over the last two years we had a strong focus on China, but we had to adjust things as our Chinese customers couldn't travel.

Despite that, we discovered we had a lot of French customers the minute we opened, as well as a lot of tourists from the Middle East, the US, and the rest of Europe. There was a strong response to the big luxury brands: Prada, Louis Vuitton, Celine, Dior. We also devoted space to the likes of JW Anderson, La Double J, and Jacquemus, which obliged us to have a very creative selection to offer. And Alaia and Sacai also met our customers' expectations very quickly.


Which labels and brands did well for you?

We saw a demand for printed dresses for the summer and going into the winter. People want color and they want wow pieces. They've been wearing athleisure and they're ready to get dressed up again, even for major evening dresses; there was a lot of demand for those. As well as the wow pieces, more linked to the situation we've been living through, people are really willing to spend money on pieces which are wardrobe investments: Saint Laurent blazers with jeans, for instance. Price was not an issue for our customers. People didn't hesitate to spend.

There is definitely a sense of conscious buying; looking for colors and fits which will work year after year. And thinking about sustainability and things which will last. We weren't expecting Maison Rabih Kayrouz to do so well, but the sell-through was almost immediate. And Isabel Marant, a French brand with a strong DNA, sold and sold and sold.

The younger brands…Gauchère has been an amazing success for us. And Lemaire: it's very easy. So is Khaite. Ganni and Nanushka have connected with our younger customer, someone willing to mix it up—a Ganni dress with a Celine bag. Wandler and Dragon Diffusion were also successful.


Were there any surprises?

The very big comeback of heels: everyone wants to buy very sexy and glamorous shoes. Sneakers are still doing well, but it is heels that more and more people are asking for.


How did the pandemic affect or change the retail experience?

I don't know if there is a before and after COVID story but the focus on service has never been more important. We have trained our staff so they can tell a story about every brand. As we go into the future, that experience is going to be key.