If you're still on a high from the fashion-filled Netflix series Emily in Paris, let us indulge your obsession by presenting you with a slew of the exact shoes Lily Collins flaunted in the show. We love how her character, Emily Cooper, isn't afraid to complete her already-vibrant OOTDs with equally bold footwear.

A tip you should especially consider if you're trying to wear more color! Another thing to note: We love how her shoes-a mix of pumps and boots-mostly feature chunky heels that make walking on cobblestones much easier. C'est magnifique!


Check out 10 designer shoes from Emily in Paris below:
1. Vivienne Westwood Freed Boots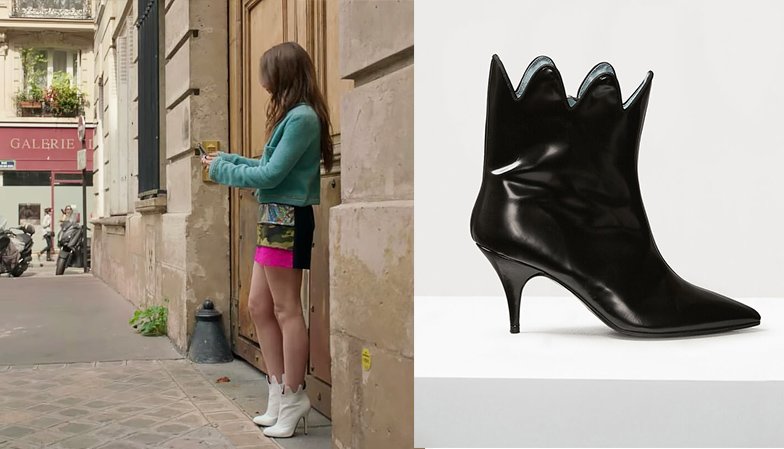 Starting off this list are these gorgeous white boots from Vivienne Westwood that Emily paired with her teal Chanel cardigan. The shoes' stark white hue definitely balanced the mix of colors in her OOTD, but it also added some interest in the form of the "squiggle cut-out" detail.


2. Elie Saab Spring Summer 2019 High Heeled Sandals with Gold Buckle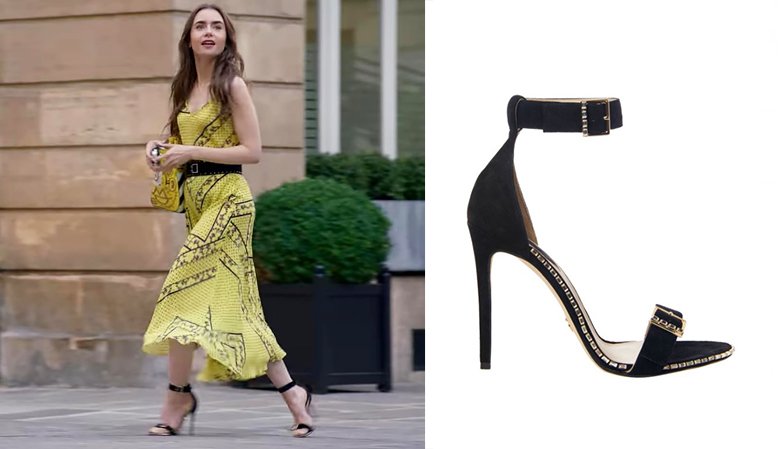 Remember when Emily Cooper wore printed frocks early on in the show? Well, in the first episode, she matched her yellow Ganni set and Patricia Field Canary Bag with simple heels from Elie Saab. Look closely and you'll see that it's actually embellished on the sides for extra sparkle!


3. Christian Louboutin Agneska Multi Patent Calfskin Pumps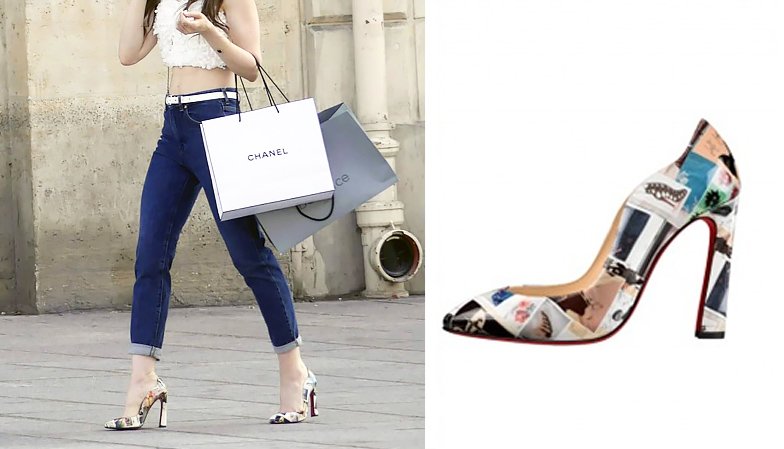 Do you recall that memorable scene when Emily broke up with her boyfriend while holding shopping bags from designer brands? (That is such a mood, TBH.) Well, she 'walked away' from that relationship wearing a pair of cool printed heels from Christian Louboutin. Called the Agneska Pumps, they feature a collage of different Louboutin images.


4. Maison Margiela Tabi Ankle Boots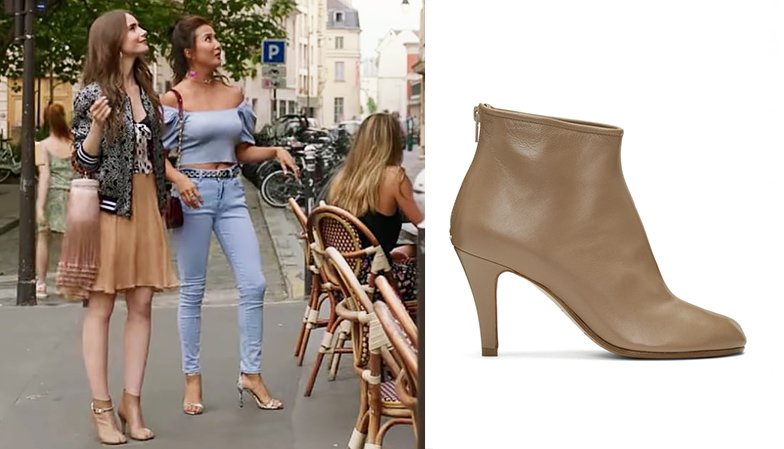 One shoe you might have missed in Episode 2 given its neutral color is the Tabi Boot, one of Maison Margiela's most iconic shoes. Inspired by Japanese tabi socks, these popular boots feature a cleft toe, and this pair in particular hits right above the ankle. It also features a heel height of three inches that make it optimal for the daytime.


5. Christian Louboutin Soval Ankle Strap Pump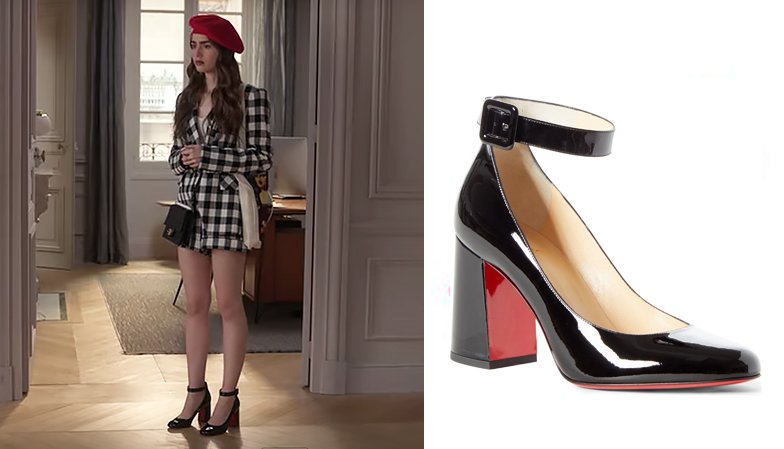 One pretty memorable scene was when Emily witnessed the making of a perfume commercial, with the model walking naked along a bridge. She gave a pretty clear stance as to how she feels it objectifies women. Well, perhaps what boosted her confidence was her outfit that day, which she completed with cute ankle strap patent pumps from Christian Louboutin. We love how the shoe's iconic red sole matched her beret!


6. Christian Louboutin So Kate Collage Patent Red Sole Booties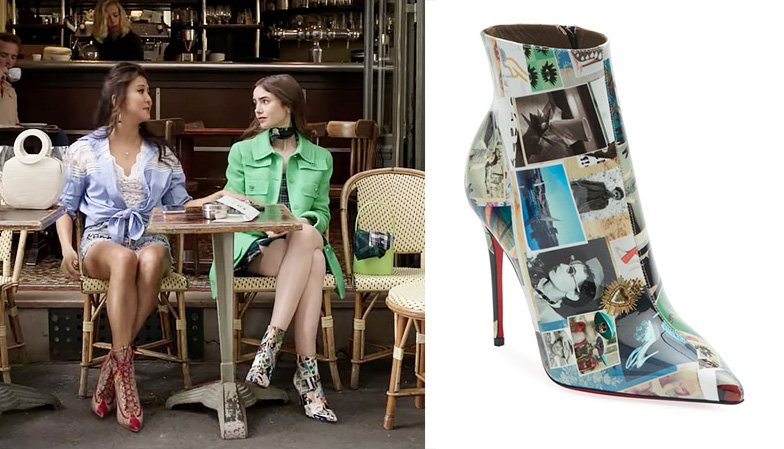 You better be ready because we're about to drop more Christian Louboutin shoes in just a few. (Safe to say Emily's obsessed with them!) It also seems that Emily likes collecting similar pairs in different styles because she owns printed shoes that are the booties version of her Agneska Pumps. Called the So Kate Booties, the design is a play on the brand's popular So Kate pumps with sensuous curves.


7. Christian Louboutin Soval Ankle Strap Pump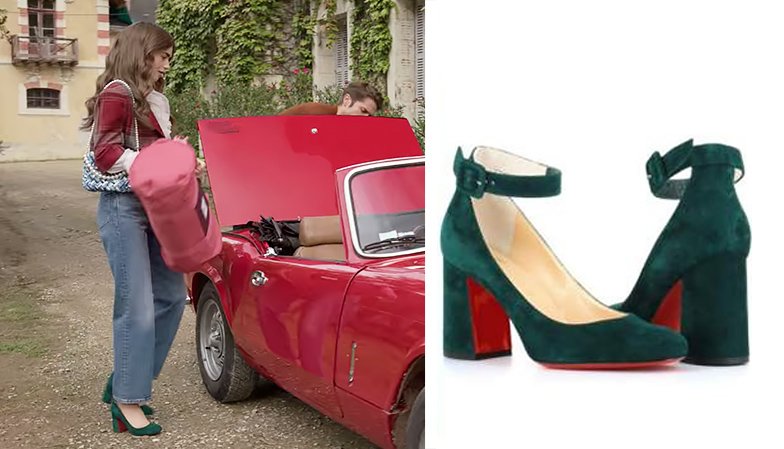 In case you didn't notice, Emily's style evolves throughout the show. From wearing 'basic' printed frocks, she later on steps it up by trying more Parisian styles like tweeds, more neutral colors, and boxy blazers. But despite her changing fashion sense, she did stick by a few pairs of shoes—proof that it's great to invest in a versatile pair. One piece was the Soval Ankle Strap Pump (yup, the Soval again!) in green suede that paired well with her plaid red blazer in Episode 8.


8. Christian Louboutin Agneska 85 Pink Velour Pumps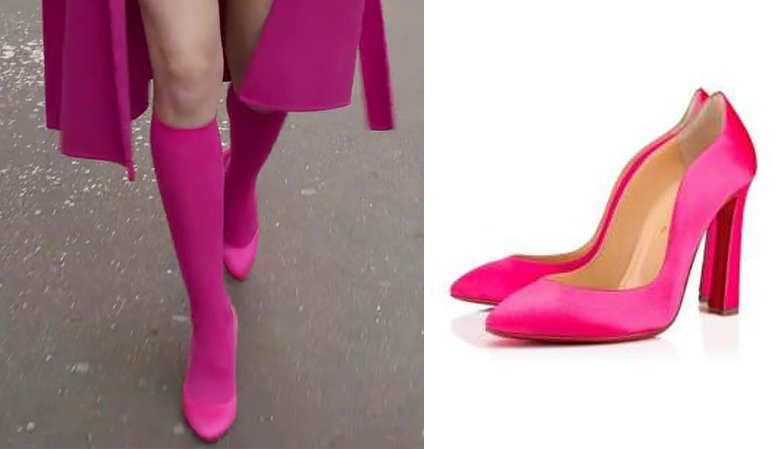 Another Christian Louboutin Agneska sighting came in the form of this lovely pink velour pair, which she wore with a monochromatic pink outfit. The styling trick you need to take away from her look though is how she wore them with pink knee-high socks that made it look like she was wearing boots. Guess we could pull that off in the PH, too!


9. Fendi Rockoko Runway 115 Boots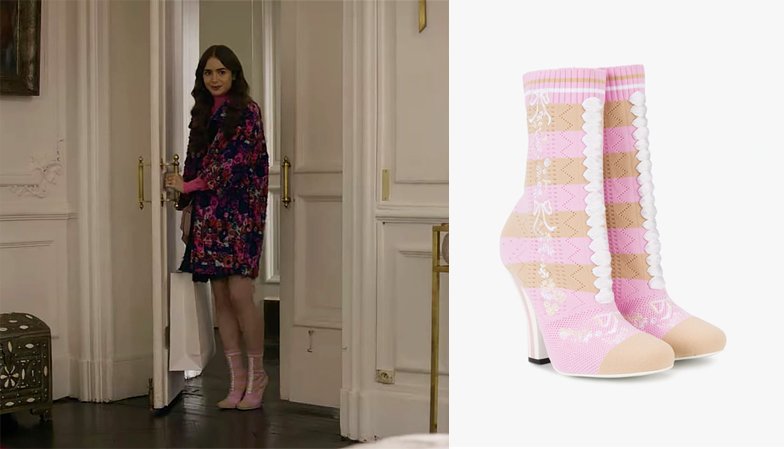 If you paid close attention to Emily Cooper's fashion sense, you will have noticed that she goes for pieces that kind of harp on Parisian cliches—like the beret, her controversial bag charm (LOL), and a ton of Chanel tweeds. One subtle way she did refer to France was through her Fendi boots from Episode 9, which matched her fluffy pink Kate Spade bag. The boots are actually inspired by 17th-century fashion in Versailles, as manifested by the pastel hue, perforated details, and floral embroidery.


10. Christian Louboutin King Beaded Red Sole Booties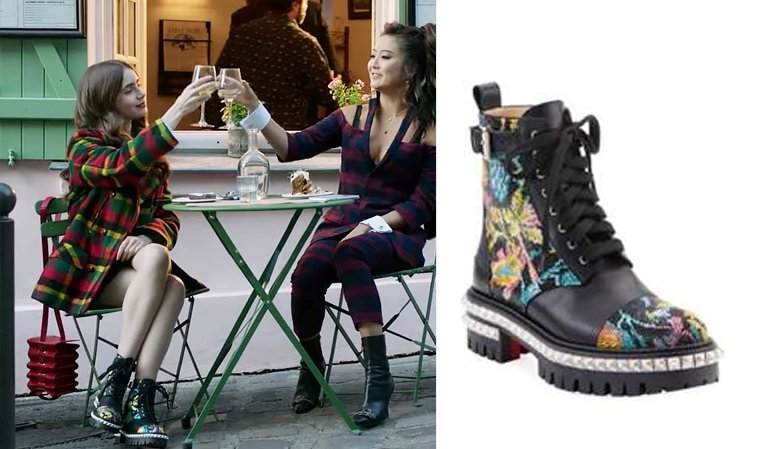 Rounding out this list is a pair of refreshingly edgy combat boots that are—surprise, surprise—from Christian Louboutin. Called the King Booties, this design hits right above the ankle for a comfortable fit. It's lugged sole is lined with studs, because Emily loves a good fashion statement. As if that weren't enough, it's also beaded with a floral motif! We guess Emily couldn't help but let her flirty, feminine style peek through.