Spend an hour digging through the skincare threads of Reddit, and you'll discover three things: 1. Pretty much everyone has some sort of acne, 2. Retinol is a magic ingredient, and 3. Turmeric and honey masks are life. The beauty powers of these two ingredients are astonishing.

Like, who knew that this inexpensive dynamic duo could give you that lit-from-within glow? And although, yes, DIY skincare recipes are as dime-a-dozen as that cliché is, this mask is one that keeps popping up over and over again on Reddit, receiving praises like, "Wow. My skin is clear, the redness has almost all gone, and there's no dryness. Outstanding," and comments like, "I can never stop singing the praises of raw honey and turmeric masks. Anti-inflammatory, antibacterial, antifungal, reduces redness, ultra-hydrating…Definitely my HG."

But how? Why? What is this voodoo? As it turns out, there's no magic here, but instead some good ol'-fashioned home remedies that have been used for centuries in western medicine.

"Honey has natural anti-inflammatory and antimicrobial properties, making it an excellent at-home treatment for fungal infections, psoriasis, dry skin, and even burns," says dermatologist Joshua Zeichner, MD, director of cosmetic and clinical research in dermatology at Mount Sinai Hospital in New York City.

"Turmeric, on the other hand, is an antioxidant and anti-inflammatory that has been evaluated in treating acne, brightening dark spots on the skin, and treating fine lines and wrinkles," he says. So the combination of the pair, as you could guess, would be somewhat explosive. "It's an ideal type of treatment for anyone, but especially if you're dealing with acne, since it can calm inflammation, kill microorgansims on the skin, and fade dark spots," adds Zeichner.

As for the mask itself, the how-to is ridiculously simple.

* Mix half a teaspoon of generic turmeric with a tablespoon of generic honey (and that's a guesstimation—there's no real recipe, as long as you use enough honey to cover your face, and mix in a moderate amount of turmeric).

* Layer it evenly over your clean, dry skin.

* Keep it on for anywhere from 10 to 20 minutes, then rinse it off.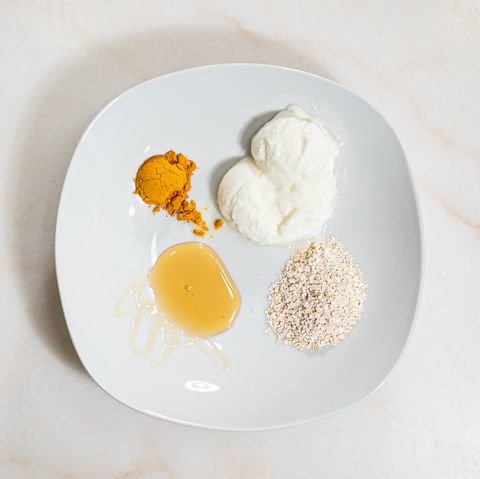 As a note of caution, turmeric will temporarily stain the hell out of your face if you're pale—as in overnight staining, not days-long staining—unless you mix in a few drops of milk or yogurt to the mask to act as a barrier, or remove the mask with a simple cleansing oil.

For good measure, here's another noteworthy DIY turmeric mask to give a try for soft and glowing skin, if you're down for a just a few more ingredients. Recommended by beauty YouTuber Rose Siard, who has a social following of almost 600,000, this four-ingredient mask is just as simple and effective:

* Combine a 1/2 teaspoon of organic turmeric, 1 tablespoon of ground oats, 2 tablespoons of organic plain yogurt, and 1 teaspoon of raw honey into a thick paste.

* Apply to your face. The coarse texture of the ground oats will gently exfoliate away excess dirt and oils.

If you have sensitive skin or are suffering from irritation enhance your turmeric mask mixtures with these key ingredients:

* Add a 1/2 teaspoon of aloe vera gel to calm redness.

* Add 1 tablespoon of almond oil or squalane to ease skin irritation and to rid yourself of the pesky staining that turmeric leaves behind.

* Add 1 teaspoon of rosewater for additional hydration and to soothe inflammation.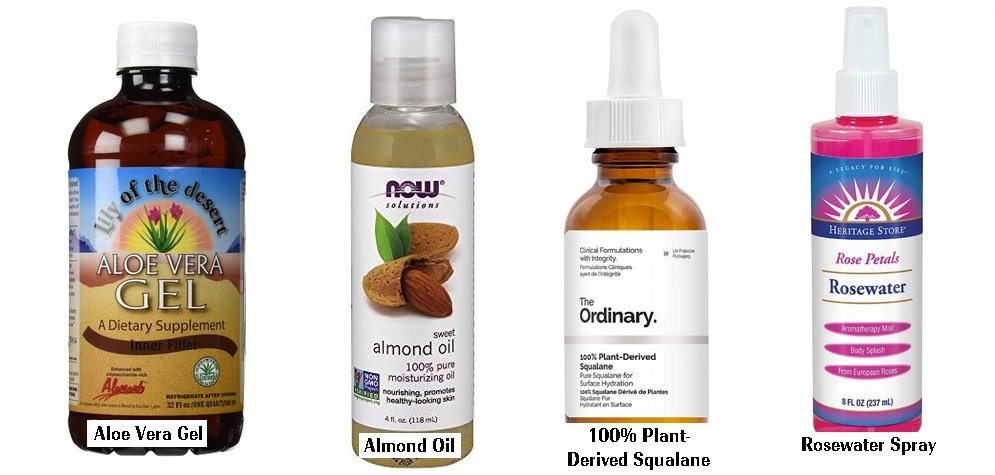 Full disclosure: you won't notice immediate, magical results overnight—does that even exist? But if you use it consistently, as in a few nights per week, you'll start to see brighter, smoother, and calmer skin. The skincare rule still stands that if you've never slathered honey, turmeric, oats, or yogurt on your face, make sure to patch test first by dabbing a bit on your neck or just beneath your ear, leaving it on for 20 mins, then waiting 24 hours in case your skin negatively reacts. After that? Go wild and glow on.