In one week, something I've been dreading will finally come to pass: the mammoth Westfield mall at Shepherd's Bush opens just up the road from where I live. Apart from the fears I have about the effects on the area, the timing of this unprecedented, unasked-for dumping of an out-of-town shopping centre in the middle of the capital is at least affording me the small pleasure of Schadenfreude. This gargantuan pile of the "retail future" arrives in time to stand as a giant monument to the hubris of the nation: a wavy-roofed, 46-acre museum to the credit-fuelled culture of irresponsible spending. Or, in other words, what is fast looking like the retail past.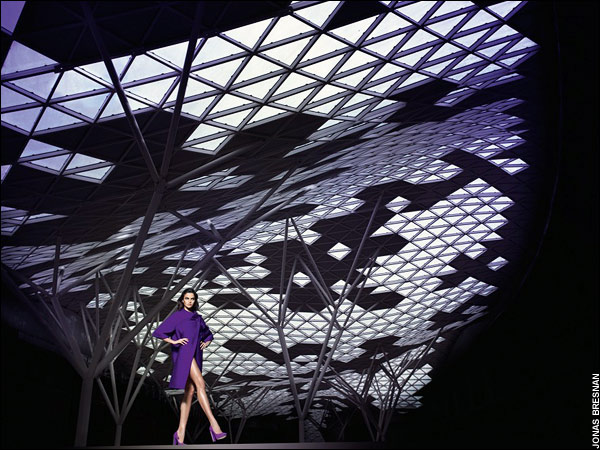 Museum of excess: the new Westfield centre houses over 265 shops
I was shown around the site last weekend. As a dedicated Cassandra, I still fear what will happen to the traffic and to businesses in an area that is gridlocked at rush-hour. The figures, through which Westfield emphasise the thrill and wonder of size, are designed to stun. They just intimidate me. There are 4,500 spaces for cars and new Tube and railway stations to deliver 60,000 people a day to more than 265 shops and 50 places to eat and drink. (Then it gets silly: the marble tiles would stretch from Shepherd's Bush to Hatfield, the escalators up and down Ben Nevis.)
Standing at the edge of the sweeping figure-of-eight vista on the first floor, under the geometric panes of the atrium roof and past the restaurants and hundreds of empty shopfronts, I felt chilled at the sheer scale. Even I can see that people will flock here, at least to look. The atmosphere, though still heavy with dust, is plain to see: it's going to be like shopping at Terminal Five, but without the duty-free.
Westfield's Australian owners argue that this centre will generate 7,000 jobs, but all I see is its power to close small businesses, choke the area with cars and all-night deliveries and even pull crowds and money away from the West End. Service, apparently, is going to be progressive, with valet parking and concierge services, including a facility to deliver shopping to cars (for a fee). This will be convenient for people who prefer to shop at Louis Vuitton, Chanel, Prada and Gucci in Shepherd's Bush as opposed to Bond Street, if such people exist.
But will Marks & Spencer, Topshop, Debenhams, House of Fraser, Zara and H&M really make money - or just set up in competition against branches a mile or two away?
advertisement
Finally, given Westfield's saintly stated policy of "social inclusion", I can't wait to see what they're going to do with the drug dealers, crack addicts and alcoholics who disport themselves on Shepherd's Bush Green like a latter-day scene from Hogarth. Hypocritically, I admit I might make use of the new Waitrose, which is near enough to the road to be accessible, but otherwise, I'm fearful and depressed.
One thing Londoners have never asked for is more shops. Schools, hospitals and housing, yes, but what we've got, plonked on land that might have been used for something better (or lain fallow, disrupting no one) is a £1.6 billion monstrosity that might turn out to be a giant white elephant.
Only the very daftest Pollyannas of fashion consumption are talking up the trends this autumn as if nothing has happened. Put quite starkly, clothes sales are juddering to a halt. Hardly a surprise, since such expenditure is perhaps the least justifiable - especially since the credit binge of the last halfdecade has left us with wardrobes, lofts and bin-bags under the stairs bursting with instant purchases with which we can punish ourselves at leisure.
It's time to drill ourselves in a new mentality. The crash is confronting us with assessing what's valuable, and what's irrelevant. If anything can be rationally allowable as a "good" purchase, what would it be? Only two types of expenditure pass the test: replacement items based on need, and things that will last for years.
1 Do I need it? Brutally speaking, only four things qualify as replacement purchases: underwear, hosiery, children's clothes and shoes. Footwear squeezes into this category only on the basis that the old ones are broken and unwearable. Fact: last year's shoe-boots and platforms will do. Exceptions can also be made if the moths got your favourite sweater, scarf and gloves. (Luckily, scarves are one of the best and most economical forms of fashion self-expression this season.)
2 Will it last? There's only one litmus test when standing in front of a garment that's screaming "buy me". Unless you can imagine wearing it in three or five years' time, step away.
3 Is it good value? Obviously, there's value in quality: a beautiful, classic coat in a shape and neutral colour that suits you at a top-of-the-range price will stand up for years, but a cheap version that "gets the look" will be dead in a season. A plain dress that can be accessorised in six different ways (this year) and six other ways next is also good old-fashioned value.
4 Do I absolutely love it? Love-atfirst- sight needs on-the-spot diagnosis. If it's impulse reaction to the trendiest thing of the season (2008 alert: lace, tartan), stifle it. If you recognise it as something exceptional that speaks to the core of your identity, this could be the start of a lifelong relationship. Take carte blanche: even if this perfect item is the boldest, flashiest, most counterintuitively mad purchase to be making in a depressed economy, you'll still be wearing it from time to time. And you'll have forgotten what you paid.
5 How will I pay for it? Surely you don't want more on your credit card?
Which way will fashion jump in the coming recession? No one I've spoken to claims to have the answer, but one lesson from the past is that the escape into fantasy is one way out. That's what struck me at the opening of a retrospective of the late and too-long neglected Scottish designer Bill Gibb at Bath Museum of Fashion, whose richly patterned, swirlingly romantic dresses captured the imagination of British women in the early Seventies.
Some of Gibb's most beautiful work dates from 1974, designed against the sombre backdrop of the three-day week. If those clothes offered light in the darkness, dancing across the pages of Vogue (even if few could afford them) they are equally now. I wouldn't be surprised if Gibb-isms started turning up on catwalks next year. Bath museum is a mecca for designers, students and enthralled schoolchildren alike. I worshipped there as a local schoolgirl, and saw my first Bill Gibb when it was chosen as Dress of the Year in 1970. So, in a way I owe my career to this museum and its power to make girls dream.
Bill Gibb exhibition runs until next October at the Fashion Museum, Bath; 01225 477173, fashionmuseum.co.uk