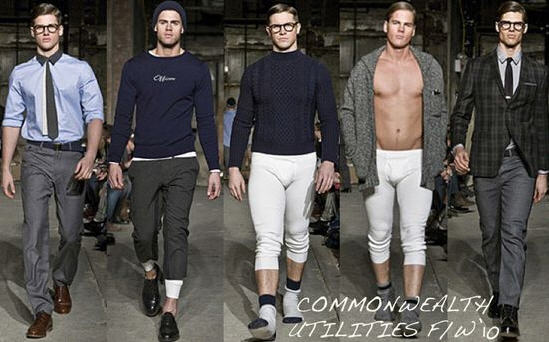 Commonwealth Utilities
Fleet Week meets Wall Street. Anthony Keegan and Richard Christiansen successfully and cohesively blended these contrasting styles into a black/gray plaid flannel blazer paired with flat-coated gray denim straight jeans, chunky cable-knit fisherman's sweaters worn over long johns and socks, and, what was for me, the real winner: a tuxedo shirt and black skinny jean under distressed black leather trench coat. The raw artistry and hip young vibe (the show was held in the raw and unfinished NoMad Hotel) will probably ensure the collection is a big seller.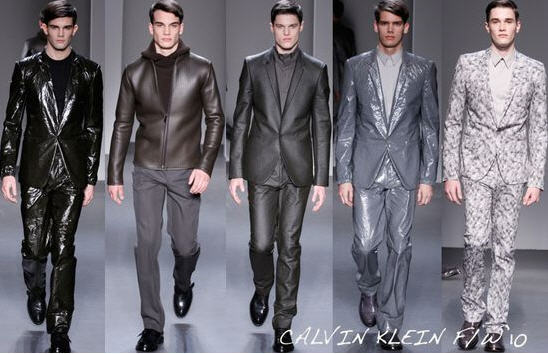 Calvin Klein
Italo Zucchelli presented his second collection since taking over as Men's Creative Director for Calvin Klein. A bold, forward-thinking collection that featured stellar outerwear, it also included a patterned gray and black suit in made from traditional menswear suiting that was a standout. However, it was the synthetic fabrics that proved most directional and unique. A shiny synthetic-fabric suit with elastic cuffs seemed, at first, like disposable (but tailored) coveralls a city worker might wear for a night out...was Zuccelli mocking the disposability of fashion? However, as I watched the models walk, I realized these could actually represent the ultimate comfort suit and reassessed my initial reaction. Both of the versions - one in black and one in grey over an identically colored t-shirt or button-down shirt - gave off a futuristic vibe that indicated Calvin Klein was taking a giant fashion step forward.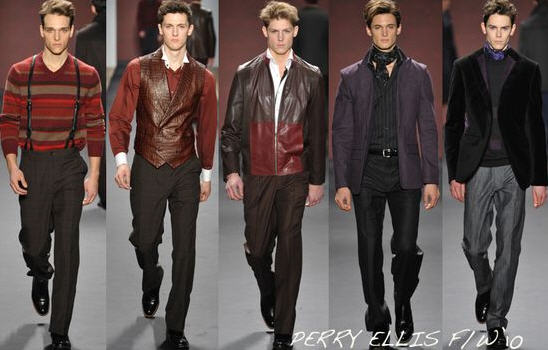 Perry Ellis
If Calvin Klein was busy taking big steps forward, John Crocco at Perry Ellis was more measured in his attempt to update the Perry Ellis image. The 42 runway looks were mostly identifiably "Perry Ellis" in style, including the standout goat-skin blouson and velvet evening jacket. The Buffalo Bills receiver, Terrell Owens, was seated in front of me and based on his enthusiastic nodding, I expect that some of the looks are going to enjoy the spotlight yet again as TO discusses his latest performance on the field.