Fendi unites creatives around the world with the final installment of the Fendi Renaissance – Anima Mundi series: an original jazz performance by student musicians of the prestigious New York City Juilliard School.

The Italian luxury house first launched Fendi Renaissance – Anima Mundi in June 2020. The series of streaming events features musical performances set against iconic architecture with musicians decked out in Fendi and began as a source of celebration during the darkest days of the pandemic in Italy.




On the Summer Solstice on June 20, Fendi organized and streamed a classical performance of Antonio Vivaldi's "L'Estate" from The Four Seasons, performed by the orchestra of the Accademia Nazionale di Santa Cecilia and star violinist Anna Tifu. Fendi has since streamed classical performances from Shanghai, Tokyo, and Seoul, but working with New York jazz musicians marks the series' first non-classical showcase.

"It is fitting that jazz, New York, and Juilliard close out this suite," said Wynton Marsalis, Director of Juilliard Jazz. "Jazz symbolizes individual freedom, collective creativity and personal resilience–fundamental attributes needed to effectively navigate an increasingly complex world. New York is the quintessential modern metropolis, a cauldron of cutting-edge connectivity. And Juilliard brings youthful virtue, vigor and virtuosity to the timeless challenges of humanity."

For the streaming event, an ensemble of six Juilliard student musicians perform an original score by master's student Aaron Matson entitled "Rollerblading in Harlem," commissioned by Fendi for this series. The performance was pre-filmed in December and features the students, dressed in self-selected attire from the Fendi Fall/Winter 2020 collections, playing together overlooking views of Central Park. The video features saxophonist Coliin Waters, trumpeter Summer Summer Camargo, drummer Taurien Reddick, bassist Jayla Chee, pianist Tyler Henderson, and trombonist Jasim Perales.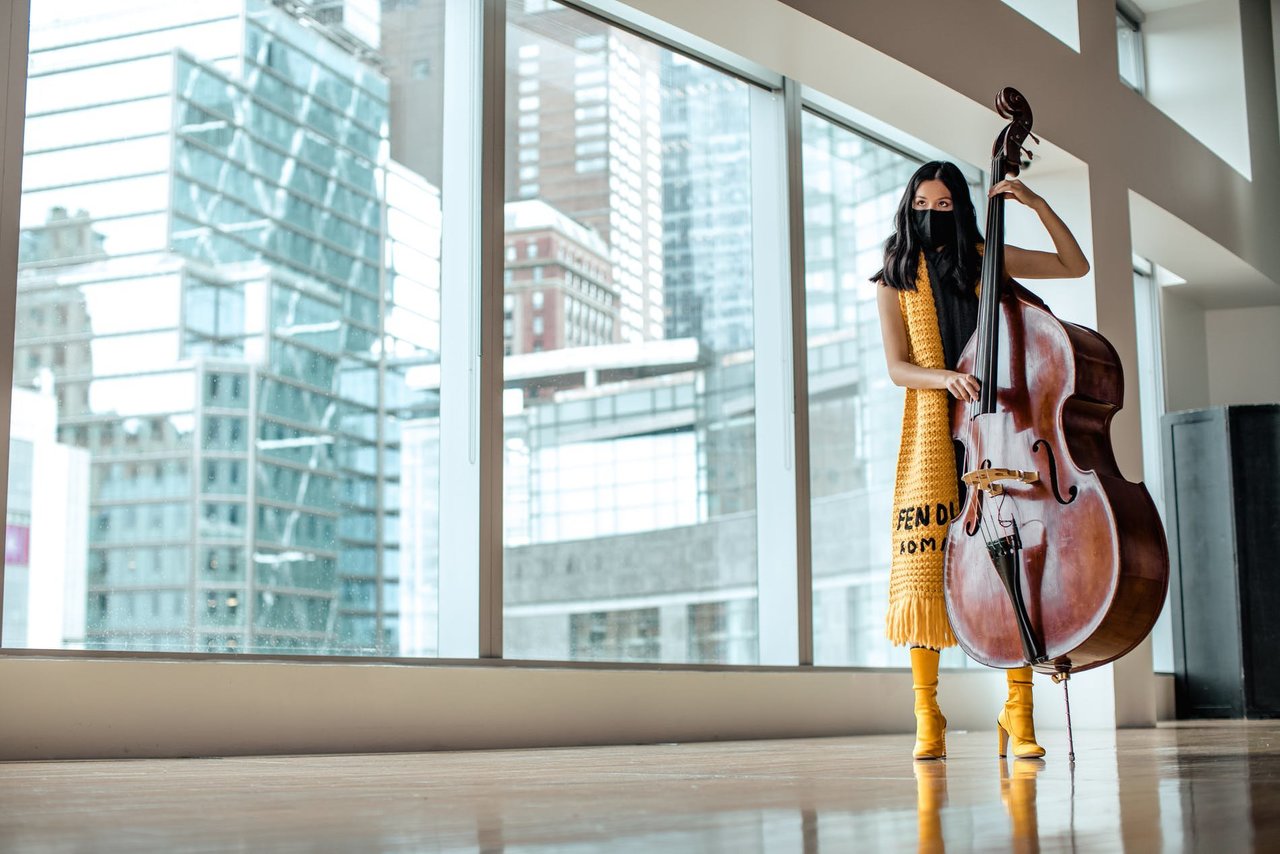 Bassist Jayla Chee.

Fendi has also launched a donation program with Juilliard to fund student scholarships and support creativity at every level.

"Beyond our admiration for the dedication of the students to have reached the level of achievement having been accepted to the esteemed Juilliard School in their respective disciplines, our shared obsession with craft and the importance that arts play in giving back to society is the reason we at Fendi chose to make a meaningful donation to Juilliard," said Fendi CEO Serge Brunschwig.