Fur boots: the trend
In 2010 and onwards, fur and fur lined boots are opportune for several entirely different looks. On the one hand, they're perfect for the cute-as-a-button ski bunny. But they can also be your key accessory as a picture of English country elegance. Finally, and so perfectly, a primitive, pelt-like pair of fur boots is the ultimate in winter boheme.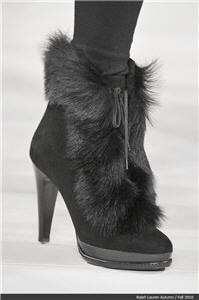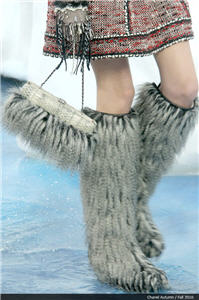 How to wear fur boots
* Elegantly - in its most simple form, a pair of subtly fur-lined ankle boots work a treat against a pair of tights and a winter skirt or sophisticated pair of shorts.
* With a mish-mash of other winter fabrics: try leather, wool and country tweeds.
* For a cosy snow-cabin look, follow D&G's lead with Fair Isle knits.
* Prettied up against delicate flowing fabrics for a woodland-nymph effect. Try pastel or nude coloured silks paired, or even some underlayers of tulle.
* Bohemian. Look to Roberto Cavalli and Thakoon for inspiration for one of the strongest fur looks in 2010. Part primitive with rugged, natural furs and part 70s bohemian with eclectic layers and prints. Just add bedhair.