Kristin Zimmermann earned her degree in fashion design and has years of experience working in the fashion industry in her native Germany. Her passion for design, along with the German ethic of impeccable attention to detail using fabrics from the top mills in Italy has spelled success from the beginning of her career. The meticulously constructed, one-of-a-kind garments have a classic appeal while being playful, uniting Baroque elements with timeless Parisian flair. 3zehn (THIRTEEN) is quickly becoming a recognizable brand in Germany as a daring and contemporary line for both men and women. Two visually strong collections are created each year.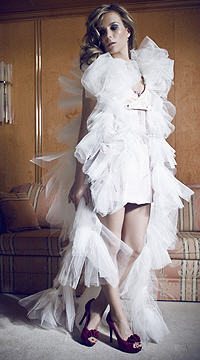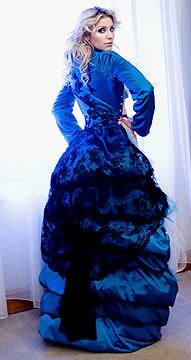 Kristin Zimmermann's Fall 2011 collection is entitled "Hand in Hand" and is inspired by the incredible diversity and commonality of our planet. "Nations, traditions, customs, rituals, religions ... we are all different, but we also have so much in common," notes the designer. "We all walk on this earth together and each and every one of us is an important part of what makes the world work and each of us deserves respect. In the Fall 2011 collection I strive to express the desire for unity by playing with black and white and the melding of textures against contrasting skin colors."
Ms. Zimmermann opened her flagship boutique in 2010 in Erfurt, central Germany, to rave reviews.
For more information, visit the designer's website: www.3zehn-fashionlounge.de
Couture Fashion Week is a multi-day event showcasing couture and luxury fashion. It also includes exhibits of luxury brands and fine art as well as world-class entertainment and receptions. The event is held at the Waldorf-Astoria in New York City with related events occasionally in other selected cities and is attended by upscale consumers, invited VIPs, the press and high-end store buyers. Couture Fashion Week offers unique branding opportunities for luxury products and services.
Visit the event website for more information:
www.CoutureFashionWeek.com