On Tuesday night, the British music world's great and good came together for the first in-person celebration of music in over a year, the Brit Awards. The starry line-up of attendees included the likes of Taylor Swift, Harry Styles, and Olivia Rodrigo, but the night also marked the anointing of a bold new voice in music: the up-and-coming bedroom pop musician Griff. Not only did the emerging musician take home the Rising Star Award, previously won by the likes of Adele and Florence and the Machine, but she also delivered a show-stopping performance of her latest single "Black Hole." Oh, and if that wasn't enough, she wore a hand-made dress of her own design while doing so.

"I was very nervous, as the last live show-in fact, the first live show I ever did-was with 200 people in the room, and then COVID happened, and so the next time I did a live show was at the O2 Arena, which is completely nuts," says Griff. For her performance, she crafted a deconstructed ball gown from icy blue satin, the various panels attached with eyelets. While it brilliantly complemented Griff's bold moves as she twirled around the stage, it also served as a perfect foil to the post-apocalyptic backdrop for the performance, which featured an enormous fabric sheet with a hole burned in the middle-a reference to the song's title-and wooden decking for her backing musicians. "It was definitely overwhelming, but I think sometimes when it's more intimate it can be even more nerve-wracking," Griff adds. "It was nice to get lost in the arena a little bit."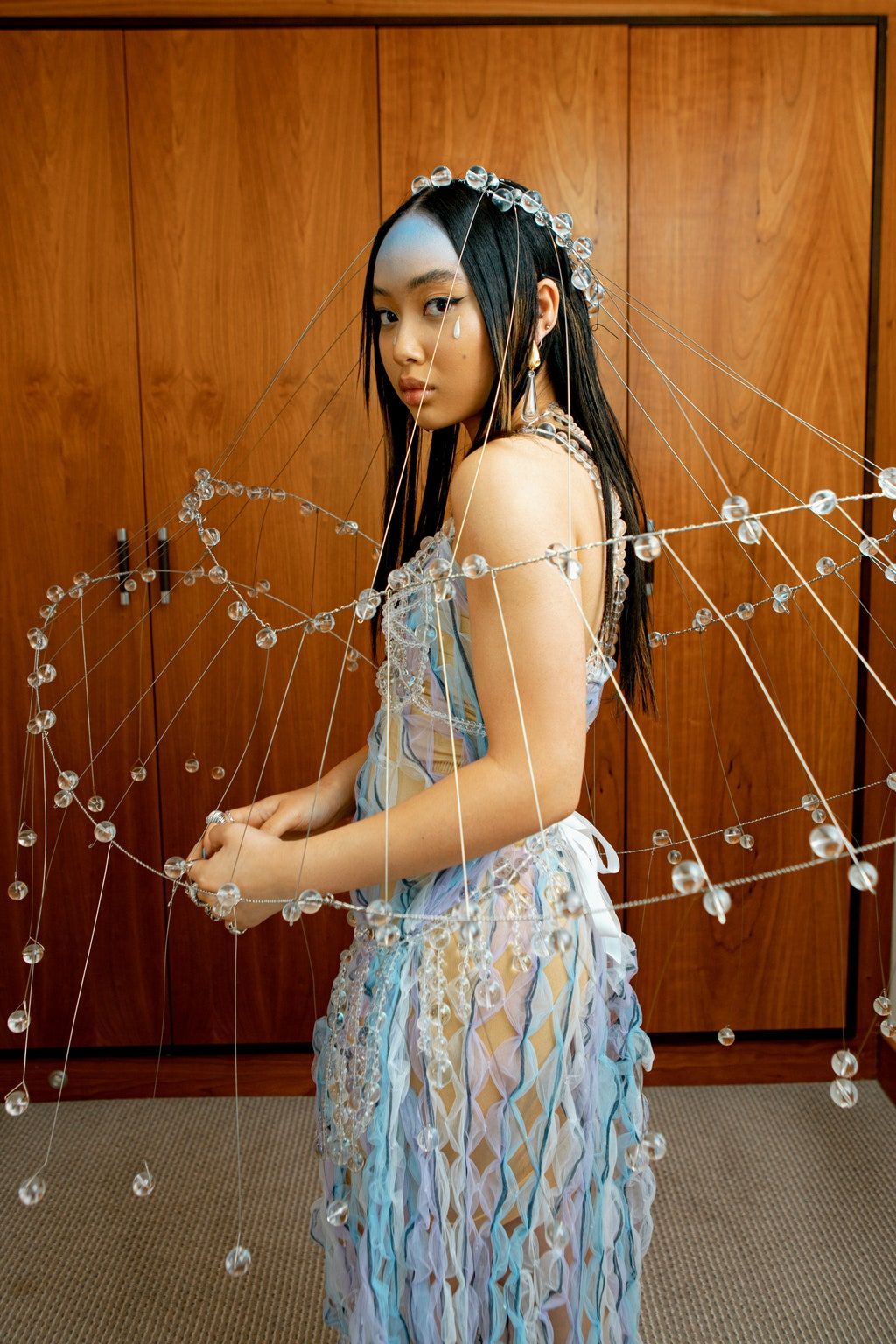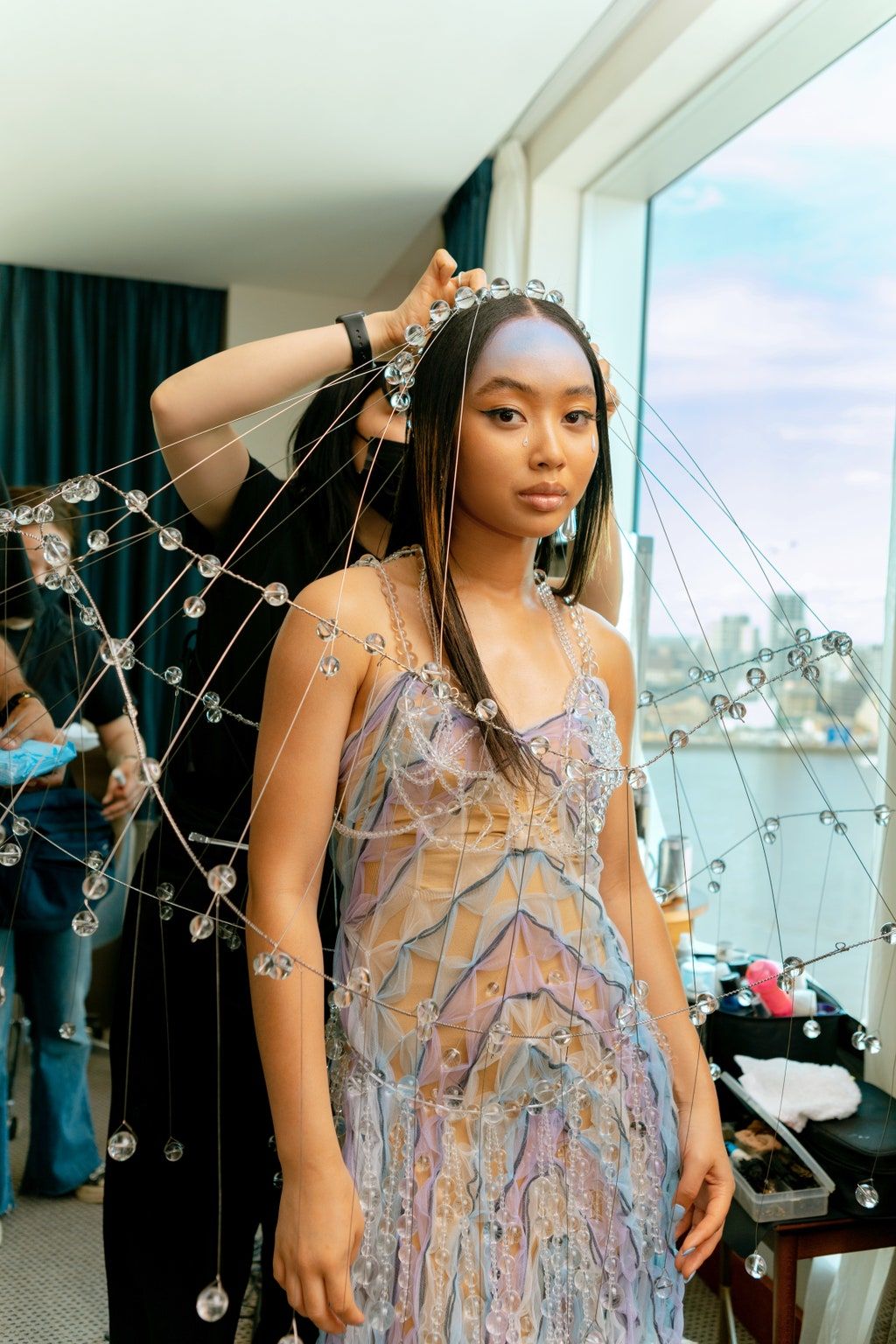 It helped that Griff had two other, equally impactful looks to help her through the night. (Post-performance, she slipped into a delightfully flouncy tiered Simone Rocha gown featuring pouf sleeves, a harness detail, and encrusted with pearls.) But it was her first red carpet look-designed especially for the event by the London-based, Chinese-born designer and previous LVMH Prize nominee Susan Fang-that served as the most breathtaking fashion moment. With a shimmering, silvery-blue shadow across her forehead and a single tear painted on her cheek, the final touch was an enormous, ethereal headpiece constructed from geometric wires and sparkling glass spheres.

"I wanted to support an up-and-coming designer anyway, but I also think by going with a newer designer, hopefully they've got a fresh look that people haven't really seen before. It's also definitely important for me to support Black and Asian talent where I can," says Griff, who was born in rural Hertfordshire to a Jamaican father and a Chinese mother. "We kind of went all out. I think we accidentally went a bit Met gala to the Brits," she laughs, "but I was kind of like why not? It was my first red carpet, let's go big and go theatrical!"




It was certainly the right occasion to go all-out-in no small part thanks to the fact that Griff was finally able to meet one of her heroes, Taylor Swift, for French fries in her dressing room after the show. (Swift had previously expressed she was a fan after Griff and fellow singer-songwriter Maisie Peters recorded a cover of Swift's "exile" last year.) "It's so nuts," Griff says. "I can't even begin to explain to you how much Taylor Swift has influenced me as a writer. And then I was getting ready in the morning, when suddenly these flowers just appeared. And the note was like, 'Hope your performance goes well and hope I get to say hi! From your friend, Taylor.' And I thought: Is there a Taylor I know that I've forgotten? Could it be Taylor Swift? And then when she did her speech, she shouted me out and I freaked out, then after the show we hung out for a bit. She was so great."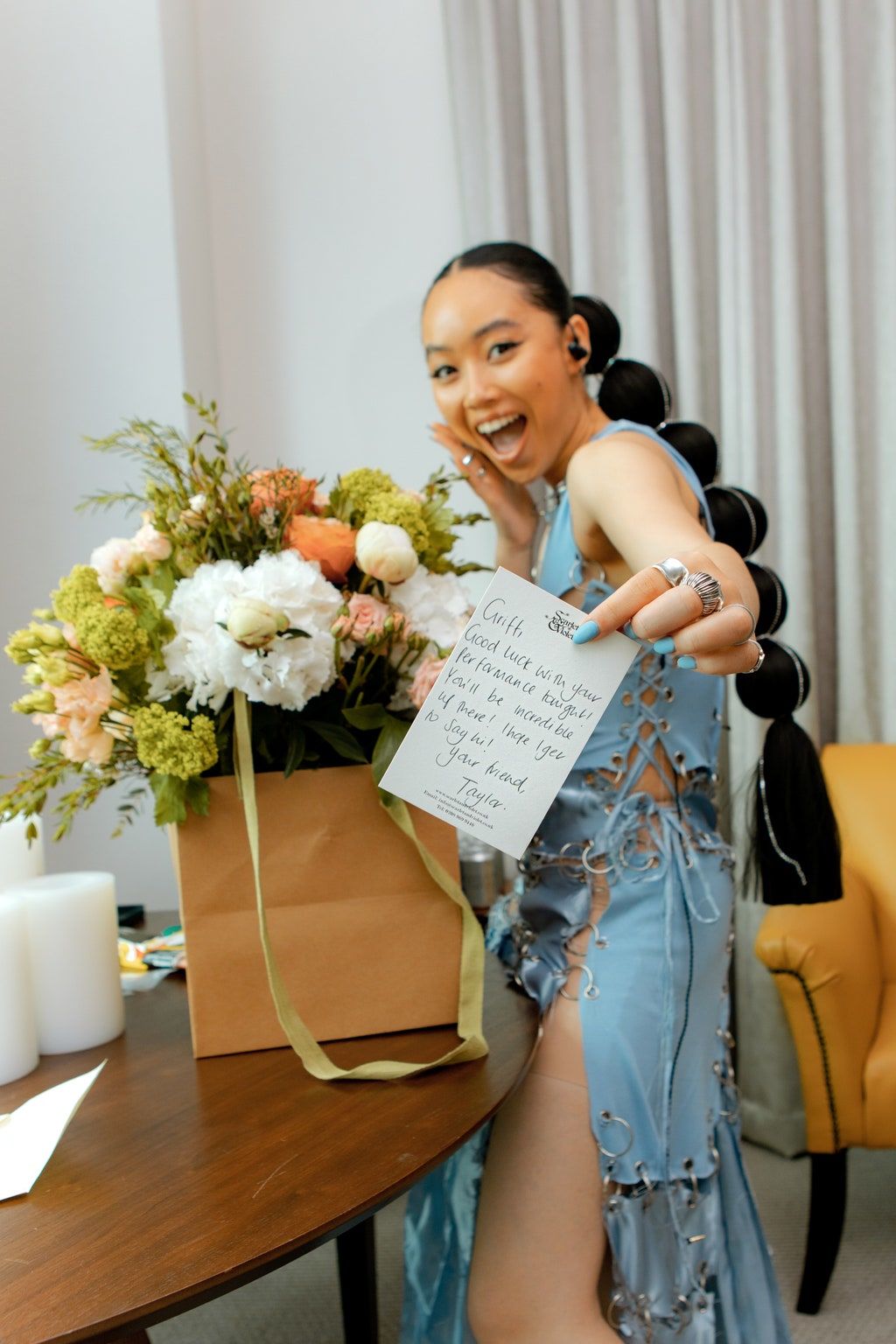 Aside from all the fabulous fashions and celebrity co-signs, however, the real reason for Griff taking home the Rising Star Award was the music, which has been celebrated for its sideways, lo-fi take on pop and heartfelt lyrics-and of which she has plenty more in store. Her upcoming mixtape, One Foot In Front Of The Other, which releases in June, she describes as containing her most personal music yet, with all of the songs being self-produced and written in Griff's bedroom. The title itself is something of a reflection of the strange circumstances of Griff's ascent to popularity-a whirlwind year, but ironically, one spent largely within the four walls of her own home. "I learned how to walk a tightrope for the artwork, because I think that was important for visualizing that feeling of cautiously stepping forward, and feeling very vulnerable at any point," she explains. "You could fall, but all you can really do is put one foot in front of the other."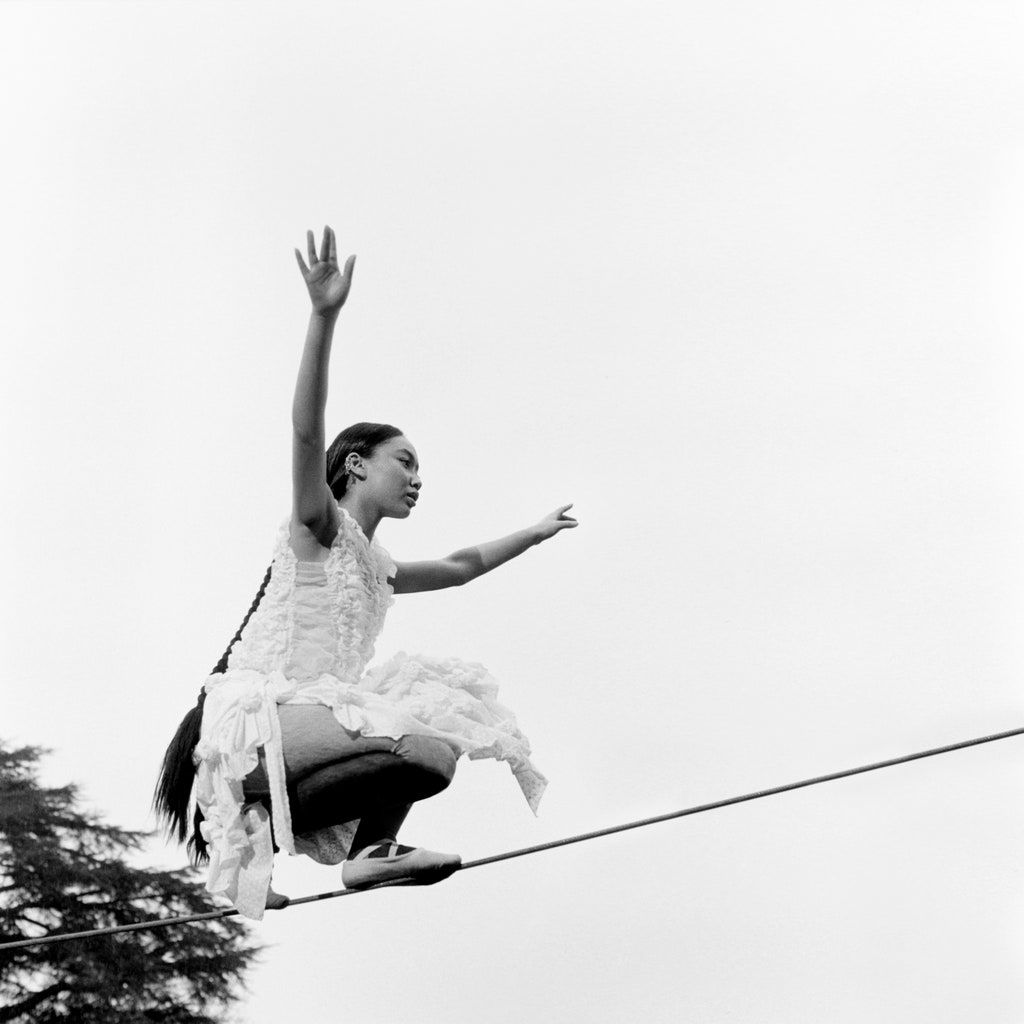 The artwork for Griff's upcoming mixtape, One Foot In Front Of The Other.

Still, it's her ability to channel the DIY spirit of her music through style that makes her doubly exciting, even if it was partly born out of frustrations around the expense of hiring a stylist when she was first starting out. "I had always really liked fashion," she says. "I would read BoF and watch panels on SHOWstudio and stuff, and learned a lot about London designers particularly, so I did textiles at A-Level which taught me the basics of making a garment."

"Then when I signed a record deal and we started doing photo shoots, I found how much it costs to use a stylist, so I started bringing along bits that I'd made to photoshoots and saying, 'If you want to use them, they're here.' I kept doing that and people kind of loved the idea that I was the girl who makes all her own clothes. Although it also started to be this precedent where I shot myself in the foot a little, as everyone would look at everything I wore and be like, did you make that?" Griff adds, with a laugh.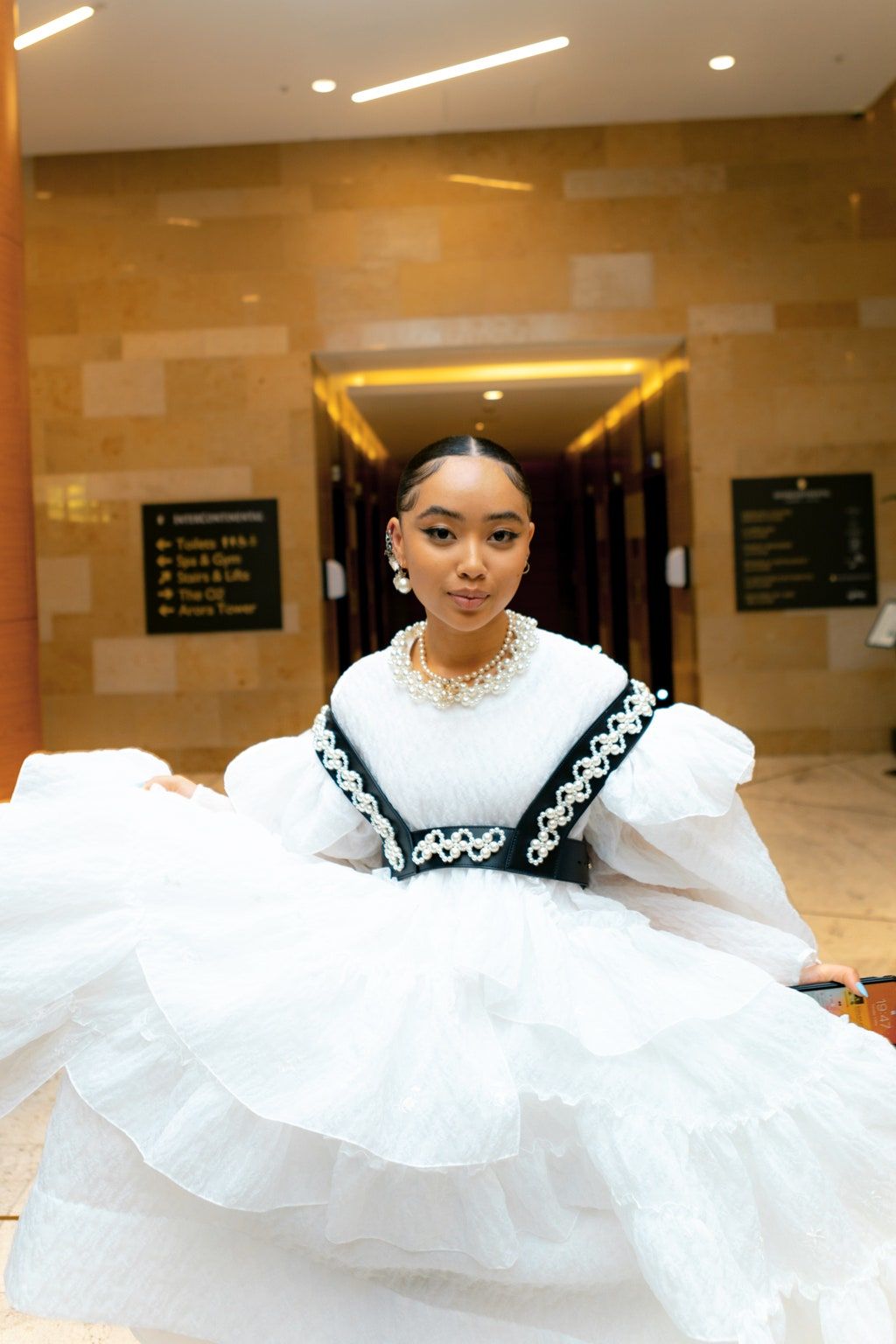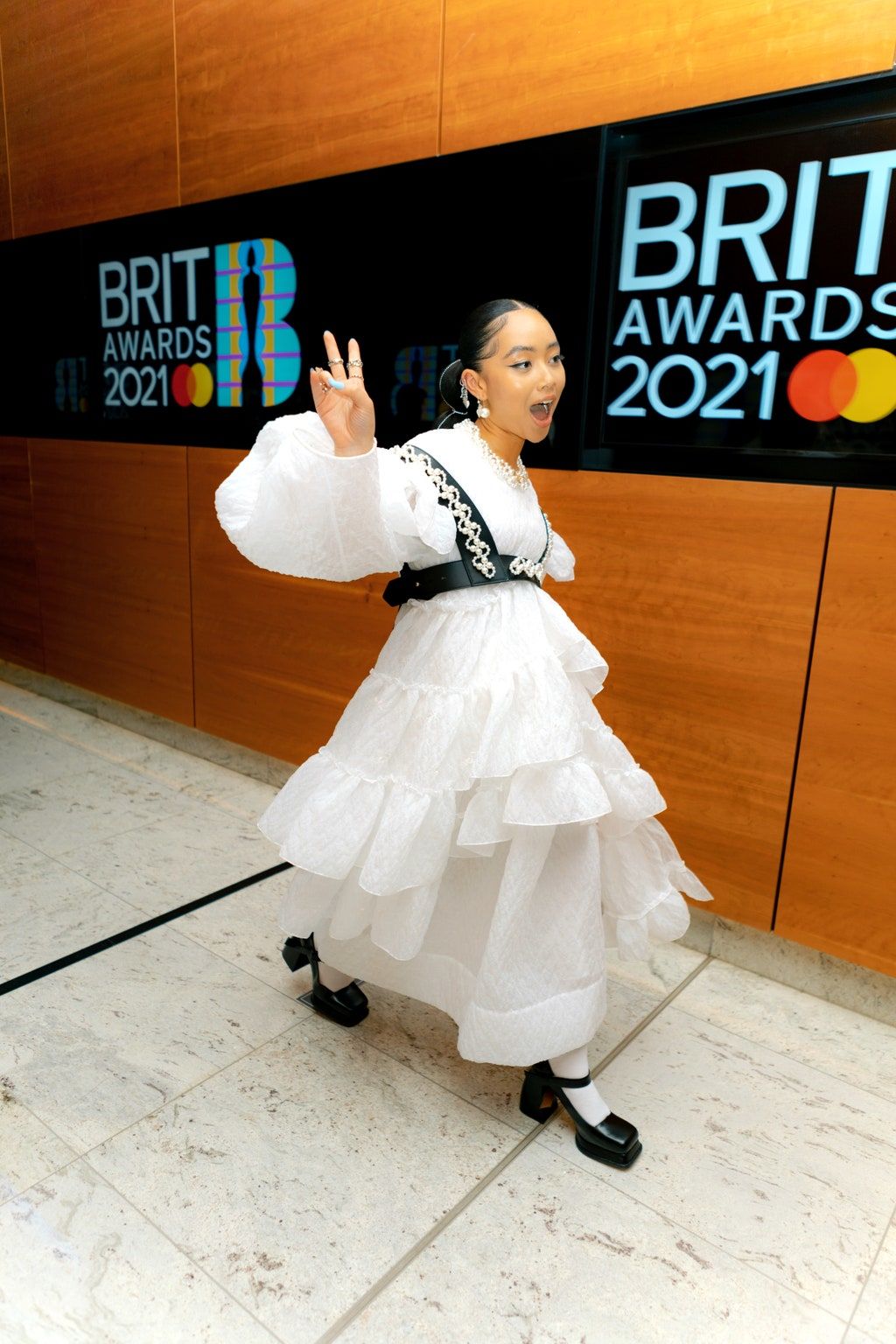 It's clear that what makes Griff stand out is not just her palpable confidence, but also a fierce spirit of independence, whether that means crafting her own looks to find the perfect fit for her latest music video, or her signature ponytail which features her hair crafted into sculptural baubles. (Griff notes that this partly came about after reading horror stories about hairstylists inexperienced with Afro hair; safer, she decided, to bring her own hairpieces.)

"I think I'm very used to being different," Griff concludes. "I grew up in a very white middle-class area, and obviously I'm not that. My whole life I felt like I was sticking out like a sore thumb, and I think eventually I've found comfort in that. My worst nightmare now would be to release music and put out visuals and be styled in a way that feels like conveyor belt pop or anything else we know and see all the time. Honestly, it's one of my worst fears. So I think that kind of fear is what drove me to be so involved in the creative. It might not always work, but I think it's just good to experiment and try and have that as your intention, you know?"