If Milan Men's Fashion Week Fall/Winter 2021 was to be a pragmatic proposal of future dress, its Parisian counterpart is the complete hyper-conceptual opposite. Phygital format aside, the vast majority of presentations cut COVID-19 out of the creative equation, nixing design input from the virus. Depending on how your relationship with getting dressed has shifted through lockdowns, this may or may not appeal to you. However, whether you're taking Zoom calls in Calvin's or Comme des Garçons, if you love fashion you've likely missed runway shows not about isolation, impending doom, the apocalypse, or anything else COVID-19 related.

Back in November, Paris' Fédération de la Haute Couture et de la Mode announced alongside The British Fashion Council and Florence's Pitti Uomo trade fair a 2021 fashion week schedule amidst pandemic lockdowns. Since then, government restrictions have waxed and waned, but ultimately it's not surprising the majority of this year's presentations in Paris were digital. The 126-year-old house of Berluti was tasked with kicking off the week and though it presented a (very) short film entitled "Living Apart Together" it did not actually show its Fall/Winter 2021 collection. Instead the heritage house took a tongue-in-cheek approach, revealing fractions of colorfully dyed cashmere hats, matching wooly sweaters, and sleek dress shoes over the 1 minute, 1 second long video. To top it off, the clip concluded by announcing the debut of the collection would actually take place on March 5, in Shanghai, long after Paris events have ended and far away from where they took place. Symbolic satire at its finest.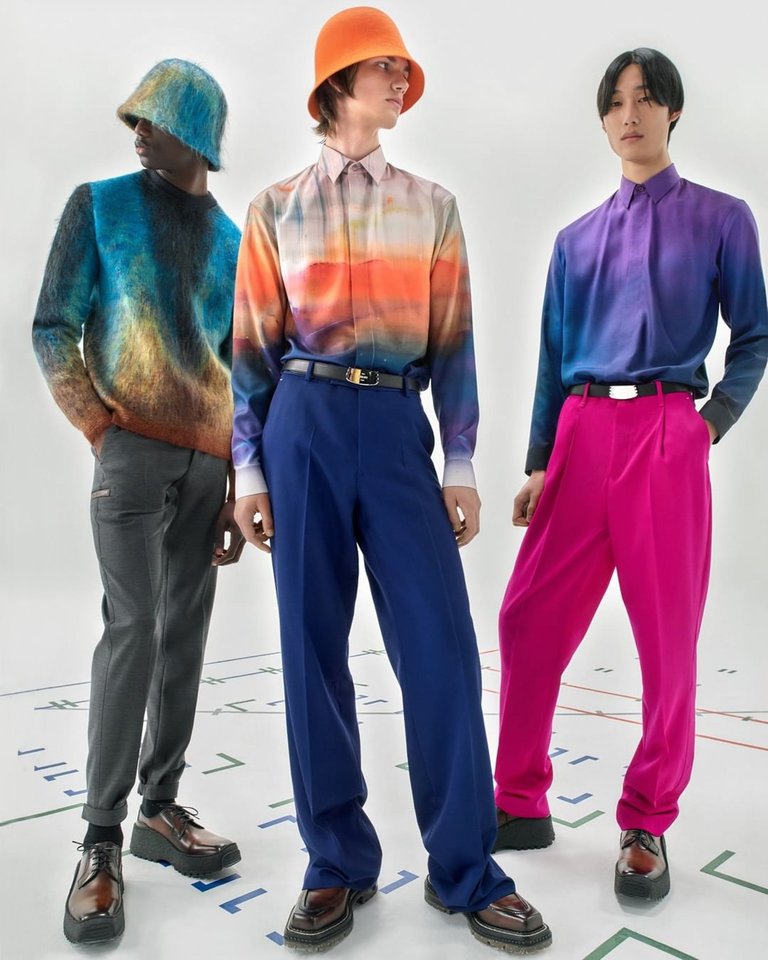 Berluti Men's Fall/Winter 2021

The typically traditional House of Berluti's film also revealed a common thread among the phygital fashion week events. That is, the adaptability and even embrace of new virtual mediums by brands. Artistic collaborators ranged from Scottish-born painter Peter Doig for Dior Men to American hip-hop legend, rapper Yasiin Bey AKA Mos Def for Louis Vuitton.

Virgil Abloh's sixth collection titled Ebonics, explores racism, Eurocentrism, and Abloh's own personal experience as a Black creator and intelectual. Through snowy mountain tops and a teal marbled maze, director Josh Johnson captured Abloh's own story, aspirational message, and equally impactful fashion on film. Inspired by James Baldwin's 1953 essay "Stranger in the Village," a reflection of how it felt to be a Black American artist in the majority white society of Switzerland, Alboh examines his African heritage sartorially and through the spoken word of Saul Willams and Kai Isiah Jamal. Ghanian Kente cloth embossed with the LV monogram, tartan checked quilts, crisp white cowboy hats underlaid by silk durags, and 3D European cityscape puffer jackets brought to life the idea embroidered throughout the collection: "Tourist vs Purist." Abloh has struggled in the past with accusations of mimicking the ideas of others, but here the designer's slogan and global exploration of design defends his methodology, questioning to whom ideas, art, and culture really belong.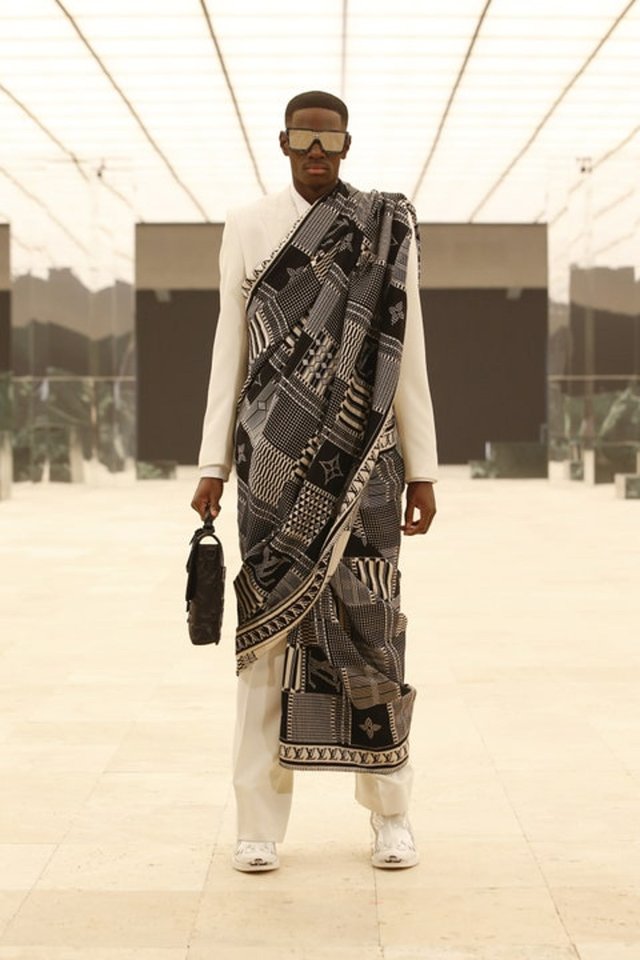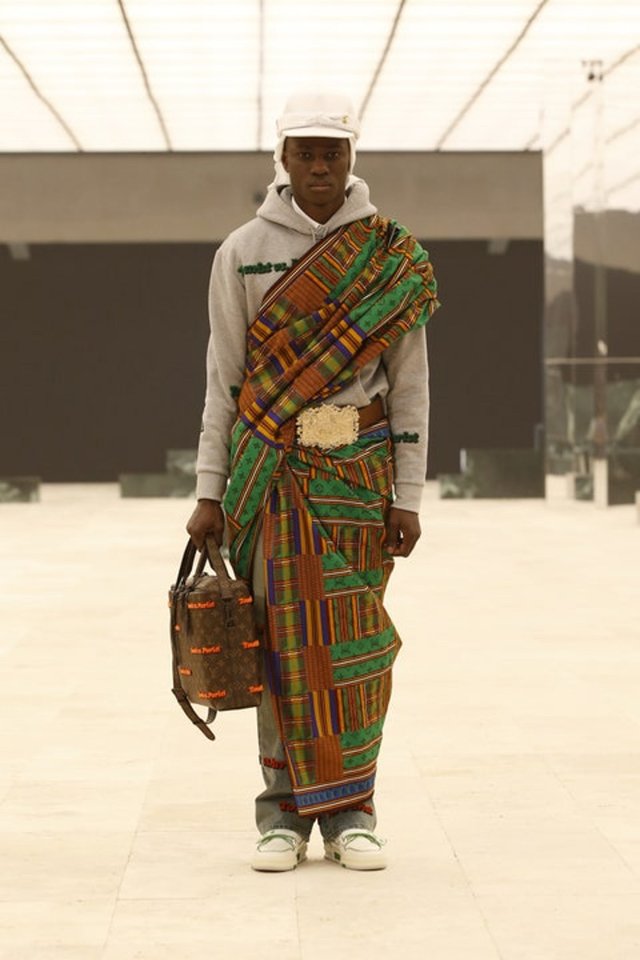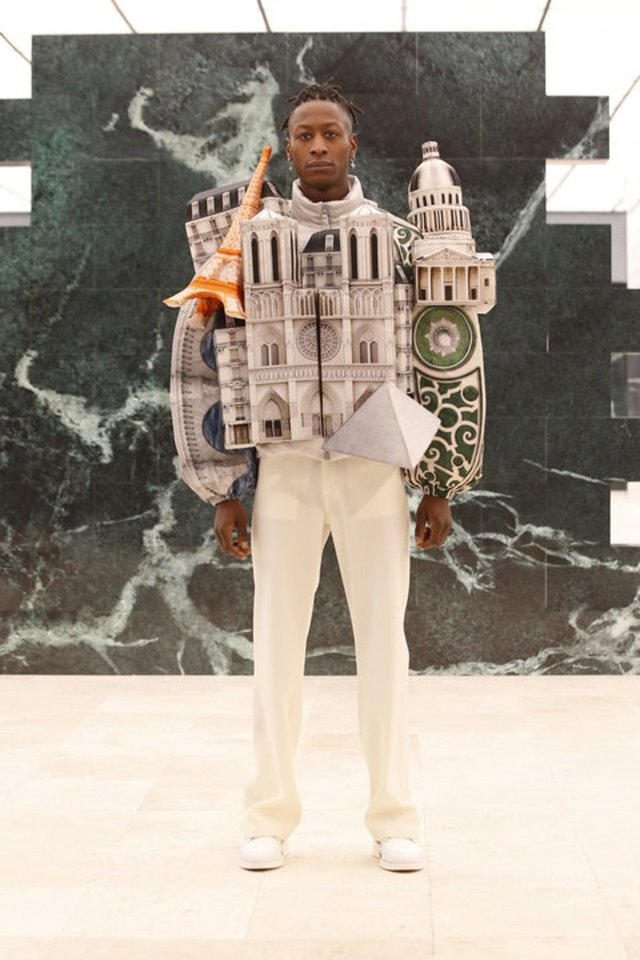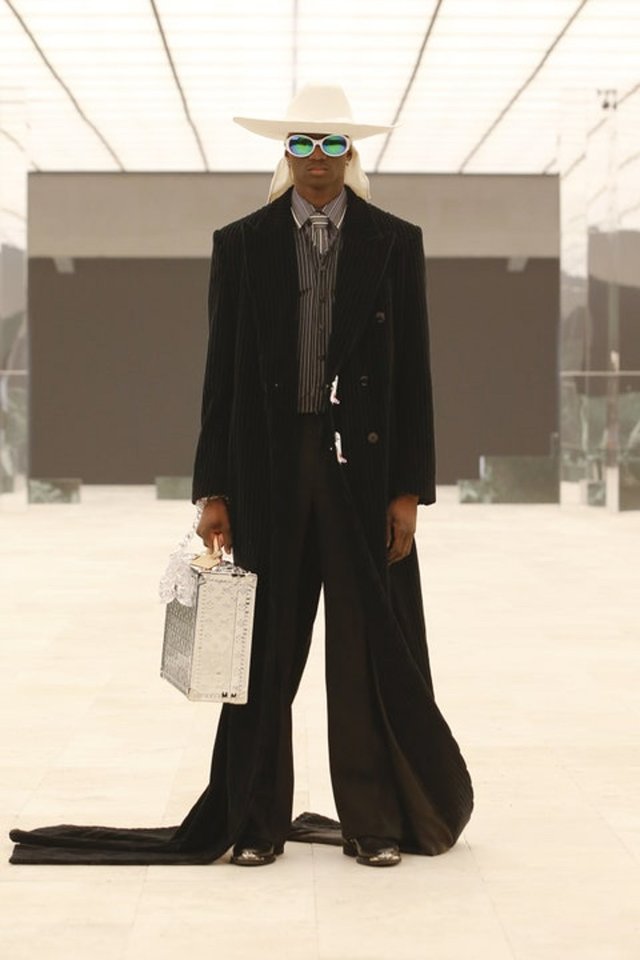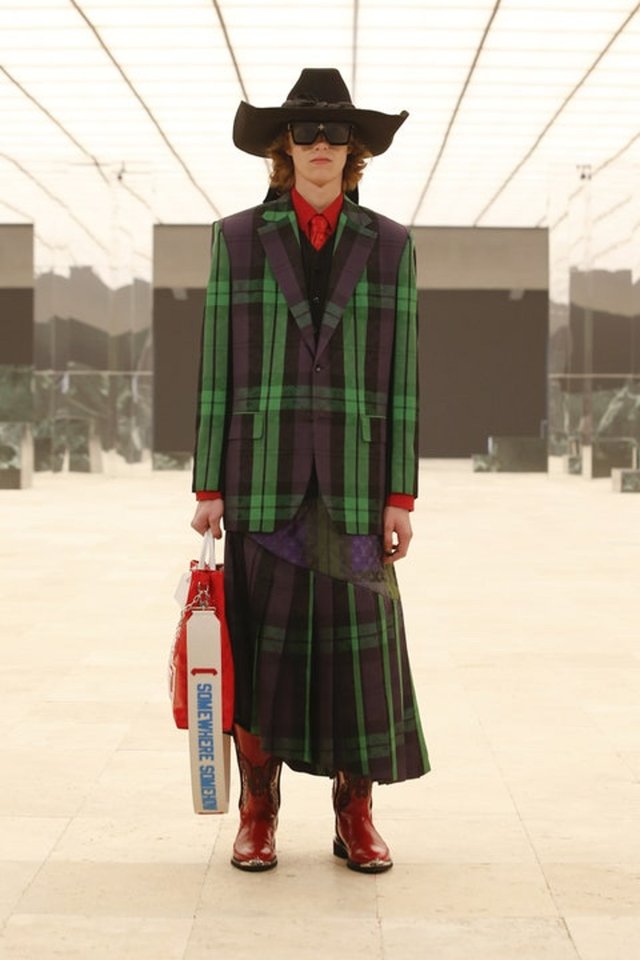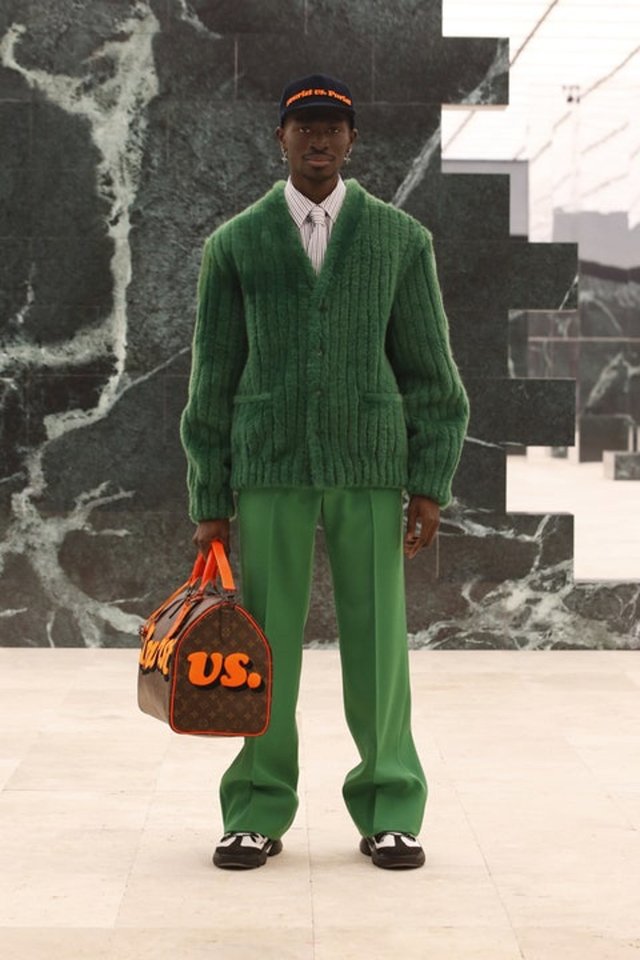 Connotations of masculine luxury included an enormous floor-length fur coat, matching marbled suit jackets and pants, ribboned top hats, and floor-sweeping wool overcoats in black, white, green, denim, a milk chocolate velvet, and green checkered plaid. These archetypes of pre-Abloh Louis Vuitton design language mixed with elements of Black culture incorporated through design, dance, music, and poetry make for a truly important collection. Abloh was criticized over this past summer on Instagram by young followers for not appropriately showing his support for the BLM protests taking place across the nation. With this assembly he has cemented his stance on the matter. Abloh intends to be the hand holding doors open for future generations of Black creators.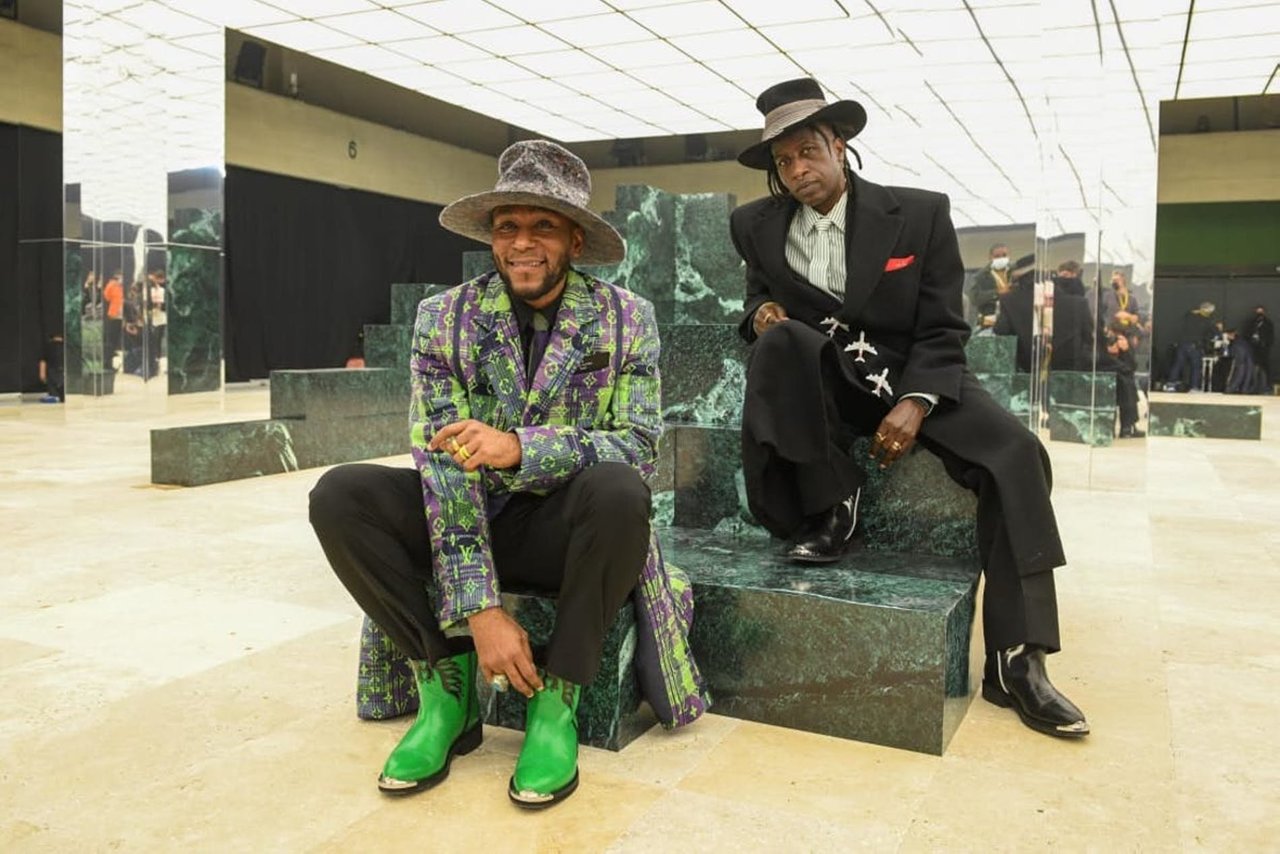 Louis Vuitton Men's Fall/Winter 2021

Another youth fan favorite that chose to push its filmmaking capabilities was New York-based brand Kidsuper. Far less serious than Louis Vuitton, the streetwear-centric label presented a short film titled "Life In 7 Stories.'' A nine-year-old boy, Senegalese tailor, Chinese mobster, Russian butcher, pickpocket, and morally contemplative car jackers deliver seven humorous narratives, fully Kidsuper clad of course. Paintings and other artwork by founder Colm Dillane stood out amidst the candy colored, seemingly Chutes and Ladders-themed assembly of puffer coats and tailored suits fit for an eccentric mobster.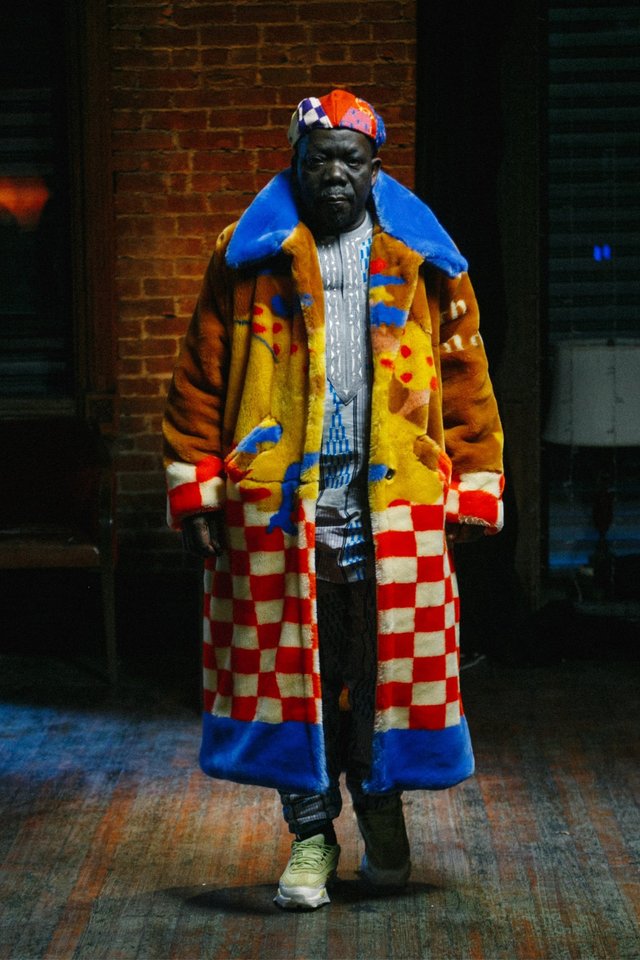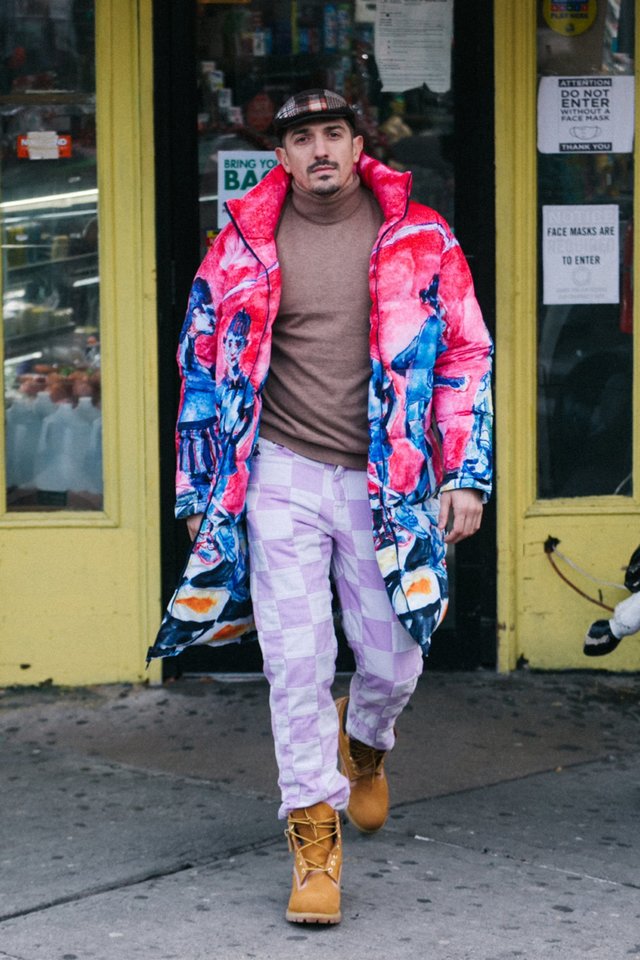 Kidsuper Men's Fall/Winter 2021

A completely unexpected correlation, Jonathan Anderson also had his way with humor for this Men's Paris Fall/Winter 2021 season. From furry purple tops to black and yellow checked isosceles triangle shaped trousers, the JW Anderson designer did not hold back. The playfulness was also reflected in the collection images, captured by Juergen Teller, which consisted a lot of straight-faced models posing with vegetables. His intention, as expressed in the video preamble, was to explore gender fluidity and garments ability to encourage individualism. Anderson's approach is very straightforward conceptually, besides the cauliflowers.

Over at Loewe, Anderson continued to explore concepts of the queer identity, particularly that of queer New York artist Joe Brainard. More high concept than with his namesake label, Anderson split the collection between a show in a book and an oversized T-shirt printed with pictures of the brand's Eye/Loewe/Nature sustainable line. For four years Loewe has been researching ways to sustainably and stylishly deliver each season. This year, its standout upcycled pieces included leather pants wrapped in silver belt buckles, zippers, and lacing, and three shetland sweaters knitted together in orange, white, and yellow.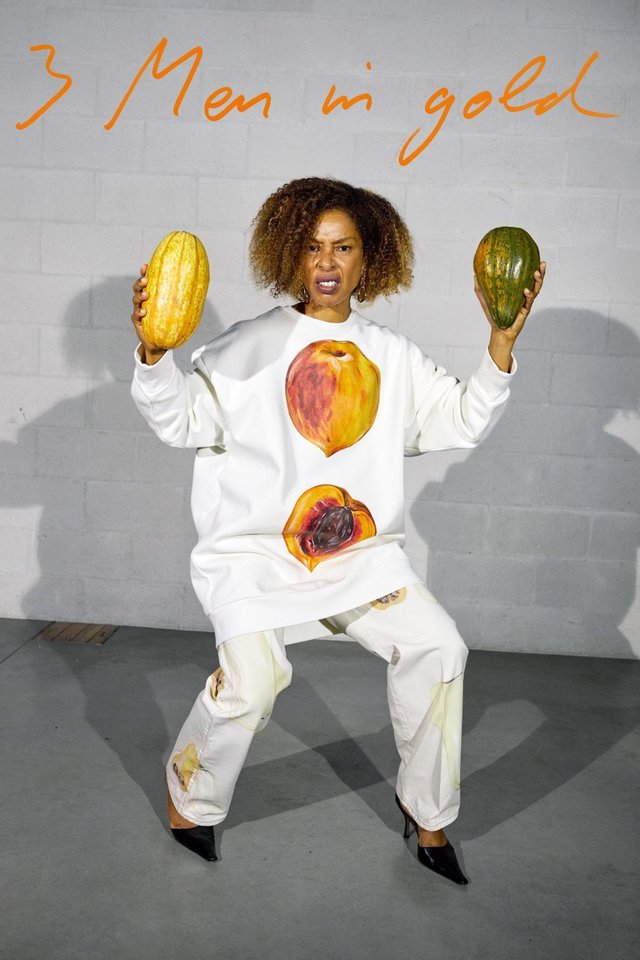 JW Anderson Men's Fall/Winter 2021.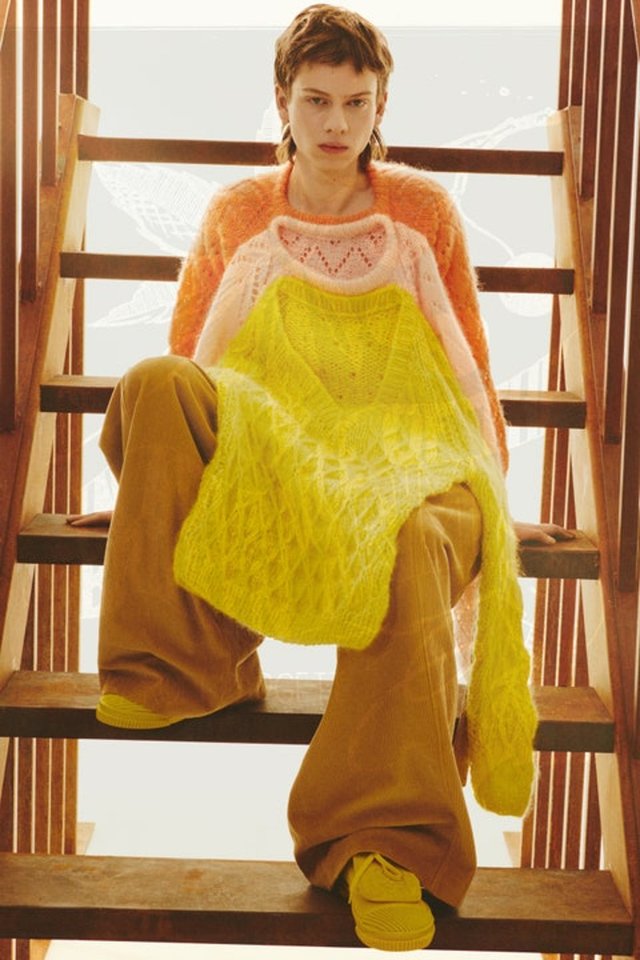 Loewe Men's Fall/Winter 2021.

Relying also on the research and DNA of his respective House was Kim Jones. The Dior Men and newly anointed Fendi women's Creative Director is a source of excitement for many at the moment. Amidst all the hype of his fast approaching Wednesday women's debut though, Jones is calm, collected, and sticking to past personal recipes for success. One such ingredient is his commitment to artistic collaboration, this time calling on Scottish painter Peter Doig. Autobiographical elements of Doig's paintings titled "Spearfishing," "Rain in The Port of Spain," and "Two Trees" are generously sprinkled throughout, most notably through the orange color choice of overcoats, a knitted lion, various paint-dabbed patterns, and yellow anoraks.

At first glance the combination of suave tailcoats, black rubber wellies, and abstracted maroon camo prints meshed with Doig's touch may look merely military inspired. However, Jones' theme for this Men's Fall/Winter 2021 season was actually influenced by French artists and Marc Bohan's tenure at Dior. The ceremonial dress required of French creatives inducted into the Academie des Beaux-Arts in Paris was in fact a tail coat. The eye-catching buttons you thought were upcycled from an ex-navy uniform? Those were actually adapted from a Haute Couture dress designed by Bohan, creative director of Christian Dior in the 1960s.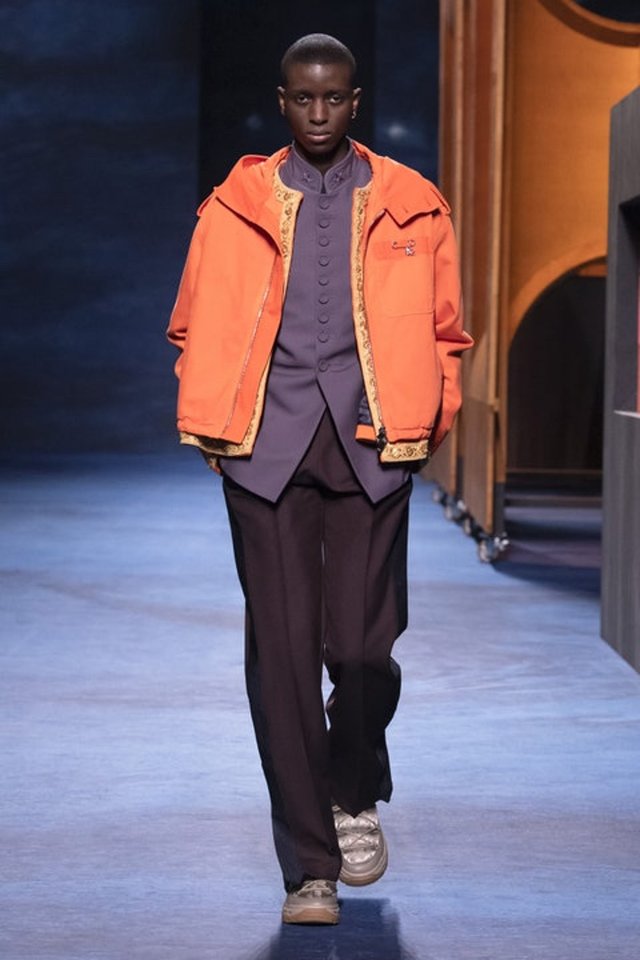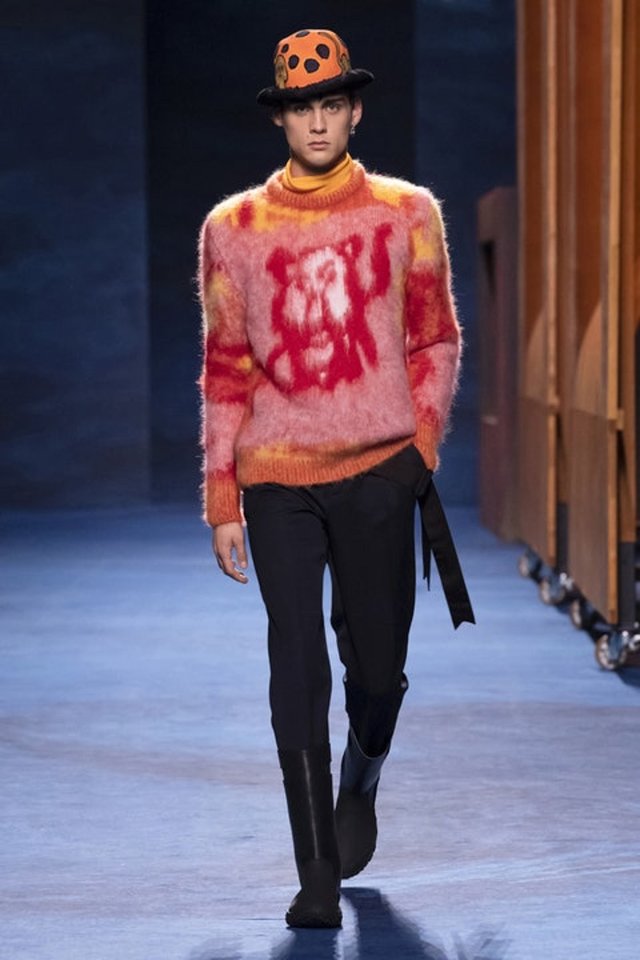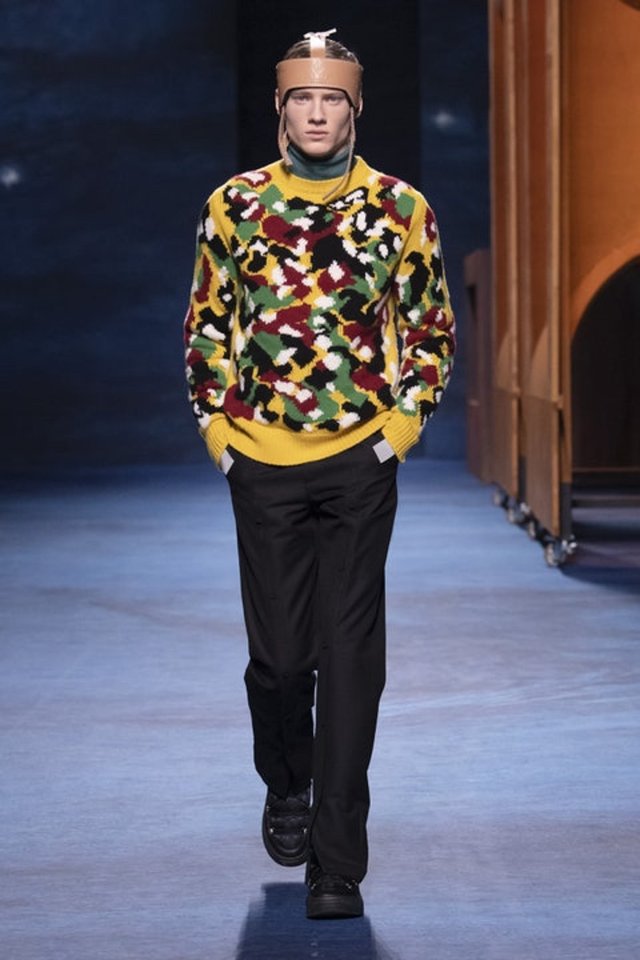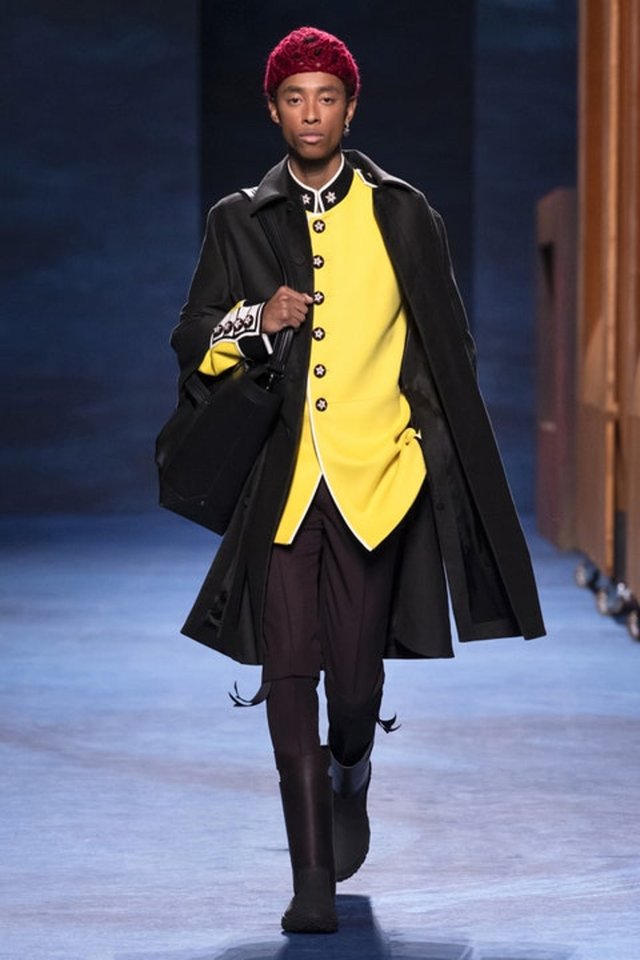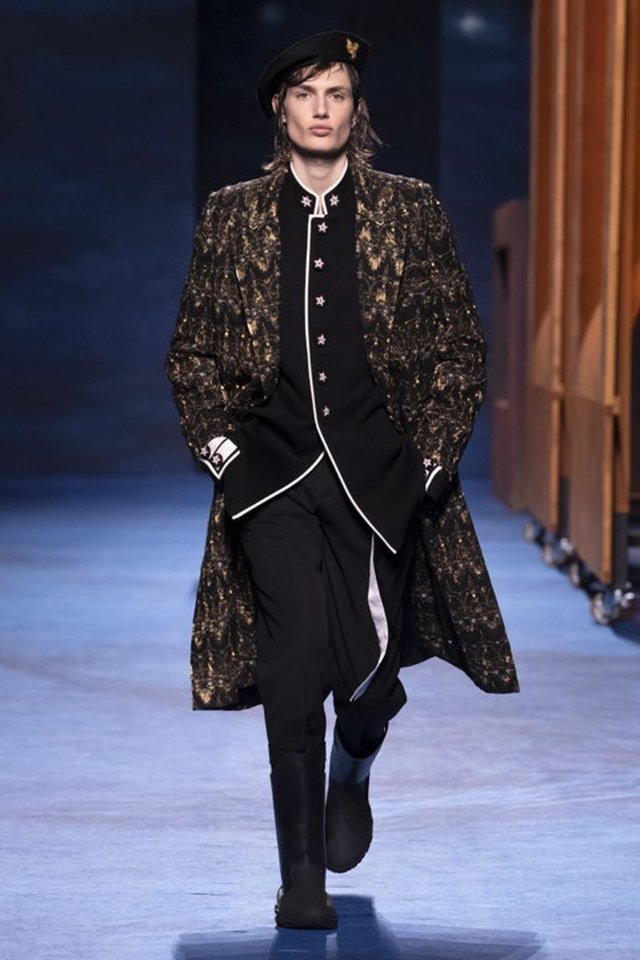 All of these unexpectedly fascinating and Google-worthy factoids are what make the luxury street-wearable collection recognizably Jones' doing. That and the inexplicably cool vibe of his runway, even digitally. It was nearly the closest presentation to evoking a real-life runway experience, the first being Hermès. Creative Director Véronique Nichanian made a concerted effort to replicate the lens of an IRL audience, and it paid off wonderfully.

The seven sectioned interactive split screen made for an exciting, tailored to the individual experience. It also helped to better appreciate the dark red leather button downs, brown silk ascot ties, and equestrian saddle embroidery emblematic of the brand.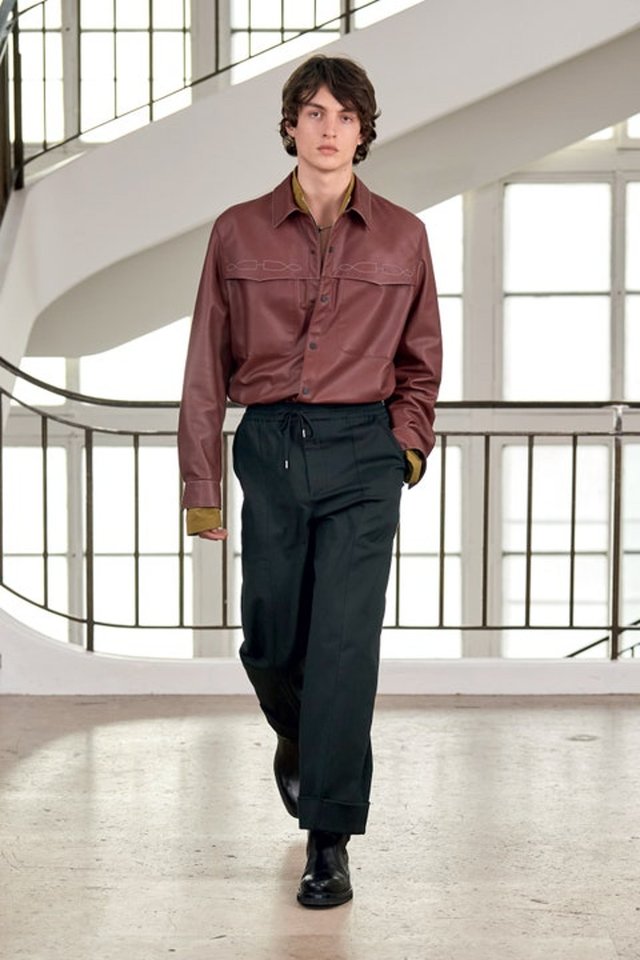 Hermès Men's Fall/Winter 2021