Throughout 2021 there has been one color that is delightfully inescapable. While similar shades have been present in the collections of designers spanning the gamut, this specific tone, with its vitality and vibrance, has dominated social media feeds and been crowned the cultural color of 2021. From the puddle boot to the padded bag, "Bottega Green" has been entrenched into the identity of Bottega Veneta as a balancing force that adds playfulness to classicality and a spark to perfected austerity. While summer may be coming to a close and leaves will soon begin to turn, Bottega Green will continue to provide the light and color of summer as the world's own colors change.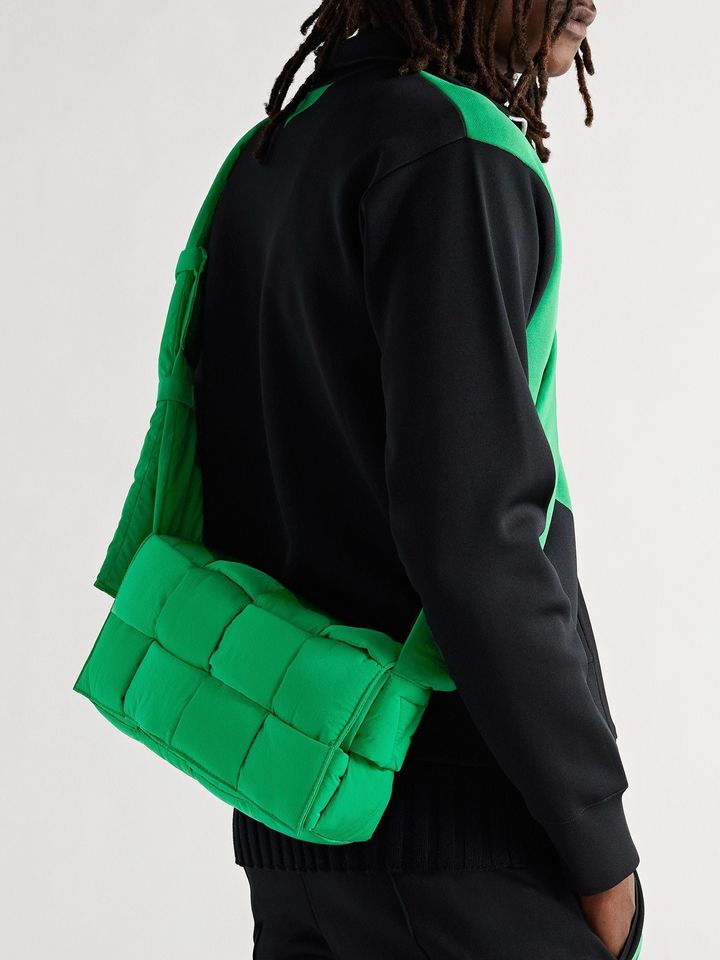 Bottega Veneta padded bag and puddle boots in Bottega Green.

In recent years, green has enjoyed an increased prevalence on runways and in the general design mindset. This trend began in 2017 when Greenery was selected as Pantone's Color of the Year. Expounded by a year of isolation and finding solace in nature, green is more present than ever, in no small part thanks to Bottega. Immediately after its debut in the Spring/Summer 2021 show, Bottega Green clothing and accessories became coveted by celebrities and influencers alike. Now, as people are increasingly leaving their homes and engaging with each other, the color is serving as the perfect way to add a jolt of energy to their wardrobe and create an outfit that is impossible to miss.

This ease of visibility is the primary reason that Bottega Green has been able to so substantially influence the way people dress within such a short period of time. After years of muted earth tones, minimalism, and companies forcing uniformity onto consumers, an entire generation is growing into consciousness at a moment in time in which the confluence of social trends and world events has led to people wanting to stand out and to be noticed. While the economic recession served as an oft-referenced defining experience of the 2010s, the proliferation of social media and the emergence from quarantine will define this next decade. And, just as khaki, navy, and olive became a codified tonal language, Bottega Green shows that what is coming will be bright and unique-and will synthesize nature with neon.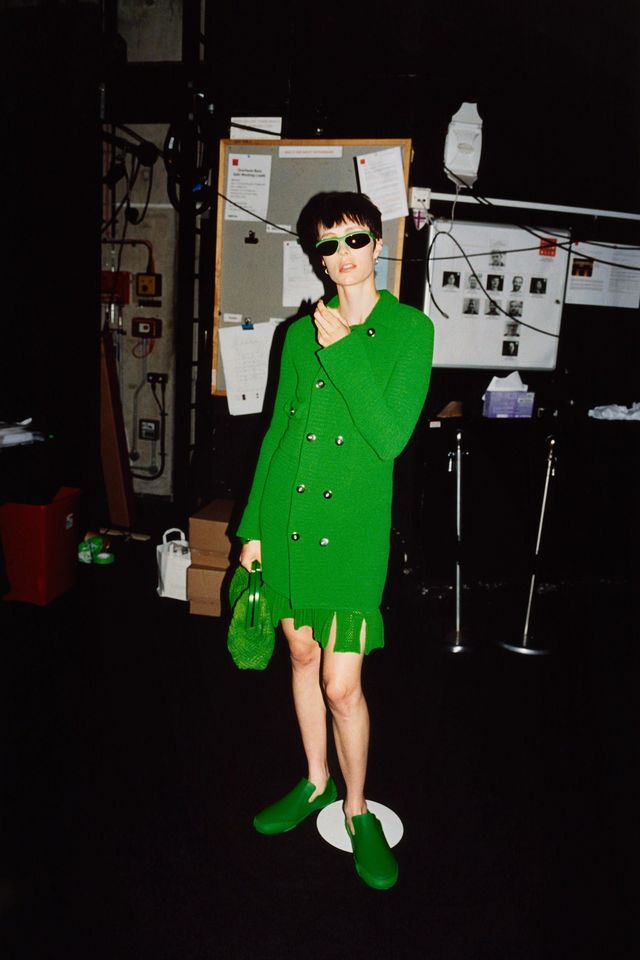 Bottega Veneta Spring/Summer 2021.

The recently released puddle bombers show that Daniel Lee's Bottega Veneta has solidified its new tonal language and is continuing the dialogue between color and structure that leads to elegant pieces that infuse minimalism with a contemporary maximalist touch-pieces that have earned the brand a new generation of dedicated fans. Looking ahead, Bottega Green is not going away. While additional colors are being introduced to Bottega collections-like the rich purple and fire truck red seen in the newly unveiled Spring/Summer 2021 lineup-and fresh colors will rise in popularity for the new season, Bottega Green will remain a presence and will always be associated with a new chapter for Bottega Veneta, as well as the beginning of this new decade.