There are some decades that evoke nostalgia so potent that you can't escape their influence. The '70s is one of those time periods. The decade gave us voluminous, bouncy blowouts, the ultra-glamourous disco era, and bold, graphic liner trends that we are still salivating over today. This time around, we're seeing its influence in artist Rayah Naji's work, in which she combines her beautiful nail art and graphic design skills to create stunning "advertisements" that look like they came straight from a '70s magazine.

Naji's "ads" got a significant amount of attention when her tweet showcasing her work went viral. The caption was succinct and effective ข "my design skills 🤝 my nail art." The designs typically feature a cute manicure (like the Louis Vuitton French tips below,) with slogans rendered in retro fonts.




The 21-year-old artist told us that her inspiration first came from some of her design classes. (She's studying graphic design at Simmons University and will be graduating this semester.) Naji's professor frequently shared vintage magazines with the class, and she quickly fell in love with the fonts typically used in the ads from back in the day. "I prefer old advertisements to current-day ads because the products were always presented in a more appealing and entertaining way," she shares with Allure. "I like to give new life to old ideas."

Her graphic design abilities may have been honed in the classroom, but her nail art skills were not. Her prowess comes from dutifully studying other artists on YouTube and lots of practice. This year, the self-taught artist has been taking the craft more seriously. "I love graphic design, but creating art with my hands brings a different type of satisfaction," she explains.

But how exactly does she put all this beautiful work together? Naji always starts with creating the manicure (typically using gel nail polishes from The Gel Bottle) before taking photos and beginning the editing process. On average, it takes anywhere from one to two hours to get the finished image.


Down With the Swirl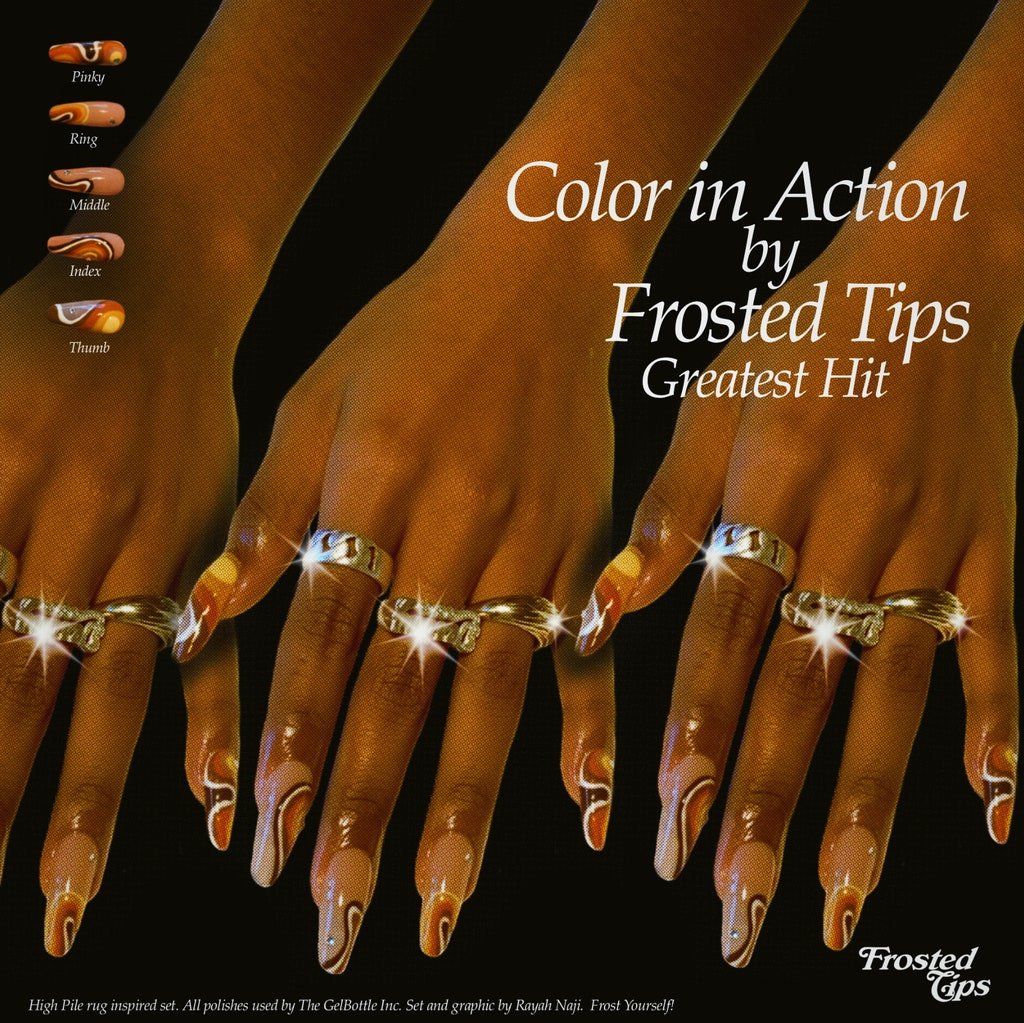 The white, orange, yellow, and brown swirls on each coffin-shaped nail give a retro vibe to this modern manicure. The gold chunky rings are the cherry on top. For the mock ad, Naji took inspiration directly from the Diana Ross and the Supremes 20 Greatest Hits album art. On the cover, each group member's red-manicured hands are adorned with a gold "Supremes" bracelet. Using that, she "began with choosing a single image, removing the background, and multiplying the image" to come up with the finished product.


Gator-Ade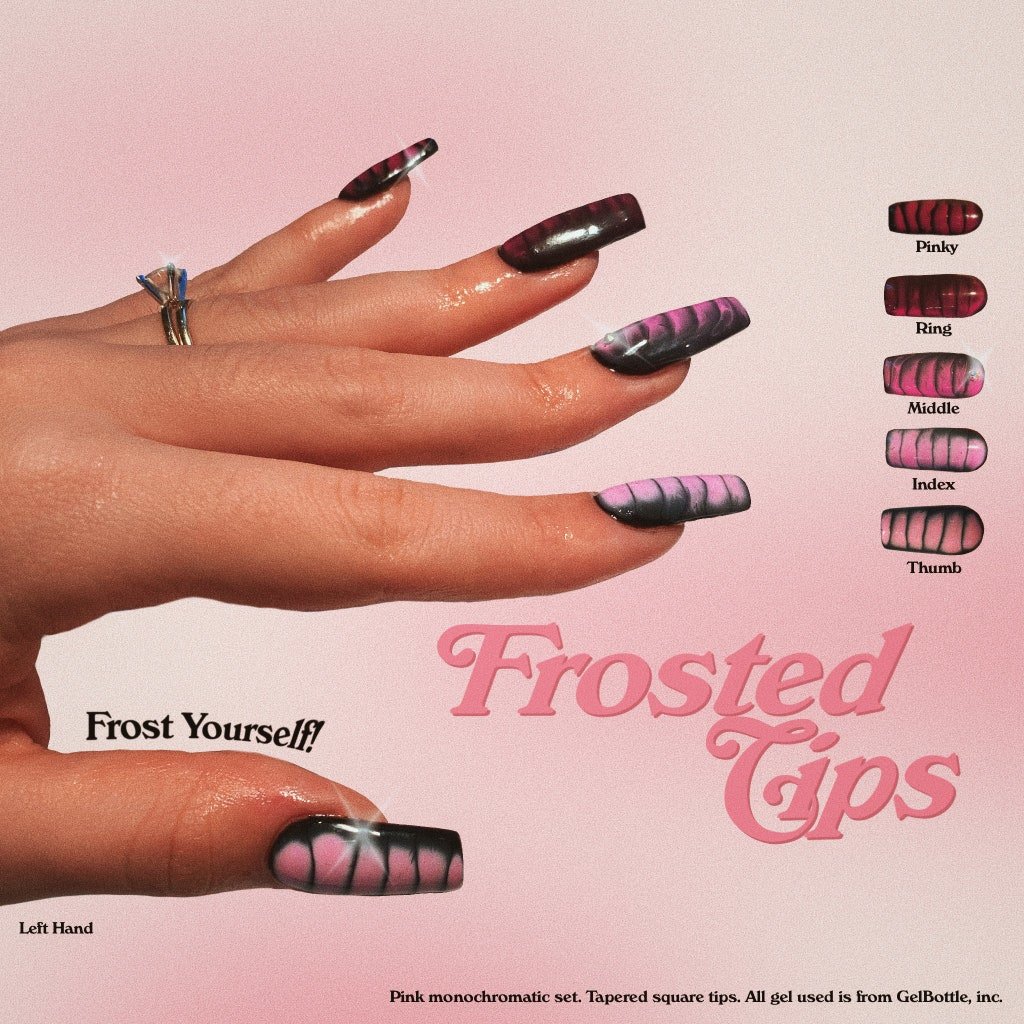 We may not be able to tell the difference between alligator or crocodile skin over here, but we do know that this set is gorgeous. Naji combines two popular nail trends we've seen take off: crocodile manis and gradient nails. The square tips are shaped to perfection, and we love the contrast between the deep black color and pinky hues.


Orange You Glad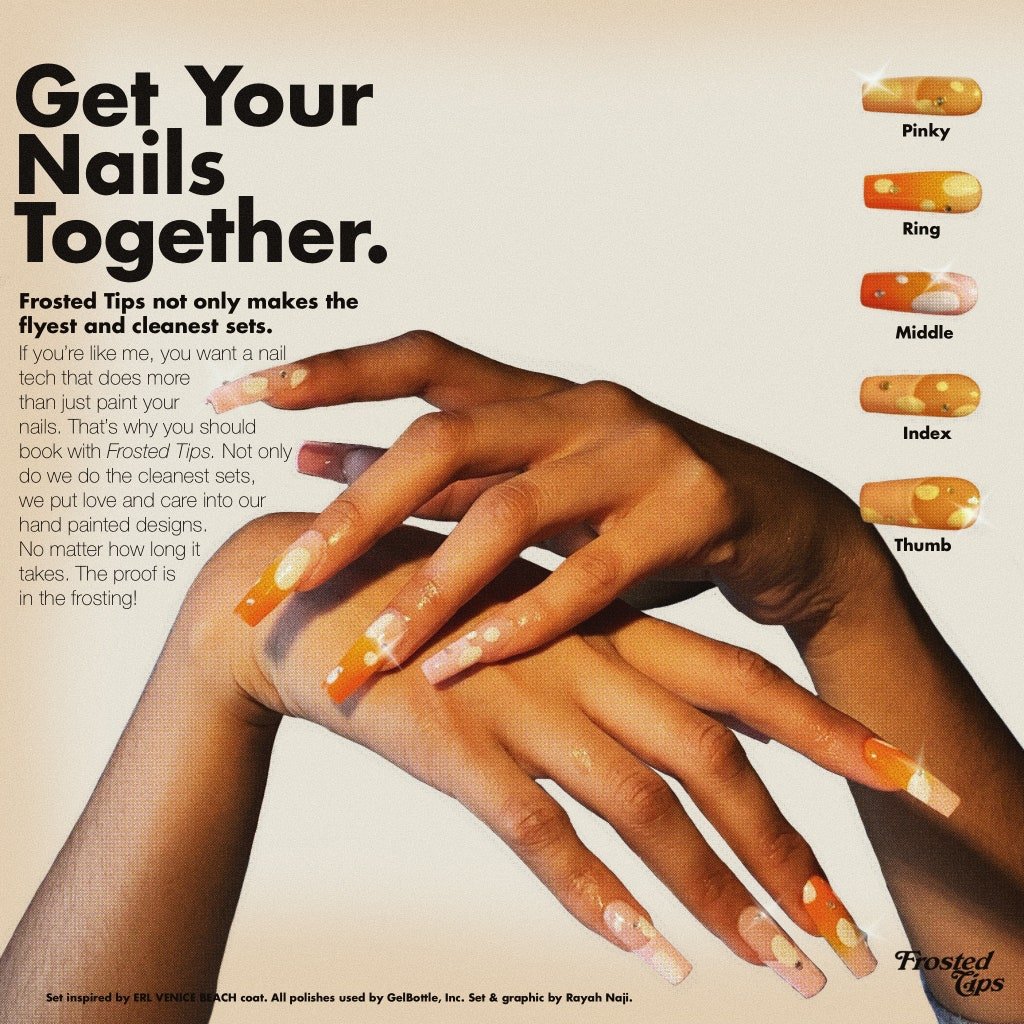 These lengthy Aprés Gel-X extensions give the classic French manicure a welcome twist. On the pinky, index, and thumb fingers is that traditional tip with globs of white polish and tiny silver gems artfully placed on each nail. The ring and middle ombré nails remind us of creamsicles with the nude beige hue that fades to a bright orange color.


Dennis Rodman Realness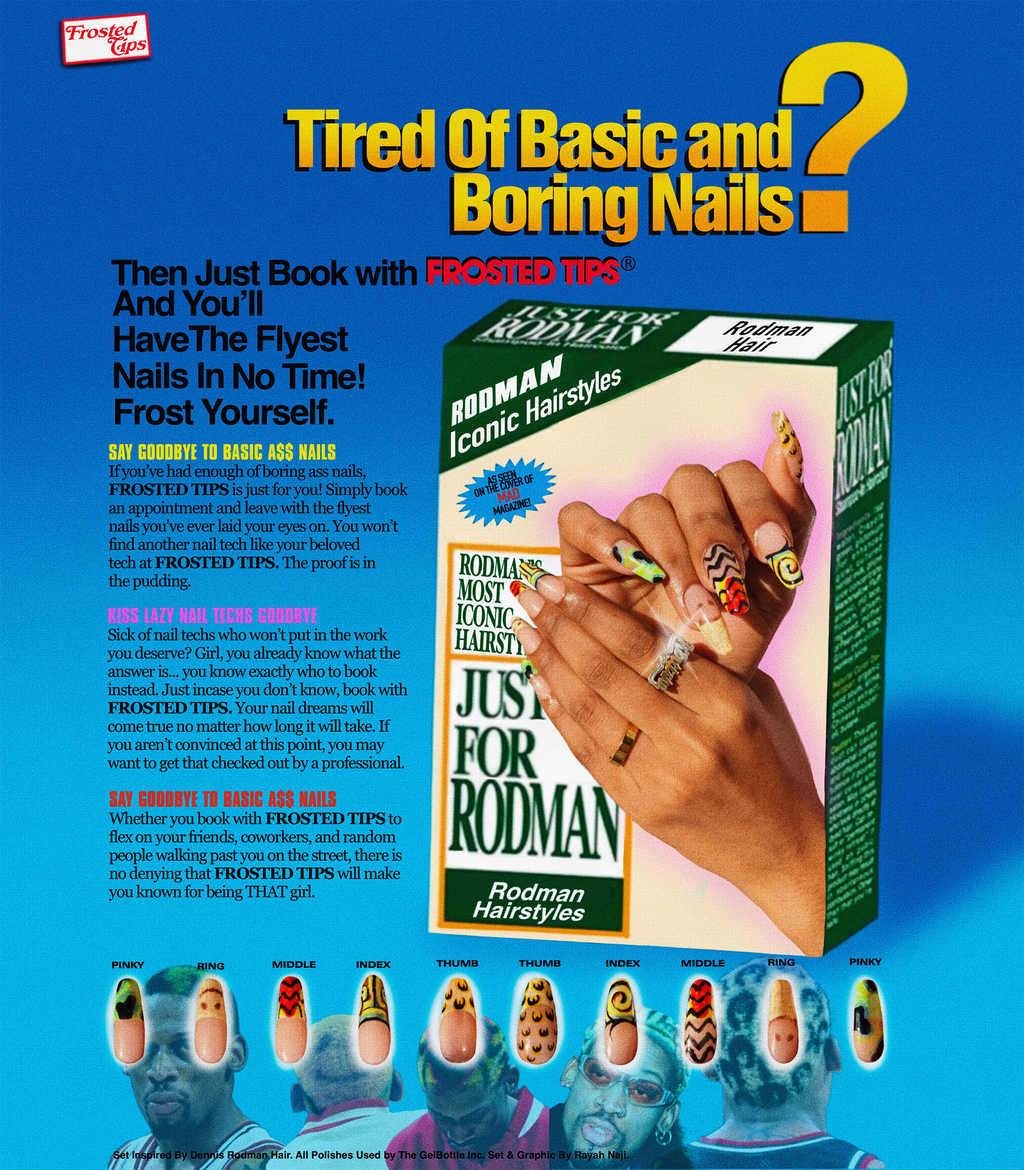 As a fan of the eccentric, former professional basketball player, Naji drew inspiration from Dennis Rodman's iconic hairstyles. She recreated the different designs on an oval-shaped, French manicure because the tips "resembled a hairline". She discovered an old hair-color advertisement featuring Rodman from the December 1996 issue of Mad Magazine while scrolling through Tumblr and used that as the perfect template. In her remake of the ad, she changes all the text and replaces his face on the box with the unique neon manicure. We hope Rodman gets to see this tribute.


Steady Hands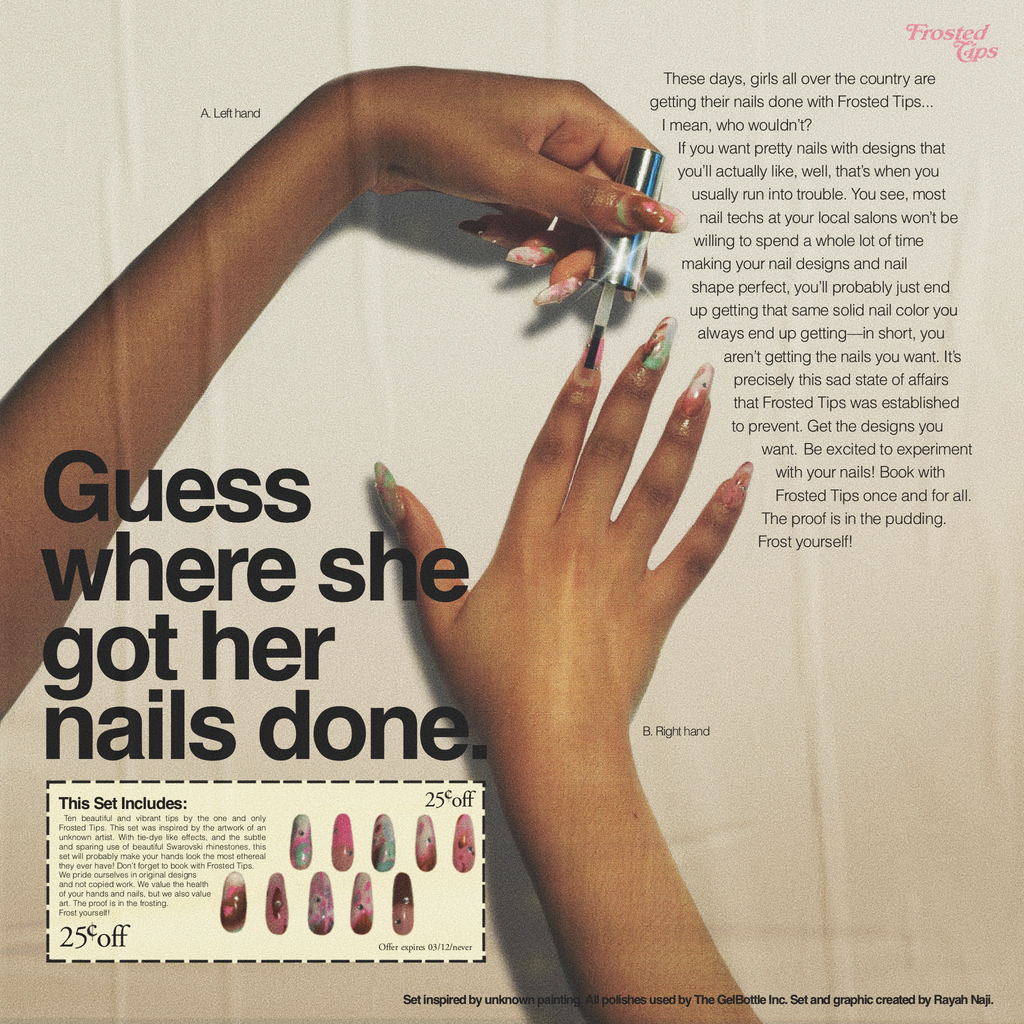 It's amazing how Naji combined beautiful pink, teal, and brown shades to create a tie-dye effect that doesn't look like a muddy mess. We also love how she shaped this pastel set with a tapered squoval tip. If you look closely, you'll notice tiny Swavorski rhinestones on each nail, adding just the perfect touch of bling to this mani.

You can follow Rayah Naji on Instagram and Twitter to see more of her creative nail ads. We know we'll be watching to see what dope designs she dreams up next.