Belgian shoe designer Mats Rombaut has been churning out environmentally-friendly shoes for quite some time. The man behind the label Rombaut has created trompe l'oeil "lettuce slides," vegan boots worn by Bella Hadid, as well as recycled and upcycled sneakers through his own label, Virón. His latest project has been collaborating with the Brazilian-based label, Melissa, a brand known for its jelly shoes that helped define a decade of footwear in the early 2000s. Here, Rombaut shaped, or rather "melted," his vision of a classic Melissa shoe. He took the shape of his celebrity-favorite Boccaccio sneaker and rendered it entirely in recycled PVC and bio-based materials in hues of obsidian black, optic white, and a sandy brown. Rombaut also rendered the classic closed-toe Melissa sandal in the same colors and sustainably-minded composition.

The connection between Melissa and Rombaut was a natural one, as Rombaut had fond memories of its shoes. "I'm from Belgium, but my family went on holiday to France and the beaches are very rocky," says Rombaut. "So I'd wear the shoes on the rocks." Fast-forward years later, the designer had linked up with the team of Melissa footwear designers on Instagram and later in person. This isn't the first time Melissa had lent its quirky aesthetic to boundary-breaking brands. It has previously collaborated with Comme des Garçons and fellow French label Y/Project.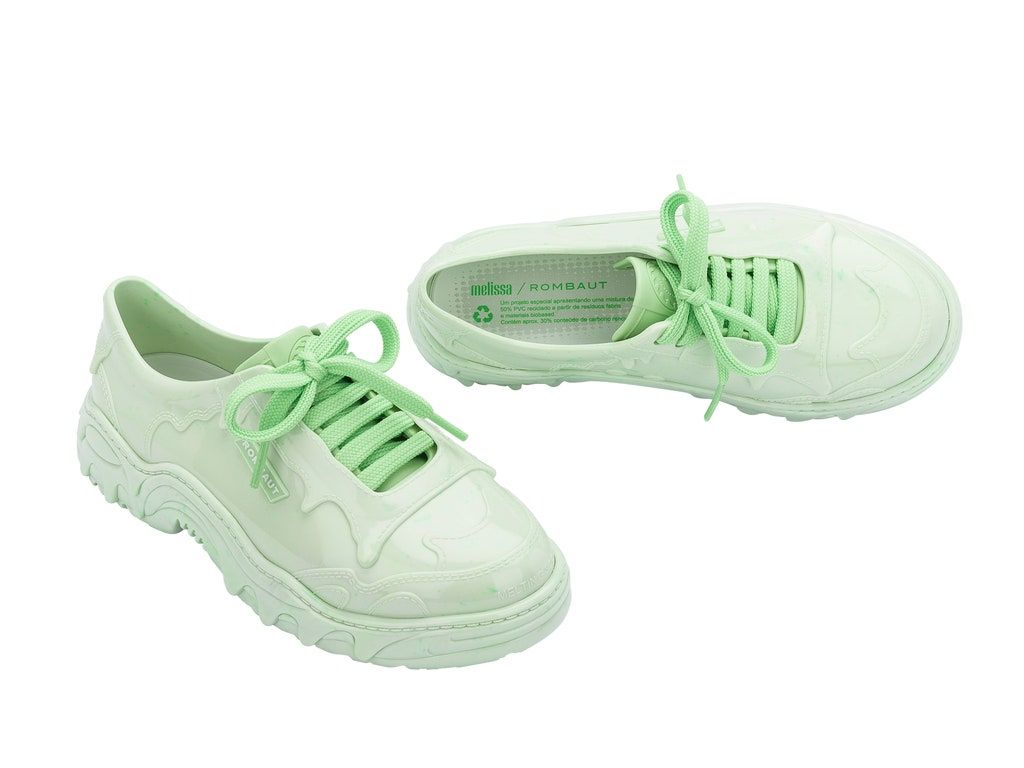 Rombaut x Melissa Melting Boccaccio Recycled PVC Acid Cream Sneaker, $186; shop.rombaut.com Photo: Courtesy of Rombaut x Melissa

Like Rombaut, Melissa is also vegan-based with an eco-friendly vision. "They've been doing research on how to become more sustainable as well," says Rombaut. In this instance, Rombaut specially created a concoction made from bio-based materials, like soy-based oils and plant-based oils. Each shoe is made of 30% of bio-based content, such as sugarcane and vegetable oil. Other parts of the shoe use natural materials: The insole is made from sugarcane, and the laces are created from recycled plastic bottles, while rice husk is injected in lieu of glitter.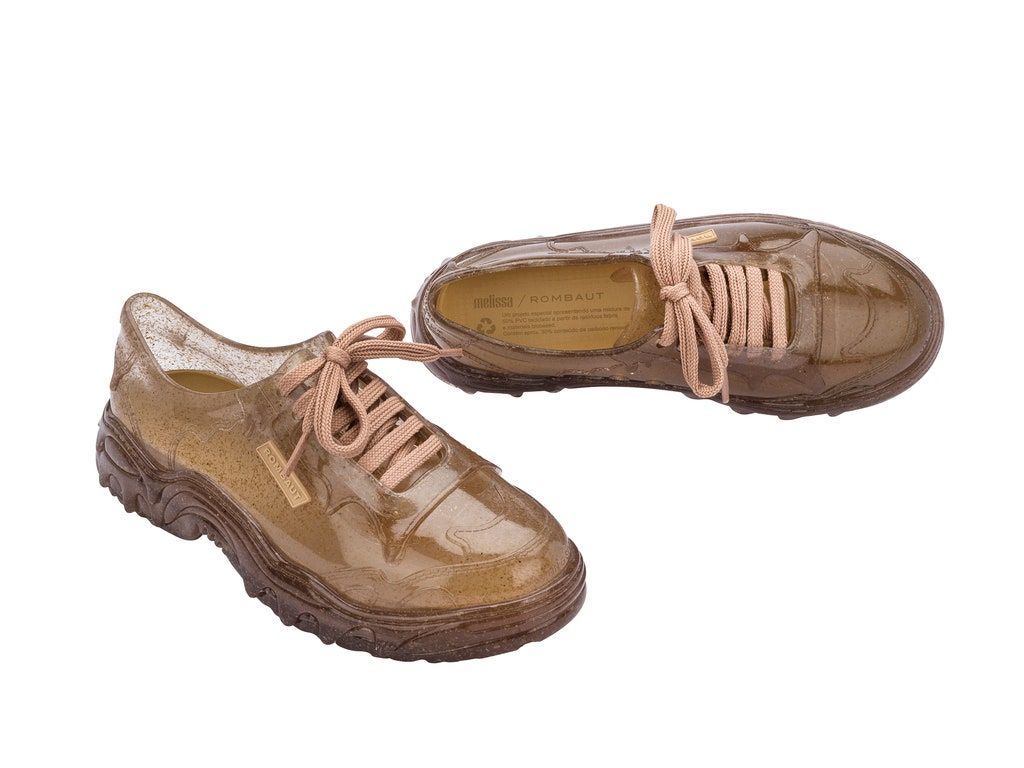 Rombaut x Melissa Melting Boccaccio Recycled PVC Caramel Rice Husk, $186; shop.rombaut.com Photo: Courtesy of Rombaut x Melissa

Rombaut also utilized Melissa's long-standing recycling initiatives. Each of Melissa's stores has a drop-off point where customers can drop off their old jelly shoes, which are then melted down and remodeled into different types of shoes. The closed-loop concept is something that Rombaut has been wanting to include in his own label for quite some time, but he did not produce enough on his own to do so. "I thought that was really amazing thing, because it's something we wouldn't be able to do at Rombaut right now because we don't have this infrastructure," he says. "I'm super happy that we could already do it now with a brand like this." Fifty percent of the Rombaut x Melissa shoe is made from the upcycled PVC shoes collected from the drop-off points.

Currently, only 100 pairs are being manufactured because of the limited amount of shoes being recycled this way. But Rombaut hopes that this concept of drop-off points will become more frequent and adopted by larger companies. "This is something that I hope all fashion brands will do in the future as well, and as a starting point with design, thinking about circularity and what will happen at the end of life of the product, and then how it can be disassembled and reintegrated into the system," says Rombaut. "I think this is the future."