I can't remember the last time I wore a belt. And don't even ask me about high heels. However, there is one thing I am not lazy about wearing: a face mask.

We, manicurists, are used to wearing them. The day I started beauty school, I was told I was required to don a mask for every lesson. And by the second week, almost everyone in class had made or bought something cooler than the plain paper ones we were handed. A mask protects our ability to work, whether we're facing COVID-19 or it's just a typical day at the salon.

In fact, when the pandemic and subsequent mask shortage hit, salons like Paintbox and Sundays in New York City stepped up and donated their mask and glove stock to first responders.

For manicurists, a simple face covering can guard our lungs from things like the dust from filing and acrylic enhancement. In the pandemic, it protects us all from so much more. But, most importantly, masks give us one more opportunity to be fucking fabulous.

Masks are the must-have accessory right now and my fellow nail artists and I are not sleeping on the chance to add that extra something to our 'fit. To us, masks are just another canvas for self-expression. Health, but make it fashion.

My favorite mask in rotation right now is a retro floral one I snagged from Prabal Gurung. Especially since I can't wear big earrings when I'm masked up, I like to add the functional but chic metallic Pretty Connected Nikki Mini Face Mask Chain, too.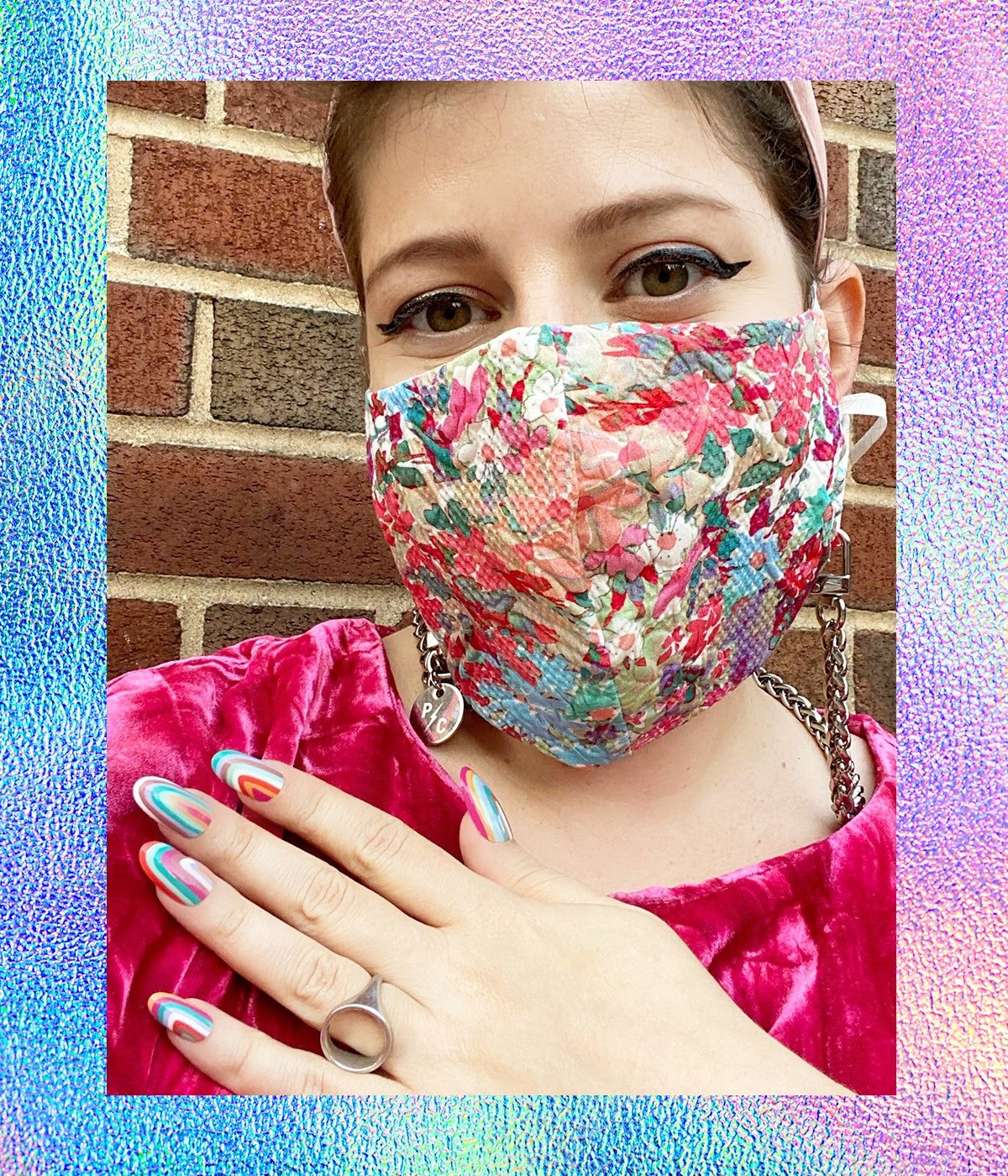 As for my nails, this floral mask was giving me '70s vibes, and I wanted to bring the rainbow of shades in the print to my hands. I used a blend of red, white, pink, and blue polishes by Zoya (shades Arizona, Snow White, Harbor, and Cora), Nailtopia (Trust The Process and Keep It 100), and Chanel (Energy and Daydream). I'm a more-is more kind of gal. (Hey, I do what I want with my nails - and so should you.)

Here are how some of my supremely stylish nail art colleagues from around the globe are showing off their matching masks and manicures.


Liam Peter, @liampeternails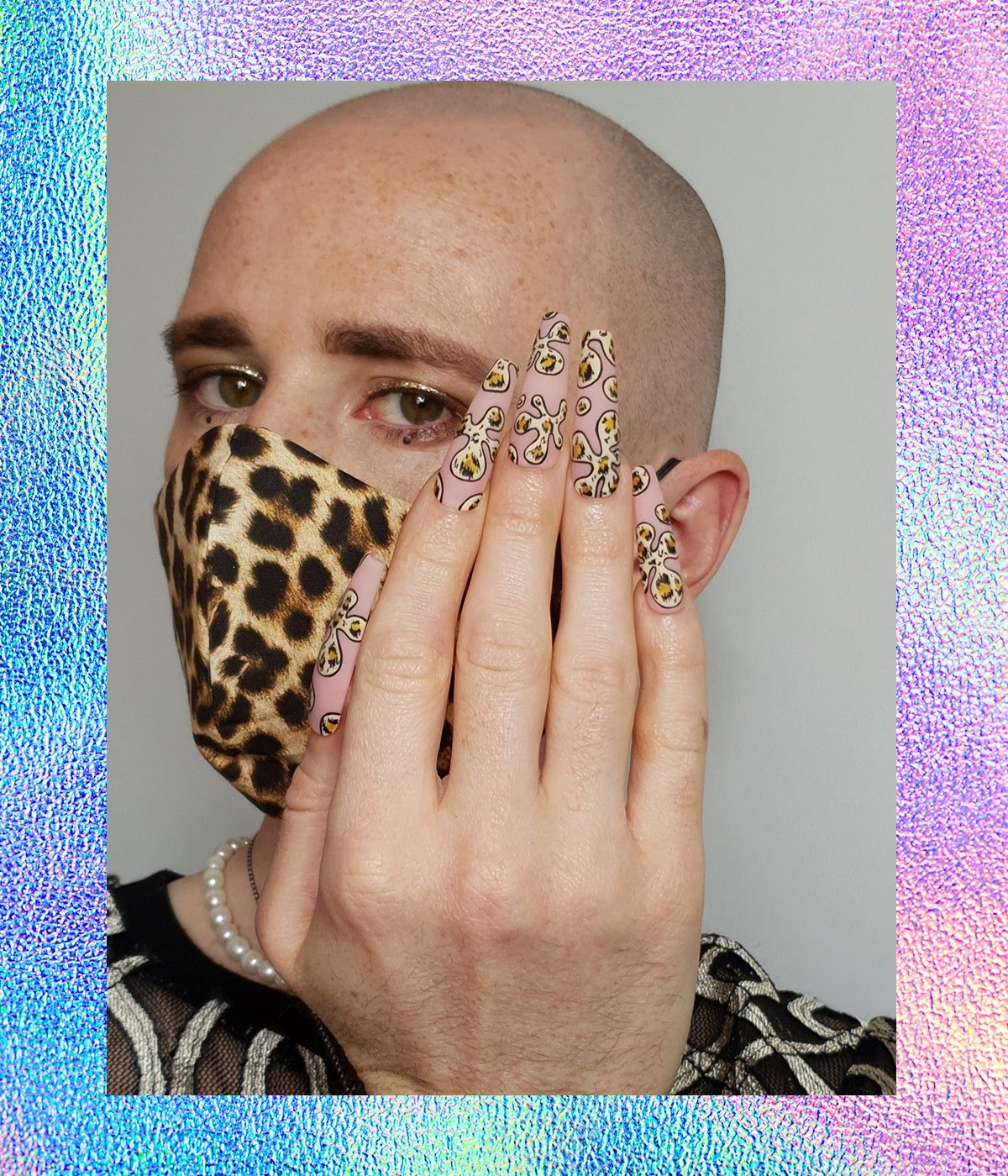 The contrasting prints in this look by Melbourne-based nail artist Liam Peter offer a super-unique, eye-catching effect we love. To tie everything together, Liam Peter added leopard print detailing within the flowers on each digit and used a creamy, light pink base to let the design do all the talking.

To achieve this look at home, you'll want to get your hands on some coffin-shaped acrylics (like these), as well as some blush pink, black, and yellow-gold polishes. Additionally, a fine line brush will come in handy for the details - however, if you're a beginner, using a stencil or nail sticker in a similar style might be a better route.


Kristen Valdez-Dougherty, @sfnoma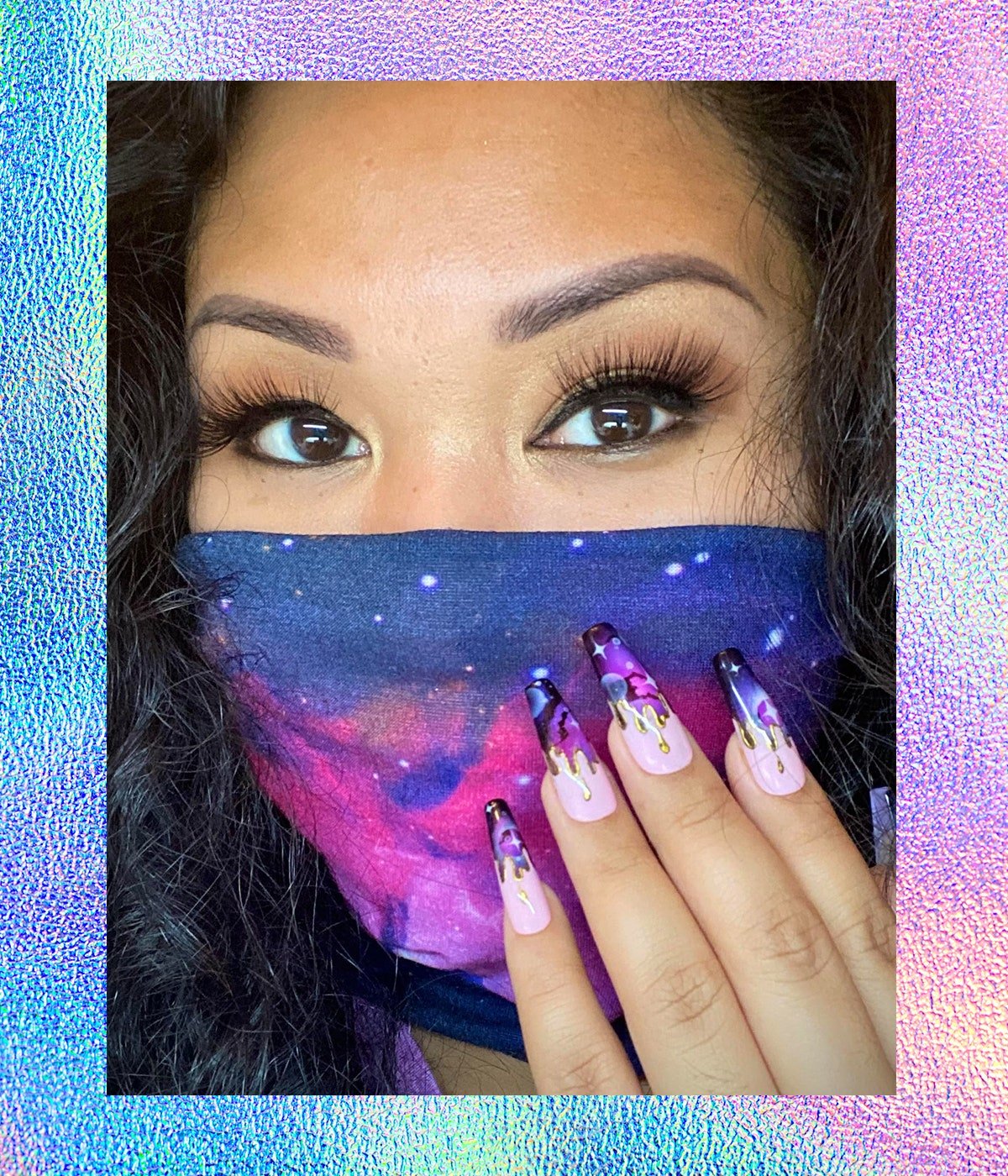 How cool is this cosmic look by San Fransico-based nail artist Kristen Valdez-Dougherty? "I'm inspired by anything colorful and prismatic, so finding masks to match my style has been a fun challenge for me," she says. "Before the pandemic, I always made sure to wear a mask when filing my clients nails so I wouldn't inhale any dust, and now I've taken extra precautions by investing in a three-part system from Aerovex that captures and kills airborne viruses and protects the breathing zone between my clients and me during their service."

For this nail look, Valdez-Dougherty used Aprés Sculpted Long Coffin Tips, Airtex's AirGel Liquid, stencils from @glamnailz210, gold foil from Amazon, and the Hi Gloss Top Coat by Medusa Nails.


Jessica Scholten, @jessicascholten_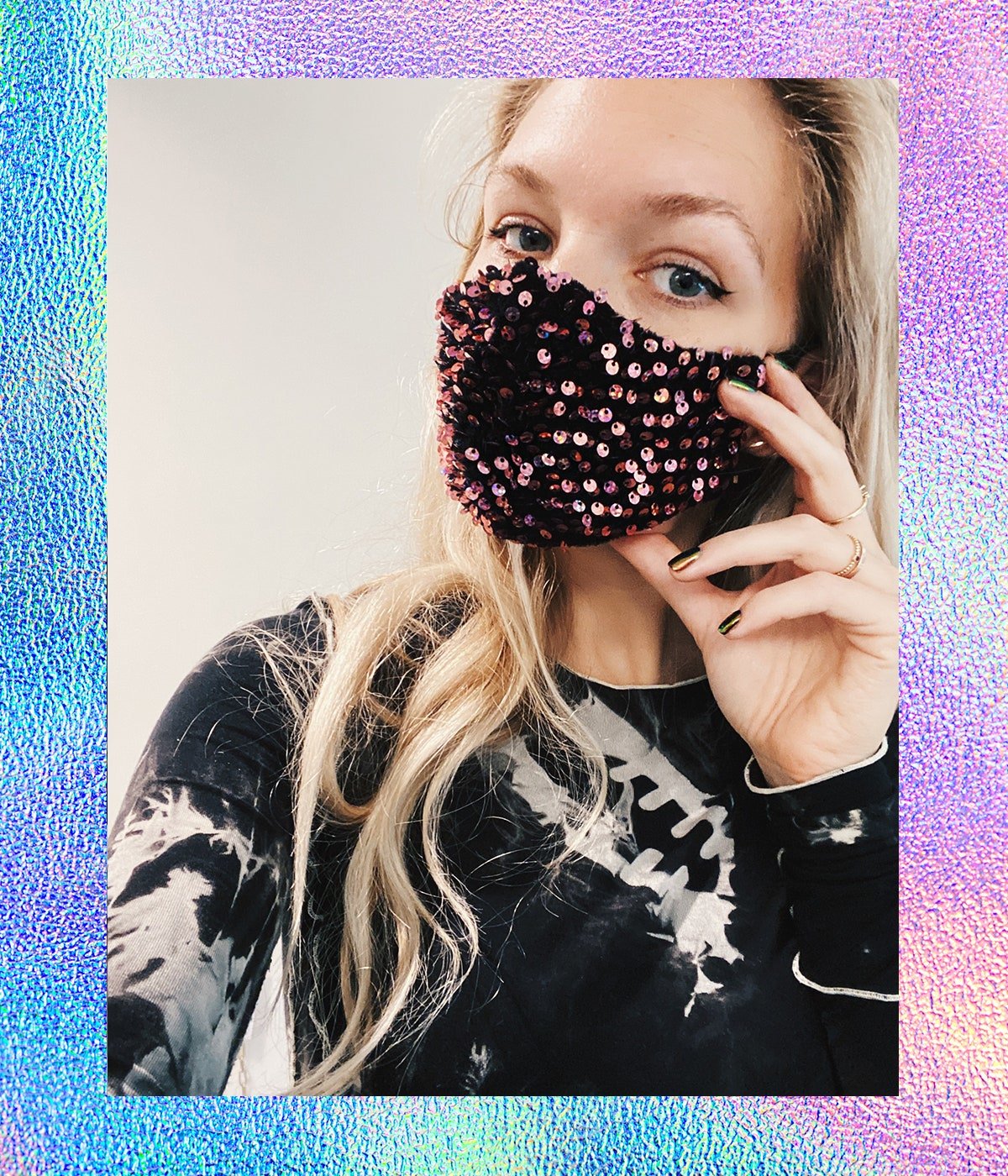 To match her shimmery sequin-emblazoned mask, Amsterdam-based artist Jessica Scholten went for a dreamy duochrome manicure that shifts colors in the light. To create a similar look at home, use ILNP's Cameo Ultra Chrome Nail Polish; the pink-and-green holographic hue is just like the one Scholten's wearing here.


Lavette Cephus, @beaute_asylum


Toledo, Ohio, and Atlanta-based nail artist Lavette Cephus crafted this all-denim look in collaboration with a local fashion designer named DJ Sanderfer. "The inspiration for this look was denim - a fashion trend I believe never goes out of style and will live on forever," she says. "As I am a fashion enthusiast, wearing masks with matching nails offers more opportunity to flaunt my talents and push my creativity."

Cephus is wearing the VNTG mask by DJ Sanderfer.


Nargis Khan, @nailsfromnars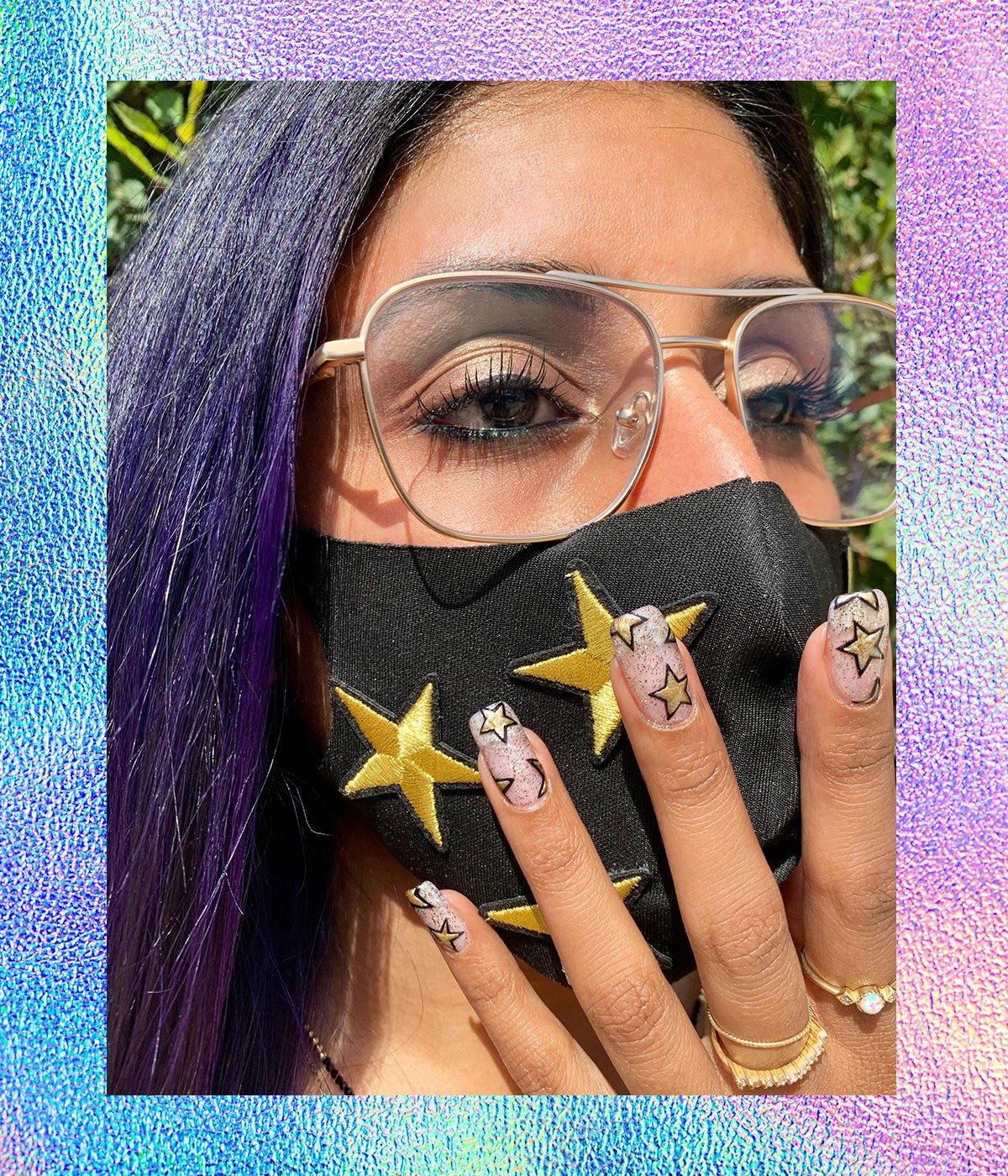 Toronto-based nail artist Nargis Khan made her own mask using iron-on stars from Amazon because she says she wanted to make it more personalized. "I love the idea of matching my nails to my current fave mask," she tells Allure. "For my look, I chose to match the stars on my mask with a chrome gold polish and added some definition with a black outline. I decided to top it off with a glittery gold background for some extra glam."

For her star-studded manicure, Khan used gold sparkle by Akentz, CND's Vinylux Long Wear Nail Polish in Black Pool, and CND's Shellac Polish in Divine Diamond.


Sigourney Nuñez, @nailartbysig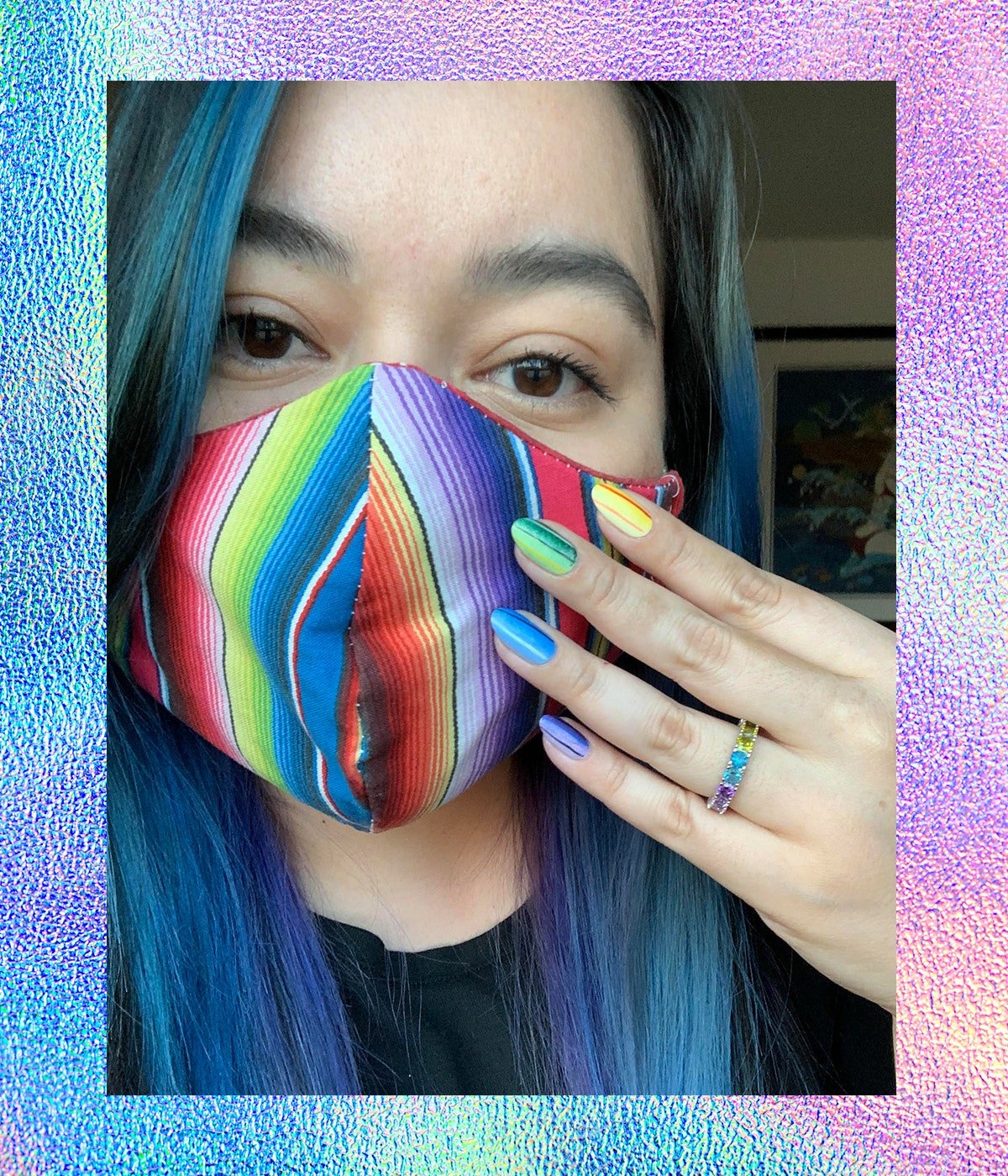 "My mask was handmade by my mom's coworker. They're both essential workers," Los Angeles-based nail artist Sigourney Nuñez tells Allure. "For the nail art, I really wanted to bring this Mexican tela tipica to life. Tela tipica translates to 'common fabric.' Color, to me, is the catalyst for inspiration, so I knew I wanted to create skittle nails for this look. I took it up a notch by adding a subtle vertical gradient and then painted thin lines to add monochromatic details."

Nuñez used all OPI polishes for her rainbow manicure, including shades You're Such a Budapest, Mariachi Makes My Day, Dreams Need Clara-fication, Tile Art to Warm Your Heart, How Does Your Zen Garden Grow, Envy the Adventure, Don't Tell a Sol, Sun, Sea and Sand in my Pants, Viva OPI, Black Onyx, and Coral-ing Your Spirit Animal.


Maria Castro Ferreyra, @lovemakemyday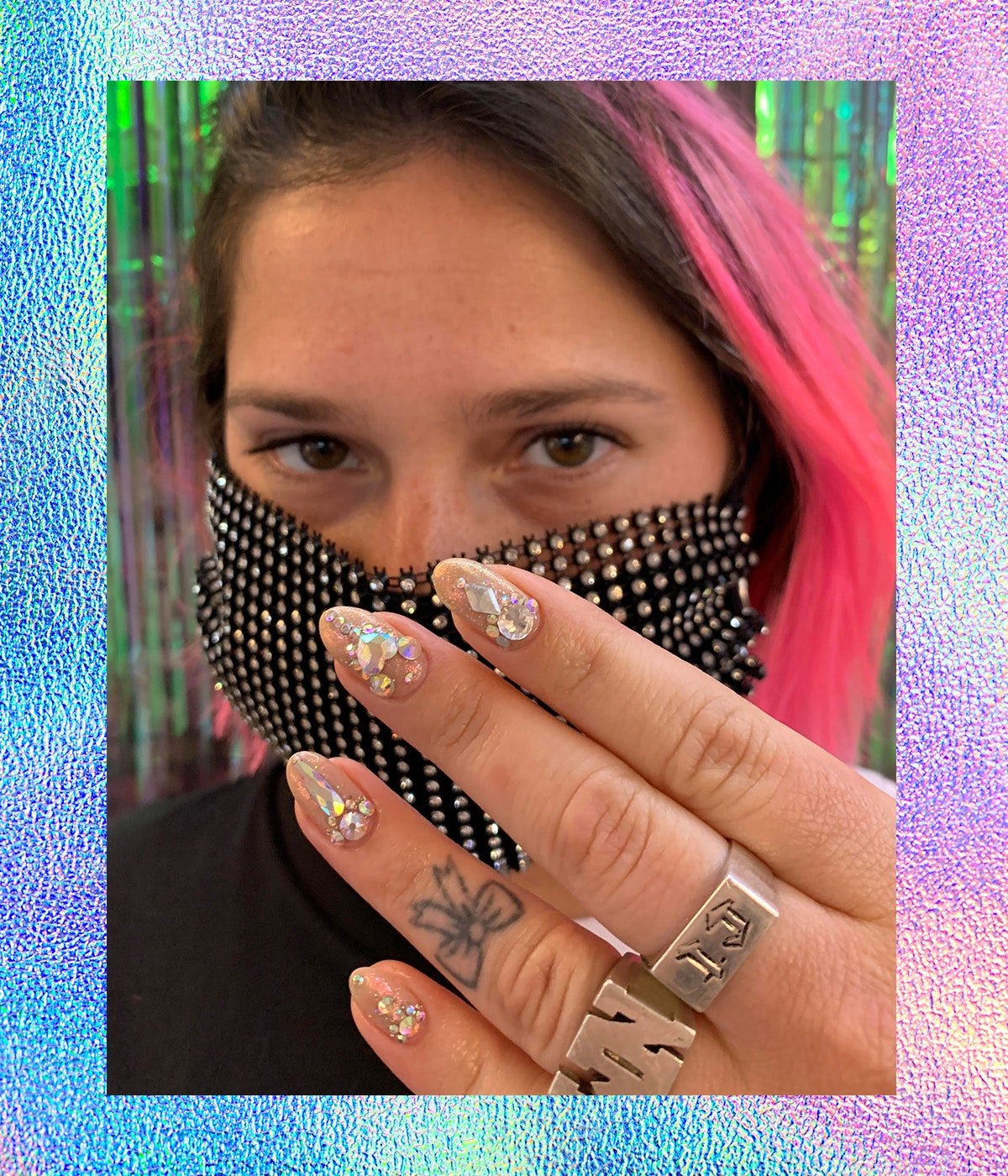 Argentina-based nail artist Maria Castro Ferreyra created this gorgeous crystal-centric look to complement the rhinestones in her mask. The different-sized appliques impart an awesome multi-dimensional effect that makes it far from your average sparkly manicure.

Amazon has a wide range of sparkly nail accessories you can use to deck out your digits like Ferreyra. So long as you've got some nail glue, such as this kind by Kiss, you'll be good to go.


Tacarra Sutton, @spifster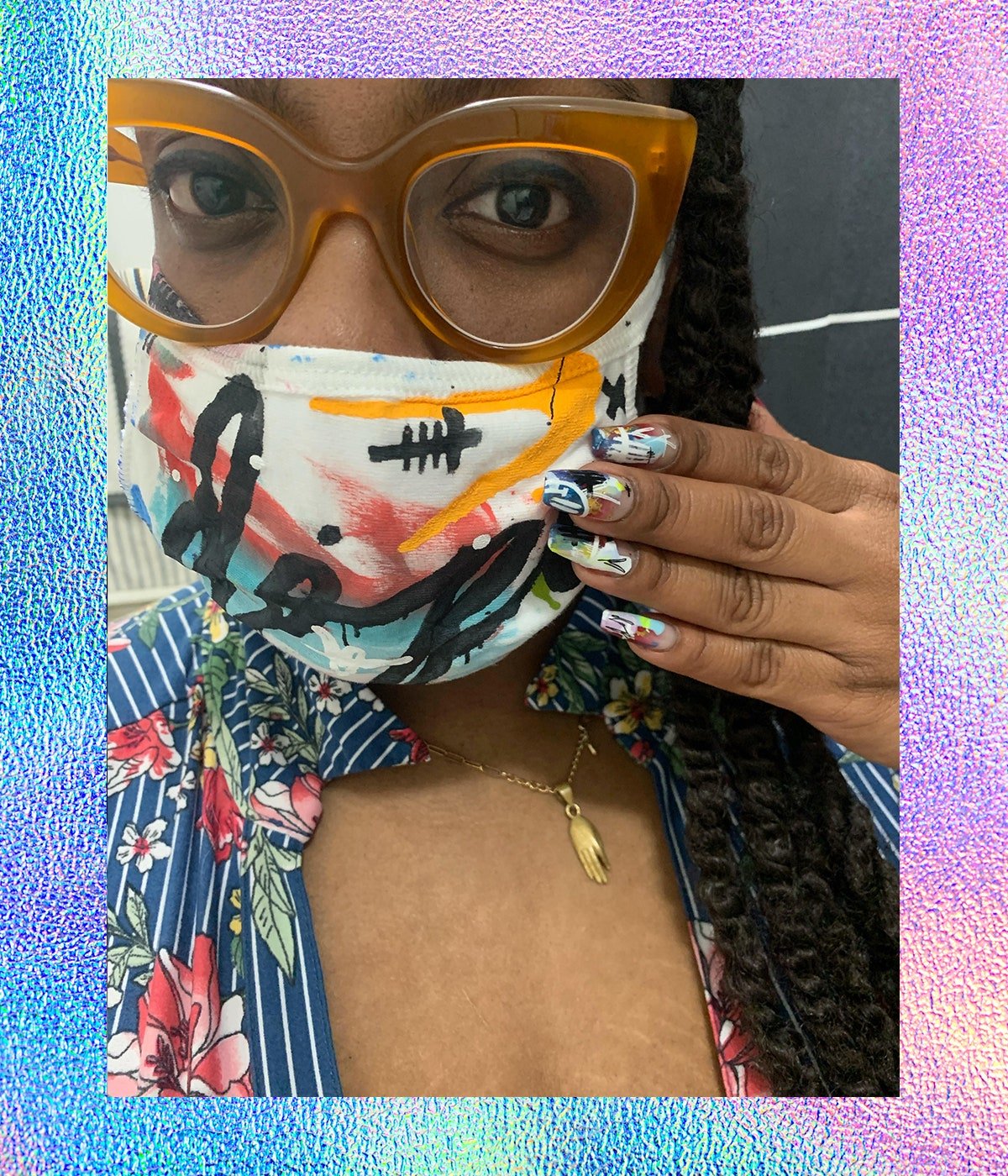 Lord knows we love a matchy-matchy moment here at Allure, and this brushstroke look by Chicago nail artist Tacarra Sutton knocks it out of the park. "I think back to my masks of the past that I've thrown away thinking I'd never need them again, not realizing today it would be such a fashion staple in a sense," says Sutton. "This mask… has my signature 'dope' [lettering] and acrylic painted dry strokes, a technique I use on nails that I had to bring to the mask."

Sutton painted her own mask. As for her nails, can buy your own press-on sets by Sutton via her Shopify page.


Yuko Wada, @yukomanicure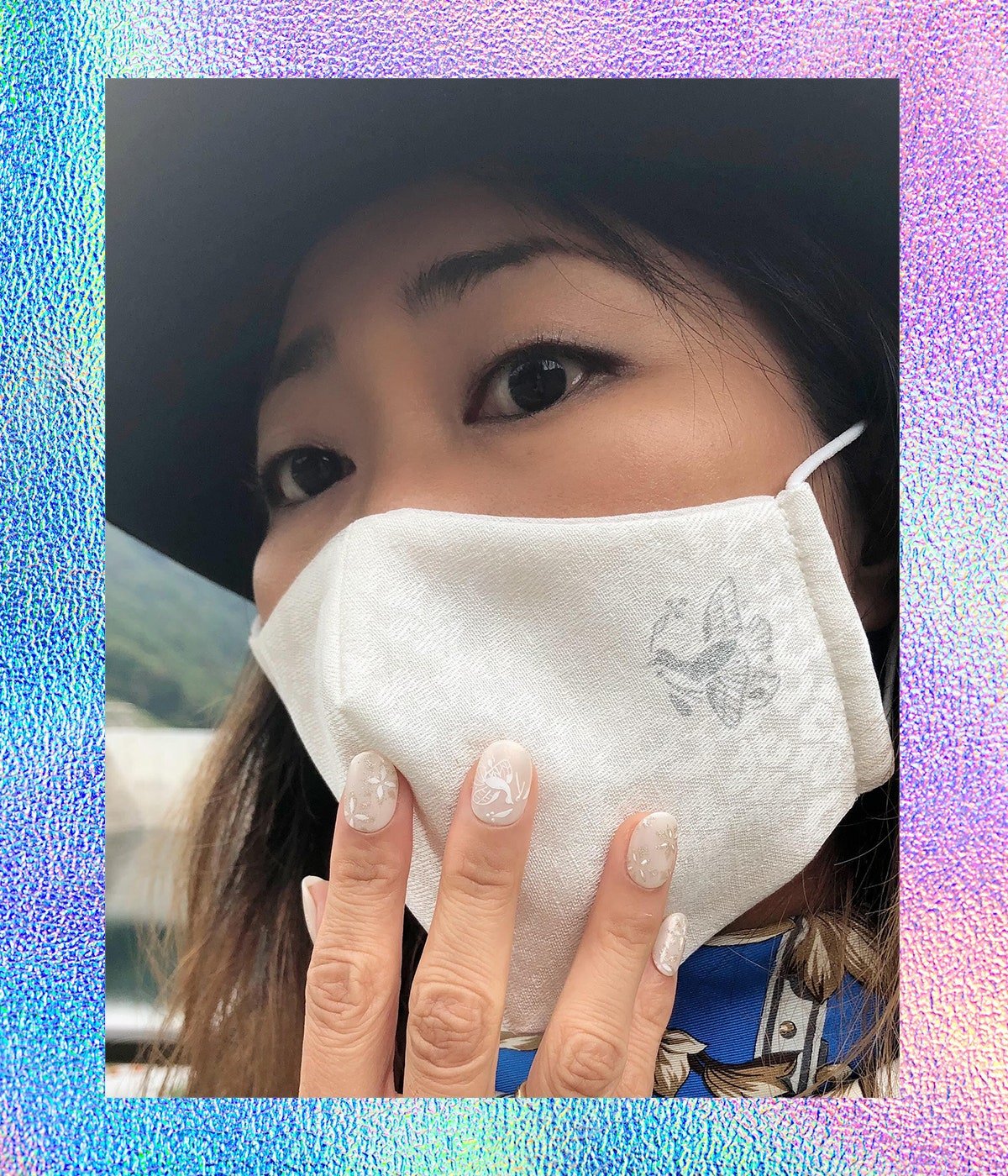 Yuko Wada wasn't always a nail artist. Before training to become a talented manicurist in Tokyo, Wada was a nurse for seven years. Now, you can find her painting bright, intricate works of art across fingernails in both the editorial and celebrity landscapes.

For this project, she created a cream-based manicure topped with delicate etchings of birds in white to pair with her ethereal-inspired face covering.