Like Max, the rebel hero of Maurice Sendak's classic picture book Where The Wild Things Are, Swedish designer Beate Karlsson's imagination conjures a creature-inhabited borderland realm between fantasy and reality. Karlsson, in her new role as creative director of AVAVAV, is responsible for the meme-friendly chicken feet Doja Cat wore while hosting the VMAs.




A Parson's graduate, Karlsson made news in 2020 when she worked with conceptual artists Ida Jonsson and Simon Saarinen to create The Bum, a wearable silicone replica of Kim Kardashian's backside, a commentary on the fetishization of celebrity in what Jonsson described to Forbes as a "hyperbolic social media landscape where everyone is fighting to stand out."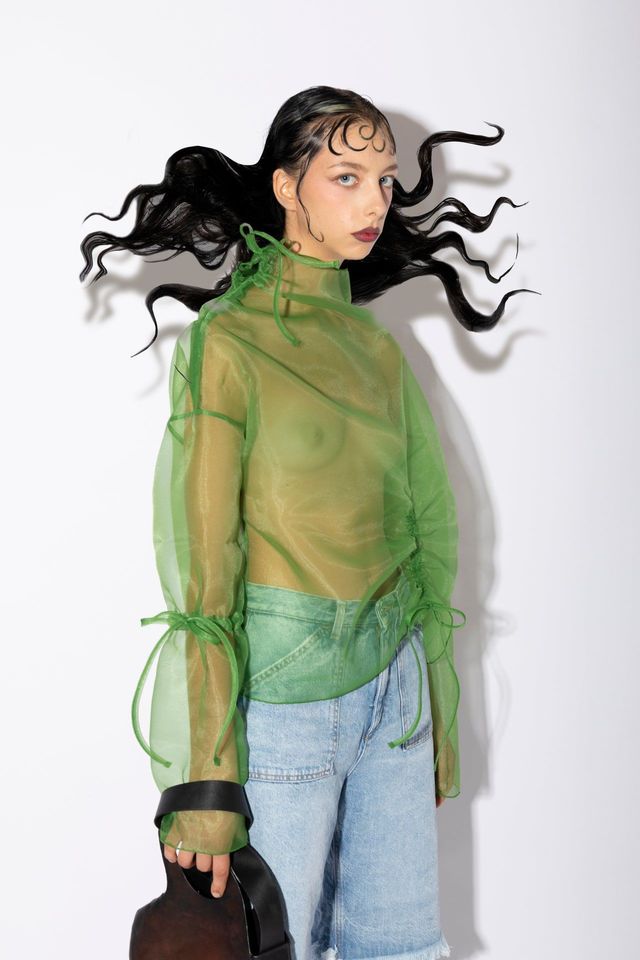 Karlsson spent lockdown in Sweden, where she worked behind-the-scenes and long-distance with her role model Kerby Jean-Raymond and the Pyer Moss team on the brand's fall 2021 couture collection. Around the same time the designer was approached by AVAVAV (it's pronounced AV) to come and work with the team on a trial basis, and that morphed into a more defined role, one that makes room for Karlsson's creature crafts, namely her finger shoes, which elicit strong emotions, pro and con.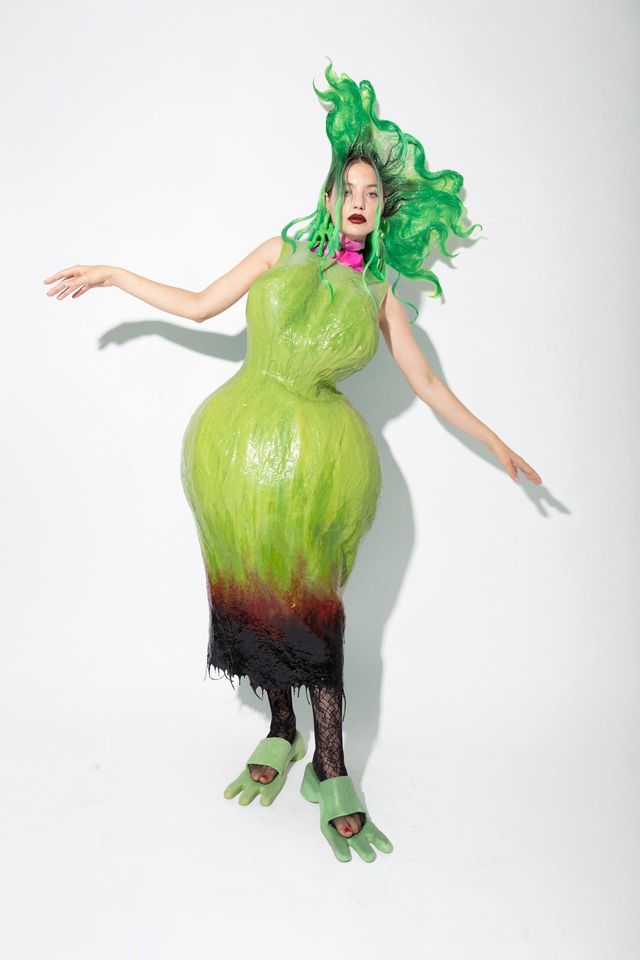 Are these shoes dysmorphic? Maybe, but perhaps more interesting is how they speak to a growing interest in humanoid designs that skew closer to the animal realm than the robotic one among a rising generation of designers who seem to be imagining hybrid existences and playmates in the same way as Sendak's Max. Karlsson remains connected to, and often references, her inner child, and there is a sense of play to what she does. Her sense of wonder doesn't come wrapped in a ribbon of innocence, however. "My aesthetic is sometimes borderline camp… but without trying to create things that are camp for the sake of camp," said the designer when we met in Stockholm. "My drive is to try to come up with something that makes people feel something new and strong. My biggest passion in terms of innovative fashion is both trying to come up with new silhouettes and being inspired by what I experienced as a child, and this monstrous animation world." Karlsson cites as her favorite the manga artist Hayao Miyazaki, and his "combination of a childish aesthetic together with trying to create something vulgar and new."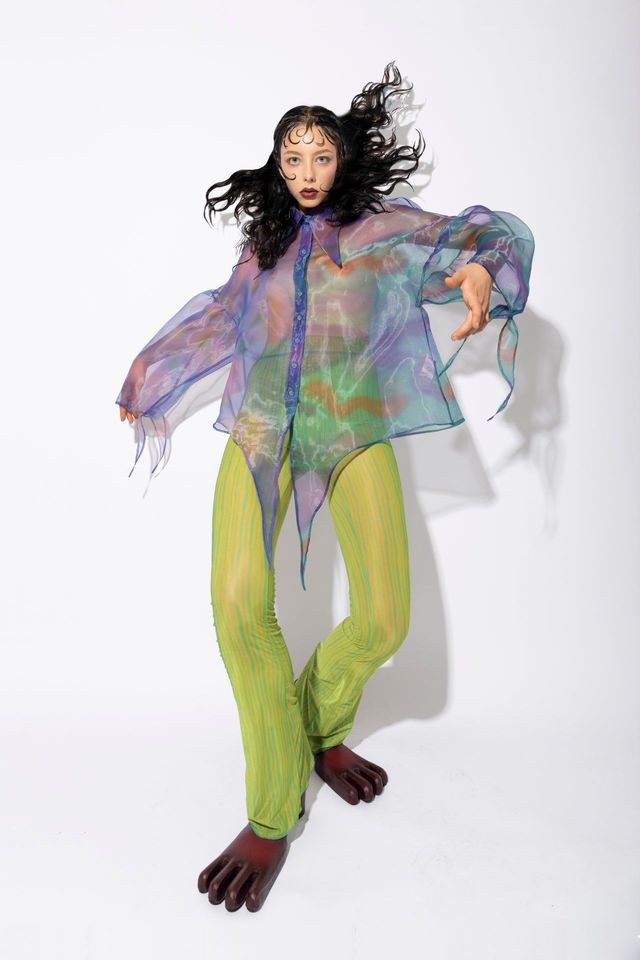 The challenge for Karlsson at AVAVAV is to bring elements of costume and art into a wearable ready-to-collection that works IRL. And is comfortable: "Everything should feel like a hug if it's something that you want to wear every day," she says. Understatement is not Karlsson's thing, yet she's striving for a certain kind of lagom (a Swedish concept meaning, roughly not too little, not too much). She likes the finger shoes, for example, paired with familiar rather than avant-garde shapes, and her goal is to find ways to create pieces "that are minimalist in their details, but still not beige clothes"-nor sculptures.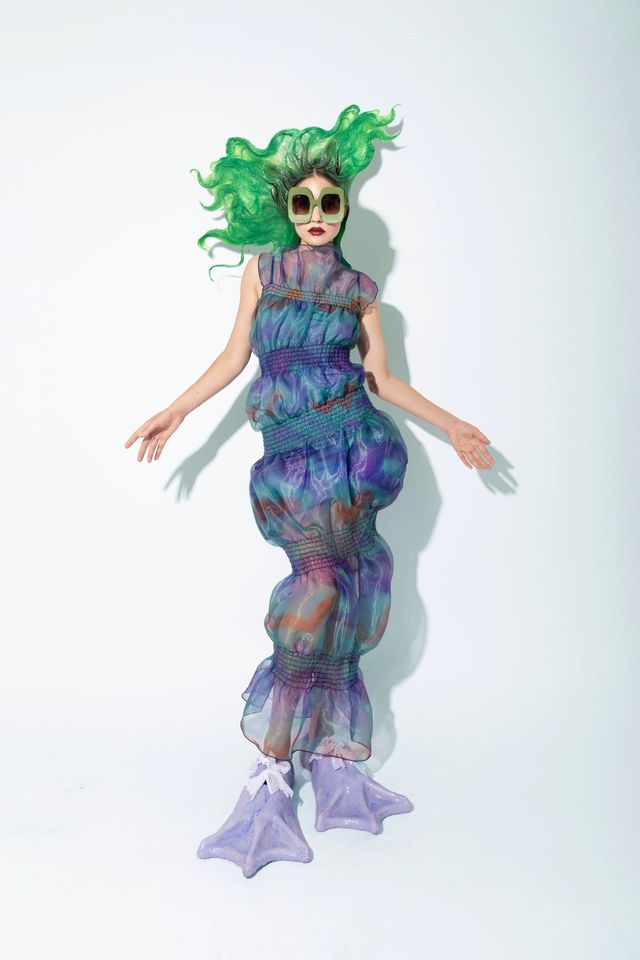 Karlsson's spring 2022 collection for AVAVAV, called Underwater Harmony, ebbs and flows naively between the extremes of her aesthetic. Inspired by blow-fish there are two bulbous show pieces, one in silicone, the other in felt, but there are also attractive, fun pieces like coated jeans, sheer shirts with seaweed-like frills, and the piece de resistance, a smocked tube dress, which is intended to mimic the movement of a jellyfish, worn by a mermaid who also looks like Botticelli's favorite sea creature, his model Simonetta Vespucci as Venus. In any case, this mermaid is not a Disney character; but she is an apt poster girl for a brand that's meant to be open to all rather than elitist.