The Brooklyn Museum's Christian Dior: Designer of Dreams, curated by Florence Müller in collaboration with Matthew Yokobosky, and excitingly designed by Nathalie Criniere, brings eight decades of high style to the storied establishment.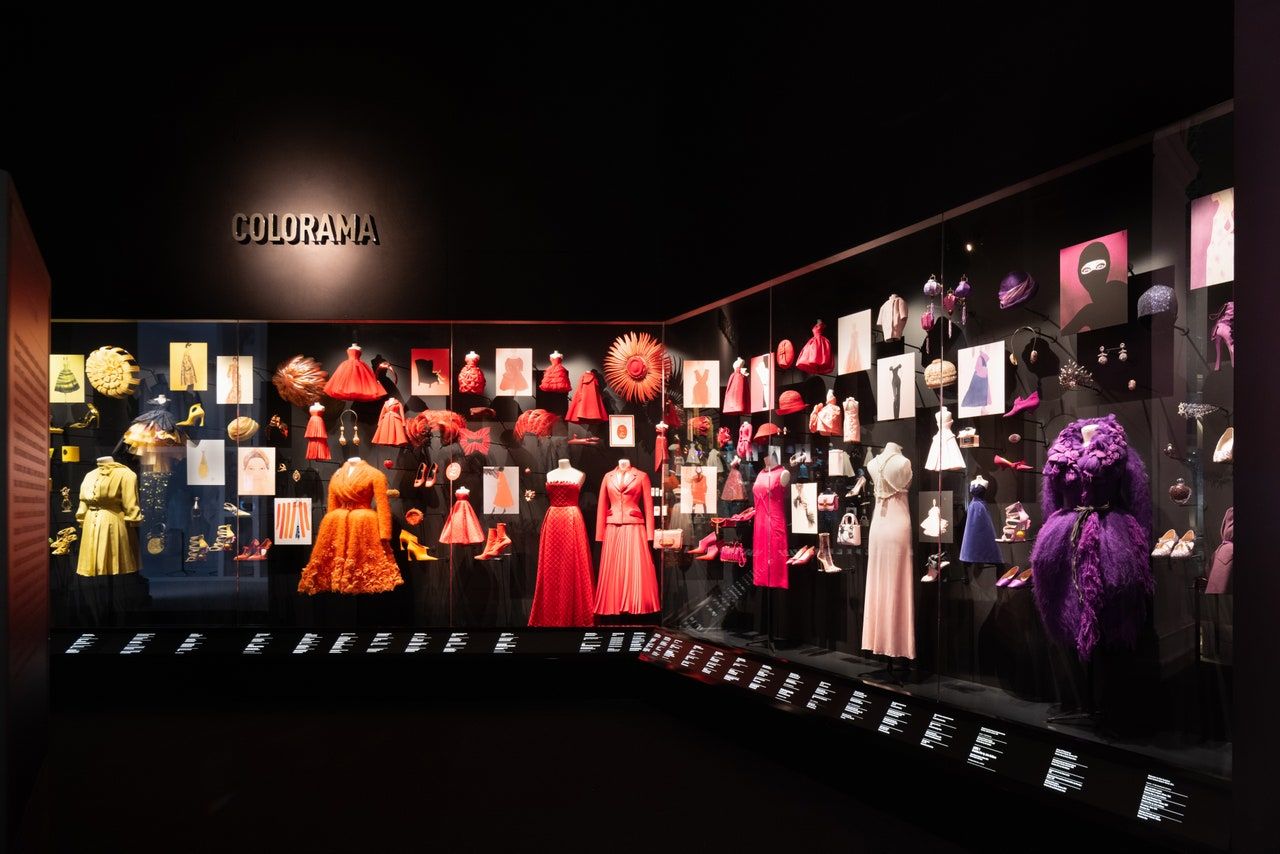 The exhibition includes some of the impressively theatrical devices that Müller first explored in the 2017 blockbuster iteration of this show at Paris's Musée des Arts Décoratifs, and subsequently in America at the Dallas Museum of Fine Arts, and the Denver Art Museum (where Müller is the Avenir Foundation Curator of Textile Art and Fashion). For instance, there's a wall of ghostly white toiles, reinforcing the power of craft and the hand in the house's haute couture, and a curving wall containing accessories, clothes and enchanting doll-sized reproductions of some iconic Dior garments brilliantly arranged in a dazzling shaded rainbow of color.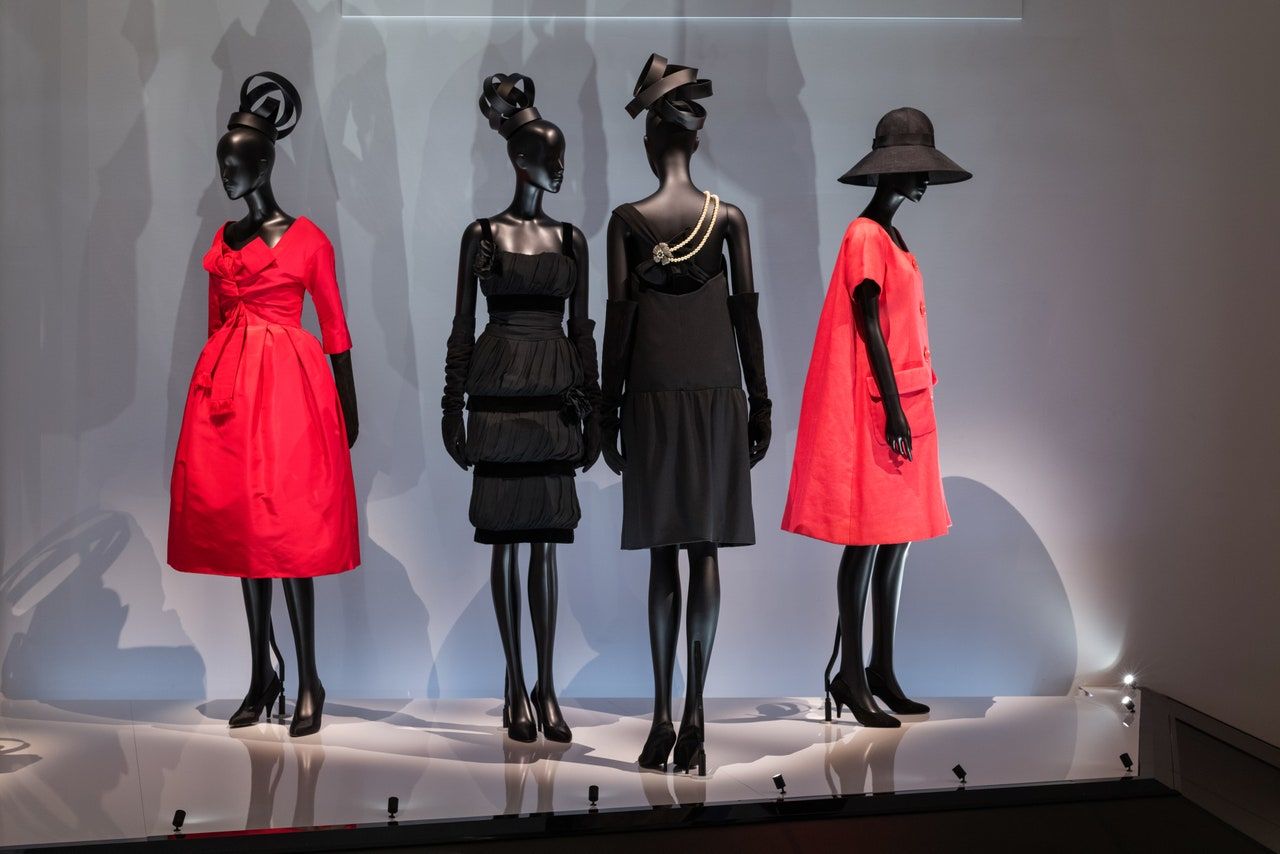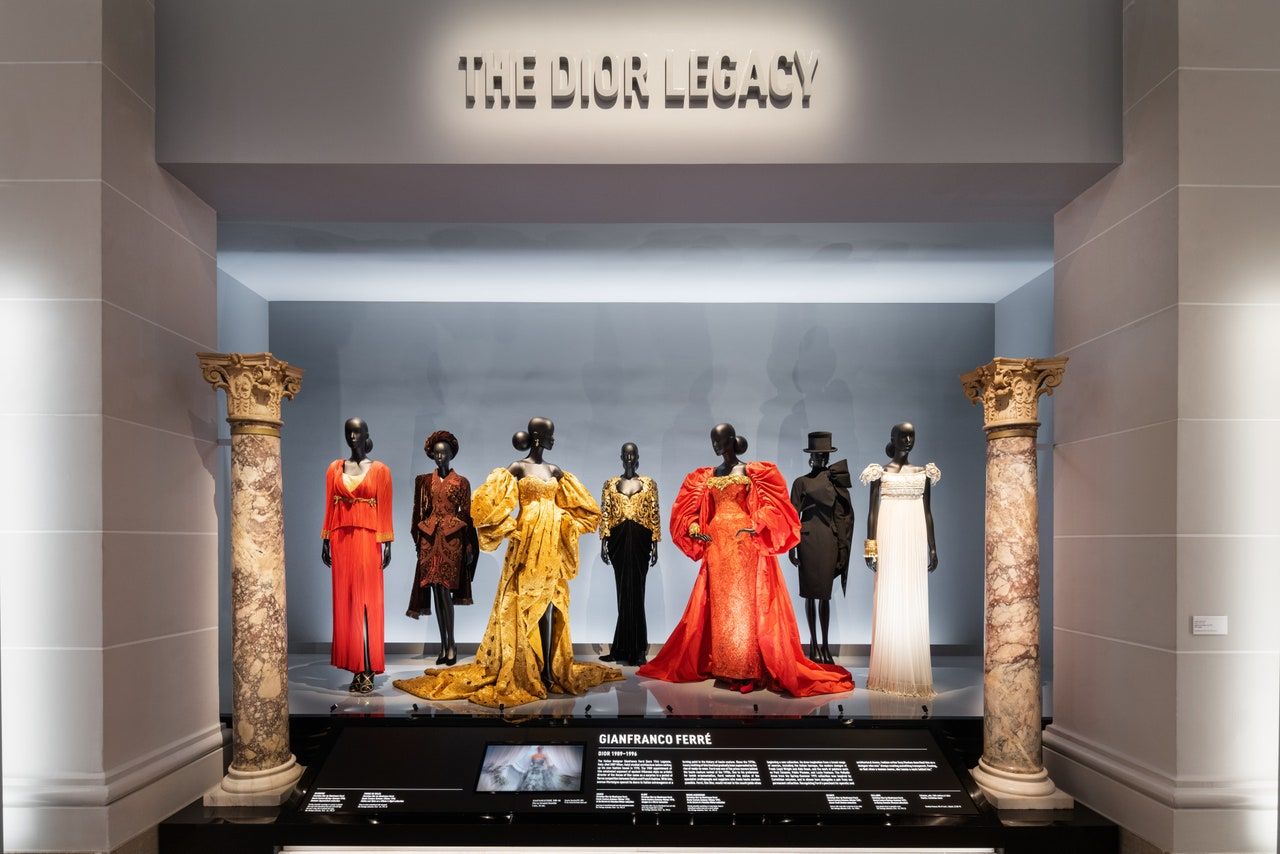 The Brooklyn exhibition, however, opens with a fascinating look at Christian Dior's relationship with America, and the installation incorporates pictures and objects from the museum's own collection, artfully selected by Yokobsky, that suggest Dior's inspirations or juxtapose his work and that of the designers who succeeded him at his house with contemporary creative forces. After Dior's untimely death, his brilliant dauphin, the 21-year-old Yves Saint Laurent, was appointed to helm the house, which he did for two years before being drafted into the army for his compulsory military service, where he promptly suffered a mental breakdown. Examples of Saint Laurent's high-spirited, youthful takes on the master's work are staged at the Brooklyn Museum against some footage of Marlon Brando in The Wild One-inspiration for Saint Laurent's radical Beatnik collection of fall 1960 that horrified the Dior establishment and hastened his deferred call-up. Saint Laurent was succeeded by Marc Bohan, whose elegantly patrician designs were calculated not to frighten the horses and who survived as the house's artistic director for nearly 30 years until 1989, when Gianfranco Ferré brought his own brand of Baroque Italianate bravura to Dior. Müller's careful selection of Bohan's work reveals the imagination behind the quiet pragmatism of this under-appreciated designer. "He was," she explains, "very in tune with the Pop culture of his time."

Ferré, of course, ceded to John Galliano, who reimagined the house for the 21st century with his spectacular runway shows and dynamic ad campaigns. Raf Simons, although short-lived at the house, left an emphatic legacy, and Maria Grazia Chiuri has married poetry to commerce and found the house's feminist voice.

In the bleak Parisian February of 1947, in a city still wounded from the Occupation, the shy 42-year-old designer Christian Dior launched his debut collection in a handsome Belle Epoque mansion on the Avenue Montaigne, with backing from the textile magnate Marcel Boussac. Fiercely superstitious, Dior had found a metal star on the sidewalk and felt that it was a positive omen. In fact, the collection, named Corolle, and swiftly dubbed the "New Look" by Harper's Bazaar's Carmel Snow, was far more of a dazzling success fou than he could ever have imagined. The Dior name was soon synonymous with Parisian glamour and allure and reaffirmed the supremacy of French fashion.

Later that debut year Dior was invited to Dallas by the legendary retailer Stanley Marcus to accept an award, and traveled around the country for six weeks. "It was a revelation to me," noted Dior of his American adventure, even if, in Chicago, he was greeted by women from "The Little Below the Knee Club" bearing placards declaring "Mr. Dior We Abhor Skirts to the Floor." Müller has discovered that these women were involved in the American garment industry, and that their protest was protectionist: with America cut off from Paris fashion news during the Occupation, the country's fashion industry had developed in exciting new ways, with a voice all its own. Dior's debut, however, triumphantly proclaimed the supremacy of French style once more and for the next decade, until his untimely death at the age of 52 in 1957, the eager American store buyers and Seventh Avenue manufacturers hung on every Dior diktat and paid high premiums to reproduce his models that were then sold at all levels of the market.

Dior opened his first flagship outside Paris in New York soon after that visit. The Brooklyn Museum exhibition opens with some examples from Christian Dior's New York collections, shown alongside some of the designer's Paris originals. These American clothes were high-end ready-to-wear and not haute couture, but the examples chosen nevertheless have considerable élan and drama, designed for brisk American lifestyles and glamorous evenings on the town that reflect, as Müller notes, "a Hollywood sense of drama." "When I am in New York," Dior noted at the time, "I wish to work in the American way… I feel that I am a genuine American couturier in New York, just as I feel I am a French couturier in Paris." The New York sensibility is cleverly evoked in a grouping of little black dresses (Dior once declared that he could happily work in black alone) that are shown with contemporary black artworks, including a striking Ad Reinhardt painting, Untitled (Composition #104), 1954-1960; Louise Nevelson's dramatic early sculpture First Personage, 1956; and a gleaming screen by Charles and Ray Eames with volutes that, as Yokobosky posits, suggest the pleats in a Dior skirt.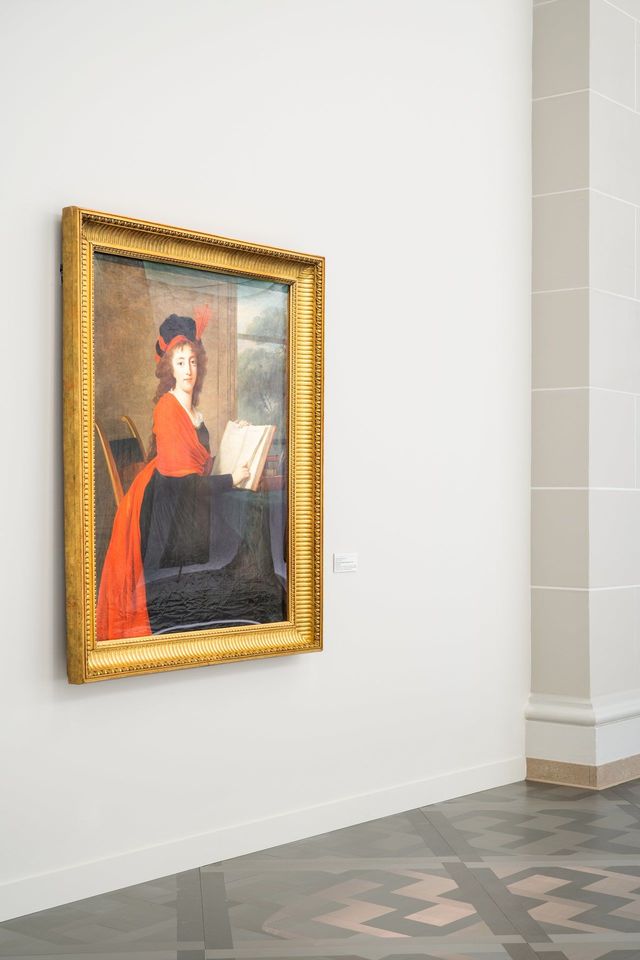 Meanwhile, a 1900 Childe Hassam depiction of a wintery Manhattan street scene serves as a foil to some dashing New York suits (one aptly titled "Sherry Netherland"). A 1912 portrait by Giovanni Boldini, the bravura Belle Epoque artist whose work Dior applauded, is cleverly juxtaposed with an ensemble designed by John Galliano to evoke a ghostly vision of Dior's mother. Galliano's Ballet Russe inspired dress from his Marchesa Casati homage collection of Spring 1998 finds an extraordinary complement in Anne Estelle Rice's modernist work The Egyptian Dancers, 1910. Associating these two pieces was, as Yokobosky aptly puts it-"a very Kismet moment." Galliano's ancient Egyptian inspired ensemble from spring 2004 (inspired by an aerial trip the designer took over the Luxor valley), finds its own complement in a statuette of the goddess Hathor, 664-332 B.C.

Maria Grazia Chiuri, meanwhile, collaborated with feminist icon Judy Chicago for her spring 2020 couture collection. The artist's celebrated work The Dinner Party, 1974-1979 is on permanent display at the museum and is one of its star pieces.

A recently acquired portrait by Elisabeth Vigée-LeBrun, the artist beloved of Queen Marie-Antoinette and the courts of late 18th-century Europe and Russia, finds an echo in Raf Simons' scarlet velvet frock coat in a gallery dedicated to the romantic 18th-century inspiration that informed the work of Christian Dior himself and his successors. These pieces are shown against a backdrop that evokes in photo reproduction the 18th century toile de Jouy document that Dior chose for his Avenue Montaigne boutique in 1947, complete with farmyard animals and a Louis Seize beauty on a swing.

Another gallery documents the iconic fashion photographers who have recorded the work of the House of Dior for eight decades, from Avedon to Tyler Mitchell, including the Brooklyn-born Lillian Bassman. The cinematic work of Claude Chabrol, who directed a movie for the 1985 fragrance Poison, and David Lynch-for 1988's Fahrenheit-is celebrated in a montage of Dior television and cinema ads.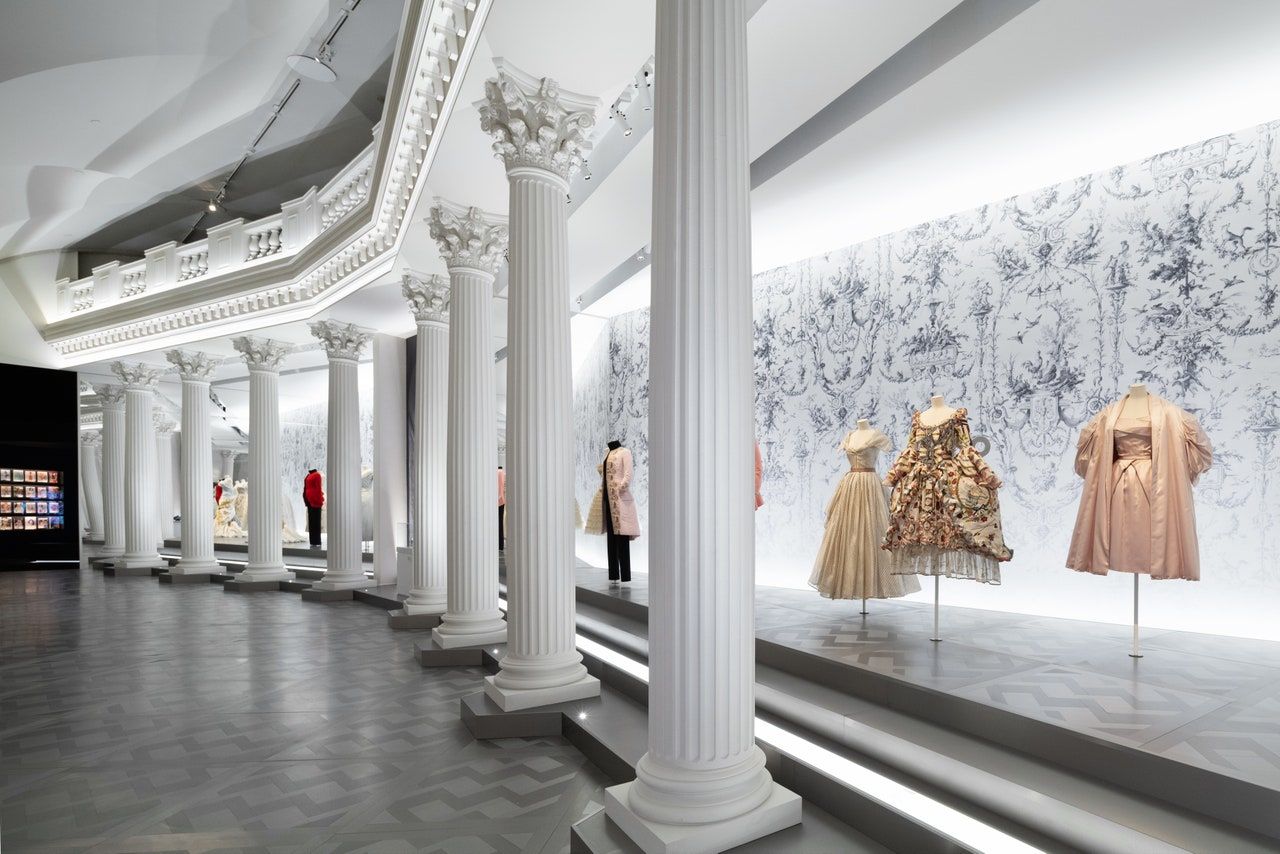 The museum's stirring central atrium gallery, designed by McKim, Mead & White in 1913 to evoke Bramante's 1504 Santa Maria Della Pace, is an appropriate showcase for Maria Grazia Chiuri's Spring 2021 couture collection, inspired by a set of Renaissance Tarot cards, and for garlands of flower-inspired dresses from Dior and all his successors. Flowers were a passion that ran in the family: Dior's mother Madeleine cultivated elaborate rose gardens at the family house, Villa Les Rhumbs, on the coast of Normandy, and his fascinating sister Catherine-subject of a remarkable new biography, Miss Dior, by Justine Picardie-a Resistance war hero, later worked at Rungis, the Paris wholesale flower market.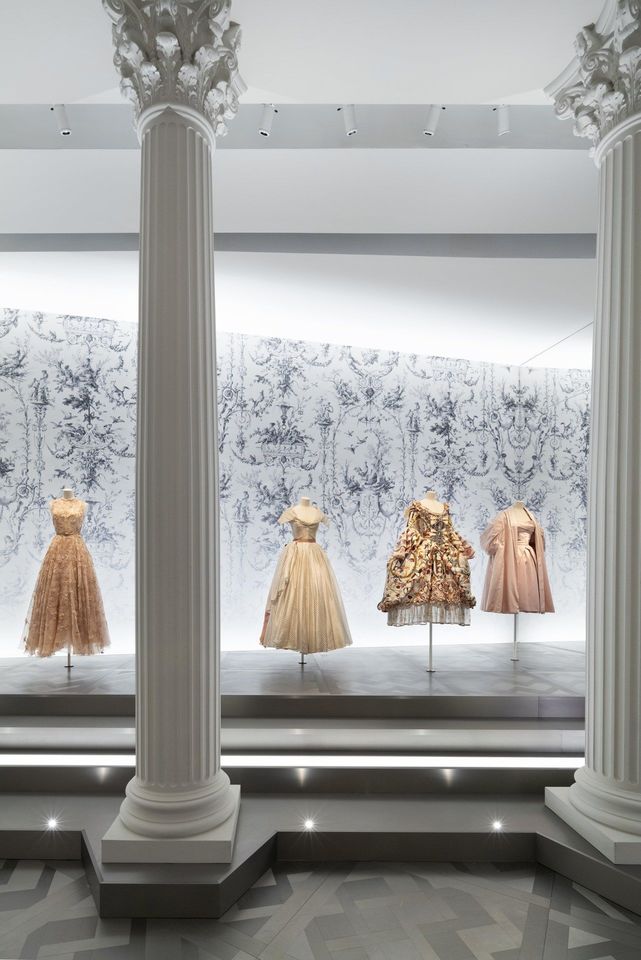 The exhibition ends with a galaxy of stars. Even the accessories are telling and breathe with the luxury and customization of haute couture. Elizabeth Taylor's 1963 evening purse, for instance, includes a single violet amongst a sprig of the signature Dior lily of the valley-to match her eyes, of course. The Duchess of Windsor's ruby velvet "indoor pump" is embroidered with the elaborate WW cipher for Wallis Windsor. Evocative movie footage in this section includes Brooklyn born Rita Hayworth at a Dior fashion show, and Marlene Dietrich admiring ballgowns in the Paris salons and vamping in Dior's chiffon and ostrich on film in 1950's Stage Fright. Here is Sophia Loren in Bohan's orientalist spangled lace for Arabesque, 1966; Olivia de Havilland twirling in yellow chiffon in 1956's The Ambassador's Daughter; and Ingrid Bergman in luxurious satin in 1958's Indiscreet.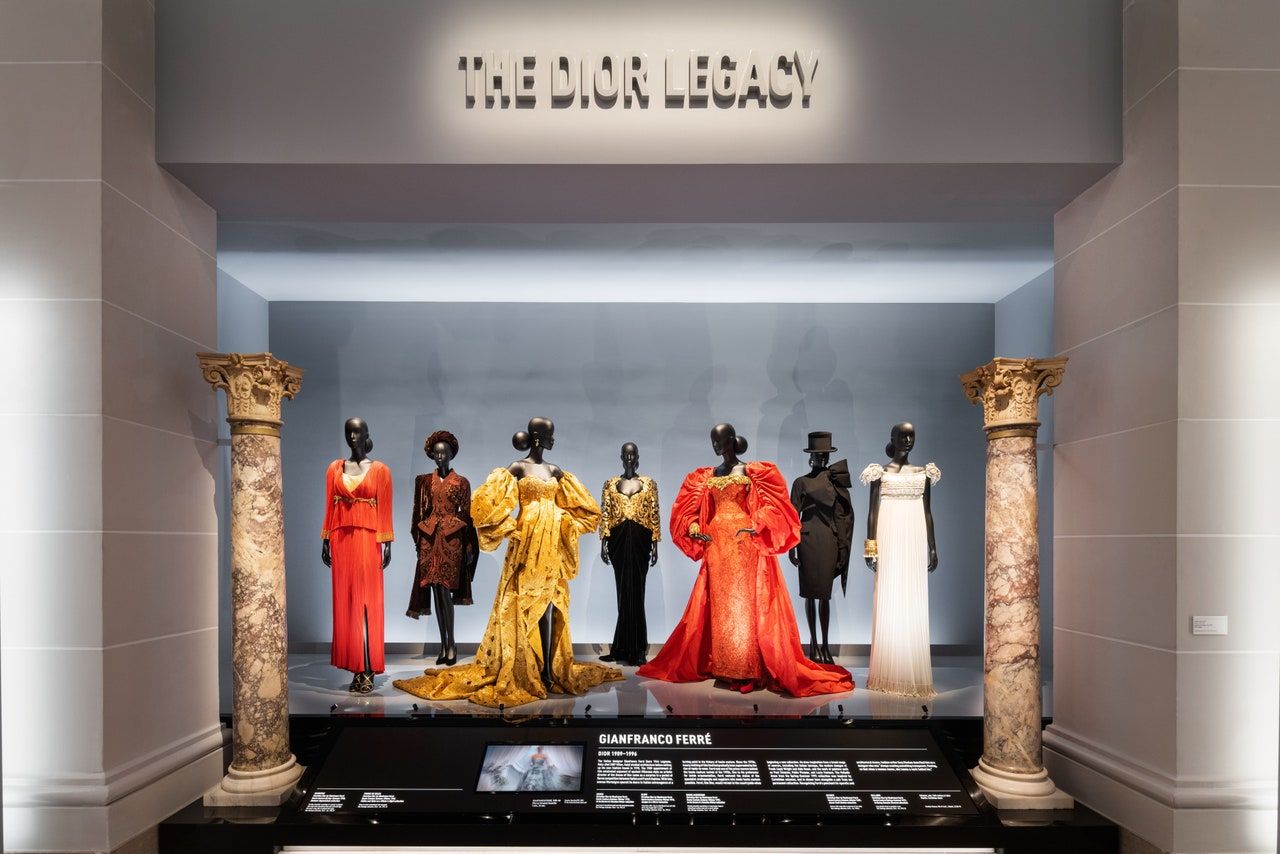 Dior originals on show include the first dress that Galliano designed for the house: the midnight satin and lace lingerie-inspired dress worn by Diana, Princess of Wales, to attend the Metropolitan Museum of Art's Dior retrospective in 1996 (and accessorized with the soon to be iconic Lady Di purse). Here too is the chartreuse satin dress edged in fawn-colored mink that Nicole Kidman wore to the 1997 Academy Awards, and Raf Simon's shell pink ballgown that Jennifer Lawrence stumbled over as she went to claim her 2013 Academy Award. If one looks closely, the cape designed by Maria Grazia Chiuri for Natalie Portman to wear to the 2020 Academy Awards is edged with a ribbon bearing the names of eight female directors who were not nominated that season.


The stylish headdresses throughout the exhibition are by Stephen Jones, who has artfully suggested period hairstyles and reproduced archive hat silhouettes, and in this final room evokes the characters of the individual wearers with twists of ribbon. "At last I've made a hat for Princess Grace of Monaco!" Jones exulted as he showed me around, "and one for Josephine Baker, and for Liz Taylor!"

The final piece in the exhibition? That metal star that Dior found on the sidewalk.