In the heart of Paris's Batignolles neighborhood, Charles de Vilmorin has created a home that reflects his personal passions and creative pursuits. For Vogue France's new series "Un homme, un style," the 24-year-old designer gives a tour of the place that helps inspire his ideas.
The man

Charles de Vilmorin is a creative prodigy who is already among the world's greats. He first attracted attention in 2020 when he launched his very first collection while he was still a student in the midst of a lockdown. He was struggling to find an internship when he posted his extra-large, brightly colored coats on his Instagram account. A mysterious anonymous buyer discovered them and decided to buy everything from him, allowing him to found his own brand in April of the same year. As if that wasn't enough, a few months later, de Vilmorin was named creative director of Rochas at the age of 24.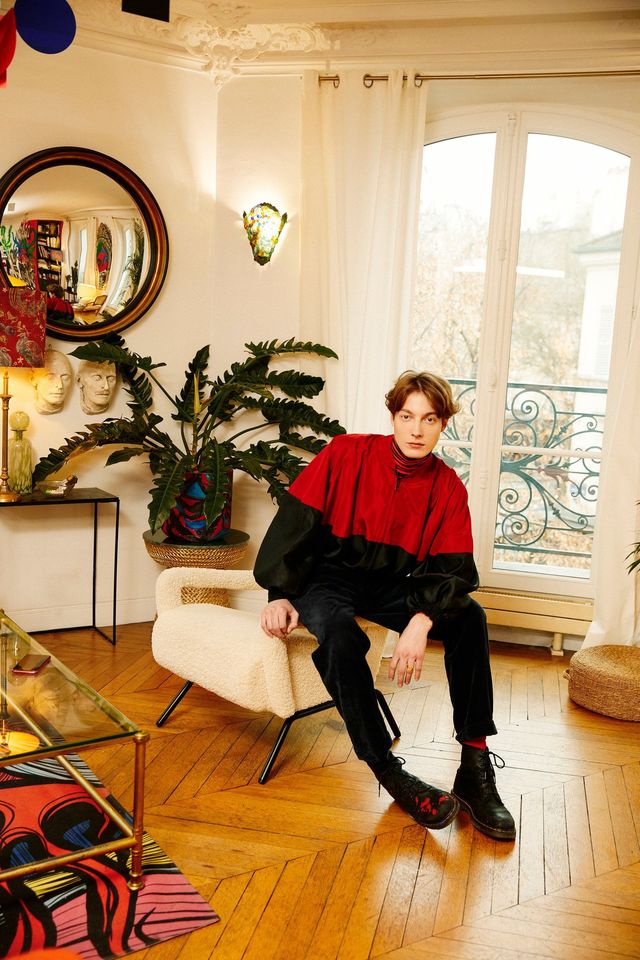 The fashion

Passionate about fashion since childhood, his four years of studies at the Ecole de la Chambre Syndicale de la Couture Parisienne confirmed that he should pursue a career in the industry. de Vilmorin says that his theatrical creations are made for people "who have fun experimenting and who dare to be original in order to feel strong and different."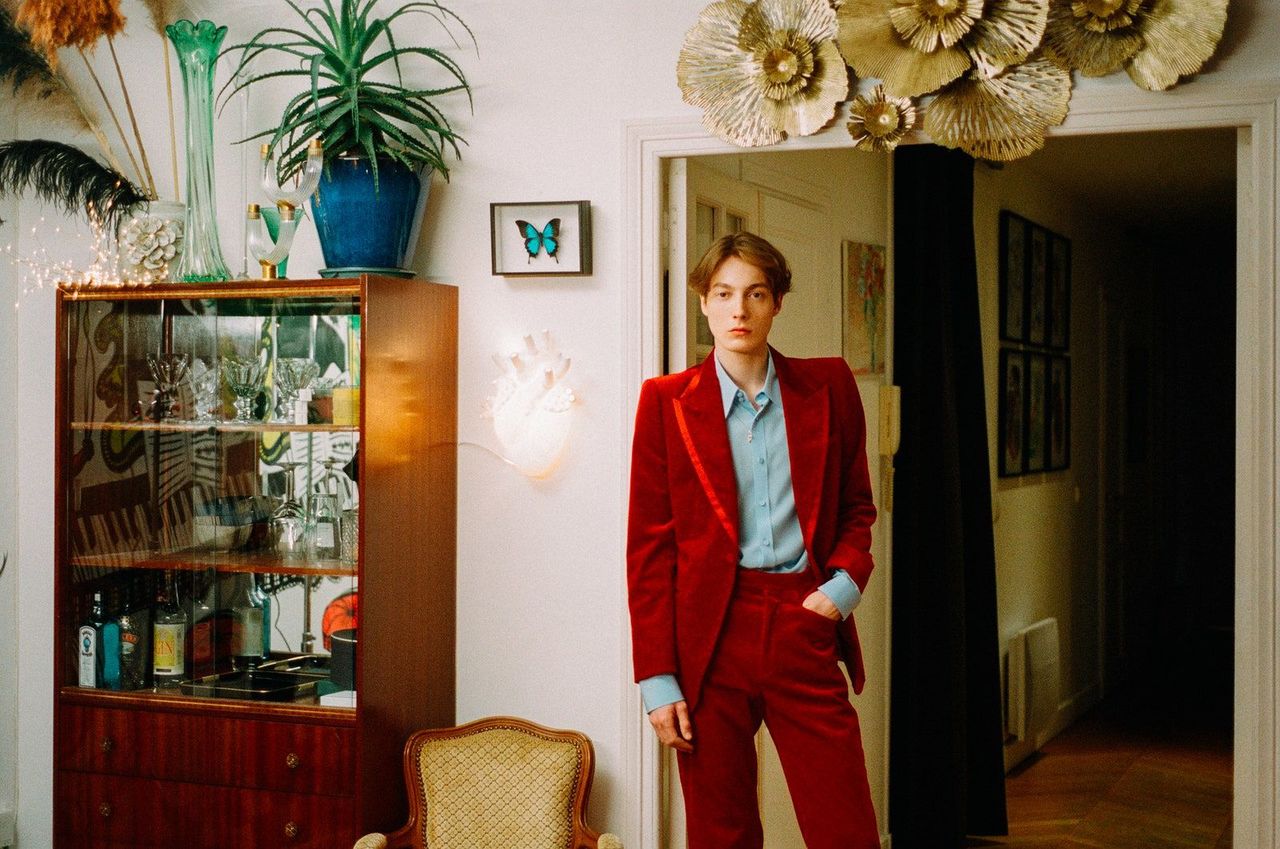 The style

de Vilmorin's streamlined personal style can seem at odds with the aesthetic of his designs. He's delights in this contrast: "I have two rather extreme sides. The first being very classic, very comfortable with often vintage pieces without much originality, which I feel good in. The second is much more creative. As soon as the opportunity arises I love to wear flamboyant looks that I design myself. "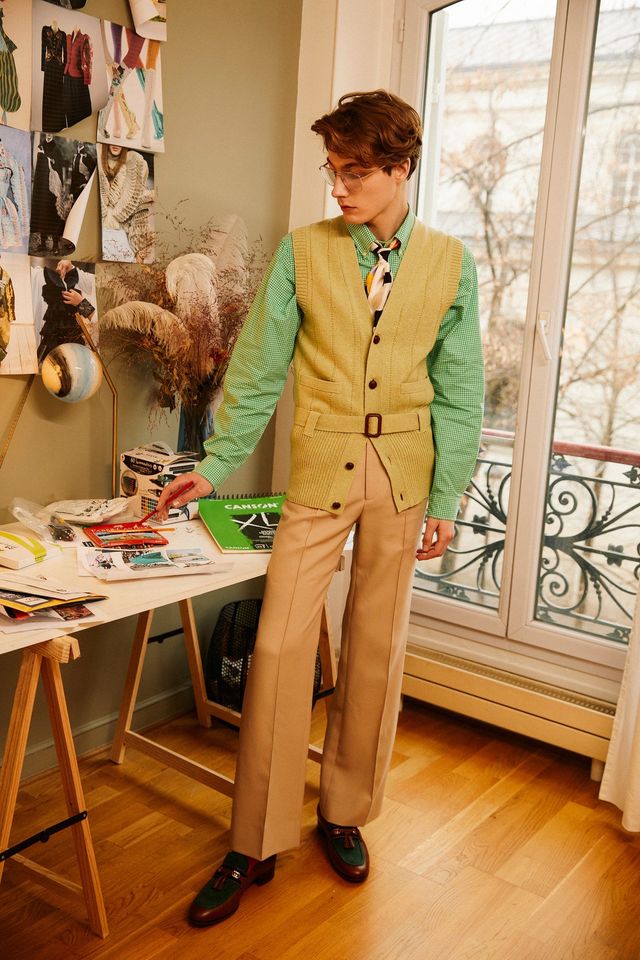 Career

de Vilmorin is currently focused on two projects: first, the artistic direction of Rochas and second, the development of his own brand in which he "tries to make people grow through collaborations and very personal projects."

Interior

A few months ago, de Vilmorin moved into his apartment in the 17th arrondissement of Paris. On one of the walls of the living room, the designer had fun creating a fresco of a thousand colors, the pattern reflecting pieces from his first collection for Rochas. The result is a space which reflects him, where opposing universes effortlessly come together. "My interior reflects my different influences, both pop and sophisticated," he says. "It is a comfortable and inspiring place. I like to create an artistic universe with touches of strong colors assimilated to more raw elements."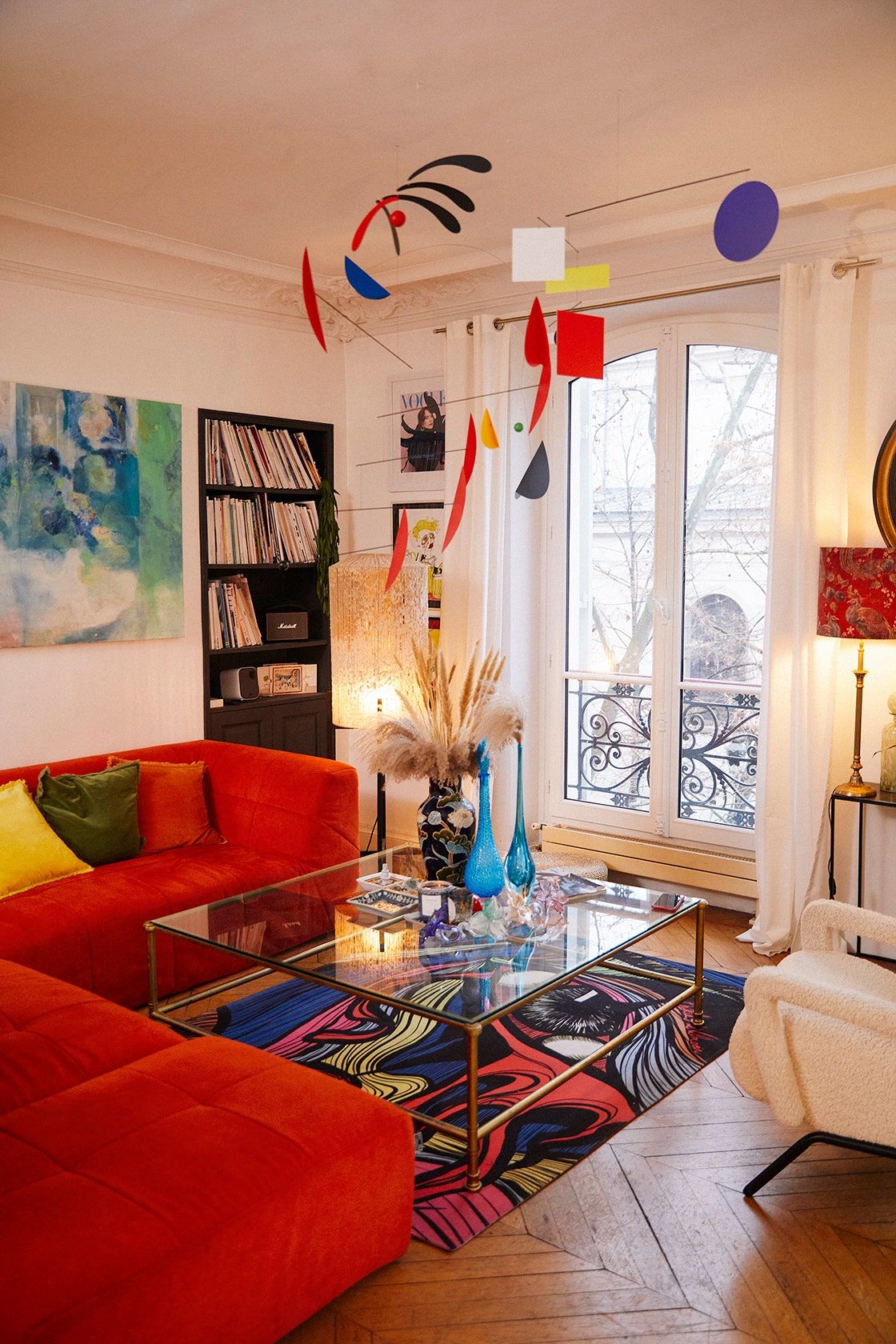 Furniture

de Vilmorin finds his furniture at garage sales and sites that sell vintage items like Selency and Leboncoin. Other items come from chance encounters at small Parisian shops he stumbles upon while walking the streets of the capital. He also loves designing his own decorative objects. Case in point? The wall fresco and the geometric-print rug that sits in the living room. "I love that! One of my future projects would be to launch a decoration line within my brand," he reveals.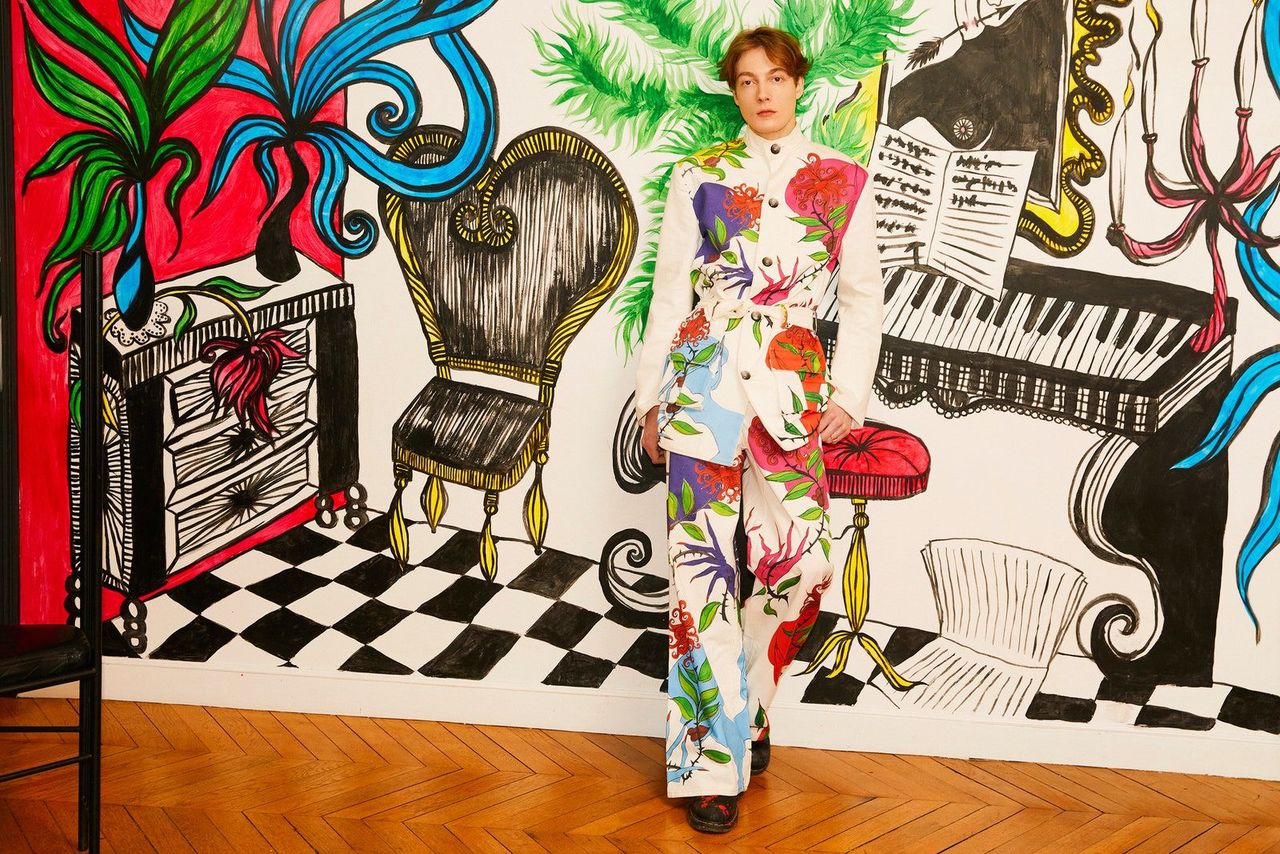 First fashion memory

de Vilmorin is quick to cite his first fashion memory: "John Galliano's fashion show for Dior in tribute to René Gruau, who spoke and inspired me a lot. This show made me realize that it was possible to make a living from this passion," he says. Having grown up in a family that was attuned to fashion and the arts, he also remembers his father collecting books dedicated to these themes, with a particular fascination for Christian Lacroix.
The essentials

"A long, well-tailored woolen coat, a pair of leather boots, and beautiful flared jeans."

Favorite designers

de Vilmorin looks to some of the major designers from the 1980s to 2000s like Alexander McQueen, Thierry Mugler, John Galliano and Jean-Charles de Castelbajac "for their highly creative and conceptual vision."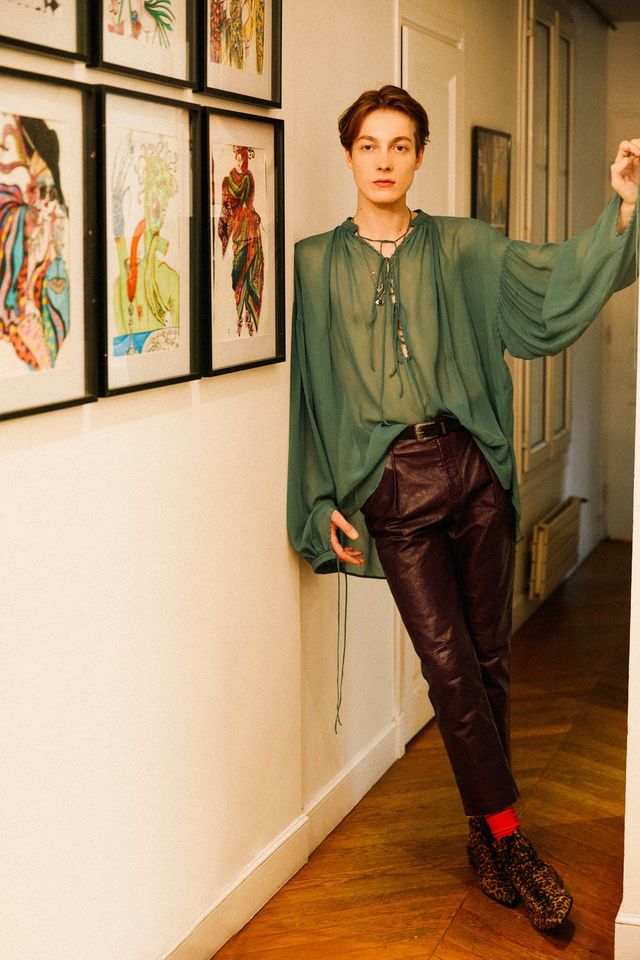 Collector's items

"The Niki dress from my first couture collection."

Jewelry

Although de Vilmorin isn't a big fan of jewelry, he has never parted with his grandfather's signet ring, which he wears every day.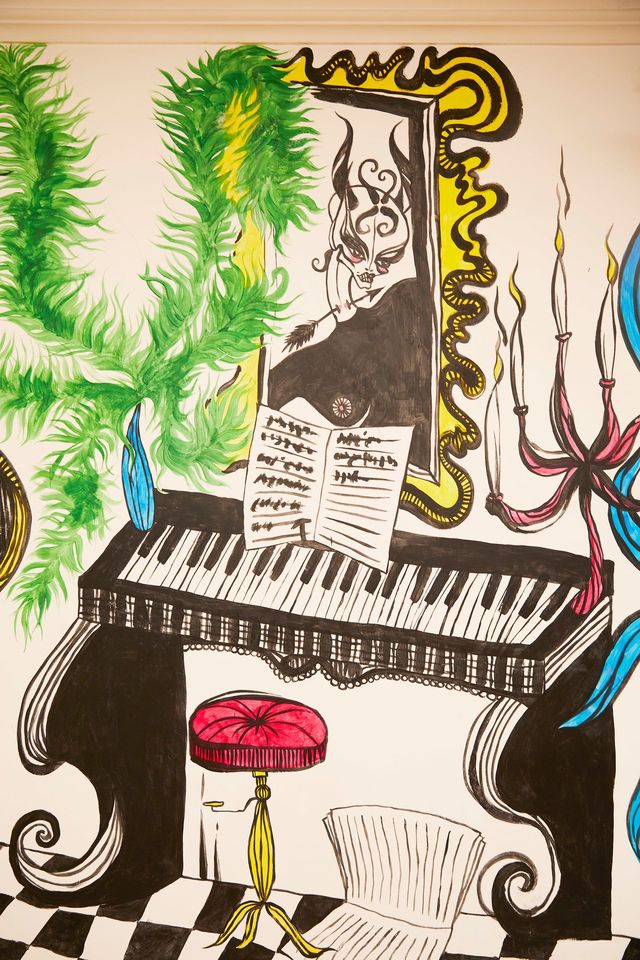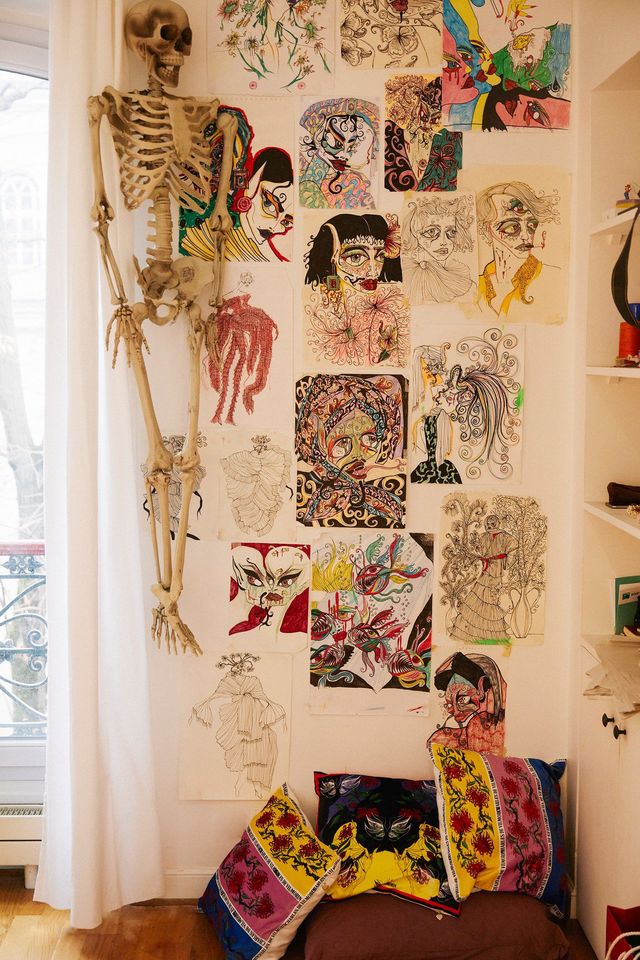 Shoes

"I love shoes, especially ankle boots with a small heel. They allow me to walk proudly in the street." His favorites? A Rochas pair that is both classic and elegant and the Tabi by Maison Margiela.

Bags

"I admit that I prefer to leave empty-handed as fast as possible," de Vilmorin says, but if he had to choose only one bag, it would be his vintage Longchamp given to him by a friend.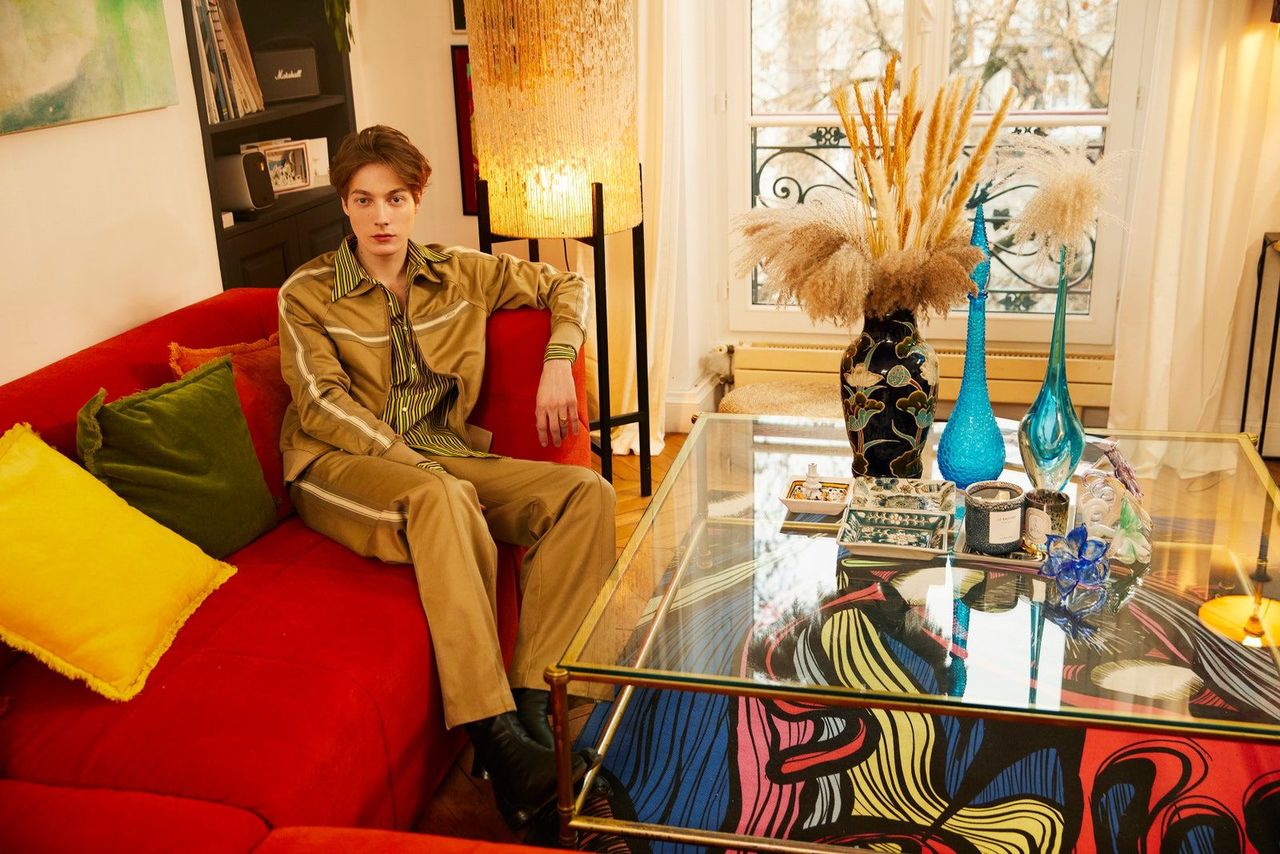 In the evening

"It's when I'm going out that I put in the most effort and dare to make the most original combinations. I pair strong pieces with those from my everyday life. You can just as easily see me in a suit as in a shiny feathered outfit. Everything really depends on the context and above all on the people I am with."

Grooming routine

de Vilmorin collects products but doesn't use them…yet. "But this is something I would like to put a lot of effort into!"

Fashion icons

Cruella de Vil, Tilda Swinton, Isabelle Huppert, Edward Scissorhands, Dracula, Nadia Lee Cohen…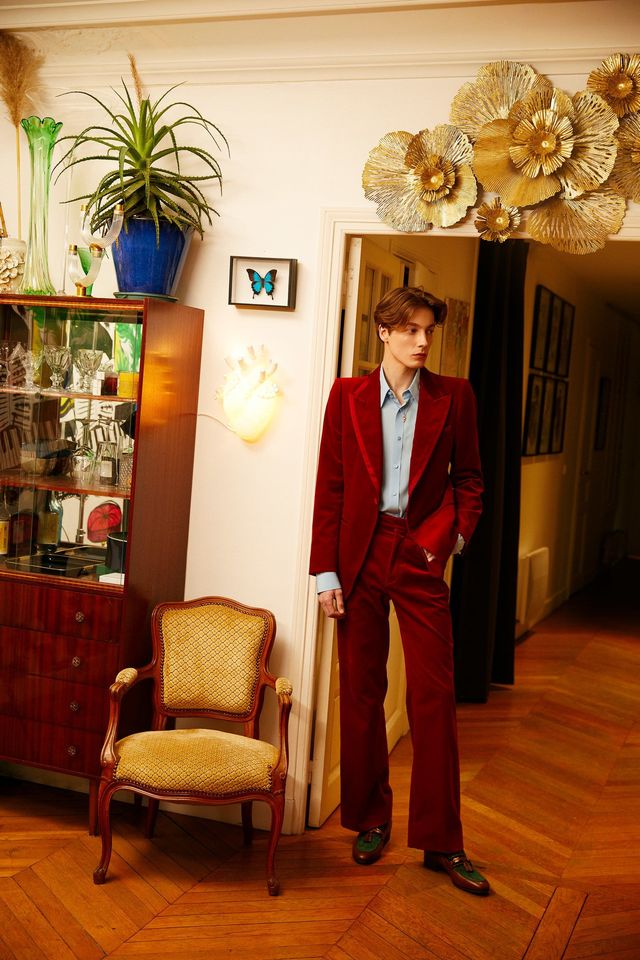 Cordury suit, silk shirt and mocassins, Gucci