Astrologists are heralding this heavenly event as the beginning of a new age. Coincidentally-or maybe not-a different kind of celestial event is taking place in fashion: Marine Serre's moon is aligning with A$AP Rocky's star. If you believe in the cosmic powers of energies, vibes, and star chart alignments, then you will definitely be impacted by the force of these two creatives coming together for a collection of mostly regenerated pieces. On sale on Serre's website today, the collection offers a true marriage of the iconoclastic aesthetes' work.




Serre and Rocky met in 2019, though they had been fans of each other for some time before that. "I really loved her work. It seemed like she took the streetwear etiquette and kind of put her own 'I don't give a fuck,' rebellious, punk twist to it. Aesthetically, I never saw somebody be so free, especially with a monogram-something as simple as a crescent moon," Rocky says on a conference call with Serre. "She has more of a, I would say, fashion-house approach to [her brand], but with a streetwear aesthetic. She collided both worlds. I'm an advocate for that: mixing high-end streetwear and low-end clothing, so it spoke to me, naturally. I just loved her aesthetics."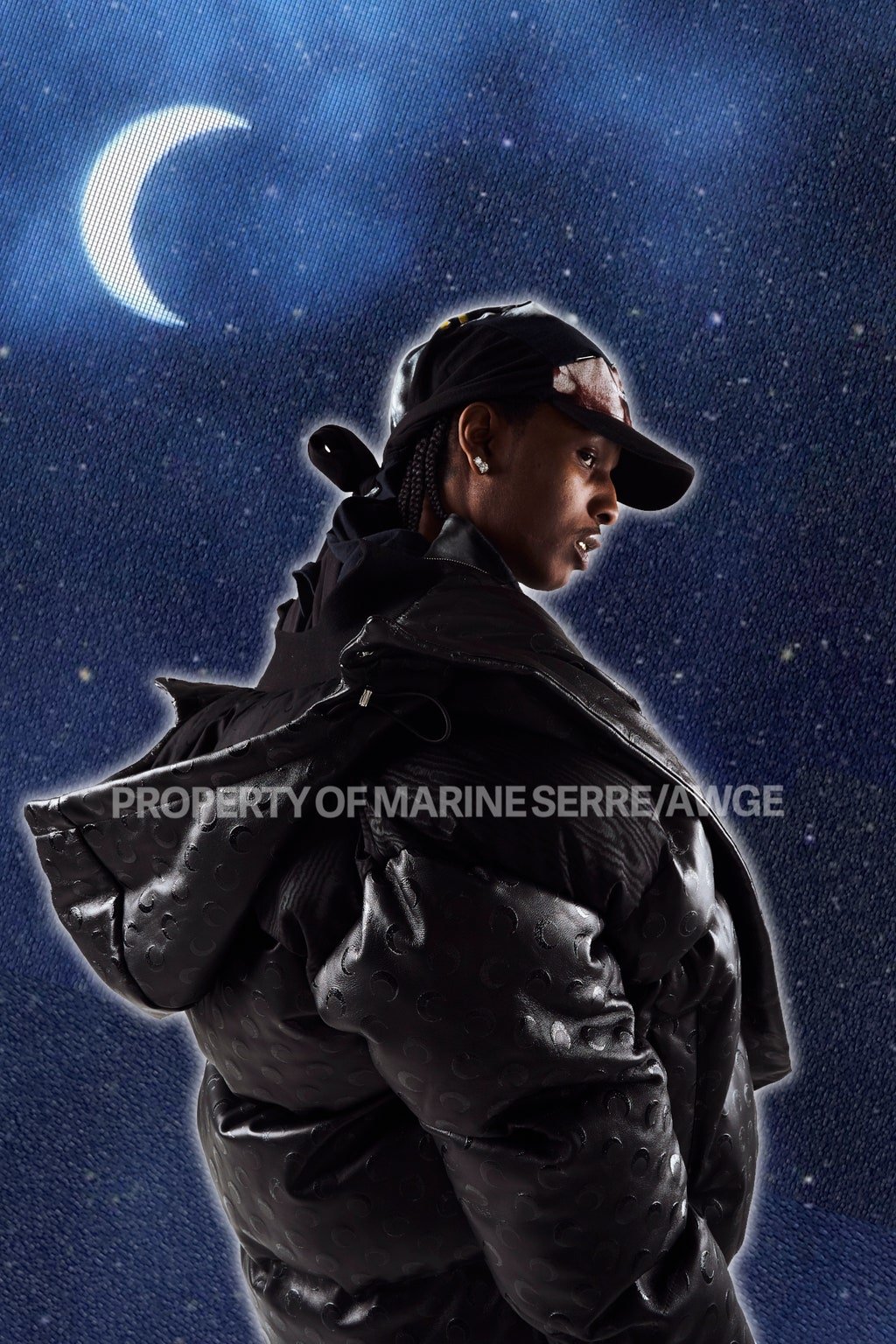 There was one challenge: Serre is extremely particular about her partnerships. In the four years since she launched her business, she has only worked with one company to produce her filtration masks and with Jimmy Choo on shoes-never with another designer, another artist, or with anyone you'd call a celebrity. "To be honest with you, we didn't know if she would collab with us because she doesn't really collab or work with people!" Rocky says. "That's what really turned me on about this collaboration. I really want to work with people who are not easy to get to." (The artist is also fresh off another partnership with Amina Muaddi, who is similarly selective in her collaborators.)

"Also, you know," Serre picks up, "if I had not liked Rocky, I would not have done it. Even though it's A$AP Rocky!" she says with a laugh. "That's really the thing, you know, we really could speak together, and I think that was the most important for me, that we can really exchange."

"Exactly," Rocky says, affirming that this Sagittarius (Serre) and Libra (Rocky) duo is definitely riding the same wavelength. "You gotta be careful with whom you collaborate these days because everybody is just collaborating for the sake of it, right? This was done for dope purposes only. We wanted the final product to speak for itself, not because two big names collaborated or we did some cool shit. I really wanted to execute and make sure if we did it, it was for a reason."

"I agree, if it would have been a 'collab,' we would not have done it," Serre concludes. "Better to not call it a collab."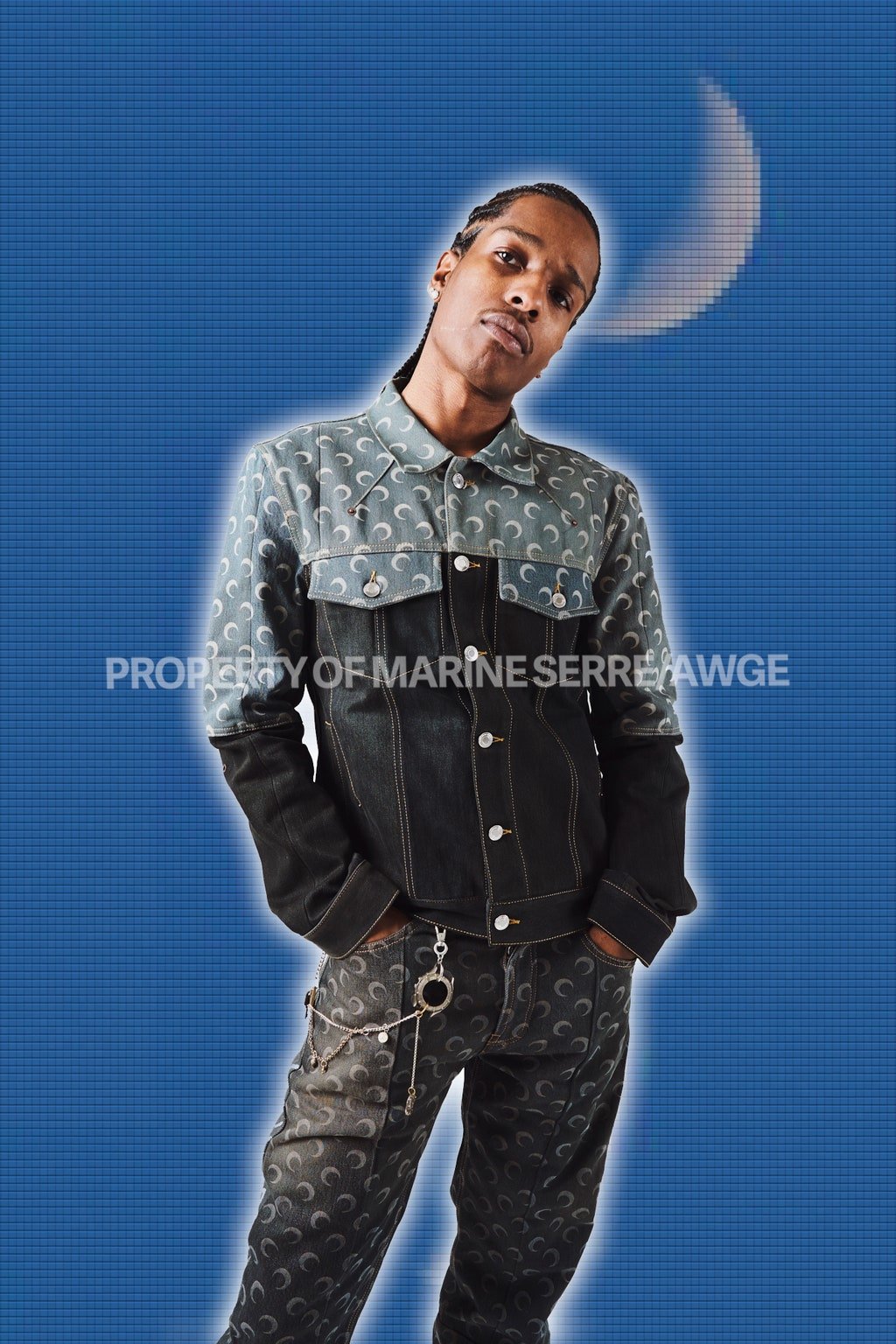 So let's call it a mind-meld instead. The resulting garments certainly speak to a marriage of ideas, aesthetics, and energies that transcend the typical co-branded effort. "We went really into details together," Serre affirms. "I was asking, 'How do you like the sleeve? Do you like when they fall on the finger, or do you like when they fall at the top of the finger? All of this is really important for me. Garments are really personal and intimate, and I know how important the length of a sleeve is. It was really about that: knowing the body so you can do something good." (For the record, the sleeves are Rocky's interpretation of a late 1970s Sex Pistols look, fusing a cutoff sleeve with a connected glove.)

The process of working through each item and silhouette with the artist ended up fundamentally changing the way Serre designs. Anyone familiar with her darted, waisted, and couture-inspired silhouettes can see the Rocky effect in the looser, slouchier, more relaxed but not un-tailored look. "The shape of all the garments in the collection, they are really made differently than how I design normally," she says. "I designed them for his body. It was kind of challenging to keep your aesthetic but at the same time answer to someone else's way to live or way to move. In a way it's really intimate. This is what I like when I work."




As such, it helped that the pair started working on the collection in-person long before COVID locked down the globe. "It was also really important to see each other. When I saw Rocky I would look at him, look at the way he was moving, or dressing, having six or seven necklaces on top of each other, or layering things," Serre says. "By looking at each other and by being with each other, it was what inspired the garments. And these garments, they are made for Rocky."

And they are made with Rocky and Serre's shared environmental passion too. The musician is a true vintage collector with hundreds of archival tees and-who can forget-silk scarves on rotation. Serre has an entire warehouse of discarded garments and is a regular at the Paris flea markets. By Serre's estimate, their collection is 75% regenerated, with all the tees, leather, silk, and denim upcycled from existing garments or vintage things Serre bought specifically for this collection. "It's also this kind of collection where you layer materials, and things can get more-how to say-more important when they are chosen," Serre explains. "That's the nice thing about upcycling and using all these old T-shirts; each piece is unique. No one will ever have the same pants or the same necklace. You are collecting your life a bit. That's what I like, and when I saw Rocky, I felt he was like that: collecting his life with his clothing."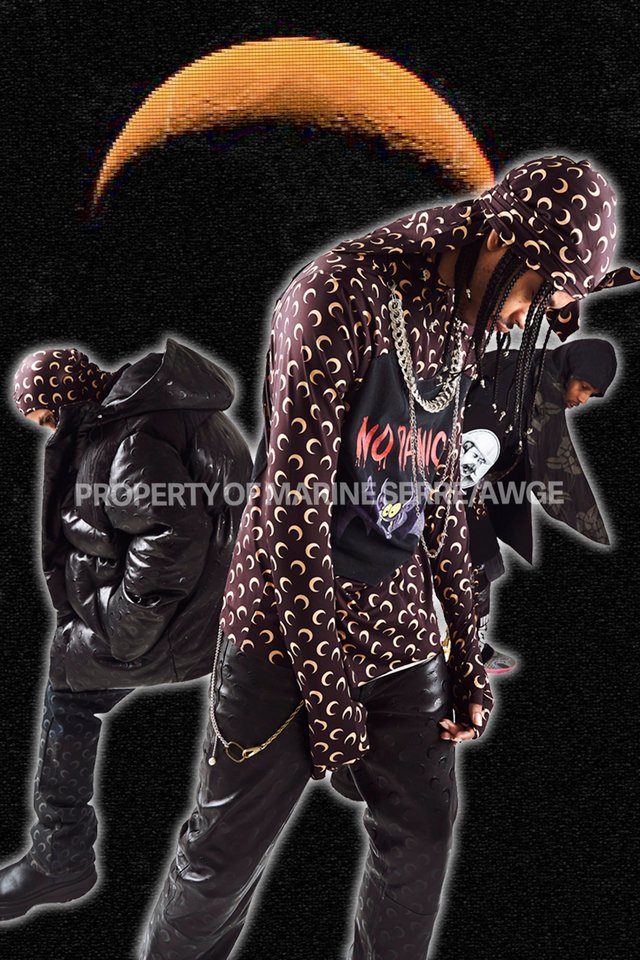 The admiration is mutual. "I love the whole fucking collection," Rocky says when asked to choose a favorite. "I can't do it, I like them all!" Working with the designer has affirmed his own creative practice, emphasizing the need to stay small but think big. "Marine is free-and to be honest with you, I made a new friend working with her. I'm very inspired by her. I definitely look forward to continuing our creative journey. I don't think it should just be limited to a clothing collection. We're two creatives, so I think that the possibilities are endless."

"I think the same," Serre adds. "Things happen when they have to happen. Working together was so simple and honest, that, when it goes like that, why would you stop?" Consult your star charts for when part two of the Serre-Rocky alignment might arrive. Until then, at least your wardrobe for this new cosmic era we're entering is sorted.