The Peanuts holiday specials have ceased airing on network TV. Taco Bell has stopped serving potato products. But if you look hard enough between the couch cushions, you'll find the scant precious certainties that remain: The clock still strikes 12 twice a day. Starbucks still puts out their seasonal beverages unseasonably early. And Australian pop legend Kylie Minogue still returns when the world needs her most.

The singer says she entered 2020 feeling inspired to return to her dance floor roots. When she entered the studio to begin work on her 15th studio album, Disco, out now, she was ready for whatever curveballs life might throw at her. "I'm not sure if it was in my subconscious, but a lot of the songs and the feeling that's on Disco is aiming for the stars," she says via Zoom from her home in London. "To me, it feels like liftoff."

Though Disco began taking shape last fall, it was only in the early months of 2020 that Minogue realized it would return her to the soundscape of the dance-pop classics on which she'd built her brand in the early '00s. She'd also dedicated the final section of her 2018 world tour to Studio 54, the legendary New York City nightclub. "I just loved being in that world," she says. "We asked the estate for the rights to use the Studio 54 logo, and from there we were in deep. I knew that it'd be where the next album would head to."

Earlier this month, Minogue told Apple Music host Zane Lowe that this album needed to work. After her last two records (2014's Kiss Me Once and 2018's countrified Golden) failed to generate buzz or hits the size of classics like "Can't Get You Out of My Head" or "Spinning Around," the singer knew it was time to reinvent her sound. "I thought to myself," she says, "Where do I go from here?'"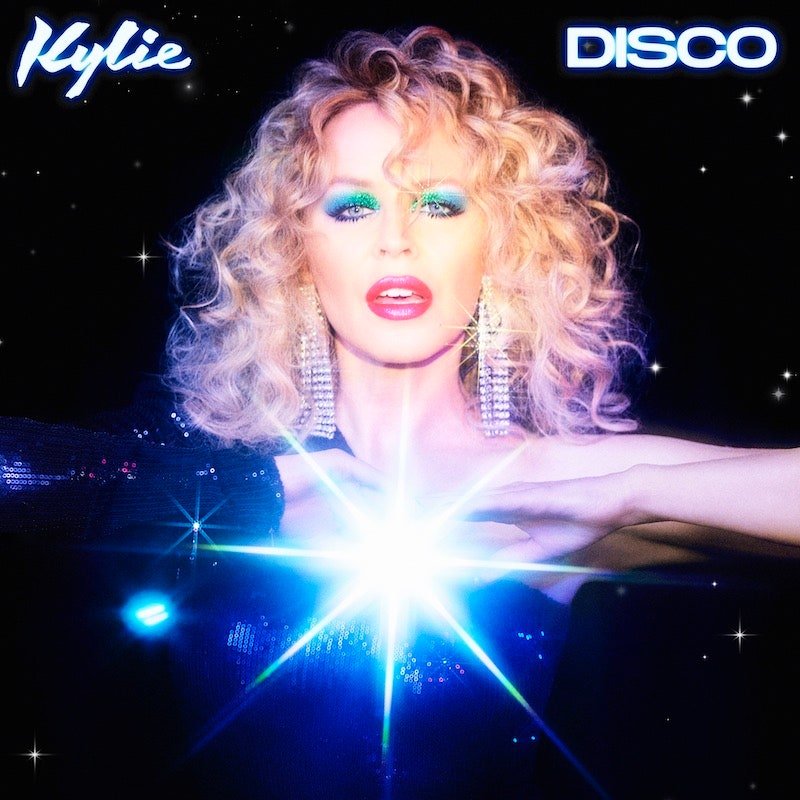 Describing Minogue's enduring appeal to newcomers can feel like explaining why so many children worship Santa Claus. "She is so versatile and always plays different characters and keeps each era so different, whilst remaining the essence of Kylie," British singer Jessie Ware says of Minogue, whom she had on her Table Manners podcast earlier this fall. "I love that, like someone similar to Dolly Parton, there is still so much mystique around her-she is an untouchable pop star with such warmth."

As an artist, Kylie has not so much reinvented the musical wheel as she has bedazzled it and kept it spinning. Her music is sumptuous, but utterly free of frills or fuss. Her stickiest lyrics tend toward the hummable and uncomplicated ("I just can't get you out of my head"; "Get out of my way"); their outer simplicity is the strongest, smartest suit she plays. Mingoue's songs are agreeable, multigenerational gifts loved equally by straight dads, gay sons, and hip grandparents.

Born Kylie Ann Minogue in Australia in 1968, the international treasure says that although she spent the early years of her career building a name for herself as an actor, singing always came first in her mind. Her breakout role arrived in 1986 with the hit soap Neighbours, an Australian series that was simulcast in the U.K., where audiences embraced Minogue with the sort of overwhelming love ordinarily reserved for glamorous royalty or Paddington Bear. Her character's wedding episode brought nearly 20 million viewers-on par with the royal wedding of Prince William and Kate Middleton 30 years later.

On the heels of soap success, Minogue signed a record deal (fellow artists on her then-label included Bananarama and Rick Astley); her first single, a joyful cover of "The Loco-Motion," topped the Australian charts and shot her to No. 2 in the U.K and No. 3 in the U.S. A debut album (Kylie) came next, followed by a decade of albums and chart success. After a label switch, she found a home at Parlophone, which helped guide her to the most popular eras of her career with 2000's Light Years and 2001's Fever. Accolades flew her way; Hollywood called (Street Fighter, Moulin Rouge); and superlatives piled up (she's the rare artist to earn first-name-only status worldwide, as well as spots on several "Hottest Women of All-Time" lists). At one particularly high point, one U.K. research group declared the Australian singer the "most powerful celebrity in Britain."




In 2005, Glastonbury booked her to headline, a slot she had to withdraw from one month prior to the festival after a breast cancer diagnosis at age 36. Following surgery, she successfully completed chemotherapy, and in 2007, returned to music with X, an album that presciently predated electronic music's eventual stranglehold on pop. In total, she's released 15 full-length albums (including this month's Disco), eight live LPs, a bushel of compilations and EPs, countless remixes, a Christmas album, and a couple of celebratory box sets for good measure, to say nothing of her myriad world tours and global Pride performances. "I just really like the 'work' part of it," she says without a hint of sarcasm. "Oh, I love it so much. It's not the glamorous part at all that draws me. I would always rather be back in the studio again."

When she takes risks, they're well-calculated ones, like her gothic duet "Where the Wild Roses Grow" with Australian rocker Nick Cave (which went on to become one of her most beloved hits), or 1997's drums-and-bass inspired Impossible Princess, or her B sides and deep-cuts-only "Anti Tour" in 2012. Though she always returns to her dance roots, she never retreads old ground. She seems as comfortable topping the charts as she is at home releasing an album with what might best be called her sex trilogy (Kiss Me Once's "Sexy Love," "Sexercize," and "Les Sex"). In 2019, she performed in the famed "legends slot" at Glastonbury (held previously by icons like Dolly Parton, Paul Simon, and James Brown) to a 100,000-strong crowd, plus 3 million viewers at home-the most watched set in the festival's 50-year history.




Minogue's incomparable voice is a sincere instrument that's only grown stronger with age. But she cites it as one the biggest insecurities she's had to tackle. "I've had more than my fair share of criticism of my voice over the years," she says. "And I've had the voices in my head knocking on my door, saying, 'You can't sing. She can't sing!' A lot of it is to do with insecurity, so when naysayers are playing with your insecurities, that's a difficult battle. I've had to really tell myself, 'Wait, how are you being successful if they're telling you that you can't sing and your voice is not a valid voice?' I would really struggle with that."

Minogue recounts the painful end of a relationship three ago that led to a new break in her voice. Not even the tools she'd equipped herself with over the years-"the part of you that says, 'Do this, do that, this is how to shape it, and this is how to get yourself out of trouble,'" she says-helped. "But I actually enjoyed it," she adds, followed by a long laugh. "It was illustrating that that's just what was happening in my life at the time."

On Disco, Minogue leaves heartbreak in the rearview mirror and allows her voice to take (well-deserved) center spotlight. And yes, even though that voice is cloaked in lush production that evokes the velvety strings and synthesizers of Studio 54, it's the warmth and familiarity that radiates from Minogue's career-best singing that imbues the album's 12 tracks with depth and resonance. "I had to prove myself," she says. "Over time, I've grown up enough to accept my voice and say, 'Well, there are people who don't like it, and it's not good enough for them, but this is the way that I communicate with people.'"

Shacking up in a London studio last September, Minogue decided to play musical matchmaker, connecting her longtime collaborator "Biff" Stannard with her Golden partner Jon Green to help create the sound of Disco. "The exciting challenge was finishing the album," Minogue says. "We'd really found our rhythm before lockdown. And then that came to a grinding halt." With the help of Zoom and her patient cowriters and producers, Minogue set up a makeshift home studio in London, teaching herself the ins and outs of software like Pro Tools, Logic, and even GarageBand as she engineered her own vocals. "I'm pretty sure if there was a fly on the wall camera, I would have looked like Mr. Bean or something," she says with a laugh. "Zero glamor, just me going, 'Oh, my God. Don't drop the mic. Where does this go? What are all these cables? Help. Help!'"



She calls the process "an incredible coping mechanism for all of us. I say it's like they thought the world was flat. Then they'd said, 'Hey, guys. It's round.' This year, it's as if they said, 'We've changed our mind. It's flat again.' There was a lot that I managed to sidestep, but your heart breaks for the stories that you would hear about. [Making Disco helped] not to let the mind get too carried away from me."

Though songs like "Say Something" (sample lyric: "We're a million miles apart / In a thousand ways") had preternaturally been written before the pandemic, other Disco tracks like "Real Groove" and "Dance Floor Darling" ripple with a shared sense of optimism and brighter days ahead. That is, Minogue says, entirely intentional. "There were maybe two or three occasions where we'd say, 'Oh, no. You just can't say that,'" she remembers. "With COVID-19, we didn't want to be irresponsible. I even questioned releasing this album at all. I didn't want it to seem insensitive. But the origins of disco were in finding a safe place and creating another world. There's the light coming off the mirror ball that just dazzles. Everything is in soft focus and everyone's beautiful and everyone can live their dreams. We were all feeling a bit uncertain and vulnerable, but I think the escapism shines through."




Though disco is a genre she's dabbled in plenty before, Disco is an album that pays proper homage without ever feeling like pastiche. And while she's far from the first artist to usher in 2020's disco renaissance (Jessie Ware, Dua Lipa, Doja Cat, and Lady Gaga did just that this spring), Minogue is the one with a decades-deep back catalog indebted to the genre. "One would think that Kylie, Róisín Murphy, Dua Lipa, Lady Gaga and I sat in a room and discussed 2020 being the year of disco," Ware jokes. "I would love to say that was the case-alas, it was just pure fluke and coincidence, but everyone needs a bit of disco, particularly this year!"

So far, the critics seem to agree that it's Minogue's best body of work since 2010's beloved Aphrodite. NME calls it "her most consistent and enjoyable album in a decade." Variety deemed it her "most cohesive album since her oughts-era heyday."

In the absence of in-person interaction, Kylie is making Disco's arrival feel both as normal as possible and as fabulous as her fans have come to expect, with TV performances (an ingenious throwback Tonight Show rendition of "Say Something"; a euphoric Good Morning America appearance as Pennsylvania teetered on the edge of flipping blue on the news ticker beneath her), a concert from your couch (last weekend's mesmerizing escape to the "Infinite Disco"), and the hopes that soon, one way or another, she'll be able to perform the album's glittery, glimmering songs for safely stuffed arenas again.




"It's a bit like being a Formula One race driver, without the peril," she jokes. "Your adrenaline's up. You react faster. I'm thinking, The lights, the stage, the this, the that, the dancers, the audience. It's an incredibly immersive experience. And it's a moment when you get to open your toolbox and use everything you've got."

In the meantime, for now, there's Disco to cherish, and if Minogue has her way, there'll be more where that came from before long. "I will always come back to this lane-the pop-dance lane," she says. "But if I could go into the studio and do anything I wanted…I don't know what that would be." She pauses for a moment. "Let's see," she adds, pausing to think. "Maybe that's my next step."