If there's anything Julia Restoin Roitfeld knows better than anyone, it's how to combine comfort with sex appeal. The Parisian creative director and designer-now based between New York and London-spent much of her youth in miniskirts and high heels. Since becoming a mom, Roitfeld has mostly traded bodycon for denim and looser silhouettes, but that doesn't mean she's hung up the bandage dress just yet.

Who better for the designer to team up with for a collaboration than Hervé Léger? The maison, known for their ultra-tight dresses, tapped Roitfeld to create a 20-piece Pre-Fall capsule collection filled with vintage-inspired designs reimagined for the modern woman.

"I want women to feel good, but also comfortable. I think we've all tasted comfort in the past year, and I think we want to be able to move and have fun," she tells L'OFFICIEL. "It's great to look great, but you also want to be able to dance. I want clothes that you can have fun in, dance in, run in, be active in."

The collection, which is now available on Hervé Léger's website, is equal parts '90s glamour and rock-and-roll, all with a sustainable bent, created using recycled materials and responsible production practices. Here, Roitfeld talks inspirations, her personal style, and why she advocates for buying less.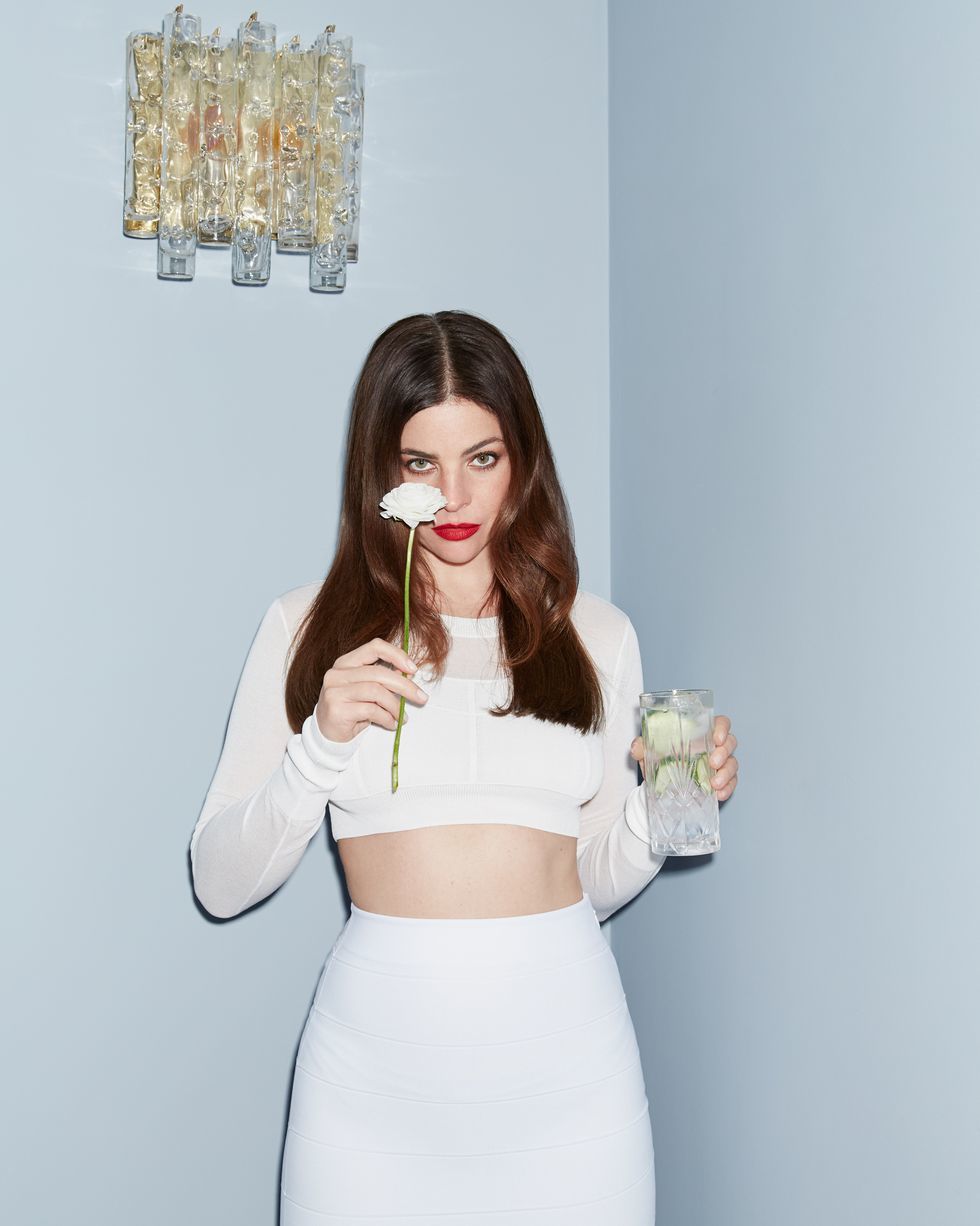 L'OFFICIEL: How did this collaboration come about?

Julia Restoin Roitfeld: I've done a lot of collaborations in the past-I love designing dresses and I'm very picky, so I like to design things I've been looking for that I can't find. Hervé Léger approached me for a collaboration and I thought it was the perfect opportunity because I loved the brand back in the '90s. It has so much heritage and many iconic designs I could bring back to life. I just wanted to design something versatile. We started designing before the pandemic, and I think now more than ever we need that versatility because we don't go out as much as we used to but we still want to get dressed and feel good.


L'O: After spending the past year in sweats, do you think women are ready to get dressed up again or are they still looking for that comfort element in their going out clothes?

JRR: I'm guilty about the sweatpants, too. I've bought more in the past year than I have in my entire life! The other night London finally opened and we had a dinner reservation. I wasn't going anywhere fancy but I dressed up, did my hair, did my makeup, and I felt so much better. We forget about it, but dressing up-not for others or for going out but for yourself-has a positive impact on your mood. It felt so nice to wear something other than sweatpants and looking in the mirror and thinking, "Oh, I like the way I look today."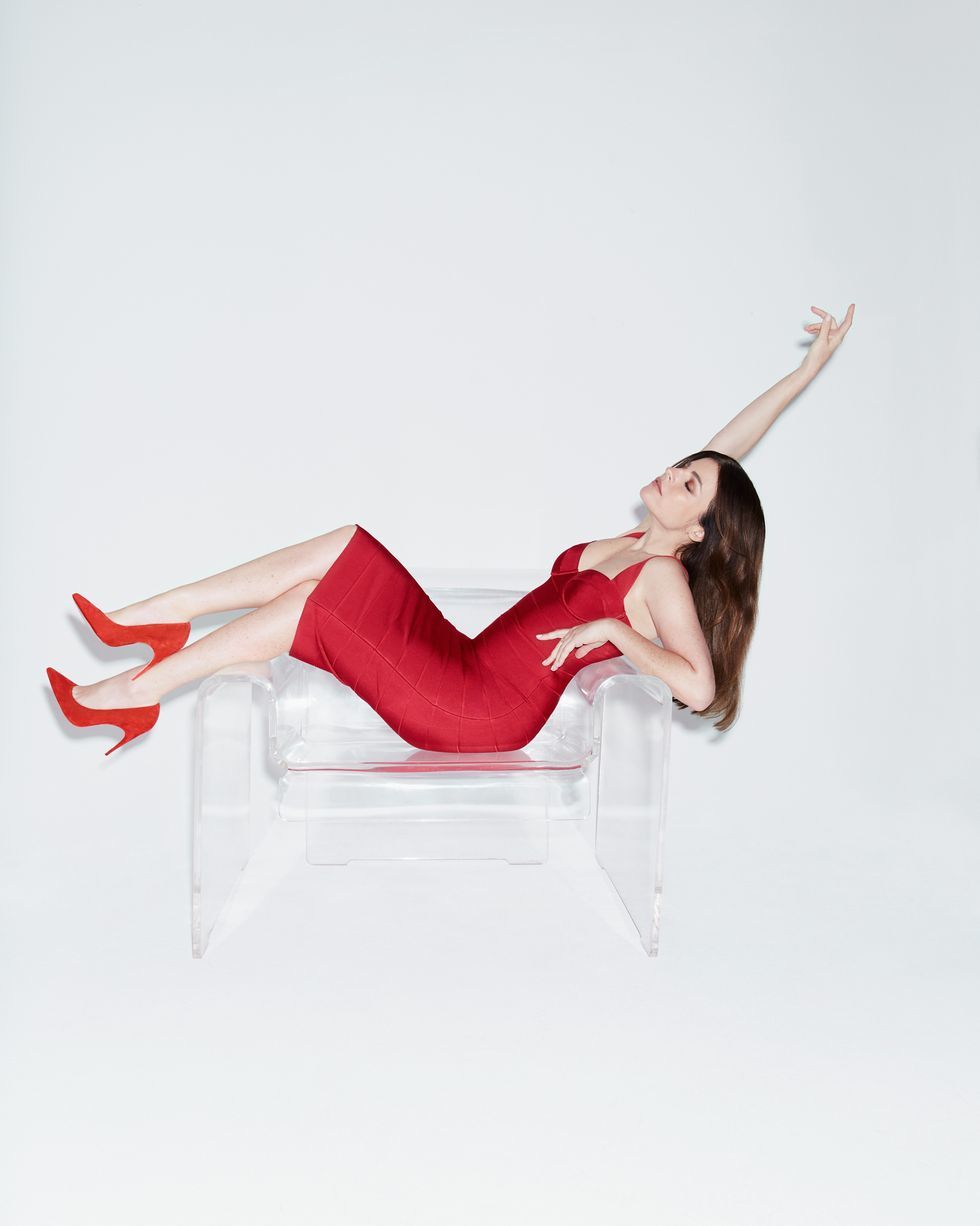 L'O: What was it like to collaborate with creative director Christian Juul Nielsen?

JRR: Unfortunately we weren't able to work together in person that much. My last big meeting was with him the day before lockdown in New York, where went through ideas and moodboards and polished everything. We had the same idea to bring back vintage Hervé Léger, and we wanted to dress the same kind of woman who likes to dress up and wants to feel powerful and sexy but is also active. The best part about Hervé Léger is that it doesn't wrinkle-you can just throw it in a suitcase-so it's always ready and is the perfect last-minute outfit. It was all very organic.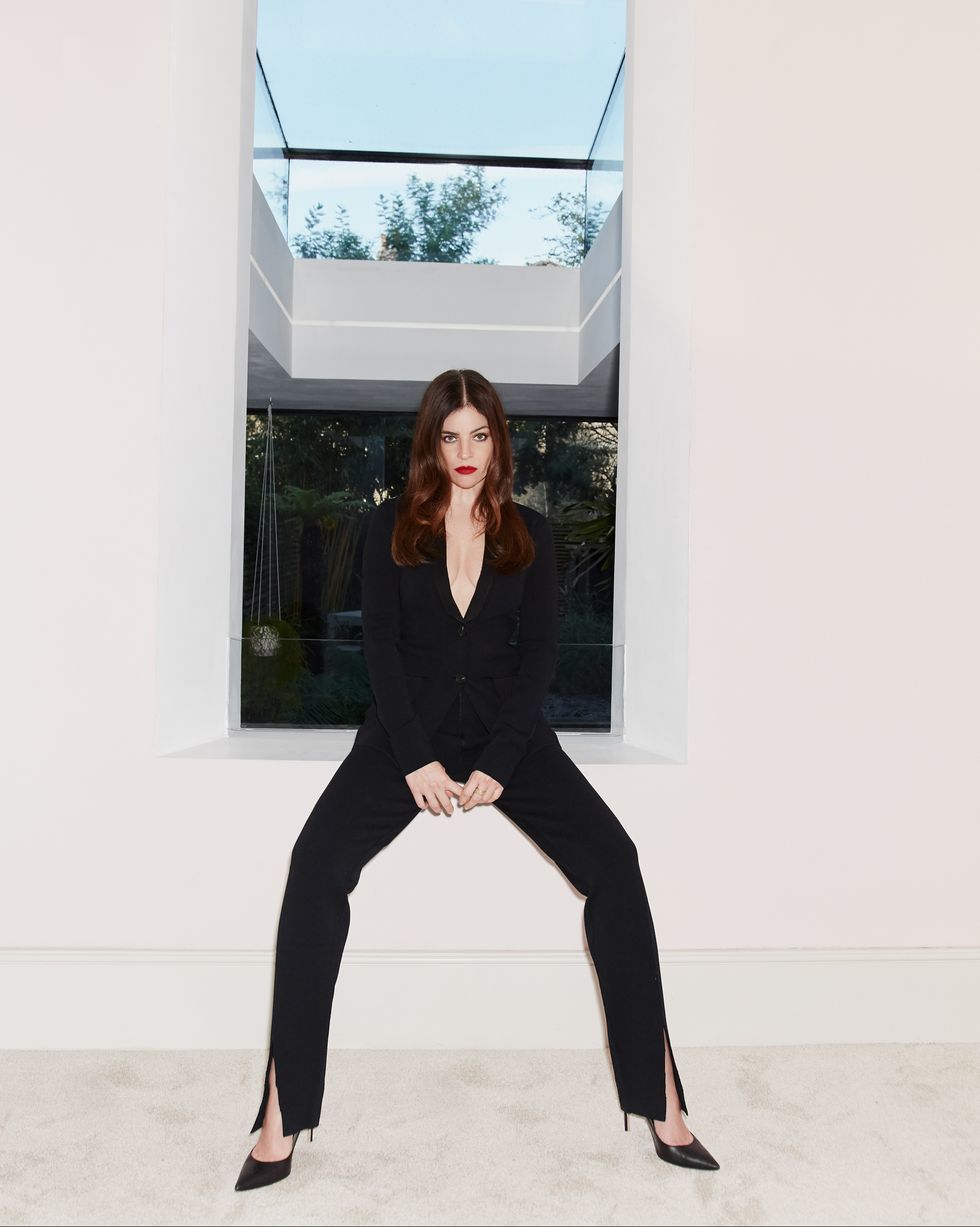 L'O: What was on your moodboard?

JRR: I picked up all the photos from the '90s Hervé Léger shows. There was Helena Christensen, and also Cindy Crawford. There were also some images of Kate Moss that were a little bit more rock-and-roll. In one she was wearing this particular dress I just couldn't find anywhere: it was bandage with a crisscross in the back. She also had on this feather white coat, and for me it was the ultimate party dress. I was desperate to find it, so I'm happy that we created something similar that you could wear with heels or biker boots. It's one of my favorite pieces in the collection.

L'O: How did you reinterpret the classic Hervé Léger bandage dress?

JRR: I really like how back in the day they had almost a built-in corset and bra. We really tried to incorporate that again. One of the main inspirations was also workout and ballet clothes. I used to do a lot of ballet and I had this beautiful leotard, and I remember loving putting the leotards on and feeling glamorous even though it was a workout. That was something we tried to achieve with the collection; to have something where you feel glamorous, dressed-up, elegant, and sensual, while being comfortable as well. Ballet clothes are also about stretch and lycra, and I wanted to emphasize that the bandage dress is not just tight and body conscious, it's actually very comfortable.

L'O: How did you translate your own personal style into the pieces?

JRR: There's a lot of black! You can't go wrong with black, and any pieces you have in your closet will match. I don't feel that comfortable in bright colors; I don't really recognize myself. I know Hervé Léger loves color, so we found a middle ground: we have some white, the red dress-which was really important-and some nude. There's a bit of a Helmut Newton inspiration with the suit, too.

L'O: Tell us a bit more about that red dress. Where did the inspiration for that one come from?

JRR: There's this picture of Cindy Crawford-I think she was with Richard Gere-where she looks like the ultimate Supermodel. Her hair is perfect, and she's wearing red lips and this cherry red Hervé Léger dress. It enhanced her curves, it was the perfect length, had the perfect corset shape...everything about the dress and the color was perfect. The only thing that's different is that now all the fibers are recycled. We're kind of merging the future and the past together.

L'O: How exactly did you incorporate sustainability into the collection?

JRR: I feel like there's already so many clothes out there. I love to design, but you have to do it responsibly if you're going to add more things into the world. Hervé Léger was great. Their sourcing team went out of their way to find recycled fibers or production places that are eco-conscious. I also had timeless pieces in mind. These aren't pieces you're going to wear once; they'll become staples in your closet. They're great quality as well and will last for years, so you can give them away to your daughter or to a friend. In my opinion, that's sustainable. Even if a garment isn't made from recycled fabric, if you have it forever it's still sustainable. There's this quote from Vivienne Westwood: "Buy less, buy better." That's the core of sustainability.