Hopefully they danced beautiful dances together and made everyone cry with their proclamations of undying love for one another and an especially touching photo slideshow. Not that any of that matters ... because Kate wore clothes there — black ones, in fact — and is causing a sensation for her color choice (but also because, well, she left the house, zomgwtfbbq, etc.).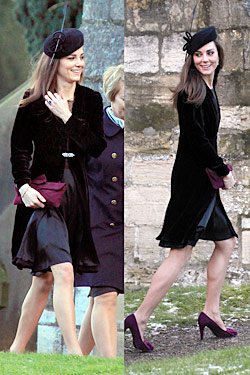 Photo: Ikon Pictures/Niraj Tanna/Rex USA
Royals have historically avoided black for anything but funerals, StyeList notes, and Princess Diana caused a fuss when she wore black for one of her first official appearances in 1981. But while some of the British press seem aghast at the color of Kate's outfit, including a coat by the now-sensational label Libelula, we applaud her choice. Black is pretty much always a great thing to wear, even at a white party. Besides, Kate wore purple shoes and carried a purple bag. We'd have suggested she get those items in black, ideally something that sparkles.