The tall guy in the hoodie, aviator sunglasses pushed on top of his bald head, is easy to spot moving through the clothing chaos of opening day at H&M, Santana Row.
"I just realized who you are!" says a redhead, clutching an armload of fall fashions.
"Look at you, aren't you cute!" Robert Verdi says as he stops moving for a minute to fluff the young woman's curls. She's beaming, thrilled that the celebrity stylist is giving her his full attention. Could this be how Eva Longoria feels?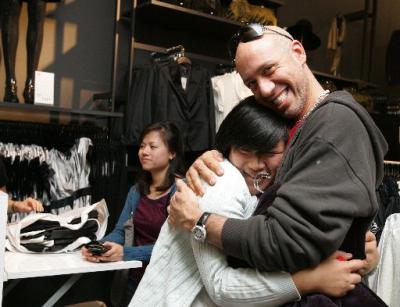 Bich Nguyen gets a style advice session from designer Robert Verdi at the
opening of the H&M store on Santana Row. (Josie Lepe / Mercury News)
Verdi, who counts the Latina actress among his clients, was at Santana Row a few weeks ago for the opening of the first San Jose H&M store. The stylist/TV personality/fashion critic posed for camera-phone pictures and doled out sartorial advice to a few of the hundreds of shoppers who waited in line for as long as 7 1/2 hours to be among the first in the new store.
"I've been obsessed with H&M since the beginning," says Verdi, who followed the Swedish brand's growing European appeal long before the first store opened in New York in 2000.
"I love the idea that fashion can be democratic - everyone can wear the kind of clothes you see on the runway. H&M galvanized the concept of high fashion at affordable prices."
Even Longoria, who's often photographed in designer labels, wears H&M, says Verdi, who set aside a plaid cape to take to her.
Now part of the H&M publicity team that opens each store with fanfare befitting a movie premiere, Verdi picked Bich Nguyen out of the crowd and spent more than an hour helping the shy San Jose State University student choose a fall wardrobe.
In less than 90 minutes, she spent nearly $500 on a dressing room full of garments that included a crystal-pleated wool coat and lots of sweaters and tops appropriate for school or a night out.
Verdi's style and shopping tips:
• Study and be inspired by what's on the runways every season. "Fashion has become ageless, size-less and not just for the rich and skinny," he says. You'll see the trends interpreted at prices you can afford. Look for details that work for your age and body type.
• Mix it up with classics and "trendy, forward pieces." Try something on that takes you out of your usual taste and picks.
• Don't waffle if the price is right. Buy it. More often than not, it turns out to be the garment you'll wear the most.
• At the same time, figure out what good value means to you. If you won't wear it, it's not a good buy no matter how inexpensive it is.
• Same goes for fit.