Staring into Katy Perry's pixelated eyeballs through the screen, where she sits in the backyard of her California home, I'm compelled to call her dichotomous. For I've witnessed two very clear versions of her over the years. There's Katy Perry, the church kid turned cartoonishly larger-than-life pop star, who has made a career of smashing records (including scoring five No. 1 singles from one album, a feat equalled only by Michael Jackson), fashioning the most-watched Super Bowl halftime show ever, and becoming the most-followed woman on Twitter. And then, there is Katheryn Hudson, who first revealed her truest self to the world in the 2012 documentary, Part of Me, which followed the singer throughout the exhaustive 124 sold-out shows of her California Dreams tour. With her marriage imploding and the kind of tears that send you into heaving breaths, we voyeuristically watched Hudson, outfitted in her trademark peppermint-swirl-themed bustier with mechanized pasties made to look like after-dinner mints, modulate into Perry. A fake smile flickers onto her face and she becomes a real-life Velma Kelly (minus the murder) ascending onto the stage at the beginning of Chicago's "All That Jazz."

But with Perry, thanks to a perspicacity that comes with time and experience, there's a gradation. This, that, and the other. "I have gone through a real journey in the past few years of having fun with costumes and lights and props and theatrics, but I have another life at home and it's very small and normal," she says. "I don't feel like I have to be 'on' anymore, and I think that's because I've figured out both my professional and personal lives. I've weaved them together to be a full-fledged functioning human...of sorts." Levity creeps in as she laughs at her own self-reflection. "I used to be really upset about going out into the world with no makeup on. Even for something like this, I'd be like, 'Let's do some hair and makeup,' and now I'm like, 'You know, I'm good. I know who I am. And what you think of me is none of my business.'" I'm reminded of RuPaul's signature line: "Unless they gonna pay your bills, pay them bitches no mind."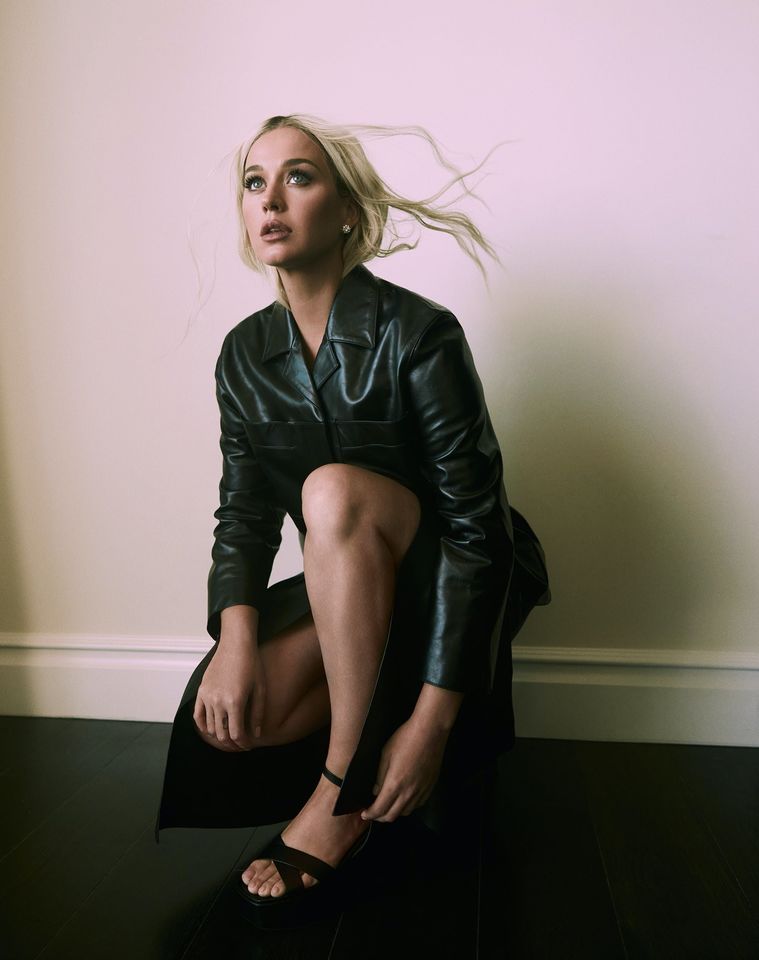 Jacket and skirt PROENZA SCHOULER Shoes SALVATORE FERRAGAMO Earrings HARRY WINSTON

I'm immediately charmed by her-her in her sports bra with two necklaces dangling from her neck (one that reads "Daisy Dove" and the other a custom design of the flower) and, true to her word, a makeup-free face. She's serving realness, and I'm eating it up, no crumbs. Maybe it's a calculated realness, crafted with as much meticulous detail as the pop superstar with whipped cream exploding from her breasts. I choose to believe the realness was, well...real. 'Cause the thing is, we'll never know. And why live in uncertainty?

One could say-and should say-it's been a big year for Perry. Last August she gave birth to her first child, Daisy Dove Bloom, with her partner, the actor Orlando Bloom. Two days later, she released her sixth studio album, Smile, deemed by many a return to her familiar fizzy pop and scaling hooks. Several months later, in January of this year, she performed her song "Firework" live in front of the Lincoln Memorial to celebrate the inauguration of U.S. President Joe Biden and Vice President Kamala Harris. These happenings were all synergistic by design. The lead single from the album, "Daisies," is a tribute to her Daisy, and the Washington D.C. performance was threaded to her as well. "I just thought about my daughter [when she turns] 36, and thought, 'What kind of world am I going to be leaving her with?' So I was really singing for climate change and for leaders that are taking big, bold steps to address it." All that and she still found time to do the "normal" stuff that one does in a global pandemic, like binge The Queen's Gambit and Succession ("It's the best TV show out there, period," she confirms confidently) and fall back in love with books. Her current favorite? David Brooks' The Second Mountain: The Quest for a Moral Life.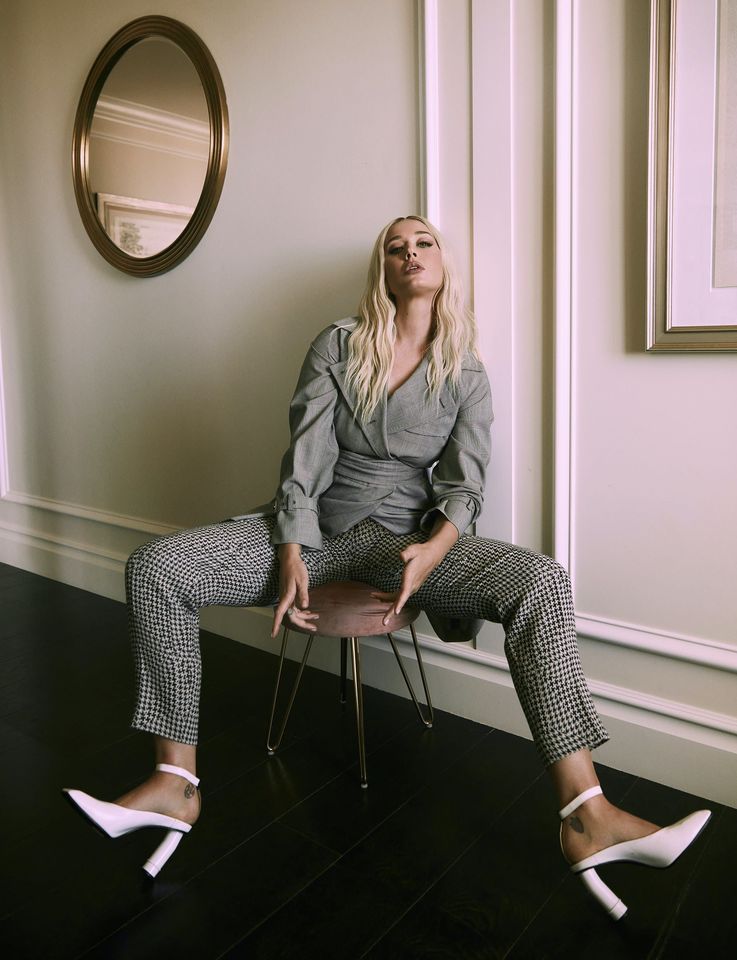 Top MAX MARA Pants and shoes NINA RICCI

It's this extended time at home with her family that's given her the ability to recalibrate. "I'm grateful that I didn't try to keep continuously climbing career mountains. I was like, 'I think that there is another mountain to climb that has as beautiful of a view, if not even more fulfilling.'" In many ways, Daisy allowed Perry to create without criticism, comparison, expectation, or fear of failure-something she's been plagued by throughout much of her career, thanks in part to her stratospheric success since its start. "As a performer I've always relied on the love and acceptance and validation of the outside world and that ultimately can waver at times," she admits. "When you have a child, you have someone who looks at you and doesn't know anything on your resume, doesn't know anything about your bank account, doesn't know anything, doesn't care, and just loves you. Unconditional love. It's just...everything I think I was looking for."

Daisy's birth brought Perry a sense of wholeness, and helped heal deep-seated wounds that she'd developed over the years. "I always felt like I was walking around with a little bit of pain in my heart concerning love," she says, her eyes slowly trailing to elsewhere in her mind. "And my fiancé has done a great job at really helping to mend that. But this just went underneath all that and got so deep. It's just there, that love is there." Her penetrating gaze returns, focused, assured. "I'd heard about unconditional love, but now I'm really experiencing it. There's a wholeness that has happened."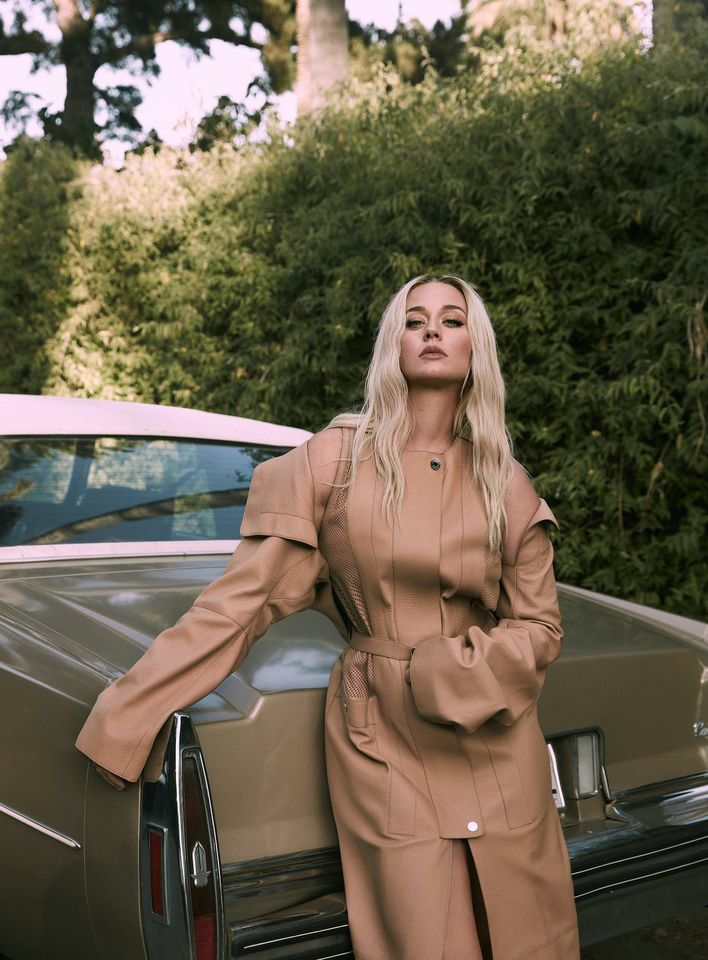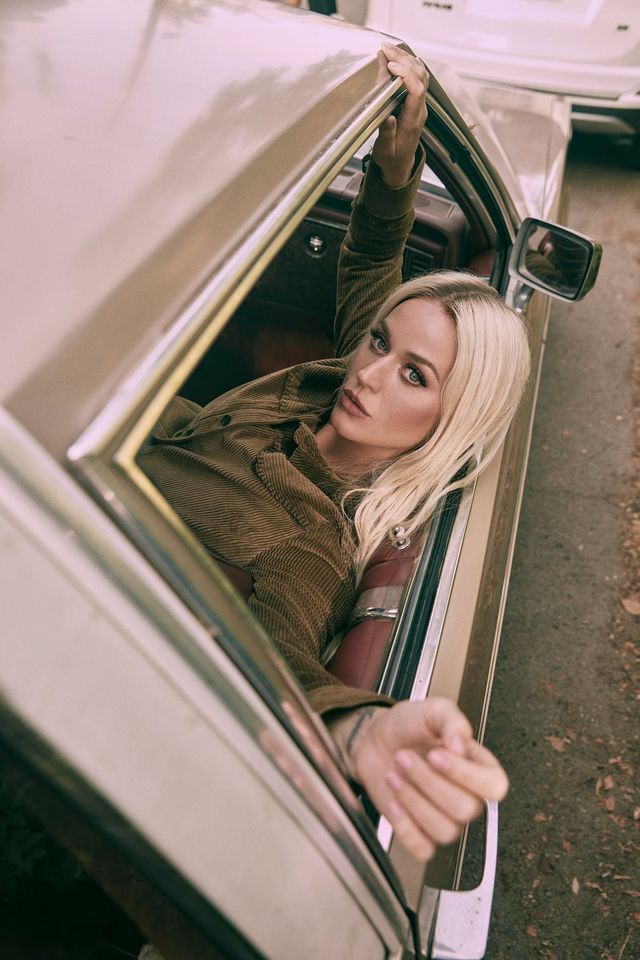 It's in this relationship with Bloom, and now their beautiful Daisy, that the honeymoon phase-or the "zsa zsa zsu," as Carrie Bradshaw once called it-now feels unending; layered by a deep foundation that has, through time, extended below the surface to depths previously closed off. Perry's infectious smile practically beams at the mere mention of her fiancé. "I was able to witness him and his fatherhood," she says. (Bloom has a 10-year-old son, Flynn, with ex-wife Miranda Kerr.) "The way that he showed up for him and continues to show up for him, and the efforts that he makes and the distance he goes, I think that's one of the reasons I made that conscious decision. "I was like, 'Here's the father of my future children.' I could see his kindness, empathy, care, and tenderness. I courted that. I was like, 'Okay, this is different.' And this is his first girl, so it's a totally different feeling for him. I'm really, really grateful to have him. And he really shows up in a huge emotional way, which is unique for me."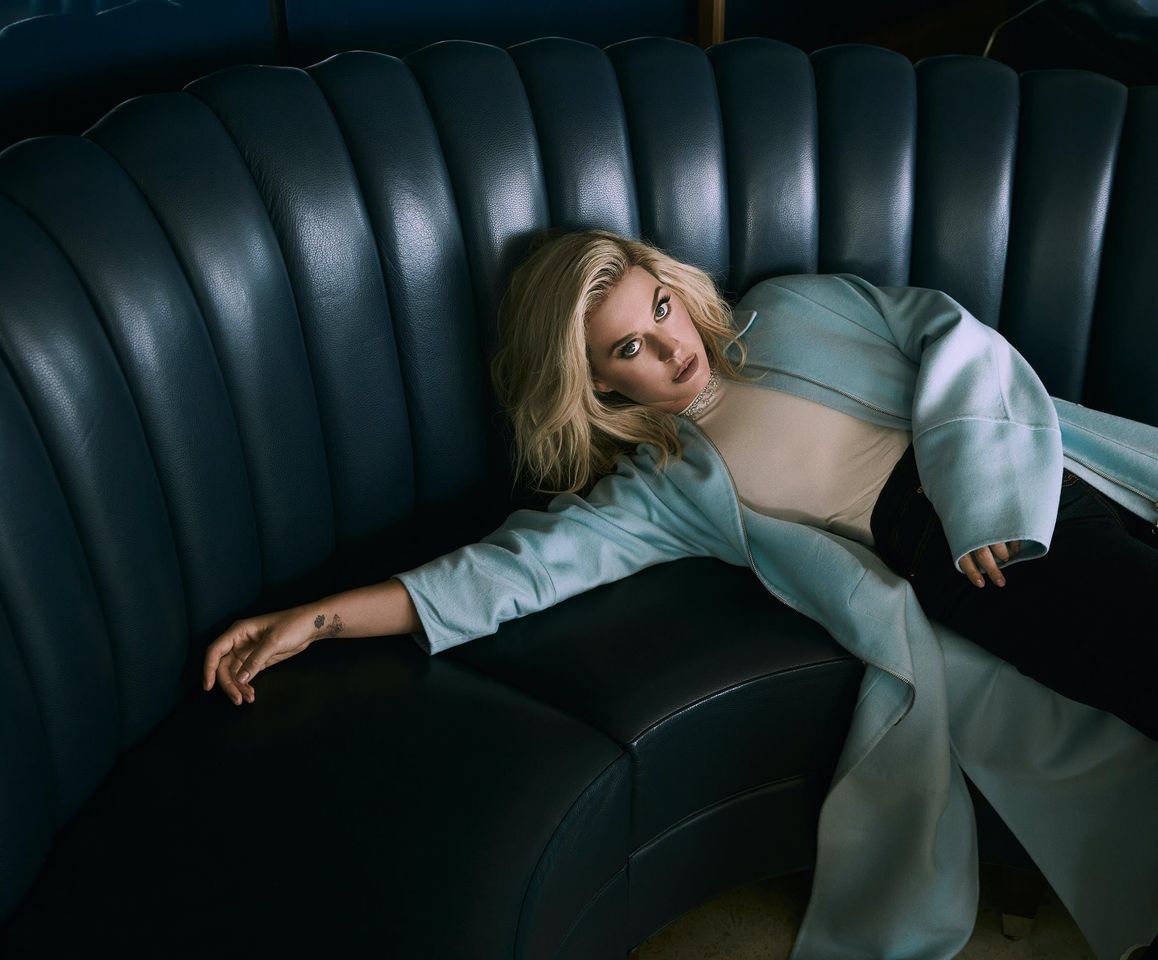 Coat HERMÈS Bodysuit SKIMS Pants VERSACE Necklace HARRY WINSTON

Like many new mothers-or perhaps anyone who has spent the last year in relative isolation-Perry is using these major shifts to reflect on her life as a whole. "I had 35 years of calling the shots and doing what I wanted to do, zipping all over the world and taking care of my career," she says. "Now I have this huge responsibility to look after such an incredible gift. It makes you quite vulnerable and reminds you of your own childhood that you want to probably do differently. I want to do it differently." But, of course, she also experienced reservations. "I was nervous to be a mom," she admits, saying she went on a "healing journey" to figure out why that was, got to the source of it, and did the work to seek resolution. "Now I get it. Now I realize this is it. This is the living part. Every day I'm like, 'When can we go for a walk? When can we go for a swim?' There was a good 12 years where none of that smallness existed. It was amazing to live big and wild, but sometimes it's nice just to throw the ball on the grass and watch your daughter laugh from the simple joys of the dog coming and bringing it back."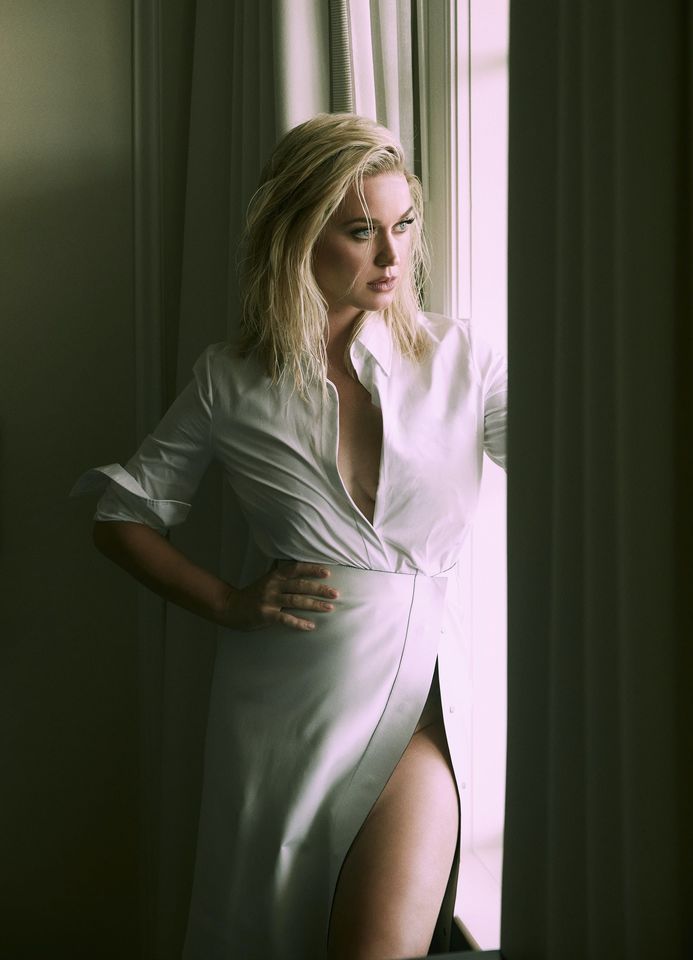 Shirt and skirt SALVATORE FERRAGAMO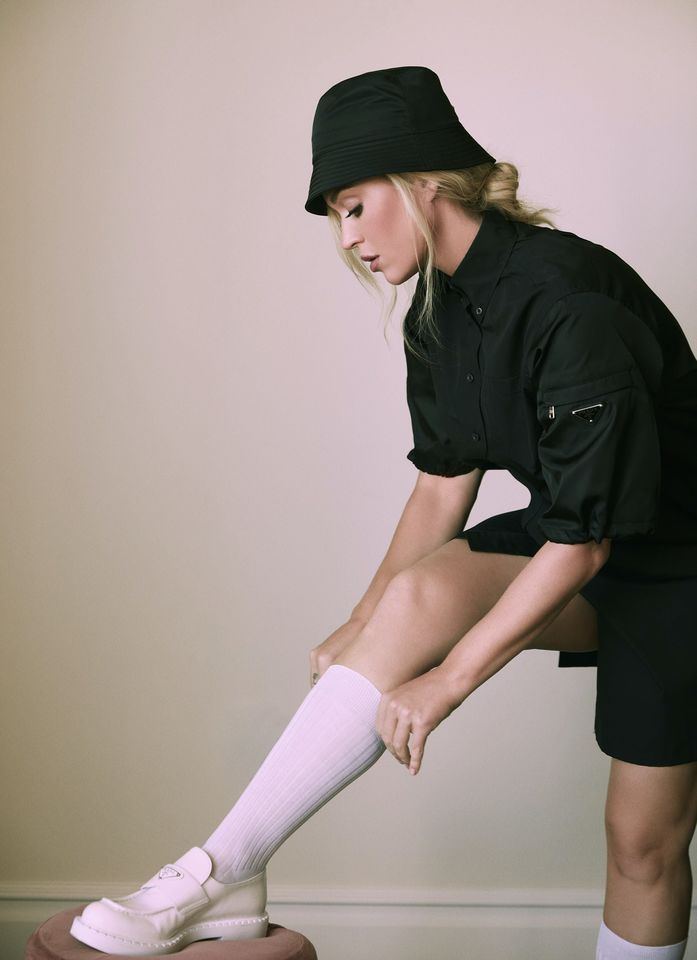 Dress, shoes, hat, and socks PRADA

Daisies. Mountains. Grass. Maybe it's true what they say, nature is healing. Perry is clearly falling in love with a world more tranquil than the bombast of the ever-probing spotlight, which she says can be overwhelming. "You just gotta learn how to get out of the burning car alive. Every once in a while, you can go back in and say, 'Here's my magic trick.' I think that the music and the message are empowering and helpful for people, but you don't want it to be all-consuming. You want to carve out a real life as well."

That real life, or the "smallest, best life" as Perry refers to it, has meant ample time with her family-and not just Orlando and Daisy, but their extended family as well, including Perry's parents as well as her brother and sister. There's Taco Tuesdays and Pancake Sundays, which feature jazz music and Danish pancakes (her brother-in-law is Danish). "When you spend this much time with your family, there are a lot of opportunities for healing."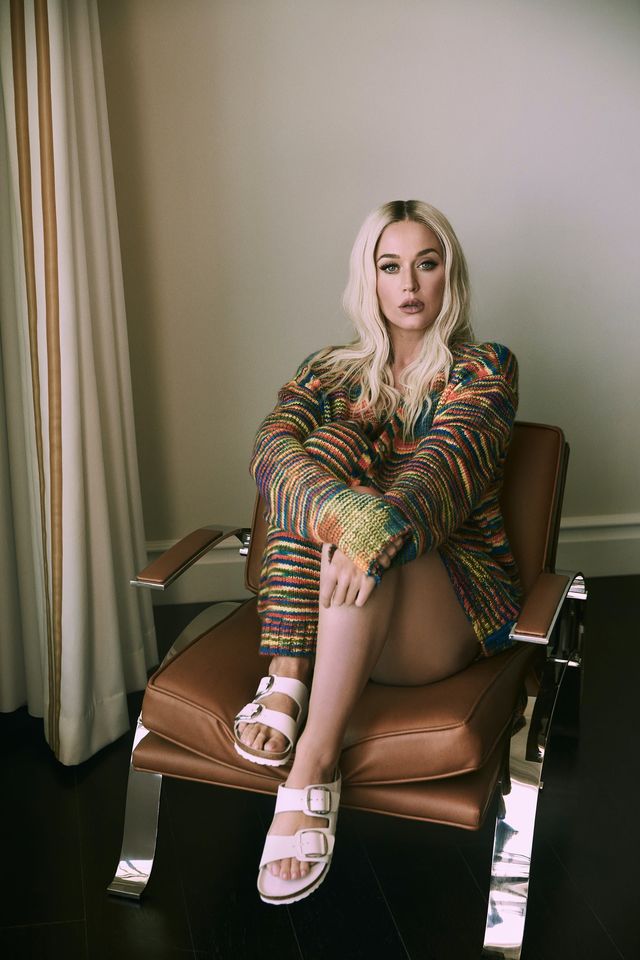 Sweater and vest THE ELDER STATESMAN Shoes BIRKENSTOCK

She's also begun considering her future-and not just one that includes an upcoming Las Vegas residency and a new song and video, "Electric," for a collaboration with Pokémon, but further down the line. "What is that next interval of my life and what does that look like? And where do I find that fulfillment? I've always had this dream of going to school and learning either about psychology or a combination of psychology and philosophy. And I know once I get into an educational program and a structure, I'll see all these subjects that I want to learn about. I know that's something in the future for me, but Vegas definitely comes first."

Opening this winter, the residency will see Perry join an all-star lineup of rotating talent including Céline Dion, Carrie Underwood, and Luke Bryan as well as Zedd and Tiësto at the new Resorts World Las Vegas. The return to the stage will mark Perry's first live performances since before the pandemic. When I ask her if she's nervous or at all apprehensive to step back out, she scoffs, making it clear that the off switch can very easily flip back on when needed. "I know that when I go back on the stage, I'm going to do my best and give it my all as I always do with my projects." But until then? "I've been professionally busy since I was 13, and now I've really stopped to smell the roses."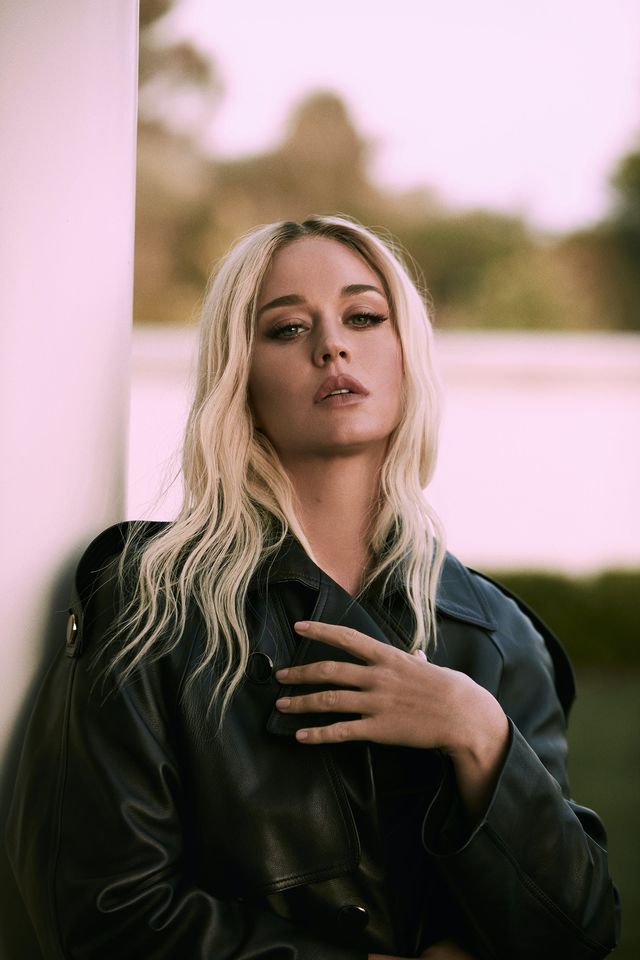 Coat KHAITE