Jamie Coulter and Lindsey McClain have the playful, sibling-like relationship you wouldn't expect to see in business partners. "I'm the nice one, the fun one, the cute one, and Lindsey is the brains behind the operation," Coulter tells L'OFFICIELmatter-of-factly. McClain agrees: "Our dynamic is good in that way. Jamie is the real creative….special one and I can do four plus four."

After bonding over their mutual love of fashion, the duo poured their respective talents into La Vie Style House, a Dallas, Texas-based one-size brand inspired by vintage caftans. many of the designs are created using vintage deadstock fabrics, and range from casual minis to embellished floor-length caftans ready for an evening fête. "People are definitely wanting to dress up, and that's why we like to do a sequin and a sparkle and make pieces that are comfortable but still feel fancy," says McClain.

"I think there's going to be another Roaring '20s," says Coulter. "Everyone was ready to go out and feel good and party. I feel like we're gearing up for that again."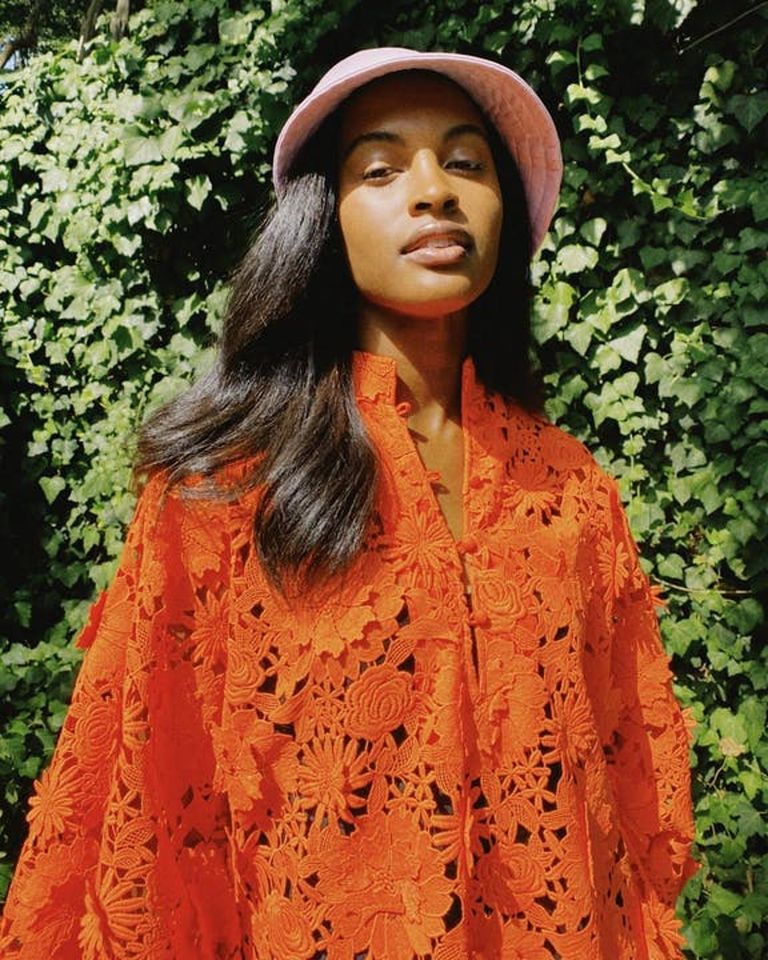 L'OFFICIEL: How did you two meet and how did the idea for La Vie Style House come about?

Jamie Coulter: We met at pilates. I just moved to Dallas and was kind of down in the dumps about it. I was talking to Lindsey-she liked my pants-and I'm like, "I just moved here from Los Angeles and I haven't really found my place yet," and then she's like, "My husband just passed away." I thought, Oh. Let me be nice and go to coffee with her and stop complaining. But we shared a similar aesthetic. I had all these cool vintage one-size caftans from the Long Beach Swap Meet and Rose Bowl Flea Market, and Lindsey liked one of them. It fit both of us so she would borrow it from me, but I always say Lindsey and I are like Danny Devito and Arnold Swarzenegger in that movie Twins, and I'm Danny in this situation.

Lindsey McClain: [Laughs] La Vie was born from this thing that looked good on both of us. One size that makes everyone feel good. They're also so versatile, so you can go from wearing them as a coverup with flip flops then slip on some heels at night.

JC: We're also both moms-which is just so sexy-but we wanted something that you can wear to carpool and feel cute in and not just wear athleisure all the time. We also kept finding these cool vintage fabrics, and there would only be enough to make one or two. We didn't know it would become what it is now.

LM: The different styles also happened organically. We started with just a caftan, and then people were like, "I wish it was short" so we added a mini. Then someone would say, "I wish you could see my waist" so we made a wrap dress. I think that it's slowly evolved to be a full one size brand just based on what our customers wanted.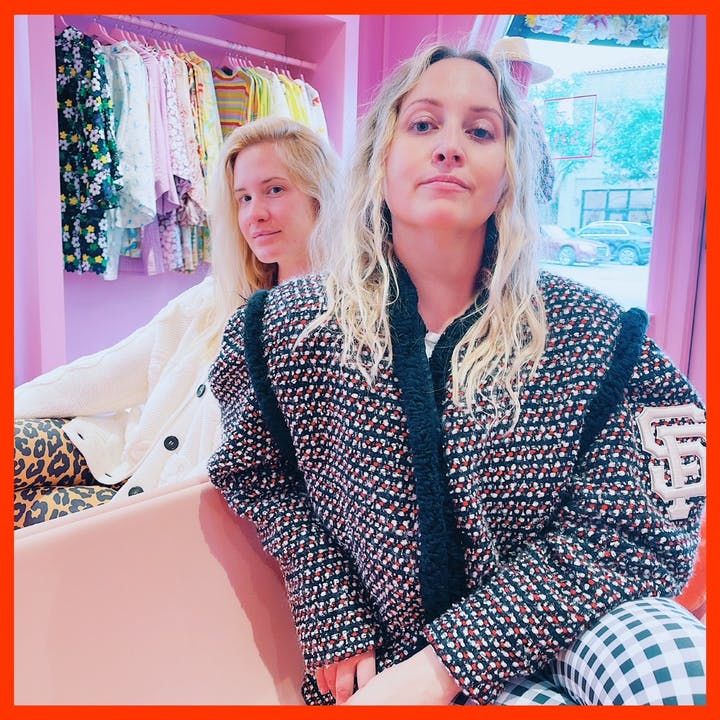 Lindsey McClain and Jamie Coulter.

L'O: You both kind of created the perfect quarantine garment long before there was a quarantine.

JC: It really did work out! Our sales continued to do very well through quarantine because people wanted something cute to wear. I made the joke that I put on the COVID 19 quickly, because I was like, "I'm just going to drink through this and hope it's over in two weeks." But then it wasn't over in two weeks, so I decided to learn how to bake. But I can still wear my caftans and feel good in them.

L'O: What or who is on your moodboard?

JC: Originally most of our inspiration board was people like Elizabeth Taylor, and these moments from the '60s and early '70s where you would see this high glamour caftan. That's what we always go back to: A Slim Aarons Palm Beach vibe when travel was glamorous and people looked like they were living their best life. I'm going to Marrakech in August for my vow renewal, and I'm looking at my caftans and thinking, What am I not going to wear?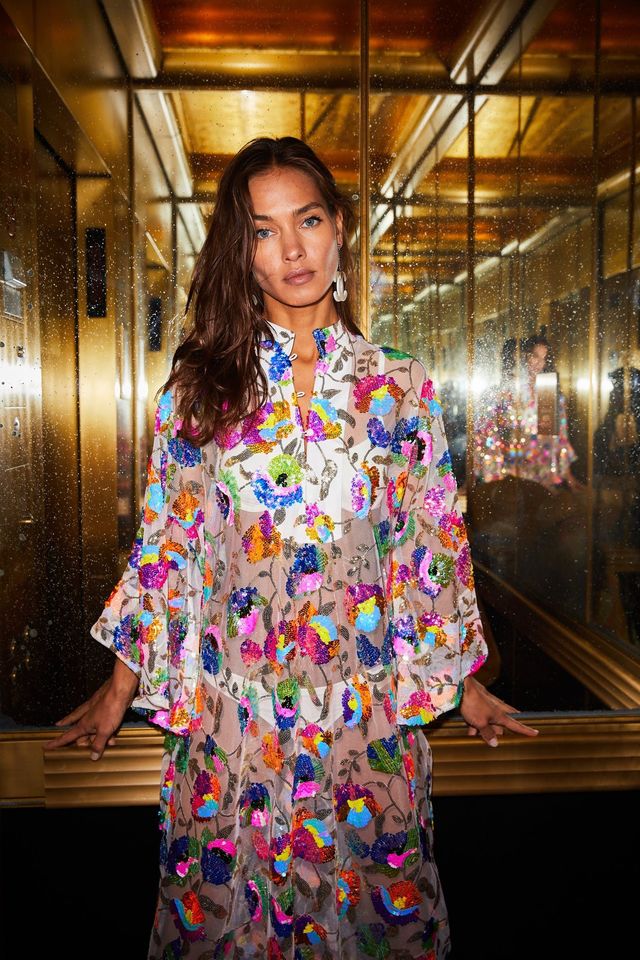 L'O: What kind of woman do you have in mind when creating your caftans?

JC: We were really designing for ourselves, and it turned out that a lot of people wanted the same thing. We wanted something that was casual and effortless, but chic at the same time.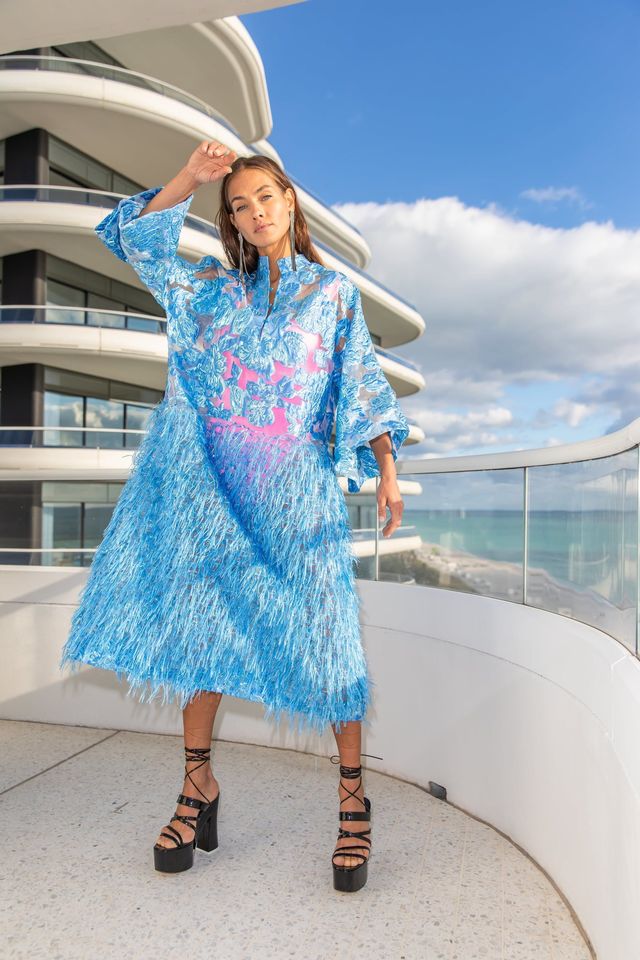 LM: It fits everybody and every style. Whether you want a loud, bright sequin pieceor a super casual linen piece to wear at the pool. Inclusion is a huge part of our brand and we want everyone to love it and feel good in it.

JC: It's funny because a high schooler will come in with her mom and they'll both buy a piece-and one for the grandma too!




L'O: Sustainability has been a hot topic in the fashion world for quite some time, and it's also a big part of your brand. Could you explain a bit more about your production process and how your source the fabrics?

LM: Our fabrics set us apart from other people doing caftans—we source fabric from all over. We have someone overseas who helps us source fabrics from different regions, and then we have a vintage dealer in New York whose warehouse we'll go to and dig through to find vintage Oscar de la Renta from the '80s. There may only be enough fabric to make two caftans, but it works for us because there's a specialness to every piece. We also like that our pieces sell out because there's an exclusivity. When it's gone it's gone, and I think that's important when you're spending so much money on a caftan.

JC: Right, everything is special. Sustainability is important to us and we want our pieces to be passed down and feel special. So we'll do a small run of vintage to bring something to life that would have just sat there for a while. They should be as collectible as that original vintage piece we both loved.

LM: It didn't even have a tag in it, it wasn't designer, and you probably paid $10 for it but it's still so special.

L'O: What do you see for the future of La Vie Style House?

JC: We want to just continue making what we like, and if something doesn't feel right we aren't going to do it even if it would make us money. We want to grow organically and stay true to who we are.